How to Keep Your Outdoor Rug Looking Fresh and Clean
An outdoor rug can help add a pop of color and style to your porch or patio. Unfortunately, outdoor rugs have to be replaced often if they are not properly taken care of because over time they get worn out and dingy from exposure to the elements and lots of use. I have the best tips to help you clean an outdoor rug (polypropylene or otherwise) like a pro so that it looks fresh and new year after year.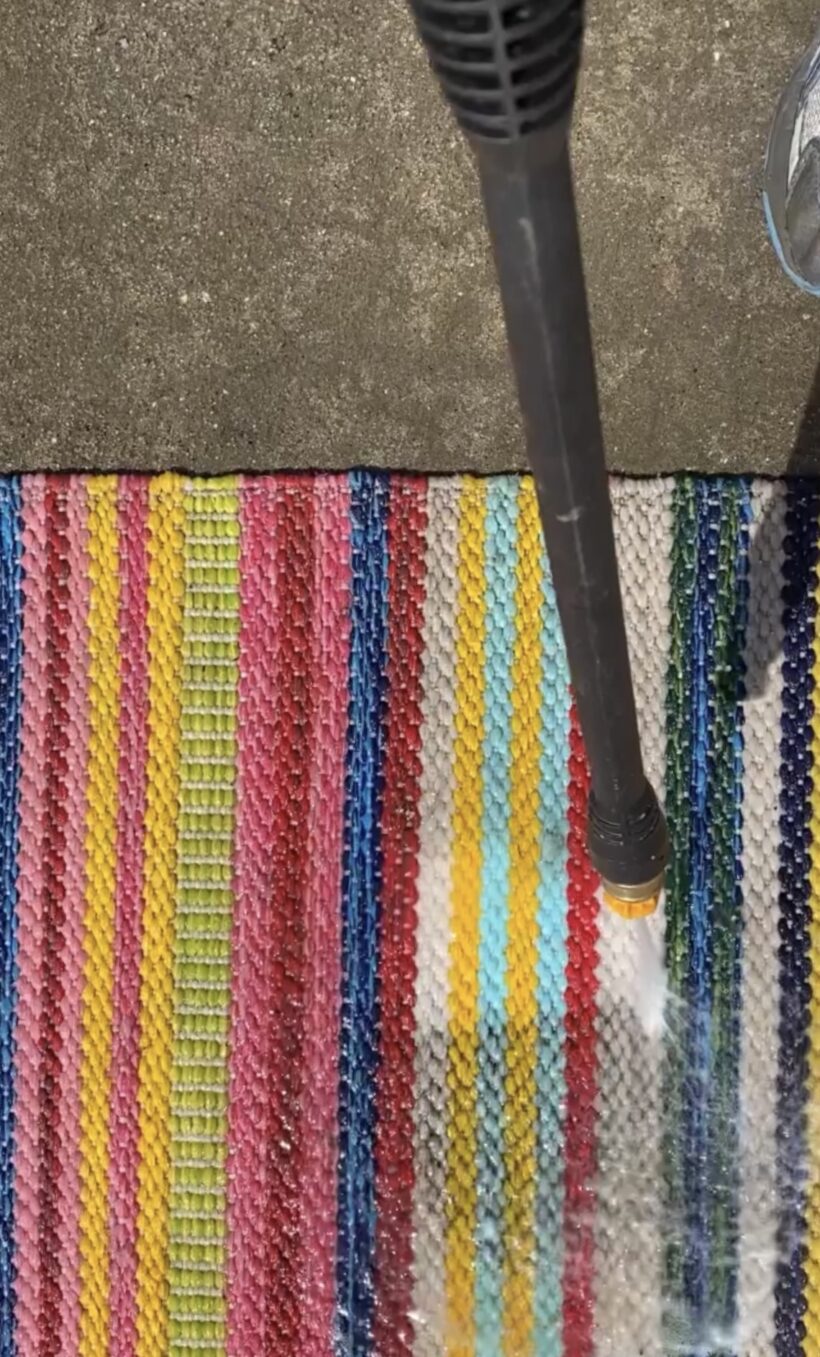 One of my top tips for decorating outdoor spaces is to add a rug to your outdoor space. We LOVE how cozy our rugs make our screened-in porch feel. Having an indoor-outdoor rug creates a cohesive "living space" on a deck or patio where there are no walls.
But outdoor rugs need extra TLC! Even when they are on covered porches, they are exposed to more moisture, dirt and grime than a normal rug. And often even direct sunlight can play a part in the wear and tear on your rug because it will break down the fibers and cause fading.
Learning the best way to clean your outdoor area rug or outdoor carpet will extend its life and help your budget. Always start with the care label–read the care instructions for your rug. Then follow these easy steps a few times a year to keep your rug in the best shape possible.
How Do I Clean An Outdoor Rug?
If your outdoor rugs are in need of a little TLC and cleaning, don't worry. Cleaning them is easy! In fact, I think cleaning outdoor rugs is even easier than cleaning indoor rugs. Just follow the steps below to get and keep your outdoor rugs looking fresh year round.
Sweep or Vacuum It Often
The first tip is to sweep or vacuum your outdoor rug regularly, so grab your vacuum or broom every few days and give it a good once over. Vacuuming regularly will remove dirt, dust, leaves, and other debris that may have gathered on the surface and in the pile. If you live in the South like us, pollen is a BIG issue when things are in bloom and it's super important to vacuum it off regularly.
If you eat outside over your rug, leaving food crumbs or solids sitting on your rug is just asking for critters and stains. So sweep after every al fresco meal! If it is a small rug, shake it out. You will be shocked at how much you can get out of it just by doing this. And if sweeping or vacuuming aren't your favorite things, you could also use a leaf blower to blow your rugs off (I've done that before too, lol).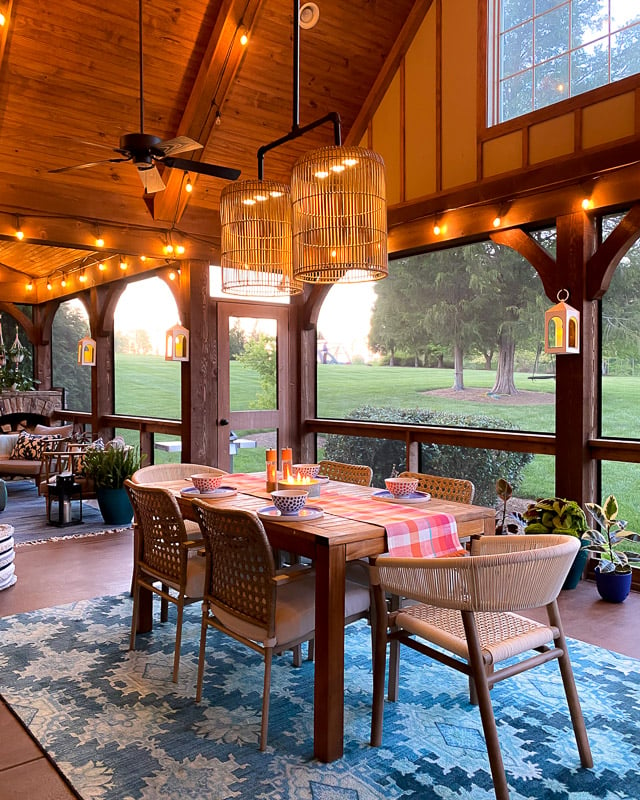 This post contains affiliate links for your convenience. Click here for my full disclosure policy.
Spot Treat Stains Immediately
Don't wait! If you spill something on your rug or it gets stained in some other way, it's important to spot-treat the stain as soon as possible. At the very least, grab your towels or sponge and blot up the spill. Depending on what caused the stain, you may need different cleaning products or methods. For example, if there's food stuck in your rug fibers, try using a mixture of baking soda and white vinegar to break down the stain before scrubbing it away with a soft scrub brush.
For tougher stains (such as oil or grease), I always use Folex. It's the best spot cleaner I have found. You may need to use a stronger cleaning solution such as liquid dish soap or even an upholstery shampoo or rug cleaner designed specifically for outdoor rugs.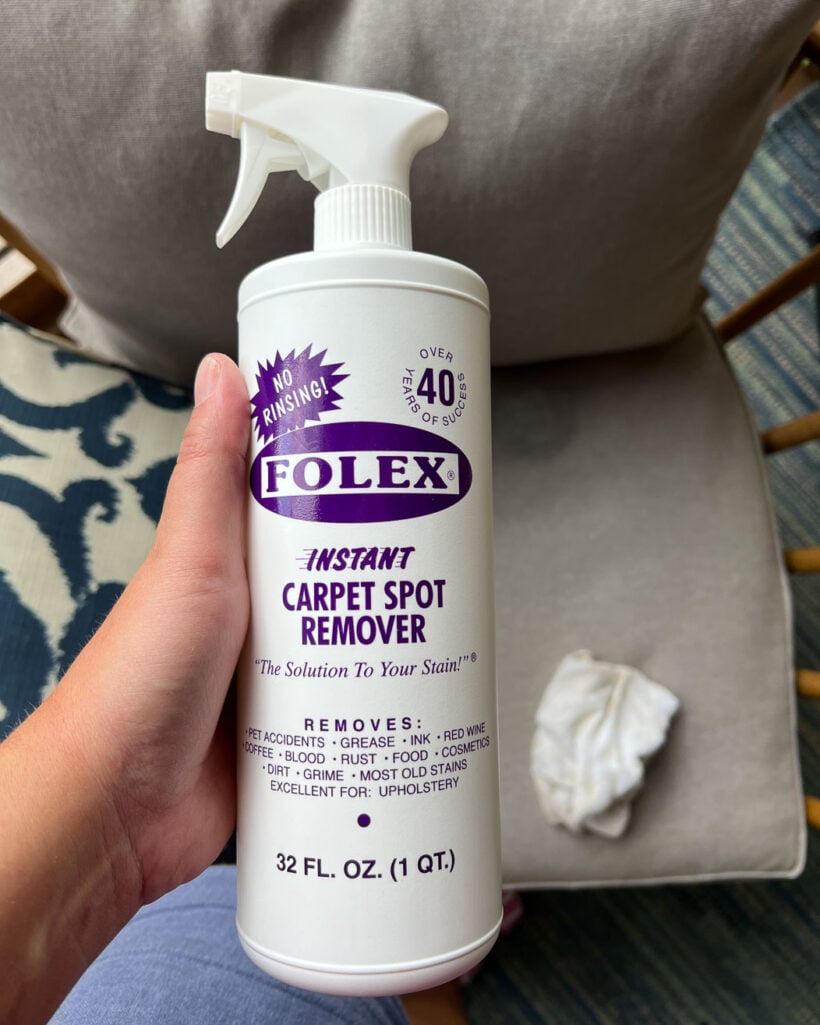 Clean Your Polypropylene Outdoor Rug With a Pressure Washer
Polypropylene, also referred to as olefin, is a synthetic material. It is often used to make outdoor rugs because it can handle heavy use but still feels soft and plush. Most of our outdoor rugs are made from polypropylene. And after lots of experience with cleaning them, I can tell you that the best way to keep your polypropylene outdoor rug looking like new is by cleaning it with a pressure washer. I pressure wash our polypropylene outdoor rugs at least once a year. This is the pressure washer we have and LOVE–it's powerful but compact and easy to set up.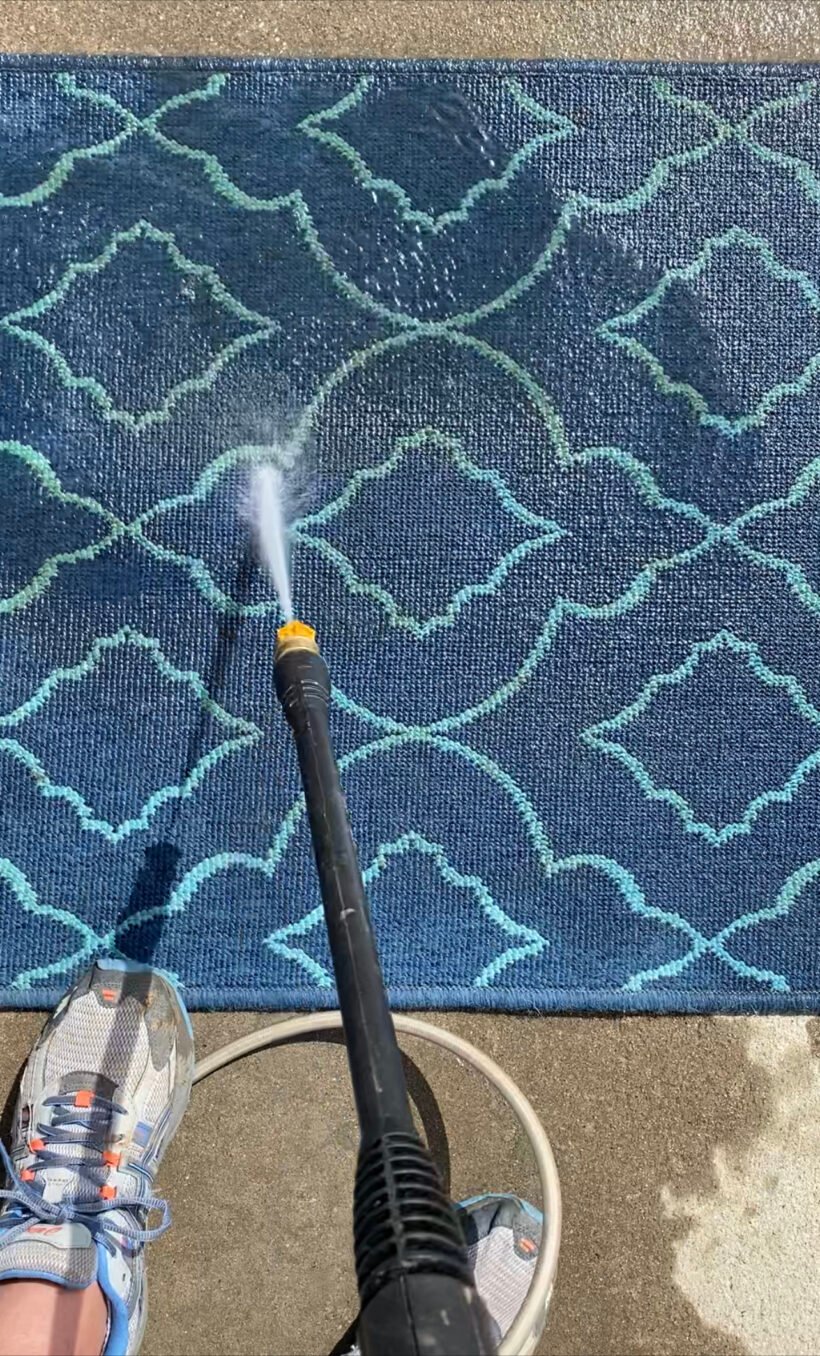 Just make sure that you don't get the spray too close to your rug as you use it—if the pressure is too high, you could damage the fibers of your rug! Power washers are amazing for rug cleaning. That high-powered water rinses away so much gross stuff! When we finish pressure washing, we leave our outdoor rugs outside in the driveway to dry on a sunny day. If you don't have a pressure washer, try renting one or borrowing one from a neighbor.
After you thoroughly clean your rug with a pressure washer, let it dry out in the sun. If there are any stain remnants, you may be surprised to find that they are GONE after they have dried in the sun!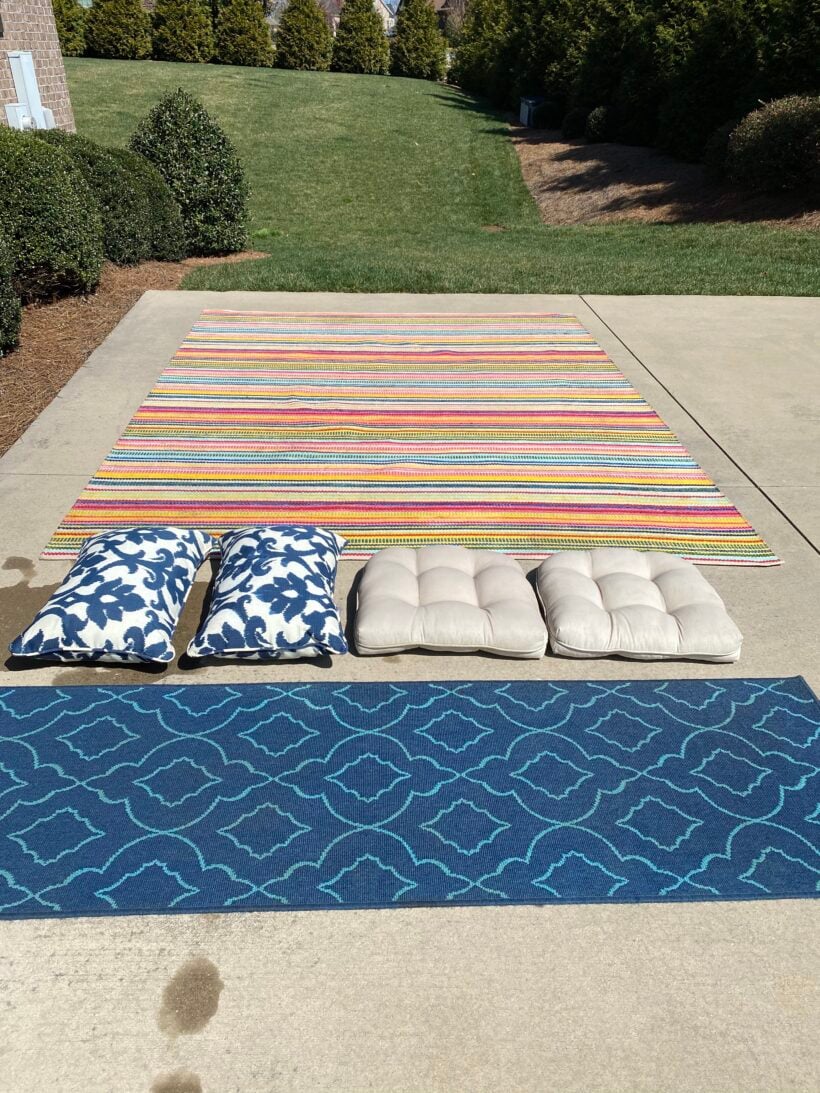 You can watch the video below for a look at how I clean our polypropylene outdoor rugs with a pressure washer + see my few tips for how to do it.
Use a Carpet Cleaner for Cleaning Other Outdoor Rugs
If your outdoor rug isn't made from polypropylene, you may want to skip the pressure washer (though I have heard from many readers who pressure wash their interior rugs). I've never cleaned non-polypropylene rugs with a pressure washer because I do worry it may damage the more delicate fibers.
But I absolutely use our carpet cleaner to thoroughly clean them (this is the same carpet cleaner I used to clean our indoor rugs as you can see from the photo below).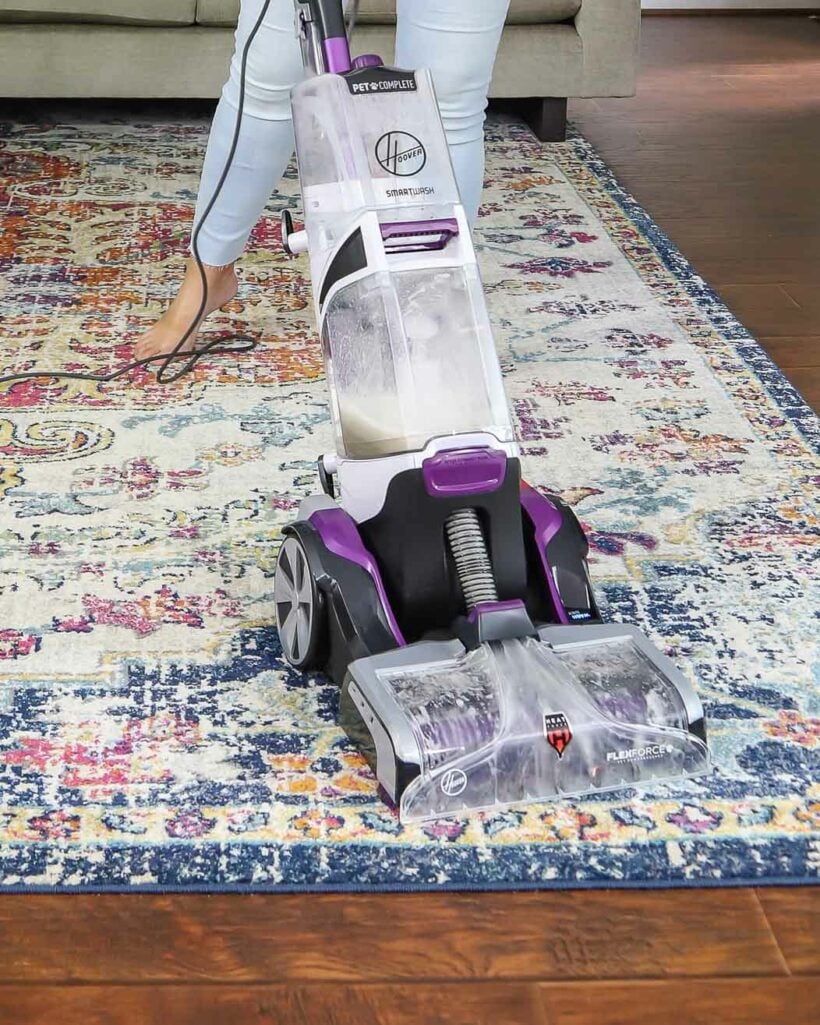 For example, this rug under our outdoor dining room table isn't even technically an outdoor rug. But it is polyester, so it is still fine to use in our covered and screened-in porch. I clean it with our carpet cleaner at least once a year and it still looks brand new!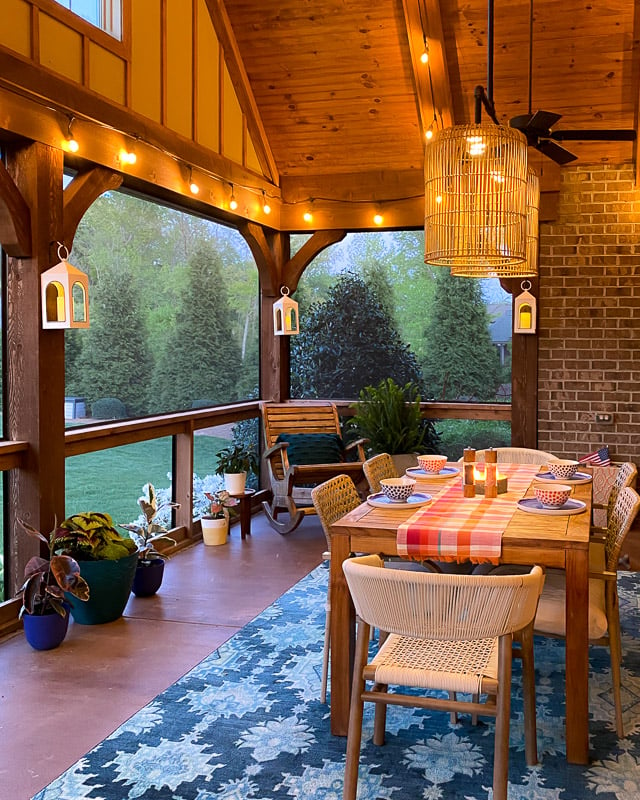 So there you have it! Keeping an outdoor rug clean doesn't have to be difficult! With these simple tips you can keep your outdoor rug looking neat and tidy all year round without having to worry about dirt buildup ruining its appearance. A small amount of work a few times a year will keep that rug looking great in the long run!
Other Posts You May Enjoy
Wondering how I approach transforming rooms and spaces in our home? Check out Designer in a Binder®.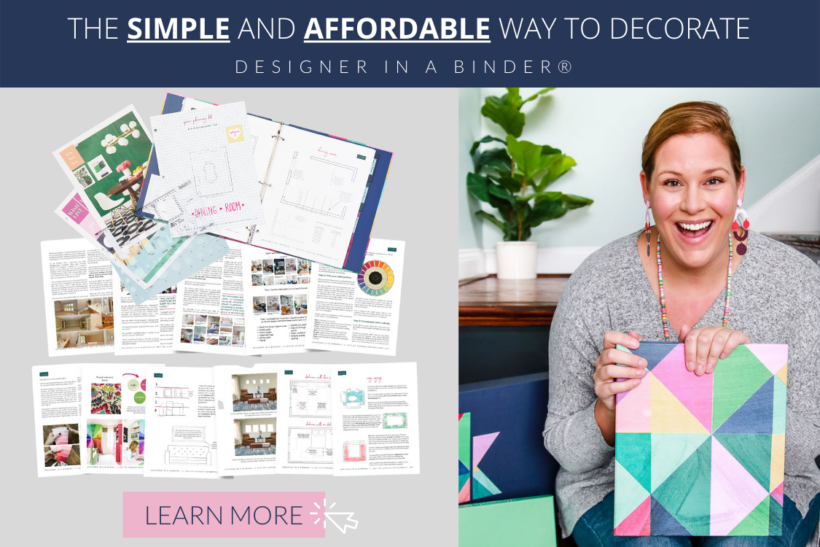 And if you want exclusive content and behind-the-scenes sneak peeks, be sure to subscribe before you head out!