How to Keep Rug Corners Down – Tips and Tricks for Every Homeowner
We have all had it happen–you roll out a brand-new rug, and the corners will not stay flat. You try adding a few heavy objects, and the corners are still curling. So if you are wondering how to keep rug corners down, I am here to help! I have the best tips and tricks for getting your rug corners to lay flat every time. Get out the wrinkles and say goodbye to the tripping hazard of curling corners. I'm sharing my favorite ways to tackle this common problem with a few simple steps for every floor type!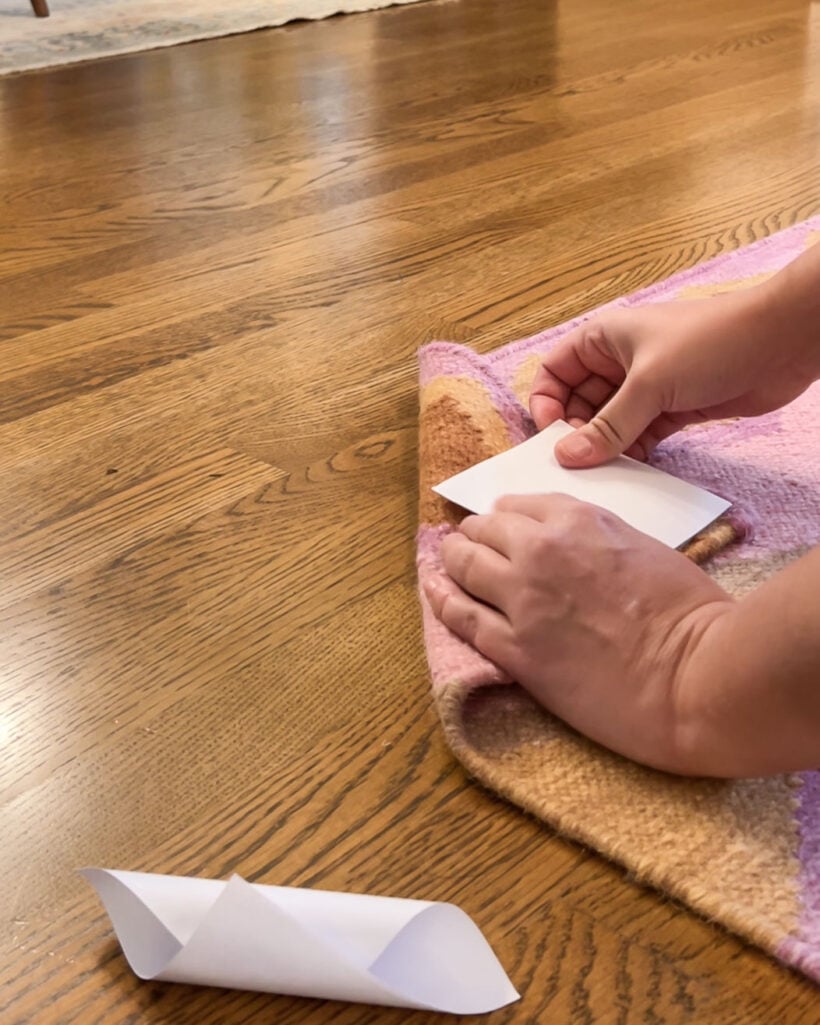 How to Keep the Corners of a Rug Down
Choose the Right Size Rug
The first thing to do to prevent rug corners from curling is to choose the right size rug for your space. If your rug is too small, it will move around and the corners will shift easily. Also, if it does not sit under the furniture far enough, it might get tangled or caught in the furniture legs, which can cause tripping.
If your area rug is too big, it may not lie flat or it may overlap into areas that you do not need or want the rug. The key is to measure your room and choose a rug that's proportional to it.
In a room like a bedroom or living room, if a rug fits correctly a problematic corner will often be held down under a heavy piece of furniture or hidden and not even visible. Choosing the right-sized rug can be tricky, but follow the tips below for the perfect fit: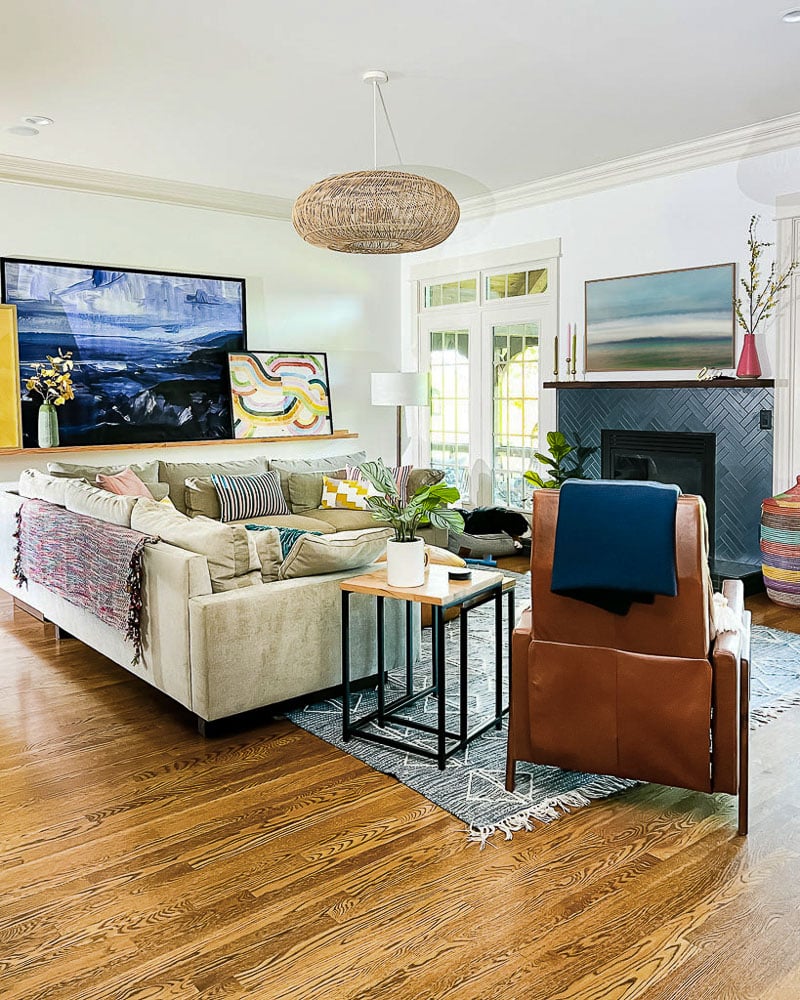 Get Your Rug As Flat As Possible
Roll the Rug Up the Opposite Way
If you have a rug that doesn't want to lay flat when you unroll it, try rolling it up in the opposite direction. This easy solution bends the carpet fibers the reverse way and can help relax the pesky corners that want to stay curled. Leave it rolled for a few hours to a few days. Remember it has probably been rolled up for days in transport and possibly a lot longer in storage before that! So allow it some time to do the work.
Sit Your Rug Out in the Sun
If you're having trouble getting your brand-new rug to sit flat, I swear by putting it out in the sun on a nice day. The warmth from the sun helps to relax the rug, kind of like ironing! This can ease out the lumps and bumps like magic. Just beware, if it is a really hot day, synthetic fibers and rubber backing could melt!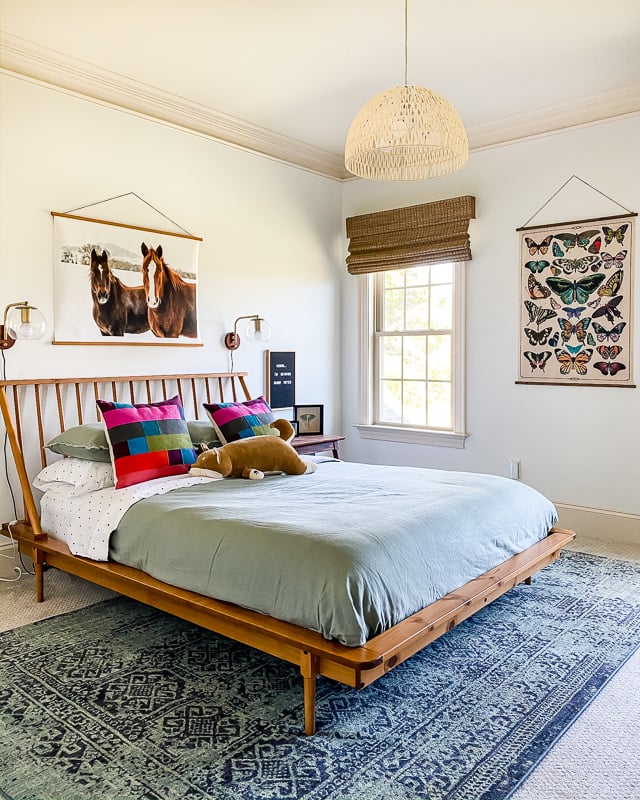 This post contains affiliate links for your convenience. Click here for my full disclosure policy.
What to Do With Stubborn Rug Corners
Roll or Fold the Corners
If you're dealing with stubborn rug corners that won't stay down, try rolling or folding them under and let them sit that way for 24 hours or so. This technique involves manually bending the curled part until it is flat against the floor and tucking it in. This is a quick and dirty way to get those rug corners to reverse course, but make sure you do not crease your rug going the opposite way or you may end up with a new bump.
Apply Double-sided Tape
Another of my favorite quick fixes is to apply double-sided tape to the problematic corners of your rug. This will work on both hardwood floors or carpet–the tape sticks to the rug and to the floor to keep your rug corners in place. I have never had issues with residue being left behind on my rugs or hardwood floors, but you may want to do a spot test first if you are worried about potential residue or damage. Be sure to test it in a hidden or inconspicuous spot!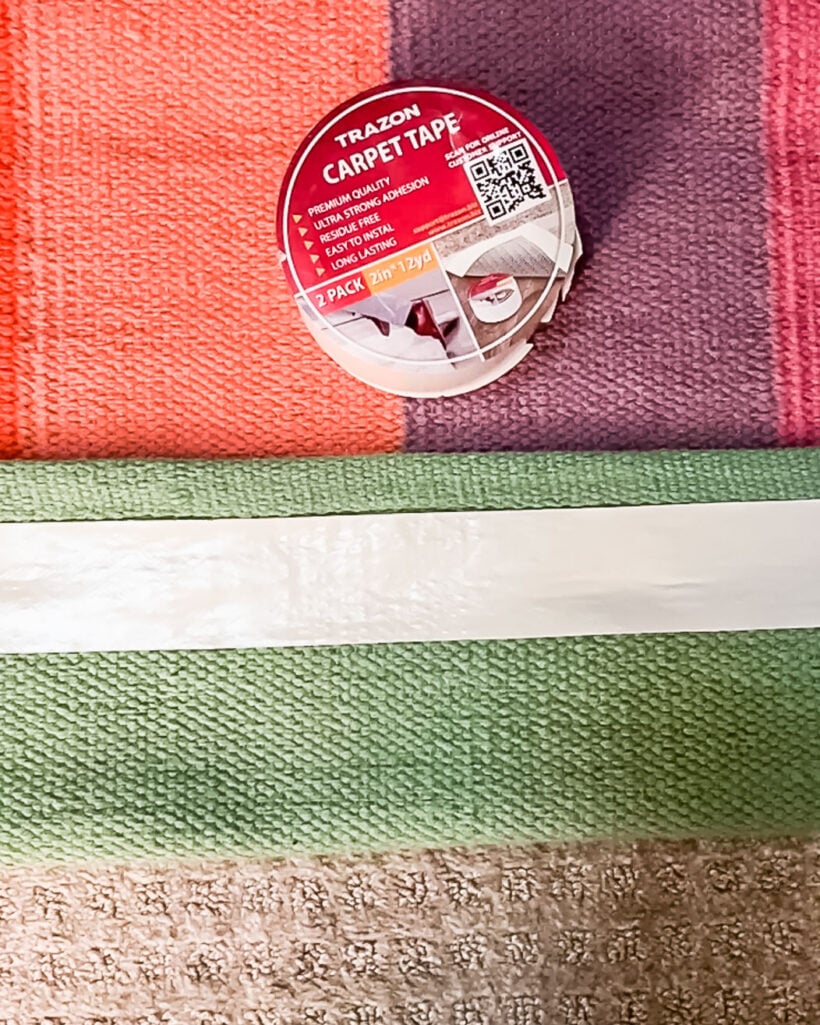 Use Rug Pads or Grippers
Another way to keep your rug corners down is to use rug pads or grippers underneath them. A good quality rug pad can work magic on a rug! My favorite is the Mohawk Home pad. Rug pads are specially designed to use on hardwood or carpet and it keeps your rug from sliding or bunching up.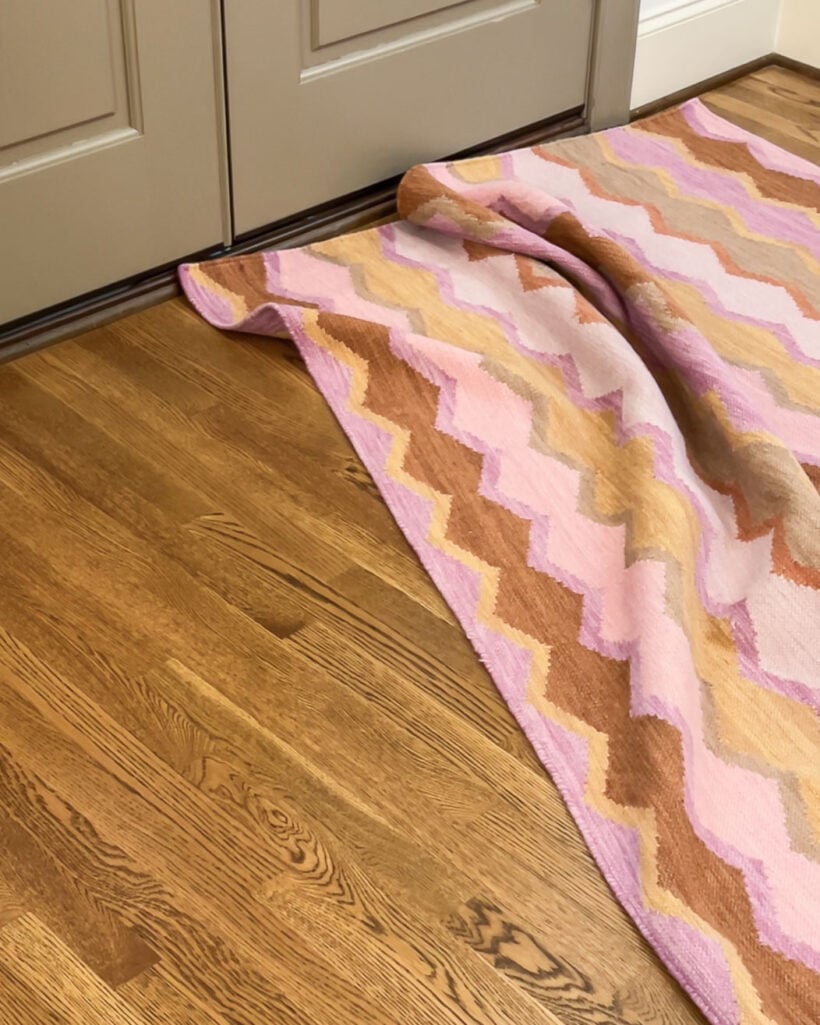 If a rug pad is not enough to keep your rug corners down, I add in corner grippers or anchors! The rug anchors are not a substitute for a rug pad but they work well in tandem to get control of stubborn corners whether you have the area rug on top of carpet or on hardwood floors.
My favorite rug corner grippers are Hook and Loop Rug Anchors. They come in packs of 10, are reusable and washable, and are super affordable and easy to use. You can also use them on the rug edges if the rug is not staying in place.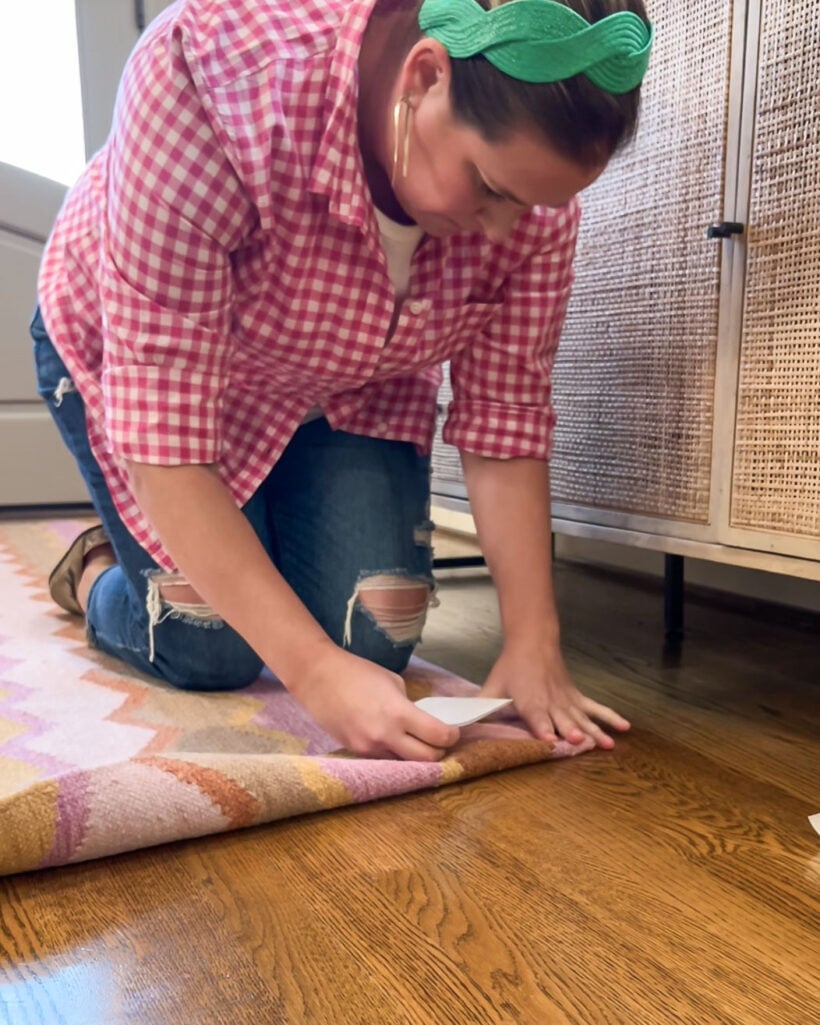 Other people I know love and used these corner grippers, but I have not tried them yet. They attach to your curling rug corner and tiny suction cups vacuum seal it to your floor. They don't work on carpets but are highly rated for different hard surfaces like tile flooring and hardwood.
Use Screws
If all else fails, you can screw the corners of your rug down! I know it sounds a little while, but this is what we did in our upstairs hallway and it is my secret weapon for rug corners that continually flip up. As you can see below, I drove a screw through the area rug and carpet down to the subfloor. I have done it several times with area rugs on top of carpet.
This is probably a last-case scenario for most people, but it works great in high-traffic areas that are too well-traveled for double-sided tape or grippers. That said, I would never screw a rug directly into hardwood floors because of the damage it would cause.
Keeping your rug corners down is not complicated and it keeps your family safe and your rug in great shape. These simple ideas will get those corners down, and keep them down, so you can enjoy your rug without any worries. What is your go-to way to keep rug corners down?
Wondering how I approach transforming rooms and spaces in our home? Check out Designer in a Binder®.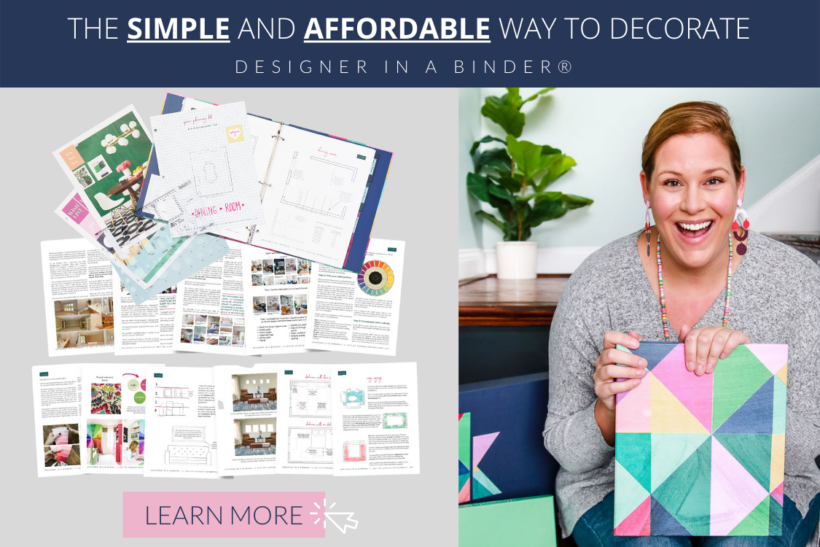 And if you want exclusive content and behind-the-scenes sneak peeks, be sure to subscribe before you head out!