How to Clean an Area Rug Like a Pro
Could your area rugs use a deep cleaning? Probably. I'm a huge fan of area rugs, but I also know that they get dirty from us walking on them, not to mention what pets and kids can do to them. Your area rug may not even look dirty! But after a while, vacuuming isn't enough to get your area rug clean and you need to do more.
The good news is that cleaning an area rug is generally a lot easier than you may think and you can do it yourself! As someone who has an area rug in every single room in my home (yes, I even put area rugs in carpeted rooms), I've had a lot of experience with cleaning area rugs! In this post, I'm sharing my simple but effective cleaning tips that will help keep your area rug looking great and smelling fresh for years to come.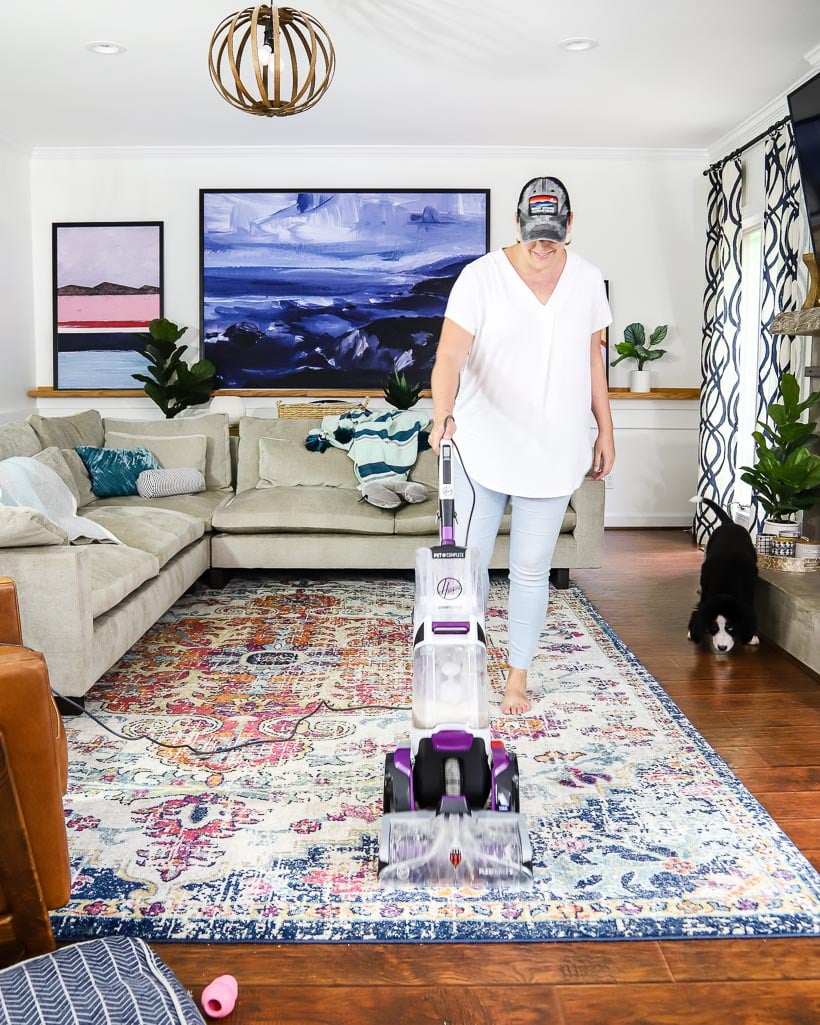 Can I clean my area rug myself?
Generally, you don't need to hire a professional to clean your area rug or send it to a dry cleaner. But if you have antique rugs or your rug is very delicate and/or valuable, I would recommend turning the cleaning over to a professional.
But if you are like me and have rugs that you can order online or buy at stores like Target (you can see all of the colorful rugs we have used in our home here), you can absolutely clean your area rug yourself! For the remainder of this post, I'm going to address cleaning indoor rugs that do not need to be professionally cleaned.
Does it matter what my rug is made of?
Generally speaking, natural fiber rugs (like wool rugs) should be treated differently than a synthetic rug. Natural fiber rugs should be cleaned gently with a cold water process. Synthetic rugs, on the other hand, can handle hot water and strong cleaning solutions and detergents.
If you aren't sure what your area rug is made of, check the bottom of the rug for a label or tag that should list the material of the fiber(s). Some labels will even include specific cleaning instructions.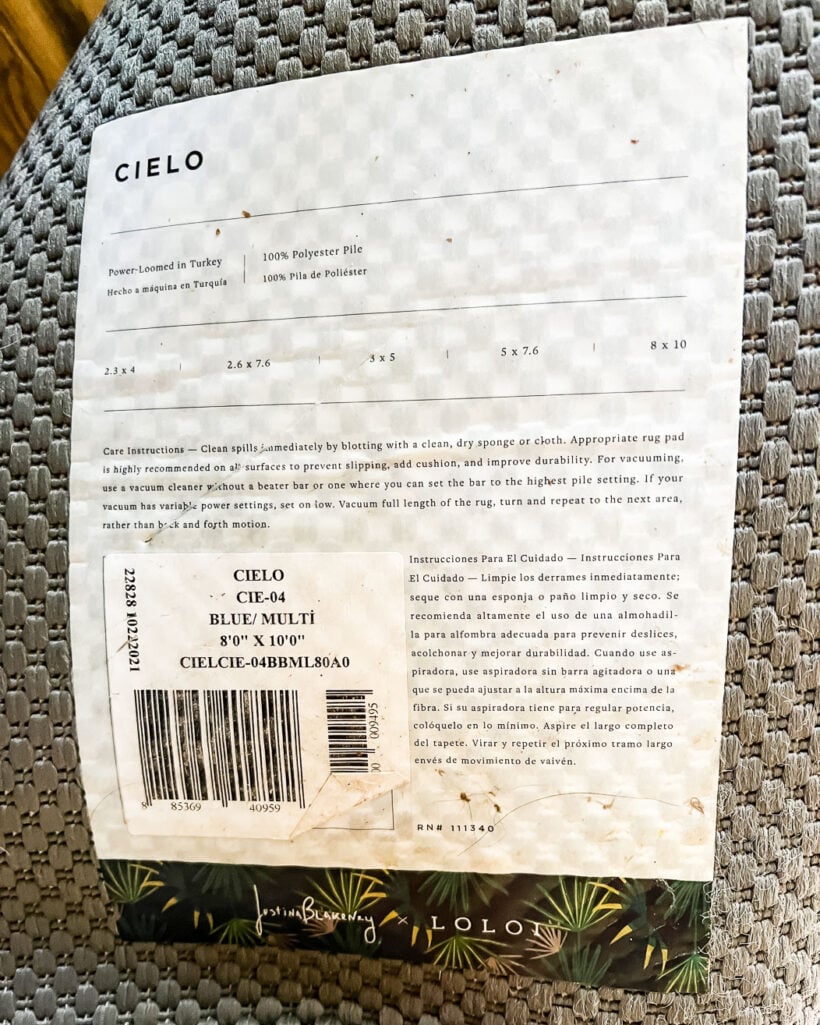 This post contains affiliate links for your convenience. Click here for my full disclosure policy.
What I Use

Here are links for you to find everything I use to clean our area rugs myself. Click on any image for full product details.
What is the best way to clean an area rug?
Vacuum Your Rug Regularly
Regular vacuuming should be the first step in cleaning and maintaining an area rug. It helps remove dirt, dust and other loose debris from your rugs. Vacuum your area rugs at least once a week for light traffic areas, or twice a week for high traffic areas.
Cleaning Stains and Spills
Spills happen y'all. And while I would love to tell you that most spills are caused by my dog or my kids, that would be inaccurate. I am the worst offender in my own home. I've spilled everything on the carpet and area rugs in our home, including paint more than once. So I'm pretty skilled when it comes to stain removal.
The key is not to panic and to clean the stain or spill immediately. Get up as much of the excess spill as you can by blotting (never rub–that will just work it into the fibers even more). Dab gently using clean towels until as much of the moisture has been absorbed as possible.
For oil-based spills, use cornstarch or baking soda before blotting up as much as you can with a dry cloth. Then dampen the spot with warm water and blot it up with clean towels.
After you have blotted away as much as you can, I recommend using Folex on the area. It's super inexpensive and works like magic on most things. Remember I told you I've spilled paint on rugs many times? Folex has gotten it out every single time. Be sure to spot test your rug first!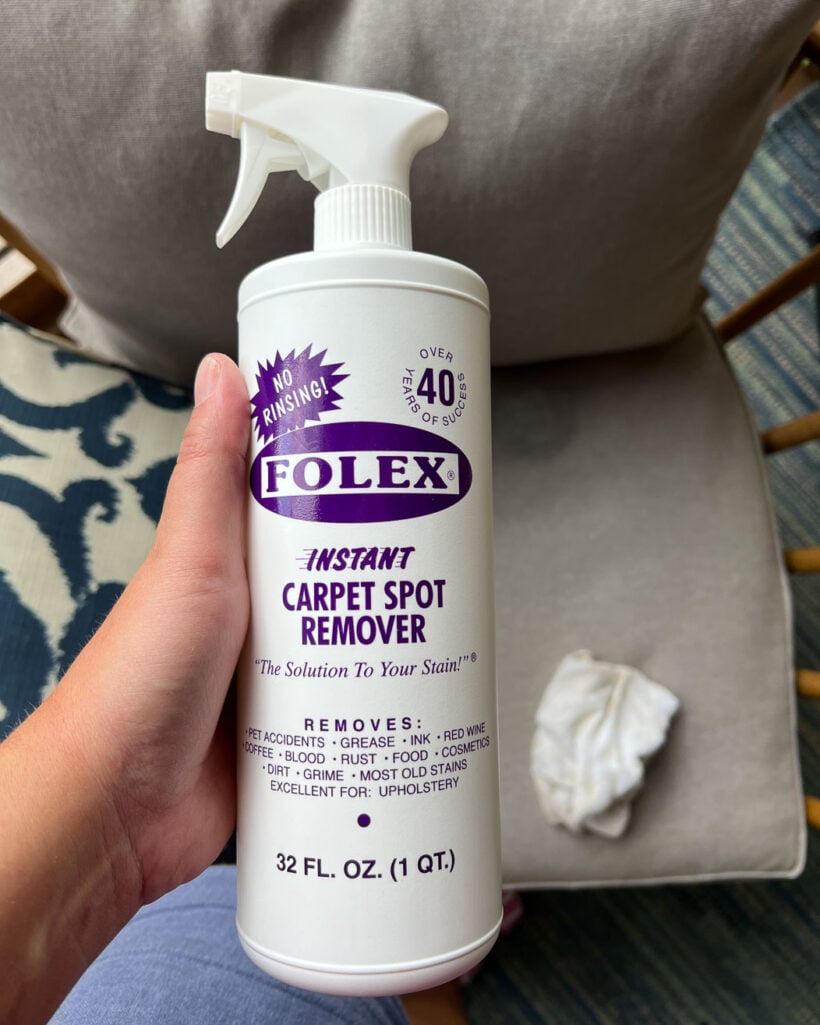 Deep Cleaning Your Area Rug With a Rug Cleaner
At least once a year, you should be deep cleaning your area rugs. And I promise it's not time-consuming or difficult. Best of all, you can do it yourself and save tons of money by not having to a hire a professional.
I am able to clean all of the area rugs in our home (including our wool and cotton rugs) using this carpet cleaner that we have had for years. I loooooove it so much (note this is NOT sponsored–I'm just a fan). In fact, it's one of my top recommendations for keeping your home clean with dogs. It's reasonably priced and has paid for itself many times over at this point. If you would rather not purchase one, you can rent a carpet cleaner and buy carpet shampoo that works with it instead.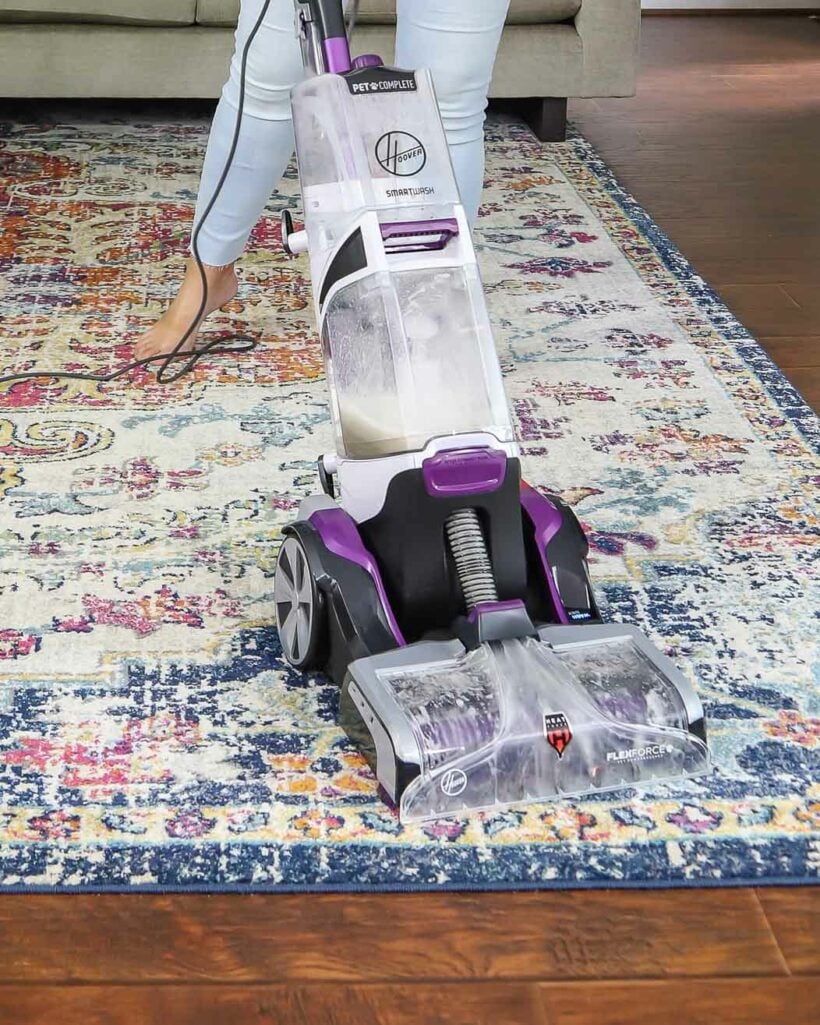 If we paid to rent a carpet cleaner or hired a professional to clean our area rugs every time we needed to clean them, we'd have spent loads more than we spent on this carpet cleaner! It also saves us the time and is less of a hassle than the other options. And I personally love the fact that it hasn't been used in anyone else's home (it just seems more sanitary to me).
You can use the machine after throroughly vacuuming your rugs to get as much dirt and loose debris out as possible.
Using the Hoover SmartWash Carpet Cleaner itself is as easy as vacuuming, though you move it a bit more slowly than you would a vacuum. You load one tank with cleaning solution and the other one with plain water that is used to rinse the cleaning solution off.
As you push the cleaner forward, it dispenses the cleaning solution and scrubs your carpet. As you slowly pull it back, it rinses with water and sucks the excess water up at the same time. It is MAGICAL! Check out how much dirt comes up from your area rugs when you clean them with this machine. It's so gross, but very satisfying to see!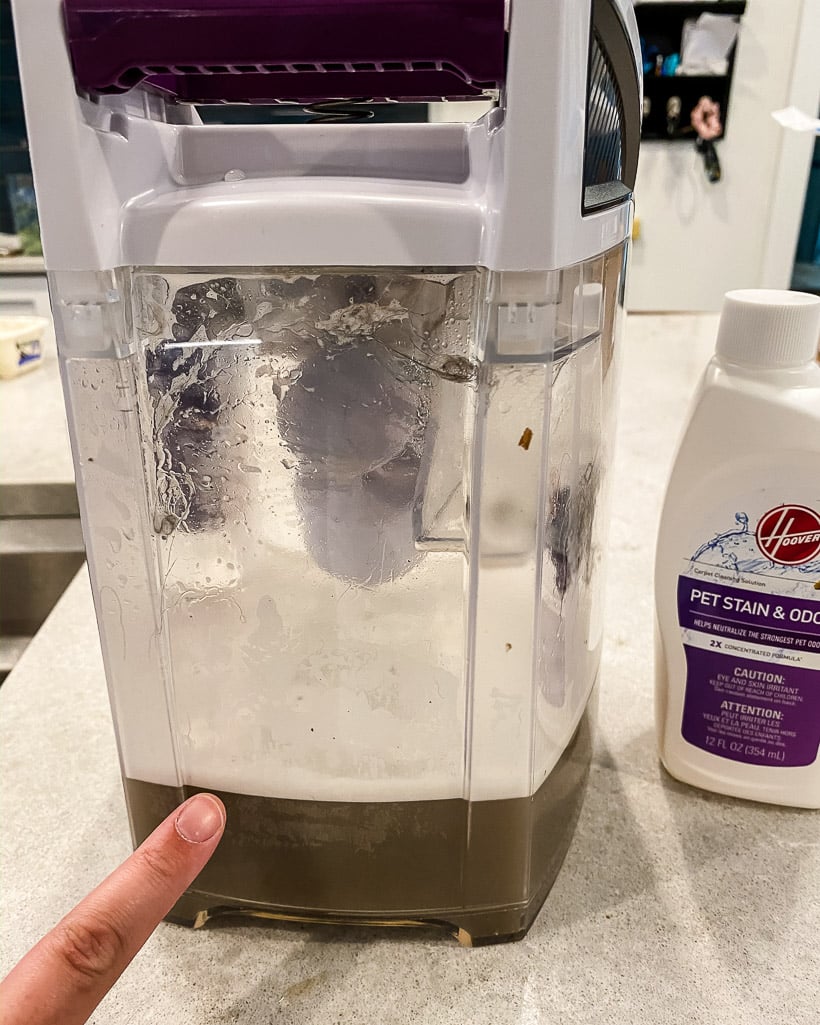 I use this Hoover carpet cleaning solution with our machine and haven't had any issues with it, but you should always spot test the solution on a small area of the rug that is inconspicuous first.
So there you have it! Cleaning an area rug isn't as intimidating as it seems (cleaning an outdoor rug is a different process, but it's also easy)! With regular vacuuming, handling stains quickly, and deep cleaning once a year, you'll be able to keep your area rug looking beautiful year after year!
Other posts you may enjoy:
Wondering how I approach transforming rooms and spaces in our home? Check out Designer in a Binder®.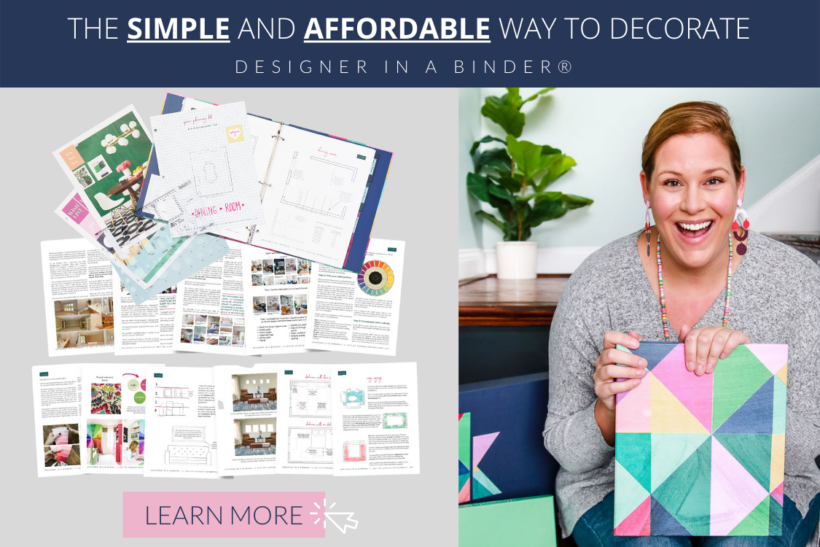 And if you want exclusive content and behind-the-scenes sneak peeks, be sure to subscribe before you head out!