The Best Ways to Keep Your House Clean With Dogs
Last Updated on March 23, 2022
Dogs can bring incredible joy to any home. But they also shed and make messes. So I'm sharing my best tips on how to keep your house clean with dogs living in it!
This post is sponsored by Walmart. All opinions are 100% my own, as always.
If you follow me on Instagram, y'all know I'm OBSESSED with our Bernese Mountain Dog, Riggins. Y'all probably also know we are pretty obsessed with keeping a clean and tidy house. So I get lots of questions in my DMs about how in the world we keep our house clean with such a big dog that sheds a lot. I won't lie and tell you it's easy to keep your house clean with dogs, but it absolutely is possible. In fact, one of my sisters has 3 big dogs and my other sister has 4 big dogs and their homes are incredibly clean as well! The right tools help A LOT. So in this post I'm going to share what works for us! This topic is at the forefront of my mind right now as we are thinking of adding a second big dog to our home at some point in 2022.
Now, it has to be said that many people are going to read this and think, "OMG, if it takes this much work to keep a house clean with a dog, why bother?" For us the answer is simple… the love and happiness our dog brings to us is worth every penny we have spent and every single second we spend cleaning. There's no substitute for the love of a dog and we wouldn't trade it for the world!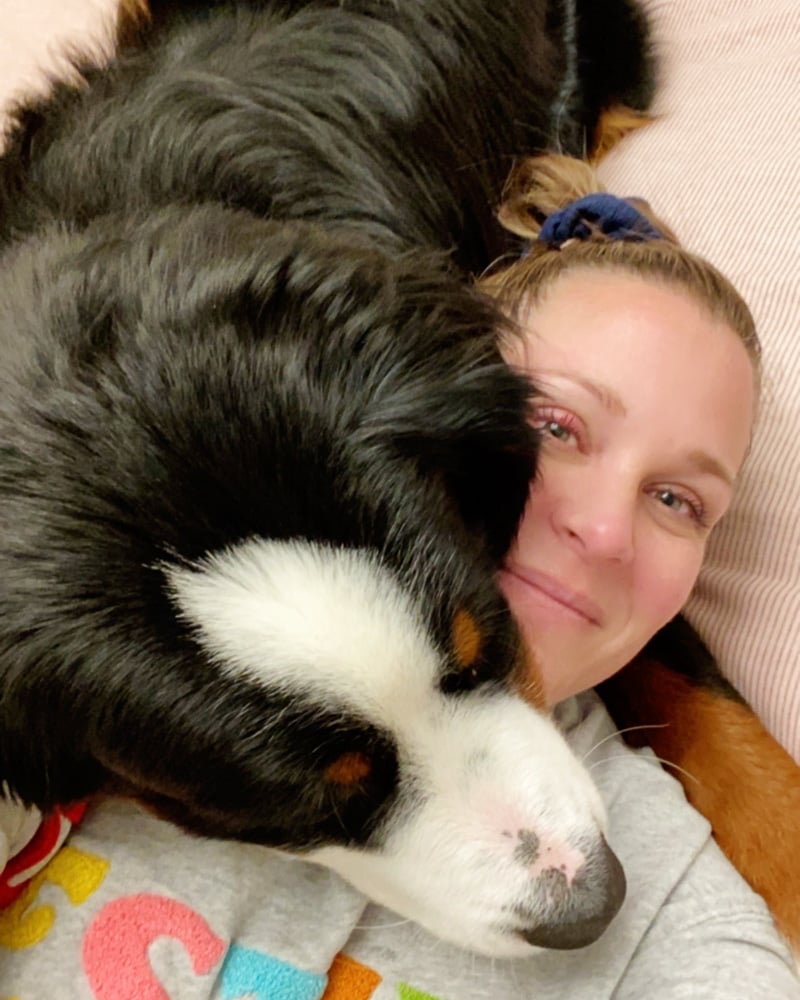 You can find all of the sources I mention in this post from Walmart Home. Over the years, I check out Walmart Home more and more often because the selection and brands offered are so great! If you have checked out all the incredible home items Walmart offers recently, give it a look! You will be pleasantly surprised and impressed! Now, let's dive in!
You Need a GOOD Stain Remover
We've had it fairly easy in the potty training department, but here are the tools I suggest for when your puppy is young! A good stain remover that includes enzymes! This is our favorite one. The enzymatic formula works to eliminate stains and odors caused by puppies and dogs, including urine and feces accidents, food, drooling, bedding stain and odors. Other cleaners and detergents may fail and chemically "set" stains that will be impossible to remove. This is great for inevitable accidents when you are potty training a puppy, but it's also good to have on hand for older dogs as well (you never know when they may get an upset stomach and vomit on your rug).
You need GOOD Vacuums (yes, vacuums PLURAL)
Whether you have one tiny dog or several big dogs, your floor care matters. And vacuums are a huge part of that! Even if you have a small dog and/or a breed that doesn't shed, TRUST ME when I tell you they drag more dirt inside your house than you realize. Dirt sticks to dog's paws and fur or hair like you wouldn't believe, even if you can't really see it. And if you have a big dog that sheds like us, then you already know how much hair you will need to clean up on a daily basis. As I mentioned, one of my sisters has four big dogs (a Golden Retriever, a Bernese Mountain Dog, an Old English Sheepdog and a Chocolate Lab)–she vacuums several times a day to keep her home clean!
We have finally figured out the magic combination of vacuums that help us keep our house clean. We often have people say, "I wouldn't even know you have a dog!" That's exactly the kind of cleanliness we are going for. This is what we use:
This is the cordless vacuum that we use. Our cordless vacuum is what we use the most often to do a quick vacuum of our great room and bedroom, which is where the bulk of our dog hair and dirt winds up. It's lightweight and the fact that it's cordless makes it so quick to grab and go, which is important! If vacuuming feels like a time-consuming commitment, you will be less likely to do it regularly. And you MUST do it every single day to keep your house clean and free of dog hair. The awesome thing about this cordless vacuum and that makes it perfect for pet owner is the brushes, which pick up pet hair and dirt from hardwood floors and carpets/rugs! And the DustTracker LED Headlights make it easy to see the pet hair and dirt ahead of you (seriously, turn your overhead lights on and just use the headlights to REALLY see what's on your floors). You can also detach the stick and use it as a hand-held vacuum, in which case the motorized pet tool gets stubborn pet hair and fur off of things like your couch and other upholstered furniture, fabrics, stairs, etc. And the suction on this vacuum cleaner is INTENSE–you can actually feel the suction pull the machine forward a bit when you turn it on. We have had this vacuum for a few years now and cannot recommend it more highly. Oh, and it's reasonably priced! I've never been able to wrap my head around the price of a Dyson!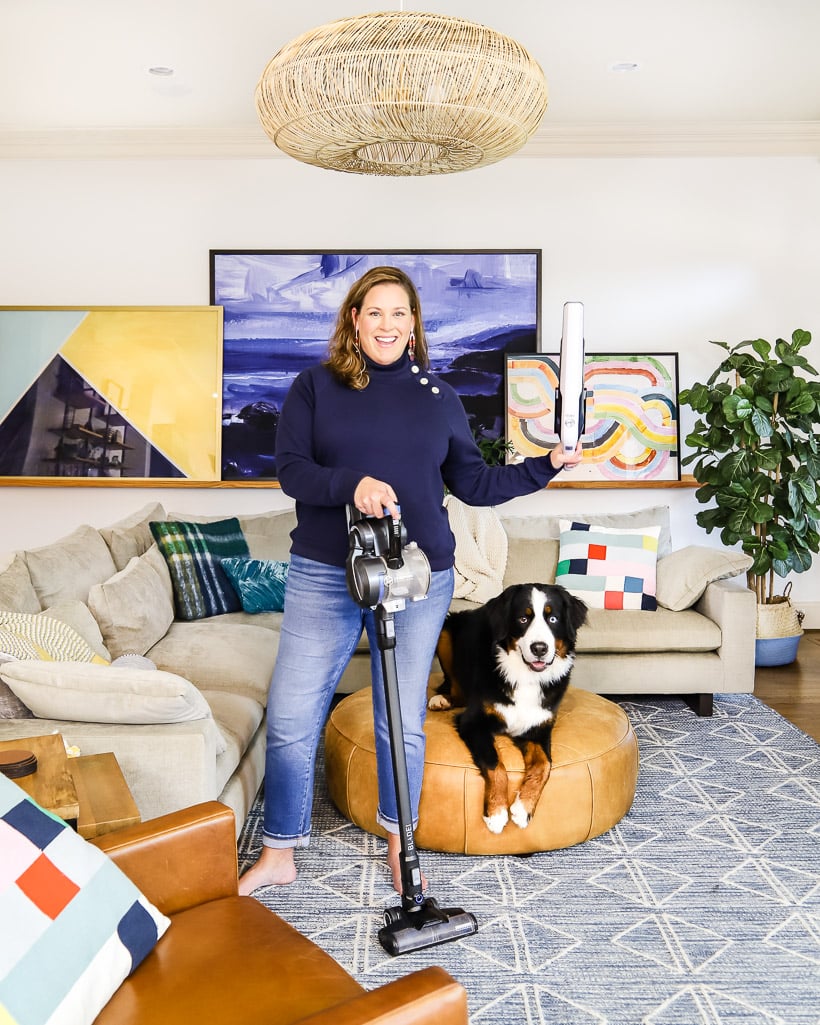 We also recently invested in this robot vacuum cleaner. Really, it was my Christmas gift to myself even though I purchased it back in November, lol. We have had an automatic vacuum cleaner before (an old iRobot) and I never loved it. It wandered around aimlessly, was super inefficient and LOUD. But this robot vacuum cleaner is TOTALLY DIFFERENT. It actually maps your house out so it vacuums in a pattern that makes sense. And you can set up "no go" zones for it to avoid completely. Most importantly, it works well and is quiet. I don't mind hearing it run in the background at all. You can set it up to vacuum on a schedule, which I haven't done yet. Usually, I turn it on when I leave to take the girls to school and it runs for a few hours cleaning the main floor of our house. When it's done, it places itself on the docking station. All I have to do is empty the dust collector before I go to bed. So easy and it has cut down on the amount of manual vacuuming I have to do. There are far less expensive versions than this one that we bought that still get GREAT reviews. Some even empty themselves! We chose the one that we did because at the time it was $250 off! You can see some of the others that come highly recommended at lower price points below.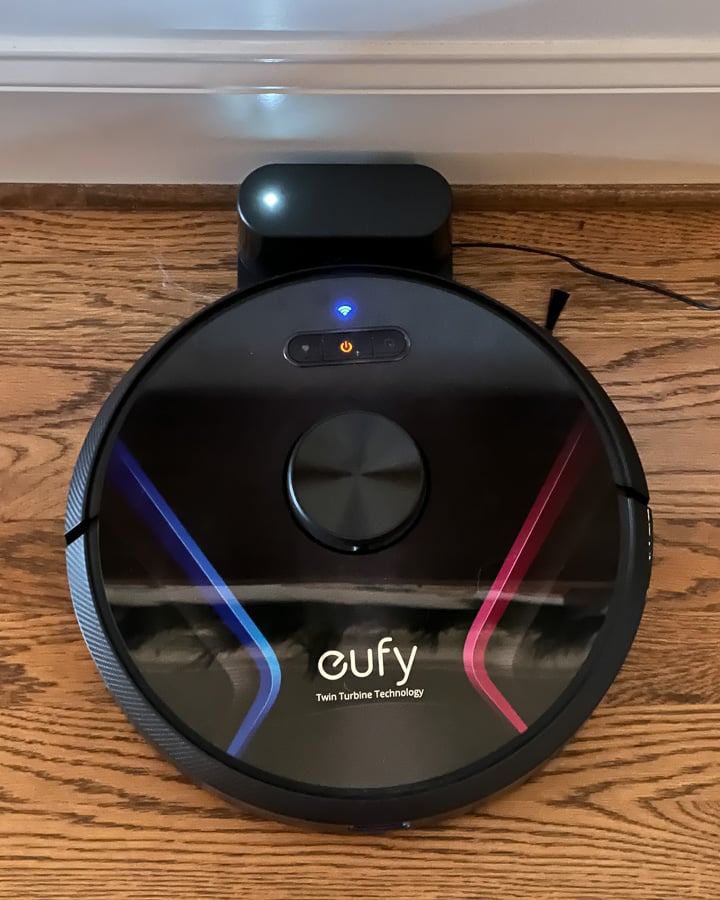 Invest in a Carpet Cleaner
Frankly, I think a carpet cleaner is a wise investment for anyone with carpet or area rugs in your home. But I think it's a must for keeping your home clean with dogs. We've had this carpet cleaner for about 2 years now and I don't know how we lived without it. It's incredibly easy to use! You just push it forward to clean and pull it back to dry–it's basically the same as vacuuming but you move the machine a bit slower. You can see me using it with a TINY Riggins in our old house below. We use it with this cleaning solution, which is specifically formulated for households with pets.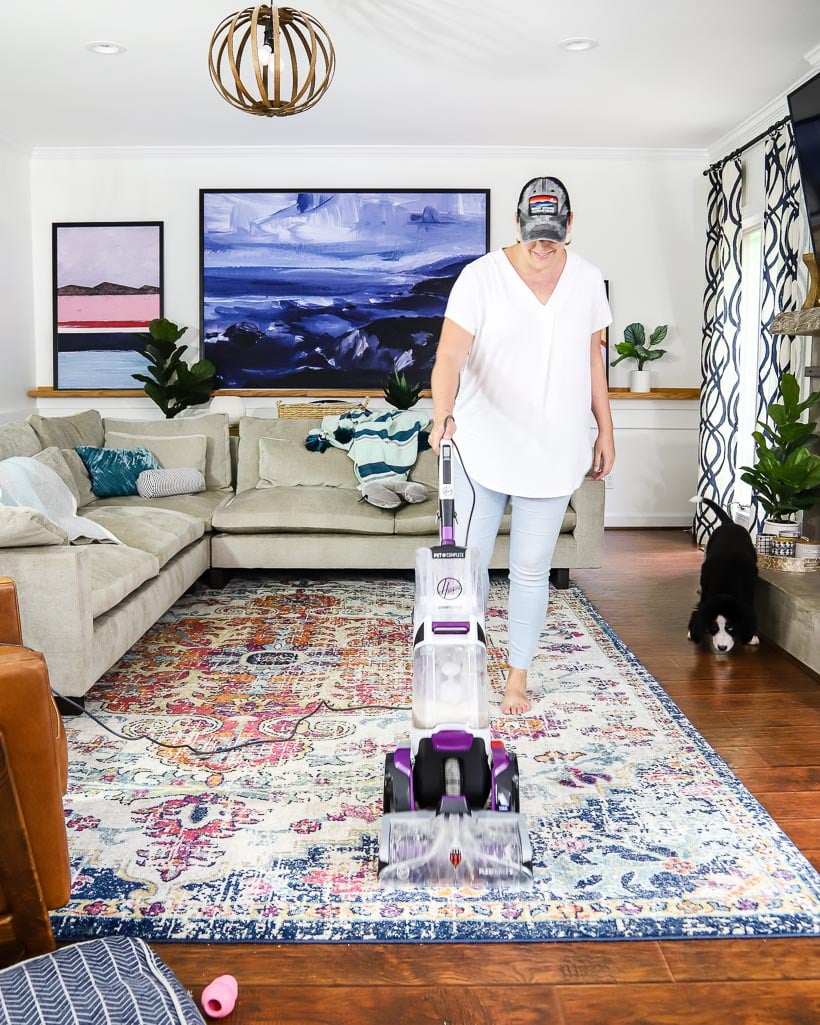 You will be SHOOK when you see how much dirt and nastiness this machine gets out of your carpet and area rugs. Don't believe me? You can see an example of what our machine gets out of just ONE rug (and we clean ours every few months).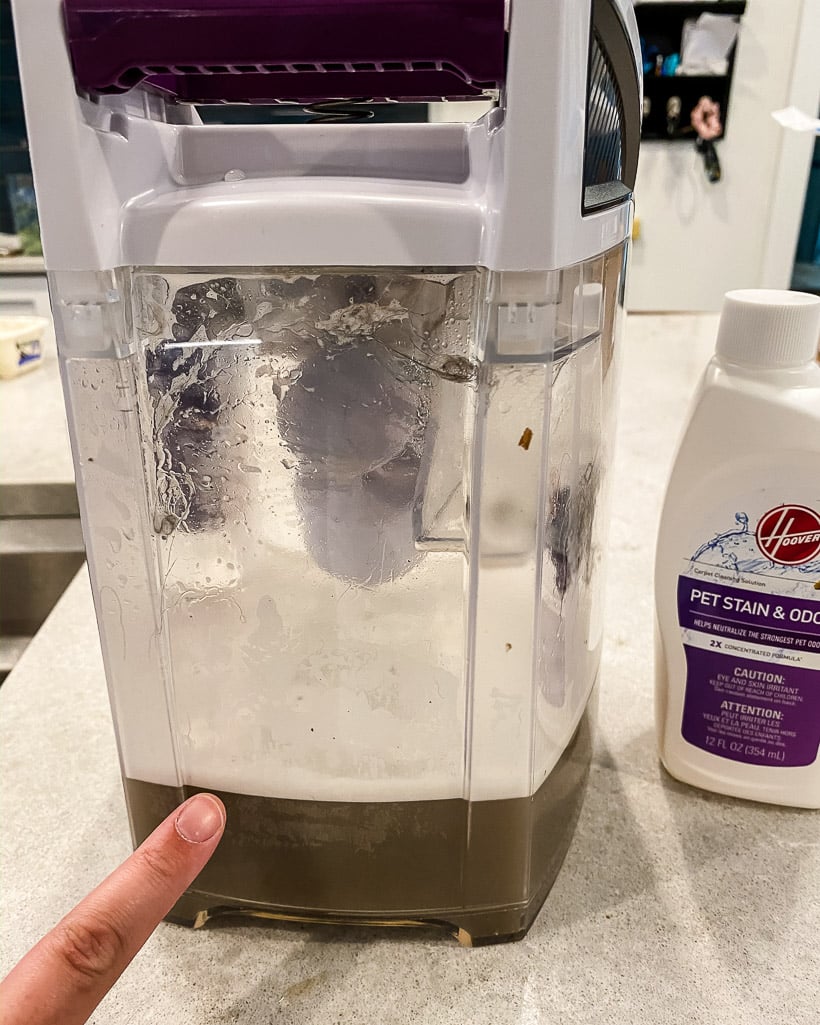 A Hard-Surface Floor Cleaner is a DEFINITE Bonus
If it's within your budget, I also highly recommend a hard-surface floor cleaner. This is the one we have and love. We have had this floor cleaner for over a decade, starting with the very first model that ever existed. We upgraded to a newer model about 2 years ago. In fact, I wrote an entire post about my love for this machine that you can read if you want lots of detail. The short version is this… It's completely cordless and can clean wet and dry messes at the same time. It also basically cleans itself when you are done using it. I could not possibly love this machine more. We know we all bring dirt into the house, and Riggins' giant paws and furry body bring in lots as well. This machine helps us keep our floors CLEAN!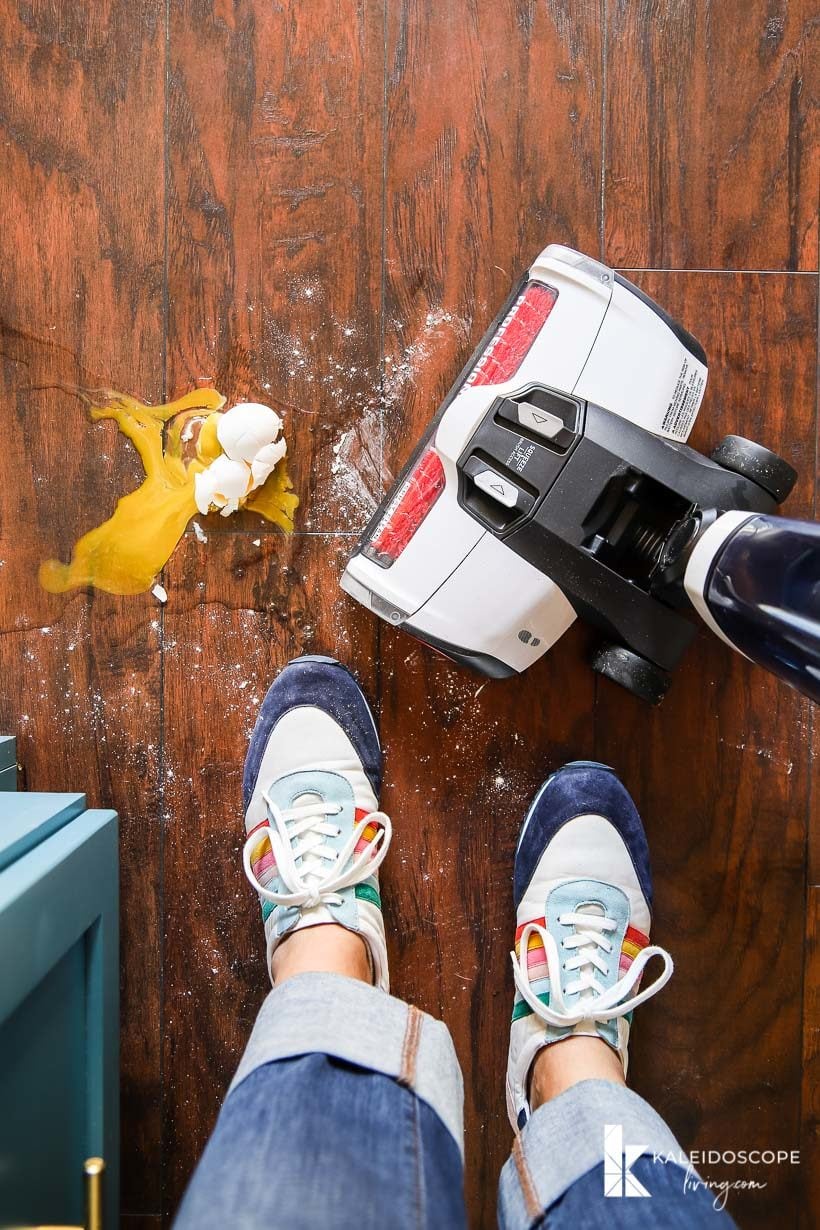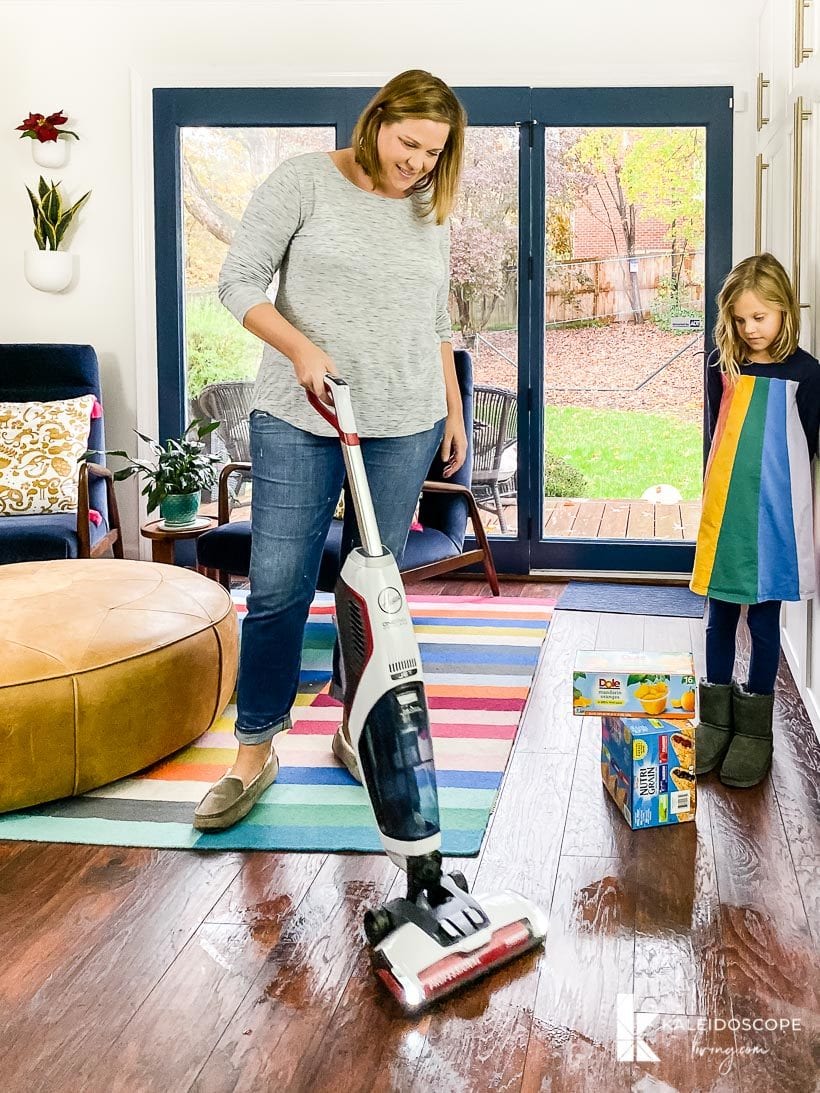 How to Deal With Dog Hair on Surfaces You Can't Vacuum
As I mentioned above, our cordless vacuum cleaner does have a detachable hand-held vacuum that has an awesome attachment that is great at getting pet hair off of upholstered furniture. BUT I quickly realized that there are some surfaces, like our bed with a duvet on it, that are too "loose" to vacuum. There are also times I want to quickly remove dog hair from something without having to get out the cordless vac, detach the top and add the pet hair attachment. I learned quickly that traditional lint rollers are too expensive to use if you are dealing with a lot of shedding like we are. I know a lot of people add blankets to furniture and beds that their dogs lay on, but we've just never gotten into that idea. So I've tried many different options, but by far my favorite is this genius little pet hair remover! I use it to remove the dog hair from our bed at least once a day. It's quick, easy and works so well!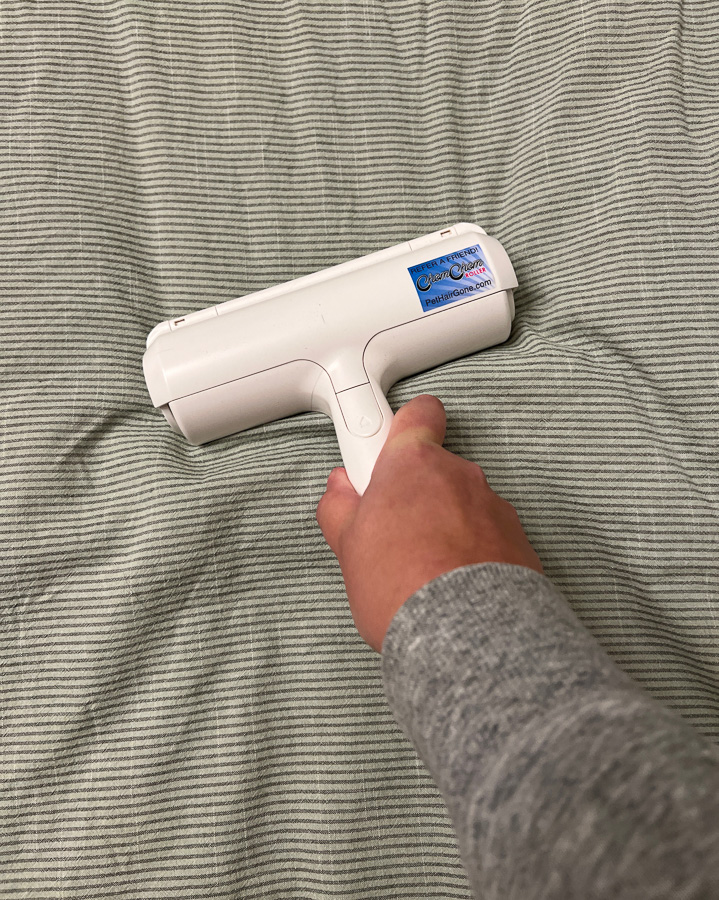 Don't Ignore Your Dog's Nails
Like zillions of dog owners, we have hardwood floors. Your dog's nails can do a number on hardwood floors if you aren't careful! We keep Riggins' nails not only trimmed but rounded so that they are easier on our floors by using this dremel on his nails. We started using it on him when he was a tiny pup, so he doesn't mind it at all anymore. But please know your dog probably won't love it the first time you use it, lol! What we love about it is that it gives us the ability to not just trim his nails, but shape them. Our floors appreciate the extra effort.

How to Handle the "Dog Smell"
Y'all, sometimes dogs smell. They sweat like humans. They need baths, but you really can't bathe them too often because it's not great for their skin. So, in addition to using a good quality pet shampoo and conditioner (yes, I do recommend a hair conditioner if you have a long-haired dog like us) when you bathe your dog, I also recommend having things on hand to clean them up in between baths. These pet wipes are SO HANDY for wiping muddy paws if it's been raining outside. And I swear by waterless shampoo in between baths. It helps keep pups smelling fresh.
We also use essential oils in our vacuum cleaners and on our pet beds to keep everything smelling fresh. My favorite is Purification by Young Living, but any essential oil scent you like should be super helpful in getting rid of stinky dog smell.

Helpful Stuff for Dog Baths
It shocks a lot of people to learn that we bathe Riggins at home. After all, he's a 105-pound hairy beast. And while I would love to outsource the job (it's not my favorite), it's expensive and I don't want to spend the time driving him to a groomer.
Riggins is too big to bathe in any of our bathtubs, so we actually bathe him in our walk-in shower. I bought this dog shower attachment about a year ago and it makes things so much easier! It's easy to install and use. The other thing that is super helpful in keeping Riggins content while I get a full-body workout bathing him is a dog licking mat. We load it up with peanut butter and stick it to the shower tiles with its suction cups. Keeps him happy!
For drying, I recommend using an old towel (or several old towels if your dog is big and hairy like Riggins, lol). We keep a stash in a basket for the sole purpose of dog baths!

So that's it! Those are all my best tips for how to keep your house clean with dogs in it! We had the most amazing Boxer for nearly 13 years before Riggins, so we speak from experience. Did I forget anything?! Any tips you have for keeping a clean house with dogs that I missed? If so, reach out on social media and let me know!
You can find links to everything we use and mention below.

Other posts you may enjoy:
Wondering how I approach transforming rooms and spaces in our home? Check out Designer in a Binder®.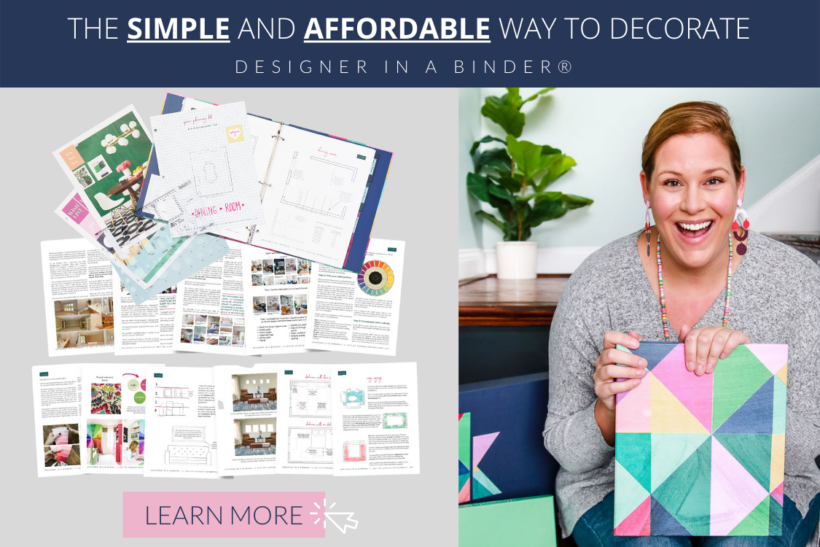 And if you want exclusive content and behind-the-scenes sneak peeks, be sure to subscribe before you head out!