The 10 Best Family Command Centers
As a busy business owner, wife and mom of two busy daughters, I know how hard it can be to manage all the things. I have found that a family command center is crucial for keeping any busy family organized! A command center can help you take control of the chaos. So if you don't have one already, I recommend that you set up a command center for your family ASAP. Here are the best options out there. Just pick the one that suits your family's needs!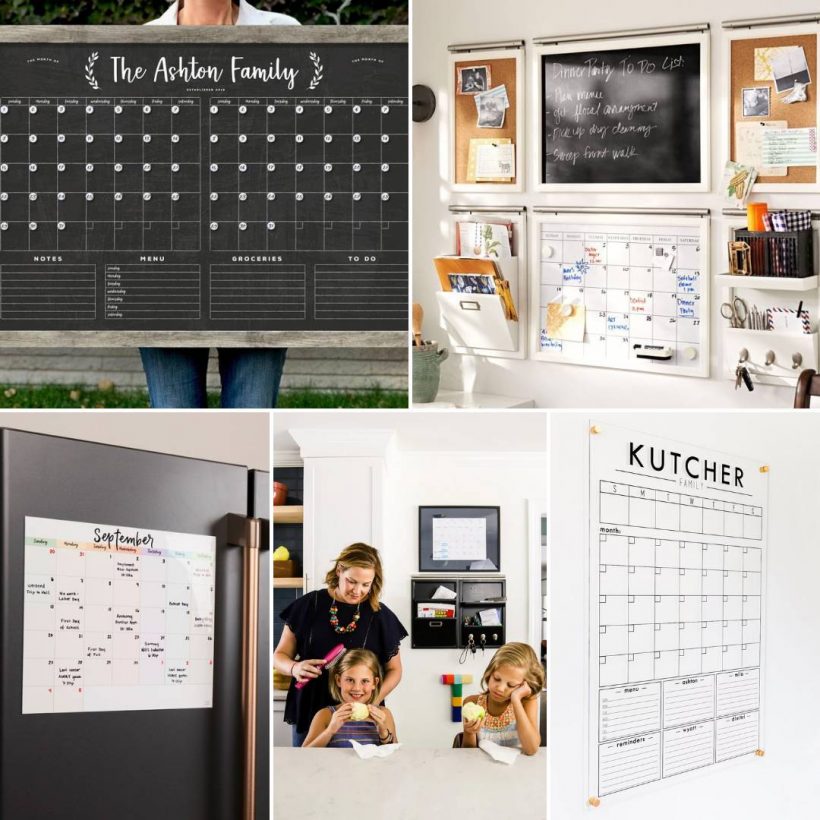 I frequently get asked about how we keep our busy family organized. And I promise you, there's nothing magic about what we do! It really is about developing systems that work for our family (we use Alexa hacks like our lives depend on it and follow these tips and routines for how to organize your life with work and kids.
And the number one thing I recommend to everyone is setting up a family command center. We've been using one for over 15 years now (yes, we had one even before we had kids)!
What is a Family Command Center?
A family command center is just a designated space in your home that serves as the central place for organizing daily chaos (schedules, incoming papers, car keys, etc).
What Should Be Included in a Command Center?
Exactly what you include in your command center varies based on your family's own needs, but they frequently include things like a family calendar, a place for papers, a place for notes/messages, your menu, and hooks for keys. Some families even like to include an entire calendar wall for easy visual planning (our monthly wall calendar that you see below is perfect for that)!
How Do I Set Up a Command Center for My Family?
One of the most crucial systems we set up years and years ago is our "family command center." Setting up a family command center is easy!
Our family command center is in our kitchen and is where we "check-in" and "check out" every time we leave the house. If paperwork comes into the house, it gets sorted at our command center–we have a designated spot for items to shred, bills to pay, records to file and receipts to scan. It's also where we hang our car keys so we always know where they are. And I do mean ALWAYS. I highly recommend going paperless–it will change your life.
Where Should A Command Center Go?
The key to using a family command center is to commit to using it every single day, so it should be located somewhere very visible! Preferably, it should be near or even part of your "drop zone." You know, the area in your home where you drop keys, mail, bags, etc. after walking in. That way instead of dropping all of those things on a horizontal surface where they will messily pile up, you can immediately sort them and keep things tidy by placing them in your command center!
Our family command center has been in or near our kitchen in every single home we have owned. I think the kitchen makes a lot of sense for most families, but mudrooms for busy families and entryways can be great choices as well! You can see a photo of it below.
What Is the Purpose of a Family Command Center?
The purpose is to help keep what you need for life to run smoothly in one, central place. When your keys, schedule, bills, etc. are somewhere prominent and are placed/sorted every single day, it's much, much easier to stay on top of everything even when your days are chaotic. Having a command center will help you keep your kitchen countertops clear, stay on top of filing/shredding an dmore.
When you make using your command center a habit, it takes no time at all to stay on top of the bills, receipts and all the other paper that comes into your house. There is often at least one family member that struggles, but if you make it as user-friendly as possible and encourage consistency, it will eventually become a habit for everyone!
Since everyone's needs are different, I've rounded up the best family command center options that I've seen. Just click on any of the links or photos below each photo for more details about each family command center or wall organization piece that you see.
This post contains affiliate links for your convenience. Click here to read my full disclosure policy.
The BEST Family Command Center Options
Pottery Barn's Daily System is the family command center that we have used for 13+ years and I absolutely LOVE it. It still looks brand new. And I love that it is modular and totally customizable which makes it easy to tweak as your needs change. Our command center hangs right off our kitchen in the hallway area between the garage and mudroom!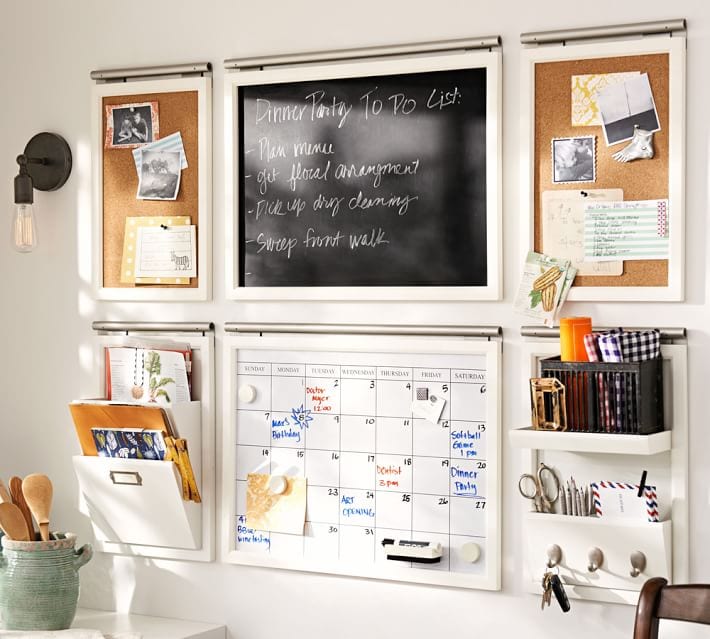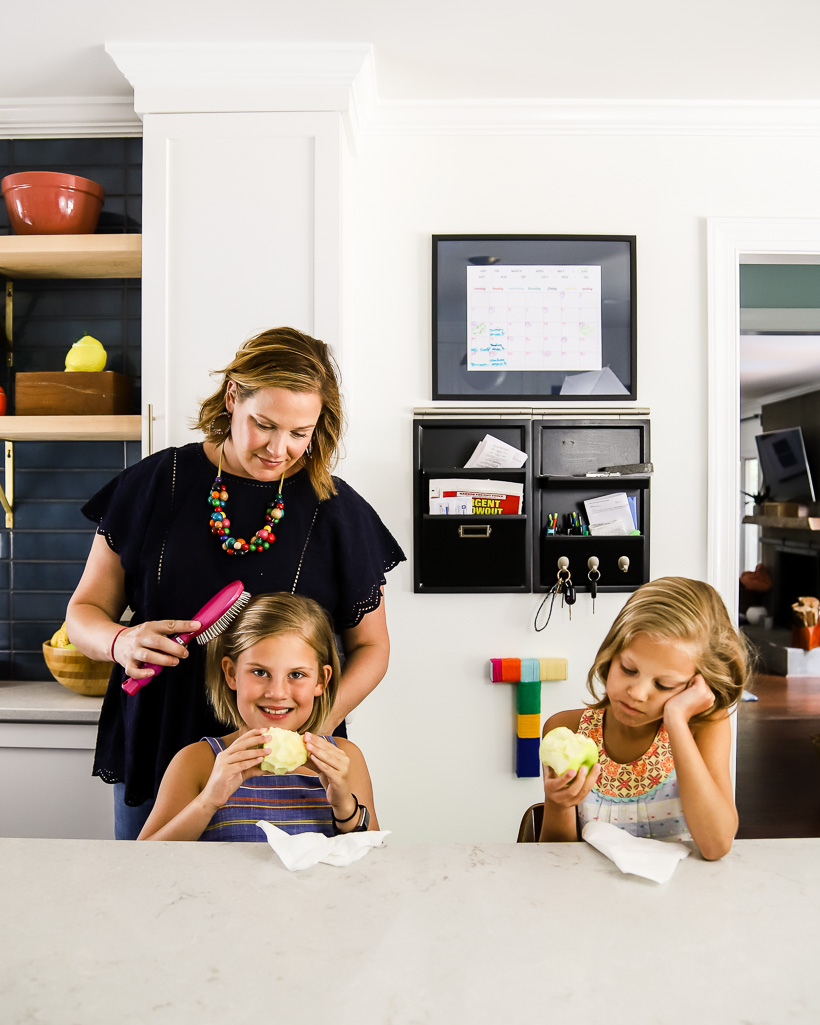 If I was in the market for a new command center, this is the system I would go with. It's modern, clean, beautiful and functional!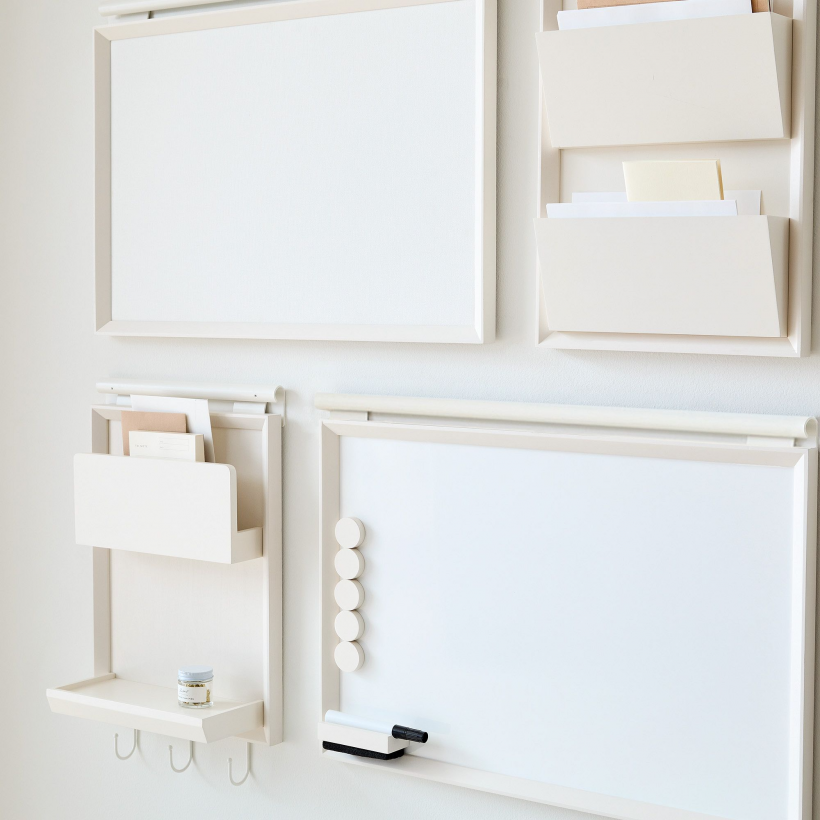 We have recently added these amazing reusable whiteboards to our own home and they are seriously a game-changer. They stick to any shiny surface (cabinets, mirrors, refrigerators, etc) and come in a huge variety of options. I talked about them on Instagram and y'all went crazy for them also. I love these for to-do lists, shopping lists, meal planning, chore charts…really the options for this genius product are endless. They use wet or dry-erase markers (one comes with the bundle!) and are easy to clean.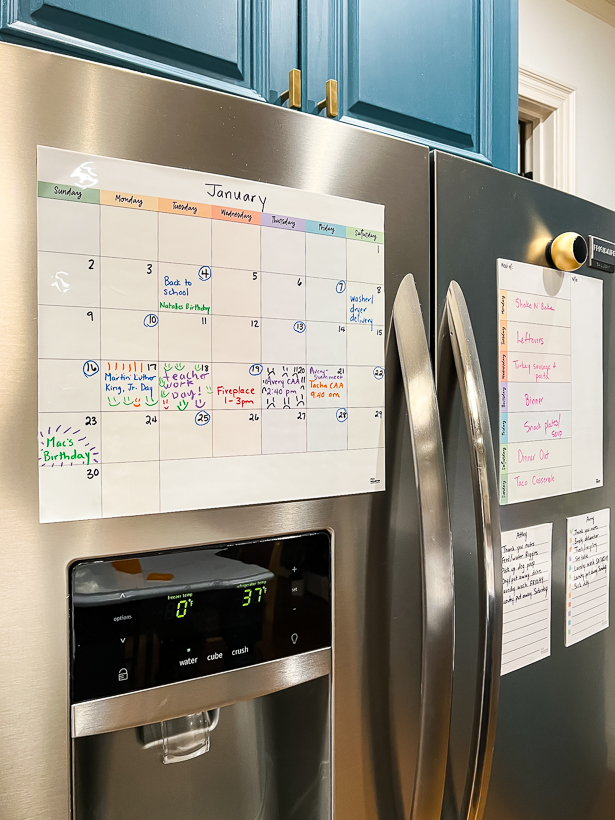 This 3-piece command center is classically beautiful and super functional. You can hang them side-by-side or stack them vertically.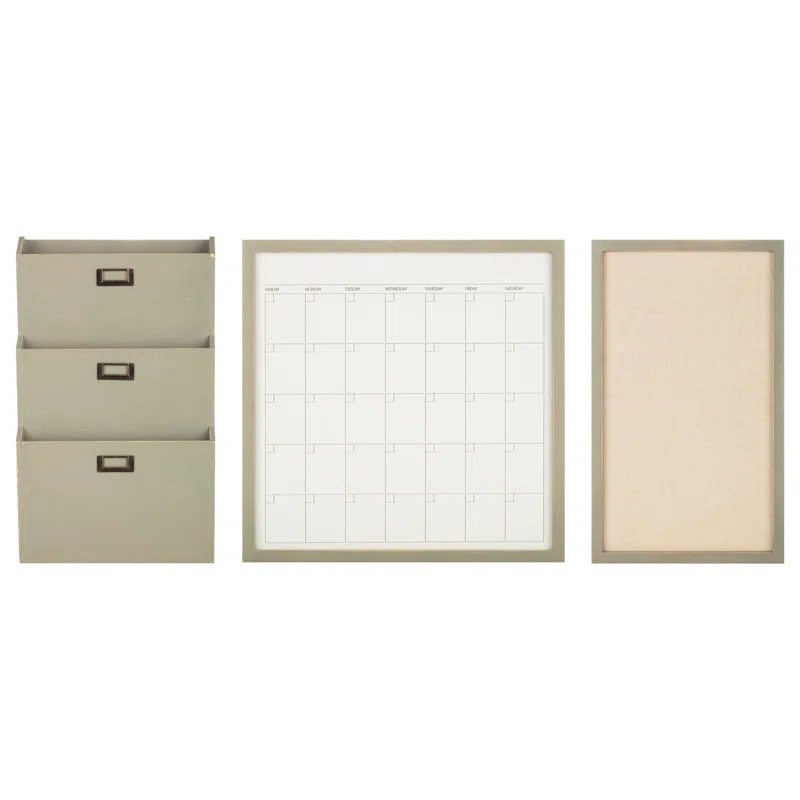 The four storage wire baskets on this chic gold wall organizer are sized perfectly for files, mail, school papers, pens and more. The best part is that they are adjustable, so you can reposition them in the best way to suit your family's needs.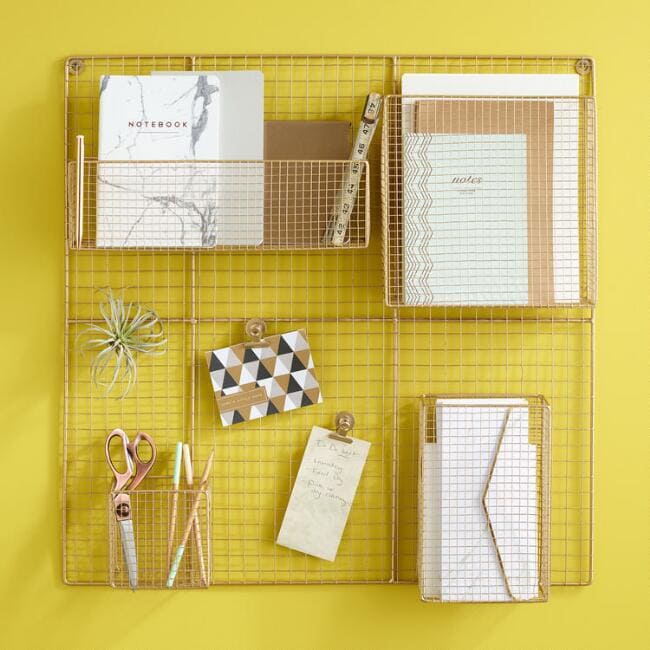 I love everything about this hand-made simple and modern organization. It's practical and streamlined, but the sweet bud vase on it makes it extra special and makes it feel like decor!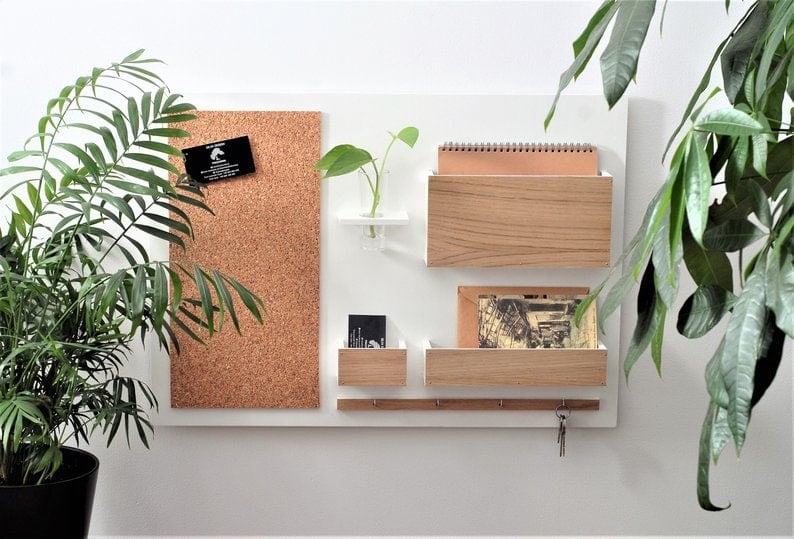 For families who have a lot of schedules to juggle, this custom chalk calendar could be a game-changer and the central part of an EPIC command center. It is not an actual chalkboard but is made to look like one. The surface is an easy-to-erase acrylic material. I love that it makes it easy to see so much information at just a glance.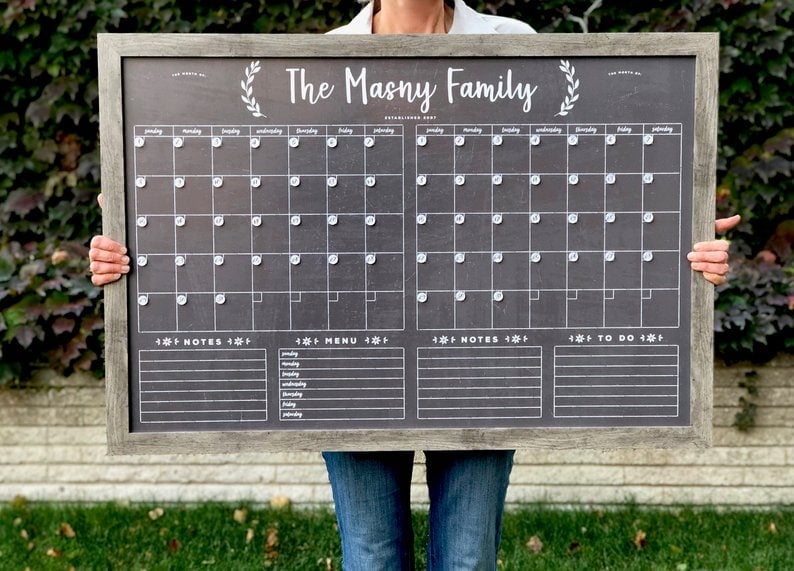 This system is truly ingenious. You mount magnetic plates to your wall and attach the containers of your choice. So easy and customizable! Make a small family command center or a huge one with endless options.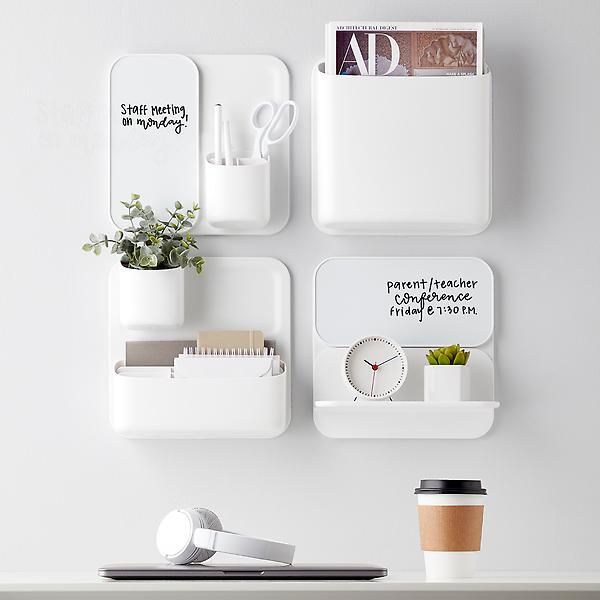 This gorgeous and modern Pinterest-worthy acrylic family calendar is as functional as it is pretty. This calendar has it ALL: monthly calendar, weekly calendar, chore list, to-do list, reminders. Best of all, this calendar will be personalized just for your family's unique needs! Customize the calendar for free with any titles you'd like.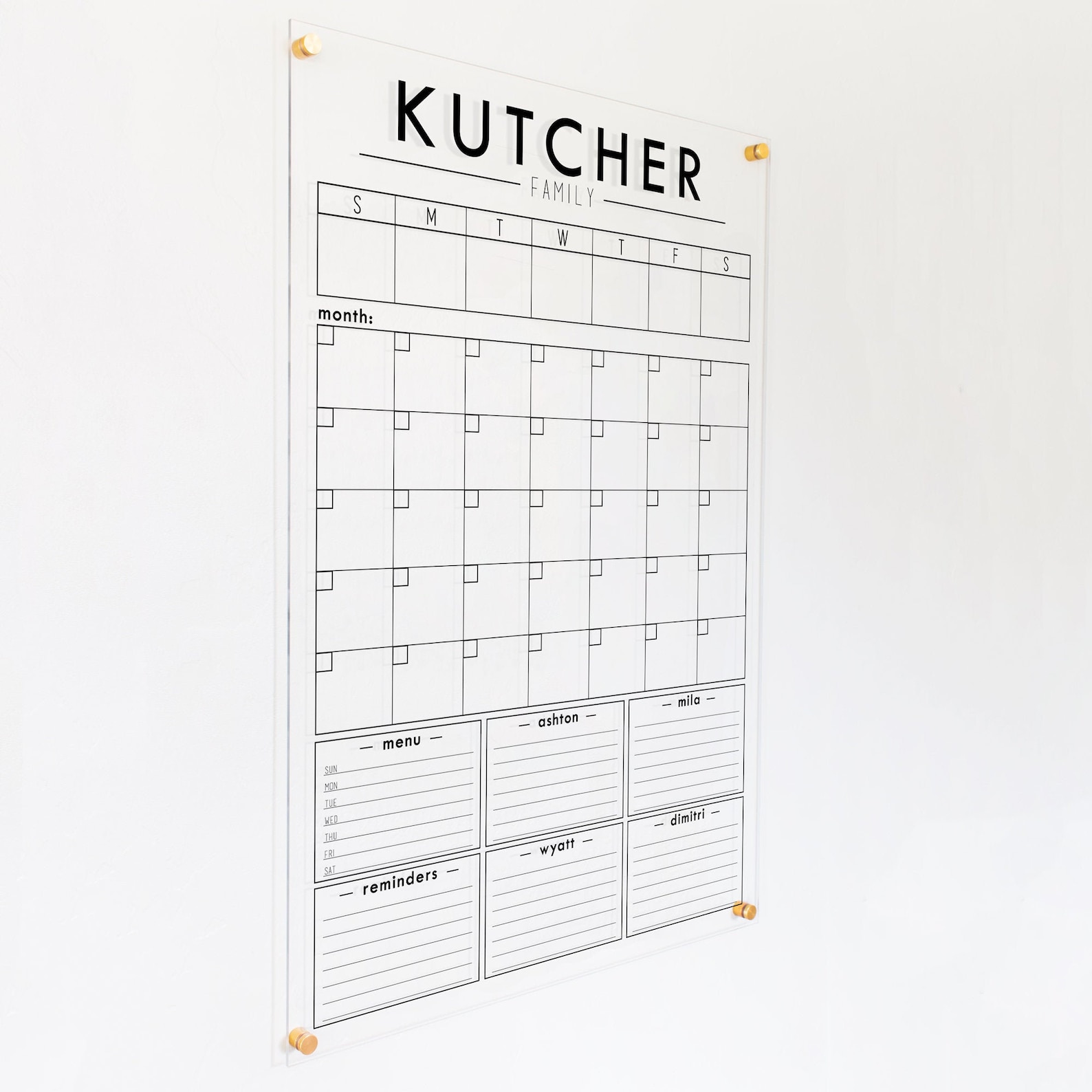 I love the streamlined and clean look of this option. And you could create absolutely anything you want on the whiteboard and calendar–totally customizable to your needs!
I hope these family command center ideas have you feeling inspired to get your own setup organized once and for all. I promise you, a good command center will have a positive impact on you every single day!
Also, I highly recommend getting your whole entryway in order. Be sure to check out my favorite inspiring entryway organization ideas and 25 entryway benches with storage for help with your entryway!
Other posts you may enjoy:
Wondering how I approach transforming rooms and spaces in our home? Check out Designer in a Binder®.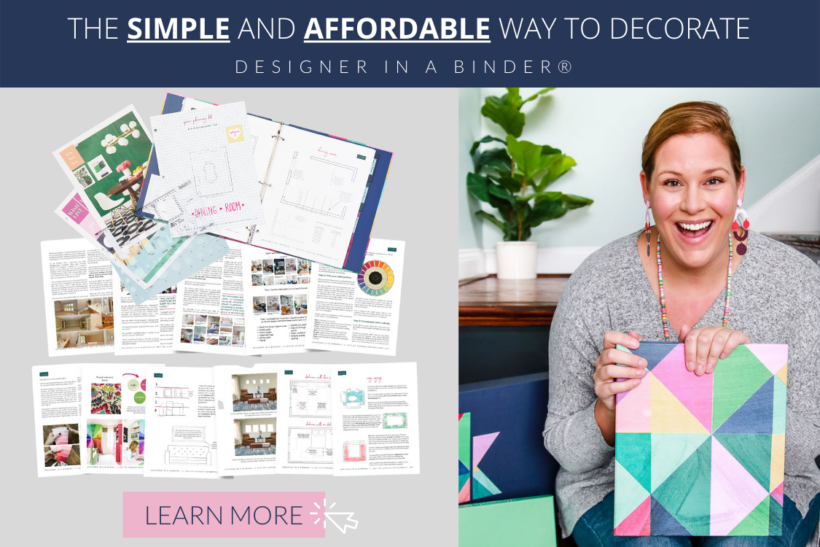 And if you want exclusive content and behind-the-scenes sneak peeks, be sure to subscribe before you head out!