A family command center is crucial for keeping your busy family organized! Take control of the chaos and set up a family command center ASAP. These are the best options out there. Just pick the one that suits your family's needs!
Hi friends! I frequently get asked about how we keep our house so tidy and stay organized. And I promise you, there's nothing magic about what we do! It really is about developing systems that work for our family.
What is a family command center?
A family command center is just a designated space in your home that serves as the central place for organizing daily chaos (schedules, incoming papers, car keys, etc). Exactly what you include in your command center varies based on your family's own needs, but they frequently include things like a family calendar, a place for papers, a place for notes/messages, and hooks for keys.
Tips for setting up a family command center
One of the most crucial systems we set up years and years ago is our "family command center." You can read all of my detailed tips about setting up a command center that will work for you in this post.
Our family command center is in our kitchen and is where we "check in" and "check out" every time we leave the house. If paper comes into the house, it gets sorted at our command center–we have a designated spot for items to shred, bills to pay, records to file and receipts to scan. It's also where we hang our car keys so we always know where they are. And I do mean ALWAYS.
The key to using a family command center is to commit to using it every single day. When you make it a habit, it takes no time at all to stay on top of the bills, receipts and all the other paper that comes into your house.
Again, you can read all of my detailed tips about setting up a command center that will work for you in this post.
Since everyone's needs are different, I've rounded up the best family command center options that I've seen. Just click on any of the links or photos below each photo for more details about each family command center or wall organization piece that you see. This post contains affiliate links for your convenience. Click here to read my full disclosure policy.
The BEST Family Command Center Options
1) Modular Daily System– Pottery Barn's Daily System is the family command center that we have used for the past 13 years and I absolutely LOVE it. It still looks brand new. And I love that it is modular and totally customizable. It makes it easy to tweak as your needs change.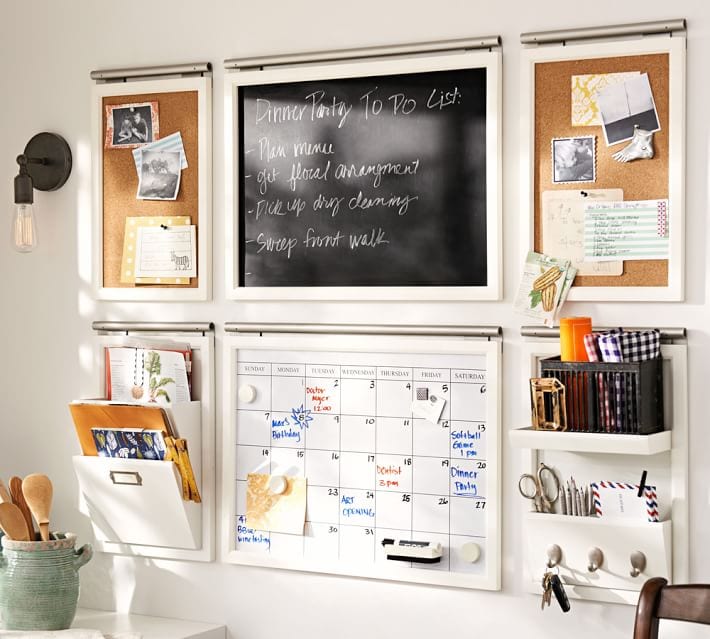 2) Peyton Wall Organizer– I love the natural linen and antique brass details on this gorgeous command center option.
3) Gold Wire Adjustable Wall Organizer– The four storage baskets on this chic gold wall organizer are sized perfectly for files, mail, school papers and more. The best part is that they are adjustable, so you can reposition them in the best way to suit your family's needs.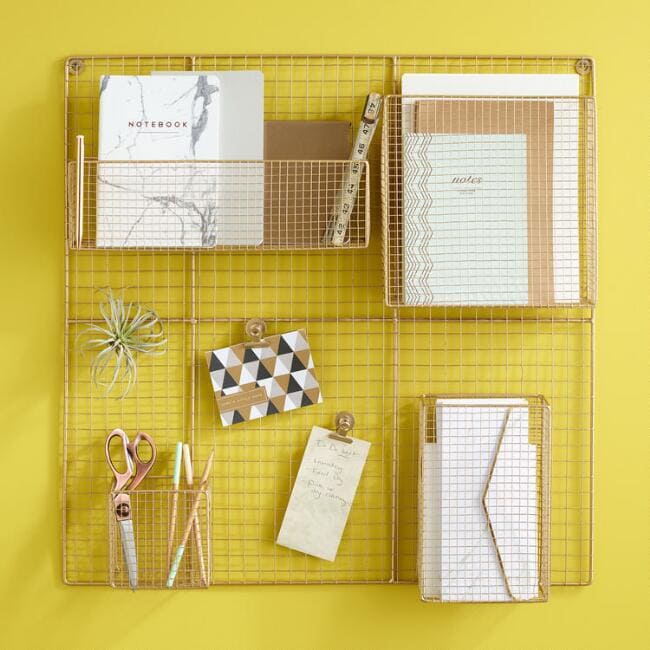 4) Modern and Simple Command Center– I love everything about this hand-made simple and modern organization. It's practical and streamlined, but the sweet bud vase on it makes it extra special.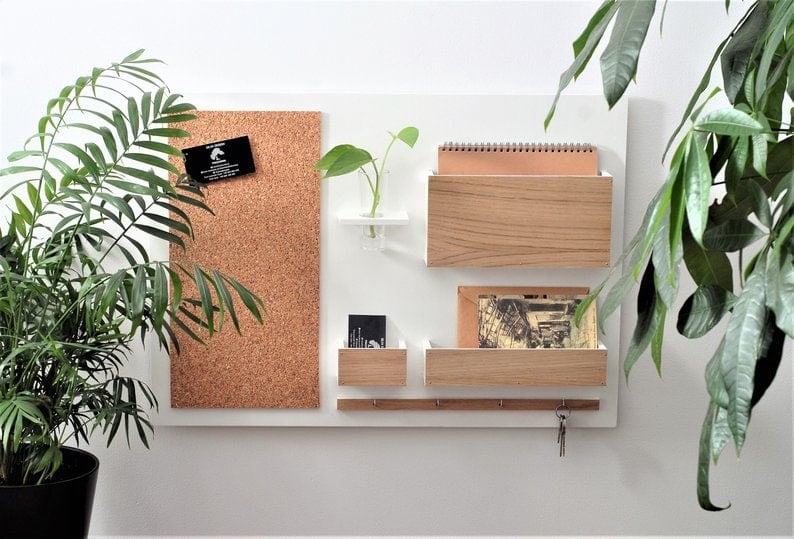 5) Custom Chalkboard Calendar– For families who have a lot of schedules to juggle, this custom chalkboard calendar could be a game-changer and the central part of an EPIC command center. It is not an actual chalkboard but is made to look like one. The surface is an easy-to-erase acrylic material.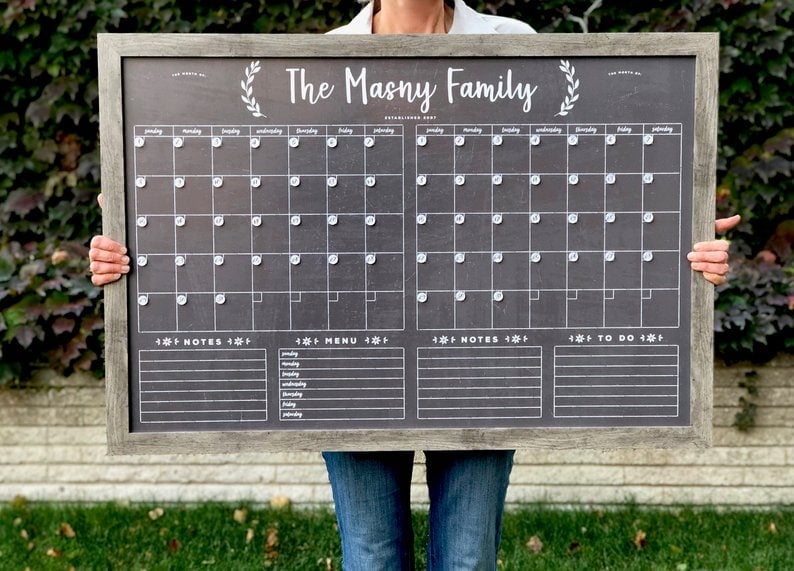 6) Wood Wall Organizer– This wood organizer is so simple and practical! The bright pop of color is perfect (there are several colors to choose from) and would look great in a kitchen. I love the large pocket and you can choose between a whiteboard or chalkboard.
7) Modern magnetic wall organizers– This system is truly ingenious. You mount magnetic plates to your wall and attach the containers of your choice. So easy and customizable! Make a small family command center or a huge one with the endless options.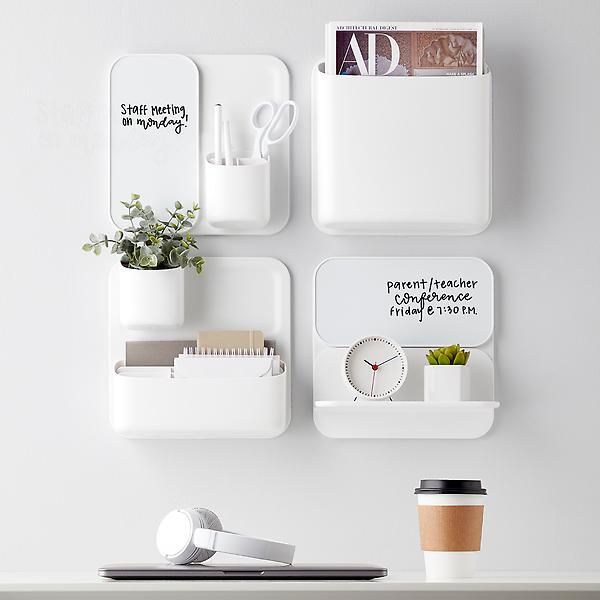 8) Galvanized modular wall system– This galvanized modular wall system from Pottery Barn is another favorite of mine. I love the look of it and again, it's modular so you can customize it and change it around to suit the needs of your family command center as often as you like.
9) Modular Wall Storage– This modular wall storage was intended to be used in a kitchen, but so many components of it could be used to create a beautiful and functional family command center. Just think outside the box!
10) Compact wall organizer– This small organizer packs a lot of organization into a small package, making it an ideal family command center for those with limited space. Use it to sort your email, make notes on the dry erase board and pin important notes and paperwork to the cork board. There's even a spot for your keys!
11) Simple Chalkboard Organizer– This multifunctional wall organizer includes a chalkboard, a mail or bill holder and several hooks to hold keys or even a dog leash. There's even a ledge to hold your chalk!
12) Vertical bins with hooks– If you don't have a need for a chalkboard, whiteboard or cork board, this may be the perfect solution for you. This simple set of vertical bins with hooks would be the perfect way to sort you mail, bills to be paid and things to be shredded.
13) Vintage style chalkboard and mail sorter– I can't get over how cute and functional this is! Love the vintage vibe :) Pair it with other wall organization options for a fabulous and fun family command center.
14) Polka Dotted Fabric Wall Organizer – I love this organizer! The polka dots make it fun, and it would be a perfect anchor for your command center. Add a few wall hooks and a fun chalkboard around it, and you have a unique organization area for the entire family!
I hope you are feeling inspired to get your family organized once and for all. I promise you, a good command center will have a positive impact on you every single day!
Want to get the rest of your life in order? Check out my amazing calendar below and get started organizing and decluttering home!
If you loved this post, be sure to pin it so that you can find it again later. And before you head out, you should also check out my post on inspiring entryway organization ideas.
See you back here soon! Now go organize something :)