Gorgeous + Functional Mudroom Ideas for Busy Families
Last Updated on July 9, 2022
Keep your entryway organized with these drop zone and mudroom ideas. They are beautiful AND functional!
I am so excited about the mudroom in our new house. We have never had a true mudroom or large drop zone! When we first moved in, I scoured the internet for the best drop zone and mudroom ideas to get ideas for my own mudroom design! I found so many amazing ideas I wanted to share them all with you! Remember, you can create a drop zone in an actual mudroom or just repurpose a corner of your entryway or by the door that you use the most often. There are so many fun design elements you can incorporate into your drop zone that will keep your family organized and allow for a spot for everything!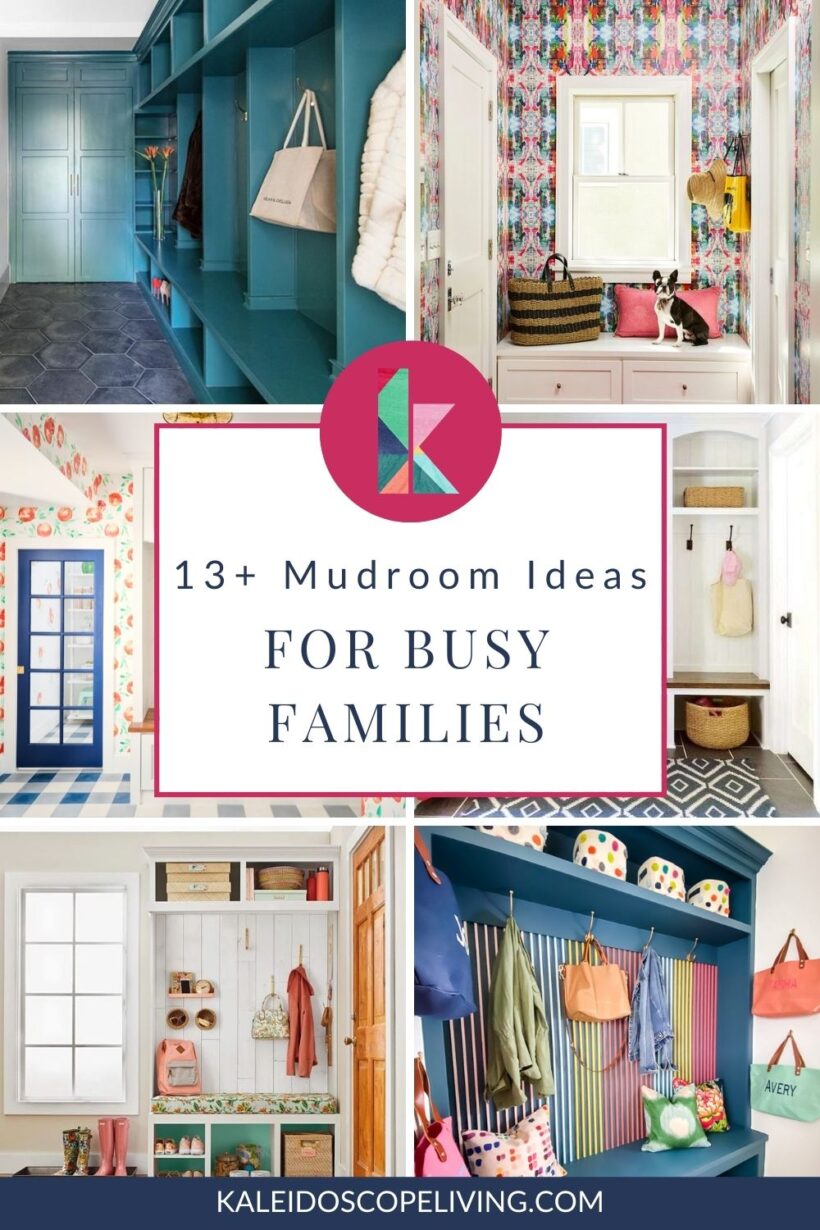 Mudroom Design Ideas
First up is our own mudroom that I finished not too long ago. I created this simple slat wall that give the space so much interest. And I added lots of functional and cute storage with totes and personalized bags that hold our mittens, hats and other miscellaneous stuff in the winter. In the warmer months, we use those bags for things we always need to grab and go (my girls keep books and things like friendship bracelets they can work on in their bags–things to keep them busy in the car).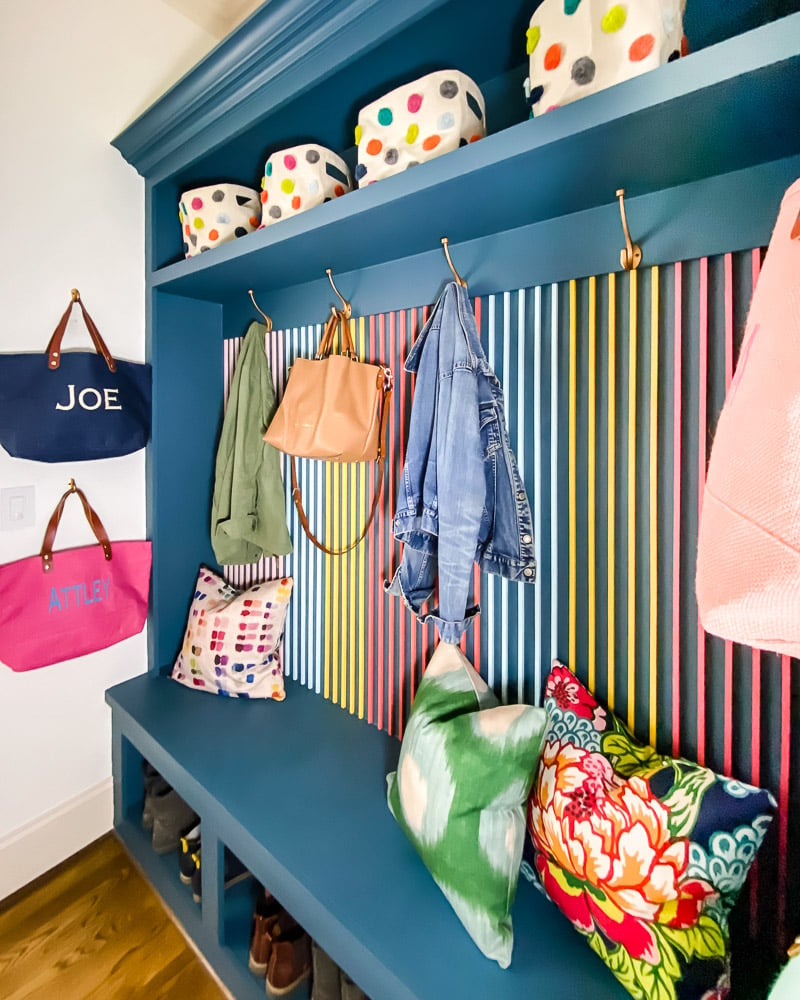 Wallpapered Drop Zone by Brooke Voss Design. I am currently OBSESSED with wallpaper and I am trying to determine where I am going to put it! I love this idea for making your drop zone beautiful.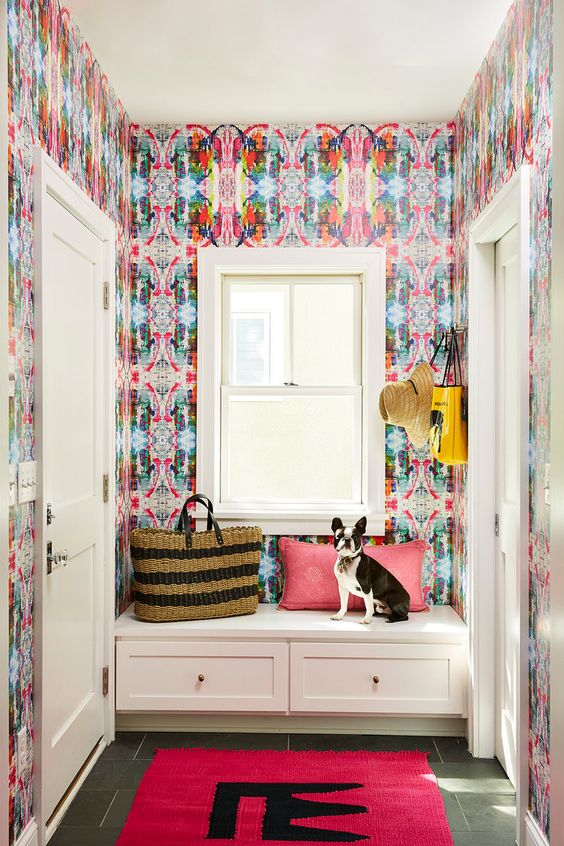 Smart Cabinets by My Design Chic. These gorgeous cabinets are such smart storage for your mudroom. I love the use of decorative screening in the doors. Add in that cute bench and the fun tile floor and I am in love with these drop zone ideas!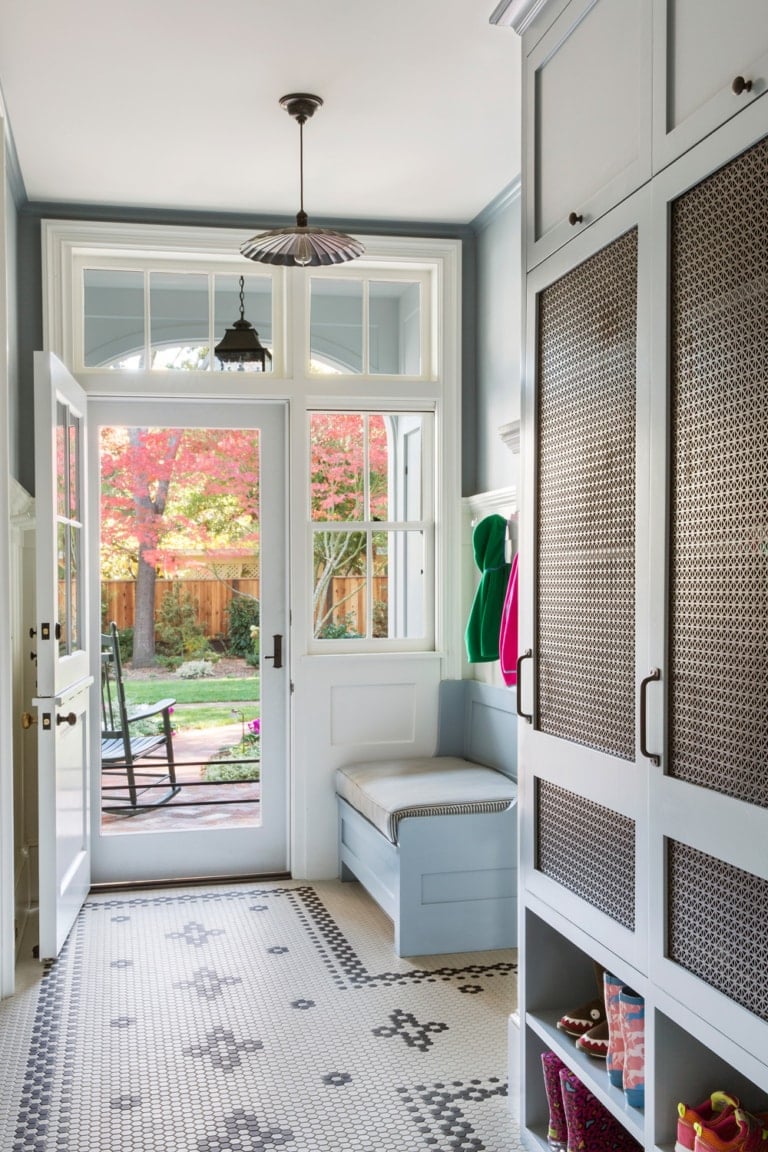 Colorful and Airy Mudroom by J And J Design Group. This room is the stuff of my dreams! The wallpaper, blue door (you know I love a blue door!), and that AMAZING light fixture are proof that your drop zone can be just as beautiful and colorful as the rest of your home.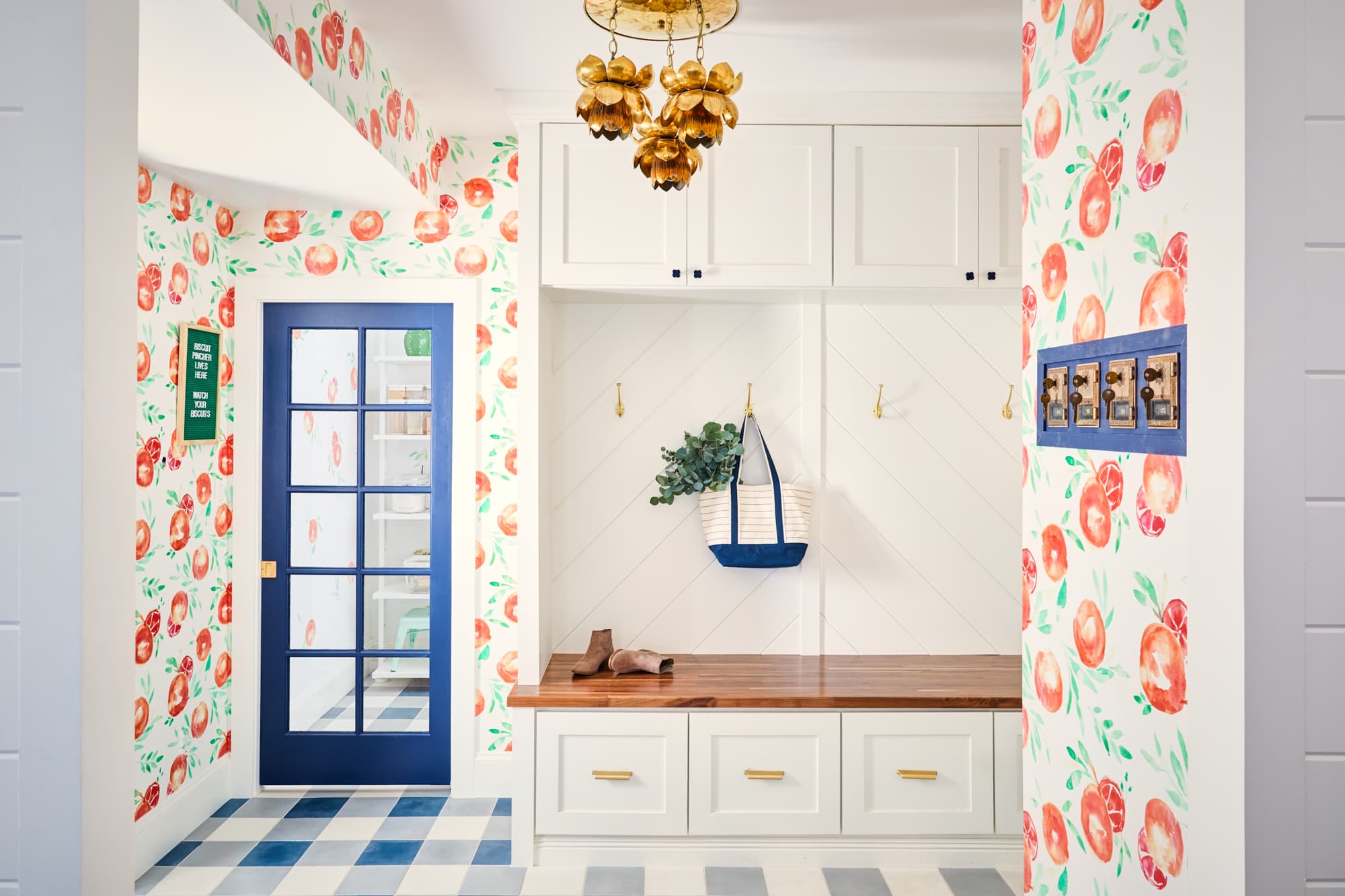 Wall of Cubbies by HGTV. These saturated turquoise cubbies steal the show in this narrow mudroom. Everyone gets their own assigned spot which keeps the mudroom organized!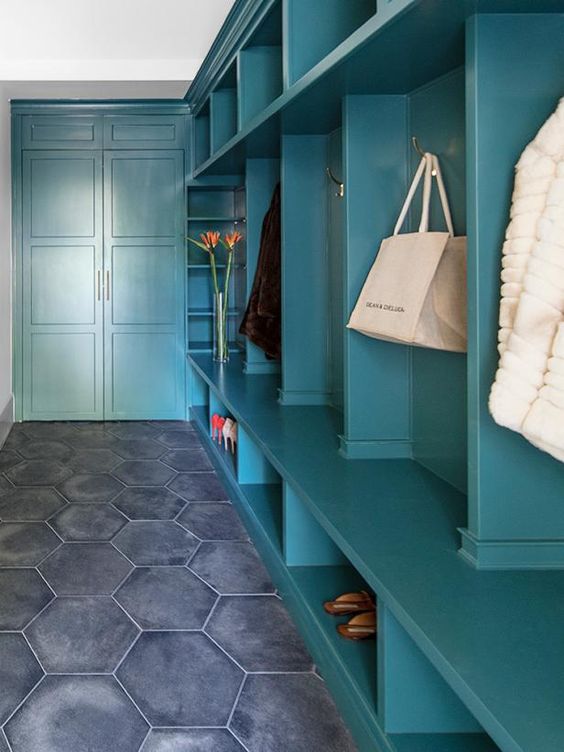 Contrasting Paint and an Outdoor Rug by HGTV. Jazz up your white mudroom with fun paint! I love this painted "chair rail" effect with contrasting paint colors. They added a simple outdoor rug in the drop zone, which is so smart to handle the inevitable mess from shoes and boots on bad weather days.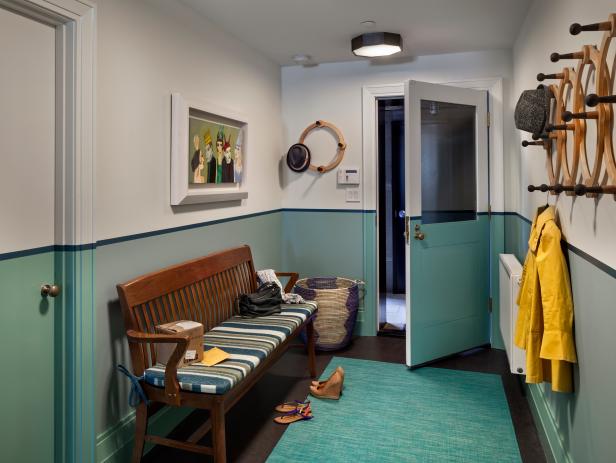 A Spot for Everything by HGTV. This mudroom is full of great drop zone ideas. Drawers to hide things away, open shelves to stick things, hooks for hanging bags and jackets, and a bench!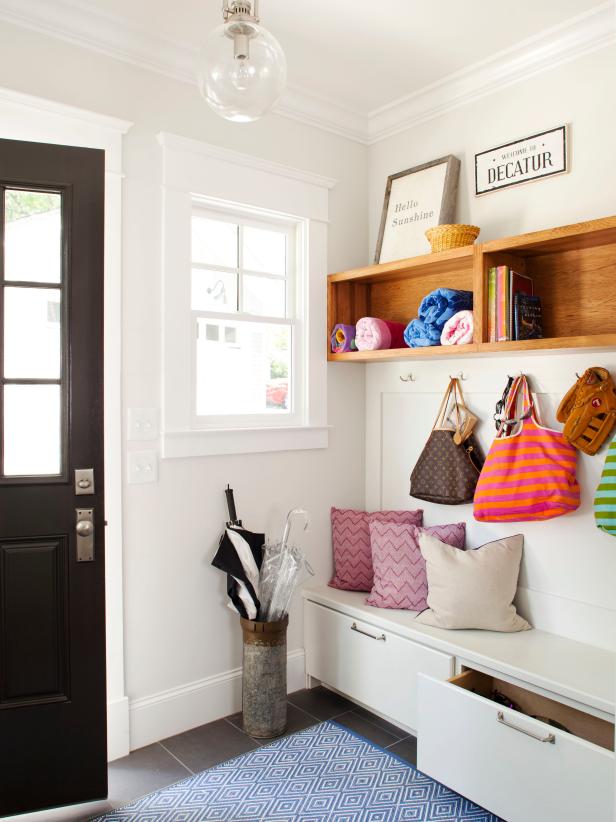 The Ultimate Drop Zone Makeover by Better Homes And Gardens. This drop zone is the ultimate in a cohesive design. This family has everything they need right here–including their family calendar, spots for papers and hanging folders to collect things!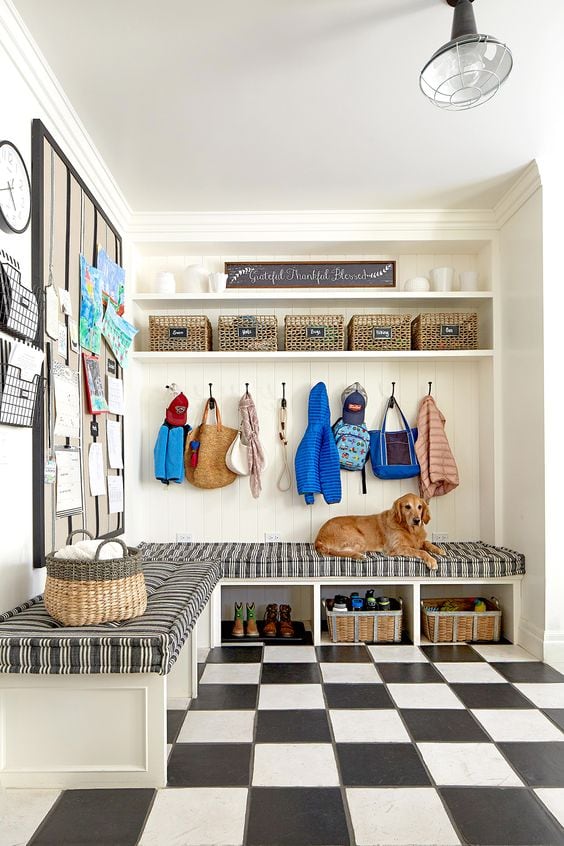 Efficient Entryway by Better Homes And Gardens. You don't have to have a full mudroom to create a drop zone. This home has one small corner of their entryway transformed into the perfect catchall space.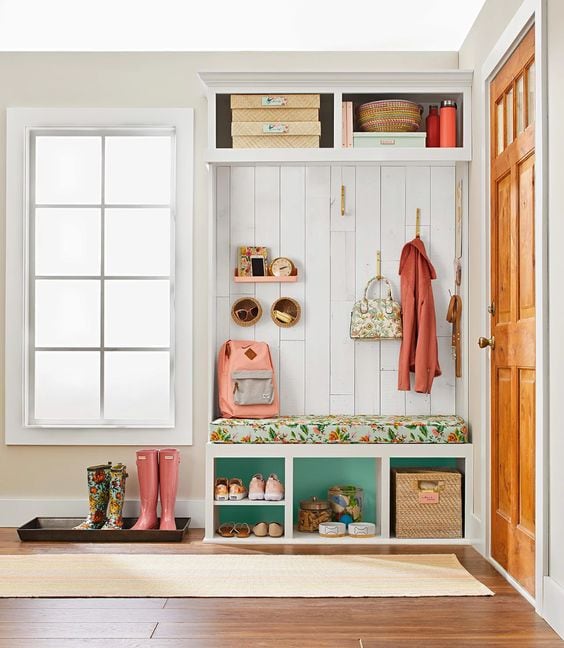 Triple Tier Lockers by HGTV. Add a cool vintage touch to set your drop zone apart. These triple-stacked metal lockers add something extra interesting to this mudroom. I also love the plank wall!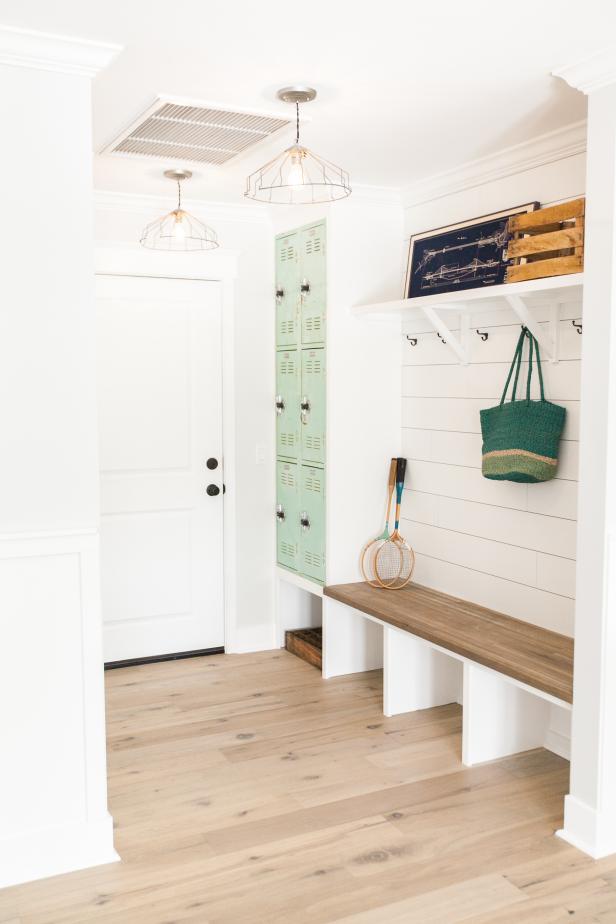 Wall-Mounted Shelf For Mudroom Storage By Bob Vila. This drop zone is a small space with tons of storage. The cabinets are a great use of vertical space and I LOVE that bulletin board as the back of the seating area!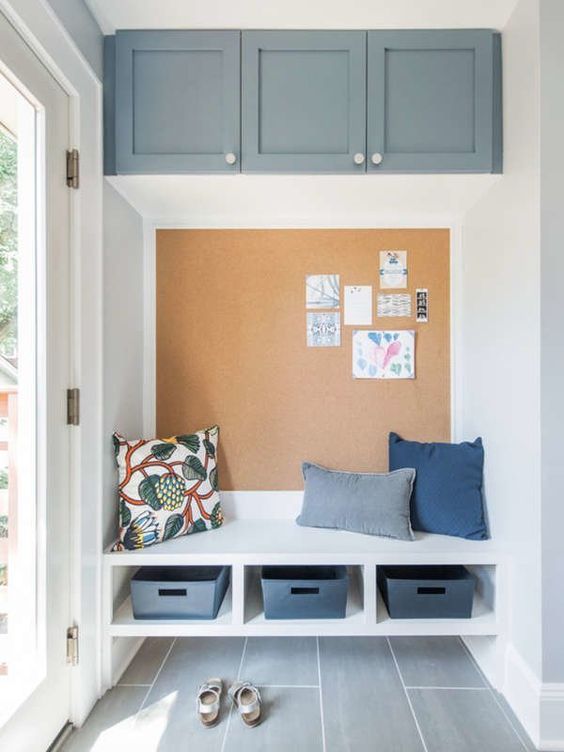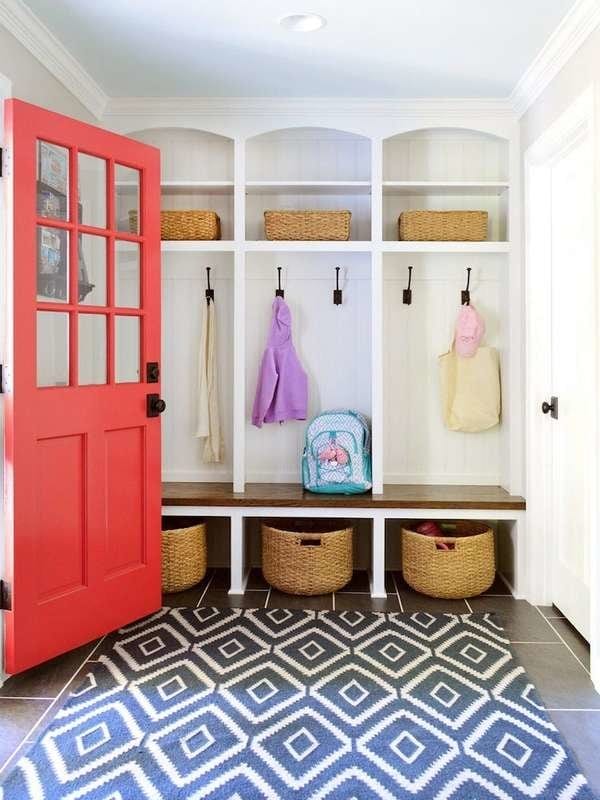 Cute Cubbies By Bob Vila. Jazz up plain cubbies with cute arches and double hooks. Then add beautiful baskets above and below for lots of storage! The bright door adds a great pop of color.
DIY Geometric Wood Floating Bench By Bre Purposed. Create a unique wood floating bench with this tutorial. This brings a very cool vibe to a normally overlooked room! I love unexpected and interesting designs.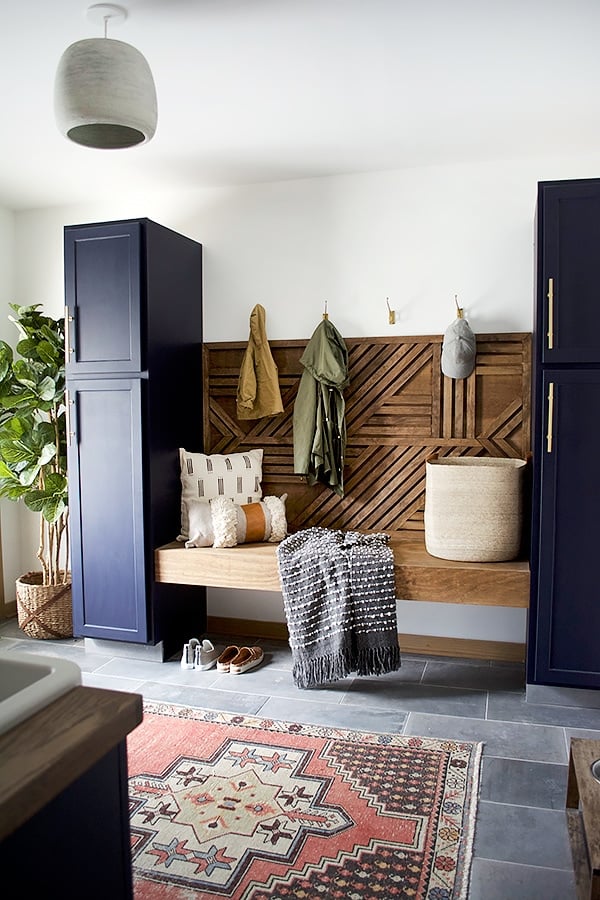 I love all these mudroom designs!
For more mudroom and drop zone ideas check out 16 Ideas for the Perfect Entryway Storage Bench and Inspiring Entryway Organization Ideas. And if you don't already have a command center for your family, you are missing out! Check out this post on my favorite command center options to keep all your family's activities organized.
Other posts you may enjoy:
Wondering how I approach transforming rooms and spaces in our home? Check out Designer in a Binder®.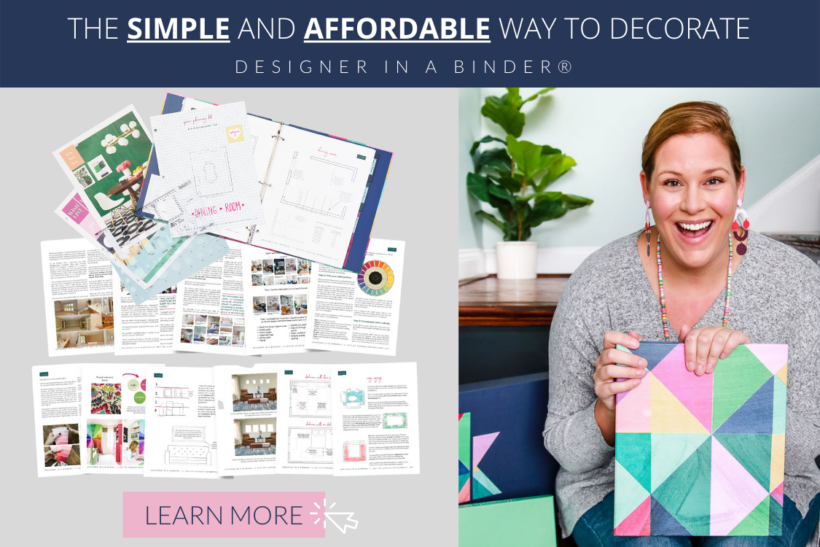 And if you want exclusive content and behind-the-scenes sneak peeks, be sure to subscribe before you head out!