Add Style to Your Stairs: Amazing Runner Ideas
Last Updated on August 2, 2022
Don't forget your stairs! Add style to your staircase with these amazing stair runner ideas. From classic to bold and graphic, these ideas will inspire you to create a staircase that is a showstopper.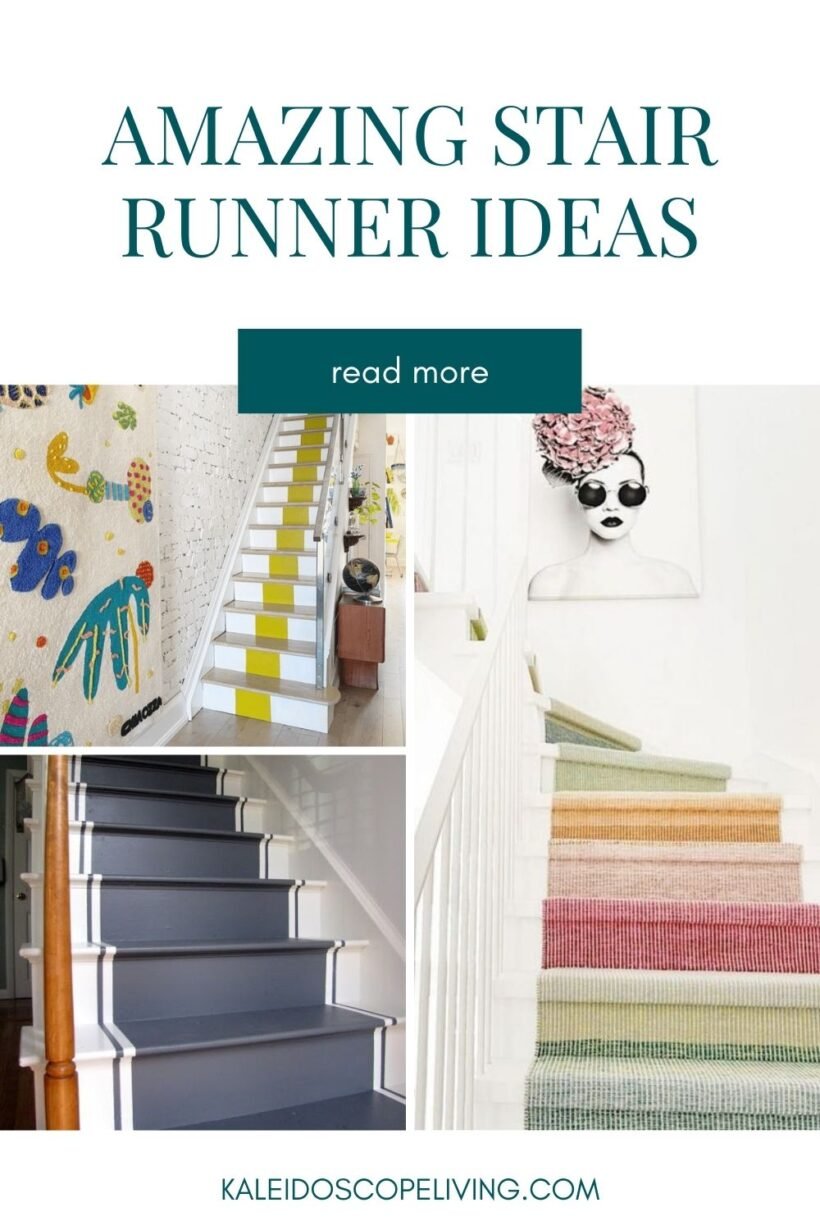 This post contains affiliate links for your convenience. Click here for my full disclosure policy.
So often the staircase gets overlooked, but it deserves as much love and design attention as the rest of your home. Especially since in so many homes it really is a focal point of the entryway. Sometimes your staircase needs a full makeover. But other times just installing a stair runner can give you the new look you want! And these stair runner ideas are sure you give you lots of inspiration.
We gave ripped out carpet and installed hardwood stairs in our old home and it was beautiful. But in our current house I want to do something a little different! I have been working on creating a cohesive design plan throughout our new house since we moved in. We knew when we purchased our home that the staircase would need a big makeover/renovation to fit in with our style and plan.
We started by installing a DIY board and batten accent wall in the upstairs hallway and in the staircase and I love how it turned out. And we installed this gorgeous runner ourselves (it was so much easier than I expected).
In the process of choosing our own stair runner, I found so many awesome stair runner ideas! Scroll down to check them out :)
My Favorite Staircase Runner Ideas
White Painted Stairs with Striped Runner from Annie Selke. Painted white stairs are great for a clean look, but adding a fun striped runner gives the white stairs warmth and a great focal point.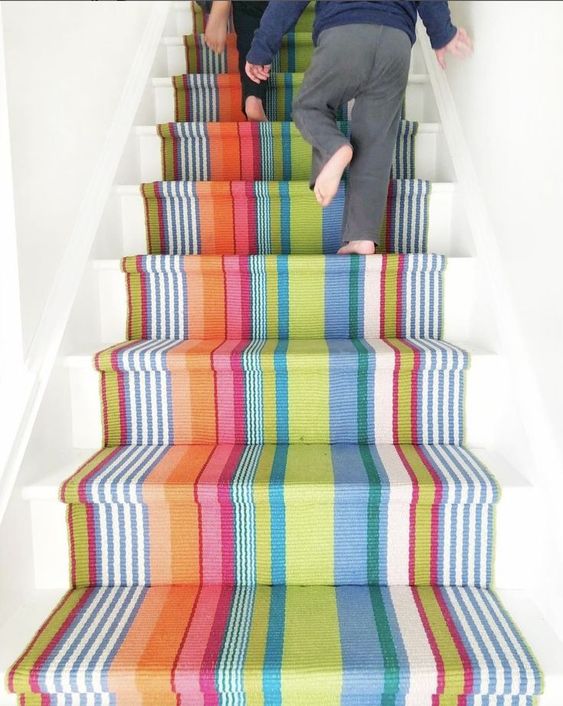 Color-Blocked Striped Runner by Paula Himmel Design. Paula used a gorgeous, colorful runner that creates the perfect color-blocked look.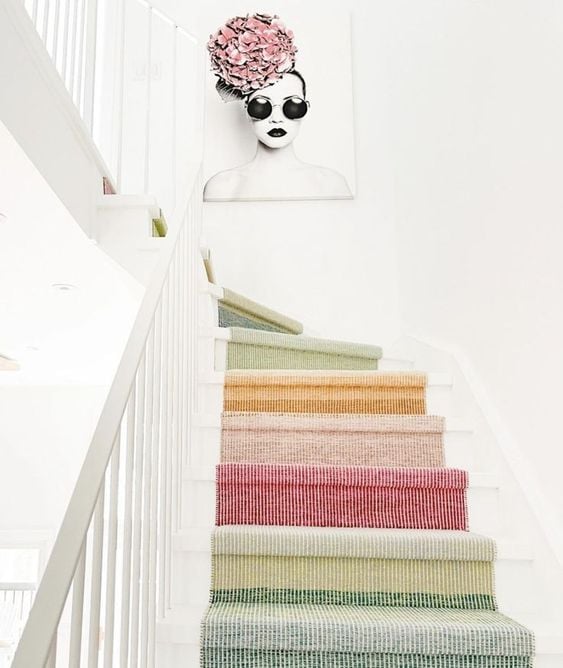 This is the exact same runner that we chose for our staircase runner! You can learn how to install a stair runner yourself in this post. It's easy, I promise.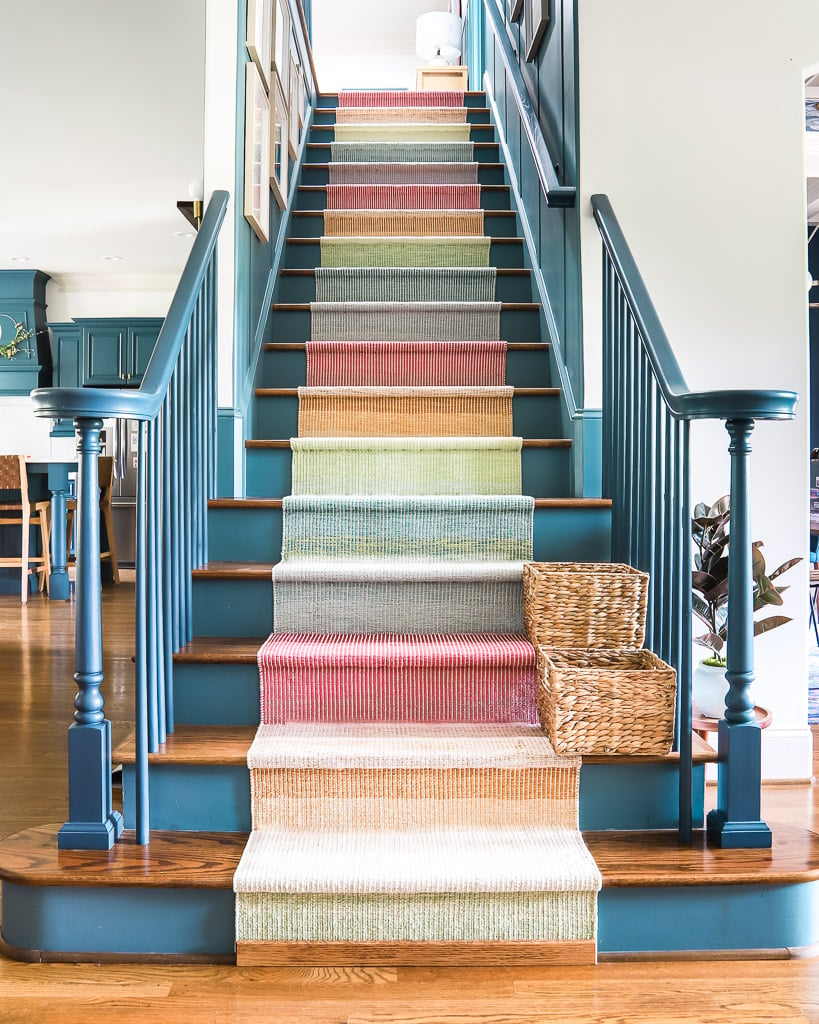 Painted Runner with Numbers by EllaBoo & Co. If you want a cool vibe that is a simple DIY, use an intentional color scheme and stencils to paint and number your stairs!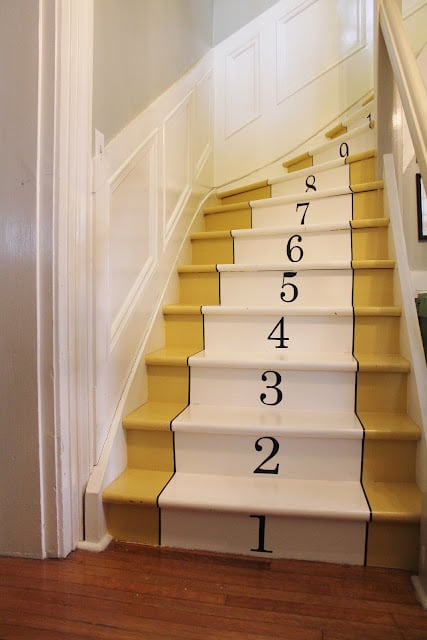 Striped Colorful Stair Runner photo by Bill Kingston. A striped runner is always a good option for a bright pop of color and whimsy. I love this straight staircase with the runner spanning the entire width. Remember, it is okay to have fun with décor!!!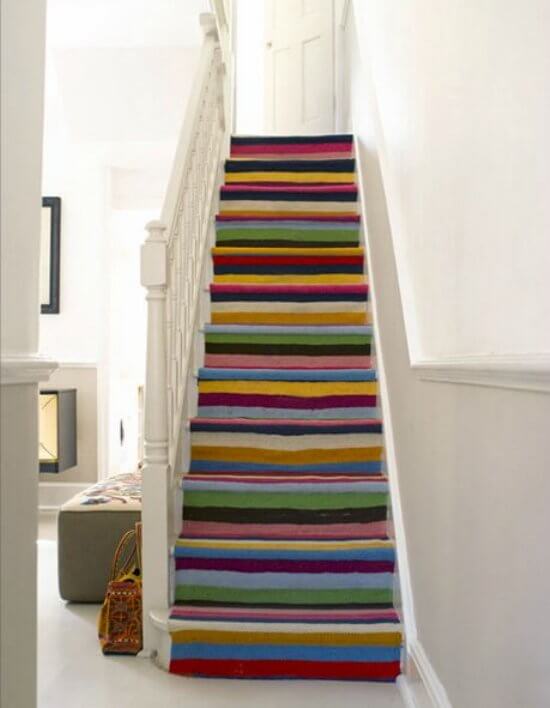 Painted Staircase found on Insteading.com. This modern stair runner is not complicated–just painted lines! But the right color choices and simplicity make it a total wow moment for this home.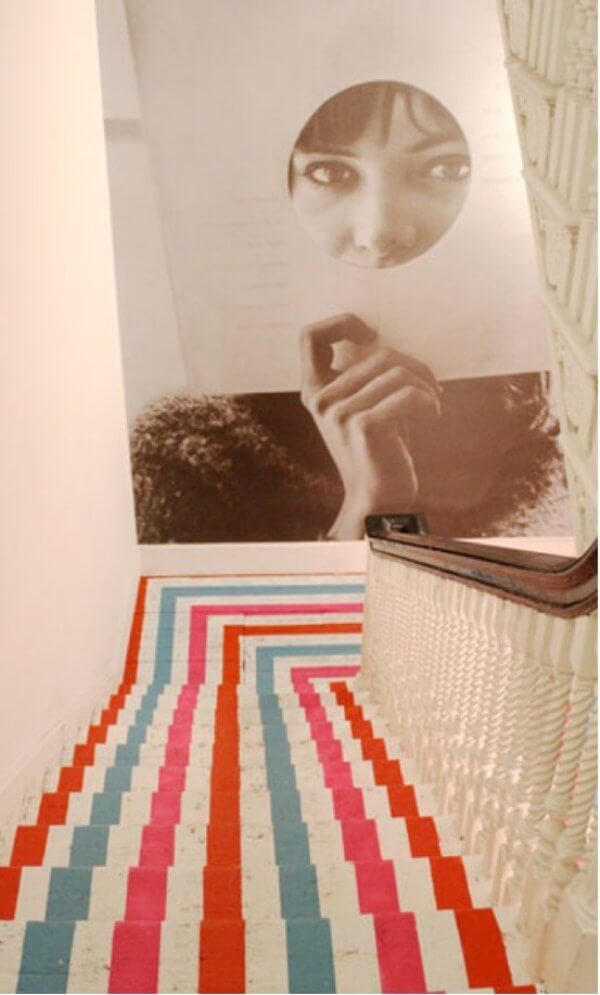 Striped Runner on Stairs found on Ideal Home. One of my favorite budget-friendly staircase runner ideas is to sew small rugs together to create one long runner! This one is a runner made from smaller IKEA rugs.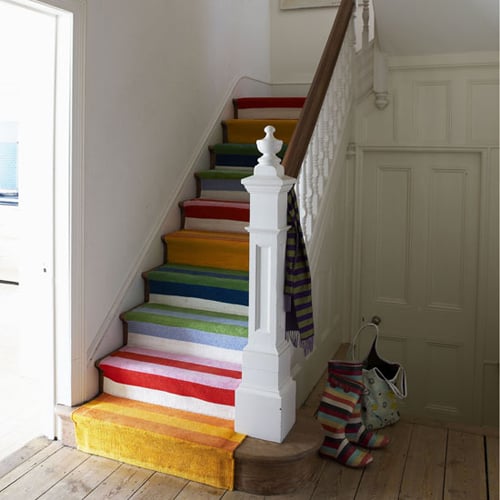 Offset Painted Wood Staircase found on Design Milk. Bold and graphic, geometric designs can work on staircases if that is your home's vibe! This offset black-painted design is perfect for a modern home! I love how it is clean and crisp and so interesting!
Annie Selke Runner from DIYmom.ca. Painted black stairs and a gorgeous gallery wall are perfectly finished off with this gorgeous runner. I love that the runner is a bright pop of color that grounds the space.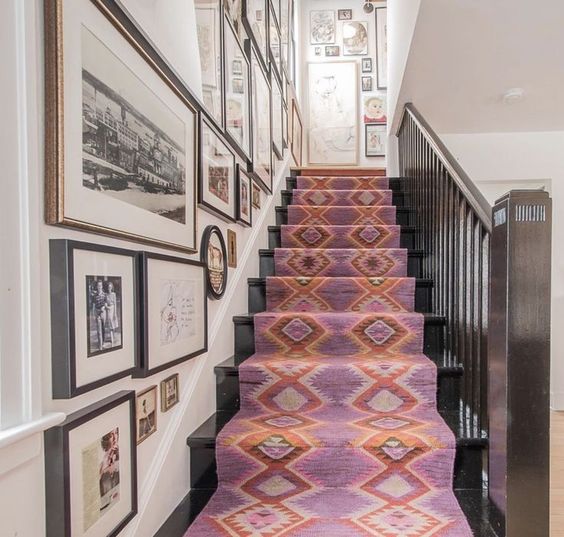 Painted Stair Runner by Painted Therapy. Dark colors on stairs can be your friend! This simple painted runner uses dark gray for the high traffic parts of the stairs and it contrasts beautifully with the bright white all around it.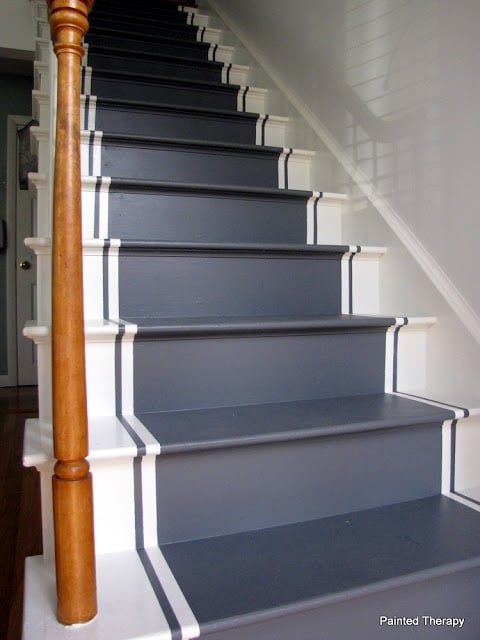 Contrasting Runners by Roger Oates Design. Wow this is a home decor risk that paid off! This home has three floors which means two flights of stairs. This designer chose stair carpets that are the same pattern but different colorways for each set of stairs and it is such a cool way to set the stairs apart while keeping the look cohesive.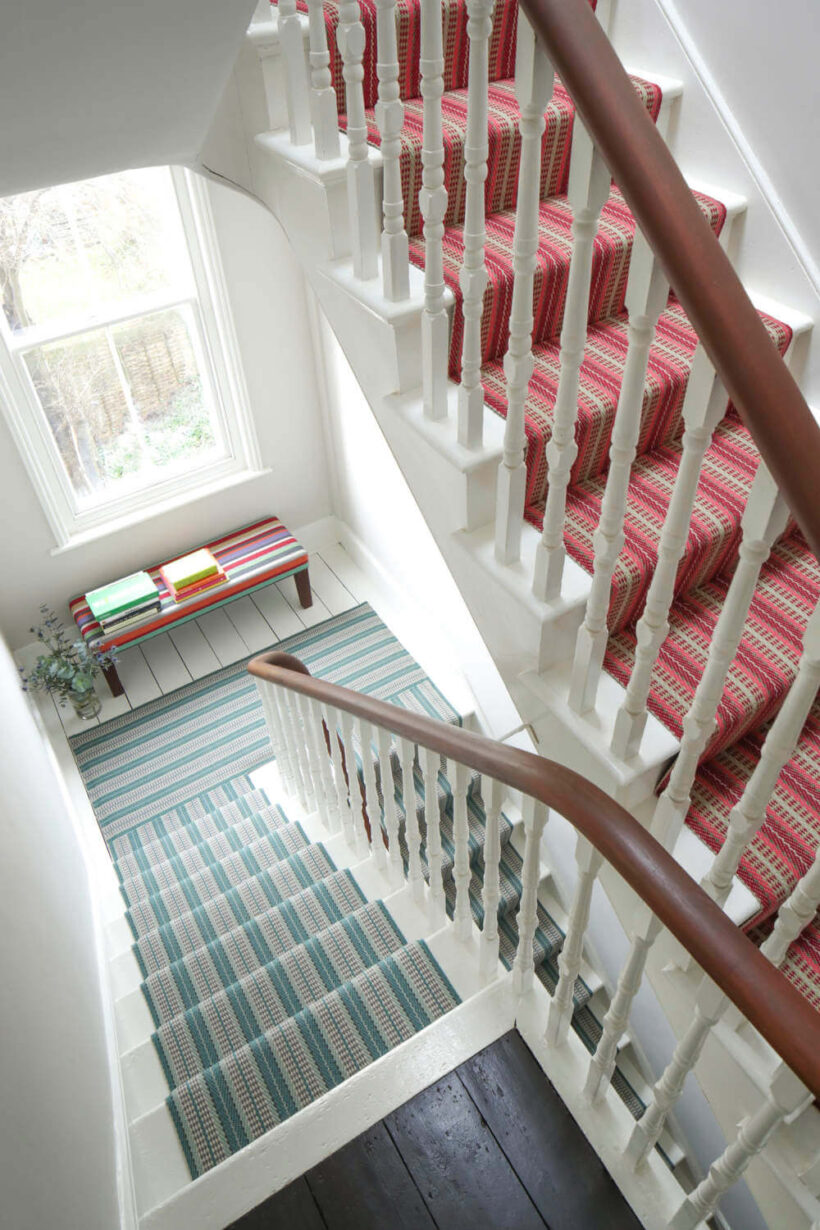 Large Middle Stripe on Stairs by House of Borg. This very modern stairway got a color-blocked runner makeover. With just white and mustard paint, the homeowner painted a very cool modern stripe on the risers. It looks amazing with the glass and metal stair rods and the white brick wall!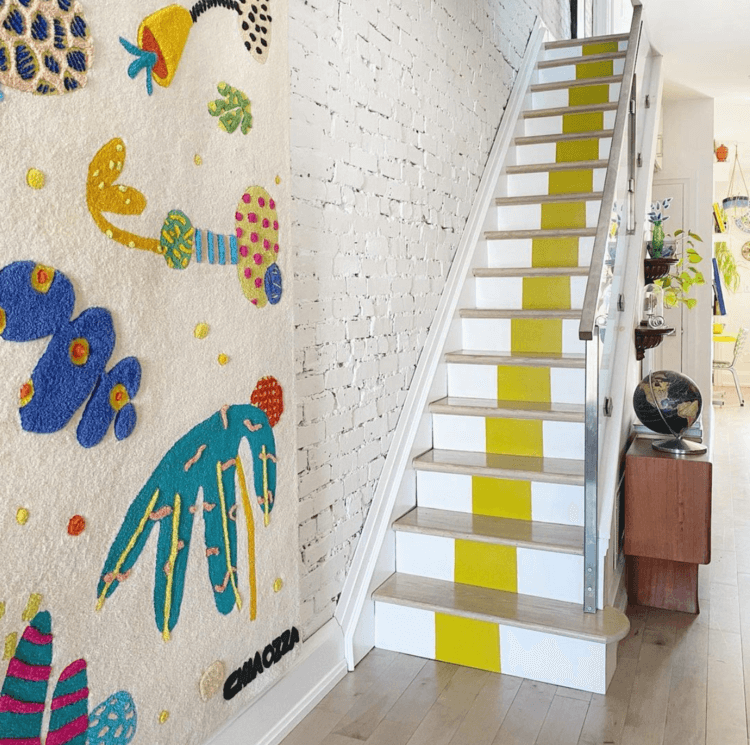 Rainbow Stairs by Our Home in Colour. Wooden treads and rainbow risers are one of the best combinations. This look can be achieved so easily and it is a high-impact project that is super affordable and quick to complete. Talk about a major conversation starter!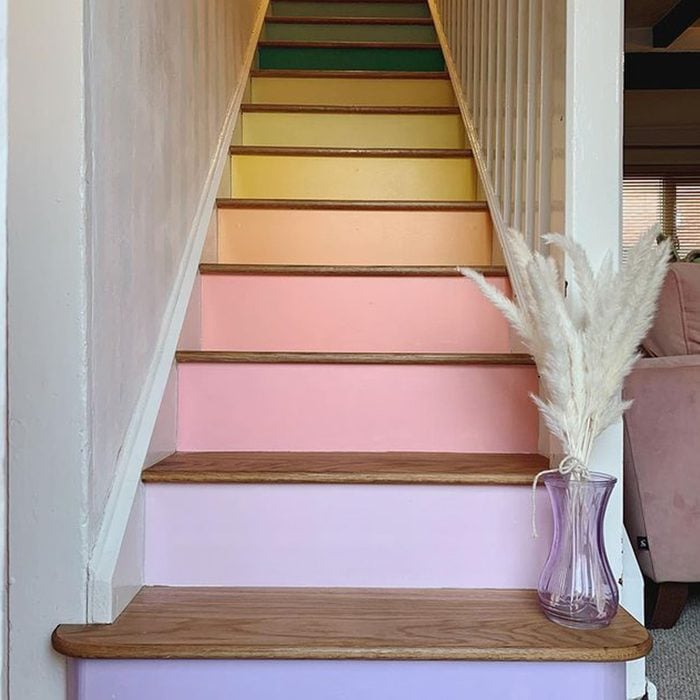 Budget-Friendly Runner with Rods by At Charlotte's House. Charlotte used a rug pad for comfort and two runners sewn together and stapled down to create the perfect staircase carpet. She then DIY'd metal and faux brass stair rods to help hold the runners in place and they turned out amazing!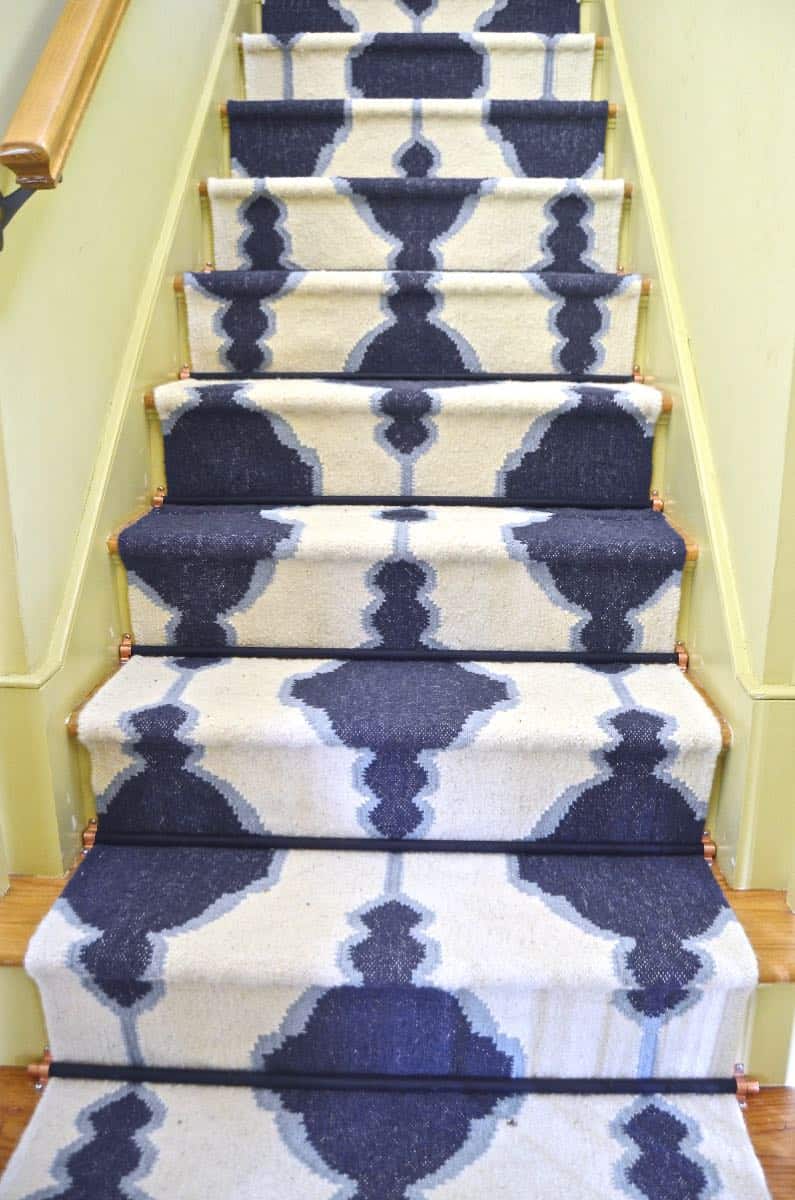 Woven Herringbone Runner by Annie Selke. This woven herringbone runner is the perfect cover for these beautiful hardwood stairs. This is a lightweight woven cotton area rug that is perfect for stairs!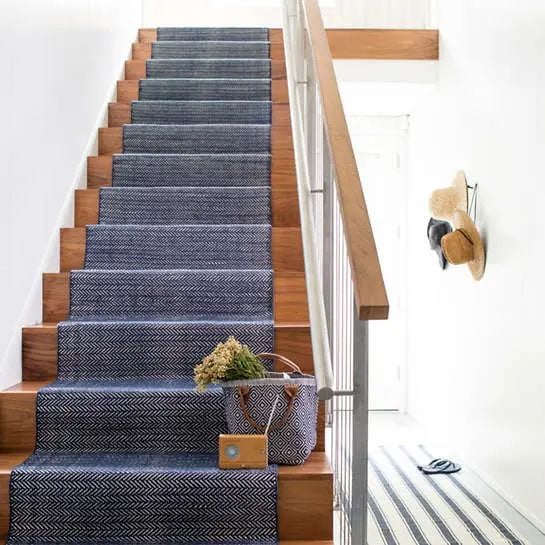 Striped Indoor-Outdoor Carpeting by Burnham Design. Indoor-outdoor carpet runners are the perfect choice for high-traffic areas with kids and pets. This type of heavy-duty carpet is your best bet to extend the lifetime of your staircase runner!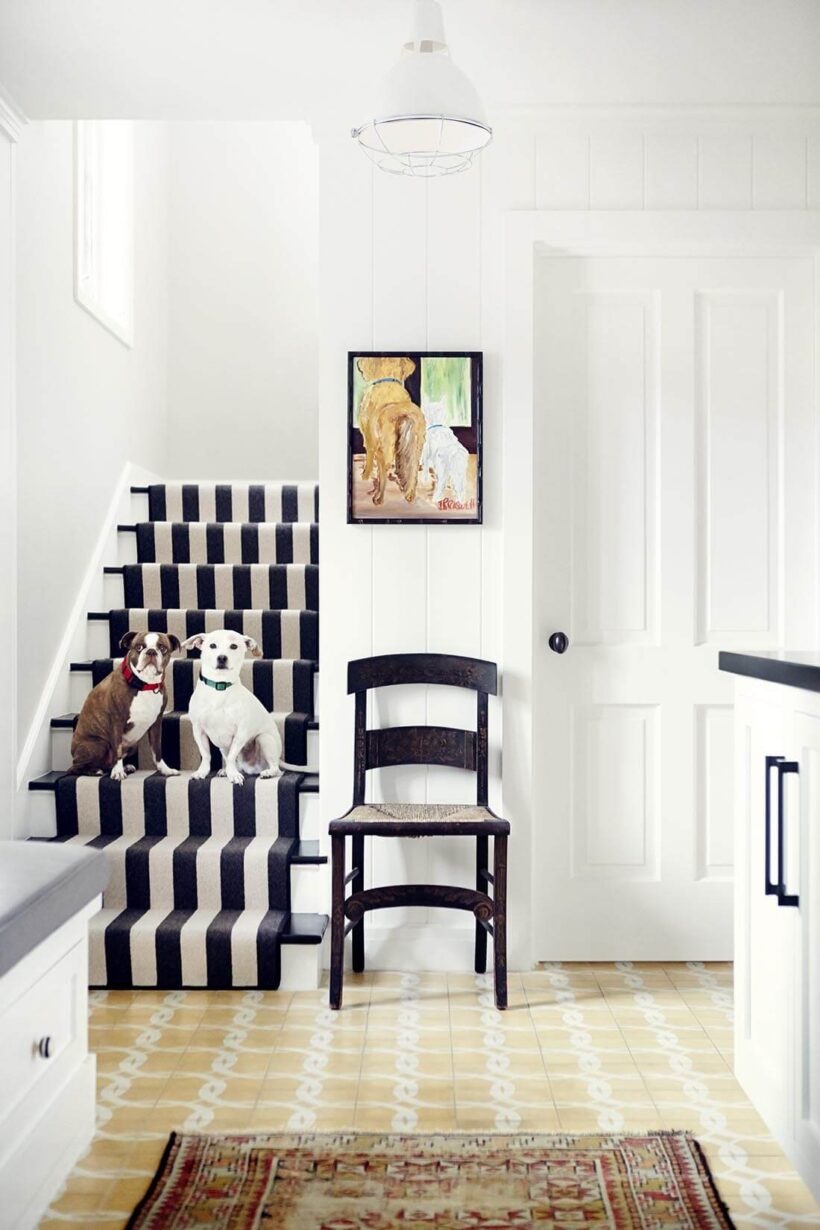 Aren't these staircases total showstoppers! I love when care and thought are put into every part of a home. The staircase deserves a beautiful design also and these runner ideas are like the icing on the cake.
Want more ideas of runners you can purchase? Take a look below at all of my favorite runners right now that would look amazing going down a staircase.
This post contains affiliate links for your convenience. Click here for my full disclosure policy.
Scroll and click any image below for full product details.

Other posts you may enjoy:
Wondering how I approach transforming rooms and spaces in our home? Check out Designer in a Binder®.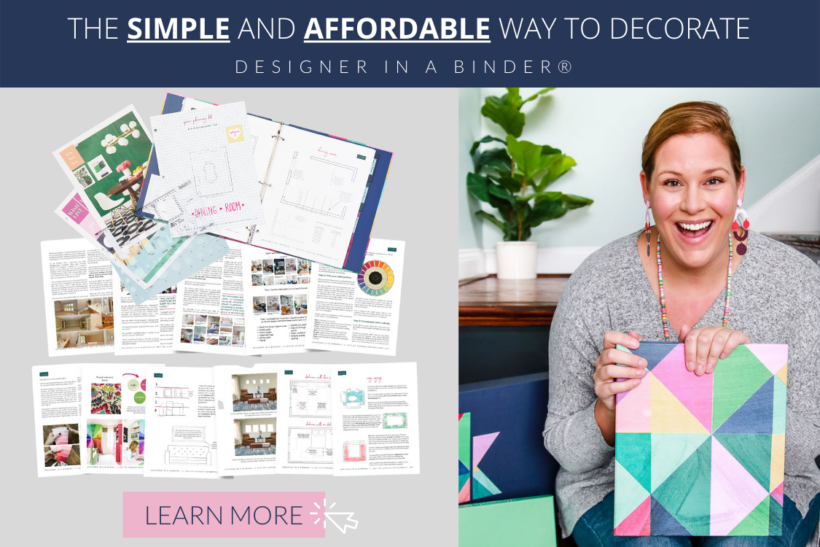 And if you want exclusive content and behind-the-scenes sneak peeks, be sure to subscribe before you head out!