How to Choose Paint Colors for Your Home: 6 Simple Tips to Follow
Last Updated on October 12, 2022
Paint can instantly transform a room! But people often have a hard time picking paint colors. These are my best tips to keep in mind when choosing paint colors.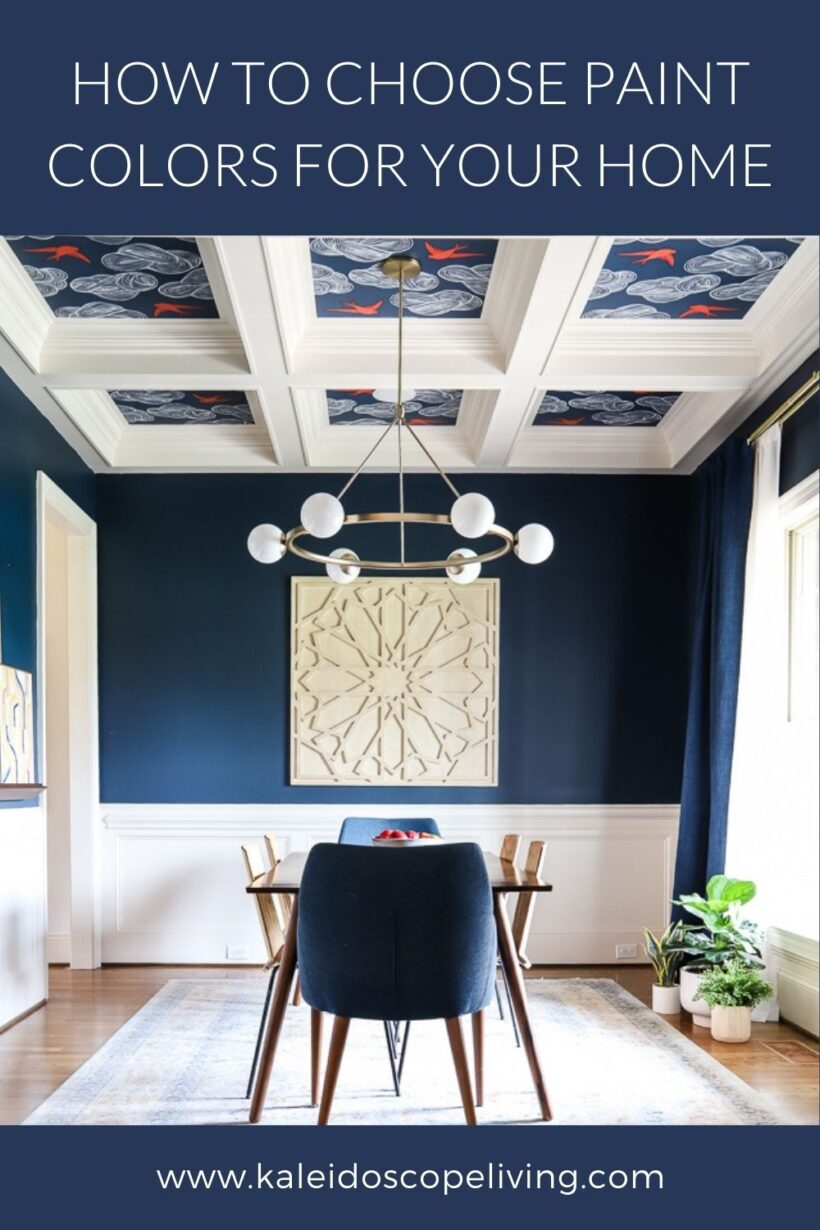 Without a doubt, one of the most common questions I get from readers is, "How do I pick paint colors for my home? I am so overwhelmed. I don't even know where to start!" If that's how you feel, let me assure you that you aren't alone. I have been there myself!
So, how do you choose paint colors like a pro? I'm sharing my designer tips for exactly how to choose paint colors in this post!
How to Choose Paint Colors for Your Home: 6 Easy Designer Tips
Tip #1: NEVER choose your interior paint colors first–let your "crucial element" guide you.
The biggest mistake I see people make is trying to choose a paint color BEFORE making any other design decisions for a space.
Heck, I've done it myself! In our first house, I randomly picked out a red paint color for our kitchen. I didn't test colors on the wall next to our cabinets. I didn't even take paint swatches home to look at them before deciding. I just went to the paint store, picked a red color and went home and painted. And it was a disaster. I hated it. So I went back to the store and chose a different red and painted it again. Did I test the new color? NOPE. I figured the second one had to be better. I still hated it.
FINALLY, I took the time to bring some paint swatches home and hold them up next to our cabinets and chose a red that worked with the wood tones of our cabinets. I purchased paint for the third time and painted the kitchen AGAIN (this time by myself because I was too embarrassed to ask my husband to help me paint it AGAIN) and finally loved it.
Do you know how many hours and dollars I wasted by painting my kitchen without really understanding how to pick paint colors? A LOT. Sigh…
I have since learned so much about design and I can tell you that I now pick paint colors AFTER making a design plan for a room.
I go through this principle in depth in my interior design system, Designer in a Binder®. But here's the short version. I recommend that everyone always start any room design by choosing something I call a "crucial element." It serves as your inspiration for your entire design. Ideally, it will have several colors. It could be a rug, a piece of art, a throw pillow or a pair of curtains. Your crucial element should be the ONE THING that you absolutely have to have in the room and love so much that you want it to set the tone for the rest of the space. I also recommend putting together a digital mood board that shows your crucial element clearly.
Why? Because when you have chosen a crucial element, it will then guide your paint color choice(s) for whatever space you are working on! The hard work has been done for you by the artist or designer who has already chosen colors that work beautifully together in the crucial element!
If you want a neutral wall paint color, look to the pattern's whites and beiges. If you want a color on your walls, choose a color from your crucial element.
Let me give you a concrete example. Below you can see how the crucial element (the colorful wall mural) in Attley's old bedroom enabled me to easily choose a paint color for her walls (looking to the neutrals in the mural) and the furniture in her room for her room. A crucial element actually helps establish a design far beyond just choosing paint colors, which is something I teach in Designer in a Binder®.
Tip #2: Understand how to read and interpret paint swatches.
The most important paint colors on any given swatch are the darkest hues. Why? Because the darkest hue will give you an idea of the true color undertones that will show up even in the lighter hues when they are on your wall, but are less obvious on a tiny paint swatch.
What the heck is a paint undertone? I'm so glad you asked! Undertones result when more than one paint color is combined. The dominant color (also called an overtone) is the color you see–for example, blue. The color you don't see is the undertone. Undertones can be warm (think reds, oranges, yellows) or cool (think blues and purples). You can see cool colors vs. warm colors on the color wheel below.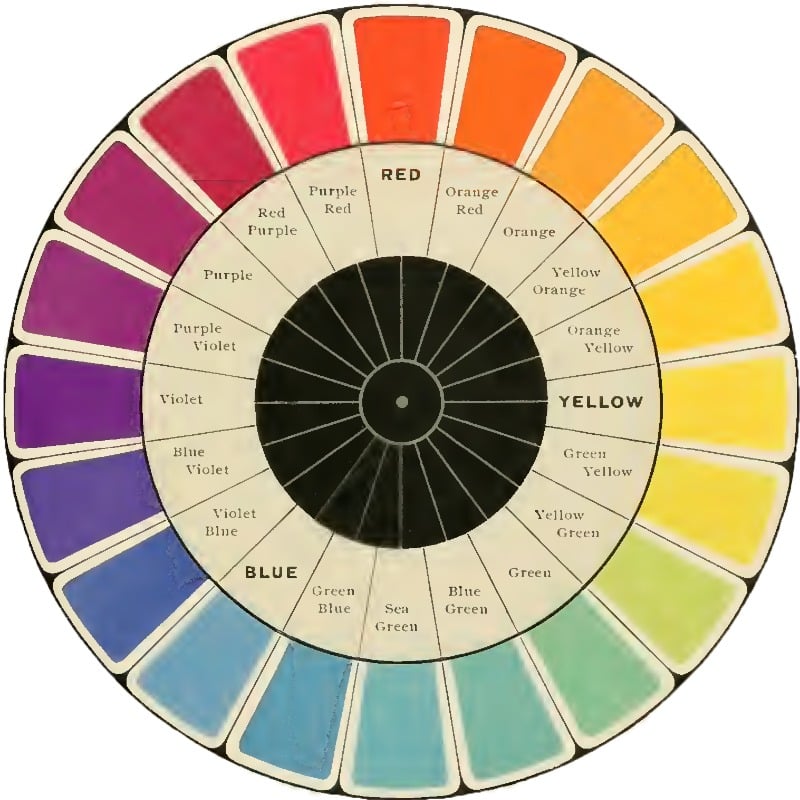 The undertone of a paint color can make or break a design! If you choose a "neutral" paint color that has a warm undertone (like yellow) but everything else in your space have cool undertones, it's going to look bad.
The problem is that most people don't know how to tell what the undertone of a paint color is. But it's REALLY SIMPLE to tell and should be something you think about every single time you choose a paint color.
See how in the photo below all of the lightest hues on the paint swatch cards look relatively similar? At least similar enough that you could see how it would be hard to choose from those 3 light pink colors?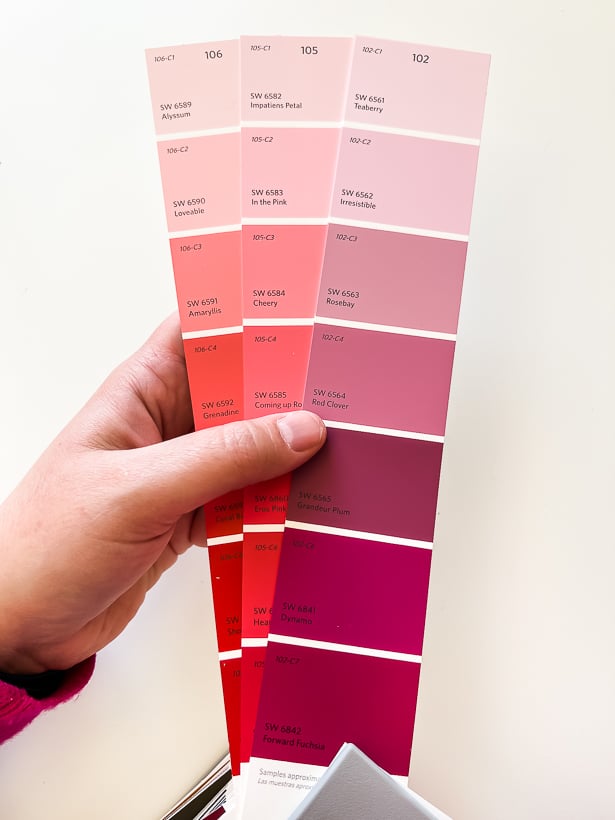 But now look closely at the darkest hues on those same swatches…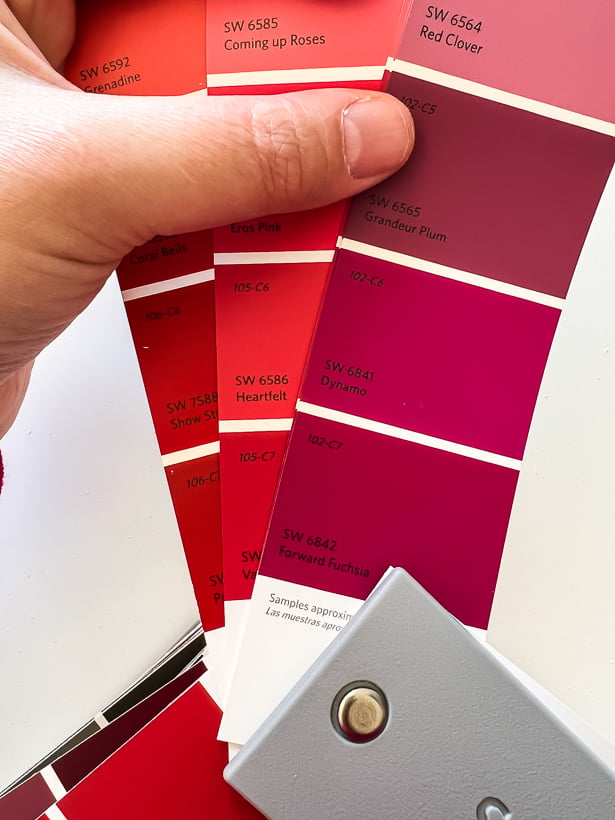 When you look at the darker color hues on the cards, chances are that you will think, "there's NO WAY I would paint that on my walls!" about some of them. Well, if you react that way to the darkest hue on the card, do not use any of the hues on the card. Trust me. Once lighter hues are painted on a wall, the true undertones, which are most visible in the darker hues, will show up and you won't like it!
You also need to be very careful with undertones in neutral colors, especially if you are picking a white wall color. Just look at the darkest hues on these paint chips of white colors! Do you see how purple the undertone of the darkest hue on the paint swatch on the left is?! You would probably never choose that purple color, so I would avoid all colors on the same paint swatch.
And there's something else you need to know about reading paint chips! Each color swatch tells you the light reflective value (LRV) of the color. The LRV is usually printed on the back of the paint chip (see an example below).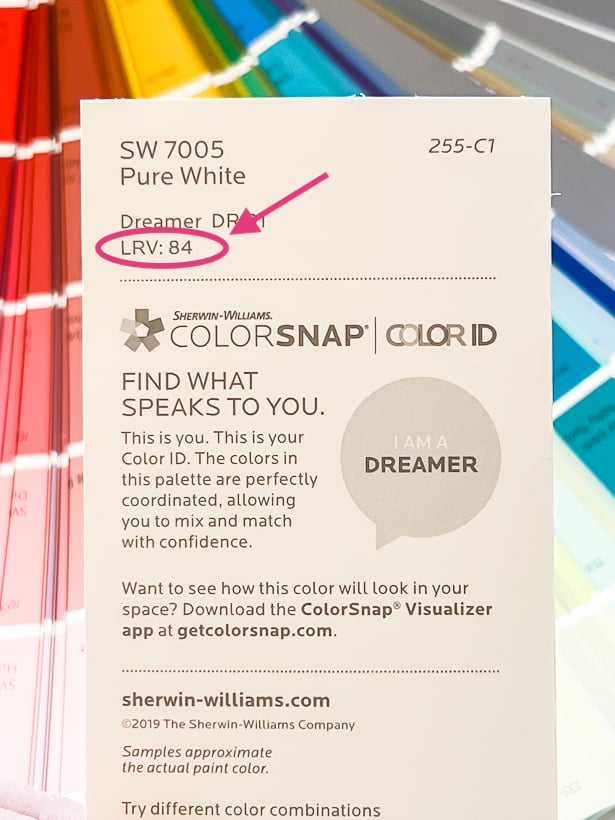 Here's what to keep in mind about LRV:
The higher the LRV number, the lighter the color. The lower the LRV number, the darker the color.
Colors with an LRV above 50 are lighter and will bounce back more light than they absorb. So they help create a bright and airy feel to a room.
Colors with an LRV lower than 50 will soak up more light than they reflect. So they will give a room a dark and moody feel.
Want to make a space feel like it has more light? Pick a color with a high LRV!
Want to make a space feel moody and cozy? Pick a color with a low LRV!
Tip #3: Test paint color samples in your home!
I promise you that even if you LOVE a paint color in someone else's home, you may not like it in your own home! Even if you are considering colors that look very similar, I recommend getting samples of each and painting sample squares of EACH color on at least two different walls in the same room. Paint colors can look very different depending upon how the light hits them, so you want to be thorough with this step. Be sure to check out how the samples look at different times of the day and in different kinds of light (turn your overhead light on and off, any lamps on and off, etc.). After living with the samples on your wall for a couple of days and looking at them with all the different lighting scenarios, make your final selection and paint your room.
If you are considering the same paint color for adjacent rooms (perhaps because they each have a crucial element that share the same color you are pulling out for your paint color), test paint samples in all the rooms because the paint colors will be affected by the type of natural light each room receives! South-facing rooms tend to have warmer light filtering into them, which will make colors appear a bit more yellow than they are. North-facing rooms generally have cooler light filtering into them, which can make colors seem more blue or gray than they really are.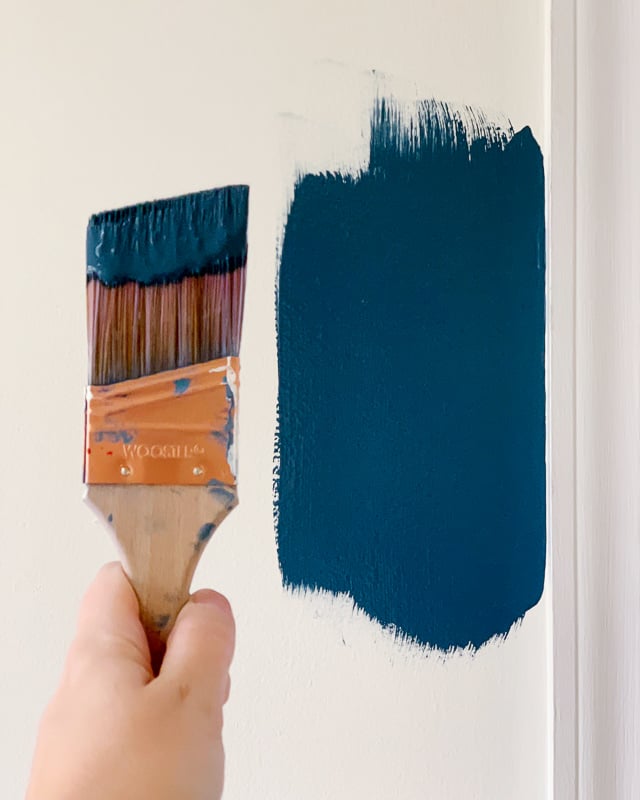 I highly recommend ordering peel and stick samples from Samplize! It's more economical and easier than painting a bunch of samples on your wall (or paper to then tape on your wall). And I also love that you can reposition them–it makes it super easy to try a color on different walls or in different rooms. You can even cut them in half to try on different walls if you prefer.Samplize offers paint samples for Sherwin-Williams, Farrow & Ball, Benjamin Moore and PPG which you can find at Home Depot. And most importantly, they are actually paint samples. Paint chips are not actually created with paint, so they are far less accurate.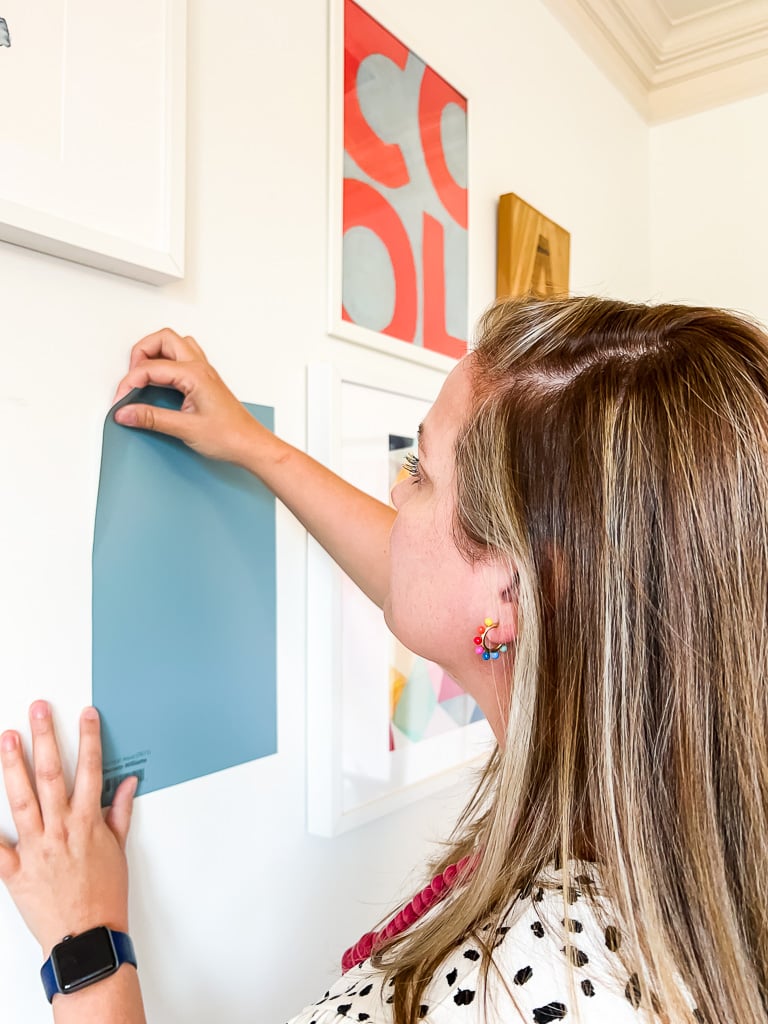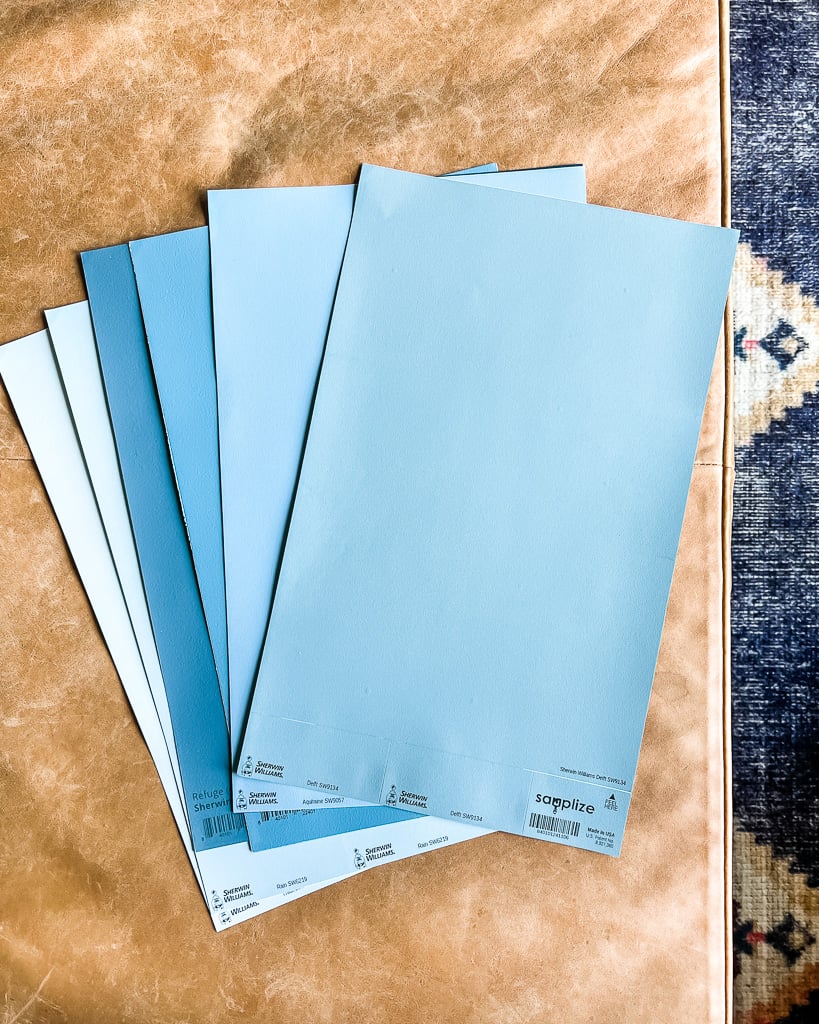 Tip #4: Don't use too many different wall colors in your home.
Aim for about 3 to 5 total paint colors in your home. They should consist of the following:
1) A neutral for your trim and ceilings. Most people choose some shade of white for their ceilings and trim. In our current house, we have chosen contrasting trim and ceilings, but we still used a neutral color that is technically a "white." It is Divine White by Sherwin-Williams.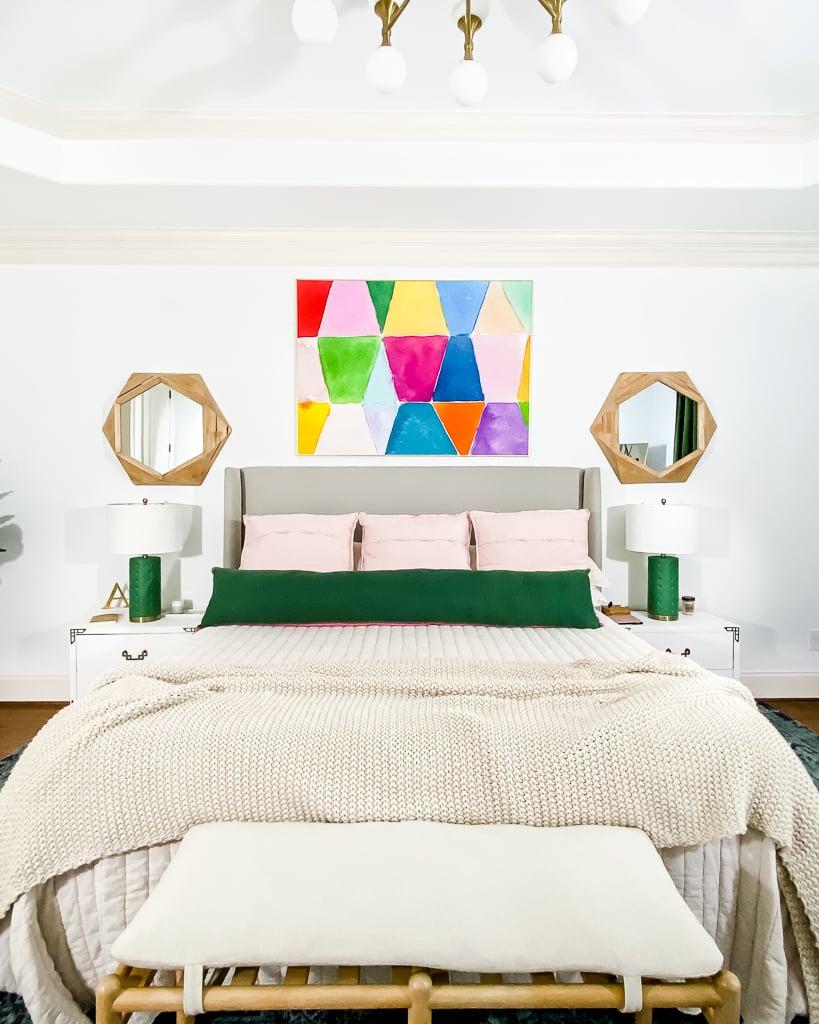 2) A neutral wall color. This can be tan, grey or even a light blue (yes, blue can be neutral–jeans go with everything, don't they?!). This color will bring everything together in your home and is the perfect color to use when you aren't sure what else to use. For example, your neutral is a great color to use in spaces that connect other rooms, like hallways. We have used Pure White by Sherwin-Williams in most of the rooms of our current home. You can see it in our entryway below. We love it as a neutral backdrop for lots of pops of color that we add in with colorful artwork and decor.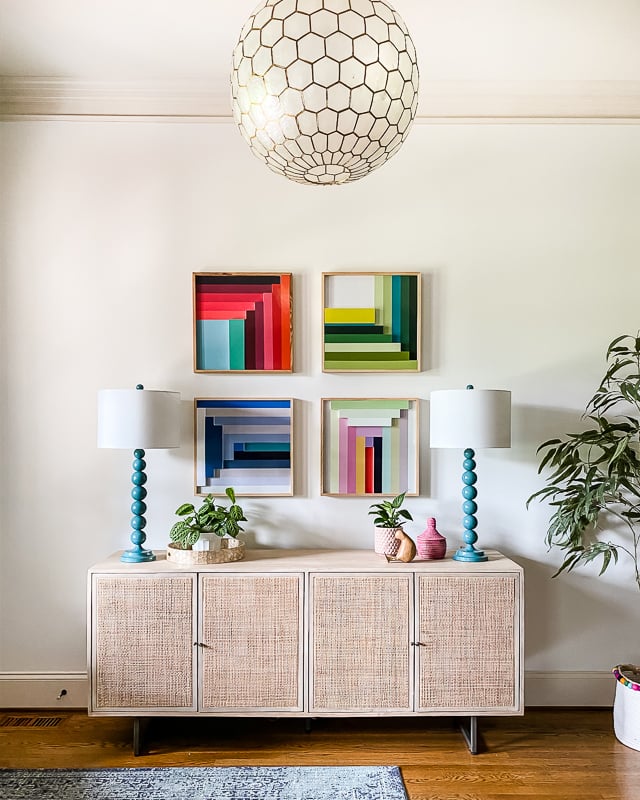 3) No more than three additional accent colors. So far in this house, we've only used 1 other wall color. We painted our dining room a dark navy blue (Gale Force by Sherwin-Williams).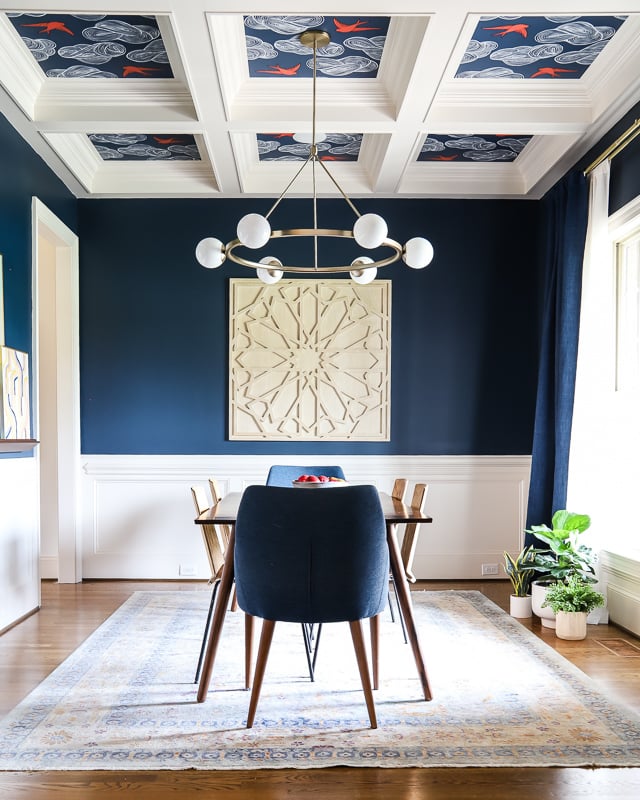 And we used the same dark blue color on this accent wall in our living room.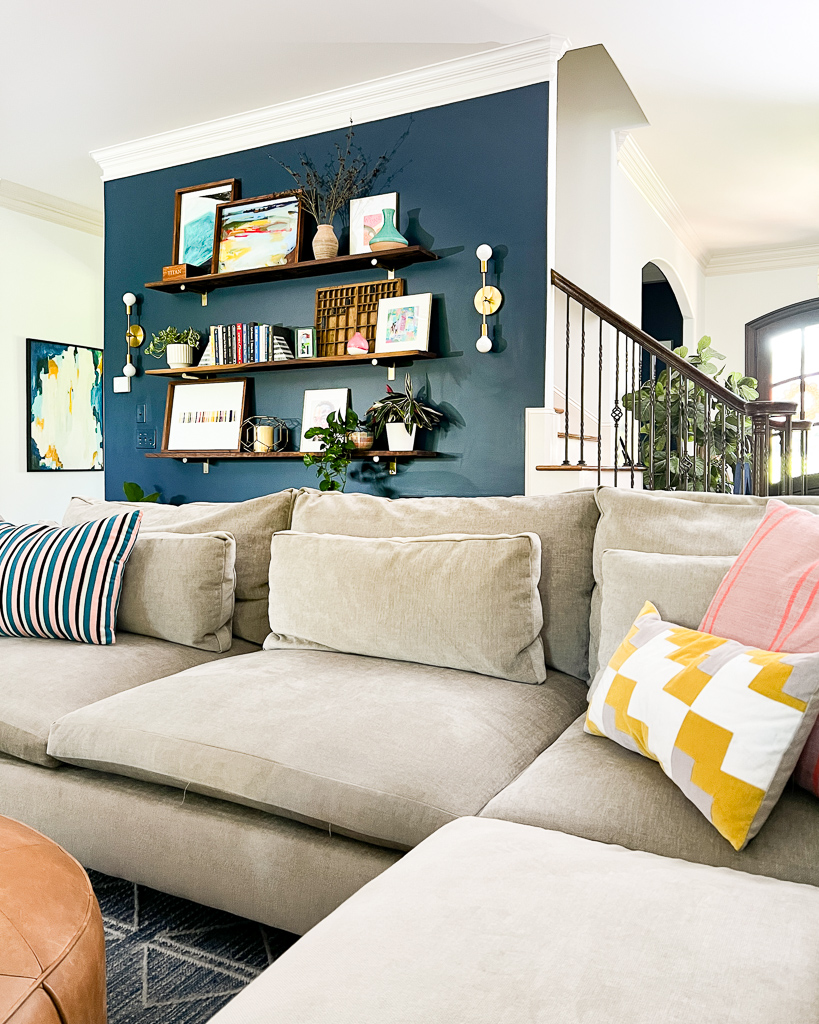 I am open to introducing another wall color or two once we've lived in this house a bit longer. But I wouldn't pick more than 2 additional wall colors to use in this home because it would start to feel a bit haphazard in my opinion.
Tip #5: Match the color to the feeling you want to have in the room.
Colors have a huge impact on your mood and the type of energy you have when you are in the space. In fact, there's a whole subject of study called the psychology of color! For example, blues and greens tend to have a calming effect, while reds, yellows, and oranges tend to have an energizing effect.
In general, warm colors (on the RIGHT side of the color wheel) will feel inviting and comforting. On the other hand, cool colors (on the LEFT side of the color wheel) generally evoke a sense of calm and relaxation.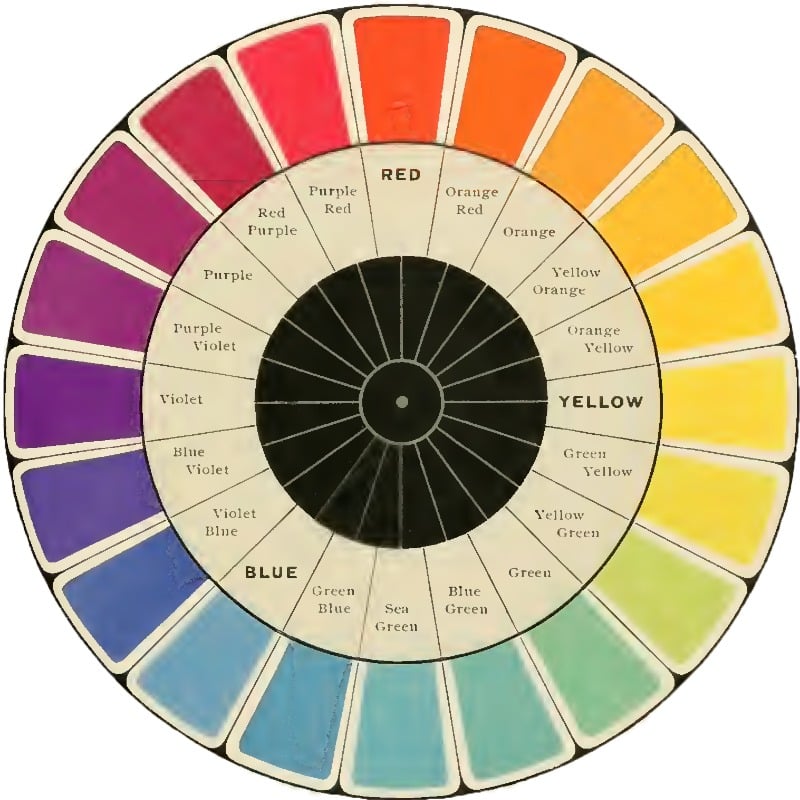 Here's a general breakdown of how individual colors affect moods/emotions.
Red– energizes and excites
Orange– stimulates and encourages socializing
Yellow– boosts enthusiasm and happiness
Green– balances and evokes feelings of safety, stability and balance
Blue– reduces stress and creates calmness
Purple– uplifts and encourages creativity
Pink– increases pulse and motivates action
Gray– creates sense of compusure, depresses energy
Tan/beige– stabilizes, suppresses emotions
Black– empowers, evokes a sense of sophistication and elegance
Remember, how color affects you is personal and varies greatly from person to person! If you aren't sure how certain colors make you feel, pay attention to the colors you wear most often. Chances are you choose those colors because you like how you feel when you are in them. So, let your wardrobe guide you if you aren't sure.

Tip #6: Pay attention to the sheen of your paint.
Believe it or not, the sheen that you choose for your paint will impact how it looks. If you painted half of a wall in flat paint and the other half of the same wall in the same color but in a gloss or semi-gloss finish, you may think they are two entirely different paint colors. Crazy, huh? I've written an entire post about how to choose the right paint sheen with all the things you should consider. For the purpose of picking a wall color, do your best to test samples in the sheen you are considering. Most paint stores only offer small samples in eggshell or satin finish. If you want to be absolutely sure about your choice, you may want to buy a quart in the exact finish you are wanting to sample on your own walls.
You may also enjoy these posts:
Wondering how I approach transforming rooms and spaces in our home? Check out Designer in a Binder®.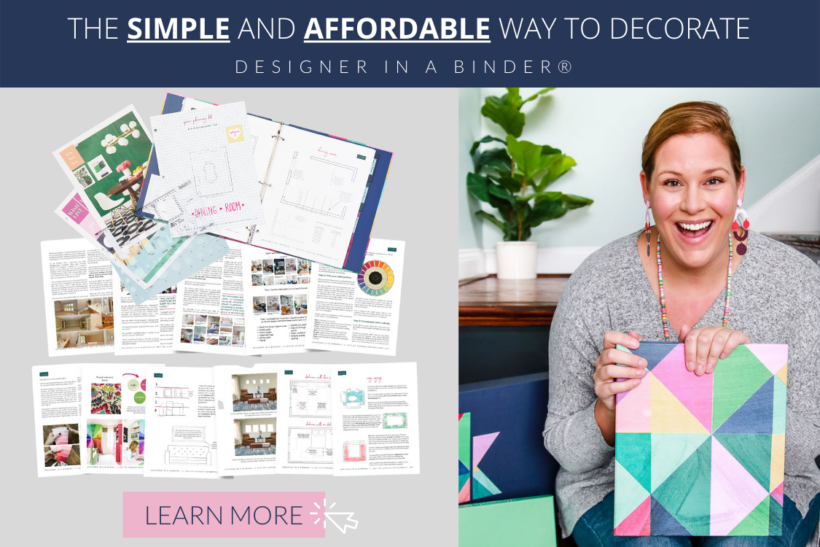 And if you want exclusive content and behind-the-scenes sneak peeks, be sure to subscribe before you head out!