The Best Neutral Paint Colors for Kitchen Cabinets
Your kitchen is the heart of your home, so the design choices you make for your kitchen are so important. When it comes to cabinets, neutral painted cabinets are a popular choice for a reason! Neutral colors on kitchen cabinets give you a clean, bright, and classic look. But narrowing down which neutral color is the right one for your kitchen can feel overwhelming. To make it a bit easier, check out these popular shades that are designer-favorites and all look gorgeous on cabinetry. Trends come and go, but these will always be popular neutral kitchen cabinet paint colors!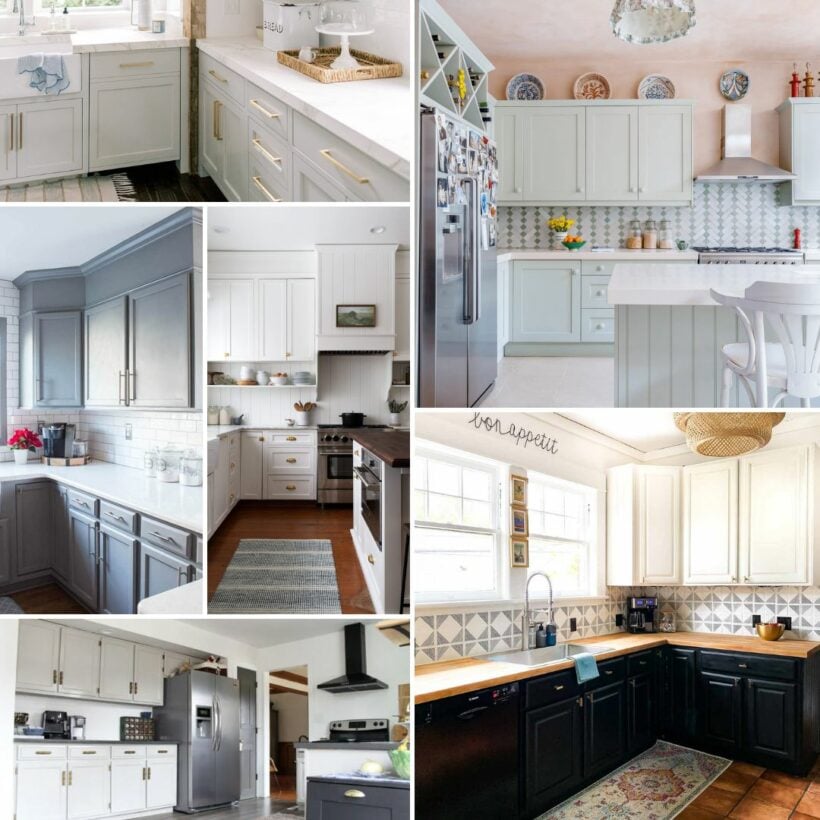 This post contains affiliate links for your convenience. Click here for my full disclosure policy.
Popular White Paint Colors for Kitchen Cabinets
When we did our total kitchen renovation in our old house we used white cabinets and I loved the bright clean look! They were premade white, but you can easily achieve the same look with the right white or cream paint. There is something about a white kitchen that feels fresh and gorgeous! There is a reason it remains the most popular color for kitchen cabinets. It is simple and looks great with a variety of appliances and countertops.
Alabaster by Sherwin Williams
Sherwin-William's Alabaster is always at the top of the list for popular white paint colors! It is a gorgeous barely off-white that feels softer and warmer than a stark white because of its beige undertones. This designer used it both on her walls and cabinets and the effect is beautiful. It looks amazing with stainless-steel appliances for a fresh clean kitchen.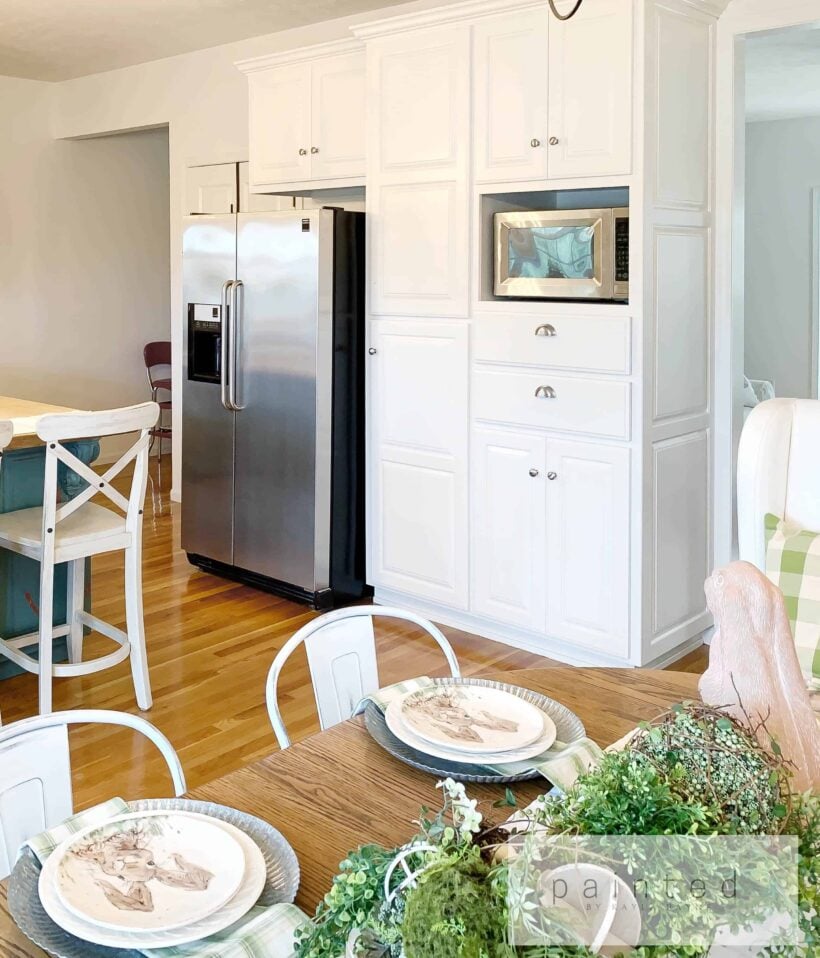 Ivory White by Benjamin Moore
This DIY remodel used Ivory White by Benjamin Moore on the kitchen cabinetry for a soft off-white with warm undertones. It pairs beautifully with the organic feel of black iron, wood and stone for a rustic vibe. Because it has a faint yellow tint, it reads more warm than stark.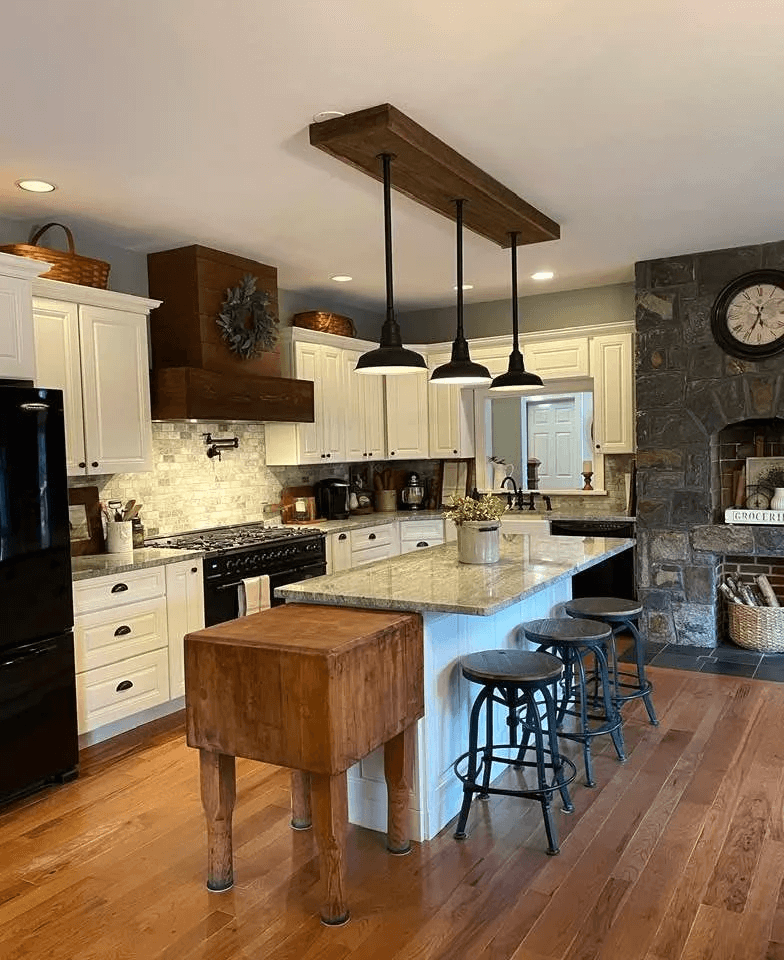 Pure White by Sherwin-Williams
Another top choice is Sherwin-WIlliams Pure White. Pure White is a well-balanced white that is soft and clean without being too stark or cold which makes it popular for interiors and as a kitchen cabinet color. It blends beautifully with this white subway tile and white walls.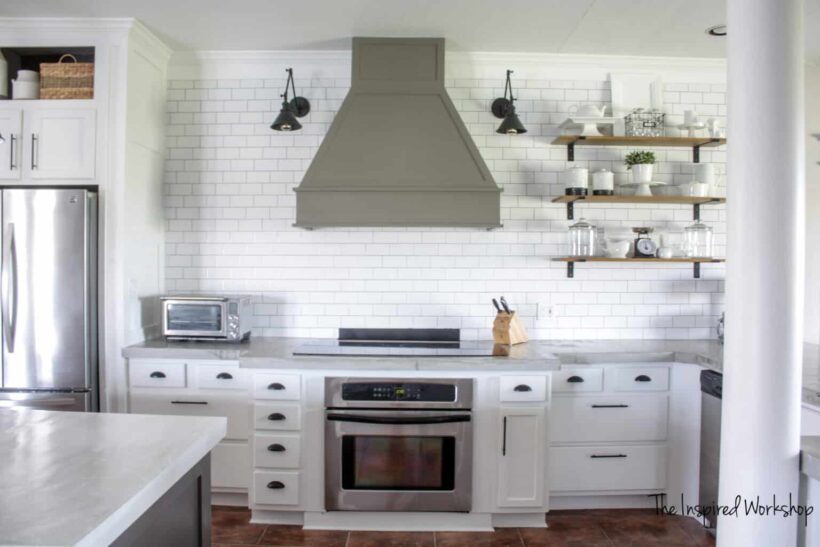 Simply White by Benjamin Moore
Like its name implies, Simply White by Benjamin Moore is a clean bright white. I love it as a choice in this remodeled-to-look-original kitchen. It feels fresh and like the way a farmhouse should feel! It is a mild warm white with just a touch of yellow to keep it from feeling cold. This white is one that is easy to use on the entire kitchen, not just the cabinets!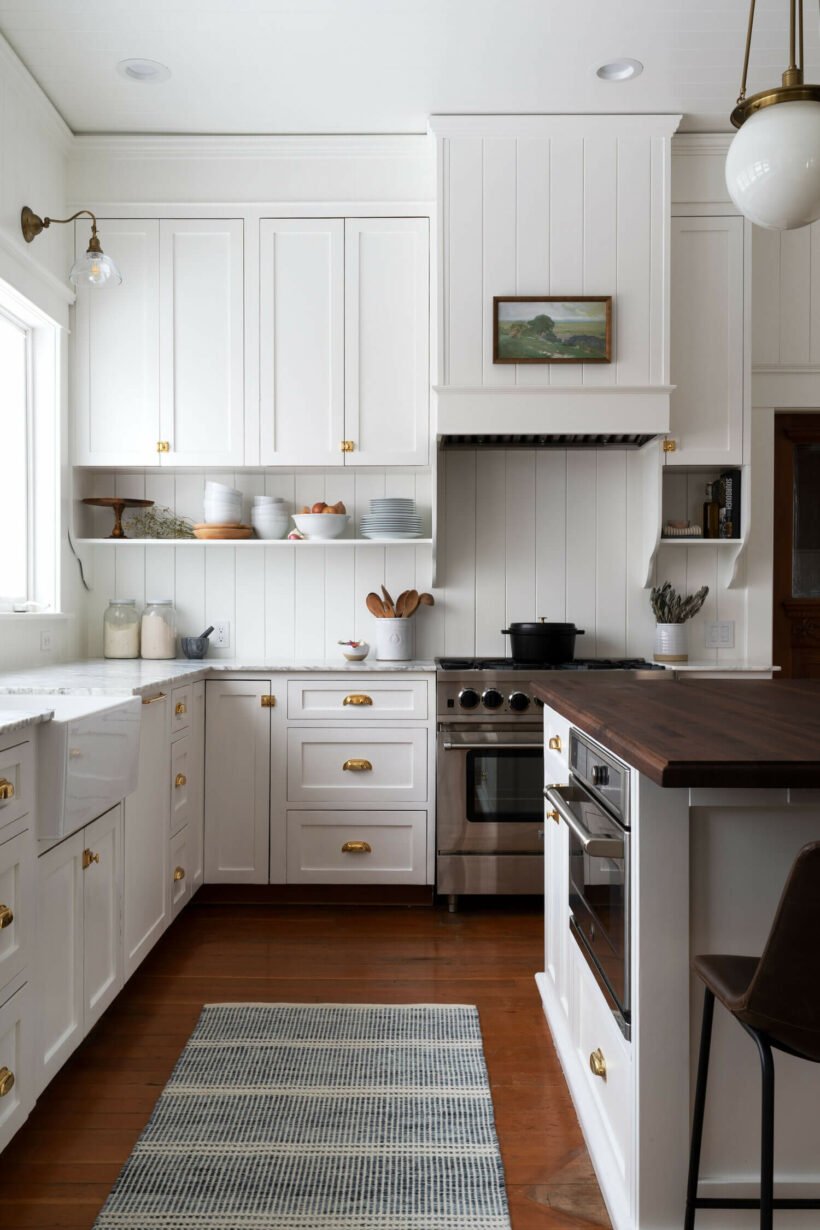 Creamy White by Benjamin Moore
Creamy White by Benjamin Moore is a warm off-white bisque color. You can see the shade difference between the stark white hood and the marble white countertops and the cream-colored cabinets, and the contrast is stunning. The brass hardware is the perfect accent choice with the neutral color scheme!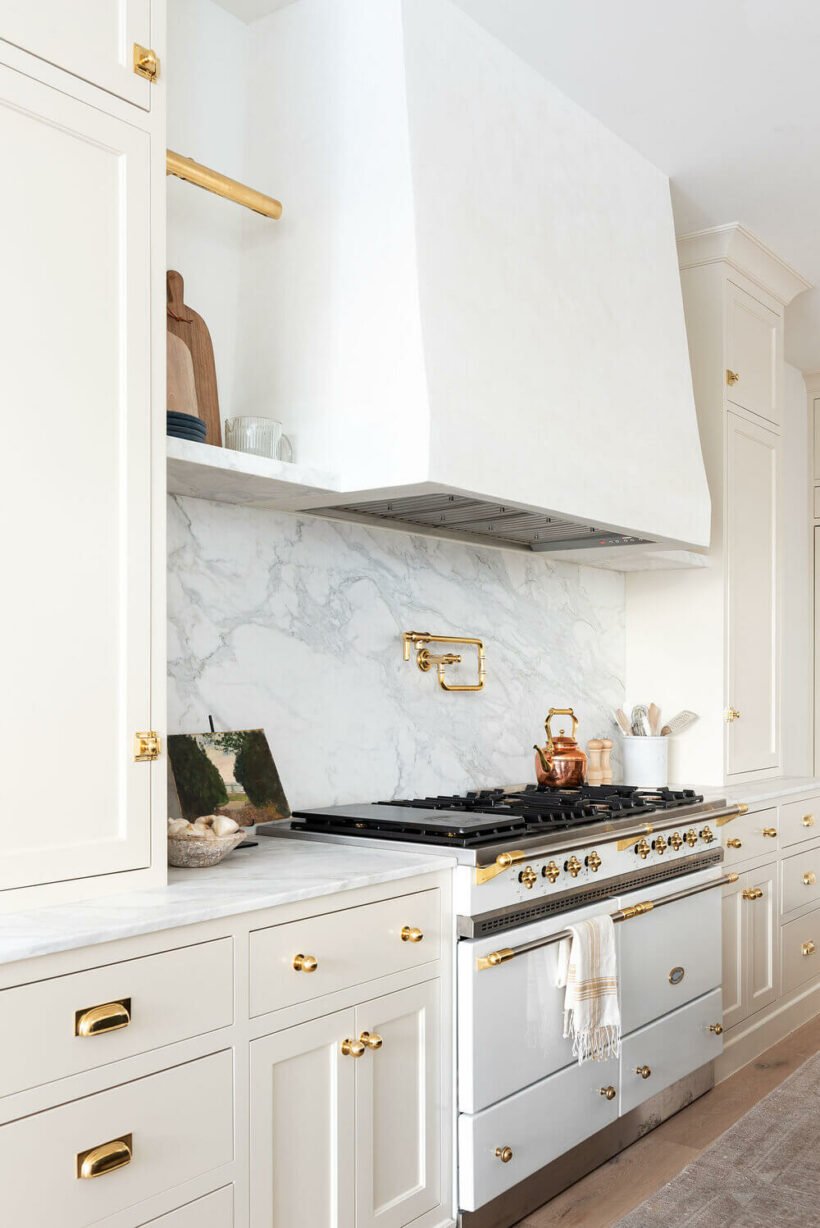 Raw Silk by Fusion Mineral Paint
When I gave my good friend Thea's kitchen a makeover a few years ago, I chose Raw Silk by Fusion Mineral Paint for her upper cabinets. It's a very light, creamy off-white that I absolutely love.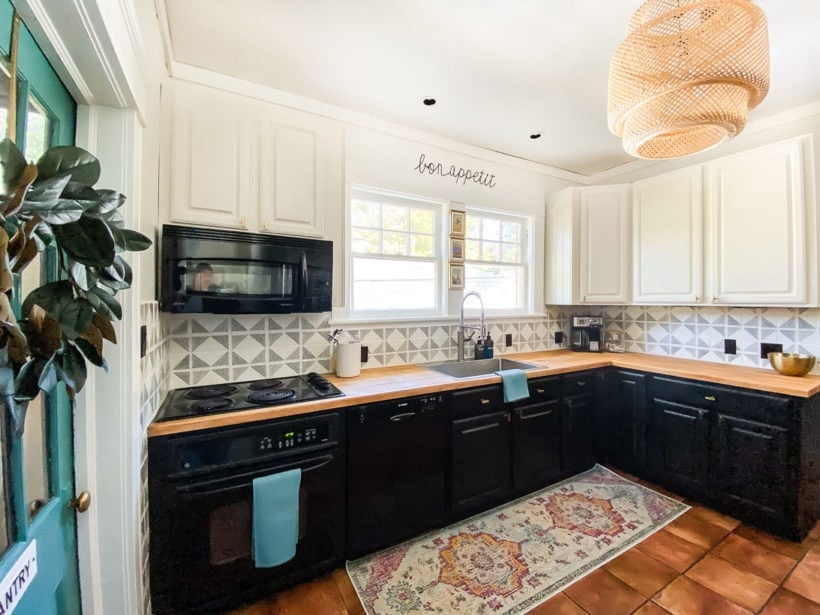 Natural Cream by Benjamin Moore
This soft neutral is a favorite among designers for kitchens. Natural Cream by Benjamin Moore is considered a light greige/beige and it is a really beautiful creamy neutral. Here it pairs well with mixed metals and bright walls for a warmer feel to the cabinets compared to the backsplash and walls.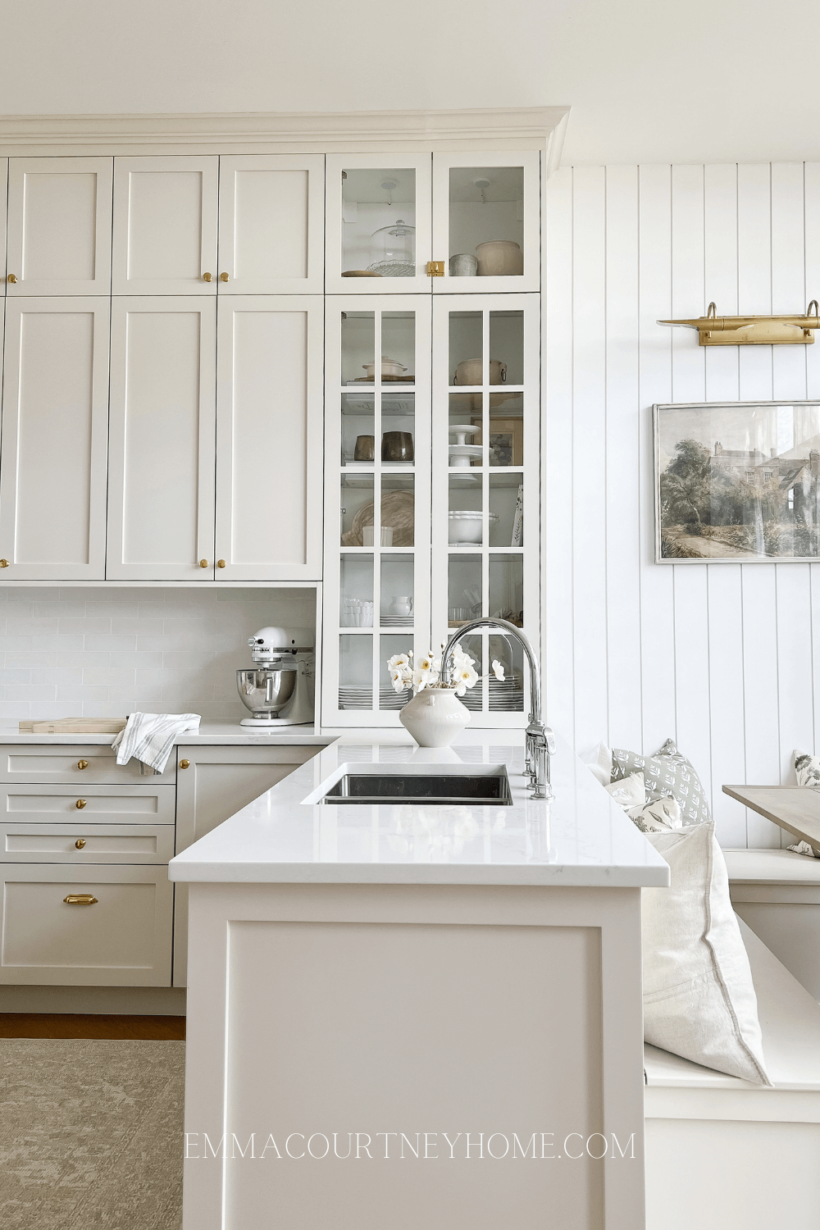 Popular Gray Paint Colors for Kitchen Cabinets
Popular shades of gray for cabinets range from barely there color to deep dark charcoals. Our old house had a beautiful gray kitchen and we loved it! Gray is a great option if you want color but still want it to feel like a true neutral.
Repose Gray by Sherwin Williams
Repose Gray is one of Sherwin Williams' most popular colors, and for a very good reason! It is considered a greige, and it reads as a very pale gray with the tiniest hint of violet. This is a beautiful cabinet color if you are looking for a light gray instead of a more stark white. I love it in this kitchen with the marble counters and wood accents. The combination is perfect!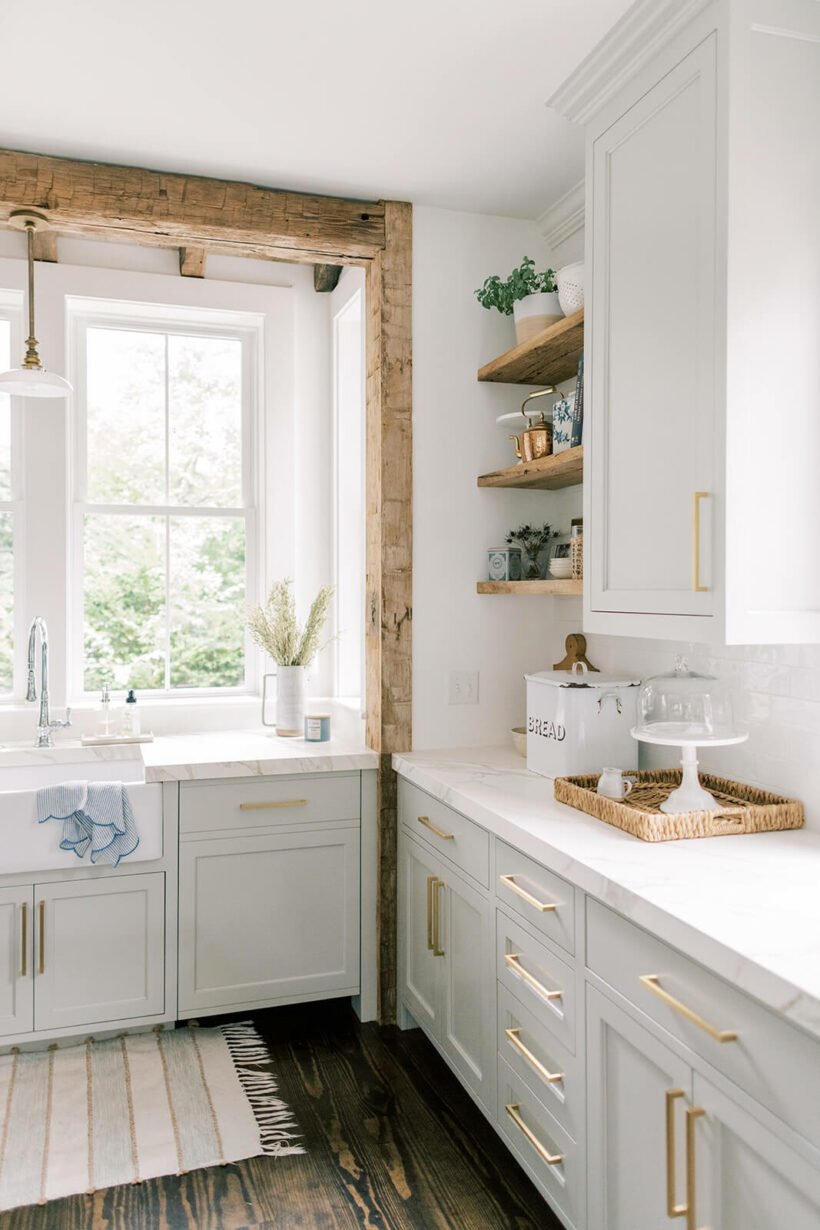 Dove Tale by Farrow and Ball
A warm light gray, Dove Tale by Farrow and Ball has lilac-purple undertones and is a great neutral color for choice for kitchen cabinets. I imagine it was tricky finding the right neutral to go with these green countertops, but the Dove Tale looks lovely!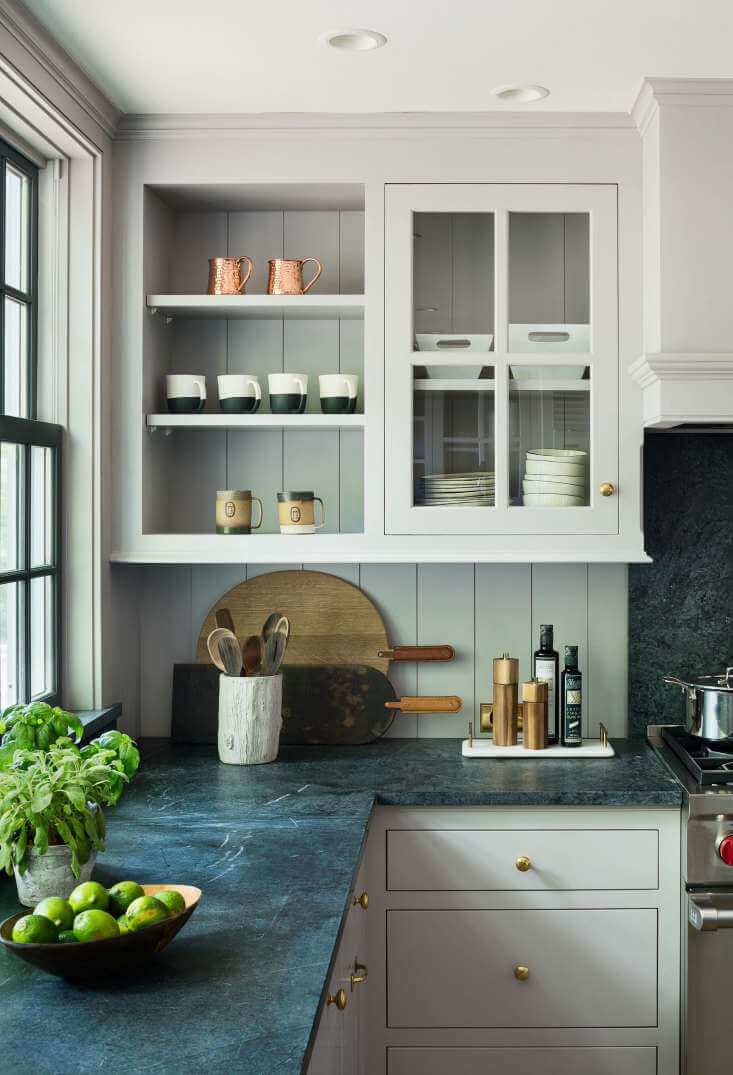 Mindful Gray by Sherwin Williams
Mindful Gray is a light gray hue that has blue and green undertones that keep it from being too warm. Grays are popular for painting kitchen cabinets because they have some color without being too bright, and Mindful Gray may be the right choice if you want a nice mid-gray!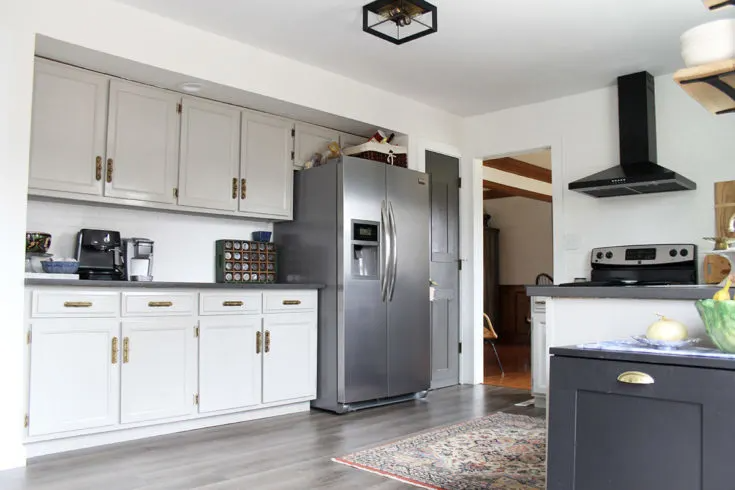 Cracked Pepper by Behr
For a dark dramatic color, Cracked Pepper by Behr is the perfect pop. It is a beautiful deep charcoal gray that is almost black, with blue undertones. It is an excellent choice if you are looking for dark kitchen cabinet paint colors but don't want to commit to a true black. I love it here paired with the stainless steel, gold pulls and white to-the-ceiling tile backsplash.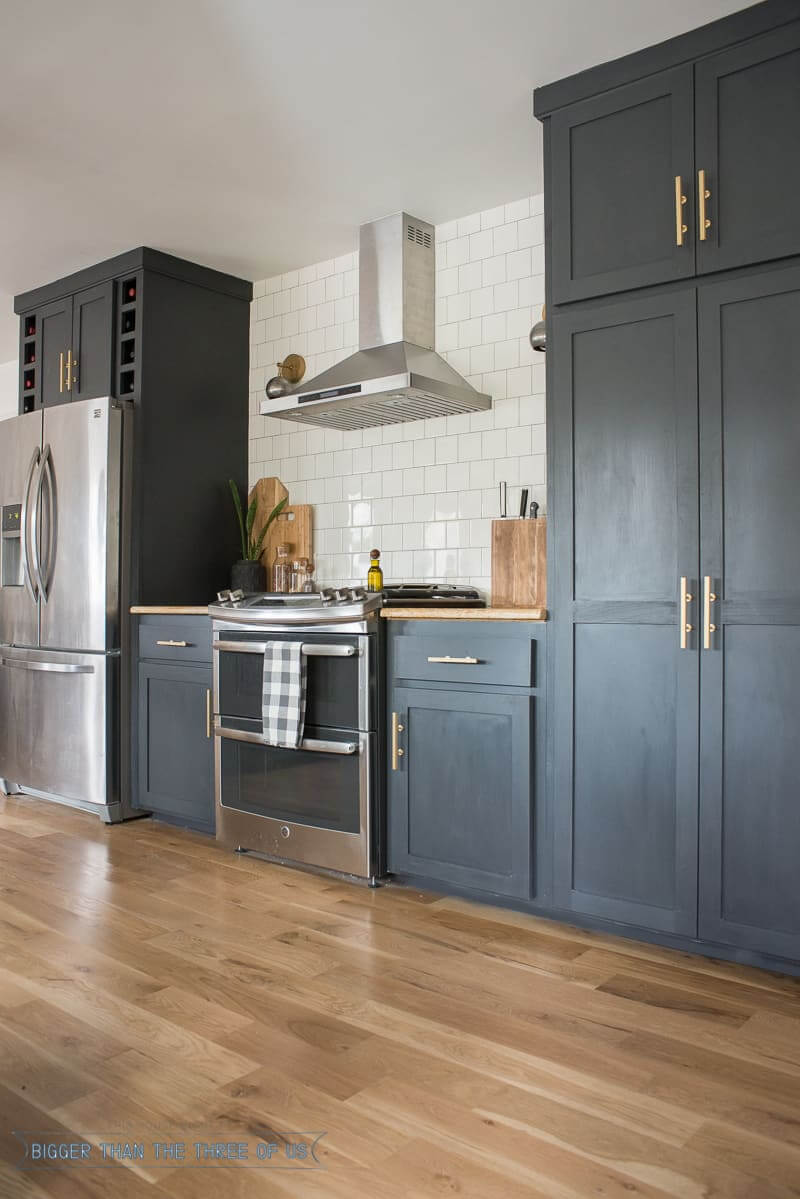 Seagull Gray by General Finishes
One of the most high-impact projects we have ever done is painting the cabinets in our previous kitchen. I will never recover from how much the whole feeling of the kitchen changed by doing this! We used Seagull Gray by General Finishes and it turned out beautifully. It is a light cool gray with hints of blue, but like lots of grays, it can feel different depending on the light. still can't believe how easy it is to paint kitchen cabinets without sanding or priming with the system we used!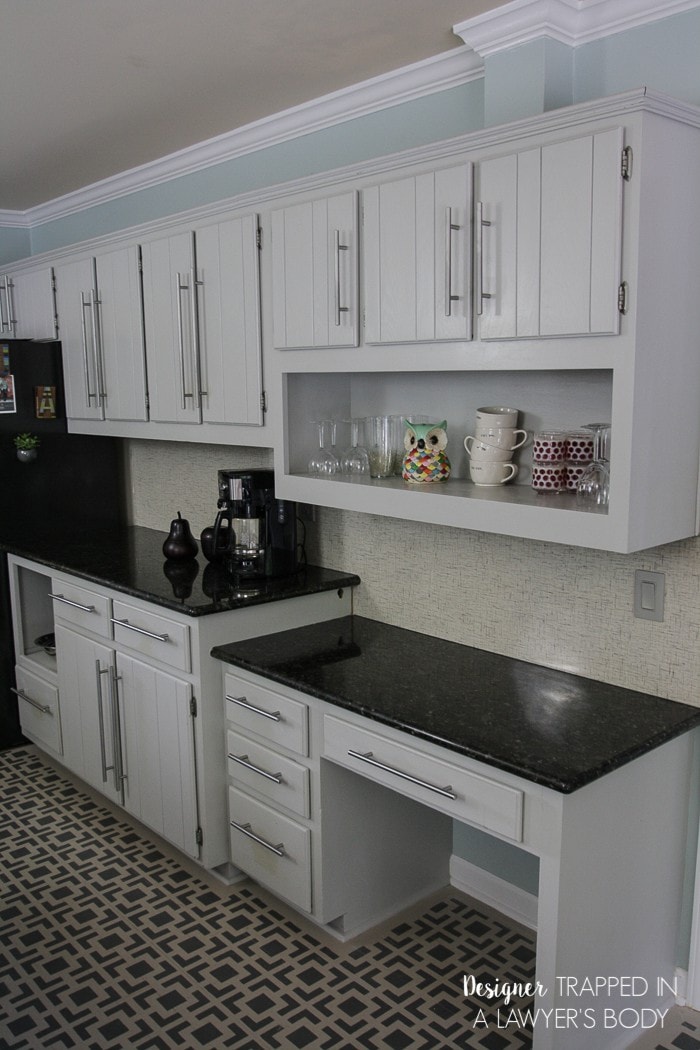 Chelsea Gray by Benjamin Moore
Another mid-range gray that is perfect for kitchen cabinets is Chelsea Gray from Benjamin Moore. It has a lot of depth and color and creates a beautiful contrast with white walls, countertops and subway tiles. It is considered a warm gray, and it has both violet and green undertones.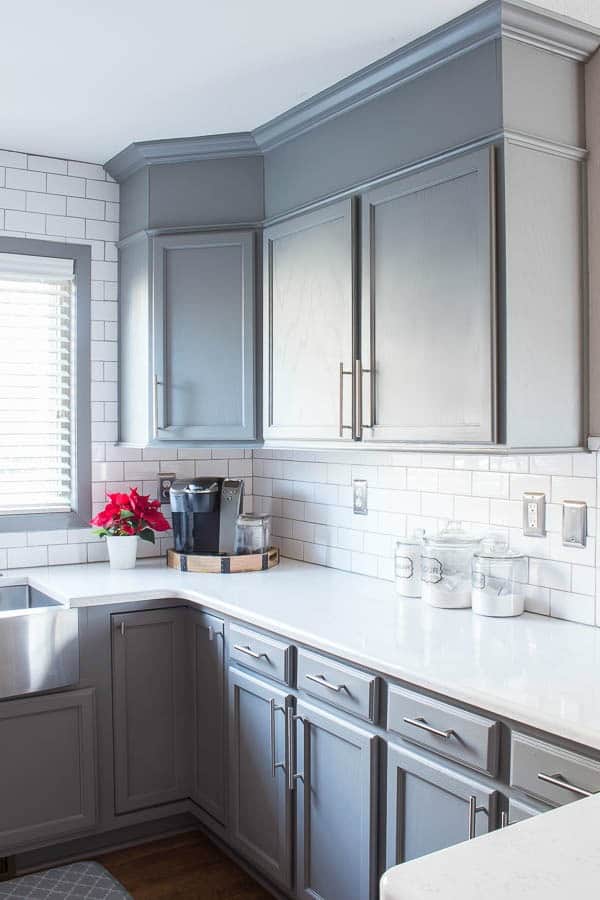 Neutral Painted Cabinets with a Hint of Color
Want a neutral paint color for your kitchen cabinets that isn't white or gray? There are so many neutrals to choose from that have color and are beautiful choices for kitchen cabinet paint colors. Some of these just have a hint of color, while others are dark neutrals. Dark kitchens bring a dramatic flair that I love–they have depth and weight. But a shade with just a hint of color is nice and airy and light! If you want more than grey or white look no further than these designer picks.
Vert de Terre by Farrow and Ball
Vert de Terre by Farrow and Ball is a beautiful muted sage green. Because it doesn't have a ton of color it is easy to put it in the neutral category, but it brings something interesting and fresh when compared to plain white! It pairs well both warm and cool colors and has undertones of blue.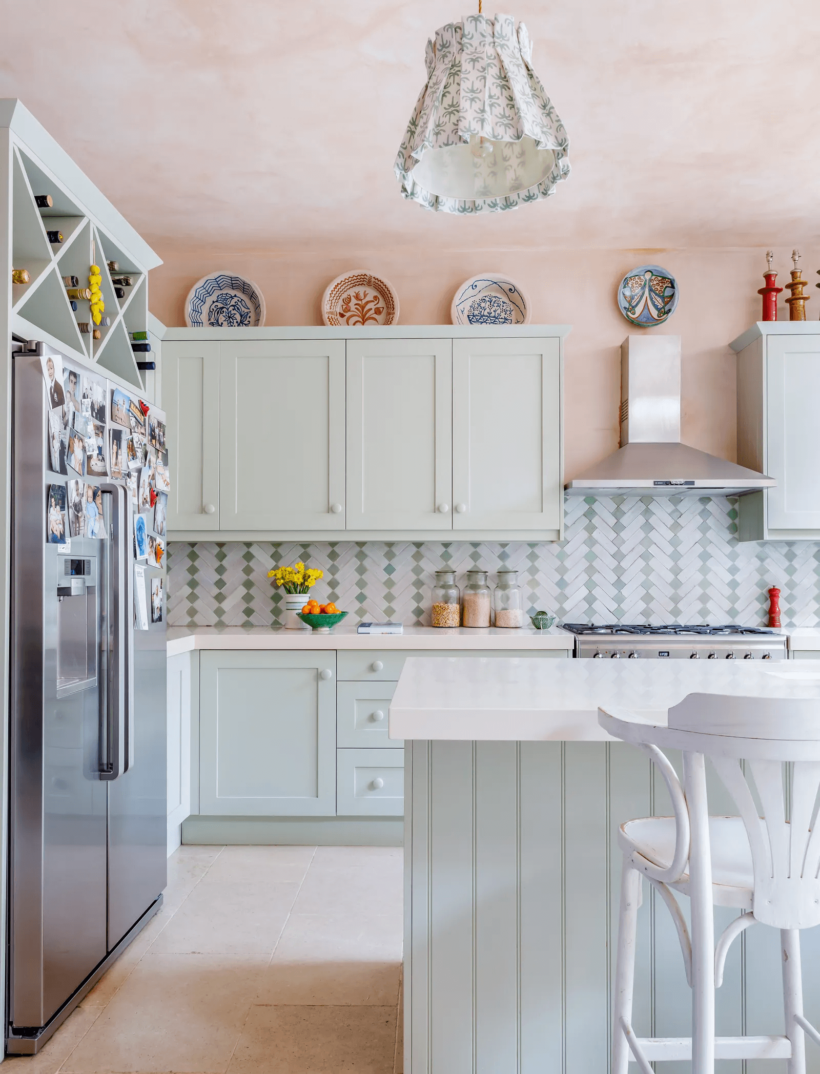 Jet Black by Benjamin Moore
Sexy and striking, Jet Black is a classic deep black that looks amazing as a paint color for kitchen cabinets. If you want to make a statement, Jet Black with its dark blue undertone is moody and gorgeous! There is something really sophisticated about black as your neutral of choice.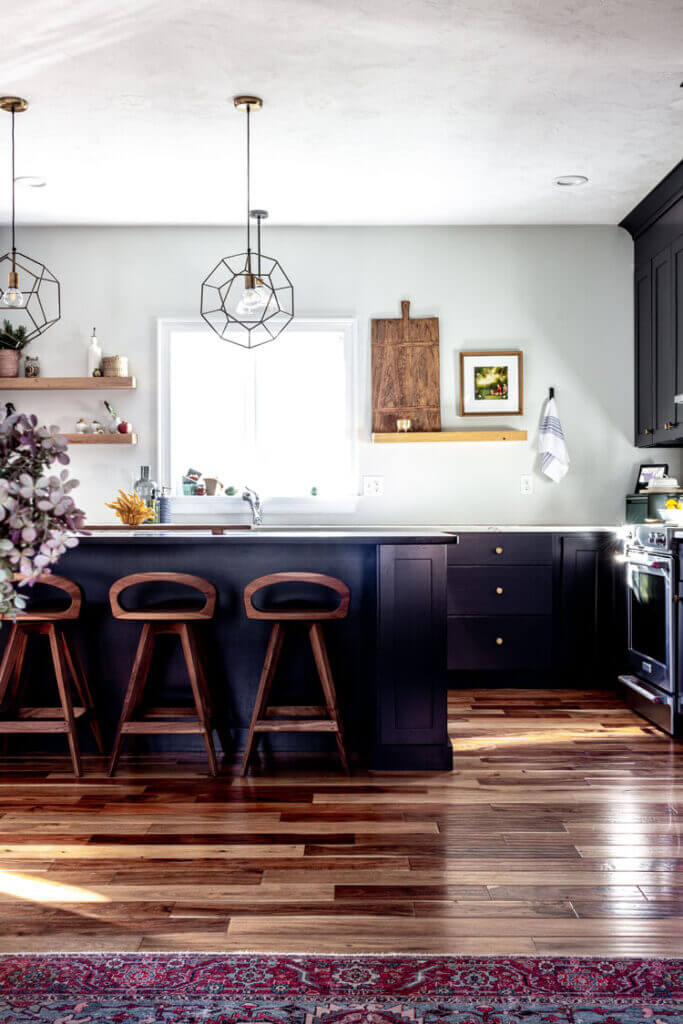 Beguile by Valspar
If you want a neutral that is a bit of a chameleon, look to Beguile. It is described as a blue-green-gray and a lot about how it will look in your home will depend on your light. Here on the lower cabinets, it appears more blue, but in other lights and on the sample it has a more green-gray feel. This is a perfect example of the importance of always trying a sample in multiple places in your kitchen! It is a beautiful neutral and may be the perfect combination of blue-green you are looking for.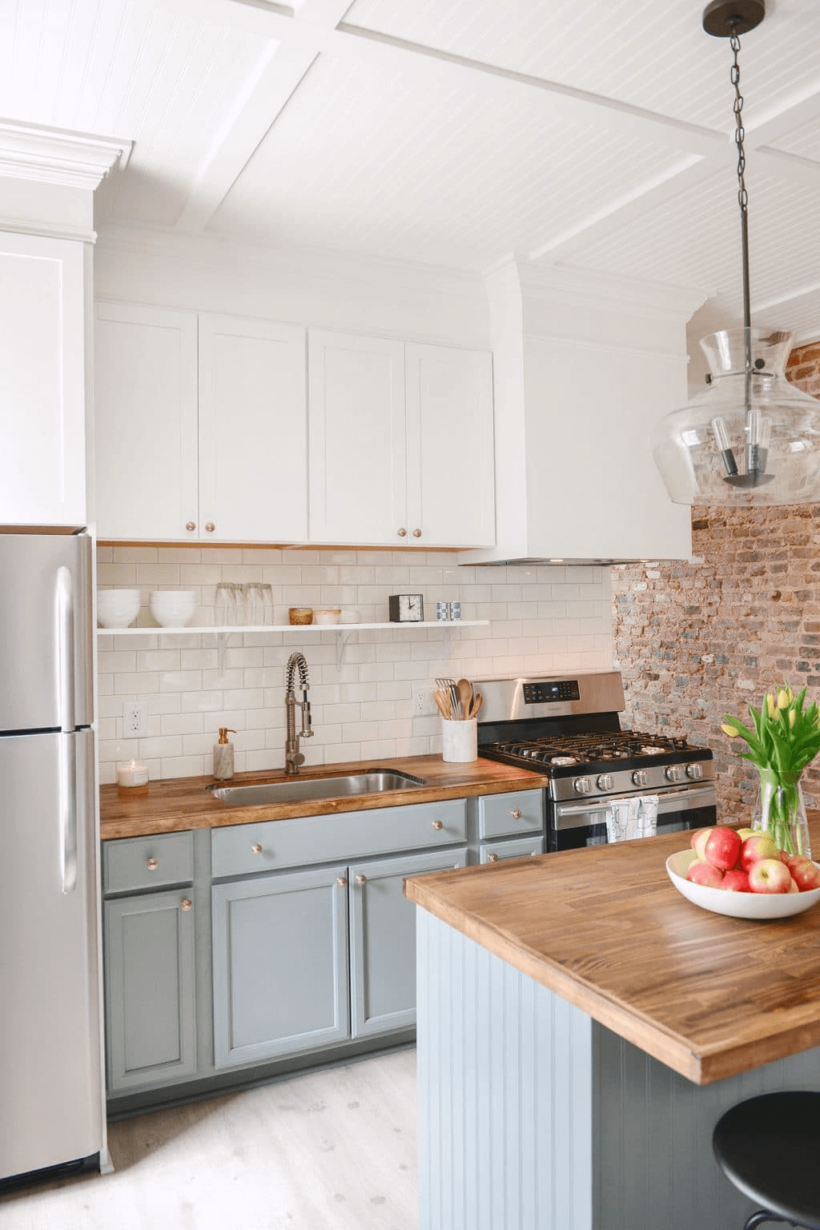 Evergreen Fog by Sherwin Williams
Evergreen Fog by Sherwin-Williams is the perfect soft sage green. It is no wonder it was the SW color of the year for 2022! This is a cool green with blue undertones and it has a gray feeling to it. It pairs well with off-white like these walls, but also looks amazing with the bright white of the sink and counters! So it is clearly a versatile neutral grey-green.
Coal Black by Fusion Mineral Paint
I am not always a huge proponent of kitchen trends, but I love the trend of a different cabinetry color on the top from the bottom. The contrast between dark on the bottom and light on top looked perfect in Thea's kitchen when we did her budget kitchen renovation. We used Fusion Mineral Coal Black on the lower cabinets (and as I mentioned earlier in this post, we used Raw Silk on her upper cabinets). It is the perfect balance with the natural wood butcher block and brass accents.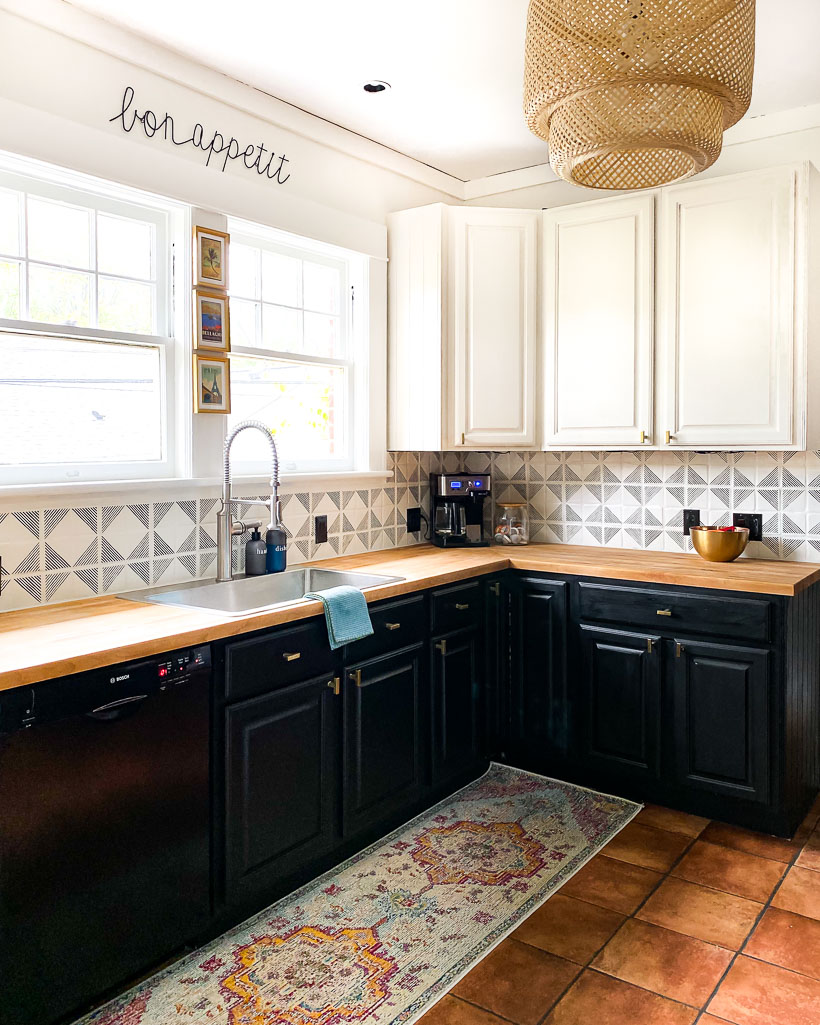 These kitchen makeovers are so inspiring! Don't wait to paint your kitchen cabinets. These are amazing examples of what a beautiful new neutral color can do for a kitchen!
Don't forget before you start painting to put the prep work into picking the correct color. I recommend you try out a sample of your color. I love using Samplize Peel and Stick paint samples to try out your color options! If you aren't sure how to choose your color read How to Choose A Paint Color for all my tips!
Other Kitchen Posts You May Enjoy:
Wondering how I approach transforming rooms and spaces in our home? Check out Designer in a Binder®.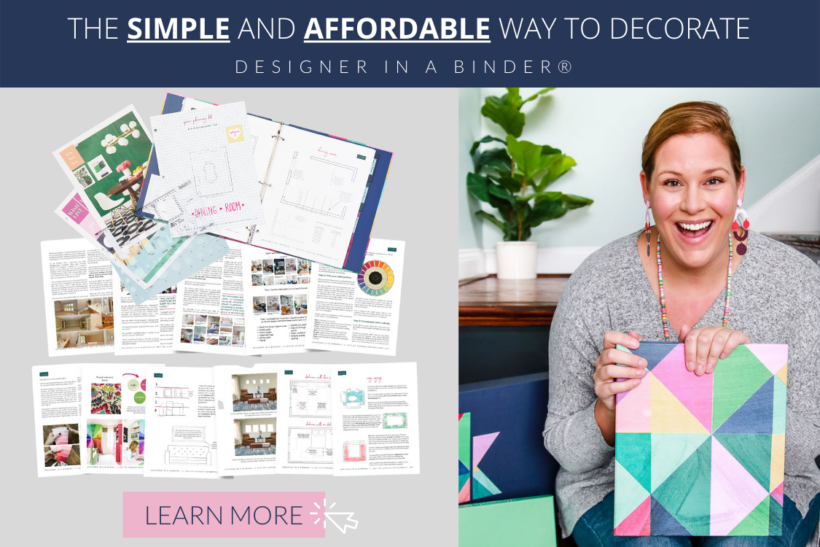 And if you want exclusive content and behind-the-scenes sneak peeks, be sure to subscribe before you head out!