Benjamin Moore Swiss Coffee- Is it Right For You?
Is Benjamin Moore Swiss Coffee OC-45 the right white color for your room or home? Benjamin Moore's Swiss Coffee is a very popular white paint color. If you have found this review post, it's probably because you are looking for the perfect white paint color for your home. Swiss Coffee may be a great choice for you, but there are definitely some important things to consider before you cover your walls with it! Read on to learn if it's a good fit for you and to see photos of this paint color in use in real homes!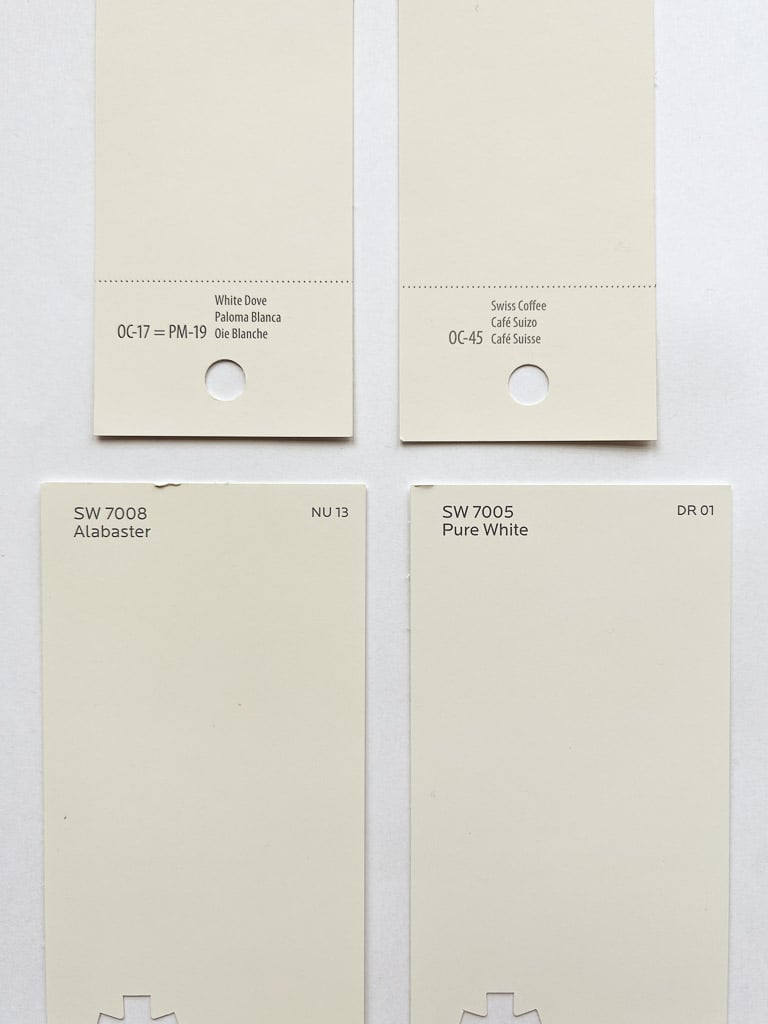 If you've been around a while, you know I'm a HUGE fan of white walls. There are four popular very popular shades of white for walls:
Why is Swiss Coffee so popular?
Swiss Coffee has really surged in popularity as it is frequently used by design professionals, including well-known and loved designer Shea McGee of Studio McGee (and it does look gorgeous in her beautiful design below). She has even used it at 75% strength throughout most of her own home. And recently, one of my all-time favorite designers, Nate Berkus, revealed Swiss Coffee as one of his favorite paint colors.
Nate Berkus and Shea McGee are incredibly talented and popular designers, and their recommendations are absolutely valuable. But just because a designer uses and recommends Swiss Coffee doesn't necessarily mean it's the perfect choice for your home. How a paint color looks depends so much on the lighting and surroundings, that's why it's so important to choose paint colors and test them in your own home before making a decision.
With Swiss Coffee being so popular among some of the most prominent designers of today, it may surprise you to learn that Swiss Coffee is my least favorite option of the 4 popular white paint colors that I listed above. Why? It all has to do with its undertones.
What are the undertones of Benjamin Moore Swiss Coffee? Does it have warm undertones?
If you have read some of my other paint color reviews, you know that undertones are the parts of the color you don't really "see." I talk more about undertones in this detailed post about how to choose paint colors for your home. It's REALLY important to pay attention to the undertones of any paint colors you are considering!
If you have ever wondered "is Swiss Coffee warm or cool?" you are essentially wondering about its undertones. Swiss Coffee OC-45 definitely has yellow undertones, making it a warm color as mentioned above.
But more importantly, Swiss Coffee by Benjamin Moore has slightly green undertones, which means it can appear to be a green hue in certain lighting. Between the warmth of the color and the green undertones, Swiss Coffee is my least favorite of the popular white wall colors and one I won't personally use. You can see the green undertones in this dining room below (at least I can see them).
As with most undertones, the green undertones really aren't apparent when looking at a paint chip. But did you know that paint chips from stores aren't actually made from paint, so they aren't entirely accurate? That's why testing paint colors using REAL paint (like Samplize paint samples) in your actual home is sooooo important.
Is Swiss Coffee a warm white?
If you have ever wondered, "is Swiss Coffee too white?" the answer is a definite no! Swiss Coffee is considered a warm white since it has a bit of yellow in the formula. I personally think it reads more beige than white. Just look at the image from Benjamin Moore's site of Swiss Coffee below. I think many people would consider it more beige or off-white than white.
Swiss Coffee looks more white in spaces designed by Studio McGee including the one pictured at the beginning of this post because of the tremendous amount of natural light coming through those huge windows! But few people have homes with that much natural light. I do think it could be beautiful on trim when paired with white walls (I love trim ideas that aren't white–it's what we've done in our current home).
If you're looking for a white paint color that is more off-white than white, then Benjamin Moore Swiss Coffee may work well for you. It is part of the "Off-White color collection." Benjamin Moore describes Swiss Coffee as "inherently sophisticated and endlessly versatile, the Off-White collection offers subtle nuances of whites that suit tranquil, serene environments as well as creates color-enhancing accents for dynamic spaces."
What colors go with Benjamin Moore Swiss Coffee?
It's telling that on Benjamin Moore's site, the "matching colors" are all beige and green. This is not surprising given that Swiss Coffee has slightly green undertones. Those green undertones mean that it works well with earthy colors. That also means that Swiss Coffee would not work particularly well with cooler colors, like blues and grays.

Let's look at an example! You can see that Swiss Coffee works beautifully in Blesser House's living room below because it is filled with earthy tones. You'll also notice that it looks less yellow in her living room which is because of all the natural light flooding in–it would look more yellow in a room that receives less natural light.
Could BM Swiss Coffee work well for your home?
Yes! Swiss Coffee by Benjamin Moore could still be a great choice for you, especially if you favor green or earthy tones and use them a lot in your home decor. If you see those matching paint colors above and they reflect colors you love to use in your home, then Swiss Coffee may be meant for your home. And if you're looking for a white paint color that is more off-white than white, then Benjamin Moore Swiss Coffee may be your best option. However, if you are looking for a bright white or crisp white, you should continue your search.
Swiss Coffee's Light-Reflectance Value (LRV)
Many sites incorrectly report the LRV of Swiss Coffee as nearly 84, but according to Benjamin Moore Swiss Coffee's LRV is 81.91.
LRV, or Light Reflectance Value, measures the percentage of light reflected from a surface. LRVs range from 0-100, with 100 being pure white and 0 being absolute black. So the LRV of Swiss Coffee is fairly high, but it is lower than its popular counterparts Sherwin-Williams Pure White, Sherwin-Williams Alabaster and Benjamin Moore White Dove.
How does Swiss Coffee compare to Sherwin Williams Alabaster?
The biggest difference between these two paint colors is Swiss Coffee has more of a yellow undertone and therefore has a warmer appearance on walls than Sherwin-Williams Alabaster. Alabaster has a nearly identical LRV of 82. If you are wanting a creamy, warm white, I would have to recommend Alabaster over Swiss Coffee because Alabaster lacks the green undertones of Swiss Coffee.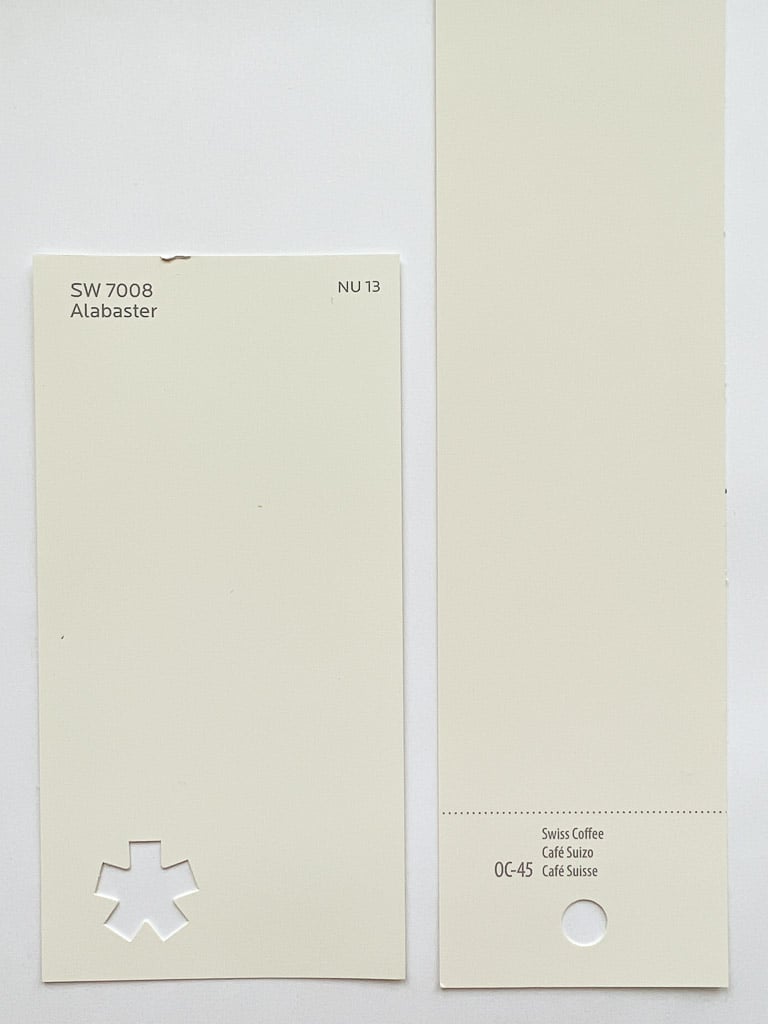 How does Swiss Coffee compare to Sherwin Williams Pure White?
Again, Swiss Coffee has more of a yellow undertone than Sherwin-Williams Pure White. Alabaster is warmer than Pure White and Swiss Coffee is warmer than Alabaster. That means that out of those 3 white colors, Swiss Coffee is the warmest/most yellow in appearance. Pure White also has a slightly higher LRV of 84. Pure-White is a far more versatile white for walls because it doesn't have any obvious undertones, so it looks beautiful is nearly all lighting conditions. Pure White is my go-to white wall color and the one I most often recommend to people who ask me for my advice!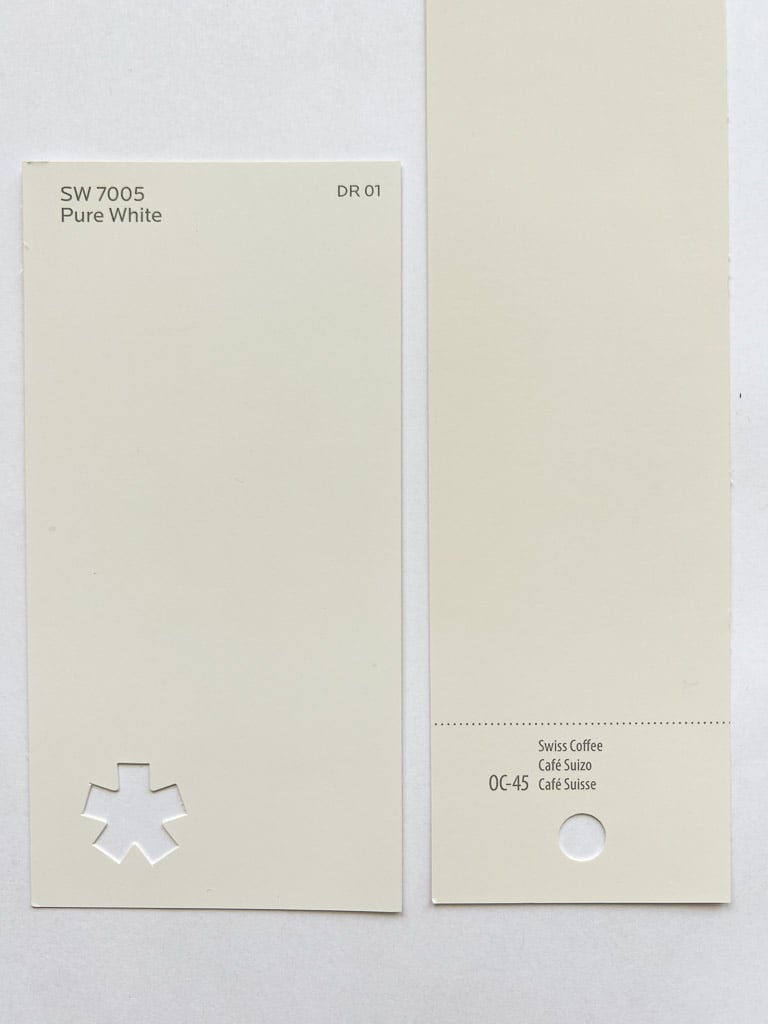 How does Swiss Coffee compare to Benjamin Moore White Dove?
Swiss Coffee is creamier and warmer than White Dove. White Dove is slightly brighter with a LRV of 83.16 compared to Swiss Coffee's LRV of 81.91. If you're looking for a white paint color that is more off-white than white, then Benjamin Moore Swiss Coffee is probably the better choice. But if you want walls that read as true white, White Dove would be the better choice.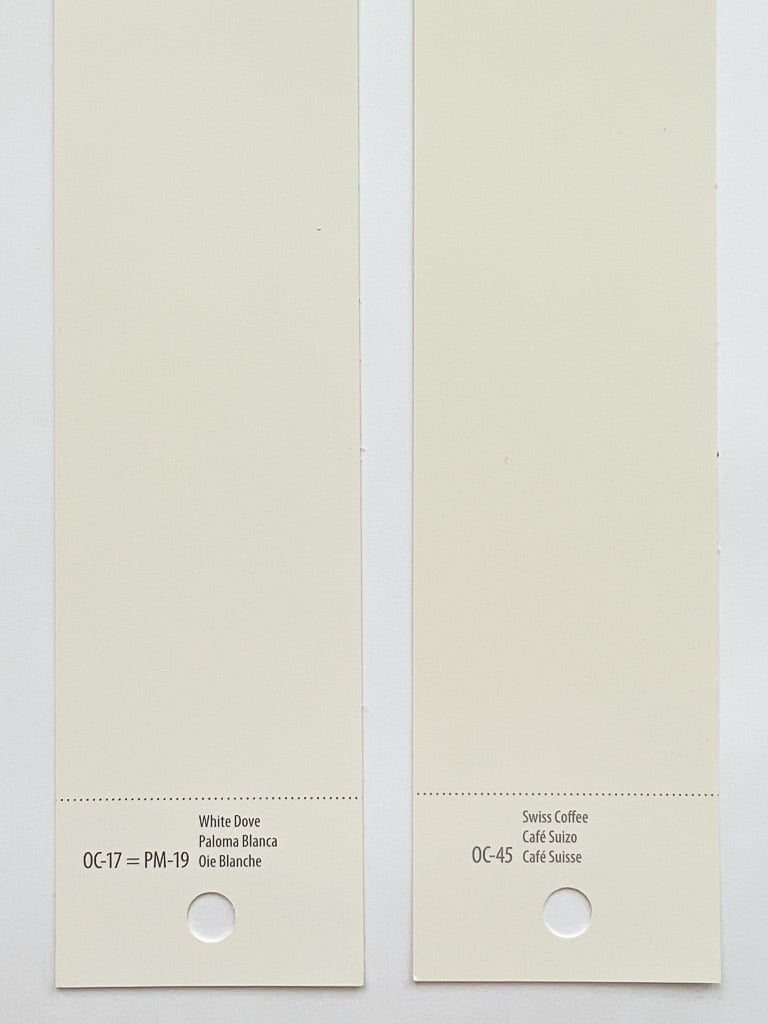 I hope that you have learned a bit about BM Swiss Coffee so you can decide if it's worth sampling in your home. Please never EVER try to make a paint choice from paint chips or photos on the internet alone. Your decor and particular lighting impact paint colors so much! There are 5 simple tips I use when choosing paint colors–you can use them too! They will help you from making the wrong choice and having to repaint a room.
Wondering how I approach transforming rooms and spaces in our home? Check out Designer in a Binder®.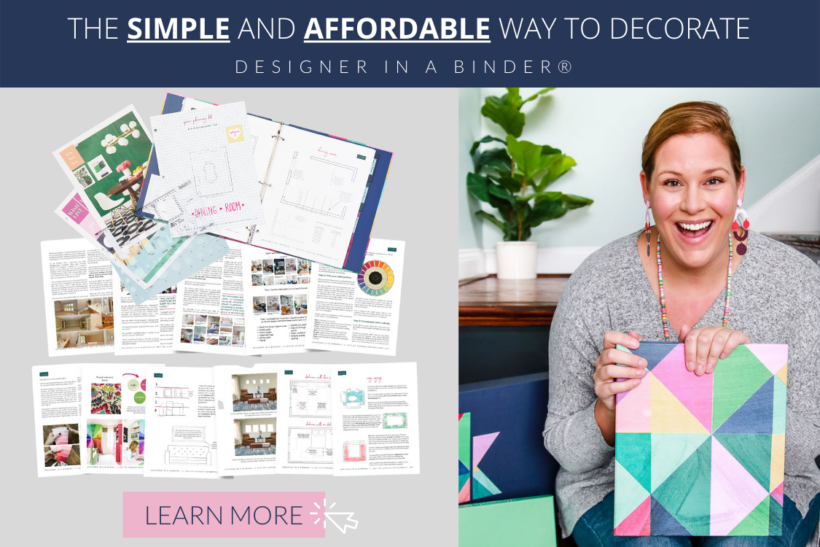 And if you want exclusive content and behind-the-scenes sneak peeks, be sure to subscribe before you head out!