Navy Blue Paint Colors Designers Love
Every wonder why navy never goes out of style? Interior designers love using navy paint colors because they bring style and sophistication to the space and it carries off drama but feels more warm than black. Not to mention navy blue goes with most everything (just like a good pair of dark jeans)!
But there is no one perfect "best navy paint." Every hue brings something different to a room! From classic navy to muted dark blue to inky blue, these are the best navy blue paint colors from each company.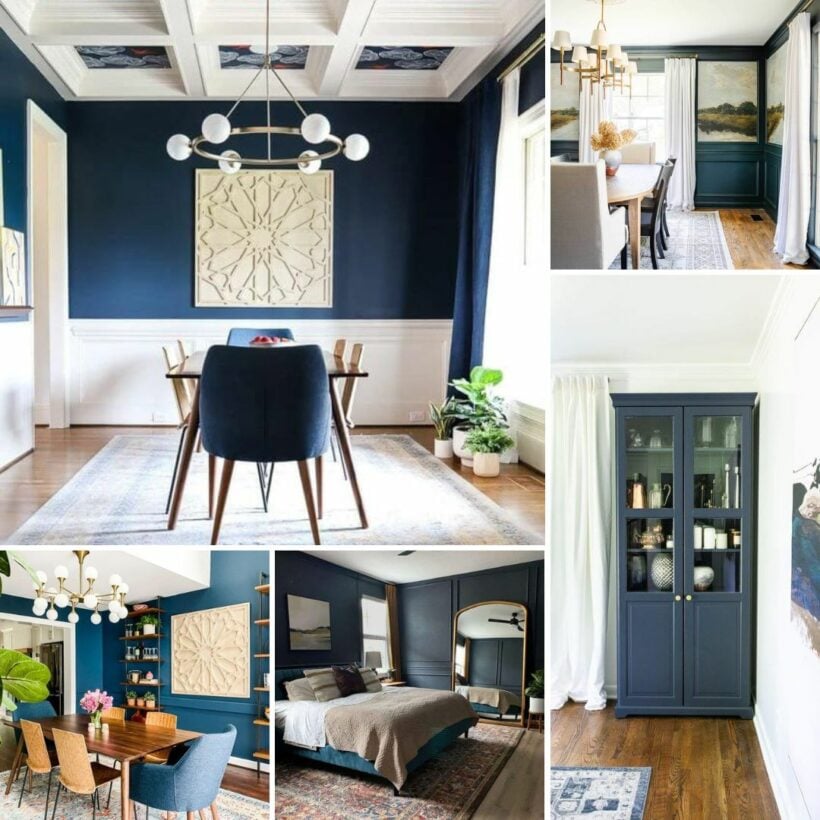 Benjamin Moore Navy Blue Paint Colors
Polo Blue by Benjamin Moore
Dark moody blue walls got an upgrade by Brianna with a stencil in light blue. I love the sense of calm Benjamin Moore's Polo Blue creates in the designer's bedroom. Perfect for a sanctuary! And the stencil over it brings an unexpected lighter element keeping it from feeling too cave-like.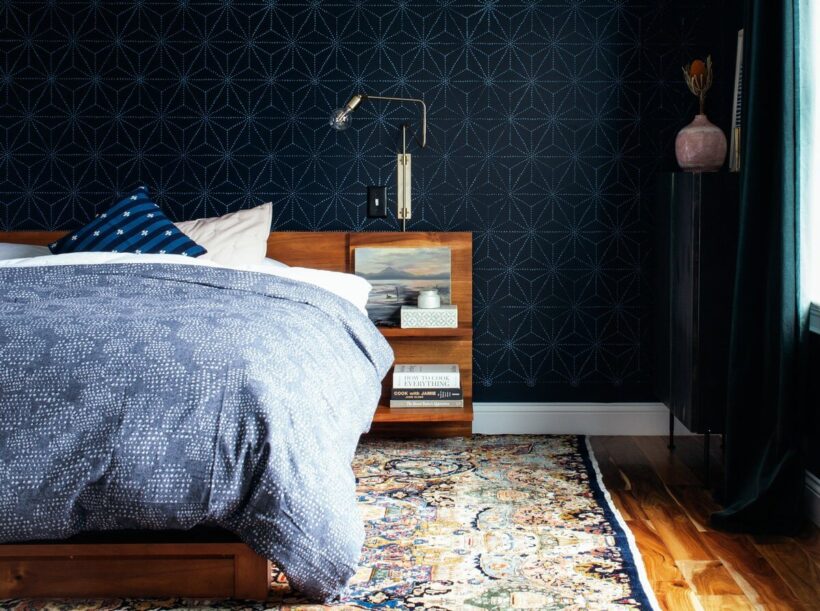 Hale Navy by Benjamin Moore
Navy isn't just for walls! Lauren used Benjamin Moore Hale Navy on her cabinet in her dining room to give it an upgrade. The versatility of IKEA furniture can't be beaten, and there are tricks for painting laminate furniture that make it easy. This navy, softer with gray undertones, brings out the shades of blue in the art and the rug.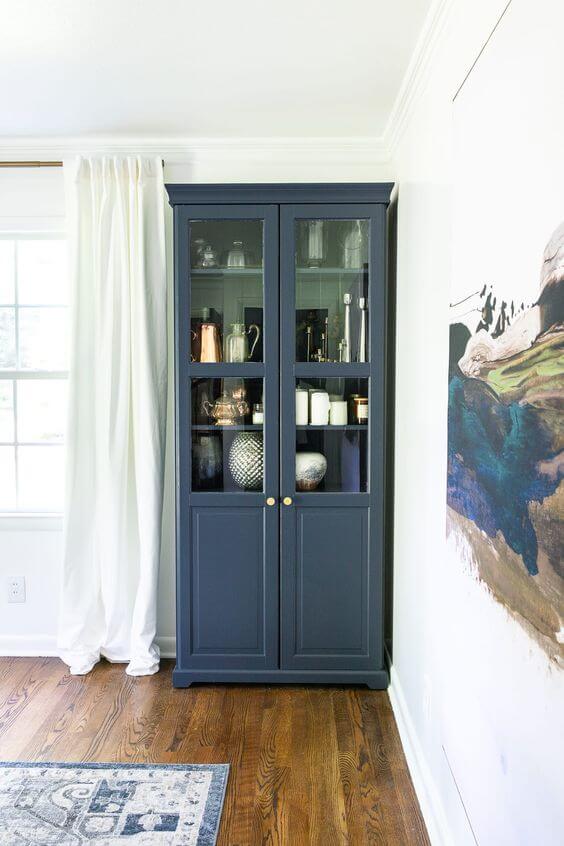 Sherwin-Williams Navy Paint Colors
Moscow Midnight by Sherwin-Williams
Zoe at Pine and Poplar chose Sherwin-Williams' Moscow Midnight as the contrasting backdrop to the wood tones in her decor and bed. The natural wood pops perfectly against the deep tone of the blue. This dark navy blue has a lux look, almost like velvet! Perfect for a cozy cave-like bedroom.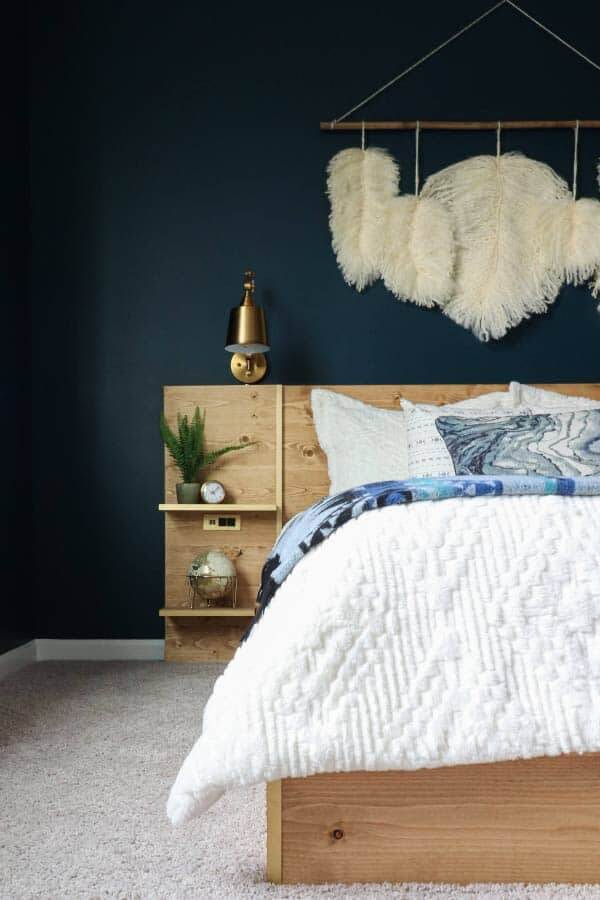 Gale Force by Sherwin-Williams
When I painted our navy blue dining room in this house, I wanted a rich deep true navy. We grabbed paint samples and tried several hues, and Sherwin-Williams' Gale Force was the winner! It is a gorgeous dark blue with the depth I wanted for this room.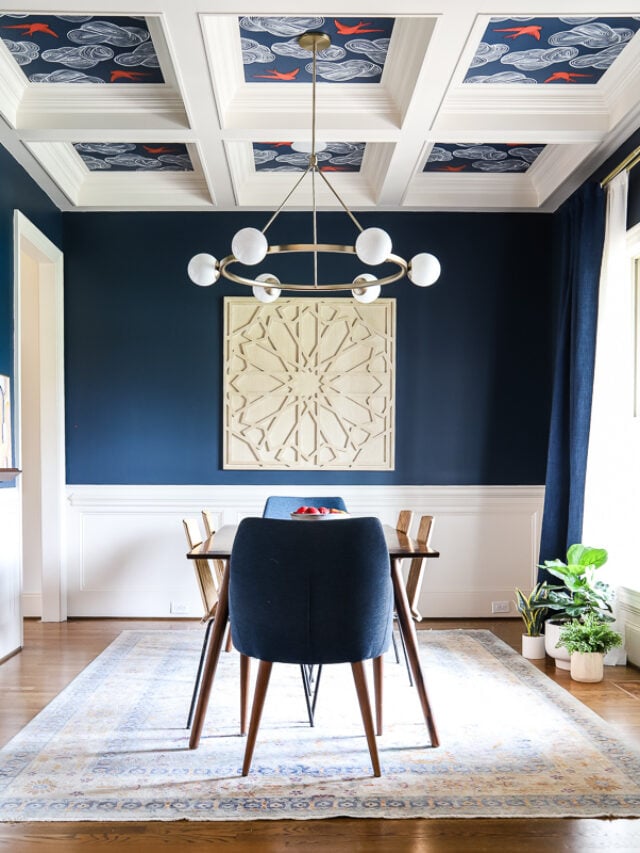 Indigo Batik by Sherwin-Williams
Sherwin-Williams' Indigo Batik is a lighter navy so it is a great go-to if you want your entire room a dark blue but are nervous to go really dark. It still provides plenty of contrast but doesn't feel quite as dramatic as some of the darker blues. I love it with the gray of the headboard.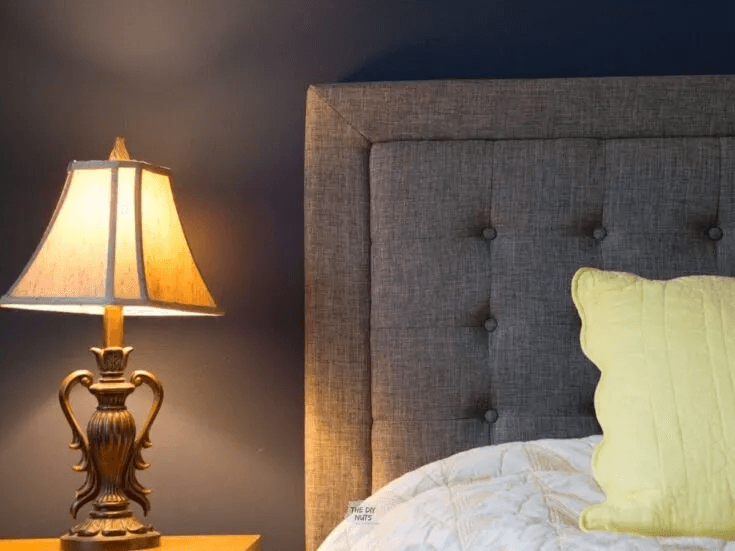 Behr Navy Blue Paint Colors
Ink Black by Behr
Looking for a moody dark blue with just a touch of gray to soften it (I mean, who doesn't love blue gray paint colors)? Behr's Ink Black is the perfect choice (and it really is dark blue, not black as the name suggests). Amanda created a calming vibe in her bedroom, setting the mood for sleep and relaxation.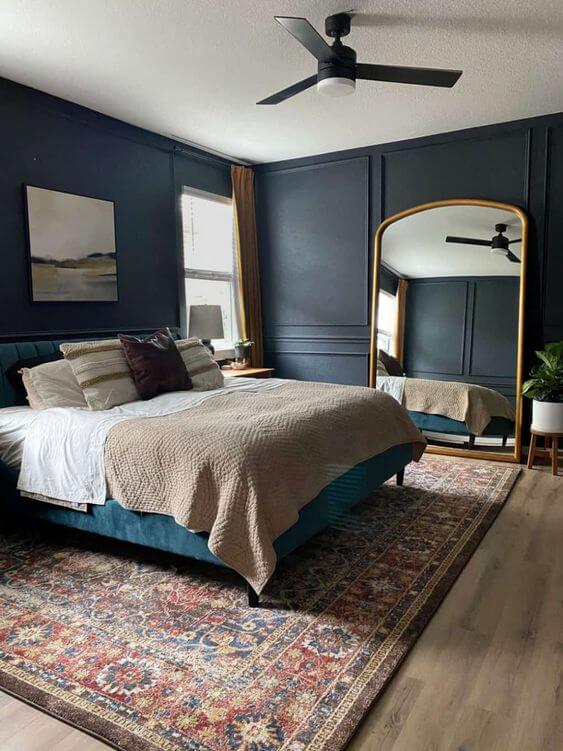 Midnight in the Tropics by Behr
When we did a total kitchen renovation in our old house it opened up our dining room and we used it as an opportunity to create the eclectic navy dining room of my dreams! I chose Behr's Midnight in the Tropics for the walls. It was the perfect dark blue for us–lots of depth and a tiny hint of green, and it was beautiful in the natural light from our windows. Not to mention it looked amazing against all the white trim.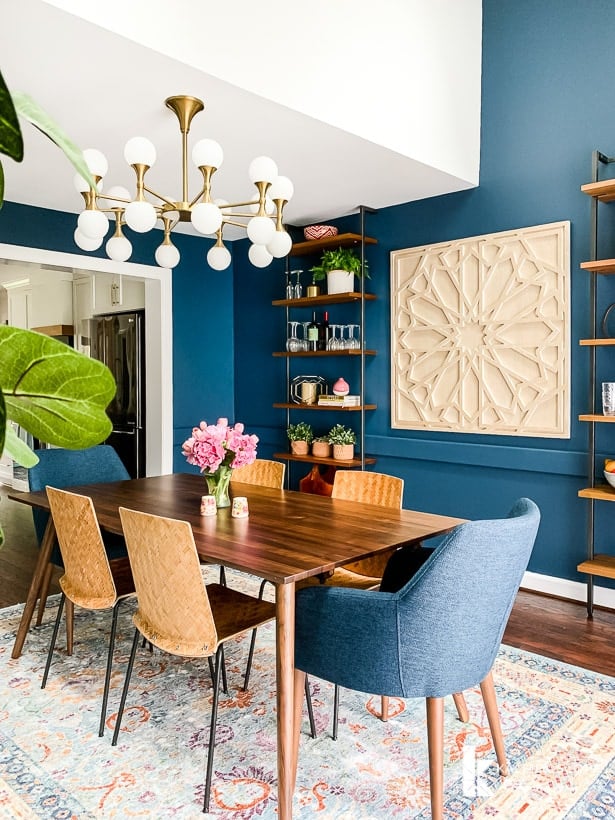 Other Dark Blue Paint Colors
Stiffkey Blue by Farrow and Ball
Farrow and Ball's Stiffykey is dark and moody in all the right ways! Chris Loves Julia went for it and painted every inch of their bonus room this rich navy, even the trim and ceiling. It highlights the architecture of the paneling, dormers and window nooks, and ceiling. This daring design choice of rich blues and neutrals everywhere else really paid off!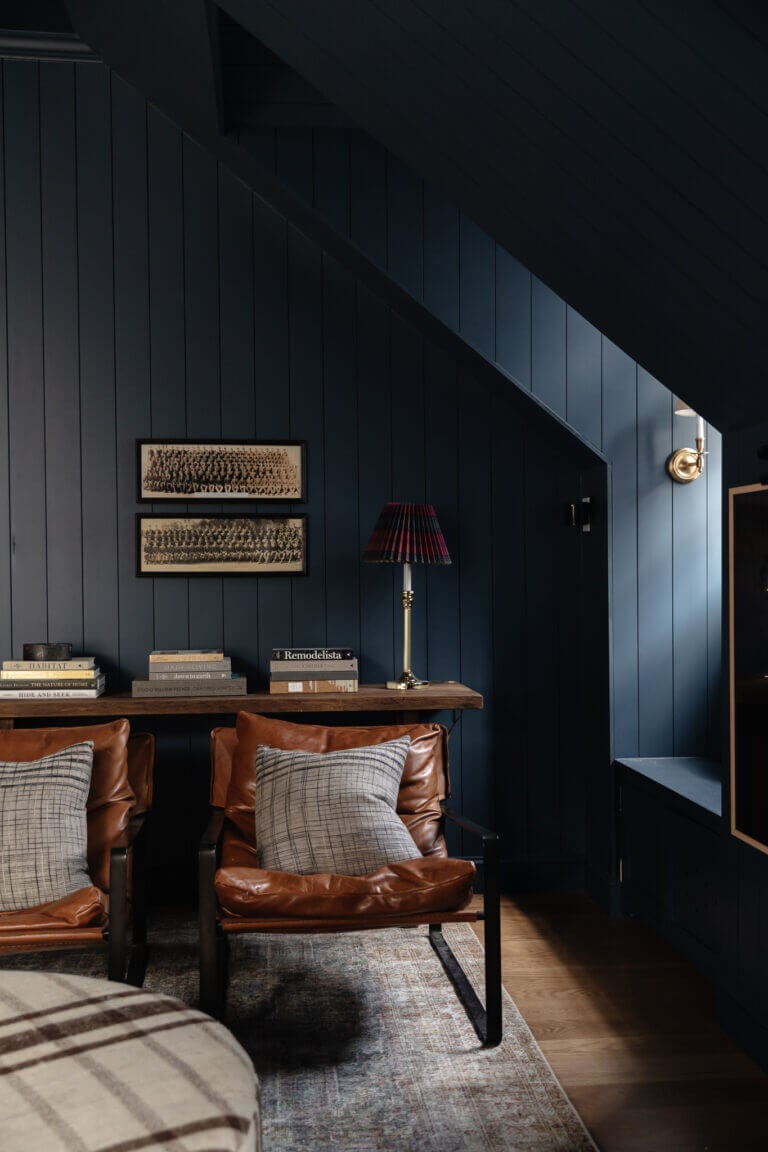 Blue Ridge Parkway by RomaBio Mineral Paints
Lauren gave her dining room walls a complete upgrade with beautiful dark blue paint (RoomaBio's Blue Ridge Parkway), peel-and-stick landscape murals, and molding. The finished product is a gorgeous high-end designer look. The mural and paint work together beautifully to create a stunning and dramatic makeover!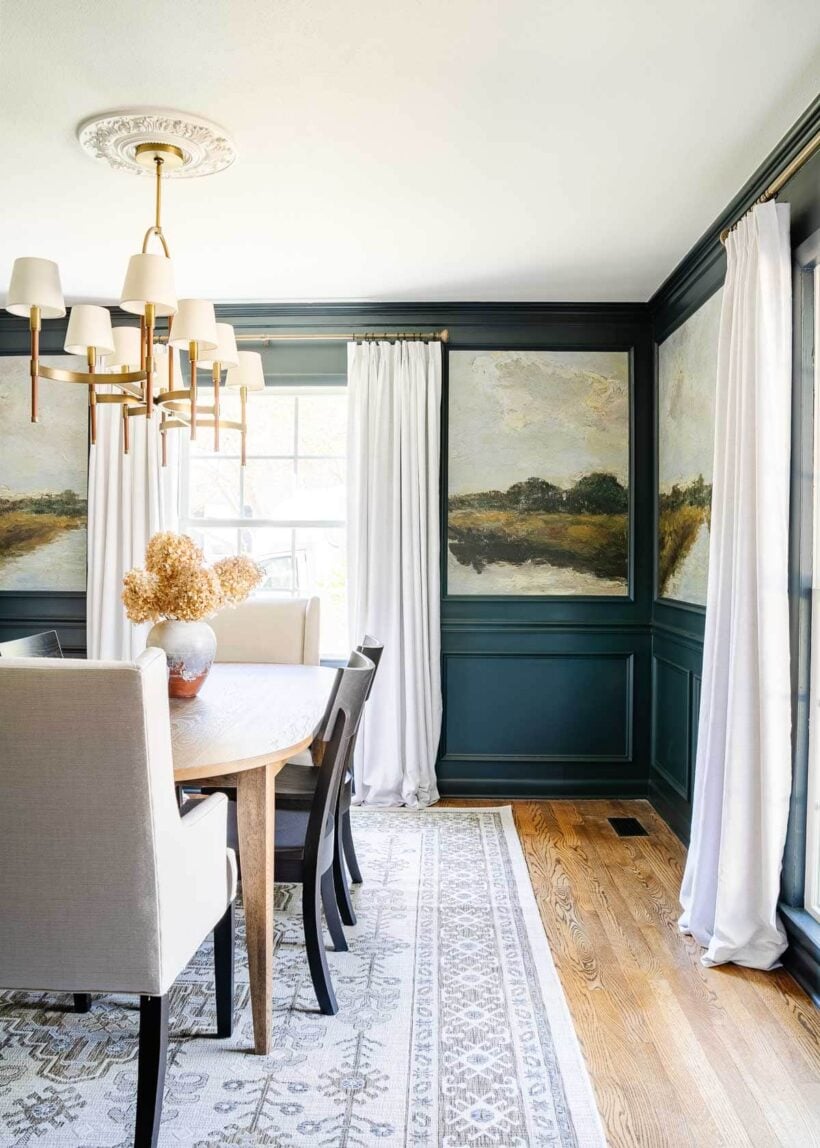 Aren't these gorgeous? Each shade of navy blue is special. Looking for more amazing paint options in the color blue? I cover all shades of blue in Beautiful Blue Paint Colors Designers Love & Use including barely there hues, blue-gray shades, bold royal blue options and blue-greens!
Make sure when you are picking your perfect navy blue that you sample it on different walls and really look at it at different times of day–especially the time of day you will be in the room the most. I tried Samplize peel and stick samples a few years ago and they are a total game changer! Also make sure to read How to Choose Paint Colors for Your Home: 6 Simple Tips to Follow! It is full of ideas that will make choosing the right blue hues easy.
You can also think out of the decor box about how to use your favorite dark blue paint colors! You can use your favorite deep blue on your front door, on painted kitchen cabinets, or even as trim. In our old house all of my interior doors were painted navy. These were some of my favorite upgrades to the look and feel of our home. Blue is so versatile–you just have to choose the right one for your style and design.
Other posts you may enjoy:
Wondering how I approach transforming rooms and spaces in our home? Check out Designer in a Binder®.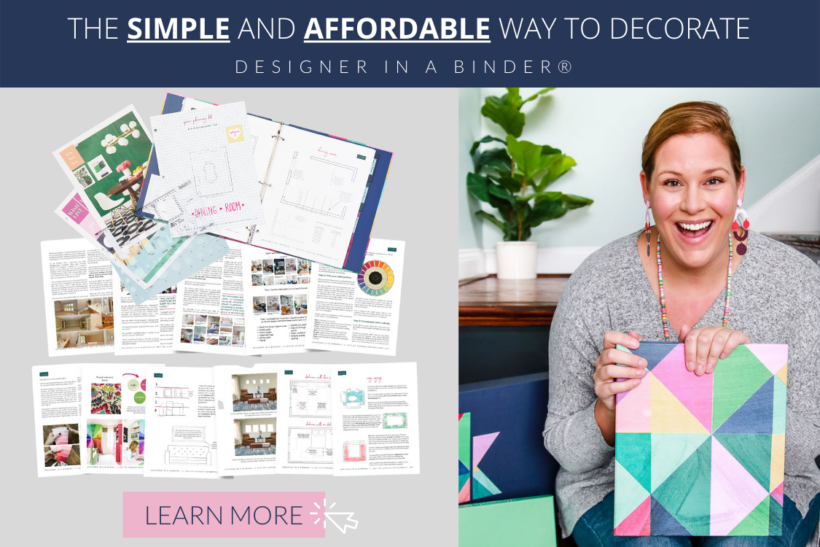 And if you want exclusive content and behind-the-scenes sneak peeks, be sure to subscribe before you head out!