Decorating with color doesn't have to be scary. These simple tips will show you how to decorate with color without making a huge commitment or spending lots of money.
If you have followed my blog or my Instagram feed for any length of time, y'all know I loooooove to decorate with color. I don't shy away from it, that's for sure! But I wasn't always that way. I used to be scared of making choices that I thought might be "too bold." But now? Now I am kind of obsessed with adding color to my home. I mean, just take a peek at my Instagram grid…
As it turns out, lots of my readers are drawn to colorful decor, but are nervous about decorating with color in their own homes. How do I know that? Because I frequently get asked for tips about how to decorate with color :)
Soooooo, I am happy to report that I finally put together a post AND video all about how you can experiment with color in your home without spending a fortune. I hope you enjoy it. It will play after a short ad :) You can also read the tips if you prefer.
How to Decorate With Color Even When It Scares You
Decorating with color takes a little bit of practice. The more you practice, the better you get at it. The best thing about these tips I am going to share with you is that you can implement them without feeling overwhelmed or spending a lot of money. So if after experimenting with colorful decor you decide that you prefer neutral decor, you won't feel like you have to be stuck with it. With that said, let's dive into my favorite tips for getting started with adding color to your home.
Tip 1: Incorporate colorful artwork.
If you're just dipping your toes into the world of color, you probably don't want to spend a fortune on artwork. I had a huge, windowless wall in my family room that I needed to fill with something, so I added large, colorful prints to
these DIY frames
that we made. I designed the prints myself and you can buy them in
my digital art shop
. There are tons of other digital art shops out there where you can buy digital prints very inexpensively. You can get them printed as engineering prints at an office supply store less than $10 each. Then pop them in inexpensive frames for a huge impact in a room. It's the perfect way to experiment with colorful artwork and to make a big impact on a really, really small budget.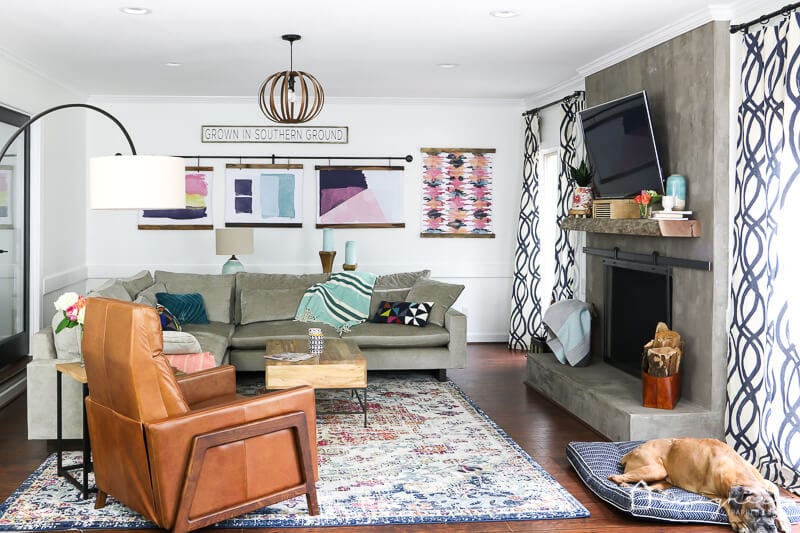 Tip 2: Incorporate colorful throw pillows.
Another really easy way to add color to your decor is to incorporate colorful throw pillows. They are relatively inexpensive. I generally buy mine at
Target
and I've even made some from dish towels. Pillows with a navy background and just pops of color on them are a great place to start because blue is a fairly neutral color and feels less intimidating. A lot of people think, "Well, how can blue be neutral? It's not like beige or gray!" But if you think about jeans, they are blue and they go with everything! So finding throw pillows that have a lot of blue in them with just pops of other color is a little less scary.
Tip 3: Incorporate colorful housewares.
Colorful canisters and vases are another fun and low-risk way to add color to your home. I purchased
these beautiful and inexpensive canisters
and have added some to my kitchen. I'm using another one as a planter in our bedroom. If you have an all-white kitchen, adding just a few colorful canisters could instantly make it more colorful for less than $50.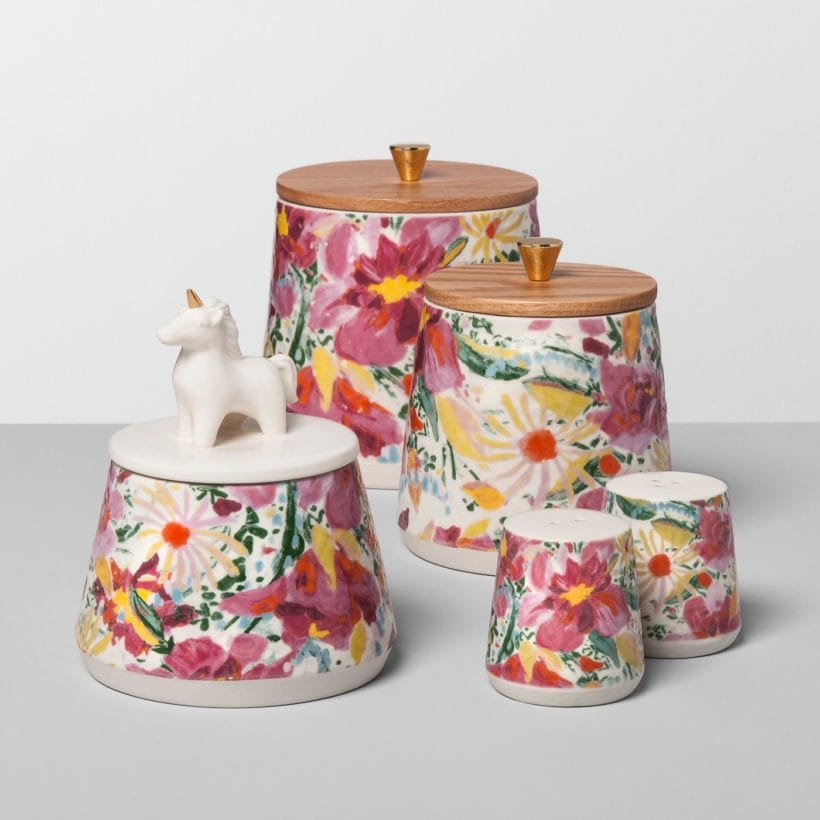 Tip 4: Incorporate colorful textiles.
Things like colorful kitchen towels, placemats, throws and tablecloths can go a long way in bring color into your home on a budget. Curtains can also be a great way to add color to a room, but they can get pricey. So, if you still aren't quite sure if a color-filled interior is for you, then stick with inexpensive textiles for now.
Tip 5: Start small.
It can be overwhelming to think about adding colorful wallpaper to an entire wall or room, but it's not so scary if you add it to a small space like a closet or powder room. I'm not afraid of color (I've gotten over that hump), but I was really afraid of wallpaper! It seemed like such a big commitment, but I really wanted to try it. So,
I wallpapered our linen closet
. It was pretty low risk since it didn't cost a ton AND since we can shut the door. But as it turns out, we absolutely love it.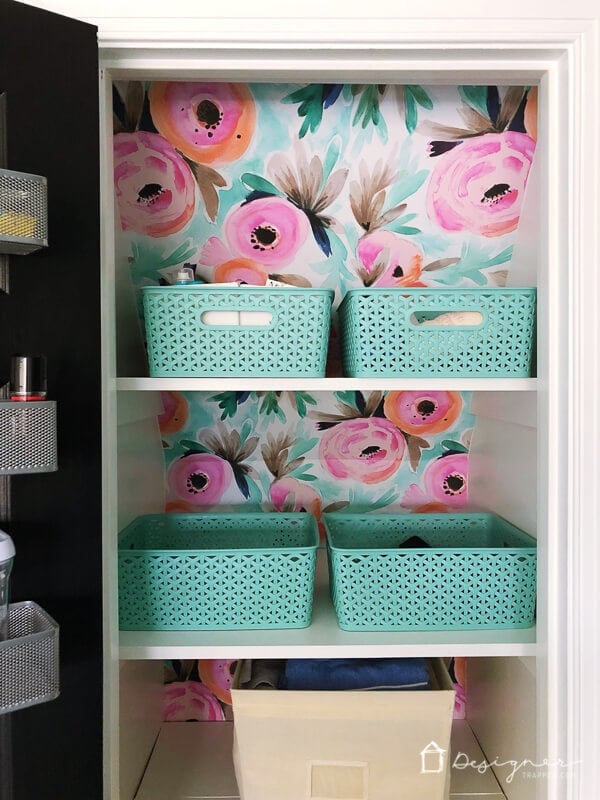 So, if you want to try something really bold, try it in a small space. Once you are confident you love it, then you can try it in a bigger space. So, there you have it! Those are my top tips for how to decorate with color even when it scares you. I hope you are feeling inspired to add some color to your home now :)
Learning how to add in your favorite pops of color are just one part of the design process. There's so much more that matters, like choosing items that are the correct scale, space planning, mixing patterns, choosing paint colors and more! I give easy-to-understand guidance on all of this in
Designer in a Binder®!
And the brand new 3rd edition starts shipping soon. You can order your binder now. We have over 4,600 happy customers so far!
Click here to learn more
.