5 Tips for Decorating With Color Even When It Scares You
Last Updated on October 12, 2022
Decorating with color doesn't have to be scary. These simple tips will show you how to get a colorful designer look without making a huge commitment or spending lots of money.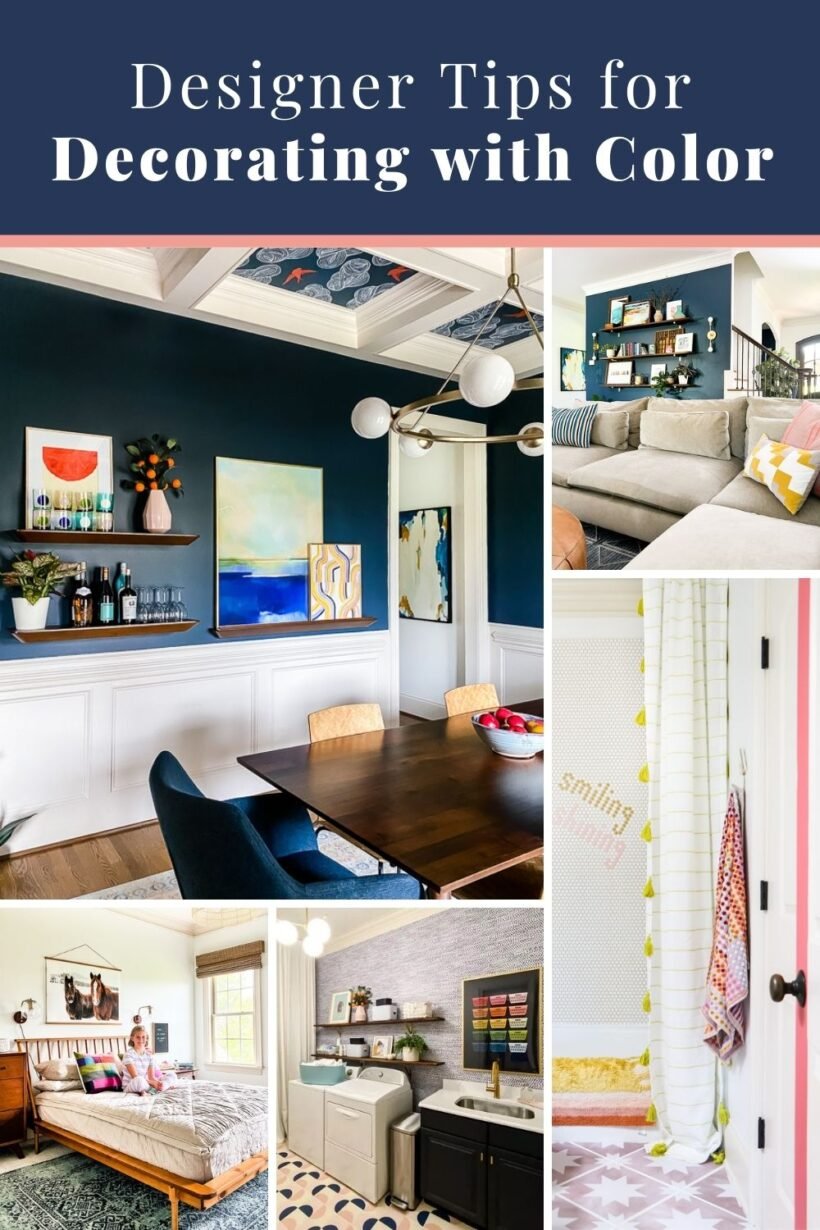 If you have followed my blog or my Instagram feed for any length of time, y'all know I loooooove to decorate with pops of color. I don't shy away from color, that's for sure! But I wasn't always that way. I used to be scared of making choices that I thought might be "too bold." But now? Now I am kind of obsessed with adding color to my home.
As it turns out, lots of my readers are drawn to things like colorful rugs, colorful gallery walls and colorful decor, but are nervous about decorating with color in their own homes. How do I know that? Because I frequently get asked for tips about how to decorate with color. Soooooo, I put together a post AND video all about how you can experiment with color in your home without spending a fortune. My tips give you easy suggestions that will help you take the guesswork out of the process! I hope you enjoy it. It will play after a short ad :) You can also read the tips if you prefer.
This post contains some affiliate links for your convenience. Click here to read my full disclosure policy.
5 Ti

ps for Decorating With Color Even When It Scares You
I am pretty passionate about decorating with color! I even made a video about it a few years ago. So if you want to see a younger version of me and travel back in time to our old house, you can watch it below. Otherwise, read on for my tips!
Decorating with color takes a little bit of practice. The more you practice, the better you get at it. The best thing about the tips I am going to share with you is that you can implement them without feeling overwhelmed or spending a lot of money. So if after experimenting with colorful decor you decide that you prefer neutral decor or even a monochromatic color scheme, you won't feel like you have to be stuck with it because you didn't spend a lot of money on the changes. With that said, let's dive into my favorite tips for getting started with adding color to your home.
Tip 1: Incorporate colorful artwork.
If you're just dipping your toes into the world of vibrant colors, you probably don't want to spend a fortune on artwork. I have found all kinds of ways to incorporate colorful artwork into my home in a cost-effective way. In doing so, I have curated a colorful art collection in my home full of pieces I love. Some come from online shops like Minted, but others are colorful art prints I have designed myself. Some are even inexpensive digital prints that I bought from other small businesses and had printed locally. Gallery walls (like the one below in our bedroom) are one of my absolute favorite ways to incorporate color into my home (find my favorite gallery wall ideas here).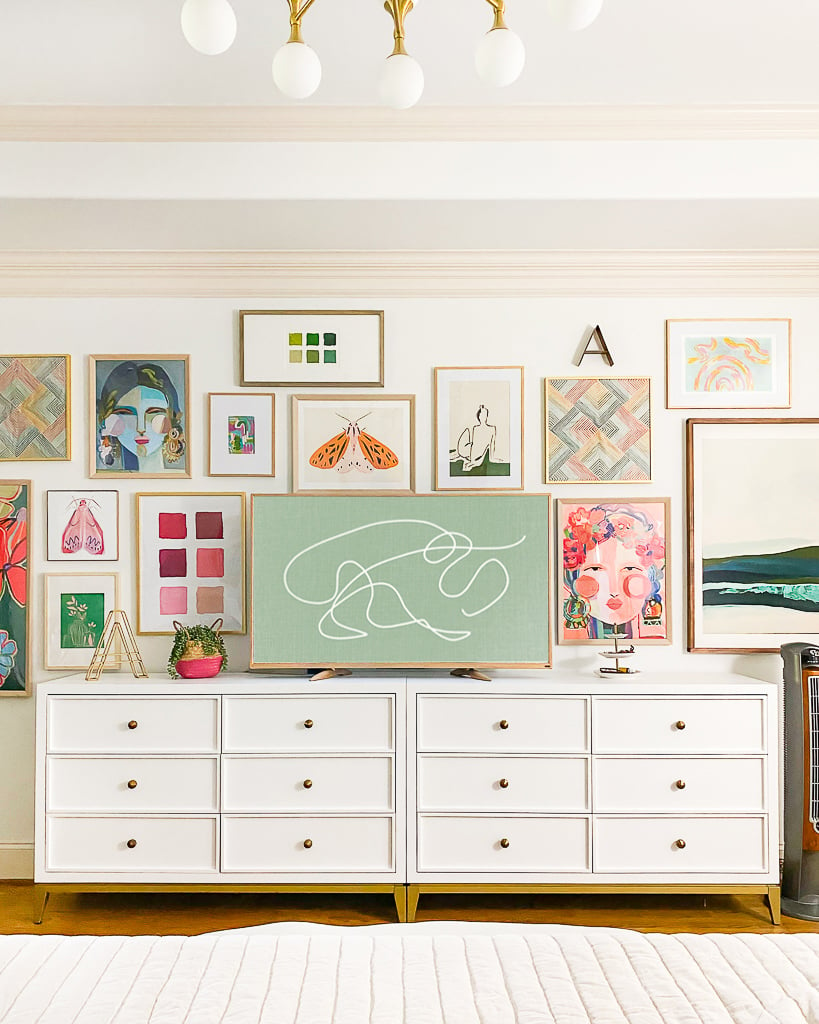 To have big art that makes an impact while still staying on budget, you can even have digital prints printed as engineering prints at an office supply store for less than $10 each. Then pop them in inexpensive frames for a huge impact in a room. Or you can build your own art frames–we almost always build our own frames for less than $20 each! It's the perfect way to experiment with colorful artwork and to make a big impact on a really, really small budget.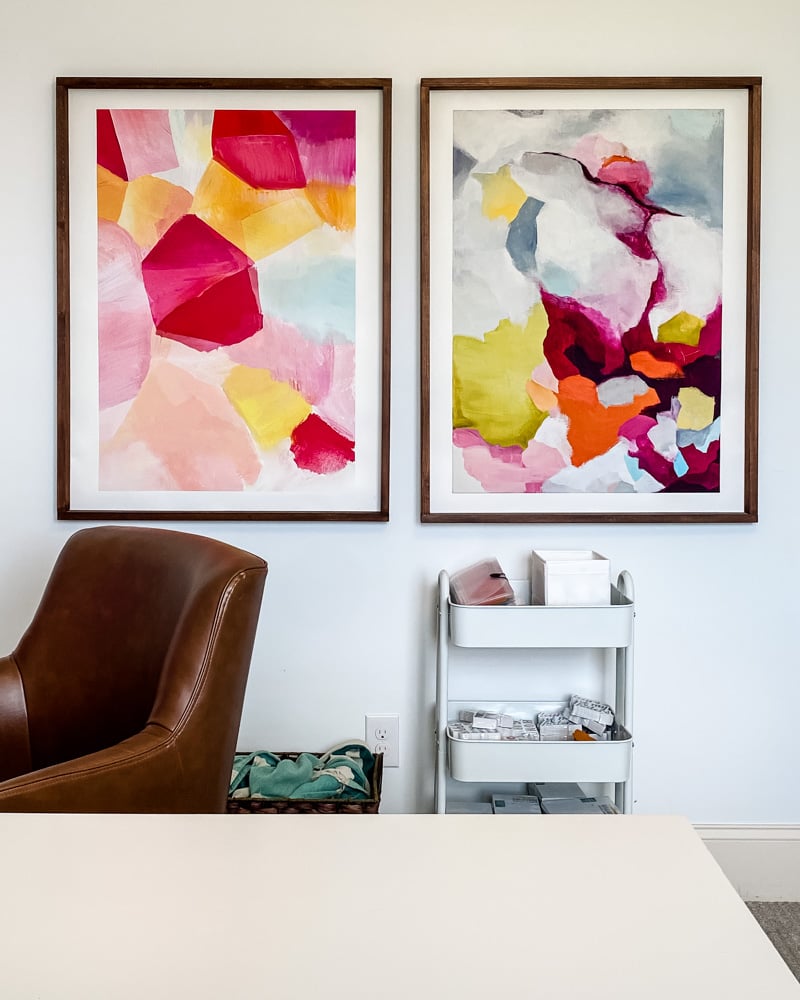 Check out A Tour of the Colorful Art Throughout Our Home to see the all tips and tricks we use to fill our home with artwork we love. Adding in small pieces of art can also bring depth and color to your home. I layered lots of colorful art and decor on the shelves in our family room for bright splashes against the navy accent wall.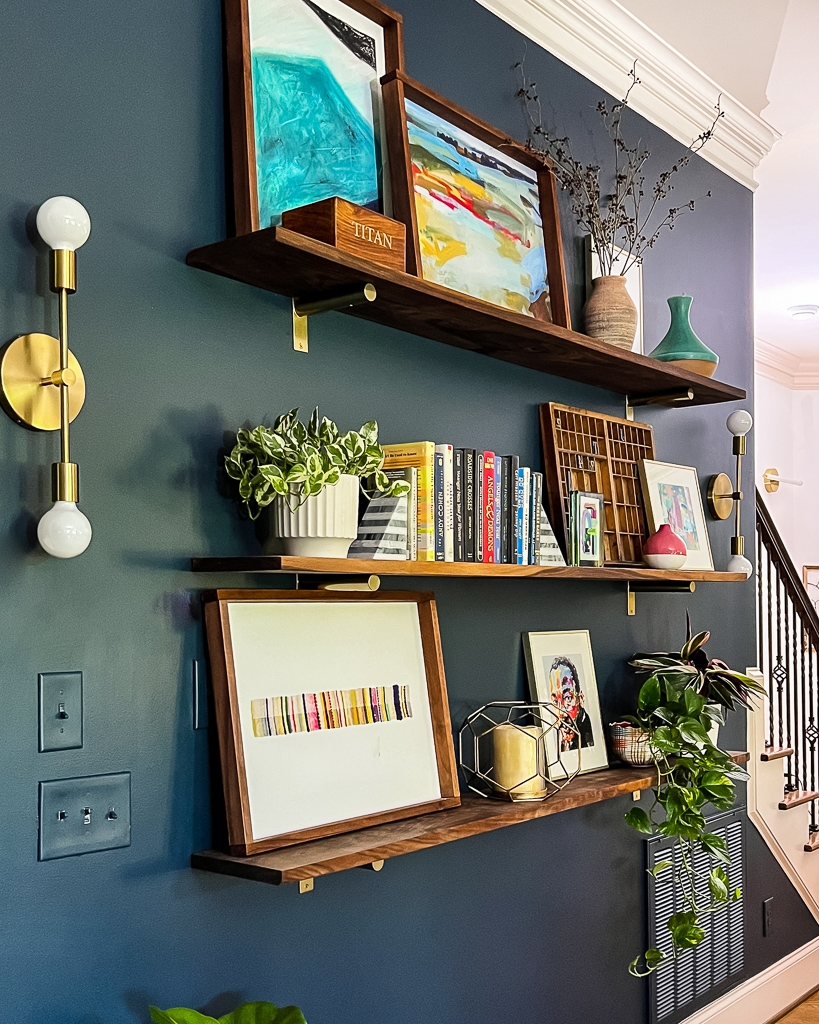 Tip 2: Incorporate colorful throw pillows.
Another really easy way to add color to your decor is to incorporate colorful throw pillows. They are relatively inexpensive and simple to decorate with. It is so easy to add them to your sofas, beds, and even accent chairs. I generally purchase mine at Target and I've even made some from dish towels.
Think about pillow color combinations that have a neutral as the main color with small pops of an accent color. Pillows with a navy background and just splashes of color on them are a great place to start because blue is a fairly neutral color and feels less intimidating. A lot of people think, "How can blue be neutral? It's not like beige or gray!" But if you think about jeans, they are blue and they go with everything. So finding throw pillows that have a lot of blue as the dominant color with just pops of other colors is a little less scary. I found these and they are the perfect bright pop in our relaxing outdoor living space.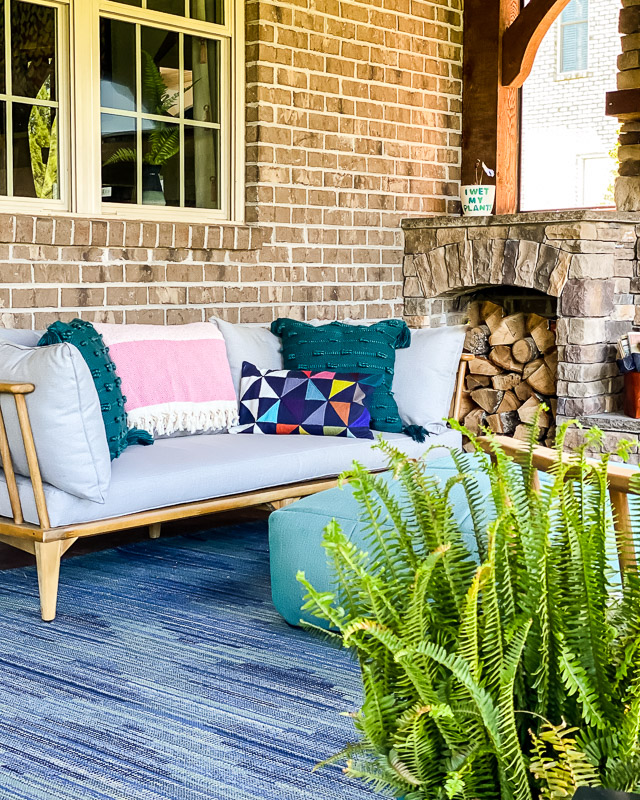 The throw pillows in my living room have bright yellow and light pink as an accent color. I love that this plays perfectly off the neutral of my furniture while bringing out the colors in the art on my DIY art ledge! Remember, pillows are low commitment, so don't be scared. And if you want to save even more money, you can always make DIY throw pillows!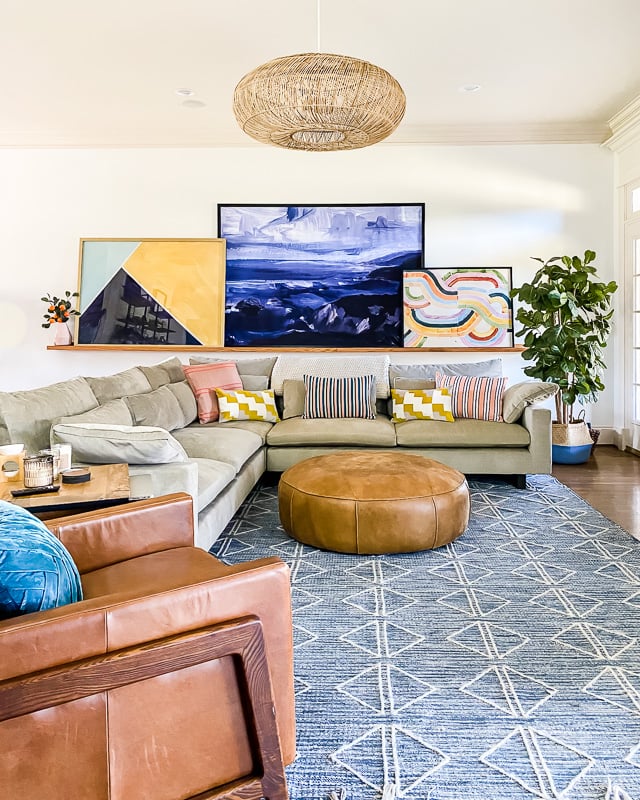 My daughters have really different styles and one doesn't love super girly color schemes. To decorate Avery's room, we looked at the color wheel together and she decided on the blue-green family. I used a soft teal for her neutral bedding and brought in amazing color-blocked pillows to add liveliness to her bed!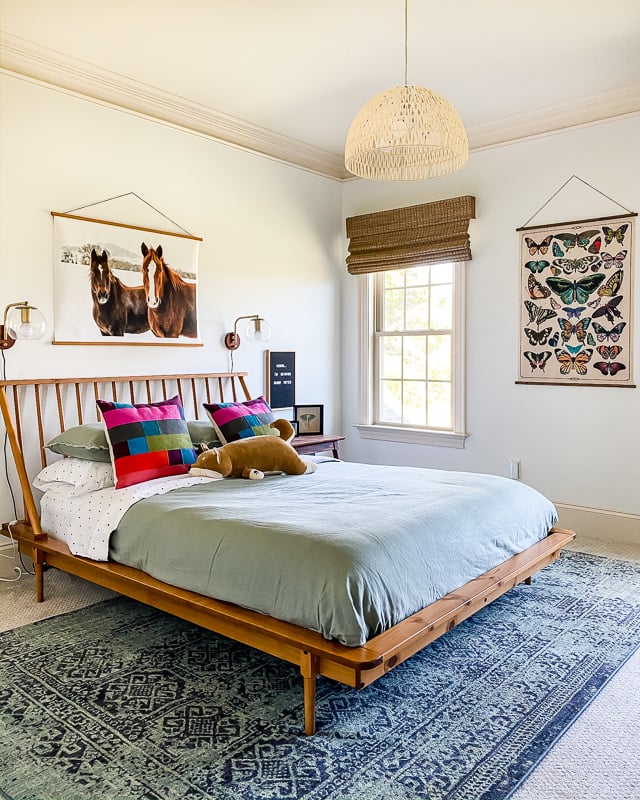 Tip 3: Incorporate colorful decor.
Despite my love of color, I have followed my own tips for choosing paint colors and have chosen mainly white walls with a few walls throughout the house painted a dark blue. Having this mostly neutral canvas allows me to let brightly colored decor really shine. Incorporating colorful items brings a punch of color into the design and keeps things interesting.
Colorful canisters and vases are another fun and low-risk way to add color to your home. I purchased beautiful and inexpensive canisters for my kitchen several years ago and I still love them. I also added this fun kitchen-themed artwork above in the "coffee nook" of our kitchen. If you have an all-white kitchen, adding just a few colorful canisters and artwork could instantly make it more colorful for less than $100.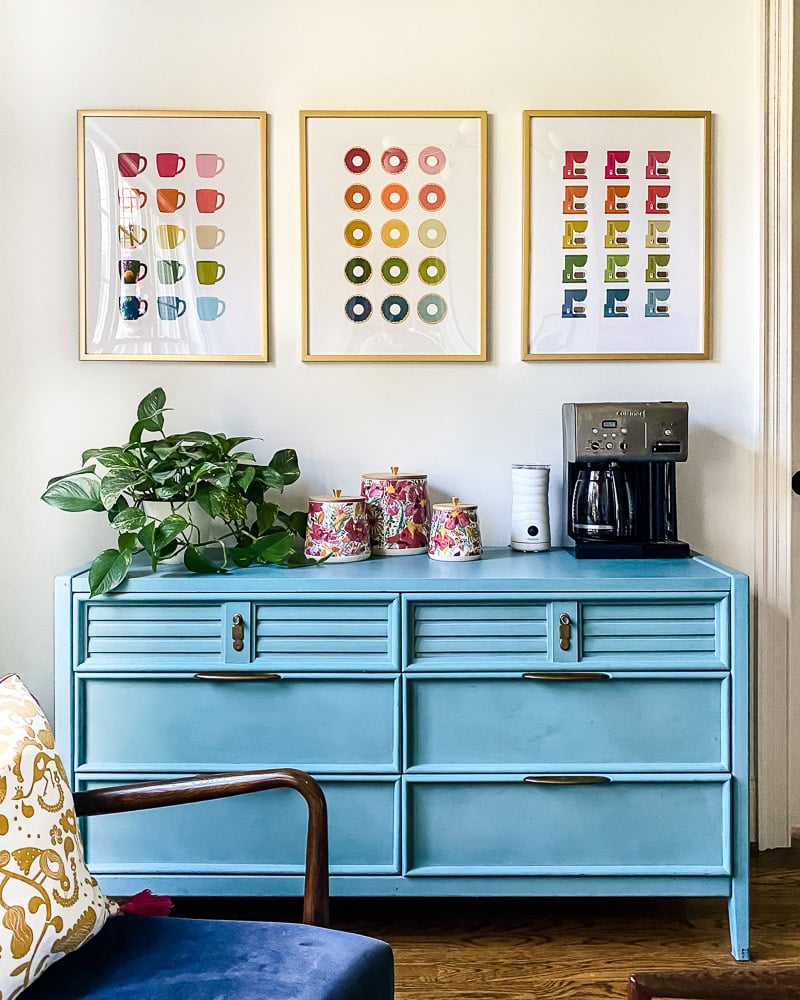 Our navy blue dining room is one of the few rooms with darker walls, but because I consider navy one of my home's neutrals, it works really well to bring in a vase that is a light shade of pink holding an orange branch. The contrast between the colors makes that vase pop! And the colored glass barware adds even more interest and secondary color options.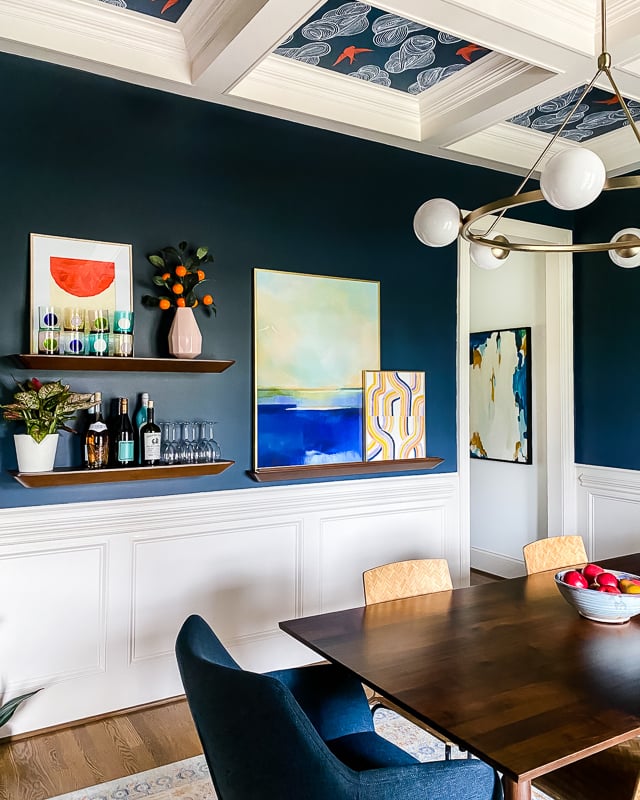 Tip 4: Use textiles and rugs with pretty color palettes.
Things like colorful kitchen towels, placemats, throws and tablecloths can go a long way to bring color into your home on a budget. Curtains are also a great way to add color to a room, but they can get pricey. So, if you still aren't quite sure if a color-filled interior is for you, then stick with inexpensive textiles for now. Great places to find inexpensive textiles are Target, Wayfair, Amazon, and World Market. The DIY tassel curtains you see below were so easy to make! There are tons of simple ways to DIY curtains that look expensive and add color if you are feeling more adventurous.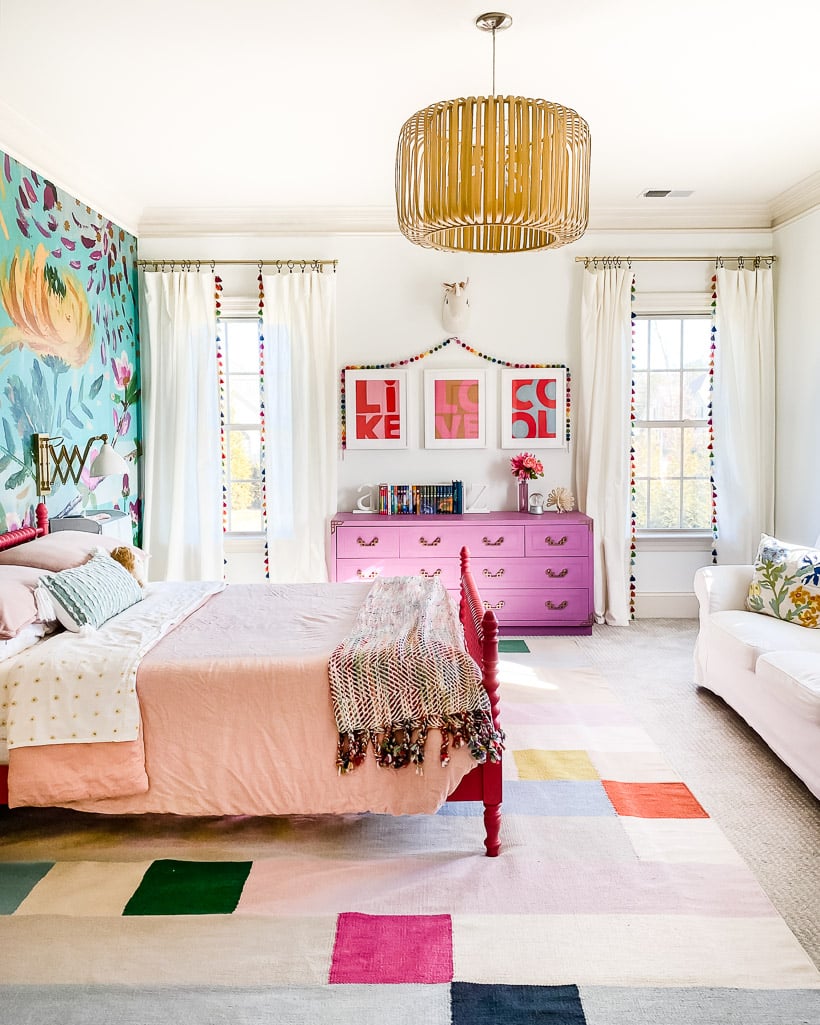 And never underestimate the power of colorful rugs in your home! We have used many different colorful rugs throughout our home and they all make a statement. And rugs are so much more affordable these days that you can add one to a space without making too much of an investment. The rug you see below in our bonus room was in the family room of our old house. It adds quite a bit of color to a room, but since it's a traditional design motif it doesn't feel too "out there."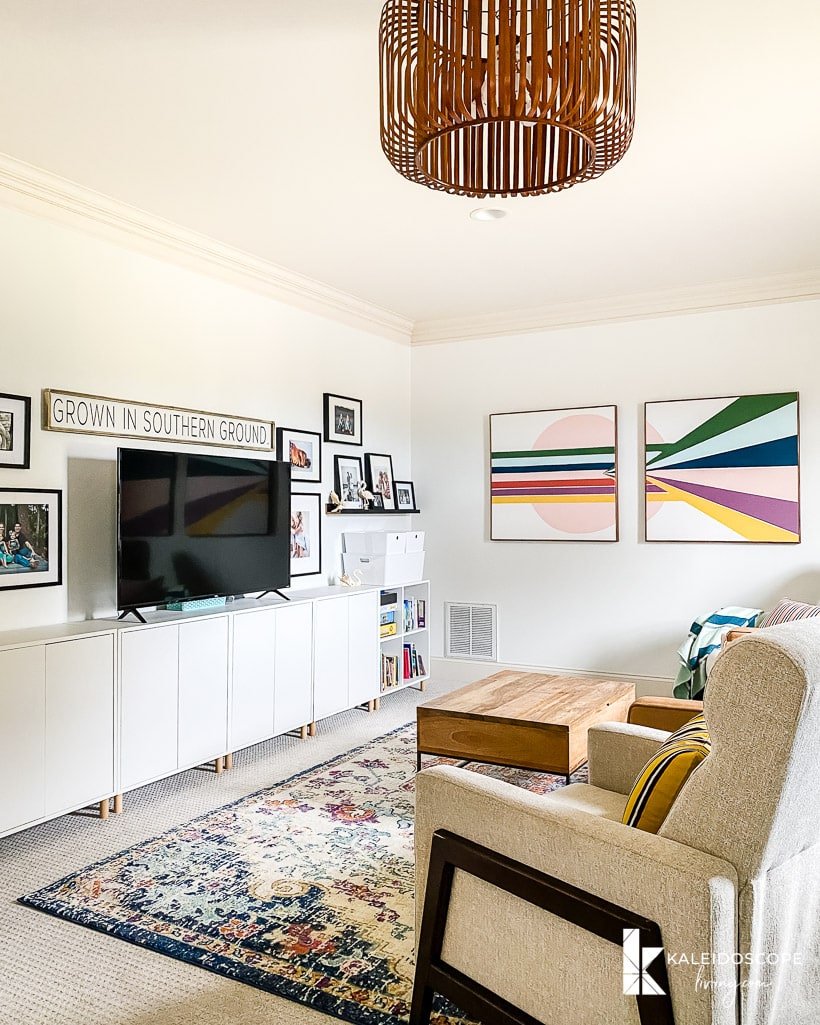 Want to bring color into a blah bathroom? The simplest way is to bring in the right textiles! Colorful shower curtains create an awesome focal point and are a lot of bang for very little cost. Add a colorful bath mat and fun towels in complimentary colors and you won't believe how such those simple additions can make a huge difference.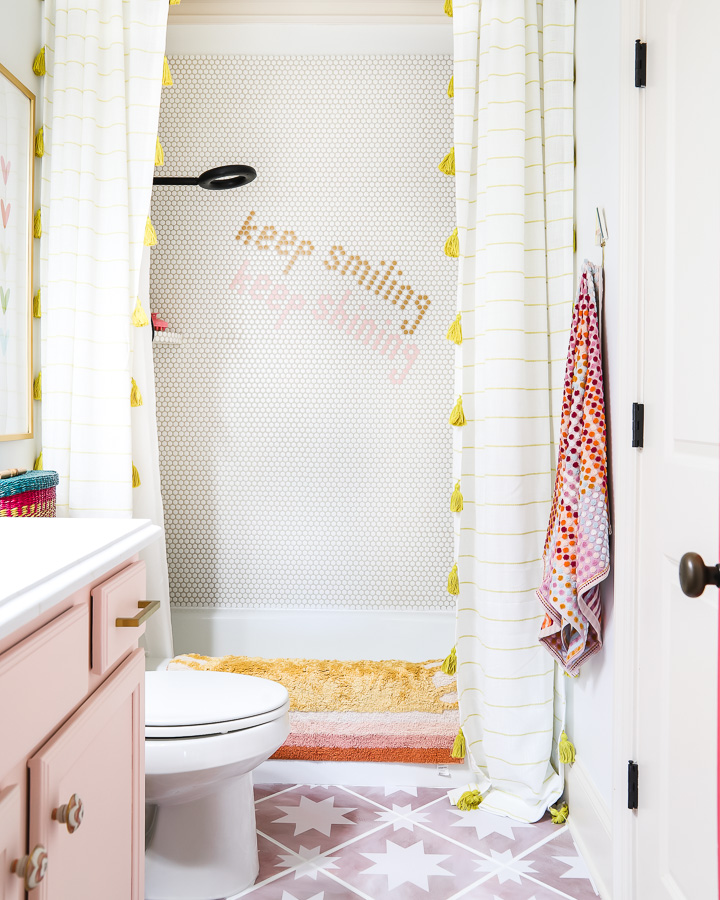 Tip 5: Start small.
All of these tips are meant to feel doable! It is easy to look at Instagram-worthy colorful homes and be overwhelmed that it is unreachable. But remember–that is professional photography and design! The design concepts are still the same for creating a beautiful colorful home. Start small in your home with your favorite color and a few complementary colors and add them in easy touches. Trying out red-orange by buying a pillow is way less scary than buying a couch that color! Allow yourself to make baby steps and tweak along the way.
For a while, I really wanted to add colorful statement wallpaper to my home but I was really nervous. Instead, I made baby steps! It can be overwhelming to think about adding colorful wallpaper to an entire wall or room, but it's not so scary if you add it to a small space like a closet or powder room. I'm not afraid of color (I've gotten over that hump), but I was really afraid of wallpaper! It seemed like such a big commitment, but I love the look. The first time I tried it, I wallpapered our linen closet. It was pretty low risk because it didn't cost a ton AND we could shut the door. But as it turns out, we absolutely loved it.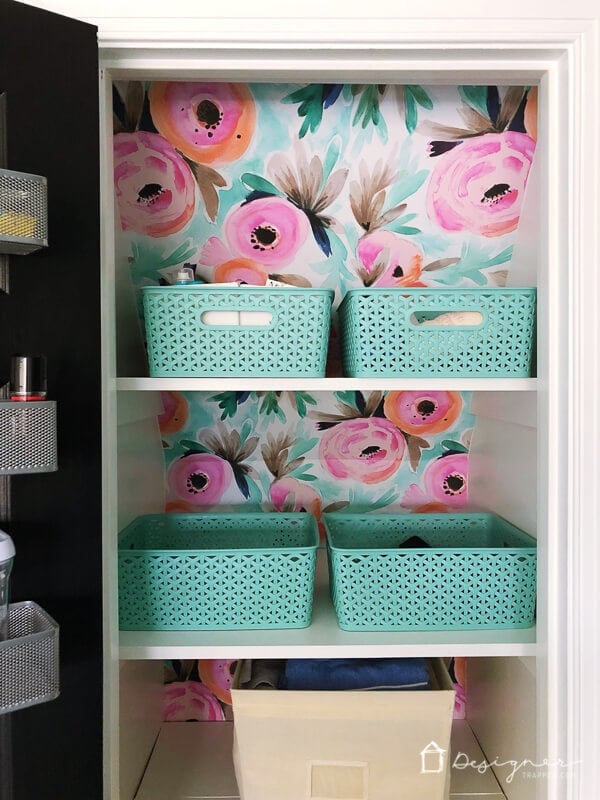 That small project gave me the confidence I needed. I did one wall of our colorful laundry room and then the ceiling of our dining room! We used more wallpaper in far more visible spaces than a closet, but we still have not wallpapered an entire room. But as you can see, wallpapering that small closet gave me the confidence to try something a little bigger!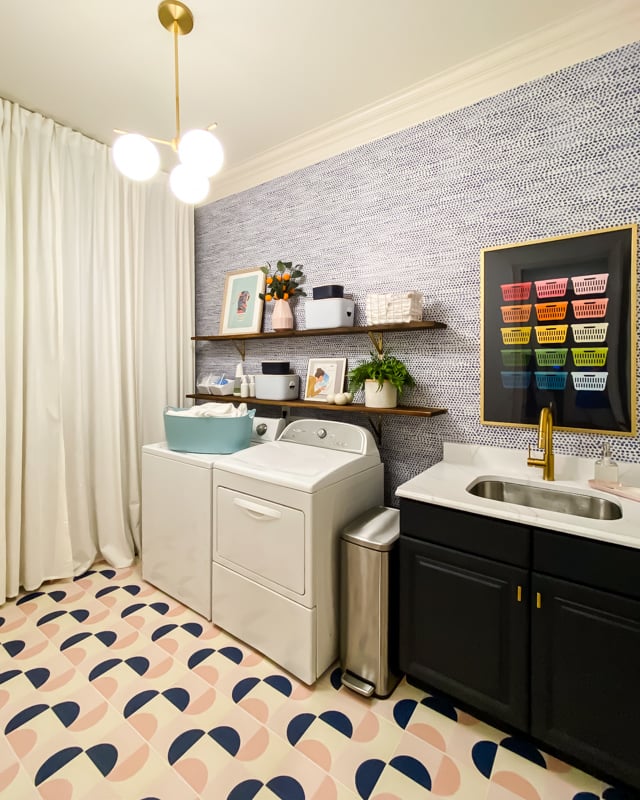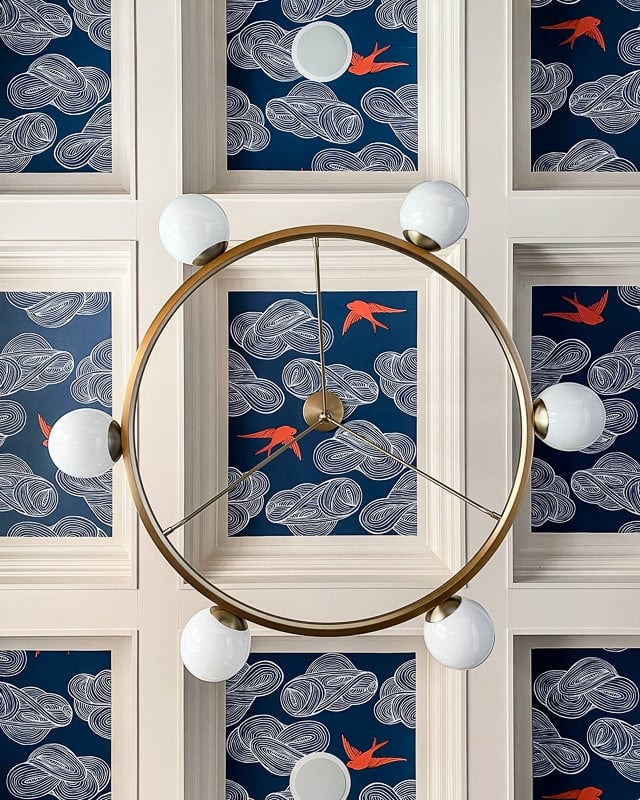 So, if you want to try something really bold, try it in a small space. Once you are confident you love it, then you can try it in a bigger space.
So, there you have it! Those are my top tips for how to decorate with color even when it scares you. I hope you are feeling inspired to add some color to your home now. You don't have to be a designer or know color theory to be successful! Just know what basic colors you want to use and start small. Following these tips will guide you in making small steps to creating a home you love that is filled with as much or as little color that makes you happy!
Other posts you may enjoy:
Wondering how I approach transforming rooms and spaces in our home? Check out Designer in a Binder®.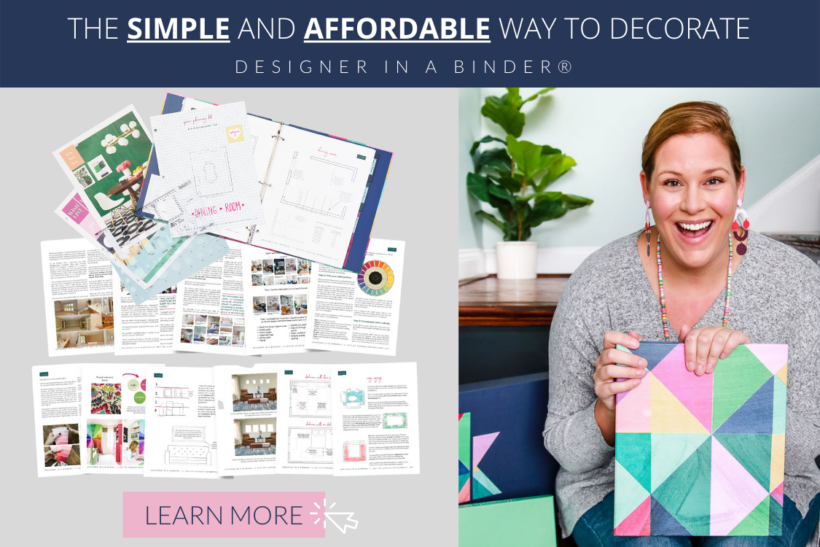 And if you want exclusive content and behind-the-scenes sneak peeks, be sure to subscribe before you head out!