30 Genius Shared Bedroom Ideas for Kids
Looking for design ideas for your kids' shared bedroom? You are in the right place! From space-saving bunk beds to stylish storage solutions, I'm sharing tons of designer-approved inspiration so that you can create a beautiful and functional space for your little ones to share. You'll find ideas for girls, boys and small spaces!
A shared bedroom doesn't have to be something your kids dread! For several years my girls shared a room and it was fairly drama-free. For the most part, they loved being together and it gave me the ability to use the extra bedroom as an office. But I know it isn't always that easy! There are lots of reasons your kids may have to share a bedroom–lots of siblings, short on bedrooms, or maybe they just love to be together. Whatever the reason, these simple tips and design ideas will help you create the perfect space for your kids to share without sacrificing function, style, or their happiness!
Girls' Shared Bedroom Ideas
Have two or more girls that share a bedroom? Been there! My twin girls shared a bedroom for many years. Here are some of my favorite ideas for a bedroom shared by girls.
Find Furniture That Can Pull Double Duty
Shared spaces often mean less room for furniture. Finding pieces that you can use in multiple ways is genius. The beds in this shared girls' bedroom have drawers underneath, eliminating the need for dressers, and the desk doubles as the bedside table. I love smart ways to make a tight space beautiful and functional!
Use the Same Bedding in Different Colors
You can keep a shared bedroom style cohesive without making everything identical. Buying the same bedding but in different colors and/or coordinating patterns is a great option! It creates a put-together look but allows each girl to show her personality.
Move the Beds Close Together
If your shared kids' room is small or you have kids who love to be close to each other when they are sleeping, slide their beds really close to each other. It not only makes things feel cozy, it frees up lots of floor space. This configuration will also help kids feel more secure at night and may also cut down on getting in each others' beds!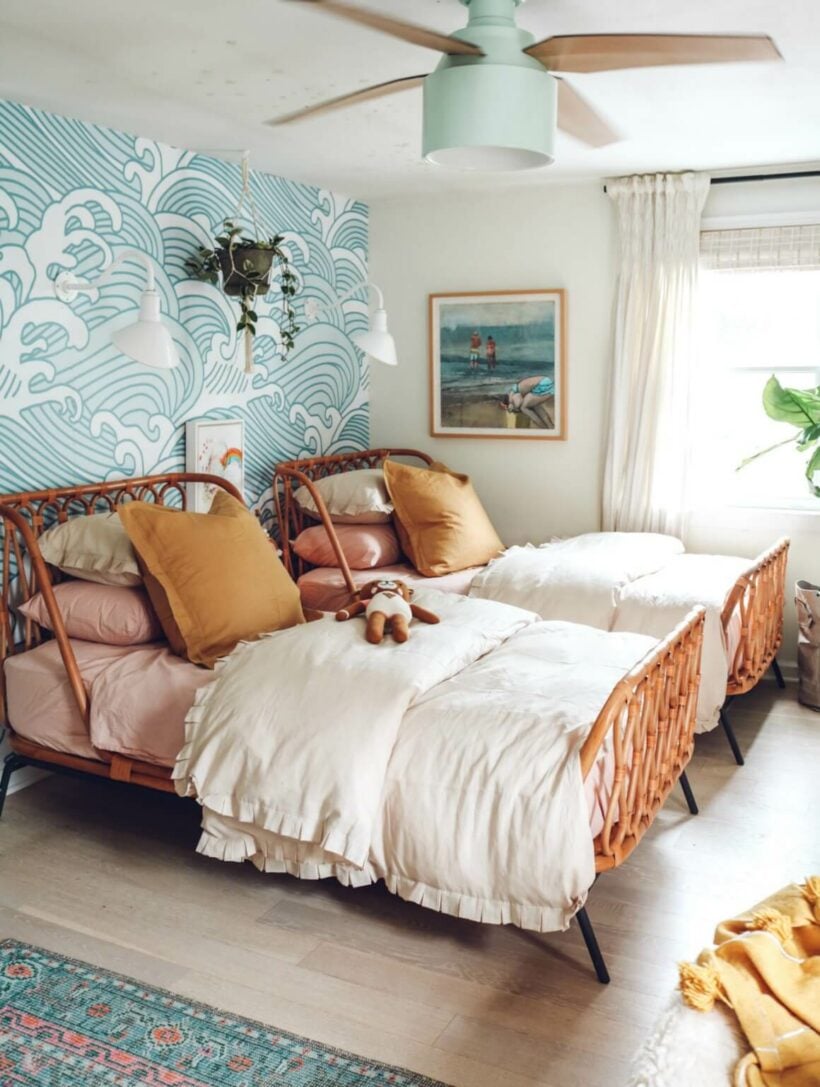 Tame Clutter with a Minimalist Design
Kids' rooms don't have to be overflowing with toys and decor! Two kids does not have to mean double the stuff. Sticking to a minimal bedroom design will keep a shared bedroom from feeling cluttered. I love how simple this looks with small mementos, beautiful beds, colorful curtains and finished with a bright pop of art.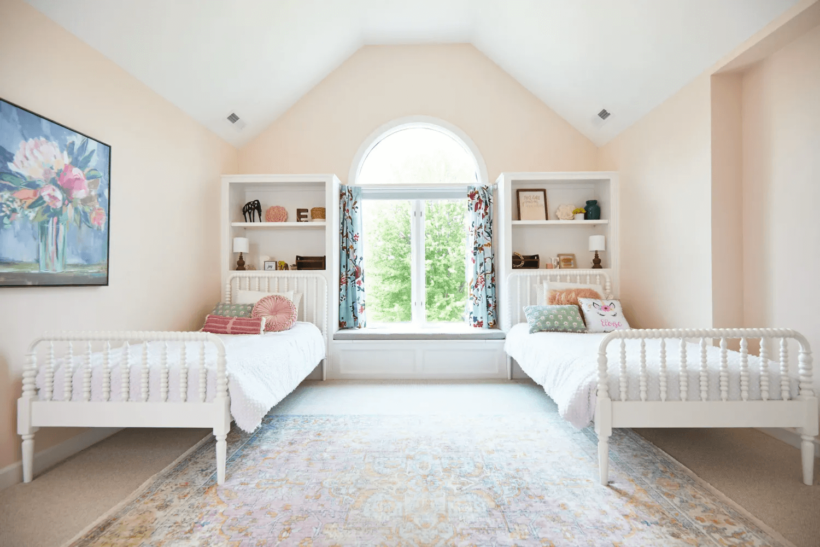 Make the Furniture Moveable
If you have multiple kids sharing a small space, having furniture that is simple to move makes everything easier. I love these simple DIY beds on casters. They are low to the ground which is perfect for younger children, and flat drawers underneath make storage a cinch. And because it is all easy to move, any room rearranging is super quick and easy!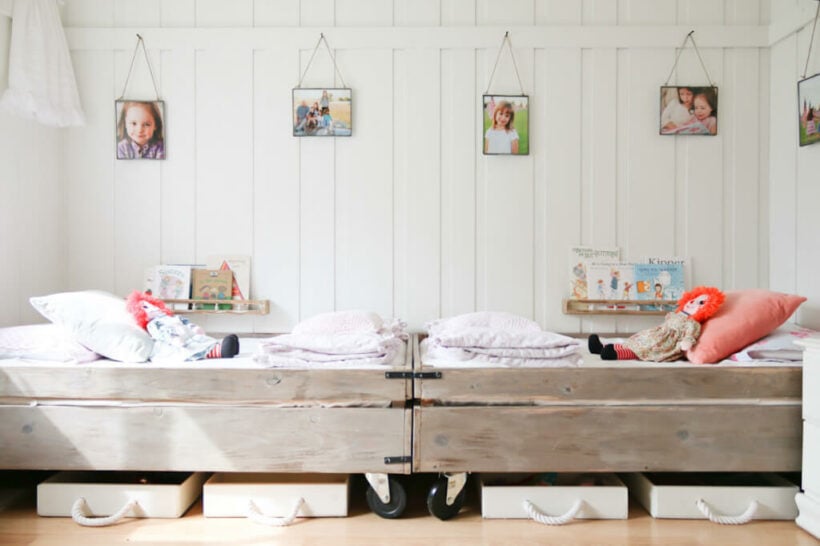 Add Bright Pops of Color
I love a room with white walls as the base and bright colors used for textiles and decor. These bright white built-in bunk beds are perfect for a shared kids' bedroom and you could easily bring in any color palette that your kids' like.
Triple Twin Beds
This shared room is triple the fun! Bring in three twin beds and line them up for the perfect sleepover-ready room. Using matching bedding and fun decor makes the space a welcoming girls' bedroom.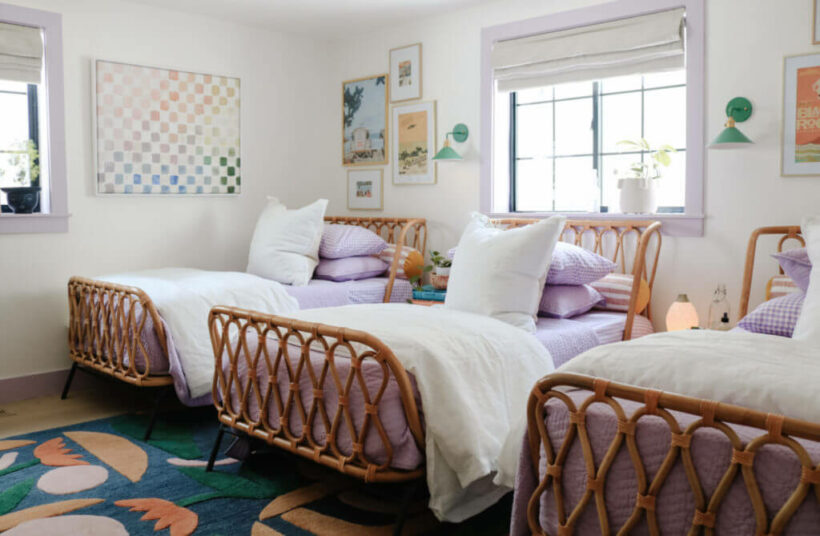 Add Curtains for Privacy
Give your girls some privacy by adding curtains to their beds. Sharing a room can sometimes mean that kids feel like they don't have a space of their own but adding curtains to pull closed helps with that. A secret little space like this is every little girl's dream!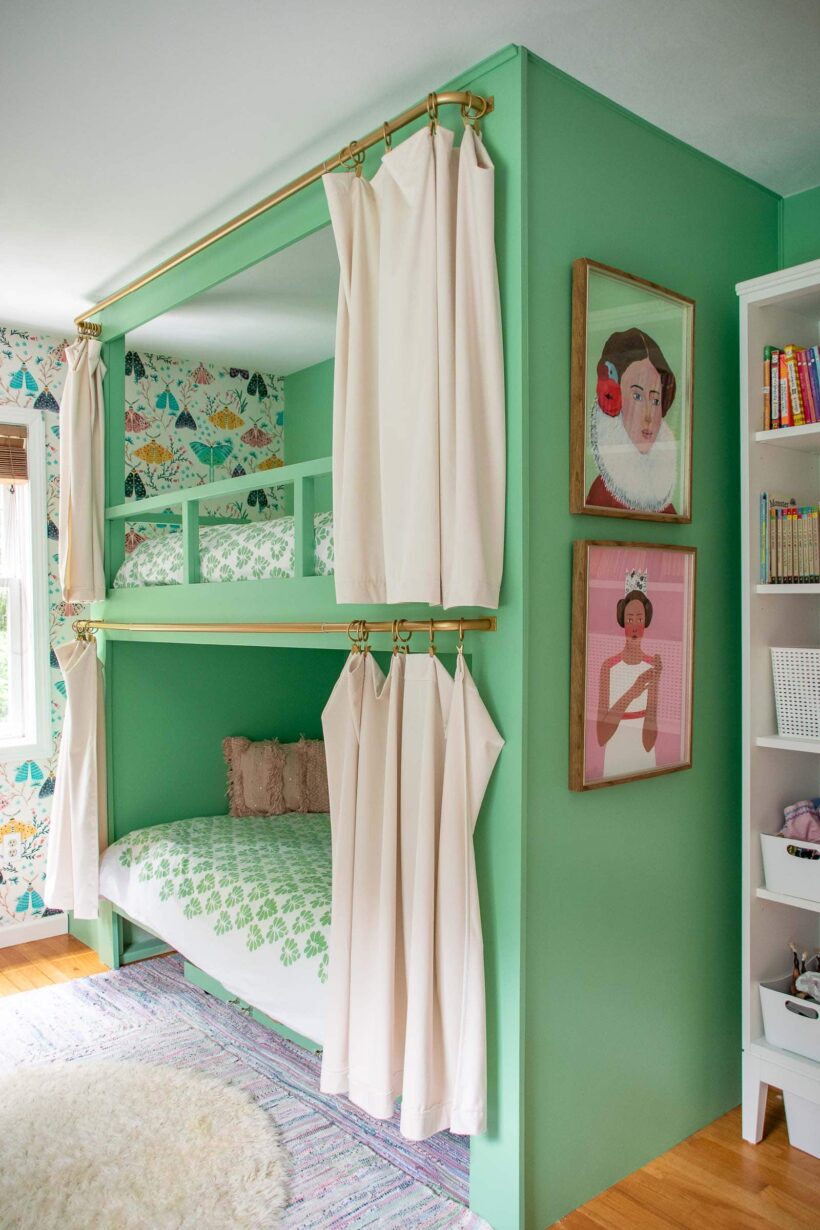 Add Bunk Beds to a Closet
When we built DIY built-in bunk beds, we put them in a closet! This room happened to have two closets so using one for the bed nook was no big deal. The width of the closet also accommodated little shelves, which were perfect to stash treasures, a reading lamp and books. Don't be afraid to take advantage of extra space like this to open up the room's floor space!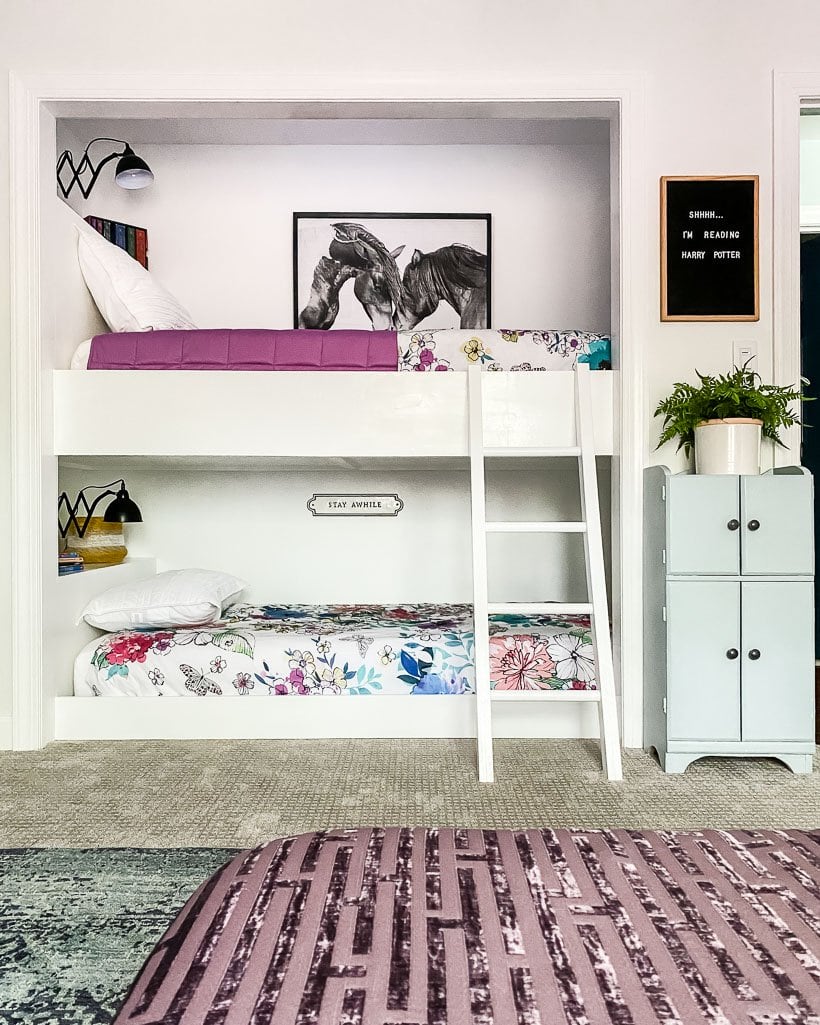 Wallpaper the Ceiling
Make the ceiling the focal point with wallpaper! When you are decorating a room for two, it can start to feel really busy. Keep the walls and decor minimal to cut down on the over-stuffed feeling, but add a fun ceiling treatment like clouds and birds to keep things interesting!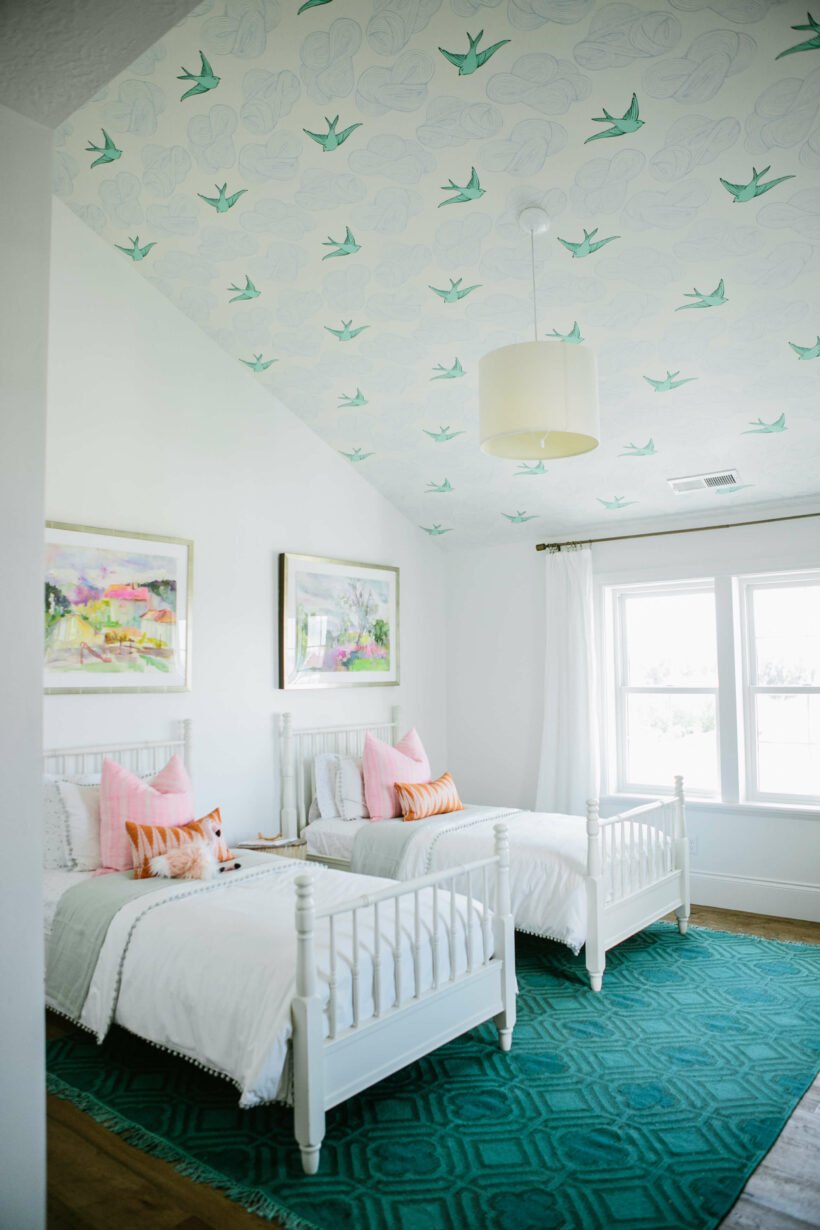 Mix Patterns and Colors
Girls' bedroom ideas can be full of color and pattern! Have fun in your share girls' room with all the fun wallpapers and textiles for a bold room that they will love. If you have little girls with bold personalities give them a room to match!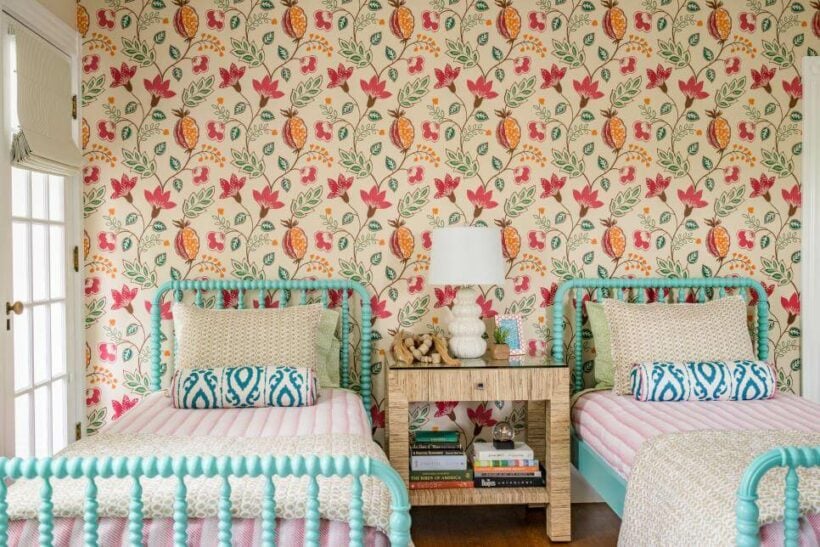 Save Space with a Shared Nightstand
Having twin beds with a shared bedside table in a bedroom is a great space saver. Choosing a bedside table large enough that both kids have a place for their bedside necessities still takes up less room than double nightstands!
Boys' Shared Bedroom Ideas
If you have boys that share a room, I've got you covered! You can find beautiful and practical ideas for your boys below.
Soften the Room with A Canopy
Little boys' rooms don't have to be all bright colors and hard edges. Give your boys a canopy over their beds to create a comfy cozy feel. Not to mention it will give them fodder for make-believe playing for hours–it's a boat, a tent, or even a stage. You can even create your own DIY canopy to match their rooms perfectly and stay on budget!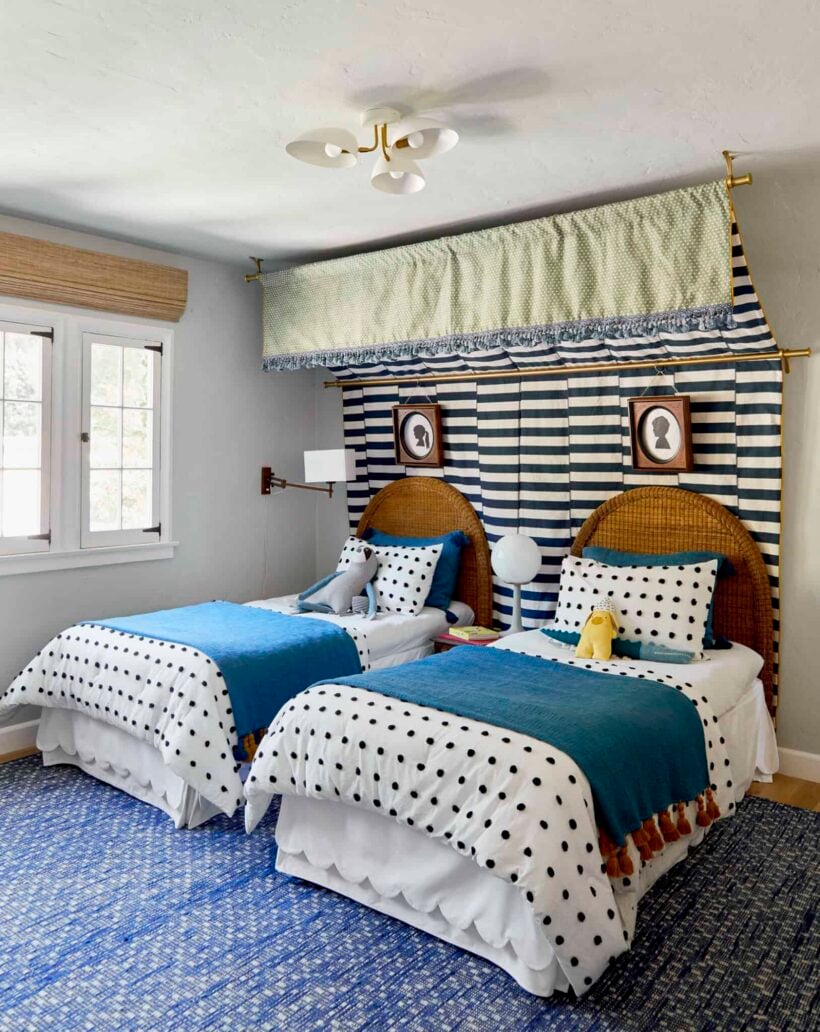 Add Creative Bunks
Kids' sharing a room are normally different ages which means they have different needs. Planning built-ins to accommodate multiple sizes of beds, a desk and toy storage gives everyone what they need all against just one wall of the room.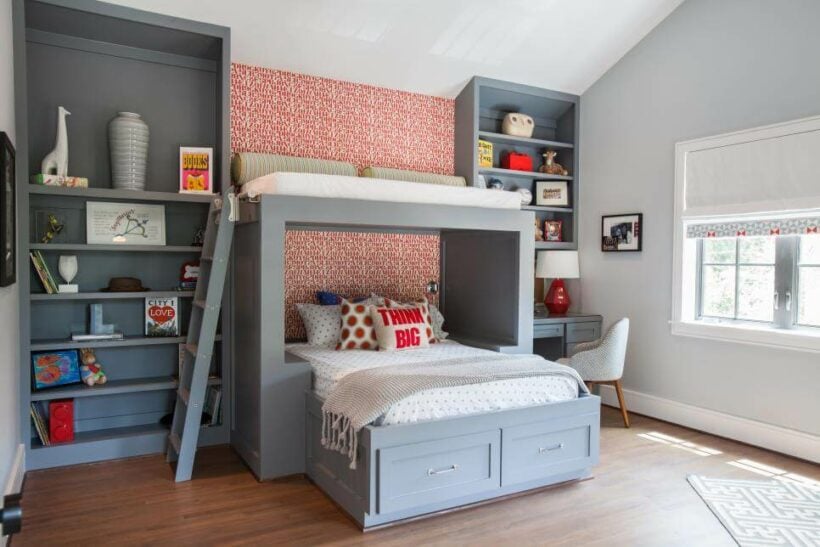 Hang a Mural for Wall Decoration
Fill a blank wall in a shared room with a mural to bring in an impactful design element without making it seem too busy. Shared rooms usually have lots of "stuff" and creating one accent wall with a mural cuts down on decor chaos and creates a unified color scheme.
Use Cozy Bedding
Don't forget that the number one purpose of a bedroom is sleeping! Give your boys a sanctuary to sleep in by using comfy cozy bedding. This will make them eager to snuggle up every night (and maybe even make bedtime easier?!?!).
Space-Saving Shared Headboard
In a room for two, this shared headboard is a genius use of space! The boys sleep head-to-head, but the bookshelf in between gives them privacy. I love that this idea includes separate storage for each kid without taking up a ton of room.
Add Decor that Shows Their Personality
Have two boys that share a room, but not a love of the same things? Diversify their decor! These pennants are a great example of a cohesive collection tailored to each child. You could do this same thing with albums, animal art, or collectibles.
Make the Most of Natural Light
If your kids' room has natural light that streams in, decorate with that in mind! This light and airy room is perfect for boys, and the color palette makes the most of the natural light. Using the right window treatments is key for kids' rooms, and these shades let in maximum sunlight for playtime and drop easily for naps and bedtime.
Use Loft Beds to Maximize Space
Have a small room but lots of kids who need a spot to sleep? Elevate the beds in a way that makes it easy to fit in more than a normal set of bunk beds would allow. This narrow room accommodates three beds easily with two underneath and one on top, leaving room to spare for a desk work area.
Give Each Kid Their Own Space
Create a layout that gives each kid their own space. Whether it is bunk beds with curtains, a way to separate each side of the room, or creating a zone with a room divider, set up an area that each kid can claim as their own.
Make it Fun
Kids don't always love sharing, especially if the room is small. But keeping things fun will go a long way in helping them to love their shared space! Give them a cool bed, fun bedding, and really awesome decor to make the space feel special and something they are excited about.
Ideas for Sharing Small Rooms
Creating a shared bedroom space for kids can be challenging enough, but it's extra challenging when the bedroom they are sharing is small or short on space. These are some of the best ideas I've seen that can help you make the most of a small shared bedroom.
Hang Lights Above Each Bed
In a small bedroom, every inch counts. Instead of putting table lamps on a bedside table or a table lamp on the floor, hang a sconce above each of your kiddos beds. Not only is it a good space-saving solution, but giving each child their own slight is an easy way to let each kiddo control their own lighting for quiet time and nighttime reading. If you need a sconce that doesn't have to be hardwired or plugged in, check out the magic light trick I used for my colorful wall gallery!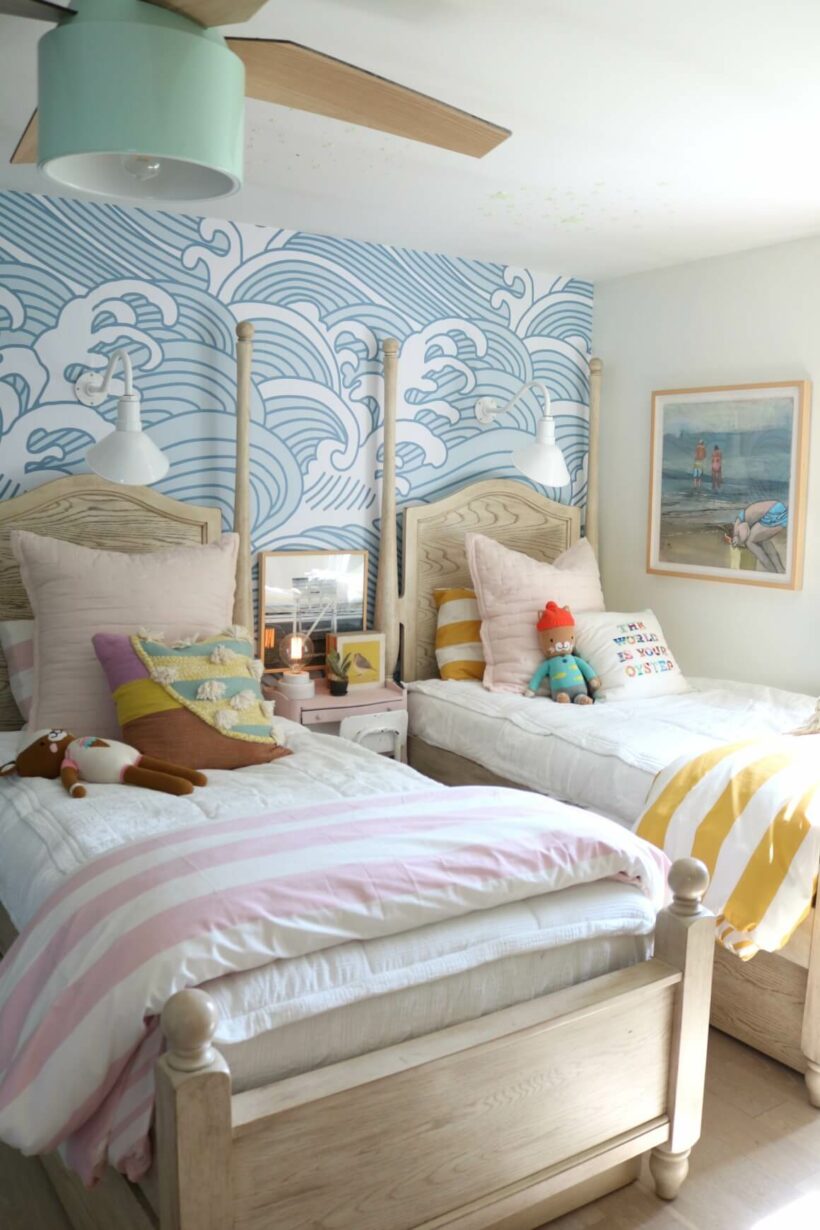 Smart Storage is a Necessity
Creating smart storage in unused or wasted space keeps kids' things contained when space is at a premium! This built-in set of beds has shelves above and drawers below to make the most of the empty space in this small shared kids' room.
Stair Stepped Platform Beds
Want to have multiple places to sleep but not sure how to fit actual beds in? Make platform beds that mattresses can fit right down into. Talk about clever built-ins! These are easy to access and they make the most of a narrow nook. And I don't know a kid anywhere that would not think this was really fun to sleep on!
Multi-Level Bunk Beds
Sometimes a small home means multiple kids share a room that is for sleeping and playing. Multi-level bunks allow beds to be staggered while creating a natural spot underneath for playing and reading.
Lofted Beds With Curtains Underneath
If you don't want bunk beds but normal twin beds don't leave you with enough storage options, use this common dorm room hack… Raise the beds up and add a curtain underneath! Kids will think it's very cool and parents will love having all the toys and stuff out of sight.
Slim Profile Bunk Beds
So many bunk bed options out there are huge and bulky. If you have a small room but still want bunk beds, there are slimmer sets that have less heft and frame to them. This style is perfect for a small bedroom and make it easy for little kids to get in and out of bed.
Space-Saving Built-In Bunks
Sometimes a room cannot fit a regular bed at all. DIYing a set of bunks into a nook is a great way to solve that problem! And you can even remake this exact set by following the detailed tutorial they've written up. I love that these built-in bunk beds make the most of this tiny room and by carrying the baseboard trim along the bottom of the bunk, they look like they are original to the historic home.
Triple Stacked Bunk Beds
Need to sleep three while keeping as much floor space as free as possible? Enter the triple-stacked bunk beds! This is such a fun idea and makes it easy for three kids to share a room, which can be really tricky when you are not working with much space.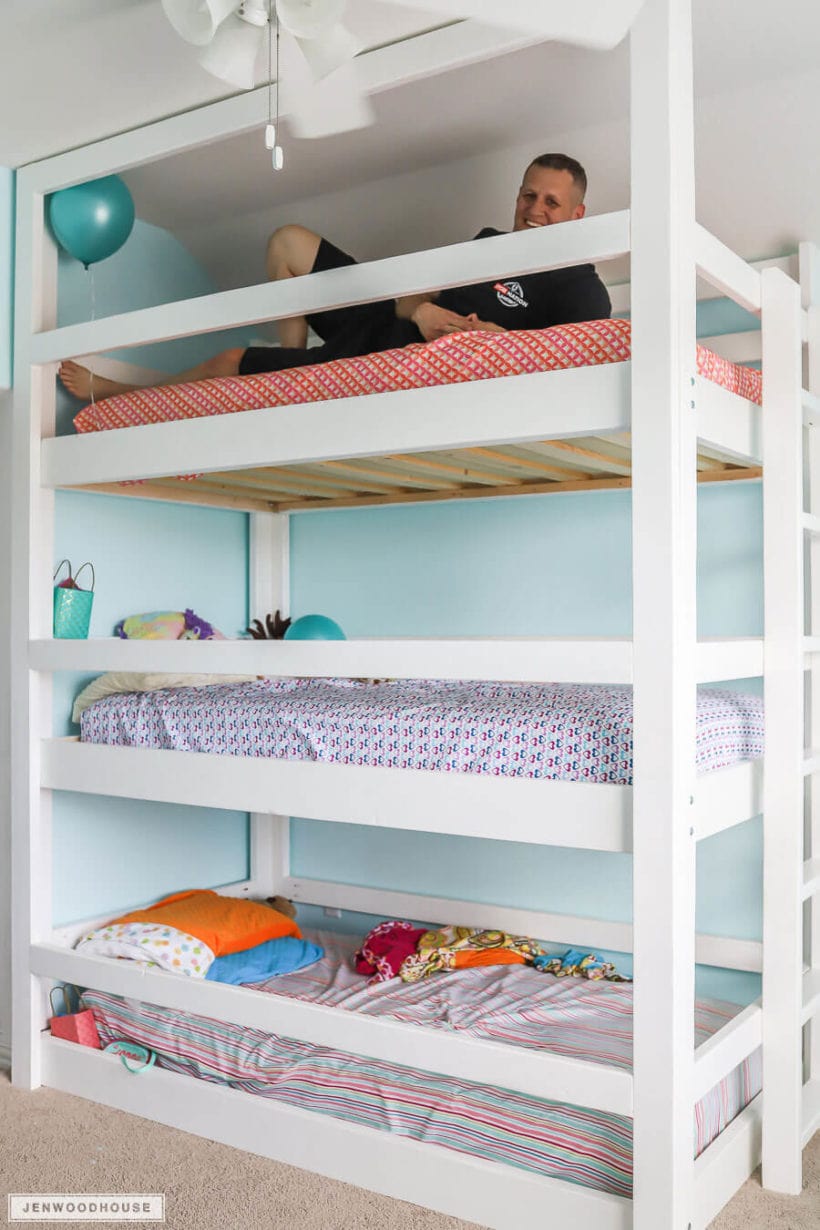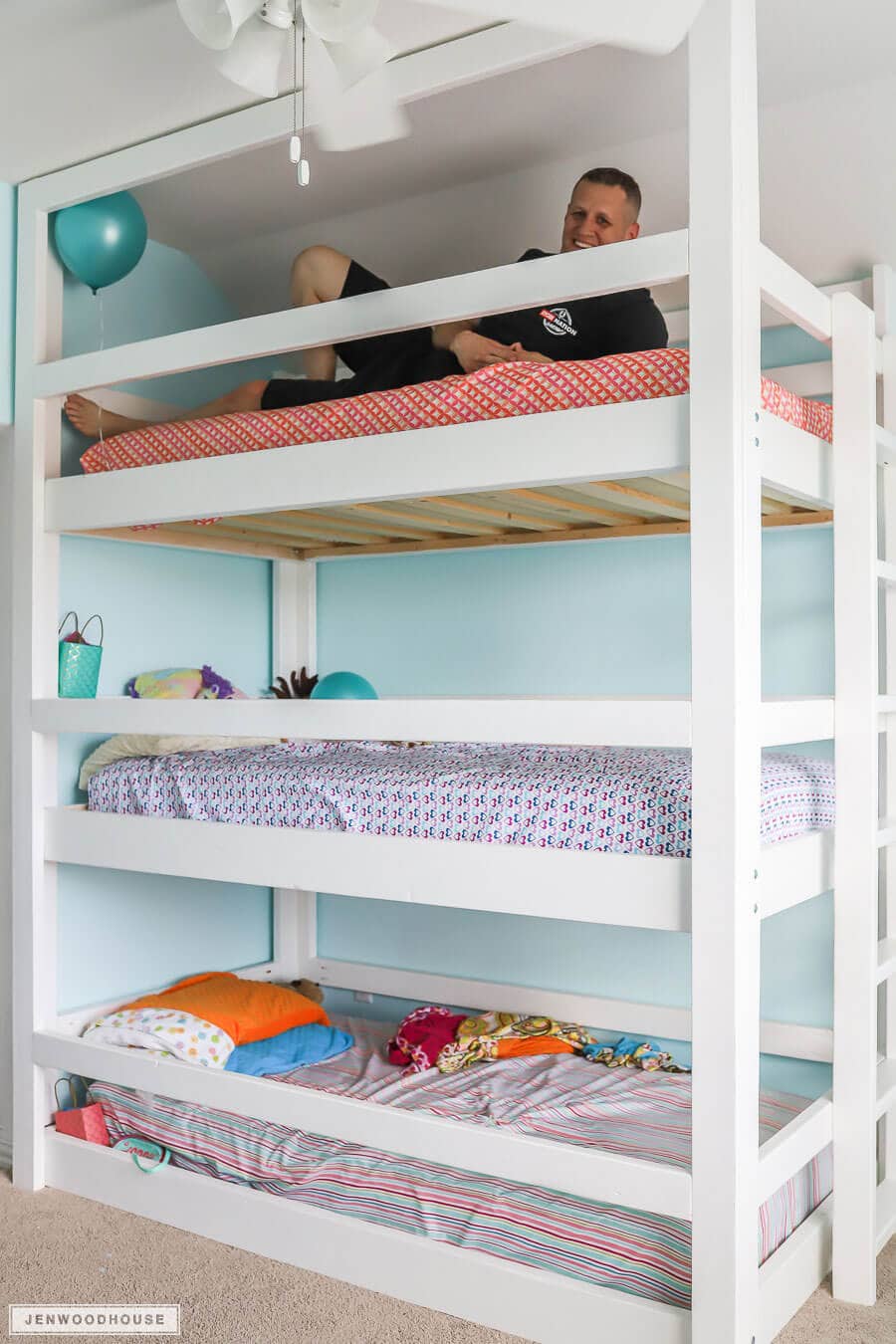 Shared bedrooms can be challenging to design, but with a little creativity and planning, they can be functional and stylish spaces for children to share. Whether you have girls or boys sharing a room, I hope you are feeling inspired by these ideas! And remember, when it comes to small shared bedrooms, focus on multi-functional furniture and space-saving solutions. Happy designing!