The Ultimate Dorm Room Ideas for Guys
If your son is heading off to college, you want to make sure he has everything he needs to create a comfortable and stylish dorm room. But where do you start? With so many options out there, it can be overwhelming. We've put together the ultimate guide to dorm room ideas for guys to help you plan everything he will need for move-in day and beyond. It is filled with tips and inspiration for creating a functional and cool space. We have you covered to help your guy create his home away from home!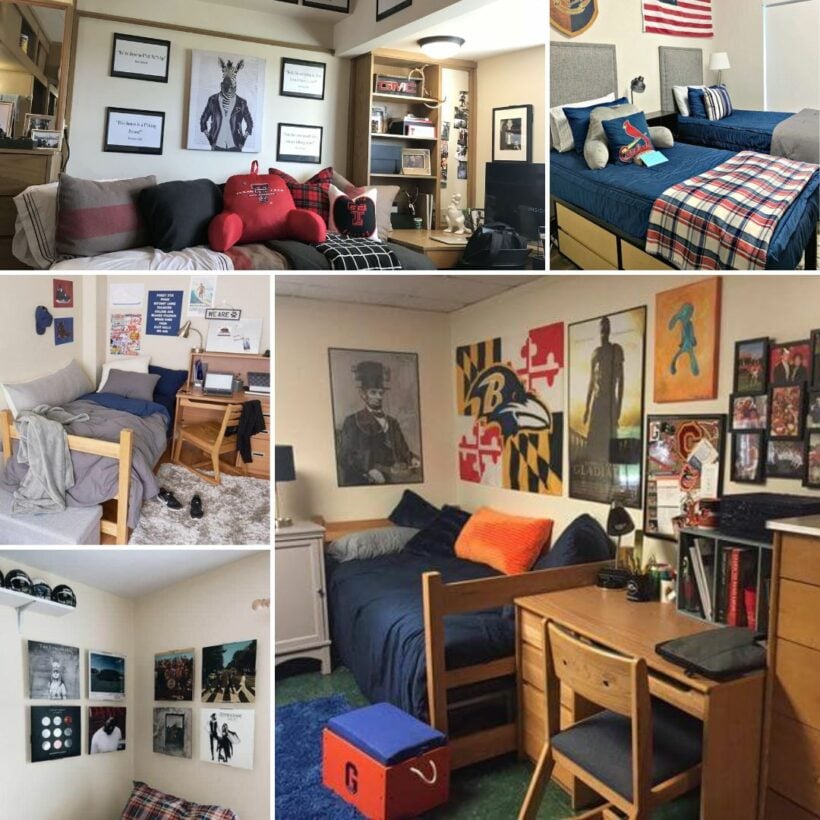 Guys Dorm Room Ideas
Start with the Bed
Make it Comfortable and Stylish
The bed is the centerpiece of any dorm room, so making it comfortable and stylish is important. It is truly multipurpose–kids use it for sleeping, studying and hanging out! So think about durability, comfort and style when you start planning his bedding.
Invest in a quality mattress topper to make that college-issued mattress more comfortable. Make sure to get nice sheets that are easy to take care of since he will be doing his own laundry, and double-check if you need XL for his dorm bed. Adding a simple upholstered headboard will make the bed feel more comfortable, especially for those long nights sitting in bed studying!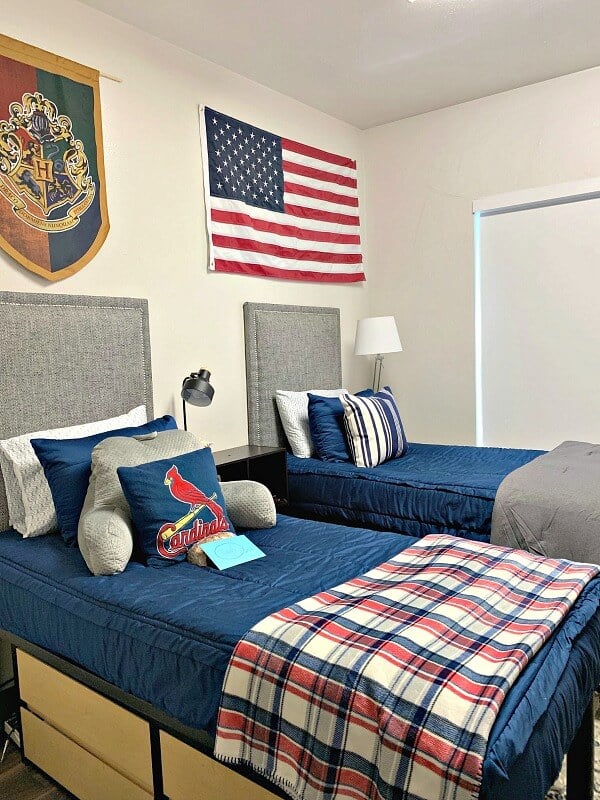 Coordinate The Decor
Buying matching comforters with his roommate makes shopping easy and makes a dorm room look put together. If your son isn't into being matchy with his roommate, you can coordinate bedding and then personalize pillows and decor. Or just agree on a color scheme and choose bedding that coordinates, but that suits each guy's taste. Also, consider investing in under-bed storage containers or a storage ottoman that doubles as extra seating.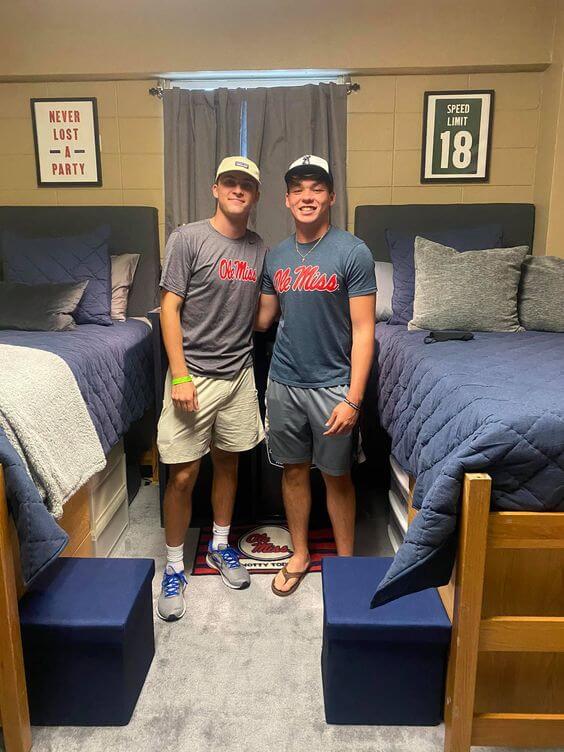 Make it Cozy
Think about what your guy likes about his bed at home. Extra pillows? A cozy blanket? Make sure to choose dorm bedding he likes (especially the feel and weight of it, since guys usually care as much about that as they do about how it looks!). Add lots of throw pillows and give him the coziest space you can.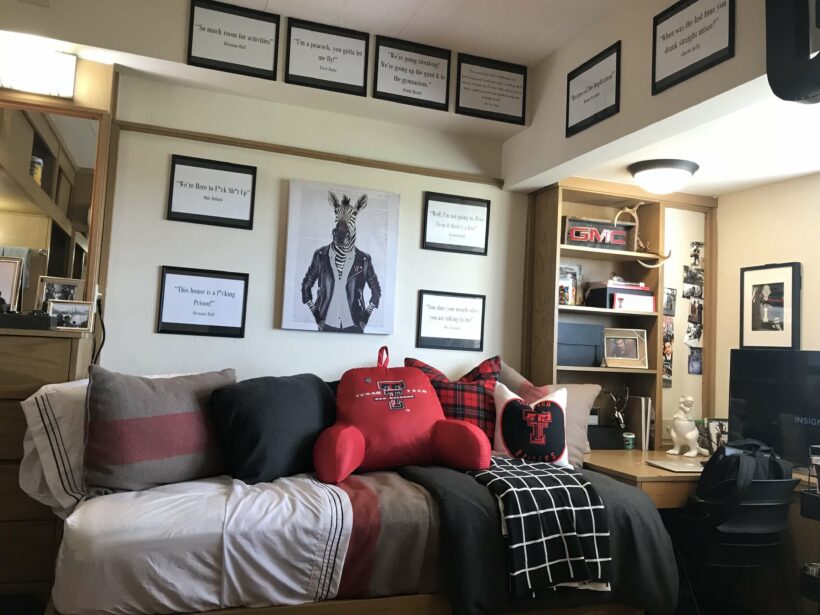 Optimize Storage
Maximize Vertical Wall Space
Dorm room ideas for guys' storage are one of the most important things you can focus on. The rooms are notoriously small, so maximizing storage space is key. One thing most dorms do have is a lot of wall space. Add a ton of storage by using what is available! Wall shelves and hanging organizers are great options for maximizing vertical space. One on a standing frame makes it even easier because you don't even have to hang it. This kind of setup for your guy gives him a place to stick hats, extra shoes, and clutter. Get it all off the floor and give him as much extra space as possible!
Smart Mini Fridge Storage
A mini fridge is at the top of the list for dorm room essentials. Create storage around his refrigerator with one of these great ideas. College-aged dudes eat a lot and we all know those dining plans aren't enough. Creating spots to stash snacks, coffee, breakfast items and late-night meals is key when space is tight. Drawers under the fridge or a setup that goes on top is a genius dorm room storage hack and a smart use of space!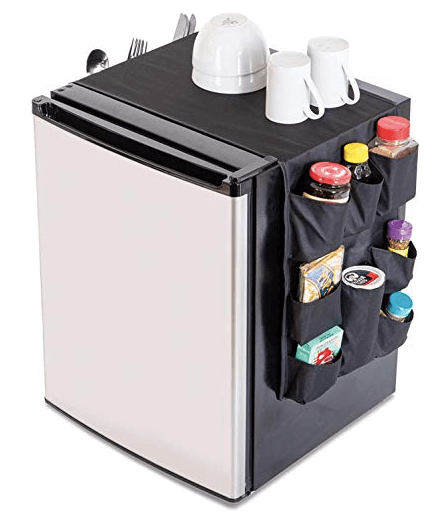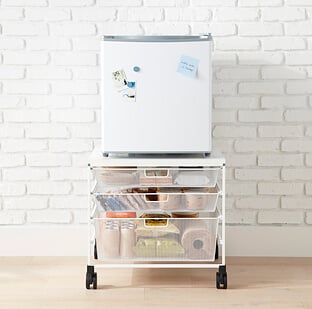 Maximise the Closet Space
Every college dorm room has a closet. Use that space! Hit Amazon or The Container Store and organize it. Depending on its size and shape, there are many creative ways you can use the space to get as much of your guy's stuff in it as possible. Store extra sheets and essentials in hard-to-reach spots, hang hats and jackets with command hooks, and slide in bins or a storage trunk for added storage.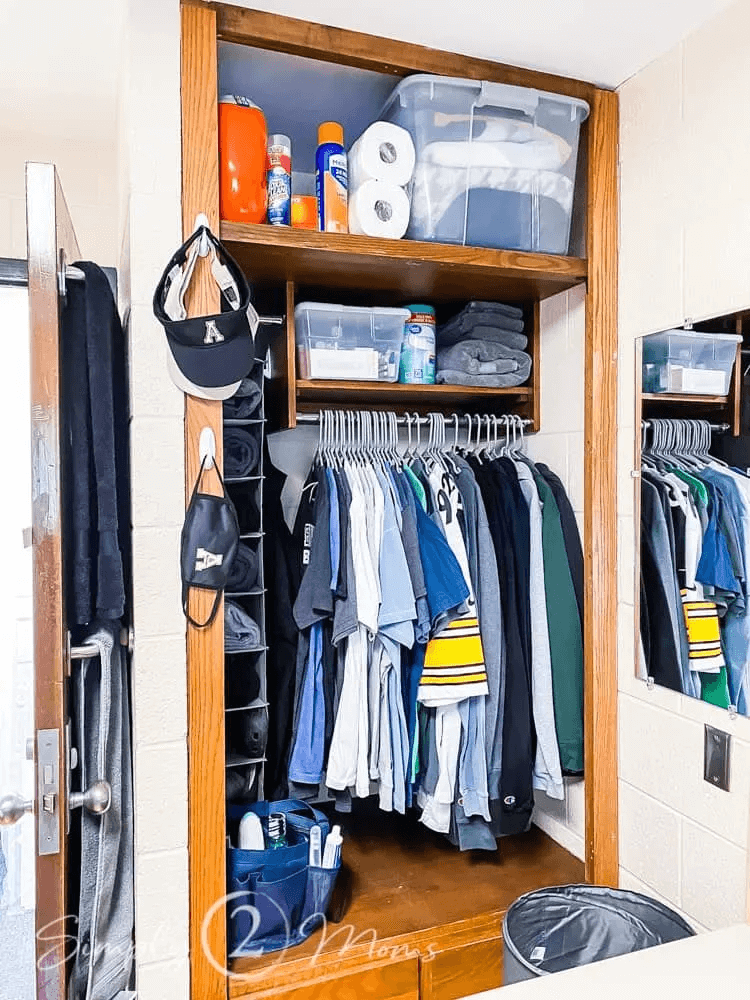 Add Some Decor
Show His Personality
A few decorations can go a long way in making a dorm room feel more like home. Choose decor that reflects your son's personality, and keep in mind that boys usually go by the less-is-more mentality. Cool dorm rooms don't look like a showroom. They are a collection of items that shows his vibe! This is also a great way to show off his school spirit. Grab some stuff from the school store and get to work.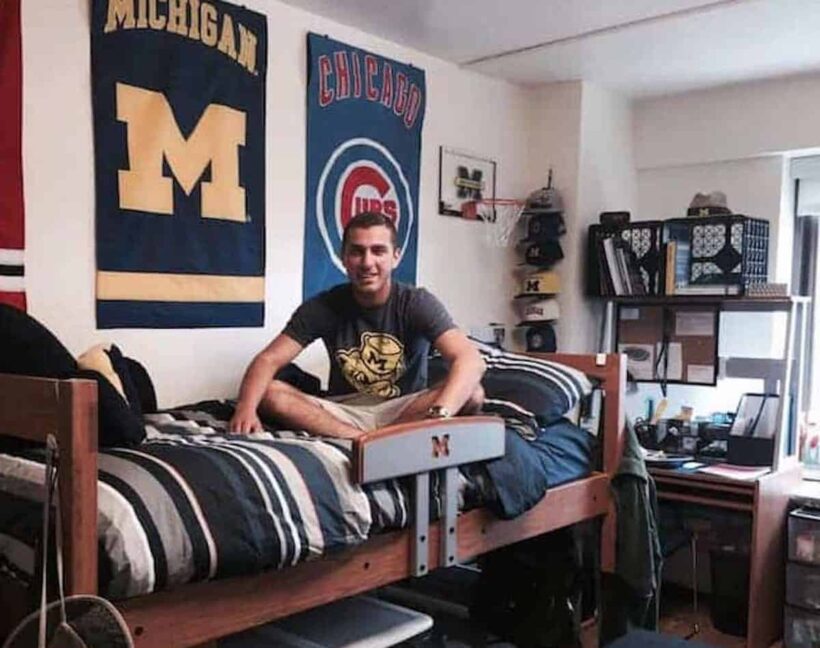 Decorate Dorm Room Walls
Cover those boring neutral walls! Posters or framed artwork can add personality and color to a drab space. If he is a music lover, frame his favorite albums. Add a tapestry, flags, or shelves for mementos and pictures to complete his space!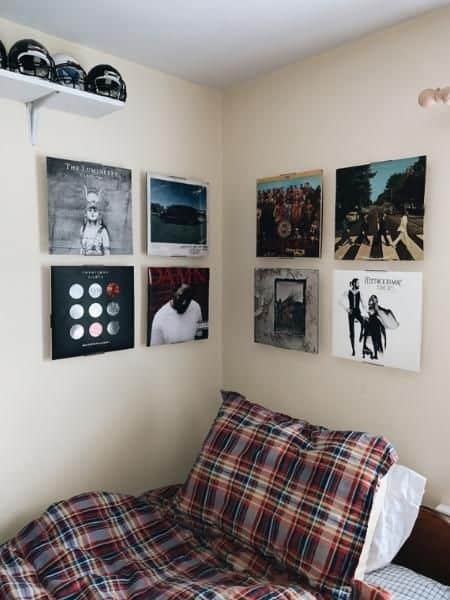 Make it Unique
Not everything has to be sports posters. Some guys want a space that is a little more homey than minimalist. Add string lights or light strips for a cool and cozy touch, give him some plants, and even something quirky and cool like a vintage typewriter to show off his personality.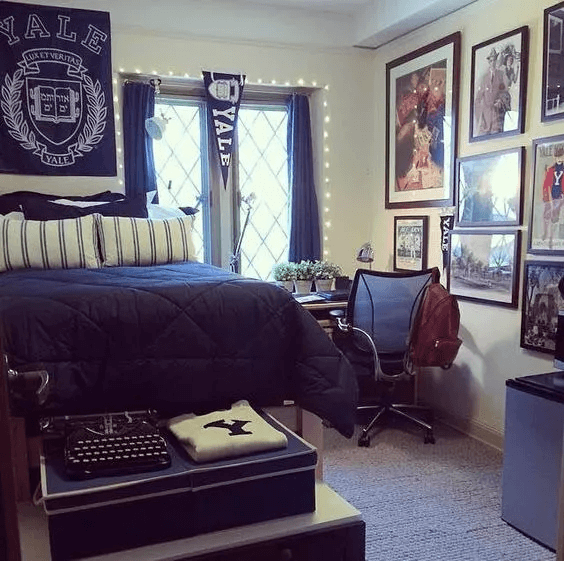 Create a Study Space
Hang a Bulletin Board or Whiteboard
Your son will likely be spending a lot of time studying in his dorm room, so creating a functional workspace is important. Add a bulletin board, corkboard squares or whiteboard to help him stay organized. He can pin up his assignments, write reminders, and even keep a calendar!
Organize Your Study Space
Help him keep his desk space clean and clear by keeping it organized! Cubbies for textbooks and notebooks will keep everything where he can see it and easily accessible. Add cups and trays for school supplies, and don't forget the drawer organizers! Now he will have no excuse not to have good grades.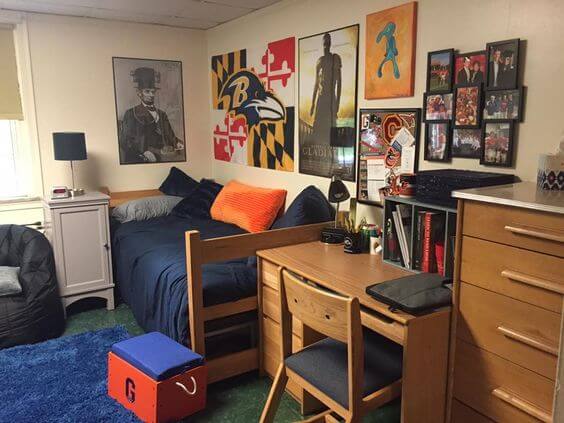 Get A Comfortable Chair
College brings lots of late nights studying. Invest in a comfortable desk chair so that he can spend hours at his desk without killing his back. The standard-issue wood chairs are not usually created for comfort so switching that out with something ergonomic will help him pull those all-nighters! Make sure to add a desk lamp so he can see what he is doing.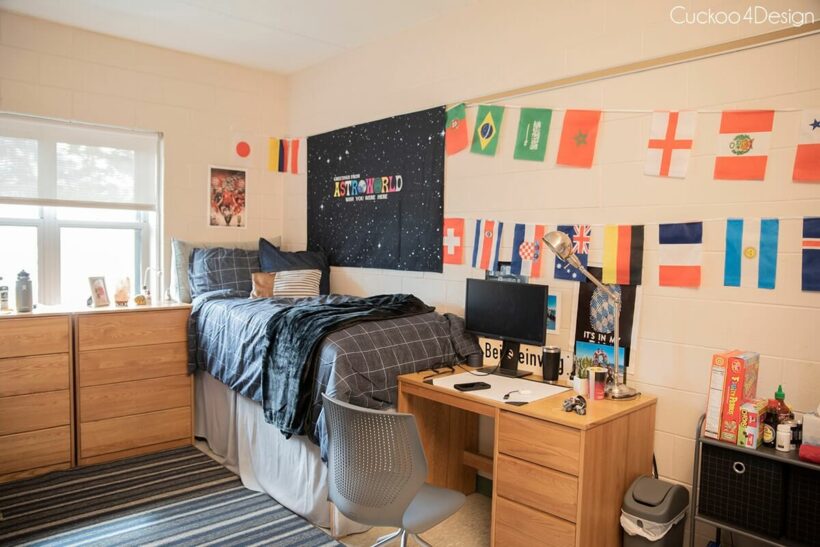 Make it Tech-Friendly
Create a Gaming Set Up
In today's digital age, ensuring your son's dorm room is equipped with all the necessary tech gear is important. Most guys love their video games, so creating a cool area with seating like futons or bean bags and a TV will make it feel like home and give him a spot to relax.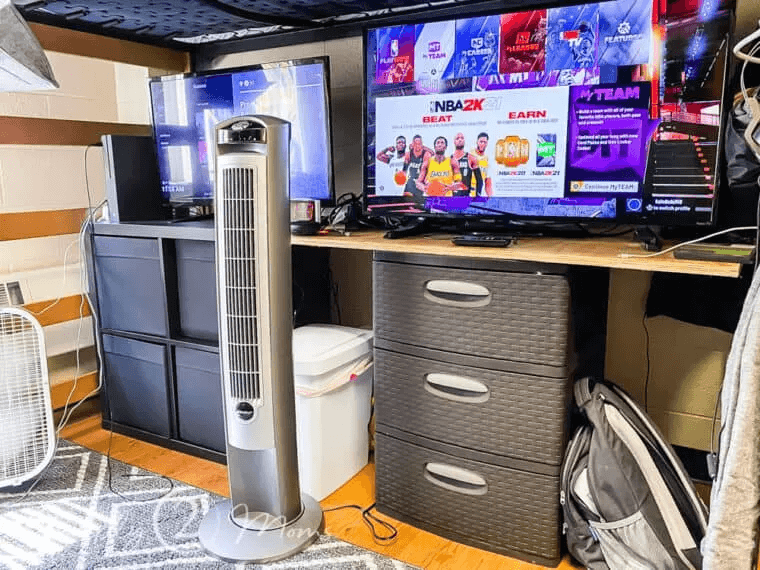 Add Plugs and Chargers
Make it easy for him to plug in all his tech and electronics! Invest in a surge protector to keep electronics safe, and get creative to keep it easily accessible. Opt for bedside furniture with a built-in charging station. Then he can't say he couldn't call home because his phone was dead!!!!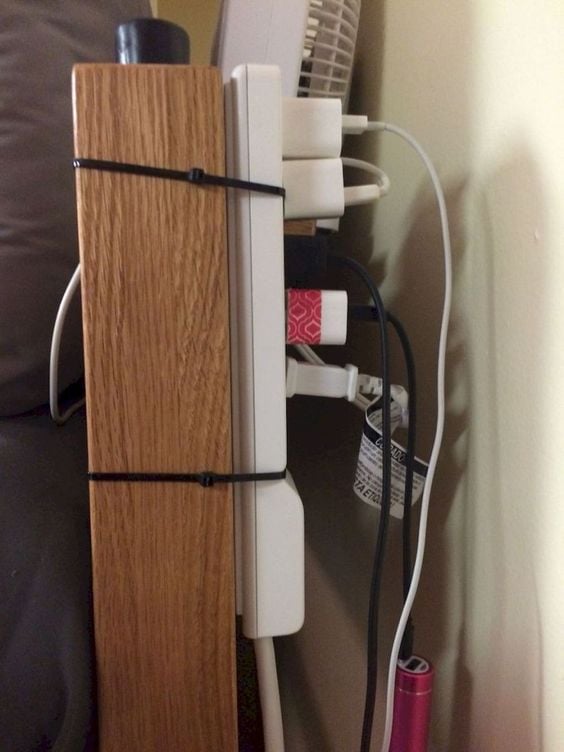 Creating a stylish and cozy dorm room for guys doesn't have to be difficult. With some creativity and thoughtful planning, you can create a space that your son will love and help him succeed in college. These dorm room ideas for guys will get you started planning his new home and making it perfect!
Other Posts You May Enjoy
Wondering how I approach transforming rooms and spaces in our home? Check out Designer in a Binder®.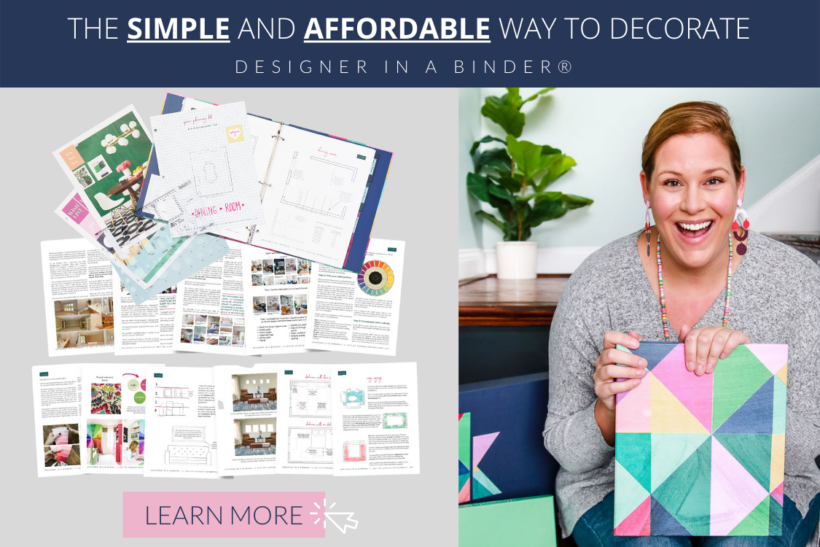 And if you want exclusive content and behind-the-scenes sneak peeks, be sure to subscribe before you head out!