Gorgeous Dorm Room Ideas + Where To Shop
College students get basic on-campus rooms, but you can make magic happen with the right dorm room decor! Turn your blah beige dorm room into the room of your dreams with these amazing dorm room decorating ideas. Here you will find the best places to shop for your college dorm and inspiring ideas for upgrading your space. A beautiful and trendy dorm room is so much easier than you think with the right dorm room ideas!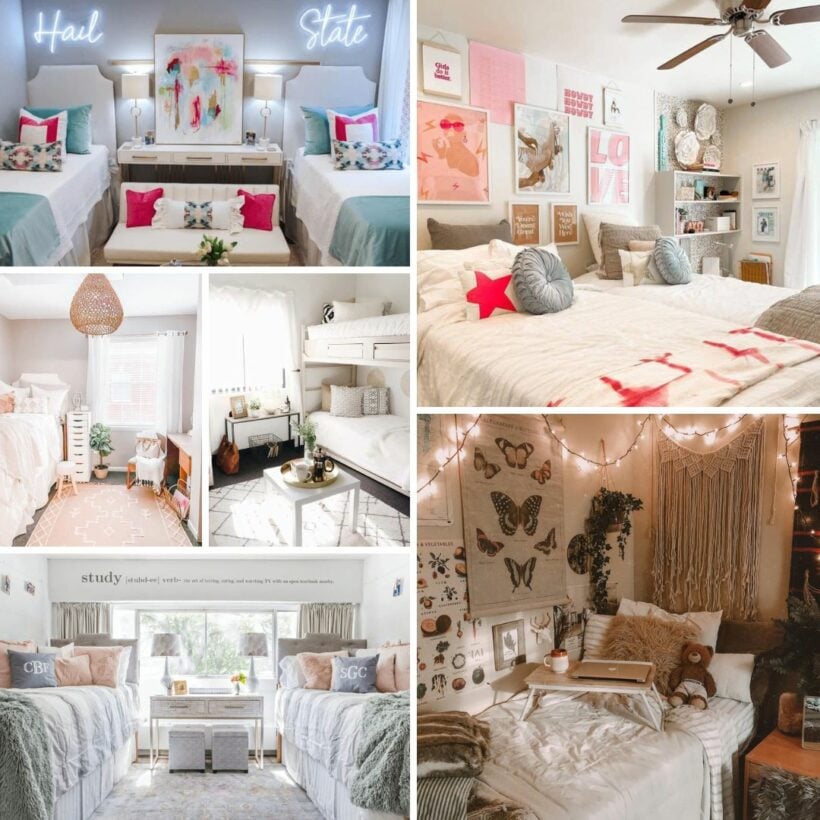 A dorm room is more than just a place to sleep and study; it's your home away from home. It's essential to make your dorm room feel welcoming and cozy. Your college room should be more than a bed, a dresser and a mini fridge with a microwave on top. There are insanely trendy and cute dorm room ideas that can take your student housing to the next level! So if you've ever wondered "how can I make my dorm room look good?" you are in the right place!
Things have come a long way since I walked into my freshman dorm. Sure my roommate and I planned our bedding to match and I drew the perfect layout before we even arrived, but never in my wildest dreams could I have imagined the gorgeous dorm rooms of today!
This post contains affiliate links for your convenience. Click here for my full disclosure policy.
Where to Shop for Dorm Room Decor and Essentials
There are so many stores where you can buy dorm room decor now. Target, Walmart, and Amazon are the most popular because they offer a wide variety of products at affordable prices. But it's also worth checking out thrift stores, garage sales, and online marketplaces, such as Craigslist or Facebook Marketplace, for some unique finds and great deals!
Amazon
Amazon Off to College Shop makes shopping for college really easy! Their College shop for dorm decorations is divided by style, which I love. Under each style section, there is everything from rugs to decor to wall organizers. And if you have Prime it makes it even easier!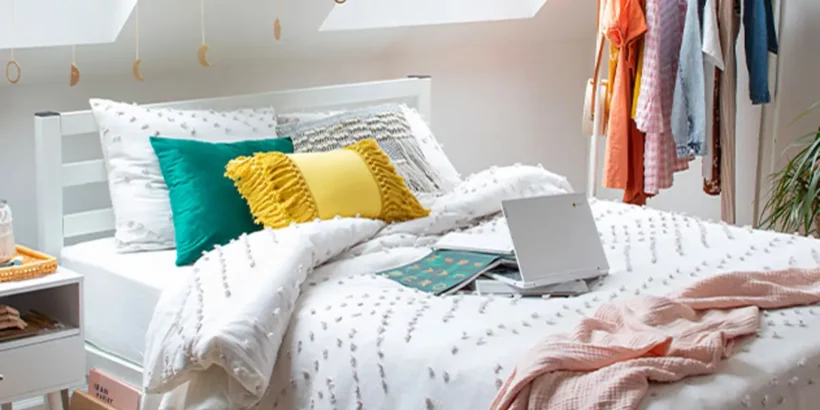 Target
Target College Shop is always a favorite for storage basics and essentials like towels with a fun twist. I love that you can also grab electronics, command strips and awesome decor all in one place. And since it's Target, they do a great job of having a range of patterns and solids. Also, at Target you can do a graduate registry, which is an awesome idea to make graduation gifts a no-brainer!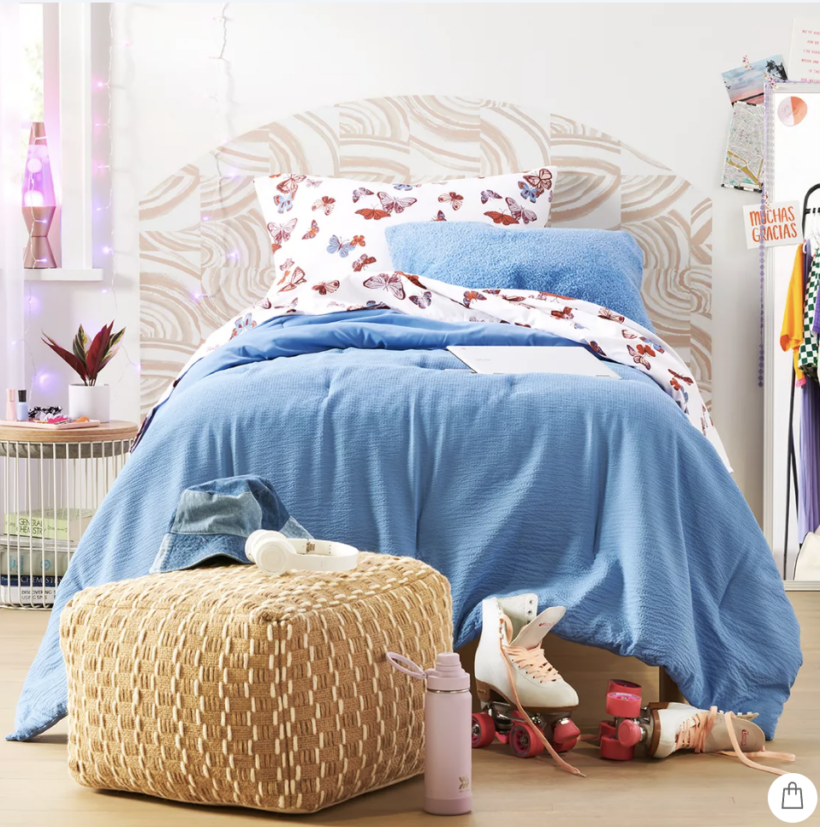 Walmart
Walmart Dorm Essentials is filled with essentials and dorm room decorating ideas you will love! Lots of cute stuff is available, and it is all very budget-friendly. And if you have a few splurges you know you want to make, this is a great way to fill in with cheaper options for essentials. I love that items are in categories like Dorm Appliances and Dorm Bath and Laundry. It makes it so easy to browse without getting too overwhelmed!

Dormify
Dormify has everything you may want or need for your dorm room decor. A lot of what you see trending on Pinterest and Instagram is from Dormify and they make it very easy to shop. Their site is broken into categories but you can also shop full rooms. Genius! I love the headboard options that can be attached with velcro adhesive strips to the wall. And the wall tapestry options are incredible.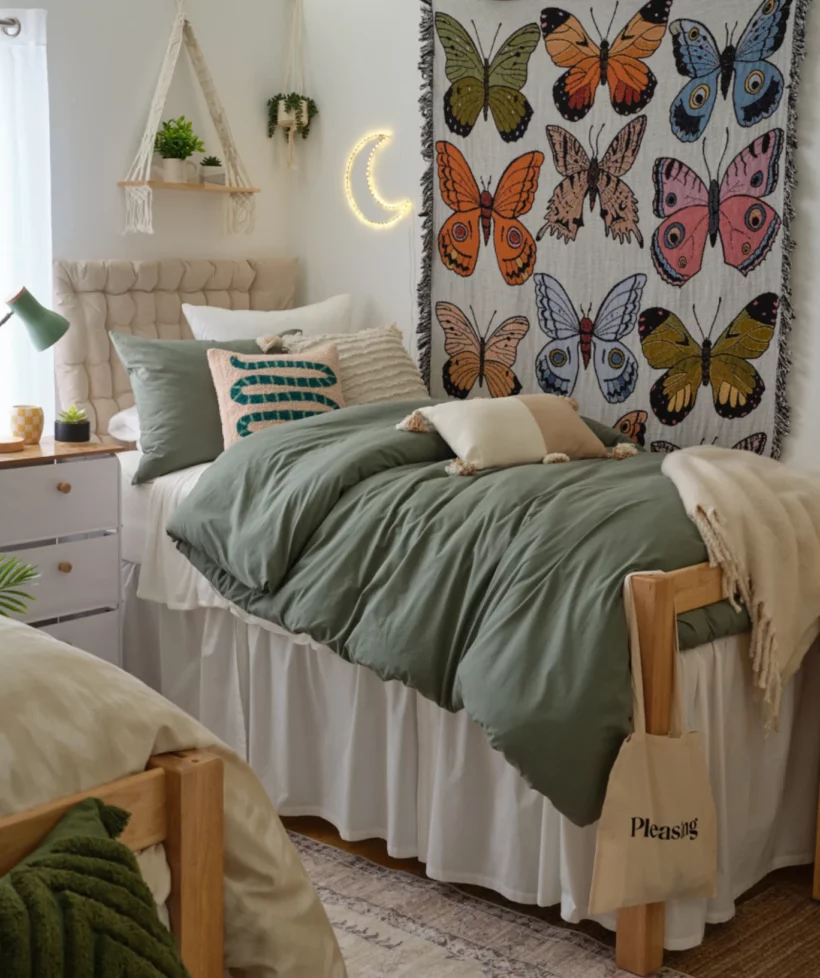 Urban Outfitters
Urban Outfitters On Campus has the same cool vibe Urban Outfitters normally brings with items curated into college-friendly collections. Look for cool decor items like greenery, bean bag chairs, and shelves for houseplants. UO is perfect if your aesthetic is more boho or urban.
Pottery Barn
Pottery Barn Dorm, a division of Pottery Barn Teen, has all of the classics we have all come to know and love from PB. Personalized towels and organic twin XL sheets top the list, as well as their beautiful comforters and art and decor that is dorm wall friendly! But it's their dorm-friendly headboards that I think are beyond genius. You can even charge your devices with some of them 🤯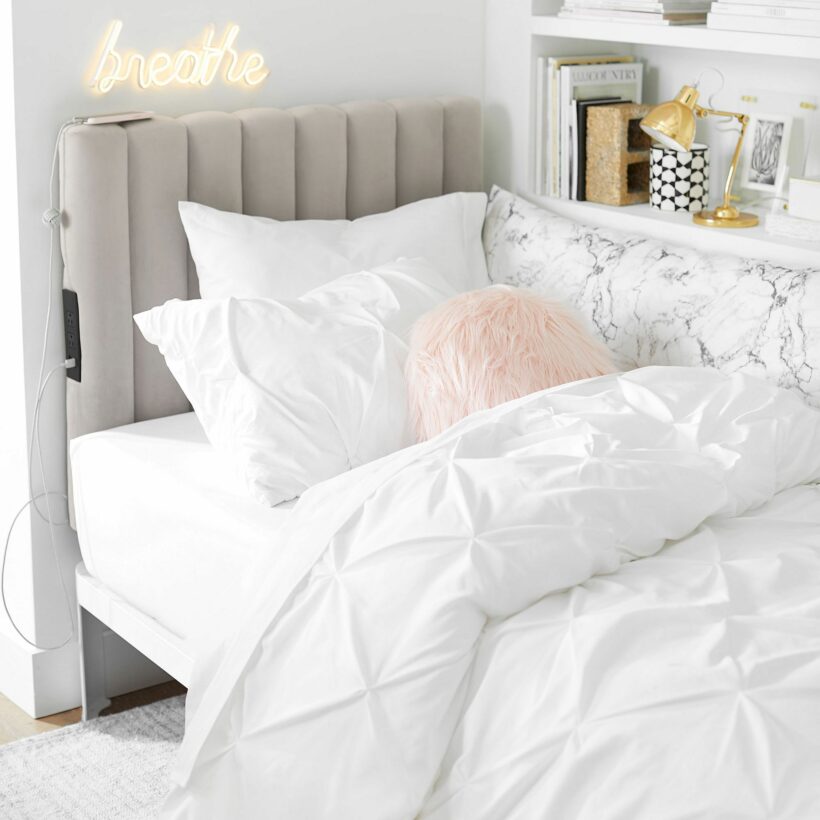 Wayfair
Wayfair Dorm is divided into easy-to-use categories and they also carry a ton of dorm room essentials. I love Wayfair and you can find amazing deals on furniture so check there if you want to add something like a storage ottoman or futon to your dorm room decor. And I love this ultra thick tufted college headboard!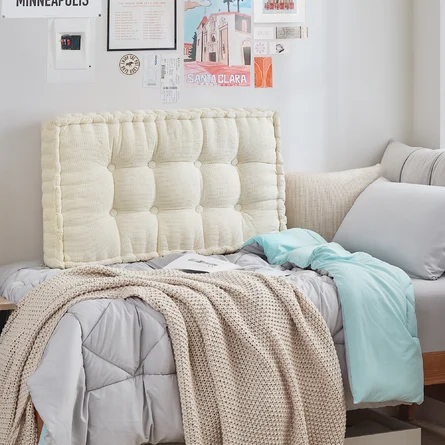 Minted
Minted Graduation Shop pulls double duty with graduation gifts as well as dorm room art. I LOVE their art and use it in my own house. (Tour the art in my house to see it all!) They have really interesting art and options that will elevate any dorm room design! You could put together an epic gallery wall for your graduate's room.
West Elm
West Elm Dorm, a division of West Elm Kids, has all the upscale style of their normal aesthetic and it translates beautifully into dorm room ideas. My love for West Elm runs very deep (just check out my home tour), but even I didn't know that they have a dorm section until I started researching for this post! I LOVE the wall decor options and they have some amazingly cool chair and futon options if you have space in your dorm.

IKEA
IKEA College is great for budget-friendly basics. Often, their quality for the price on essentials can't be beaten. They do such a great job at sleek and space-conscious storage and furniture, that it really translates perfectly into dorm living. And they also have fun decor, textiles and artwork. IKEA has a college dorm checklist on their site that may help you brainstorm what all your student needs, especially for freshman year when it is all new.
Dorm Room Ideas & Inspiration
There are some absolutely AMAZING stylish dorm rooms out there. I really had no idea you could do so much to elevate your student housing! These are some of my favorites and are sure to get you thinking about great dorm room decor ideas that you can add to your own space to make it feel special and a little more like home!
Glam College Dorm Room
I love this gorgeous design from a dorm at Mississippi State. These girls went above and beyond to make their room feel lux. The gold accents along with the beautiful color scheme are perfect and the neon sign keeps it feeling young. Adding a futon is genius and the table with drawers gives them a little added storage by their beds.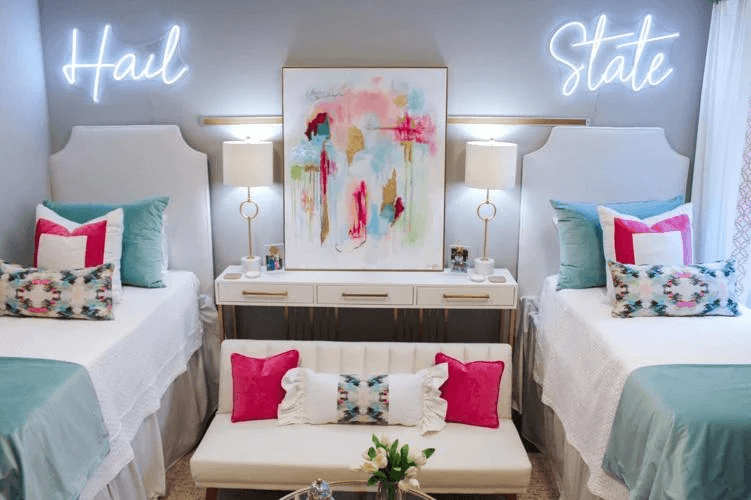 Pink and Tan Dorm Room with a Gallery Wall
This dorm room decor is feminine with a fun edge. I love the peel-and-stick wallpaper to set the desk area apart with the white paper flowers. The posters and art create a fun gallery wall over the bed and look perfect with the throw pillows. It is cohesive without being matchy-matchy! If you love this idea, check out my gallery wall ideas and tips!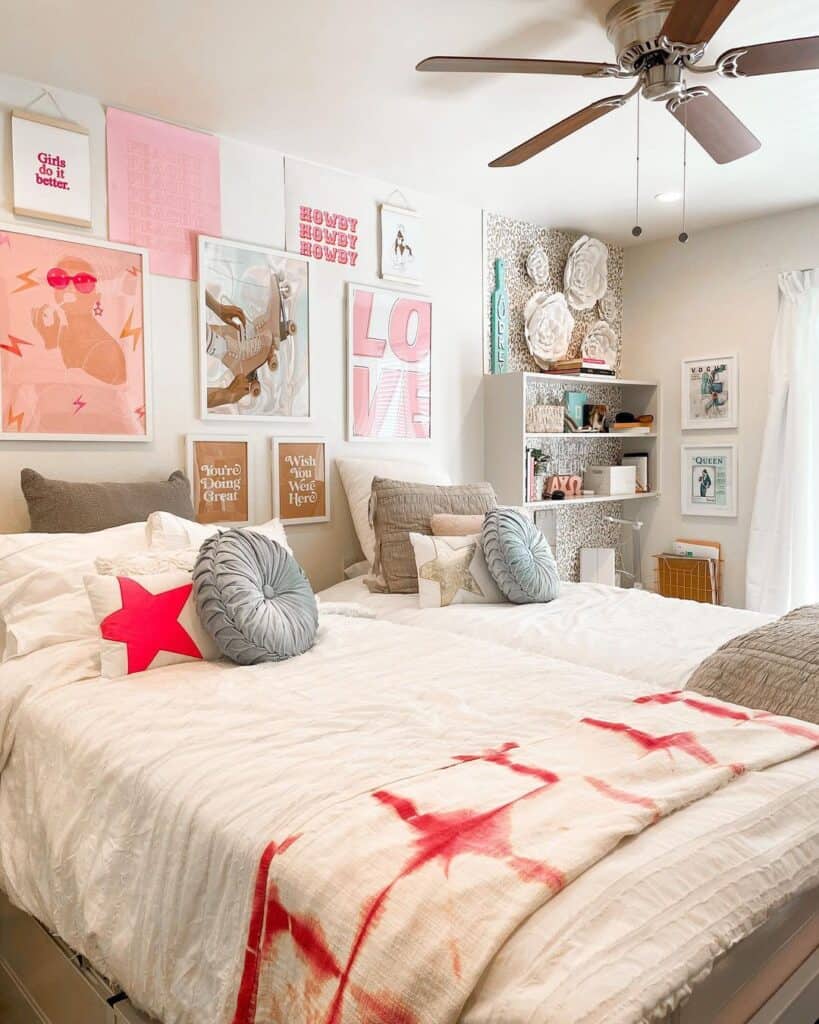 Sophisticated Neutrals
When your mom is a designer her dorm room ideas are sure to be amazing! This gorgeous living space hardly looks like a dorm room. The decor pairs so well with the standard-issue wood furniture! She added sheer curtains, a cool light and an area rug to make the room feel more like home and less like a beige box!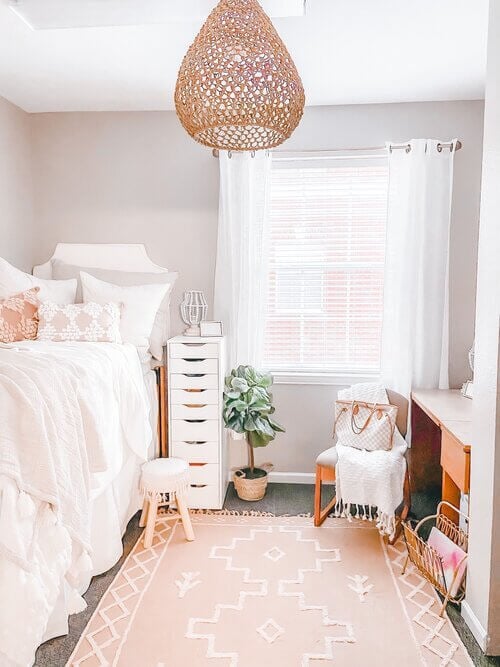 Boho Dorm
You don't have to totally change your dorm room to make your space special. Adding pieces to make it your own style and layering comfy textiles make a huge difference. Here the naturalist wall hangings, plants, and macrame pieces create a boho-chic feel when paired with neutral bedding and a graphic throw blanket. And I love the added twinkle lights and lap desk–they make it the perfect cozy space for late-night study sessions or hangouts!
Rock and Roll Gallery Wall
Let your art be the centerpiece in your dorm room! I love the squared-off gallery wall with bright images mixed with neon signs. The bright colors pulled out with the pillows and blankets pop perfectly off the white comforter and headboard she added. Pro tip: hide your under-the-bed storage area with an extra-long bed skirt!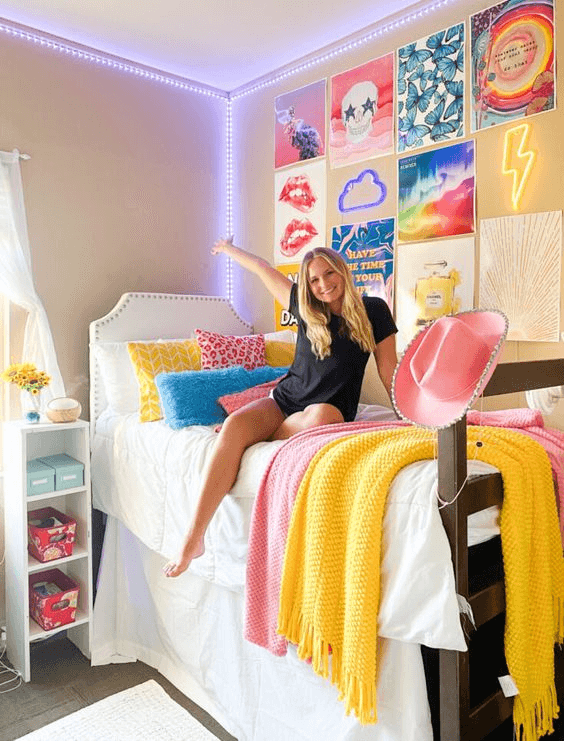 Black and White Boho Chic
Don't love a ton of color? Opt for a neutral palette that lets black be the stand-out! I love that it looks great with the existing creamy beige walls that almost every dorm has and the inevitable gray carpet. Adding a fun area rug with patterns makes the small space interesting and feel finished–most dorm rooms are carpeted, but you can absolutely put an area rug over carpet.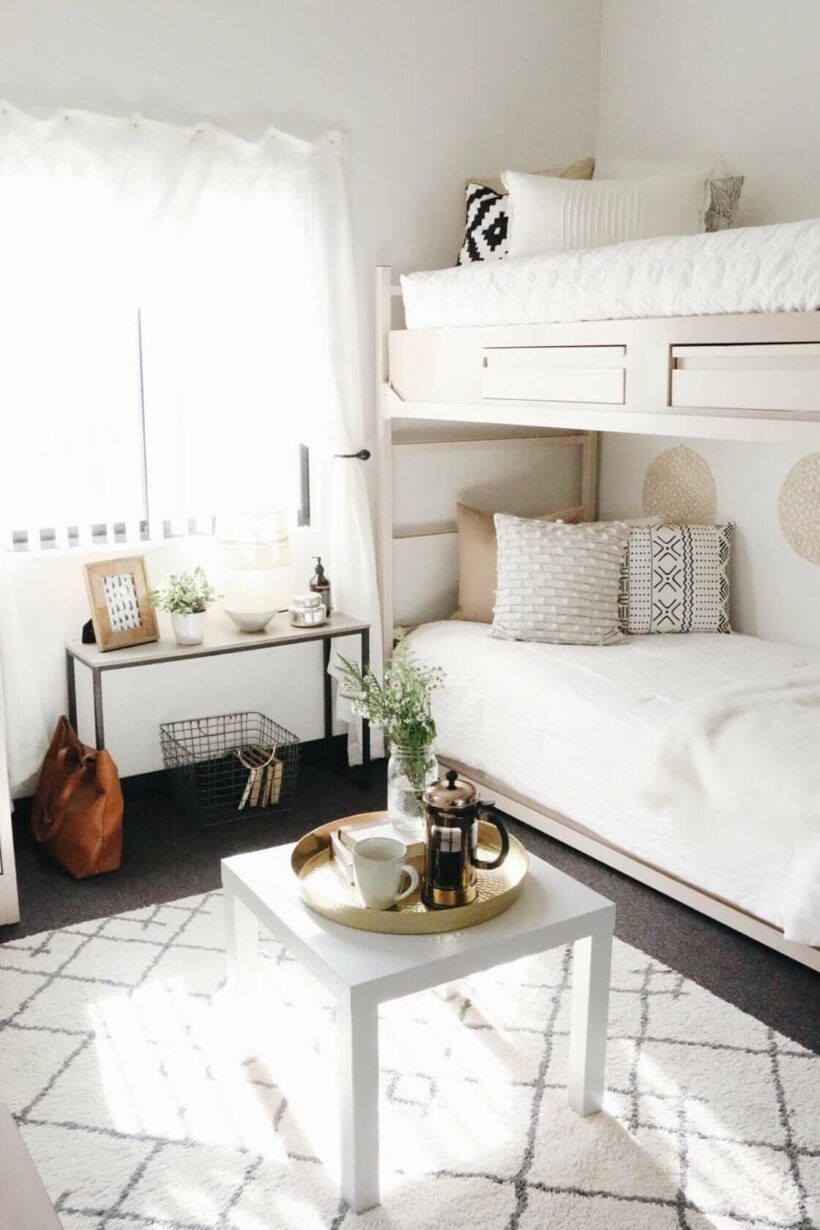 Coordinated Bedding and Vinyl Wall Decal
Planning your bedding with your roommate ahead of time is the best way to make your dorm room decor feel like you had a design plan instead of just winging it. I love this soft palette, and the storage ottoman for each girl is genius! The decals above the windows would be so simple to duplicate with a cutting machine. I made wall decals for my girls' room and it was so easy!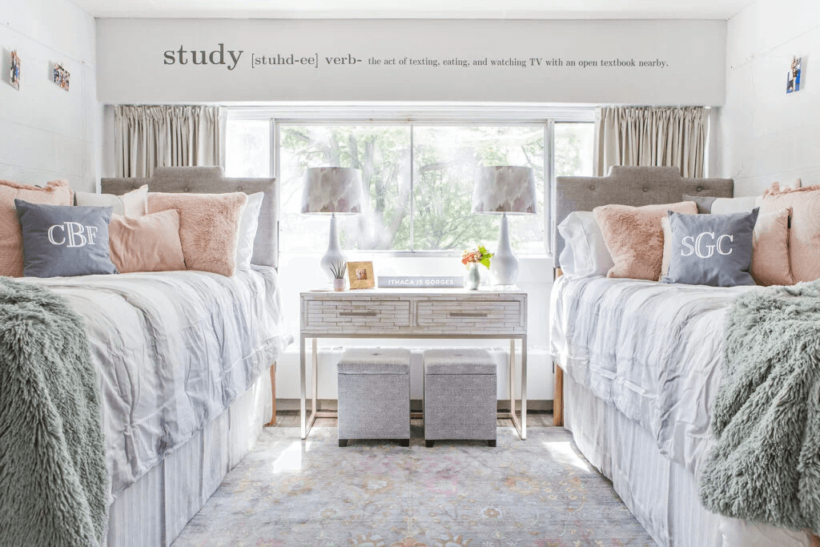 What should I add to my dorm room?
The aesthetics of a dorm room are important, but so is the function. Here's a list of dorm room essentials.
Storage
Storage, storage, storage! You need a place to put your clothes, books, and other essentials. There are lots of dorm room hacks out there to give you ideas on how to maximize storage in your dorm room.
Lighting
Lighting is essential in creating a cozy ambiance in any dorm room. If you have room for it, add a floor lamp so you don't have to use the harsh overhead light all the time. If not, try scattering smaller table lamps, or even wall sconces, around the space. I personally love string lights because they look magical and are very affordable.
Bedding
Your bed is the centerpiece of your dorm room. So make it comfortable and pretty! Choose a duvet cover that matches your style, add throw pillows, and a cozy blanket. Take it up a notch by adding a "faux" or dorm-friendly headboard. They really help make a dorm room feel cozy and comfy.
Wall Decor
Y'all know how I feel about the importance of wall art! It's so important to personalize a dorm room with some wall decor. And it doesn't have to be expensive. You could hang inexpensive posters with poster dots or sticky putty since some dorm rooms don't allow you to put nails in the walls. Command strips are also an option, so you can hang whatever you want without damaging the walls. Better yet, make your wall decor pretty and functional with a wall calendar that doubles as art!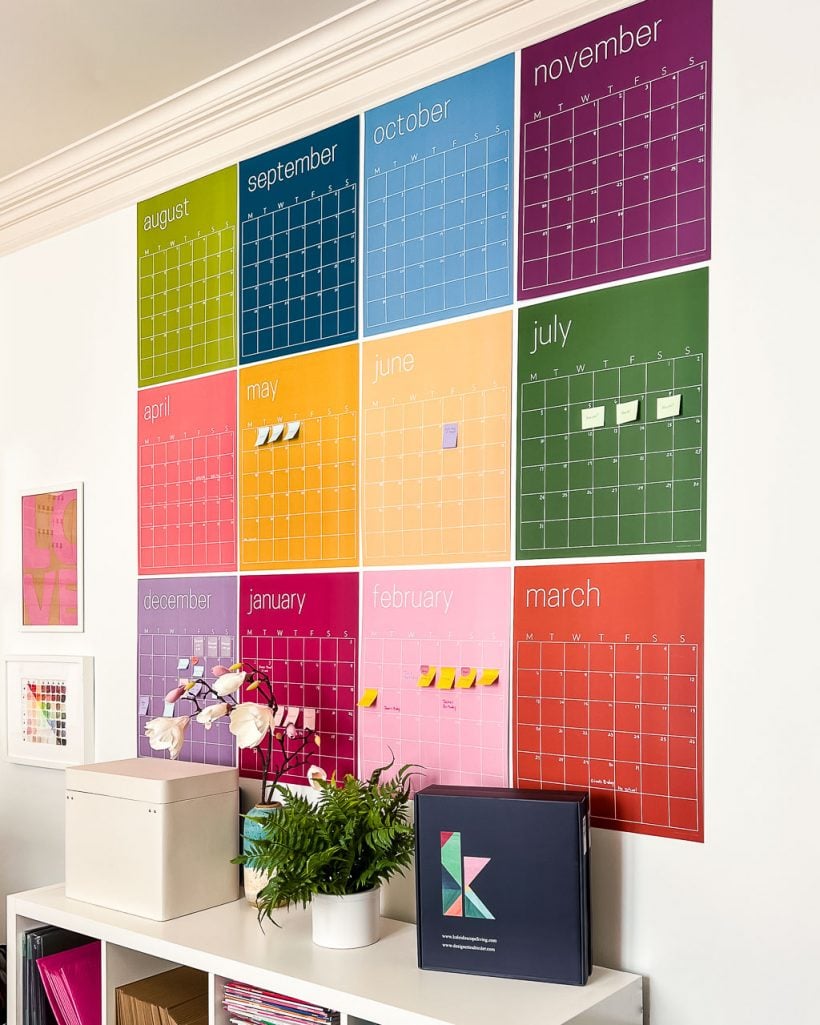 Aren't these dorm room ideas so inspiring? I so wish I had all these amazing places to shop back when I was choosing things for my room. They are proof that decorating your dorm room can give you the room of your dreams. With some creativity, creative dorm room hacks, ambient lighting, comfortable bedding, and personalized wall decor, you can create a warm and welcoming space where you can relax and thrive. Happy decorating!
Other posts you may enjoy:
Wondering how I approach transforming rooms and spaces in our home? Check out Designer in a Binder®.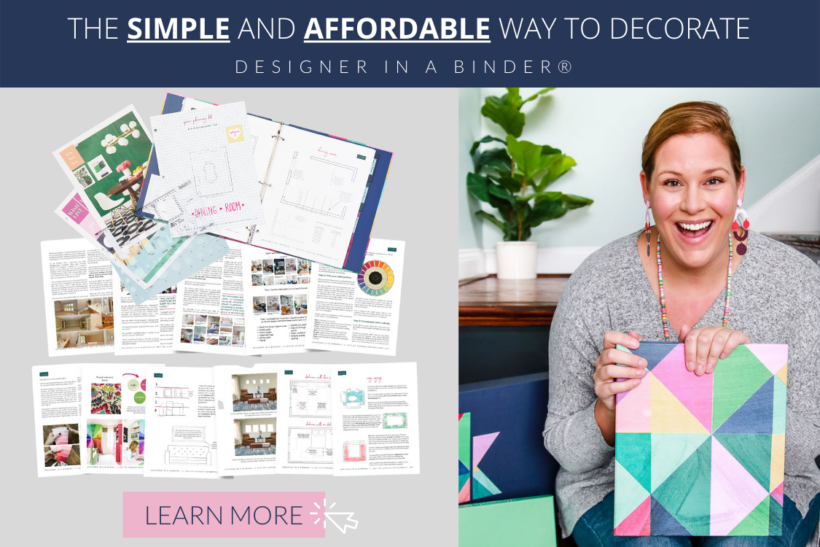 And if you want exclusive content and behind-the-scenes sneak peeks, be sure to subscribe before you head out!