The Dos and Don'ts of Using Area Rugs on Carpet
I often get asked, "Can area rugs go on carpet?" and my answer is absolutely! In fact, I highly recommend using area rugs over carpet because it's such an important way to add color, pattern and texture to a space.
While using area rugs on carpet can be a great way to add style and texture to your home, there are a few things you should keep in mind to ensure that you're doing it right. In this post, I'm sharing some of the dos and don'ts of using area rugs on carpet.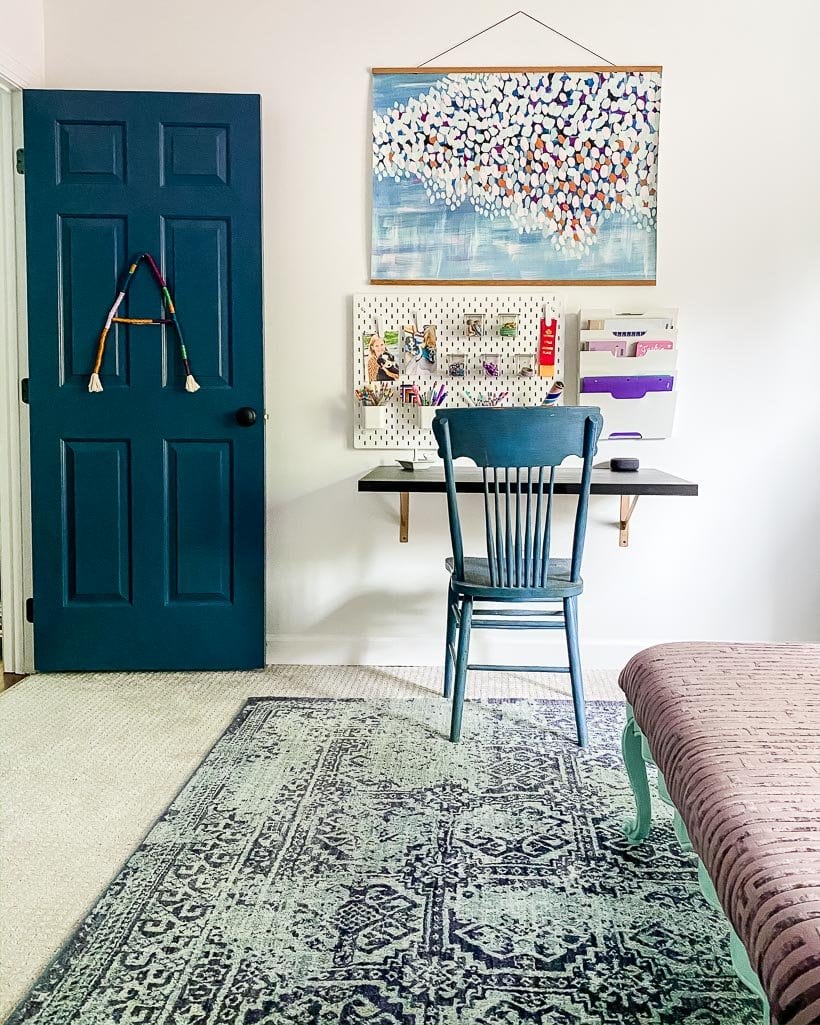 Have you ever wondered "can you put an area rug on carpet?" Do you have carpeted floors but long for the color, pattern, texture and interest that an area rug can add to your space? Area rugs on carpet can be the perfect solution. Not only do they add a pop of color and texture to any design, but they can also help define and anchor spaces in your home.
Design aesthetics aren't the only benefit of using an area rug in a space with wall-to-wall carpeting. Here are some other benefits of using an area rug over carpet:
They hide stains, damage and imperfections on your carpet
They can extend the life of your carpeting
They can detract attention from carpeting you don't like
That said, using area rugs in a carpeted room can be a bit tricky. That's why I've put together a list of dos and don'ts to keep in mind when selecting and placing your rugs. From using a rug pad to choosing complementary colors, I've got you covered.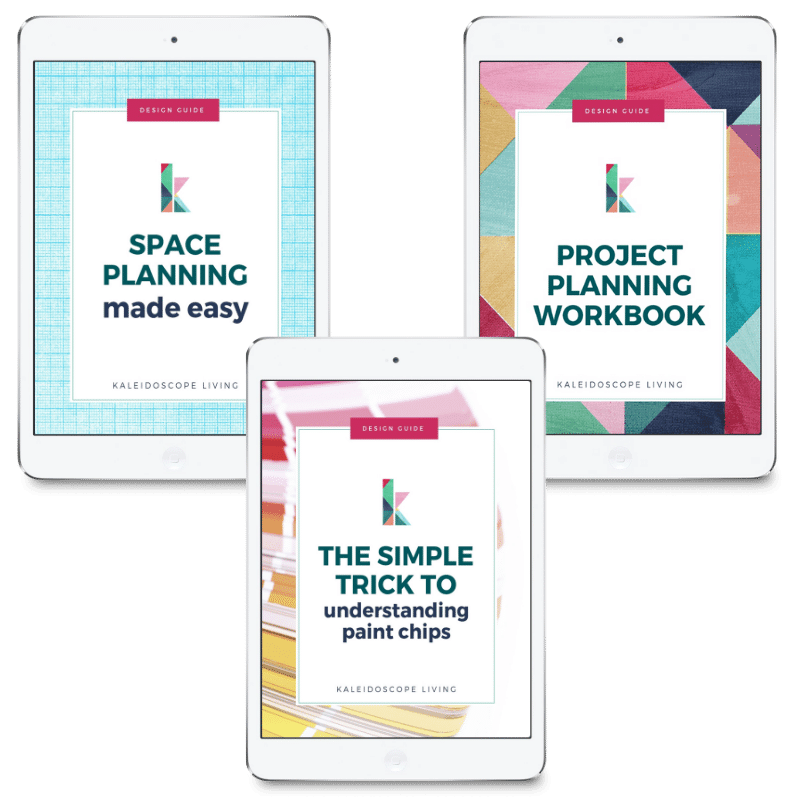 Get my FREE design guides when you subscribe!
This post contains affiliate links for your convenience. Click here for my full disclosure policy.
Need a link?
If you want to know what paint colors we have used in our current house or where we have found our furniture, art, rugs, etc., click below to find it on our home tour page!
Do Consider the Textures / Firmness of Your Carpet
Area rugs generally work best over short-pile or looped carpet. If you have a low-profile berber carpet, or short-pile or looped carpet (like us), you can place thick, plush or even shag rugs on top of your carpet. The additional visual softness will compliment the flat, firm carpet.
If you have a plush style of carpet, it is probably best to avoid a thick plush area rug on top of it because the textures would be so similar and the area rug would not have the firm support that it needs. Instead, look for a thinner, flat woven rug.
Last, if you have a very long-pile carpet, such as shag or frieze, you should probably avoid placing an area rug on top of it because it will not have the firm support it needs. And I don't think there is a rug pad out there that would keep it in place and keep it from buckling. Sad, but true.
Do Use a Rug Pad
Ever wondered how to keep area rug on carpet from moving? One of the biggest challenges of placing an area rug on top of carpet is that it can slip, buckle and/or bunch, which is not cute and it can be a trip hazard. It is crucial to use a rug pad that is made for the purpose of holding an area rug in place on top of carpet. It has taken me many years and lots of experiments with rug pads to find which work best in this situation.
Rug Pads for Area Rugs Over Carpet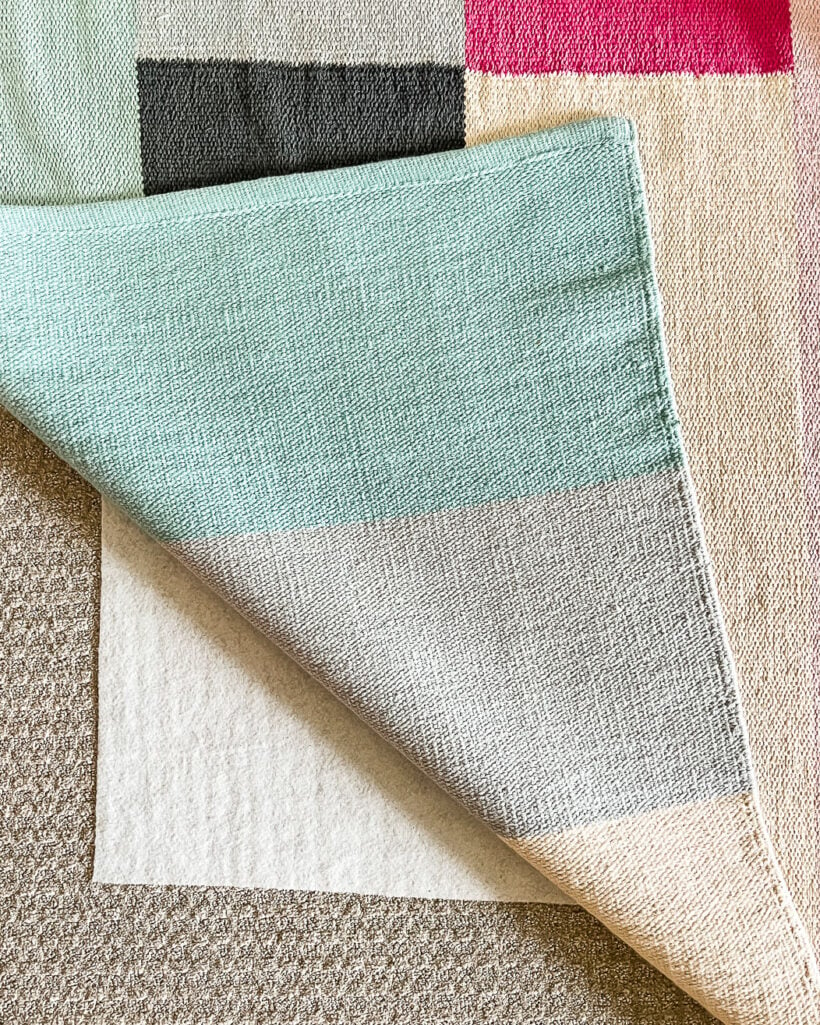 For thin, woven area rugs on top of carpet
When placing a thin, woven rug (cotton, wool, etc) on top of carpet, this is by far the best rug pad to use. It's thin and slightly tacky and keeps your rug in place and prevents wrinkling/bunching.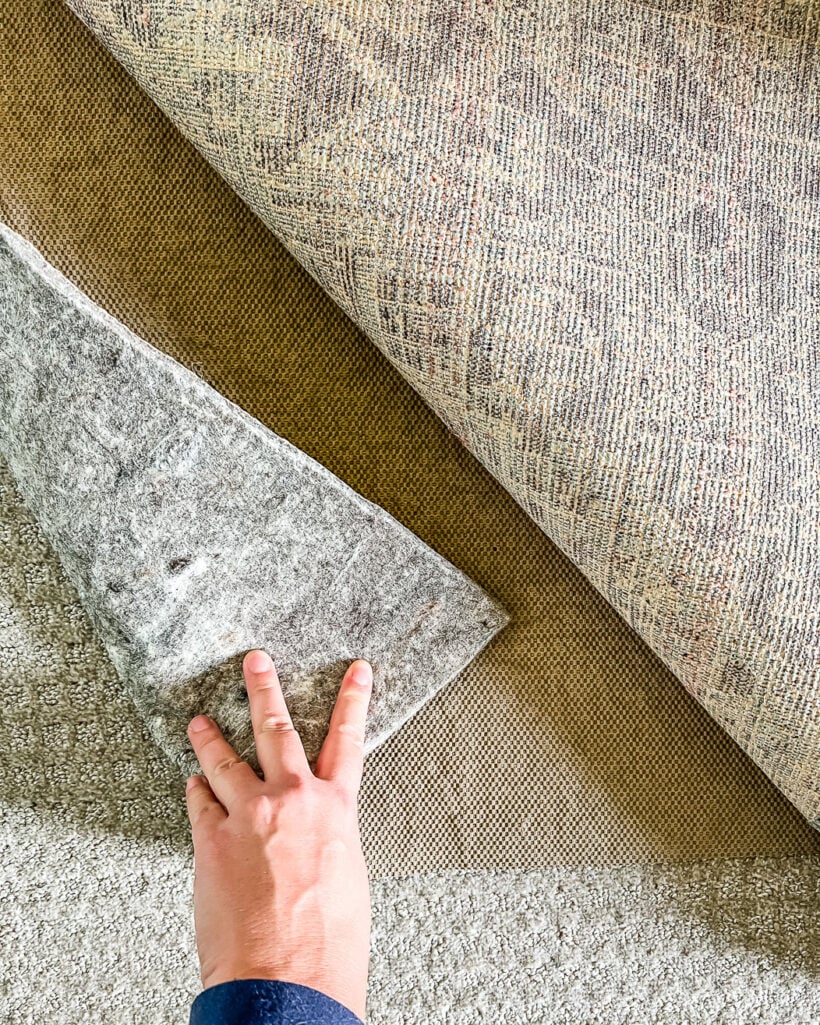 For plush area rugs on top of carpet
Plush rugs aren't as likely to wrinkle or bunch, so I prefer using this rug pad when placing a plush area rug on top of carpet. Just be sure to place the rubber side against the rug and the felt side against your carpet.
The Best Rug Pad for Thin Woven Rugs on Carpet
When I first placed this thin cotton area rug over the carpet in my daughter Attley's room, it was constantly getting wrinkled and bunching up even though I had a rug pad that was advertised as suitable for rugs on top of carpet (and it wasn't cheap). It was very frustrating.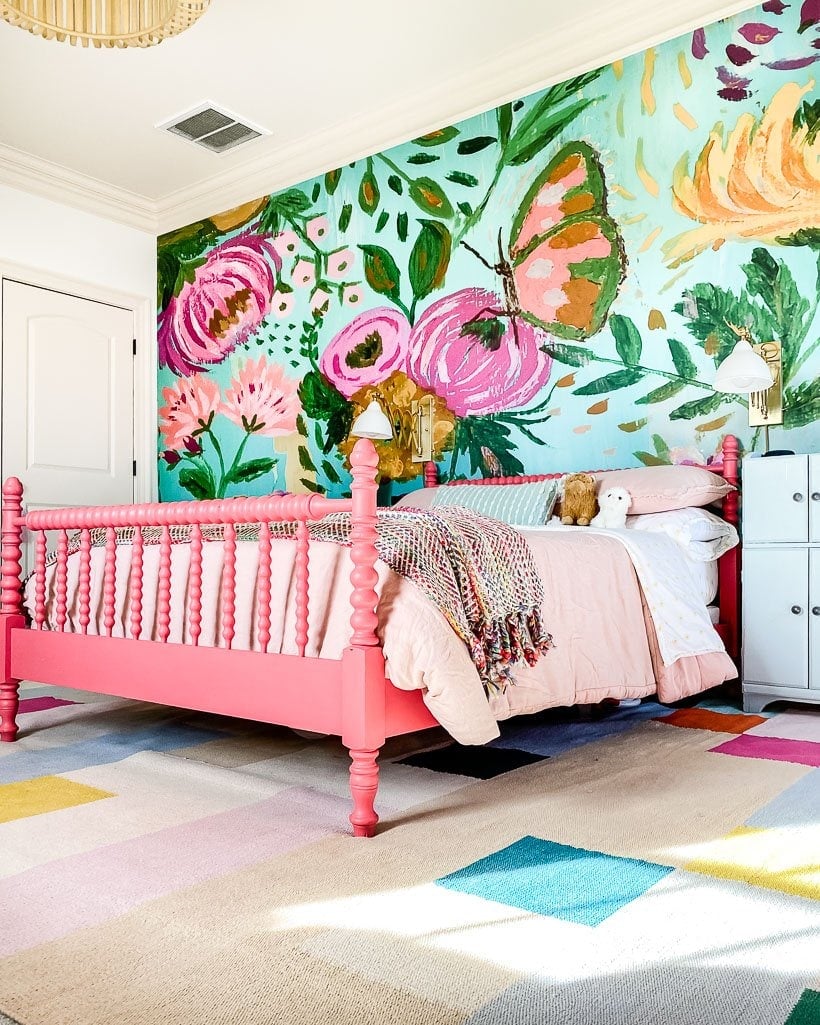 After more research, I ordered this rug pad and it works perfectly. It is very, very thin and a bit tacky (though it doesn't leave any residue on surfaces–don't worry). I highly recommend it!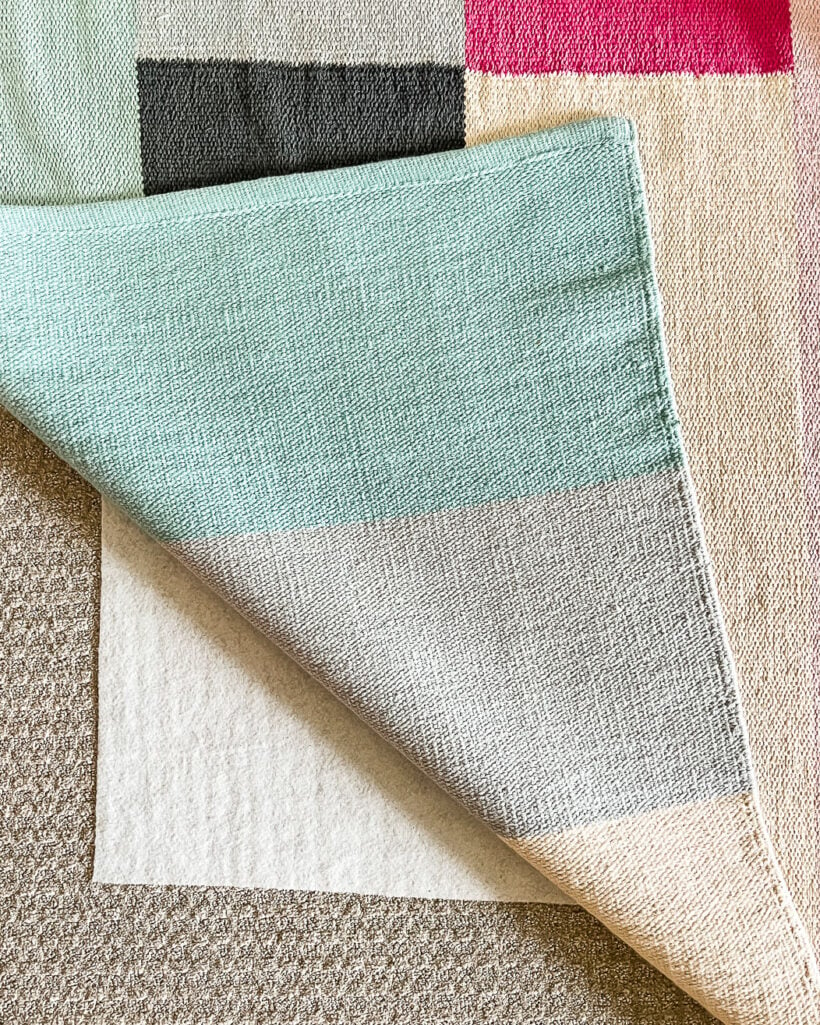 The Best Rug Pad for Plush Areas Rug Over Carpet
For keeping plush area rugs in place over carpet, I recommend this rug pad. It's thicker and works great! Note that it can also be used on hardwood floors, but don't let that confuse you. When using it between an area rug and carpet, place the rubber side against your rug and the felt side against your carpet.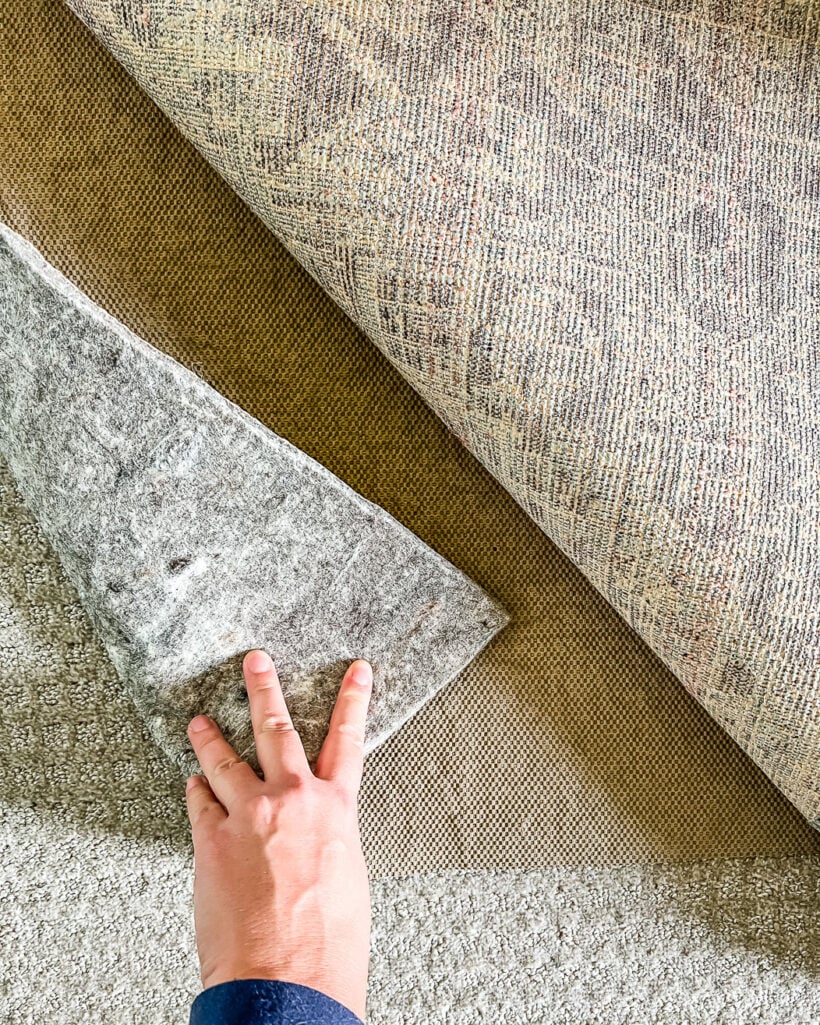 Other Solutions for Keeping Your Area Rug In Place Over Carpet
Wondering how to anchor area rug on carpet without using a rug pad? You may find that even the best rug pad may struggle to keep your area rug from shifting or bunching over your carpet. Or maybe you want to skip the added expense of a rug pad. In that case, you can use these rug anchors or this double-sided carpet tape. I have used both over the years and sometimes even use them along with a rug pad to keep the corners of area rugs down so no one trips.
You can also do what we did in our upstairs hallway… drive a screw through your area rug and carpet down to the subfloor. I know it sounds kind of absurd, but it works! It's a thin rug and I didn't have a rug pad for it (and didn't want to buy one). But this high-traffic area gets too much action to stand up to carpet tape, etc. You can barely see the screw head in each corner (I'm pointing at a screw head in the photo below) and I haven't had any issues with it damaging the carpet underneath. But you will wind up with 4 small holes in your area rug.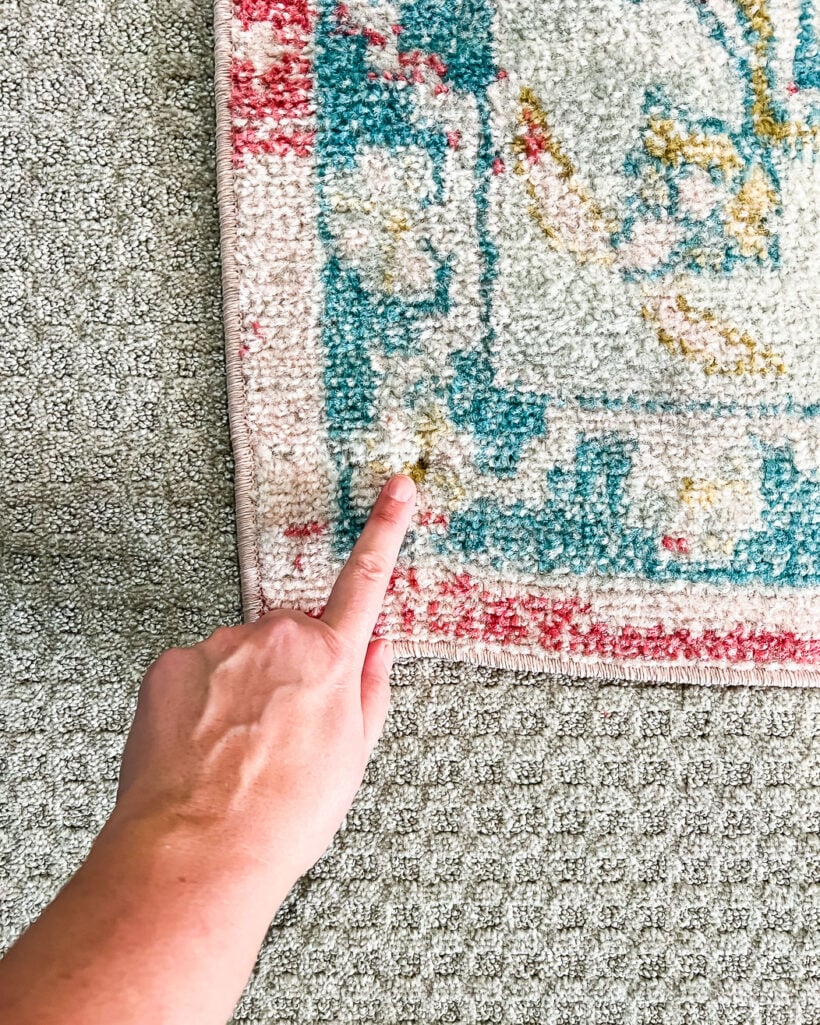 Do Choose A Rug that Complements Your Decor & Anchors Your Space
The primary purpose of placing an area rug over carpet is aesthetics. Either you want to cover up carpet that you don't care for, or you want to bring in pattern and color with a rug, or both. So you want to be sure to choose a rug that complements your decor makes a design statement.
Ideally, you may choose an area rug as your "crucial element" (a design principle I go into in detail in Designer in a Binder®) so that you can then design the room around your area rug. But if you are adding an area rug into an existing design, look at your the color scheme and patterns in your room. Look for rugs that have complementary colors, or ones that feature a pattern that ties in with the overall design scheme.
You can see how the area rug I placed over the carpet in Attley's old bedroom compliments the wall mural and other elements in her room.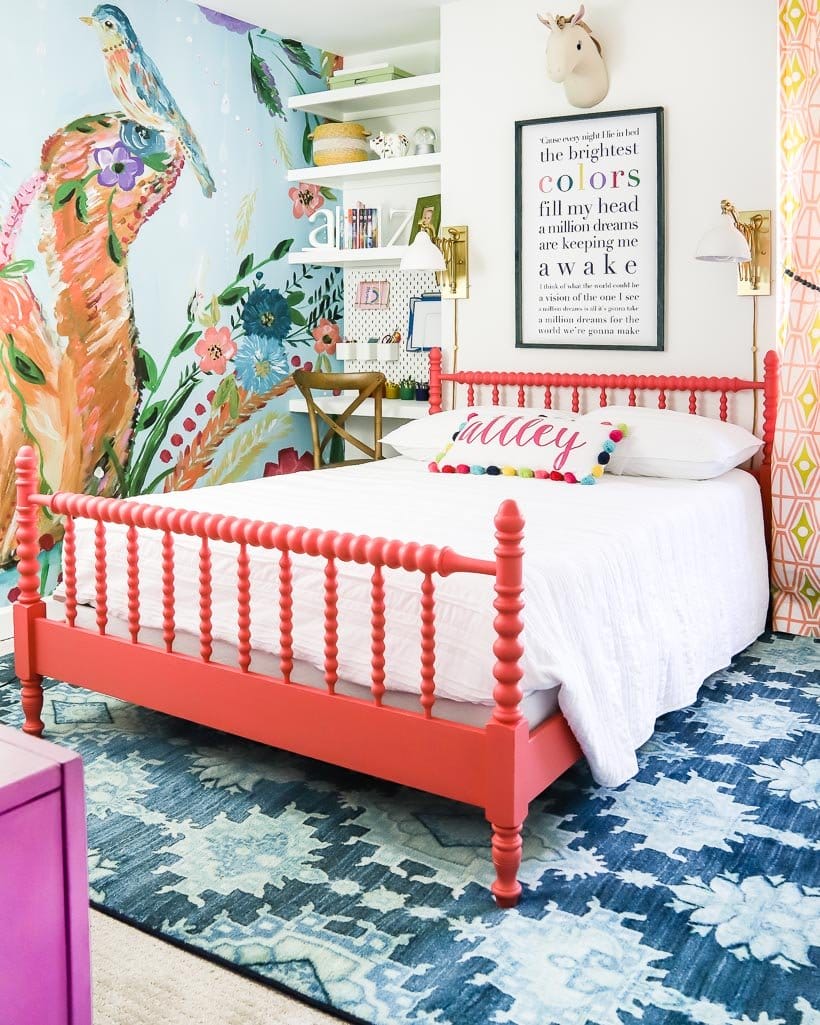 And the area rugs we added to our upstairs hallway really helps define and anchor the space, which is important since the space is large and awkward.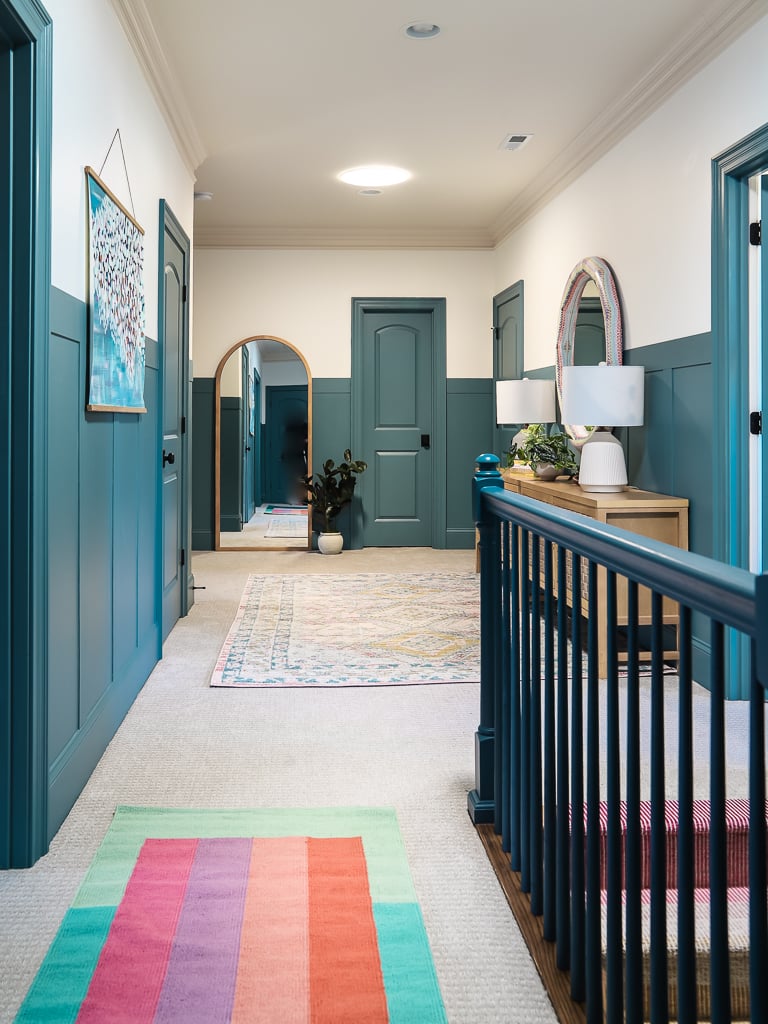 Do Consider the Size and Placement of Your Rug
When it comes to using area rugs on carpet, size matters! The size of the rug should be proportional to the size of the room and the furniture within it. A rug that is too small may look awkward and out of place, while a rug that is too large can overwhelm the space. And how you place furniture on your area rug matters as well. I share more specific rug sizing and placement tips in these posts: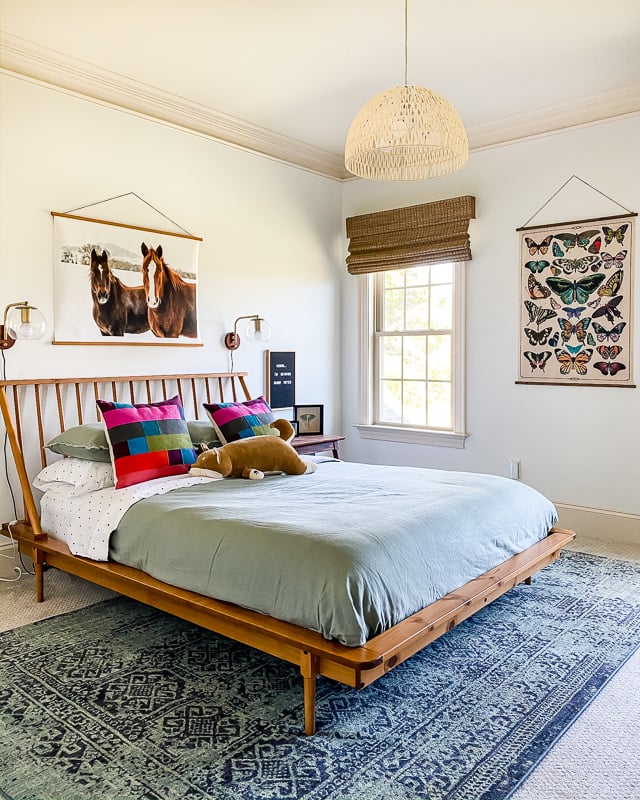 Don't Forget to Clean Your Area Rug AND Carpet
Once you have chosen the perfect area rug to complement your carpet and enhance the design of your room, you need to keep it clean. A clean rug not only looks better, but it can also improve indoor air quality and prevent the buildup of allergens and dust. Be sure to vacuum it regularly (at least once a week).
I also recommend cleaning your area rugs at least once a year. And you don't have to hire a professional to do it! I have cleaned my own rugs and carpets for years using this carpet cleaner. It's amazing, convenient and I love that it hasn't been used to clean a zillion other rugs (just feels a bit more sanitary to me).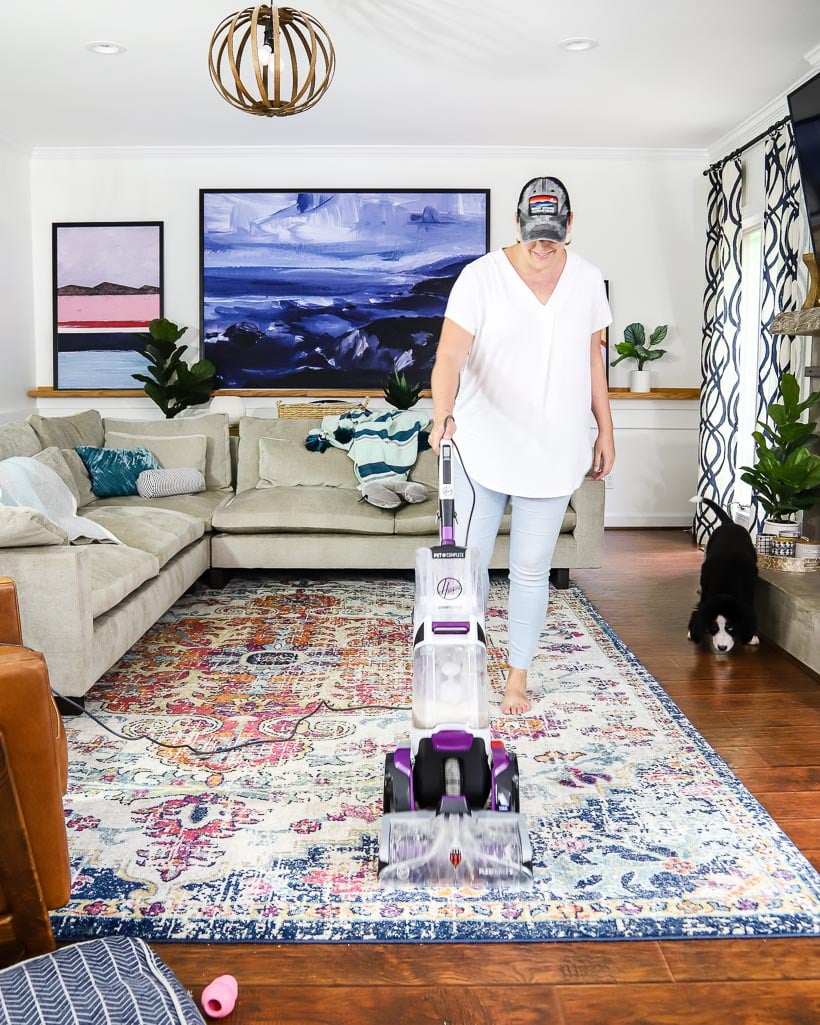 And don't forget about the carpet under your area rug. Every once in a while, fold your area rug back as much as possible to vacuum and/or clean the carpet underneath it. You would be surprised how much dirt and nastiness can sink through an area rug and the rug pad to your carpet!
And of course, if you spill something on your rug, clean it as quickly as possible. I recommend placing a folded towel between the area rug and the rug pad so that it doesn't seep through to the carpet beneath. My favorite carpet spot cleaner is Folex. It's cheap and works incredibly well.
I hope you can now see how using area rugs on carpet can help you create a beautiful and inviting space in your home. And these few simple dos and don'ts will ensure your area rug stays in place and lasts a long time!
Wondering how I approach transforming rooms and spaces in our home? Check out Designer in a Binder®.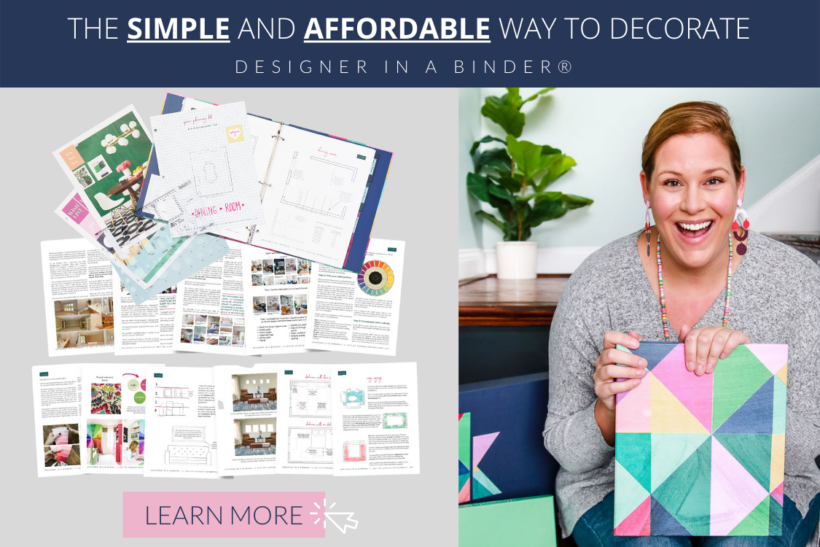 And if you want exclusive content and behind-the-scenes sneak peeks, be sure to subscribe before you head out!