How To Choose The Right Rug Size For Your Living Room or Family Room
Today I'm sharing my tips for choosing the right rug size for your living room or family room. Why? Because: 1) it's something I get asked about often and 2) I see lots of people buying living room rugs that are too small for their space. And I get it! There are so many rug sizes, choosing the best size for your space can be tricky. Fear not. I'm sharing simple tips for living room rug size and placement that will make it easy for you! I'm also sharing some of my favorite affordable rugs at the end of this post.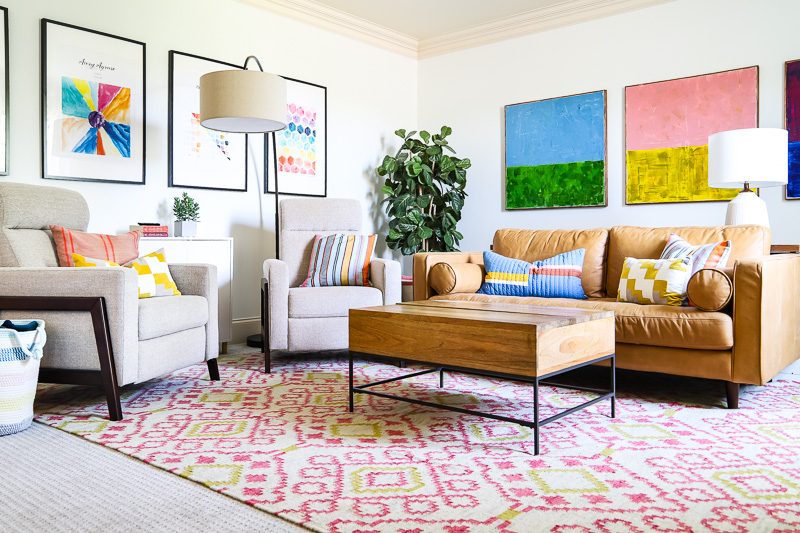 Rug size and placement are topics that I talk about in Designer in a Binder because area rugs can be such an important part of getting an interior design for a room just right. There's nothing that brings a room together quite like a beautiful area rug (which is why I even put area rugs in carpeted rooms). Similarly, nothing looks quite as disjointed as a rug that's too small or dwarfs the space. It's all about balance. If you're wondering where to buy a great rug, there are plenty of places to find rugs for well under $300.
A rug is a major focal point, so take your time and find the perfect piece to tie it all together perfectly. You can check out this post about GORGEOUS colorful rugs that are a perfect starting point for any room.
This post contains some affiliate links for your convenience. Click here to read my full disclosure policy.
What is the purpose of a living room rug?
I have had to emphasize the importance of a living room area rug to my own husband so many times. When we installed new flooring in our old family room and again when we moved into our current home, Joe said, "Let's not put an area rug down. I don't want to cover up the nice floors."
I wish you could have seen my face both times. Needless to say, I did my best to explain to him why area rugs in living rooms and family rooms are so important.
A living room rug is the anchor for your entire space. A living room rug helps define your sitting/conversation area. And an area rug can literally help define your living room or family room if you have an open concept floor plan. In my opinion, an area rug is one of the most important aspects of any living room or family room!
What is a good size rug for a living room?
Obviously, the "right size" depends upon the size of your furniture and your room. But the most common living room rug sizes are 8′ x 10′ and 9′ x 12′. Sometimes extra large living rooms or open-concept living spaces look best with a 12′ x 18′ rug. With very few exceptions, a 5′ x 8′ rug or 5′ x 7′ rug is too small for a living room. If you have a smaller rug you love and want to use, consider layering it on top of a larger rug (more on this later).
Rug Size Tips & Placement Advice for Living Room Rugs
Here are some general tips to keep in mind when choosing a rug for your living room or family room.
The most common living room rug sizes are 8′ x 10′ and 9′ x 12′. Sometimes extra large living rooms or open-concept living spaces look best with a 12′ x 18′ rug.
Leave between 10 and 24 inches between your living room rug and wall.
The length of your rug should run parallel with your sofa or couch.
At least 2 legs of every piece of furniture in your living room should sit on your rug.
Your rug does not have to run all the way beneath your sofa. Just be sure the front of the sofa does sit on top of your rug.
A living room rug should never float in the middle of a living room with only a coffee table on it.
Now let's dig a bit deeper. When it comes to rug placement in your living room, you don't want your rug to go right to the wall (à la carpeting). You do want some space between the wall and your area rug (between 10″ and 24″). But you don't want a rug to look like a tiny island, lost in the vast sea of your living room floor.
Below is my sketch of living room rug sizing and placement–as I explain below, your living room rug could be larger than what you see below, but should not be any smaller since at least 2 legs of each piece of furniture should sit on the rug.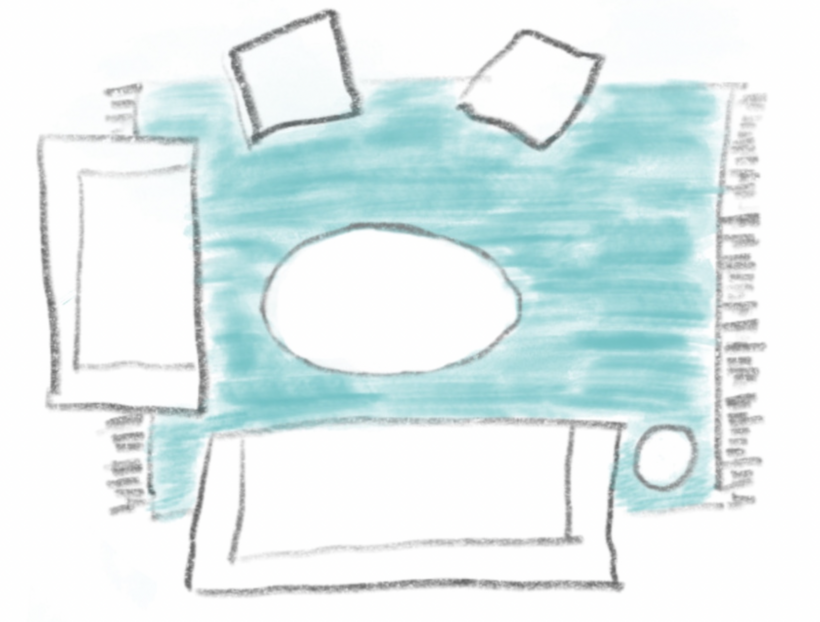 How to Arrange Your Furniture On Your Rug
Some Legs of Your Furniture Pieces On Your Rug
You can see a photo of our old family room below that shows good placement of a living room rug. It fits the proportions of the room fairly well and at least 2 legs of each piece of furniture fit on it. In retrospect, I think we could have gone with a slightly larger rug because our West Elm Harmony sectional sofa is so large. Anything smaller definitely would not have fit the space properly.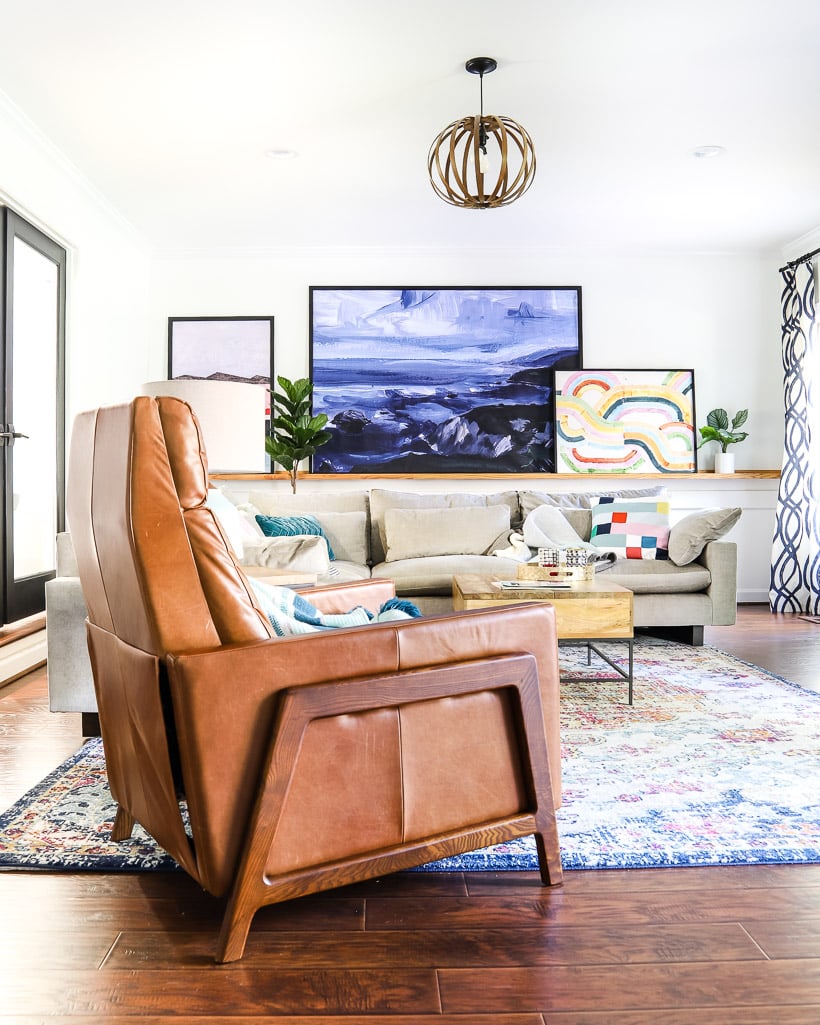 In our current family room, we have the same furniture and have used a slightly larger rug, and I do prefer it now that we have around 8″ of rug extending beyond the edge of our sectional sofa.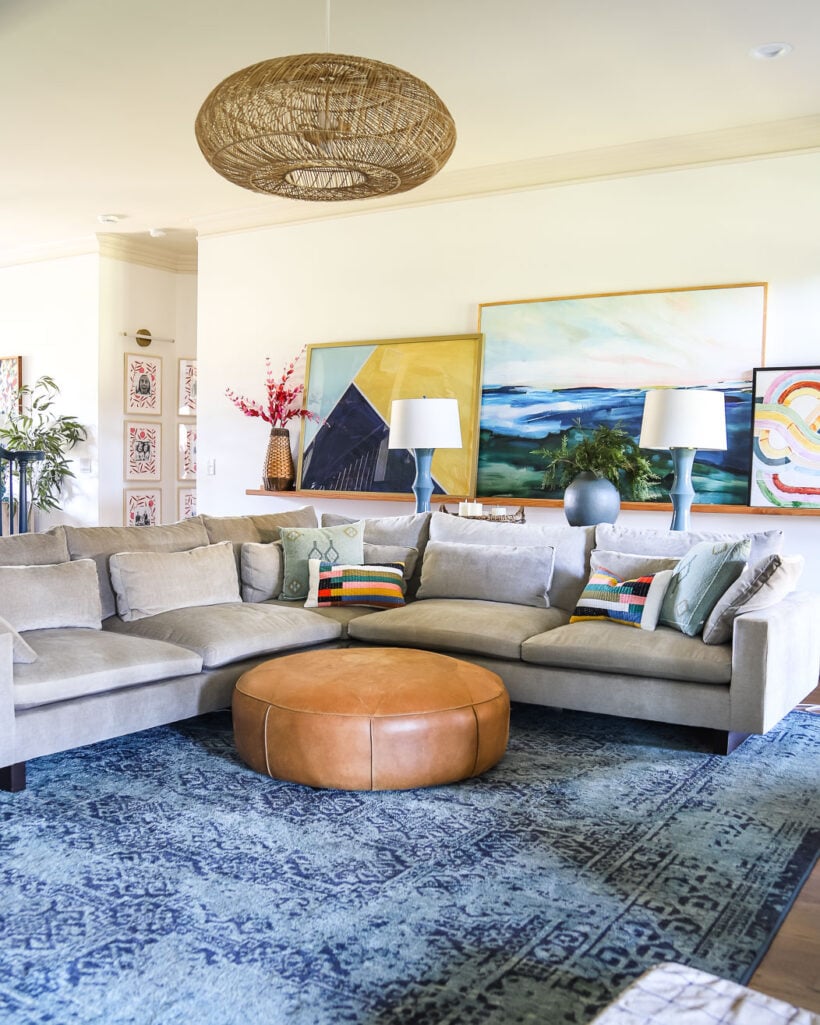 But in the view below, you can see that we have still chosen to place only two of our West Elm Spencer recliner legs on the rug.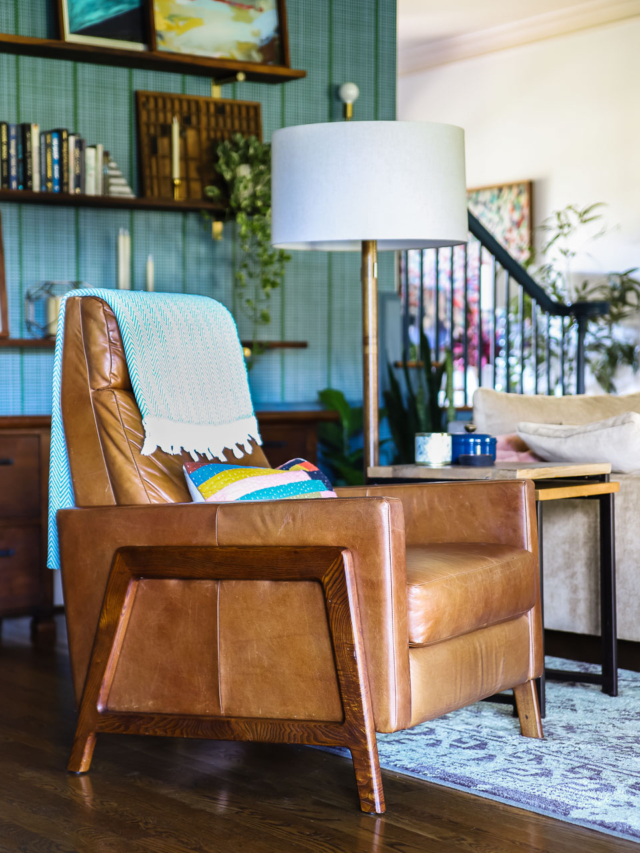 In our upstairs family room/bonus room, we used a 9′ x 12′ rug and you can see that all of our furniture sits on the rug except the back legs of our two stylish recliners and the cabinet that sits in between the recliners.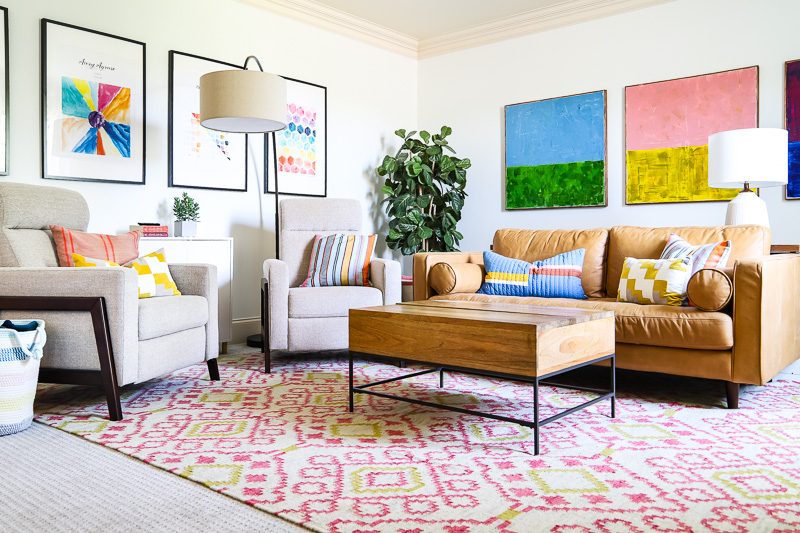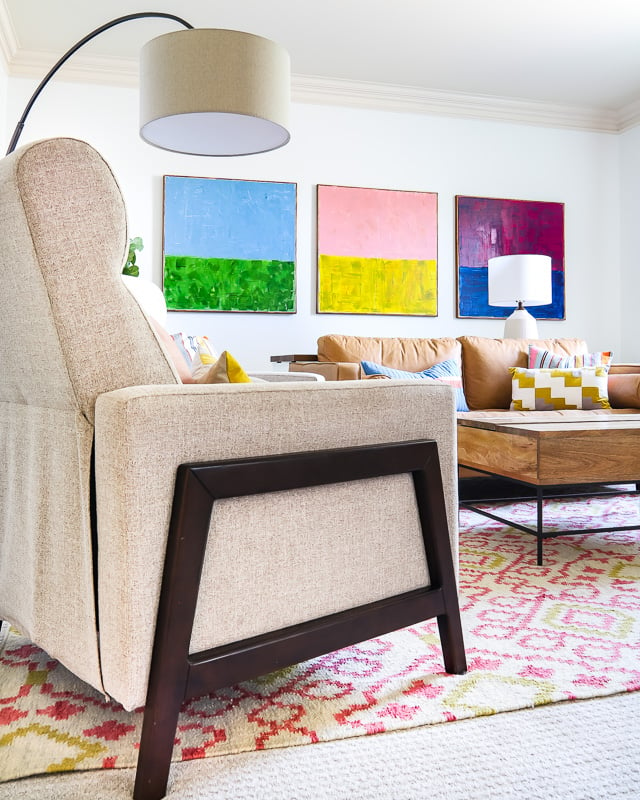 All Legs of Your Furniture Pieces On the Rug
Some people strongly prefer that all legs of their living room furniture sit on their area rug. But keep in mind if you choose this option, you want the rug to be large enough to extend 8″ inches beyond the furniture arrangement. Again, I think that option would have worked in our family room (above) if we had gotten our rug one size larger. Below is an example of a living room rug that is large enough for all of the furniture legs to fit on it and extend beyond the furniture arrangement.
We chose the "all legs on" placement option in the sitting area of our bedroom (which we essentially treated as a living room because it was so large). Our seating arrangement of two recliners and a leather ottoman all fit on the area rug.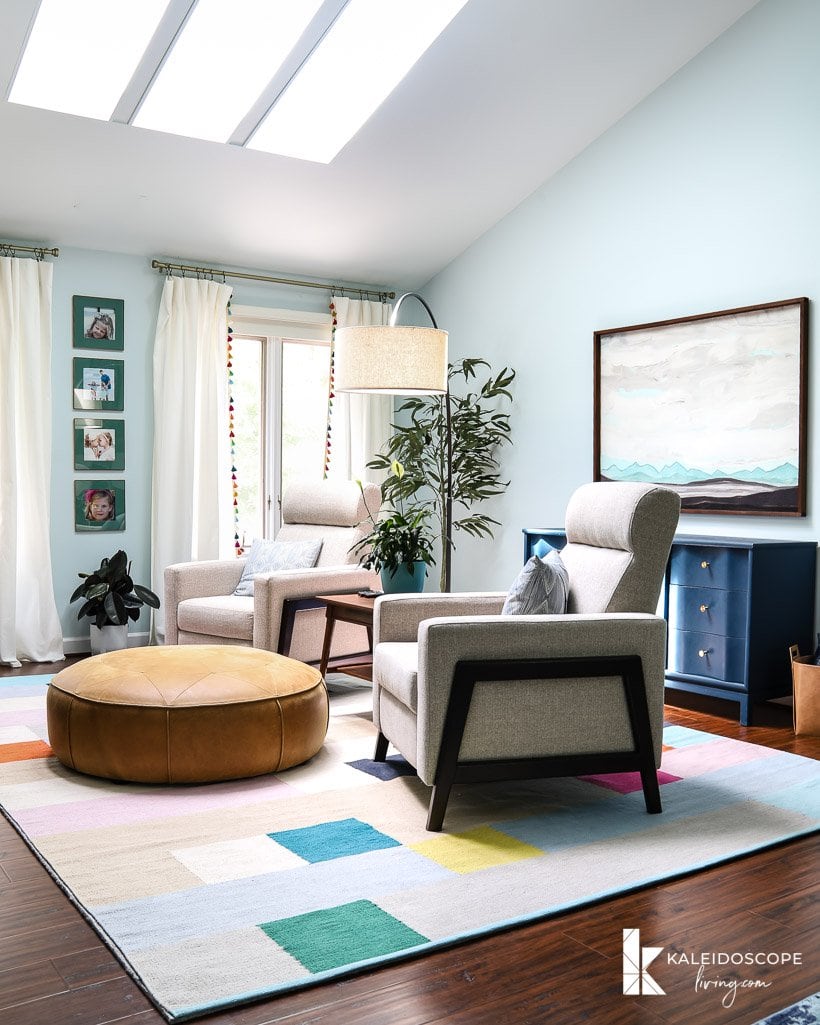 The same principles that are used for living rooms work in secondary sitting areas as well. In the sitting area off our kitchen in our current house, we chose a smaller rug (8′ x 10′) that fits all legs of the seating furniture on it. The front legs of the dresser that we use as a coffee bar also sit on the rug. By the way, if you have a rug you love that is too large, did you know that you can cut a rug to resize it? Yep!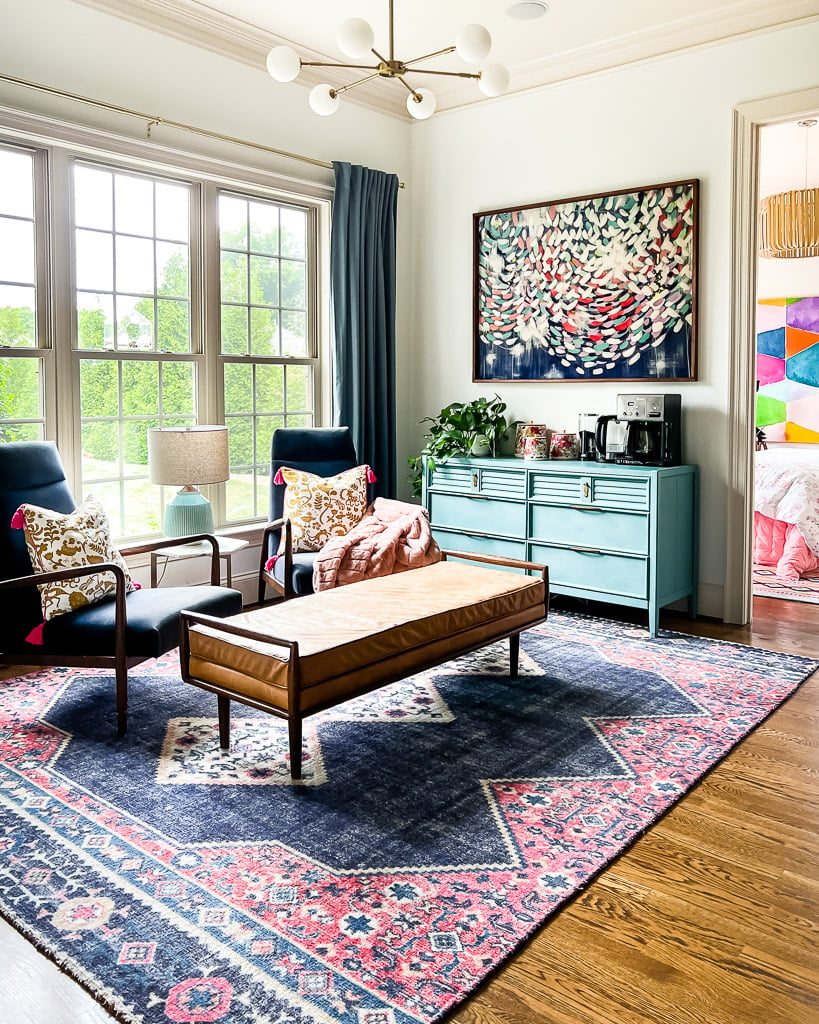 If your furniture has delicate legs, keep all of the legs ON the rug. Larger furniture (such as a sectional sofa), look fine with a rug tucked 8-12" under the edge of the sofa. But see the side chairs in the photo below? Those a delicate enough that all 4 legs of the chairs should sit on the rug.
Options for Smaller Rugs in a Living Room
If you are wondering, "Is there any way to use a small rug in a living room?" or "What can I do with a 5′ x 8′ rug?" don't worry…. you have some options!
If you have a smaller rug, like 5′ x 8′ or 5′ x 7′ already that you absolutely love and that goes beautifully with your decor, you can layer it on top of a large rug so that you get the overall area rug size your living room needs.
Jute rugs are a popular choice for the large, base rug when layering. They add some beautiful warmth and texture and the color is neutral enough to go with pretty much any smaller rug on top.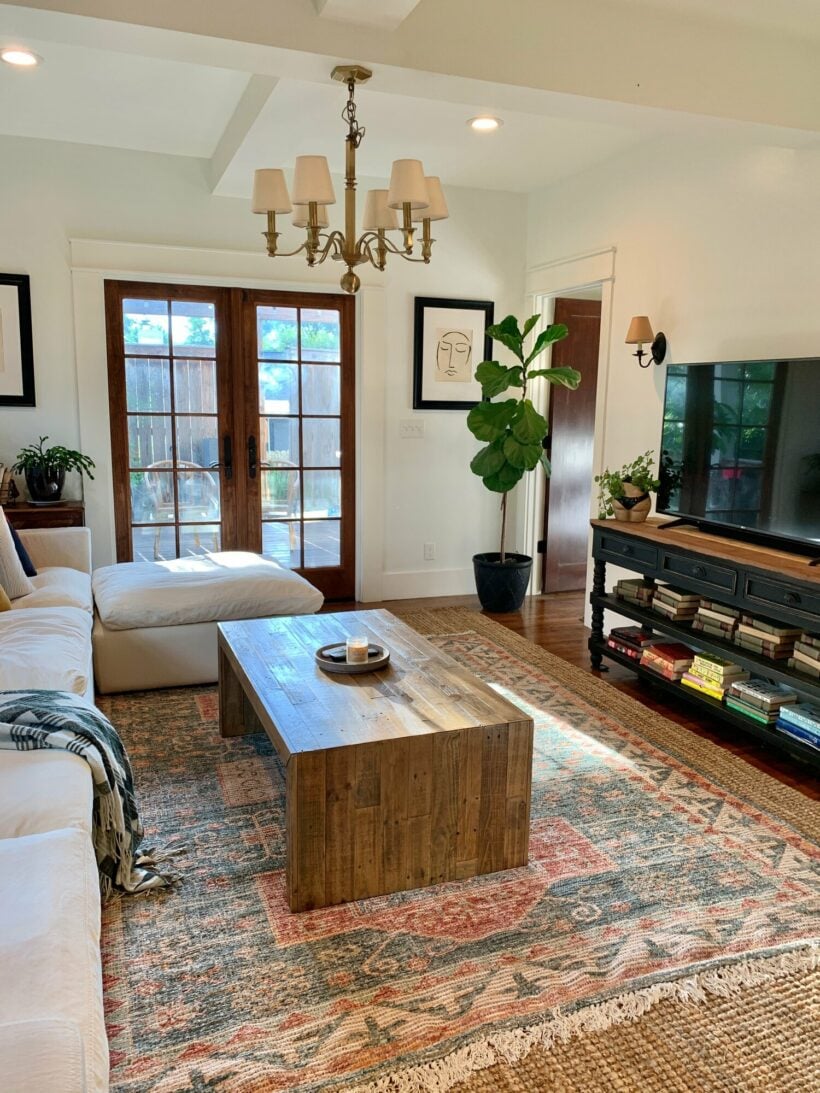 So there you have it! I hope you now feel ready to choose your next living room rug without stressing over what size to get or how your furniture should it on it!
Where can I buy an affordable rug for my living room?
I've sourced some beautiful and affordable rugs for you! The prices are based on an 8 x 10 size and are grouped based on the price at the time I'm writing this post. If you click on one and it's over the price of the group it is in, rest assured it is likely to go on sale so keep your eye on it if you love it! You can also follow me on Like to Know It where I often share sales on rugs that I love! And if you need a good rug pad, be sure to check out my rug pad guide.
Large Rugs Under $300
Click on any rug below for full product details.

Large Rugs Under $500
Click on any rug below for full product details.

Large Rugs Under $600
Click on any rug below for full product details.

Be sure to save this post so you can refer back to it whenever you need to :)
Other posts you may enjoy:
Wondering how I approach transforming rooms and spaces in our home? Check out Designer in a Binder®.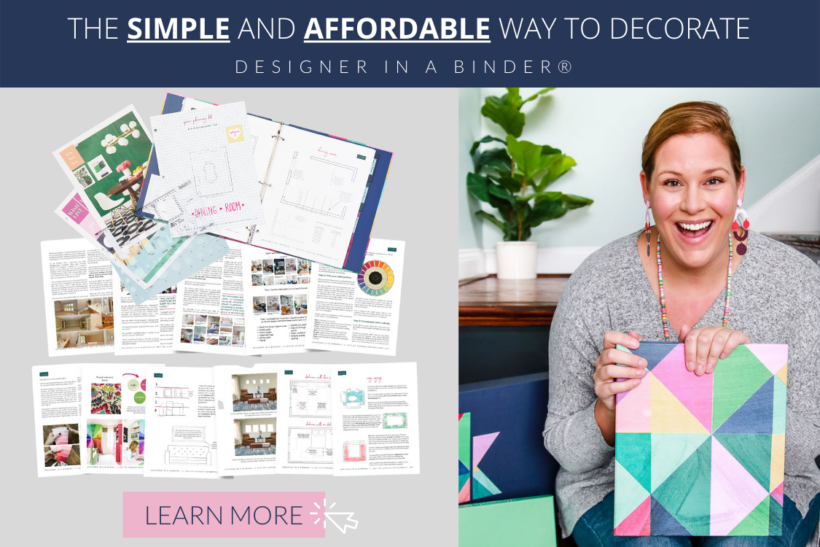 And if you want exclusive content and behind-the-scenes sneak peeks, be sure to subscribe before you head out!