Hi! I'm Tasha.
Welcome to Kaleidoscope Living where you will find doable DIY projects, home design ideas and how-to tutorials that will help you create a home you love. You can do it, we can help!
Your home should make you happy. So my mission is to help you create a home you love, no matter your budget. Here at Kaleidoscope Living, I share doable DIY projects, interior design tips, budget-stretching tips and all things COLORFUL.
I'm so happy you are here! I am Tasha Agruso, founder of Kaleidoscope Living® and Designer in a Binder®. I live in Oak Ridge, NC with my firefighter husband, twin daughters, and our Bernese Mountain Dog.
I received my Juris Doctor from UNC School of Law and practiced civil defense litigation for 14 years before giving up my partnership to become a full-time interior stylist and DIY educator. The only thing that makes me happier than creating beautiful spaces with my own two hands is teaching people like YOU how to do the same thing!
Over the past 21 years, my husband and I have renovated 4 homes and have completed loads of DIY projects in the process. We are currently renovating our 5th home! We have tackled everything from from major home renovations to smaller home improvement projects.
We have learned a ton along with way and love sharing our expertise with anyone who wants to create a home they love! Learn from our wins and mistakes as we share everything here on Kaleidoscope Living.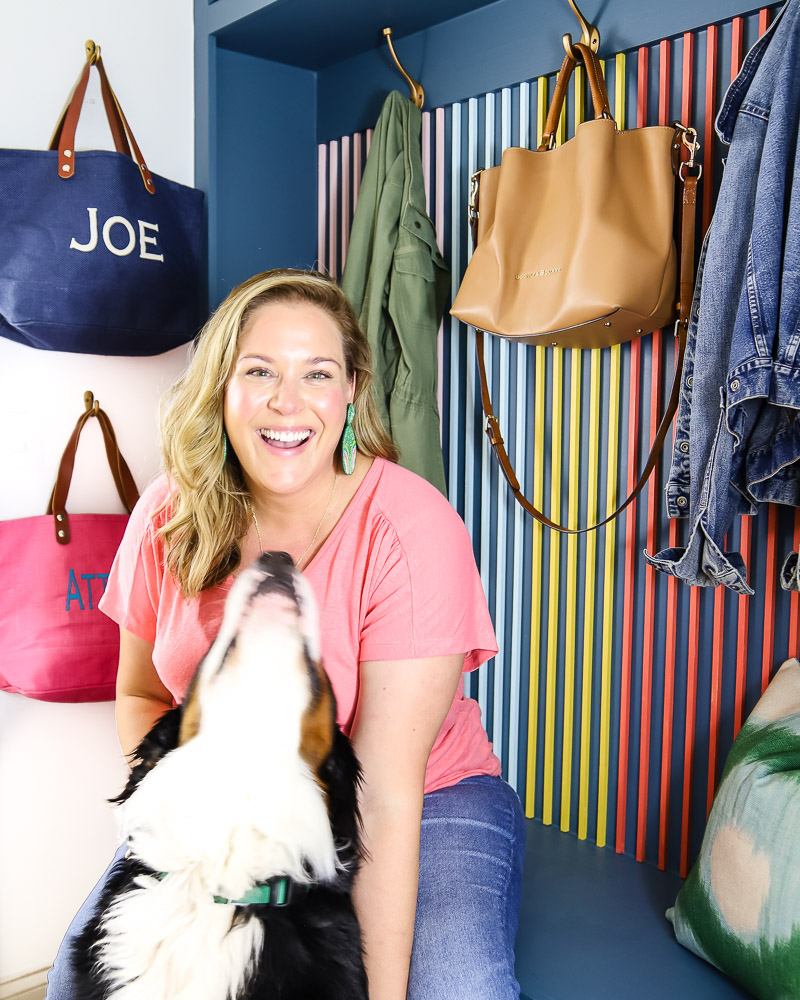 My husband, Joe, and I started DIYing and renovating way back in 2003, but I didn't start this site until 2013 when we moved into our 4th home. It was seriously outdated and I knew every room would need renovating and redecorating. So I started a blog to document our DIY home renovations because it seemed like an easy way to keep our friends and family updated.
I was surprised and humbled when my room designs and DIY projects start receiving lots of media attention.
My work has been featured extensively in print and online, from influential sources like HGTV, Better Homes and Gardens, and Real Simple.
One of my biggest honors (and most fun experiences) was appearing on the Racheal Ray Show to share all the details from my $71 laundry room makeover featuring our painted vinyl floors and a concrete overlay countertop. Those DIY projects are proof that you don't have to spend a fortune to create spaces you love!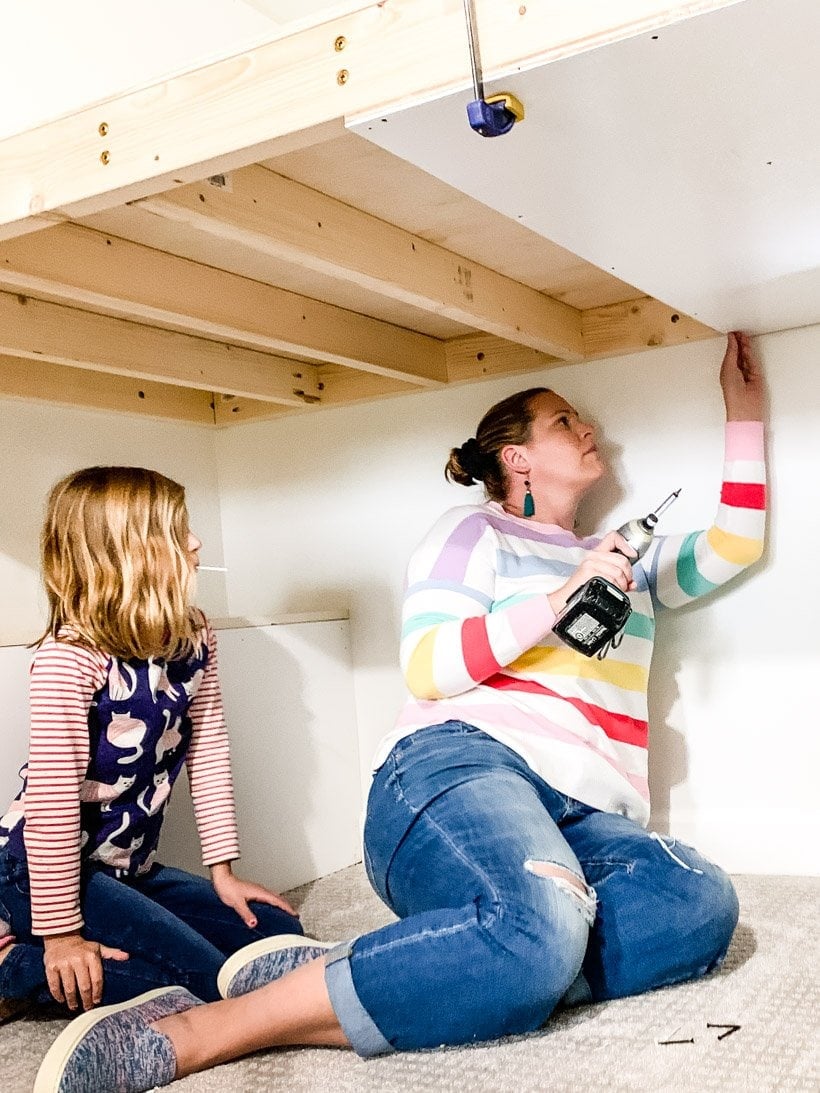 We taught ourselves to DIY. You can too!
My husband Joe and I became DIYers after we purchased our first home in 2002. Neither of us had any experience or knowledge. But we had determination and a passion for creating a home we loved. We realized quickly that the only way we could afford to get the look we wanted in our home was to tackle DIY projects ourselves.
We started out with some basic hand tools, a circular saw, and a straight edge. With those few tools, we built furniture, built-in bookcases, and an entire closet system in our first home. And we've acquired a whole lot of tools and tackled a whole lot of DIY projects ever since then.
We are proof that anyone can become a DIYer. You just have to be willing to learn and fail (sometimes).
Loving your home matters. A lot.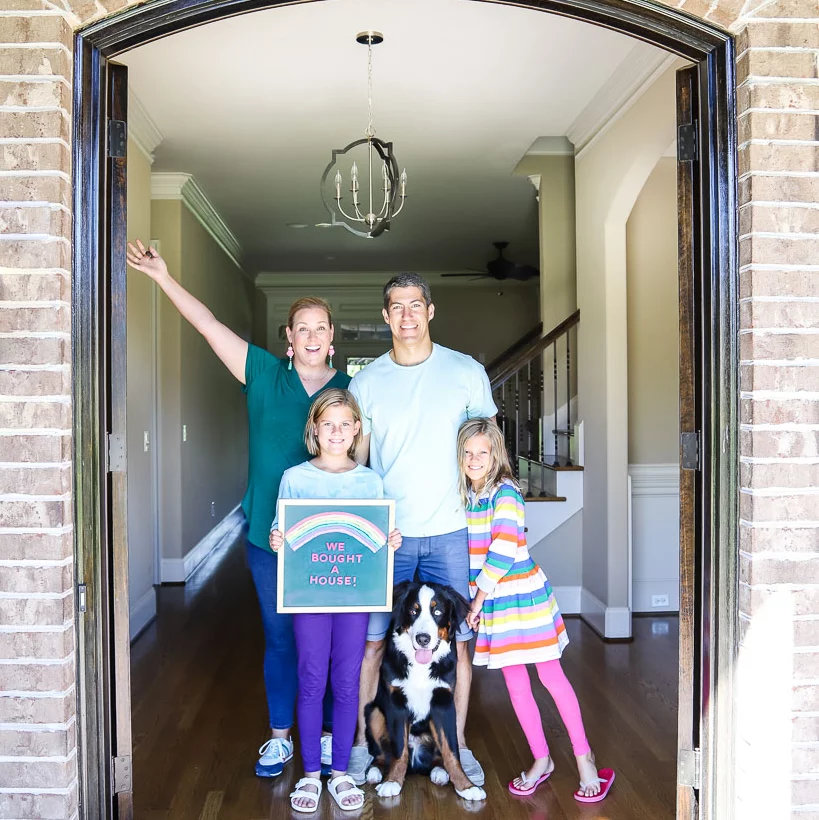 So why the heck do we put so much time and energy into DIY projects and creating spaces we love?
Home isn't just a place to live. Your home is the foundation of your well-being. This isn't my opinion. It's actually well-supported by lots and lots of studies!
Having a home that you love will actually REDUCE your stress and make you feel less overwhelmed. When your home is clean, organized and designed in a way that you love, you can rest, relax and enjoy time at home. In the midst of busy lives full of work, kids, homework, housework, etc., our homes should be our happy place–the one place we would rather be than anywhere else.
Our homes should be designed and decorated in a way that make us feel welcome and happy. We should love every single room in our homes. Yes, even the often neglected laundry rooms, utility rooms, garages, and closets of the world. You should love EVERY room in your home.
Because so many people feel overwhelmed by prospect of decorating their homes and not everyone can afford an interior designer to help them, I created my popular DIY design system, Designer in a Binder®, in 2017. Since then, it has helped over 11,000 people create spaces they love! Designer in a Binder® makes decorating your home SIMPLE and AFFORDABLE.
If you want to start creating spaces you love, you are in the right place!
If you are new here, I recommend checking out our most popular projects. Or if you are working on a particular room in your home and are looking for project ideas and inspiration, you can browse our DIY projects and room makeovers by room. You can also take a tour of our current home (or tour our old home) to find the paint colors we use, links to sources and info on the DIY projects we've tackled in each space.
I've been sharing our DIY projects and room makeovers since 2013. And because I love colorful art so much, I now have a shop full of colorful art prints and our wildly popular colorful wall calendar. There's so much here for you to discover.