How to Paint Kitchen Cabinets Without Sanding or Priming (and get LONG-LASTING results)!
Have you been thinking of painting your kitchen cabinets, but are nervous about how to do it and/or that your results won't last or look professional? Then I have good news for you! You can paint kitchen cabinets without sanding or priming. The results are professional and durable.
There are so many detailed tutorials about how to paint your cabinets like the professionals. They involve primer and loads of prep work. Some even require a paint sprayer. That is not what I am going to give you. I am going to tell you how to paint your kitchen cabinets without losing your mind but WITH professional results. You don't even have to pack up your cabinets.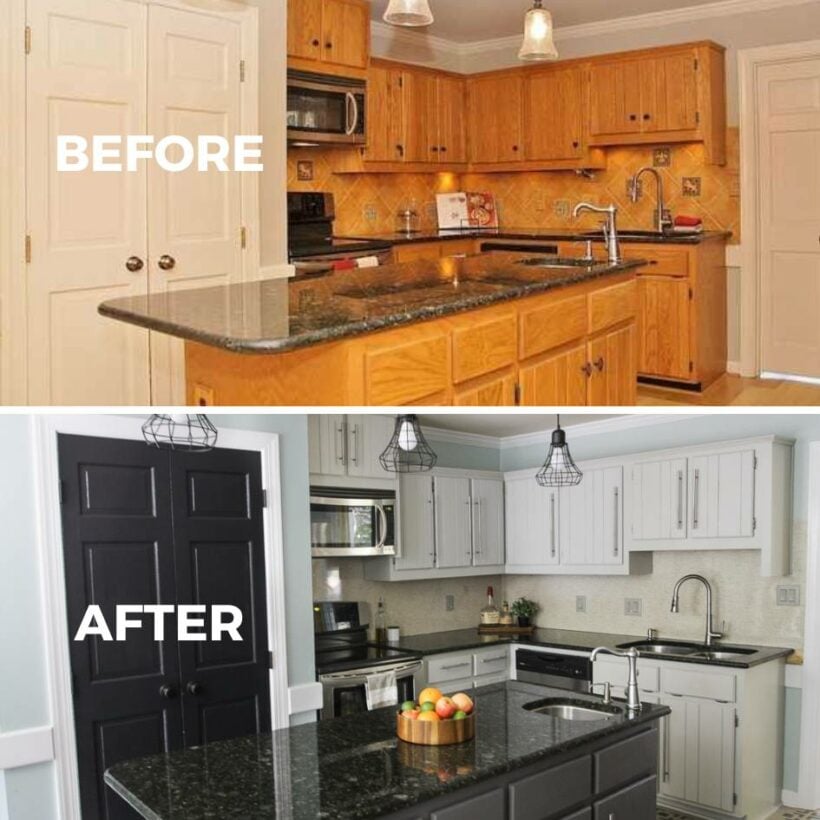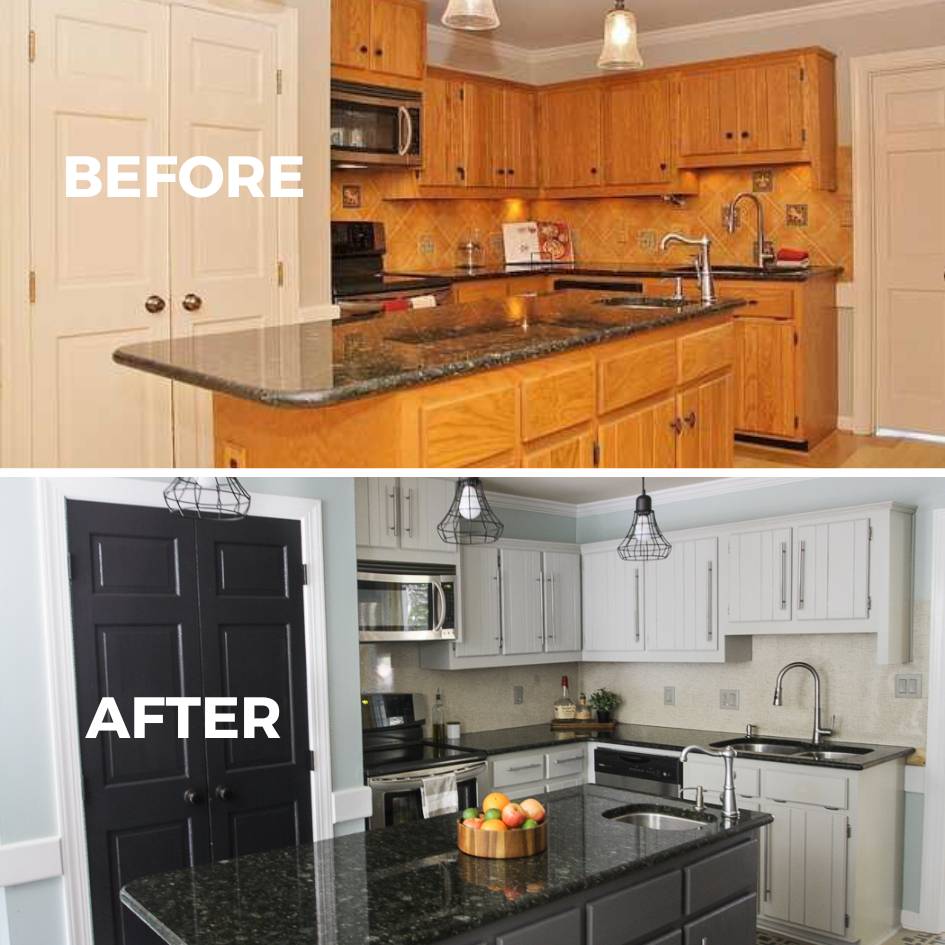 I painted our kitchen cabinets without sanding or priming back in 2014. But I still get soooooo many questions about this project that I make sure to regularly update this post to make sure it is as thorough and complete as possible so that you know everything you've ever wanted to know about painting kitchen cabinets after you've read it.
The short version of this post is that absolutely can paint your kitchen cabinets without priming or sanding. And the results will be gorgeous and durable. I know it's hard to believe. But I have proof! And if you still have questions after reading the tutorial, fear not! I address the most common questions I get about painting kitchen cabinets after the tutorial.
This post contains affiliate links for your convenience. Click here for my full disclosure policy.
How to Paint Kitchen Cabinets Without Sanding or Priming
Materials Needed
General Finishes Milk Paint– We used 3 quarts of Seagull Gray for the perimeter cabinets and 2 pints of Driftwood Gray for the island.
General Finishes High-Performance Top Coat– We chose the flat finish because the less light a finish reflects, the less the wood grain in our cabinets would show. We applied 3 coats of the topcoat on all cabinets and only used about 1/2 a gallon.
Tack cloth
Painter's tape
OPTIONAL: Spray paint if you want to remove your hinges and change the color of them.
OPTIONAL BUT HIGHLY RECOMMENDED: these painter's pyramids (I discovered them recently and so wish we had them when we painted these cabinets–they are awesome for any double-sided project)
You can watch a short video where I walk through all the supplies you need below. This video is part of my Total Cabinet Transformation FREE training series. If you prefer to watch it ad-free and get access to all the other videos, click here to subscribe and get access.
Painting Kitchen Cabinets: A Step-by-Step Tutorial
Before you can really get started, you need to test paint colors and choose your favorite.
Unfortunately, General Finishes doesn't sell small samples, but you can order pints here. It's worth ordering a few and actually painting test swatches on your cabinets since colors can look so different depending on the lighting and surroundings of your home.
I also test 6 different colors in my Total Cabinet Transformation videos series which you can get FREE when you subscribe here.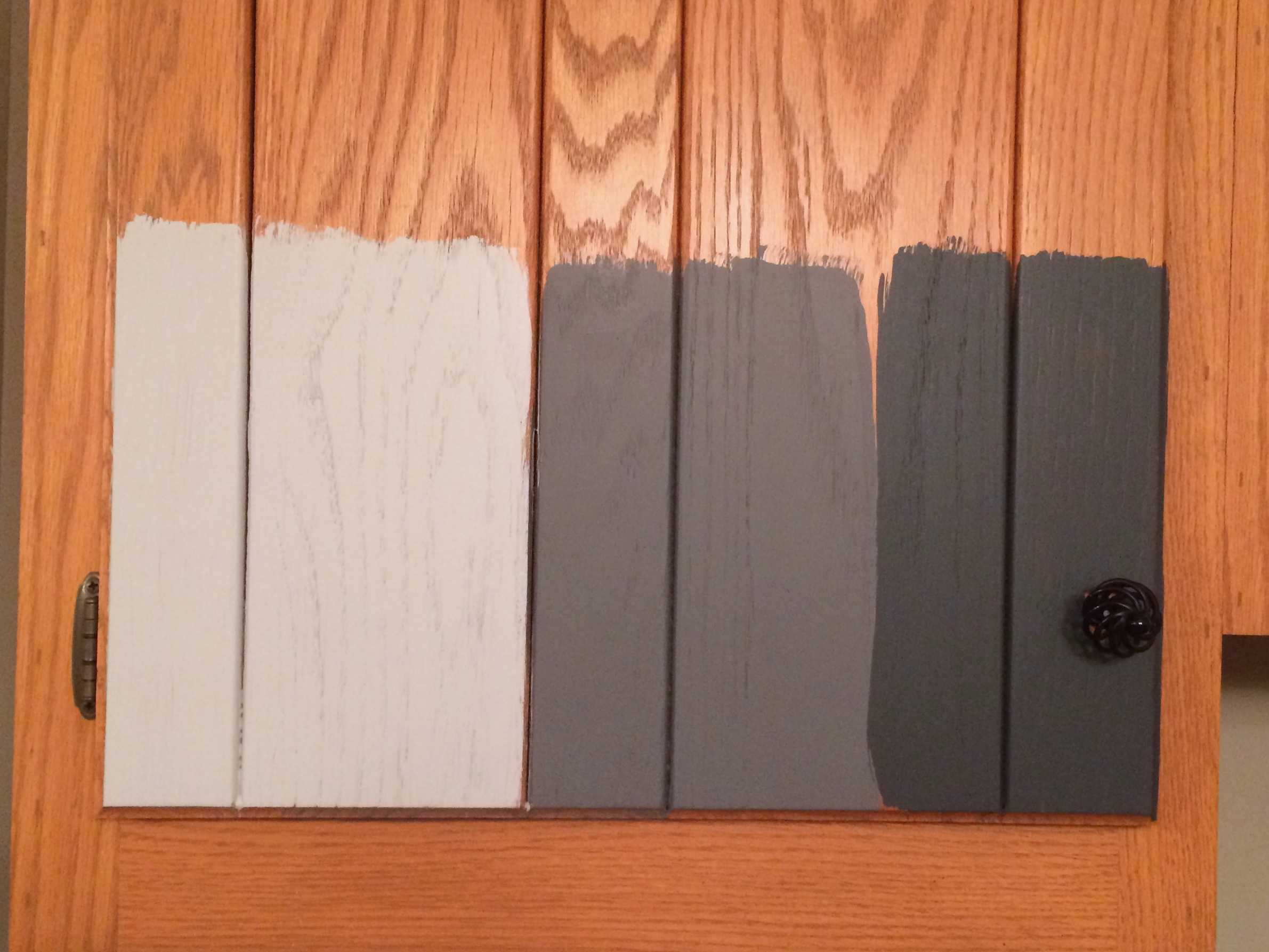 Time needed: 4 days
Follow the steps below to paint your kitchen cabinets without sanding or priming.
Remove your hardware, doors and drawers.


Remove all of your hardware. You will also need to remove your doors and drawers if you want to update your hinges (we spray painted our hinges). But you can leave everything inside of your cabinets since you don't need to paint the insides of your cabinets. You only need to paint the doors (front and back) and the frame of the cabinets. You can leave your drawer boxes in place and just remove the drawer fronts, but I personally feel like it's easier to keep the drawers in-tact.



Clean your cabinets


Clean all of your cabinets, doors and drawers with a good cleaner like TSP. You want to be sure any grease and grime is off of them so that your paint adheres correctly.

Fill any holes.

Patch any holes that you will not be reusing with spackle or wood filler and sand appropriately. Be sure to remove any dust after sanding with a tack cloth.



Degloss all cabinet surfaces.


Lastly, wipe down your cabinet boxes, cabinet doors and drawers with a liquid deglosser or liquid sandpaper (this is the exact deglosser we used).

This is a quick wipe-down. You do not need to scrub the old finish off and get down to bare wood. In fact, your cabinets may not look any different after you wipe them down—that is okay.

I have included a video demonstration of deglossing as part of my Total Cabinet Transformation FREE training series–click here to subscribe and get access.



Paint your cabinets.


If you are using General Finishes Milk Paint, you do not need to sand or prime! You are ready to start painting! We used the built-in benches on our deck to lay out our doors, which worked well. If you don't have a large space to work with, just work in batches.

I highly recommend using these painter's pyramids that I discovered recently. I wish we had them when we painted these cabinets–they are awesome!

We applied two coats of the General Finishes Milk Paint. We used a paintbrush for detail work and a dense foam roller for the flat areas. We used 3 quarts of the Seagull Gray and 2 pints of the Driftwood. We also used about 1/2 gallon of the topcoat. This paint gives excellent coverage and goes a long way. I did NOT sand between coats of paint because my finish was nice and smooth. But you could opt to lightly sand with 220-grit sandpaper before applying your second coat. Remember to wipe them down with a tack cloth after sanding if you do decide to sand.


I am a pretty confident/experienced painter, so I didn't use painter's tape to tape off the walls around our cabinet boxes–I simply cut it with an angled brush. But if you are worried about getting paint on your walls, just use some painter's tape along the edges of the cabinets.



Apply a protective top coat.


After your paint has dried for the correct amount of time (see details on the General Finishes can, but I can tell you this paint dries faster than any other paint I have ever used), you are ready to apply the General Finishes High-Performance Top Coat. We applied the recommended 3 (yes THREE) coats of the topcoat. Rest assured this step moves fairly quickly. But this topcoat is what gives the already durable paint an unbelievably durable finish.

We chose a flat finish because our cabinets had so much wood grain. A flat finish reflects less light than a semi-gloss or gloss finish, so it makes the wood grain less visible. Please do keep in mind that paint alone is NOT going to eliminate wood grain. But you can make it less noticeable by choosing the flat finish topcoat.

You want to apply thin coats. I used a brush and would recommend it over a roller. If the topcoat is applied too thickly or pools in any areas, those spots will dry with a yellow tinge. Three very thin, even coats is what you need!

I have also heard from many people who have followed this tutorial to paint their cabinets with the Snow White color that the topcoat left a slight yellow cast on them. This is going to be true for pretty much ANY poly topcoat. This is something I talk about more in my Total Cabinet Transformation videos series which you can get FREE when you subscribe here. (Spoiler alert, I don't recommend that anyone use Snow White straight out the can–I recommend mixing it with another color).

Optional: Paint your hinges.


If you don't like the color of your hinges, you can spray paint them! It's way more economical than buying new ones and you can avoid having to make new holes in your cabinets and/or doors if new hinges are a different size. Our old hinges and screws were brass–not a good look with gray cabinets. So, we spray painted our hinges AND the screws with Valspar Brushed Nickel Spray Paint and topped them with Valspar Satin Clear Coat.



Rehang doors, replace drawers & attach hardware.


Once your top coat is dry, you can rehang your doors, replace your drawers and reattach your old hardware or replace it with new hardware! We ditched our old hardware (not my style) and replaced it with new handles and drawer pulls. We have a lot of cabinets and doors, so we spent just over $300 on hardware, but I think it was well worth it.
We couldn't have been happier with the transformation of our old, outdated oak cabinets! This is one of the most worthwhile DIY projects I have ever tackled and it's doable no matter your skill level. It can also be used on bathroom cabinets or for any type of cabinet makeover.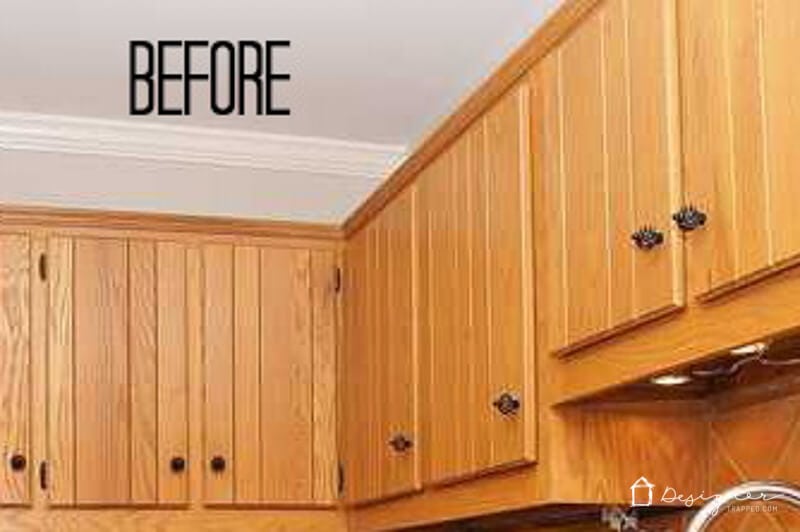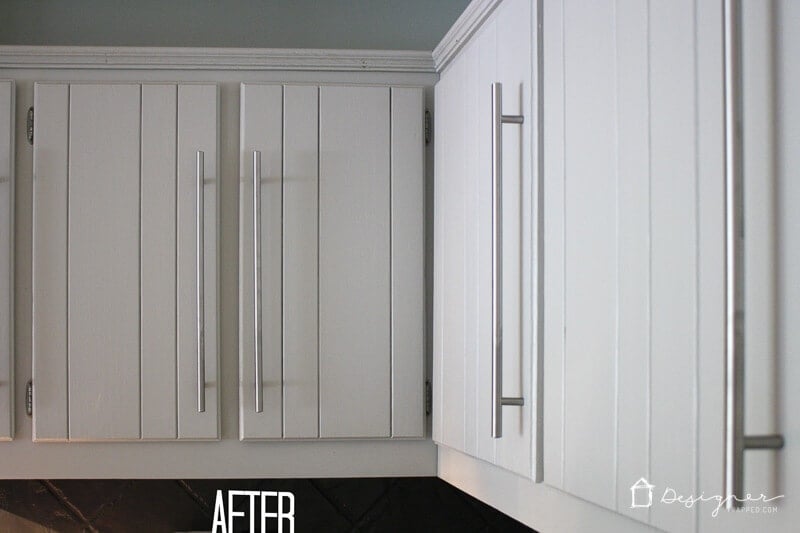 The photo below was taken FIVE YEARS after we painted our kitchen cabinets while it was decorated for Christmas. They held up so, so well! Even the contractor who installed our formica backsplash was shocked and impressed by our results.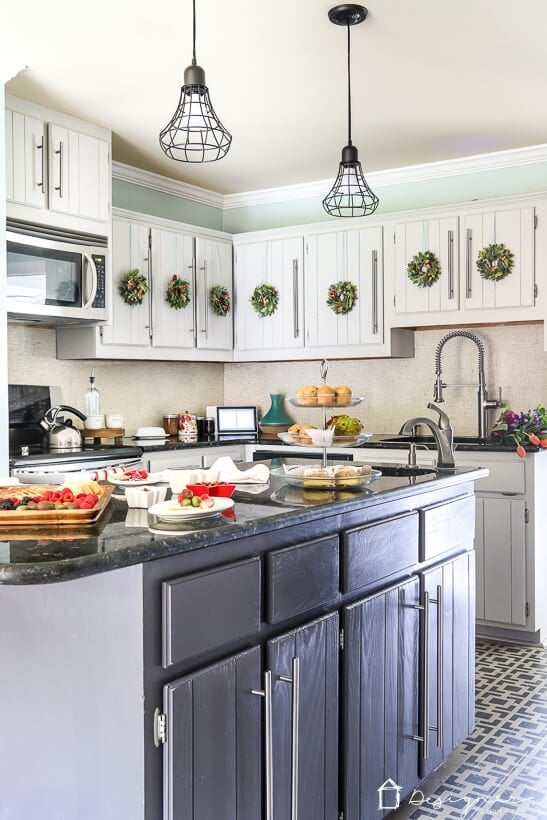 You can also watch the short video below for a better look at how they were holding up 5 years later! This video is part of my Total Cabinet Transformation FREE training series. If you prefer to watch it ad-free and get access to all the other videos, click here to subscribe and get access.
Frequently Asked Questions About Painting Kitchen Cabinets
How long did it take you to paint your kitchen cabinets?

It took us around 4 days to complete this project, split up over two weekends. Because we didn't have to pack our cabinets up, the disruption was minimal. We were still able to cook and use our kitchen as we worked on painting our cabinets, which was nice!
How much paint did you use to paint your kitchen cabinets?

General Finishes Milk Paint goes a long way and covers beautifully, so you don't need a ton of it. We used 3 quarts of Seagull Gray for the perimeter cabinets and 2 pints of Driftwood Gray for the island.
How much does it cost to paint kitchen cabinets vs. replacing kitchen cabinets?

Renovating a kitchen is one of the most expensive remodeling projects that you can take on, and replacing the cabinets can account for nearly 40 percent of that cost.

Mediocre-quality cabinets for a 10-by 12-foot kitchen would generally cost at least $5,000. If you have outdated solid wood cabinets now, there's a very good chance that you would be replacing them with cabinets of a lower quality.

Painting your kitchen cabinets should cost no more than $500 if you do-it-yourself. We spent around $250 for our paint and top coat. If you hire the job out to professional painters, it's much more expensive.

Based on my research, the average cost of painting kitchen cabinets is $100 per drawer face and $175 per cabinet door. This averages out to a cost of $5,000 for a medium-sized kitchen, but can range a lot depending on the painter quoting the job.
Why did you choose General Finishes Milk Paint for your cabinets?

I originally thought DIY cabinet painting was not a good idea and was researching how to update them using gel stain (which would require a DARKER color) and I reached out to General Finishes with some questions about their gel stain products.

In the course of explaining what I wanted to do, they mentioned their paint and explained that when you use General Finishes Milk Paint in conjunction with General Finishes High-Performance Top Coat, our kitchen cabinets would be EXTREMELY durable.

GF Milk Paint is incredibly high-quality acrylic paint with EXCELLENT adhesion (so good that you can even paint laminate cabinets with it). It has low VOCs and is incredibly durable, so it is a great choice for painting kitchen cabinets without sanding or priming. It also really minimizes brush strokes!

So I ordered a few different colors in pint sizes to test them. When the pints arrived, I could not wait to see what they looked like on our cabinets. I quickly, and rather sloppily, painted the three different gray colors on one of our upper cabinets. I spent no more than 2 minutes doing it, and did not even try to use good technique, etc.

I was completely amazed by how well one quick coat completely covered our outdated oak cabinet. But what most impressed me about this paint is that I COULD NOT SEE PAINT BRUSH MARKS. Seriously. There was not a brush mark to be seen on our cabinets. It's amazing. AND it dried so quickly and smoothly. I was sold. There was no question that I wanted to paint our cabinets with General Finishes Milk Paint.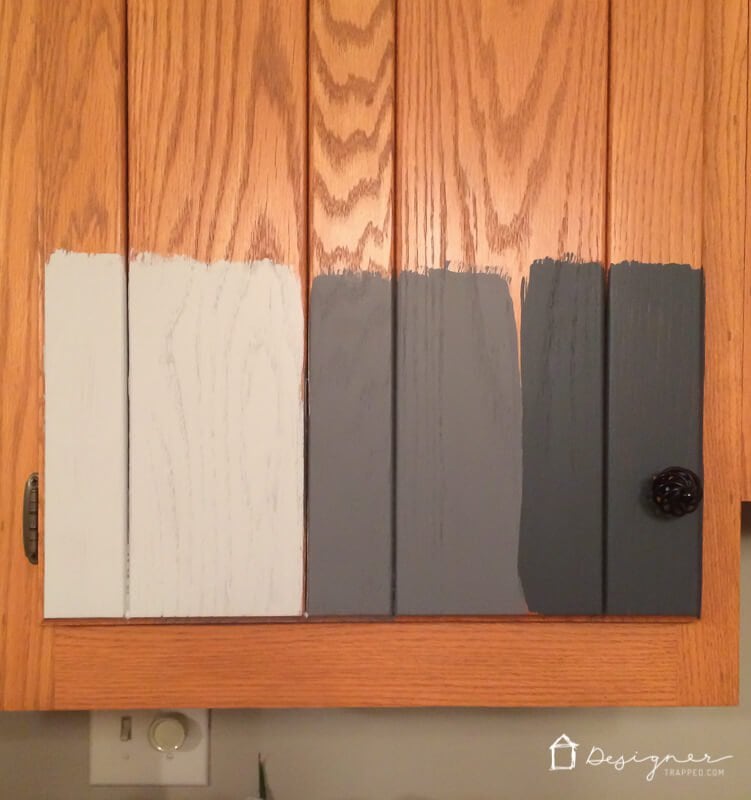 What other types of paint could I use to paint my kitchen cabinets?

There are lots of different paints you can use, but there are only 2 that I personally recommend (ironically, neither of them are specially formulated kitchen cabinet paint). You can read all about the best paint for kitchen cabinets in this post. In that post, I share my personal experience along with 8 other successful kitchen makeovers that used different paint options.
I'm nervous. Should I paint my kitchen cabinets?

I get this question so often that I wrote an entire post with the questions you should ask before deciding whether to paint your kitchen cabinets. It depends on the condition and material of your cabinets, as well as how much of a change you want and whether you are happy with the layout of your cabinets. But my super short answer is that If you have cabinets that are sturdy and you just want an updated look, go for it.
What if I have more questions about painting cabinets that aren't answered in this blog post?

I know there are LOTS of you out there that will read every word of this post and still think it sounds too good to be true and/or have a zillion other questions that I can't possibly answer in one blog post. We still get questions about this post almost every single day (in fact, it's the reason I finally had to turn my blog comments off a while back). Because though I detailed exactly how we transformed our oak cabinets with gray paint, people wonder how the process will work on different cabinets with different colors. So we get questions like…

Can I use this to paint my laminate kitchen cabinets?
How do you think the white paint color would work on my very dark cabinets?
Can I use this paint over existing painted kitchen cabinets?
Did you REALLY not sand in between coats?
How much pressure do I need to apply when I use the deglosser?
Can you see the brush strokes?

So after seeing the need to address all these questions and after countless requests, I finally decided to create a video training series for those of you that have questions and concerns that just can't be answered in a single blog post. And when you subscribe, you can get it (and a bunch of other stuff) for FREE!

I answer every possible question AND give video demonstrations. And yes, it's free to all of my subscribers. So if you have additional questions, I highly recommend you check it out. You can watch an overview of what the video series includes in the short video below.
What do you think? Have you thought about painting kitchen cabinets using DIY methods? What's stopping you? And if you love this project, be sure to pin it for later!
You may also enjoy these budget-friendly kitchen idea posts:
Wondering how I approach transforming rooms and spaces in our home? Check out Designer in a Binder®.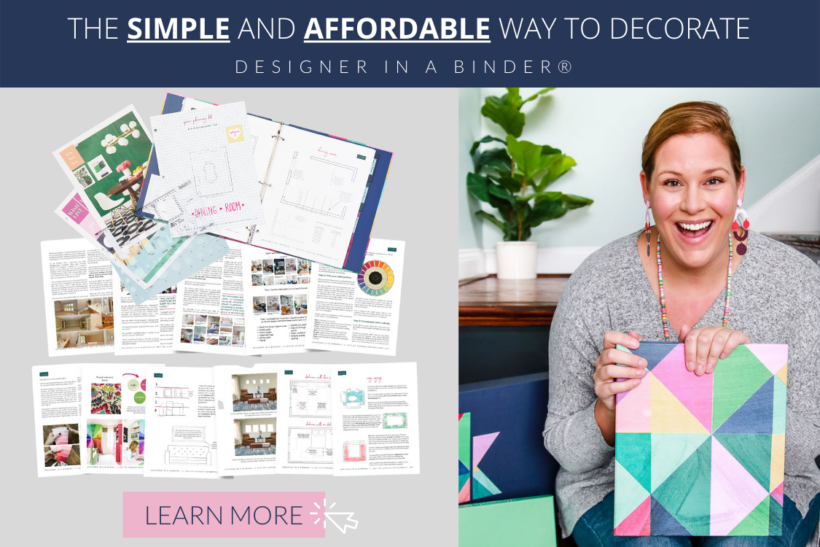 And if you want exclusive content and behind-the-scenes sneak peeks, be sure to subscribe before you head out!