Everything You've Ever Wanted to Know About Painting Kitchen Cabinets
Last Updated on July 9, 2022
Are you thinking about painting your kitchen cabinets but are scared to death? We are here to put your mind at ease and answer your questions about the EASIEST way to paint your kitchen cabinets yourself.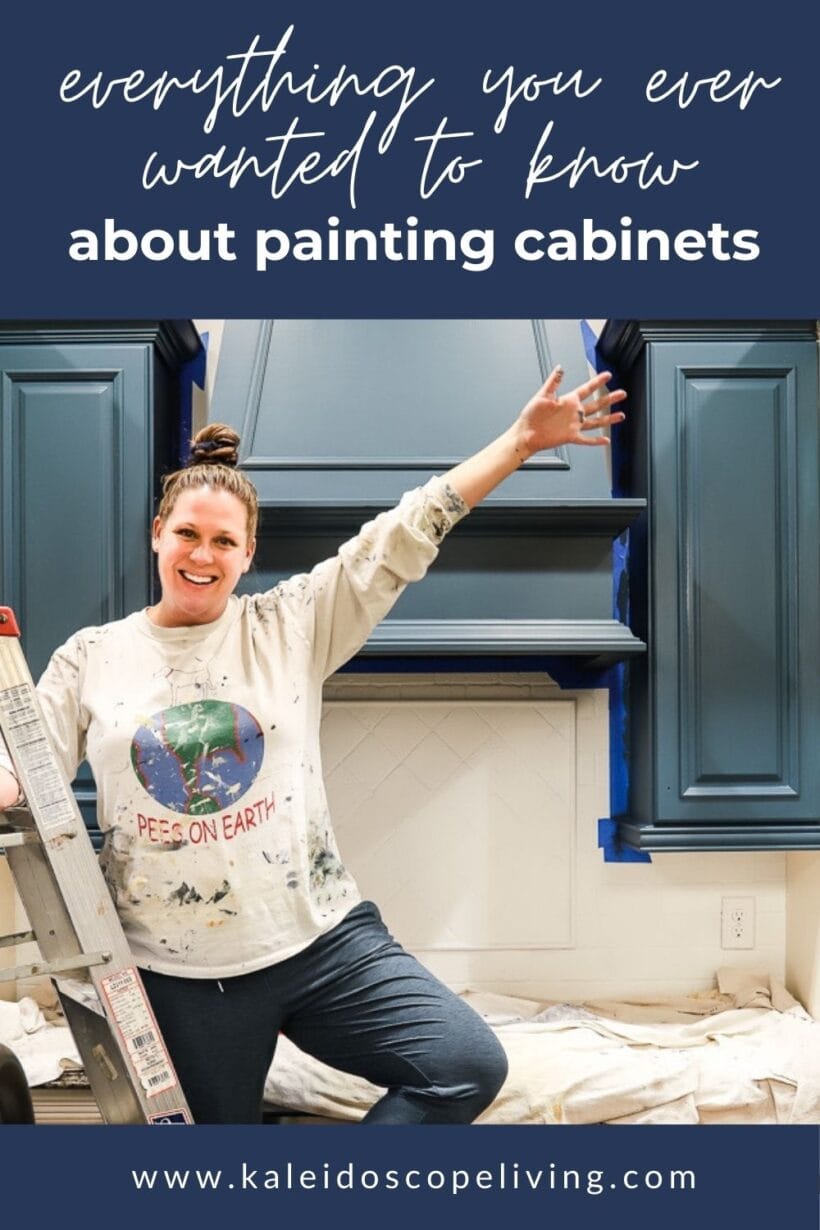 We are back in the closet recording, and this time we are talking about painting kitchen cabinets. Throughout the life of my blog, the MOST talked about, commented on, and questioned DIY is my painted kitchen cabinets. Y'all literally can not get enough. Since we have now tried out two ways and done both of our kitchens, Thea and I are going to address all of your questions and more. Get ready for ALL the info on painting your own cabinets. Spoiler alert, yes it really is easy and no you don't have to sand them down. Listen below!
Would you rather listen on your favorite app? Click whichever option you prefer below:
All the Details From This Episode
Everyone wants to talk about painting kitchen cabinets. Literally ALL OF YOU.
Time travel with us…but not to 2005. Definitely 2015. Back to when we started working together! One of Thea's first jobs with me was to answer comments, and there were so many questions about the kitchen cabinets we finally had to turn comments off.
I first painted my cabinets in 2013, and they lasted until 2019. And they still looked perfect.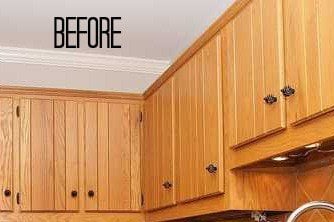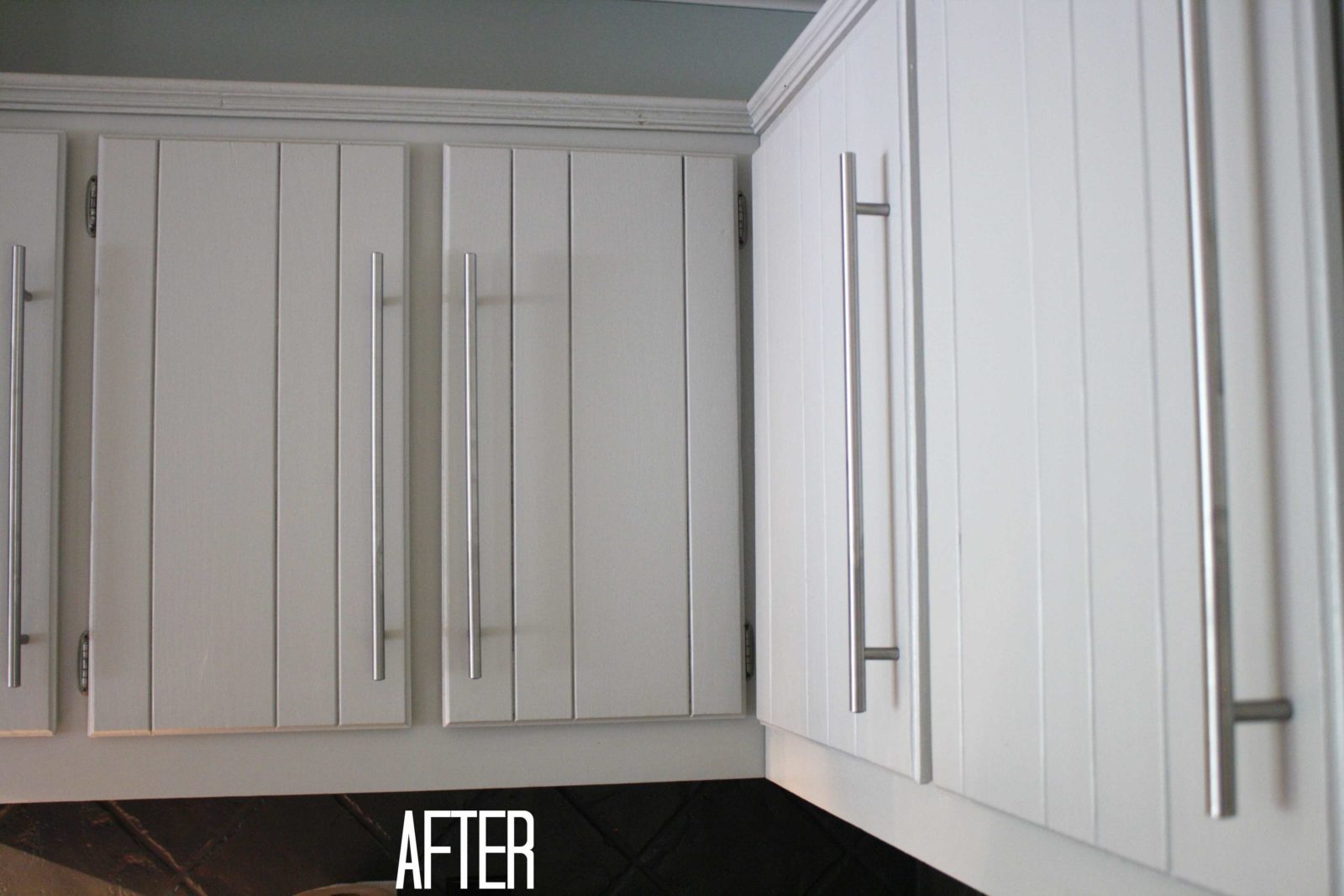 Clearly we have no concept of time since we have been in the pandemic. We painted Thea's cabinets about a year and a half ago. Because I like to try new things for "the people" we tried out a new method.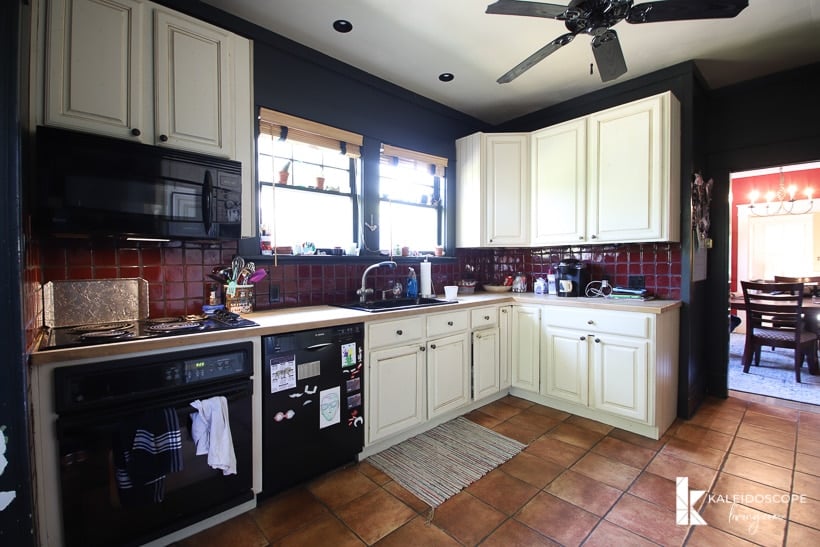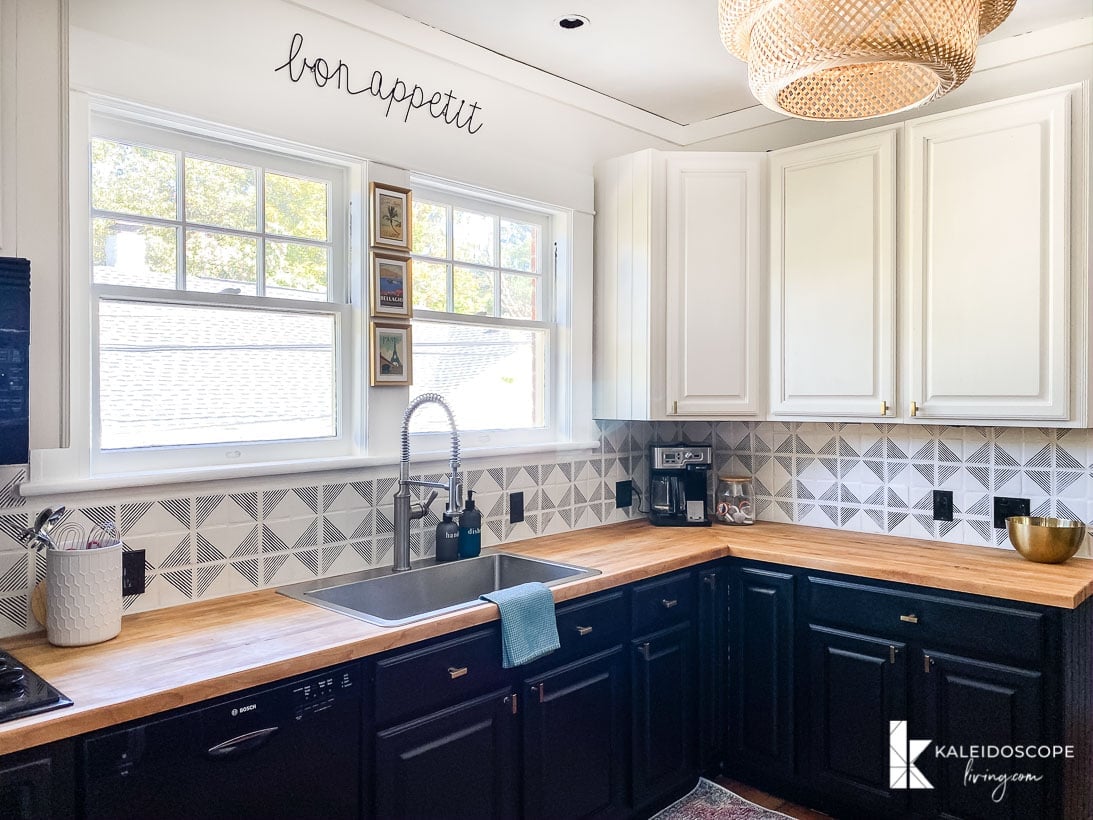 I used the same method on my own cabinets when we painted in the new house.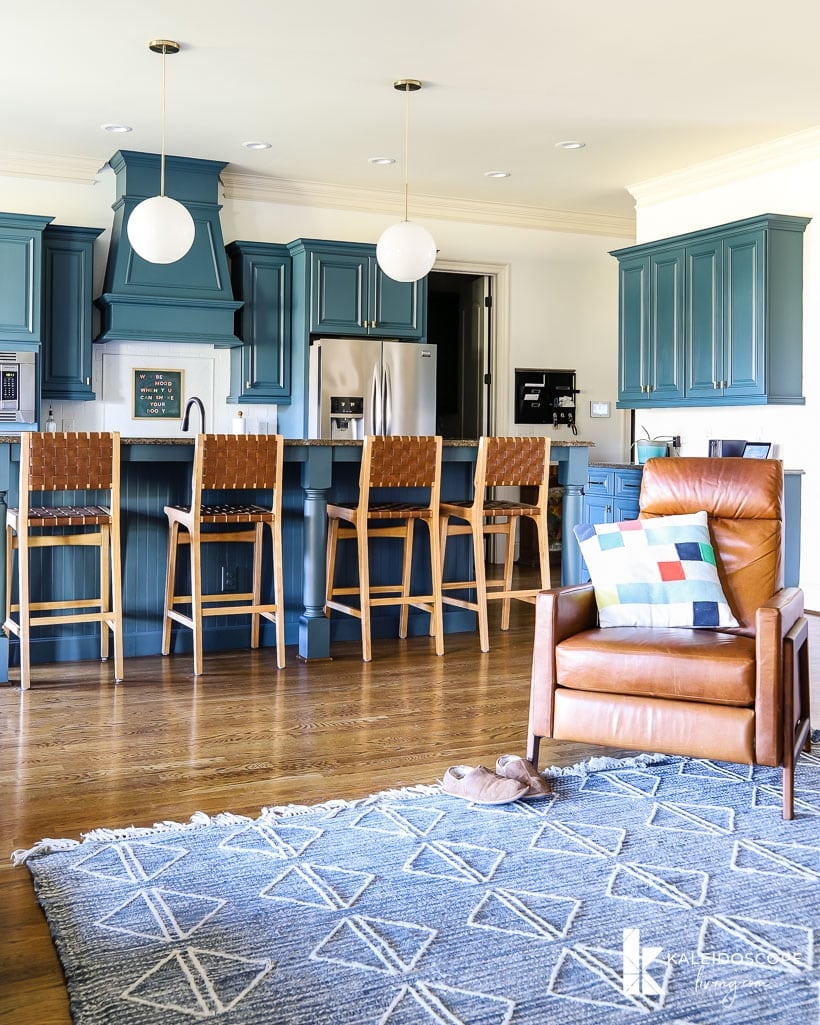 Thea's family (aka The DeLoreto Tornado) has not babied her cabinets at all. She slams the doors, cleans them constantly, and has put them through the ringer. They still look great.
This post contains some affiliate links for your convenience. Click here to read my full disclosure policy.
Questions:
What is your favorite method? My favorite method is the Fusion mineral paint that I used in my new kitchen and Thea's kitchen. I favor Fusion because it comes in much more modern colors and because the top coating is much easier. General Finishes has much more traditional color choices and you have to do THREE topcoats. There is much more margin of error.
We focus on the chosen method–Fusion Mineral--for the rest of the episode.
I've never been sponsored or paid by Fusion Mineral paint, but they have generously offered my readers a 10% discount that will be automatically applied when you click and order HERE.
Remember, a little bit of this paint goes a LONG way, so you don't need much (we used only 4 pints to paint our kitchen cabinets as part of our budget-friendly kitchen makeover).
What are the steps?
Take off the knobs and pulls. Leave doors on.
Clean with TSP (wipe down).
Scuff sand. If it is hard, you are doing it wrong! Think of new tap shoes or dress shoes. Just roughing it up. You can use a palm sander or a sanding block. Don't overthink it or work too hard! You can use a liquid deglosser, just google "liquid sandpaper." (The one I like right now is Krud Kutter.) For smoother cabinets, the best practice is scuff sanding. You need them to be a little grabby and grippy. You just have to wipe the sanded dust off.
DO NOT PACK ANYTHING.
Paint.
Topcoat. Dark color, use the Natural Stain and Finishing Oil. You paint it on and wipe it off. For light colors, use the wipe-on poly Tough Coat. Hot tip: read the instructions for either topcoat that you use.
Do you have to sand the existing paint or finish off?
See above. Literally, you only scuff sand. You can see how EASY the scuff sanding is in the video below.
What if your cabinets are laminate?
Paint a test patch. If your paint beads up or separates, that is not a good sign. The best option is to use Ultragrip first. It preps the surface and adheres to pretty much anything and pretty much anything will adhere to it. This doesn't mean you have to have natural wood cabinets. Just try it and see what happens. "When in doubt test it out."
What do you paint?
Cabinet box face.
Doors front and back.
That is it.
What do you do if your cabinets are peeling and chipping? Can you paint over them?
Make sure any loose pieces are off. Peel them off.
Use spackle to fill in any big divets.
Spot prime the spackled areas and then paint.
Also good to know…
Paint does not cover wood grain. This is especially true for oak cabinets.
There is no reason to hire this out. It will literally take you a weekend.
I would change or paint your countertops after you paint to avoid dripping on them..
Don't listen to the painters who say this way won't work.
The only way to have zero brush strokes is to spray your cabinets and that is a different project.
That is it y'all! Do not be afraid of this project! You can do it, we have total faith in you.
This is complete list of our kitchen cabinet painting posts…
The method for my new cabinets & Thea's kitchen:
Our old kitchen (with General Finishes) paint:
Painting Kitchen Cabinets Resources
Get Social With Us
Wondering how I approach transforming rooms and spaces in our home? Check out Designer in a Binder®.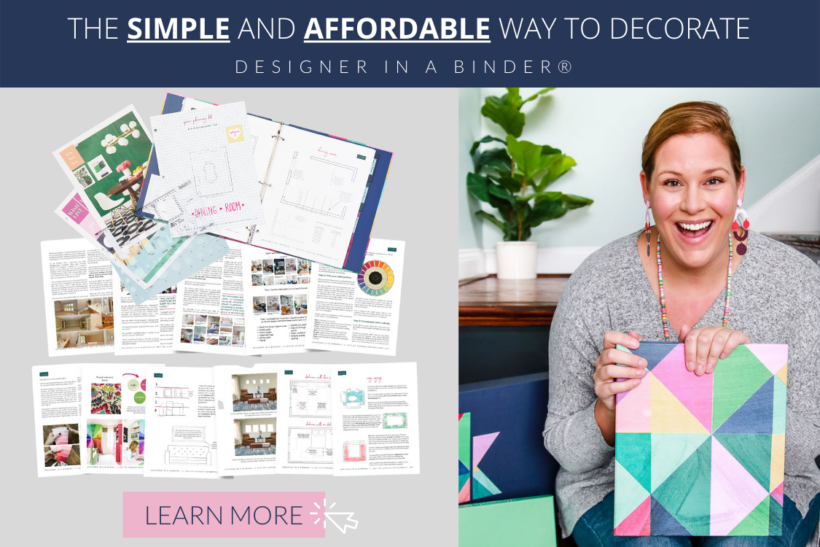 And if you want exclusive content and behind-the-scenes sneak peeks, be sure to subscribe before you head out!