Budget-Friendly DIY Backsplash Ideas for Kitchens
Are you tired of your kitchen backsplash? You don't have to spend a ton of money to give your backsplash a new look. There are plenty of budget-friendly DIY backsplash ideas that will give your kitchen a new look without putting a strain on your wallet. Whether you're looking for a quick and easy backsplash update or are undertaking an entire remodeling project, these stylish and creative ideas will help you create a beautiful focal point in your kitchen within any budget.
Kitchens are the heart of every home, and every homeowner wants to make it look beautiful, modern, and stylish. Believe it or not, a backsplash can make a huge difference in the look of your kitchen. It adds texture, color, and personality to your space. However, for those on a budget, purchasing and installing a backsplash can be quite expensive. Don't worry, though! I'm sharing loads of creative backsplash ideas that are affordable, easy, and will make your kitchen look stunning.
Options for Installing a New Backsplash
If you don't already have a backsplash installed in your kitchen or you are wanting to rip out an existing backsplash to replace it, you have a few options!
Install a New Tile Backsplash
Your first option, and probably the most popular option, is to install a new tile backsplash yourself. It's actually much easier than you might expect. I have a whole post about how to install a tile backsplash the easy way. We have installed many tile backsplashes over the years and it's a project even inexperienced DIYers can do!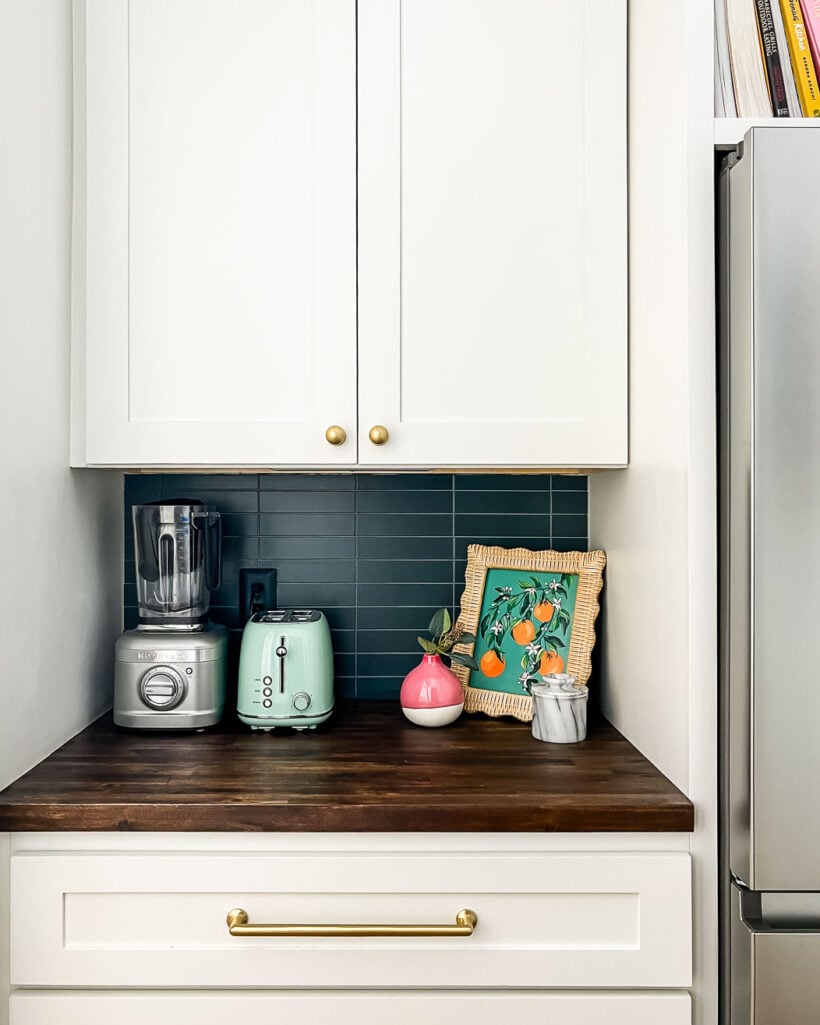 Install a Formica Backsplash
In our old home, we eventually had our ugly tile backsplash ripped out and replaced with a gorgeous formica backsplash. It was affordable and I loved how easy it was to clean. We didn't complete the installation ourselves, but you could certainly DIY the installation if you want to! We enjoyed the formica backsplash for well over 6 years until we did a full renovation of our old kitchen. When we did the full renovation, we installed our own tile backsplash.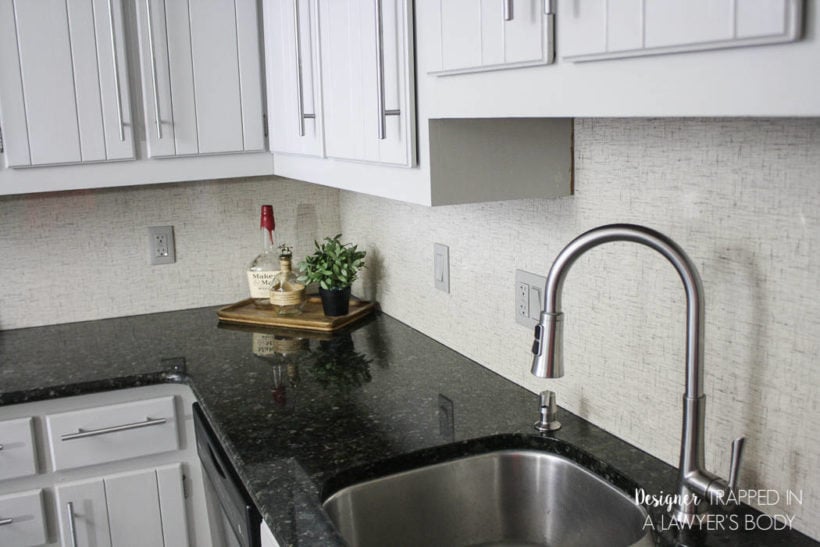 If you currently have a blank wall for a backsplash, but don't want to install a tile or formica backsplash, keep reading. There are still tons of affordable DIY backsplash options for you to consider!
10 Options to Paint or Draw A Backsplash
If you are someone who wants to add a pop of color to your kitchen or to change the color and appearance of your existing backsplash, then a painted backsplash is a perfect option for you. Below are some of my favorite ideas for painting and drawing backsplashes.
Paint a Stone Tile Backsplash
You can make a big impact in your kitchen without changing the appliances or footprint. In this house, we painted our countertops to look like marble, painted our kitchen cabinets, and even painted the stone backsplash! Our backsplash was made of some sort of tumbled stone with texture, which was NOT our taste. But we weren't quite ready to rip it out and replace it. So I painted the backsplash using the same method I used in our last house and have zero regrets. It's holding up beautifully!
Paint and Stencil a Tile Backsplash
Back in 2019 I gave my friend Thea a budget-friendly kitchen makeover (it cost just under $1,000 with paint, accessories and EVERYTHING you see). With a little bit of time and not a lot of money, we gave her outdated red tile a completely new look. Painting and stenciling the tile backsplash was the perfect budget-friendly option and it looks AMAZING. It's still holding up perfectly in 2023! People were OBSESSED with what we did to Thea's backsplash!
DIY Painted Faux Tile
This is such a clever DIY. Liz traced a hexagon pattern and then painted the lines in to look like individual tiles. This looks like a high-end interior designer-created kitchen at a fraction of the cost!
Painted Tile
Mosaic glass tile backsplashes were all the rage for a while, but they can be a bit busy and distracting. Fortunately, you can paint right over them. I love this bright pop of color with the white kitchen cabinets. The transformation that came from just painting the backsplash is amazing!
DIY Herringbone Tile
This kitchen went from basic to awesome with this faux-painted backsplash. I love the large-scale of the herringbone pattern and I still can't believe how simple it was to create. The gray balances the bright splash of green from the lower cabinets perfectly!
Faux DIY Herringbone
Believe it or not, this dramatic DIY backsplash was created by simply tracing a template with a marker! It really looks like a beautiful white subway tile with dark grout. Talk about a budget-friendly backsplash.
Chalkboard Subway Tile
This is another really inexpensive DIY kitchen backsplash idea. Simply paint your wall and draw in grout lines with a chalkboard paint pen. So easy it blew my mind! This is so budget-friendly and a super quick fix if you want a simple update.
Stenciled Backsplash
Just like we did in Thea's kitchen, Carrie painted and stenciled her tile backsplash to create this beautiful look! It just goes to show how much you can completely customize your backsplash tile depending on the stencil you choose. Carrie has actually painted her backsplash twice and both times it turned out perfectly. I love this cement tile design with her white cabinetry for a fresh look!
Faux Painted Subway Tile
This painted subway tile backsplash came in under $30! It doesn't get much more budget-friendly than this DIY project. And the end result is a modern kitchen backsplash that looks like real, stylish subway tile.
Handpainted Slate Tile
This handpainted slate subway tile is an amazingly clever way to create your own backsplash for a fraction of the cost of real tile. I love the shades of gray that give it the appearance of texture and the contrast of the white "grout line." This would be gorgeous with white cabinets!
14 Options to Cover Your Existing Backsplash
If you want to do more than just painting a backsplash, there are lots of options for covering an existing backsplash with other materials that will add dimension and interest.
Install Removable Wallpaper
My friend Amy covered her mirror backsplash with this gorgeous geometric removable wallpaper for a completely new look! She installed it over 4 years ago and it's still holding up beautifully. She has a full tutorial for how to install a removable wallpaper backsplash on her site.
Inexpensive Plank Backsplash
This DIY plank backsplash led to a dramatic change in this kitchen and it is easy to do on a budget! It is perfectly paired with the open shelving and black cabinets with brass hardware.
Renter-Friendly DIY Cricut Backsplash
Homeowners can do whatever they want, but renters have to be more careful with updates. Karen used her Cricut and vinyl to give her tile an amazing renter-friendly makeover. It is even durable enough to wipe down! You can also get your own downloadable SVG to recreate her amazing project. And because vinyl is removable, this backsplash option is perfectly temporary.
DIY Beadboard Backsplash
At only $30 for the project, this DIY beadboard backsplash is a total win. It looks great, doesn't take a ton of DIY skill, and is incredibly budget-friendly. Also, this is easy to pair with most counters since it is fairly plain and you can paint it whatever color fits your style!
Whitewashed Faux-Brick Backsplash
Lauren has a great tutorial on covering your existing tile with faux brick paneling and then whitewashing it for an absolutely gorgeous finish! And you don't have to be an awesome painter to tackle this DIY backsplash. I love this one if your decor style leans on neutrals because it still brings in texture and interest!
DIY Penny Tile Backsplash
Two best friends DIY'd this beautiful new backsplash and did an amazing job! I love the design and the shelf they added for storage and decor. The white tiles with black accents create the perfect vintage look right above that amazing sink!
Vinyl Adhesive
This renter-friendly DIY backsplash idea is GENIUS! It is so pretty and so simple–just vinyl applied to the wall. I love this pattern–but this is totally customizable! You can easily update your own kitchen design with whatever vinyl you love that fits your home's aesthetic.
Unique Chevron Beadboard
Chevron designs have topped the "trends list" for a while, but this is a new idea! Beadboard is installed at a diagonal to create the chevron pattern. This is one of my favorite budget-friendly backsplash ideas. Genius, affordable and not an overly difficult DIY.
DIY Wallpaper
This brilliant idea brings so much fun and color to a white kitchen! I LOVE the wallpaper and using plexiglass behind the stove to make it easy to clean is genius. The addition of the pattern with her stainless steel appliances creates a fun and contemporary kitchen design that would be simple to DIY in your own home.
DIY Peel And Stick Tile
If you love the look of a marble backsplash but it's not in your budget, cover it with DIY peel-and-stick backsplash tile. Ashley did it and it looks so beautiful! It makes her kitchen look so lux and gives it quite the upgrade while still being super budget-friendly.
Cover Ugly Tile
This is the ultimate temporary fix to an ugly backsplash! Totally removable and customizable, this renter created a faux wall to cover her backsplash and it looks amazing. I still can't get over how seamlessly this worked!
Peel and Stick Tile Sheet
This kitchen got a dramatic update with simple stick-on tile backsplash tile sheets over old outdated tile. It's a simple installation with great results. If you need a quick fix–this might just be the easiest answer!
Driftwood Wall
Change the look of your kitchen with this driftwood DIY backsplash. It is not hard but it does take a few tools. However, the end result is seriously worth it! And the open shelving instead of upper cabinets really allows the wood wall to shine!
Laminate Flooring Backsplash
We loved the laminate flooring in our old home…and I love this genius use of it as a DIY backsplash. You can find laminate flooring at most home improvement stores or even order online. Using it as a backsplash is genius! These DIY'ers took it all the way up to the ceiling to create a accent wall, leaving space to add a range hood.
Peel and Stick Subway Tile
Looking for a low-budget backsplash option with a quick turnaround time? Peel-and-stick subway tiles are low-cost and only take a few hours to put up. These white tiles freshen up the honey oak cabinets and black countertops without a ton of work or money!
This post contains affiliate links for your convenience. Click here for my full disclosure policy.
Aren't all of those DIY backsplash options amazing? They are proof that you can give your kitchen a new and updated look without spending too much money. These ideas are versatile, easy to install, and will not take too much of your time. Depending on your personal style and design preferences, you can choose any of these ideas to create a kitchen backsplash that is both functional and beautiful. So get creative, have fun, and transform your kitchen backsplash with one of these ideas!
Other posts you may enjoy:
Wondering how I approach transforming rooms and spaces in our home? Check out Designer in a Binder®.
And if you want exclusive content and behind-the-scenes sneak peeks, be sure to subscribe before you head out!