Stunning Accent Wall Ideas to Transform Any Room
Walls comprise a ton of surface area in every room so they provide a fabulous opportunity to make a BIG impact. Whether you're a DIY enthusiast or just want to spruce up your home a bit, a good accent wall can make all the difference. Accent walls are great for adding color, texture and style that turn blank walls into stunning showpieces. Not to mention that they are one of the most budget-friendly ways to instantly update any space. If you're considering giving an accent wall a try but don't know where to start, we have some stunning ideas that are sure to transform any room in your home!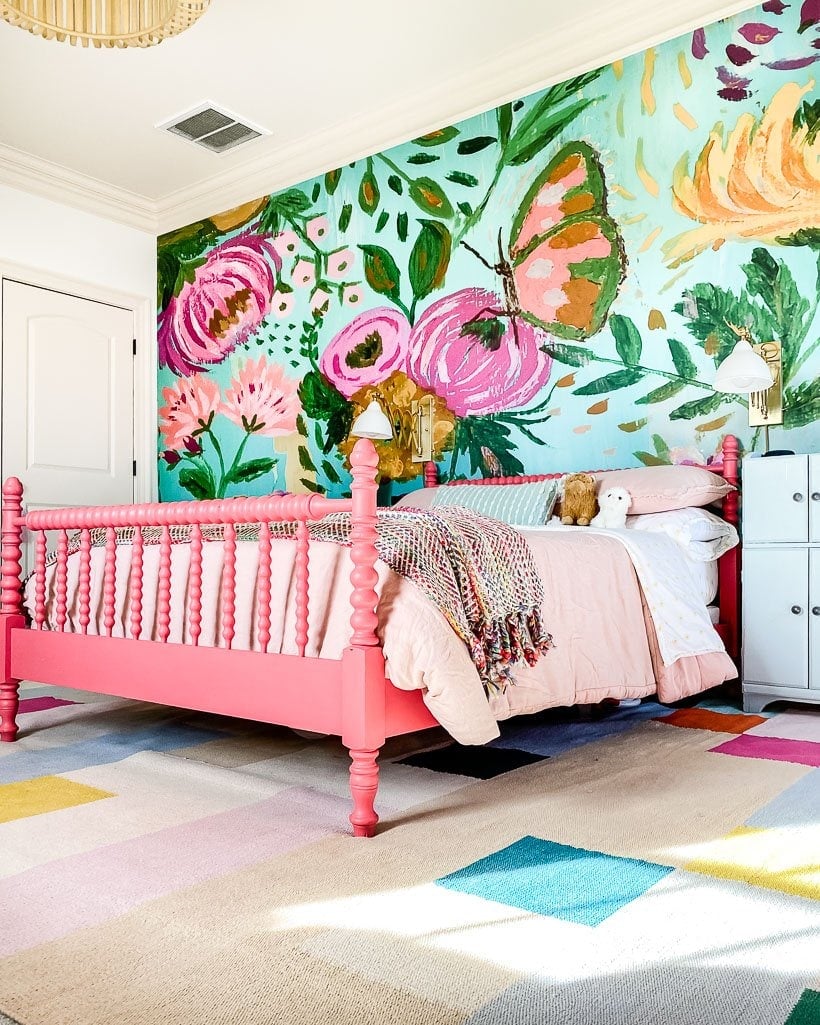 Now, I know that many people hear the phrase "accent wall" and assume it means doing something really time-consuming or difficult. But most accent walls are easy, inexpensive and can be undone when you're ready for a change (without blood, sweat or tears). Let's dive into some of the best accent walls ideas I've used in my own homes and seen from others!
This post contains affiliate links for your convenience. Click here for my full disclosure policy.
Choose an Accent Color
One of the easiest ways to add an accent wall to your home is to simply choose a paint color and paint a wall! Paint can be used creatively to enhance any interior design. Try a bold accent wall, color blocking or even painting your own artwork on a wall. Here are some of my favorite painted accent walls to inspire you!
Blue Accent Wall
Blue is one of the most versatile colors to use in your home. If you love blue but aren't sure what color to choose, check out the most beautiful blue paint colors designers use. We chose blue for this DIY modern plank wall in the foyer of our old home. I loved what a beautiful backdrop it was as soon as you entered our home.
Black Accent Wall
Black is such a sophisticated color and it adds so much depth to a space! It lends itself naturally to use for an accent wall. Just look how stunning this black accent wall is in a bedroom with otherwise white walls.
Add a Pop of Color With Paint
You don't have to paint an entire wall a solid color. Create your own mural or wall art by painting bold colors and graphic patterns on white walls is one of my favorite accent wall ideas! The color and design options are limited only by your imagination!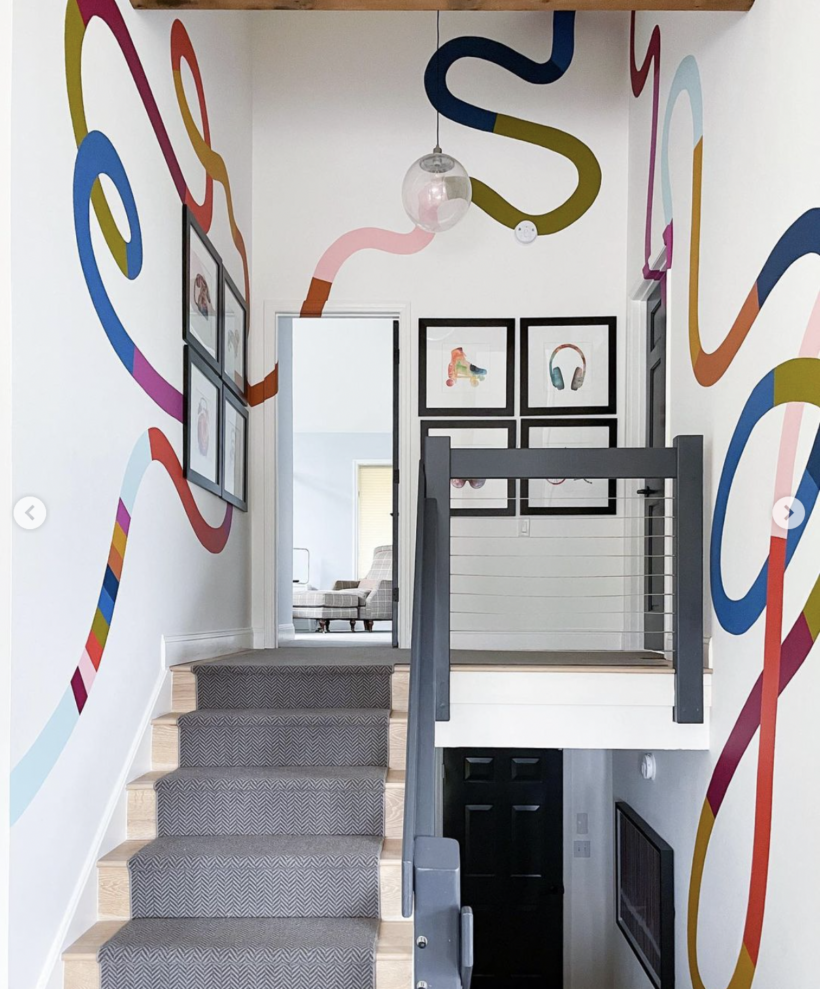 We included this simple DIY wall mural in our family bonus room to add color and interest to an otherwise blank wall.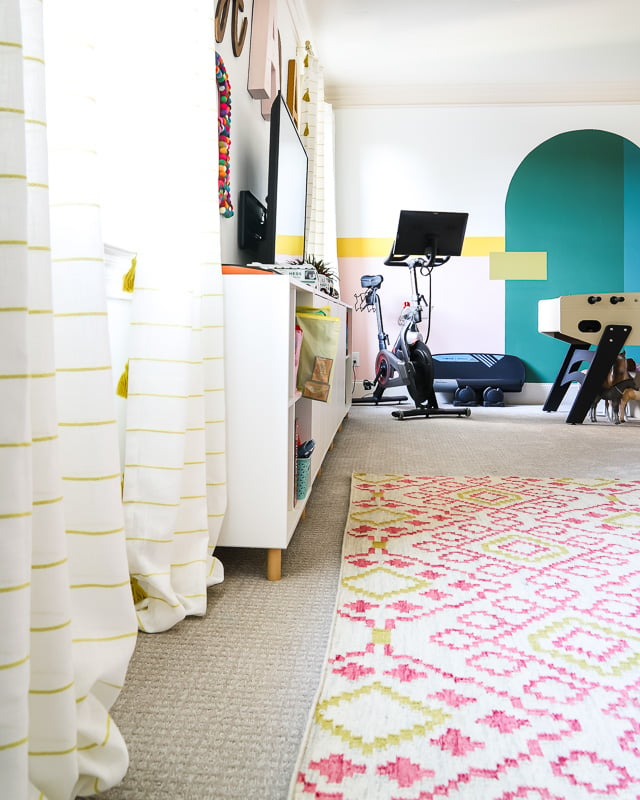 Have Fun With a Wallpaper Accent Wall
One easy way to add some interest to a space is to wallpaper one wall. You get the benefit of the texture and pattern without the expense (or commitment) of wallpapering an entire room. We used this wallpaper on this single wall in our family room and it really helps ground this large, open-concept room. And guess what? We used this method to make the wallpaper removable and renter-friendly so if we ever tire of it we can easily take it down.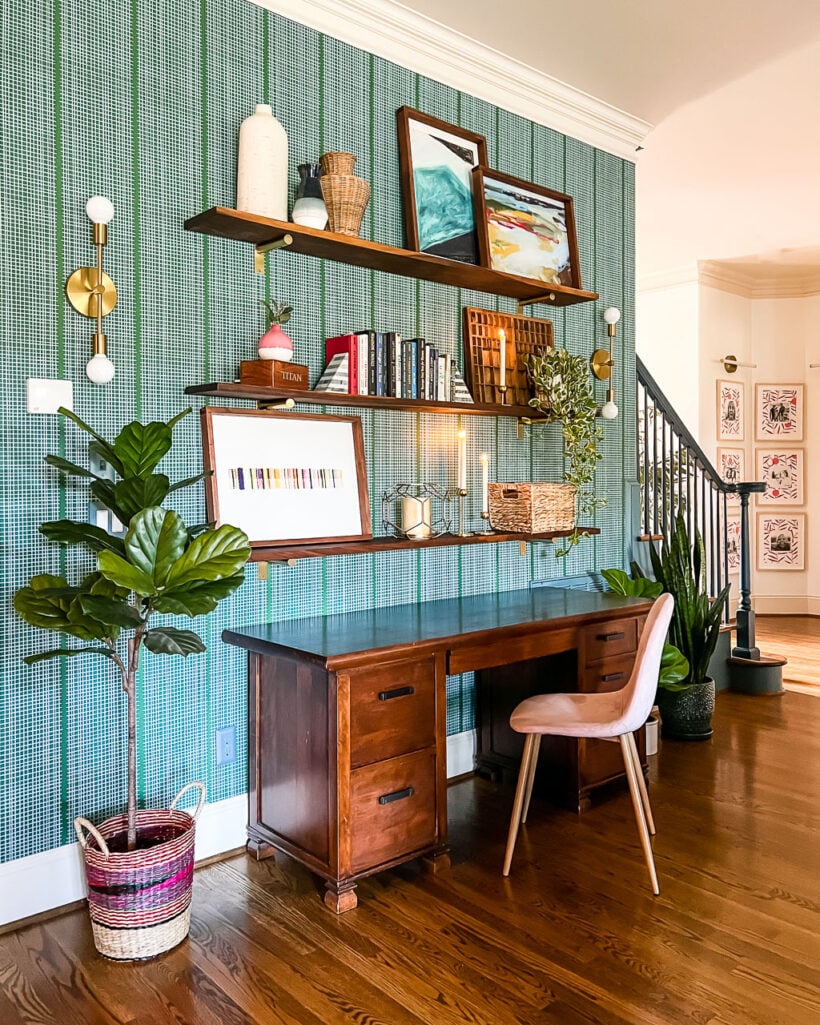 Using wallpaper on an accent wall, especially when it's a bold design can make a HUGE impact. I love unique wallpaper ideas, like this bold geometric wallpaper used to add some drama and style to this staircase wall. In fact, it's a great way to update a staircase without having to do a whole staircase makeover.
Install a Natural Wood Accent Wall
Adding wood to a wall gives it texture, dimension and so much personality! And there are so many different ways to do it! Here are some of my favorites!
This DIY herringbone plank wall that we installed in our old home is still one of my favorite projects ever and was one of my favorite things to leave behind when we moved! We made it from wood we upcyled after tearing down an old, ugly fence in our backyard.
You don't have to cover your entire wall in wood to make a huge impact. Just look at how a small wood accent wall makes a huge impact in this mudroom.
Go Big With a Mural Accent Wall
Wall murals are really having a moment and for good reason. Murals are different than wallpaper because of their oversized scale. They add color, pattern and interest to a room in a flash. And believe it or not, murals are easy to install yourself. Most wall murals are available in peel-and-stick and traditional options (pre-pasted and non-pasted). I have personally installed a total of 3 murals, and I have loved every single one of them. Below is a photo of the peel-and-stick mural currently hanging in one of my daughter's rooms.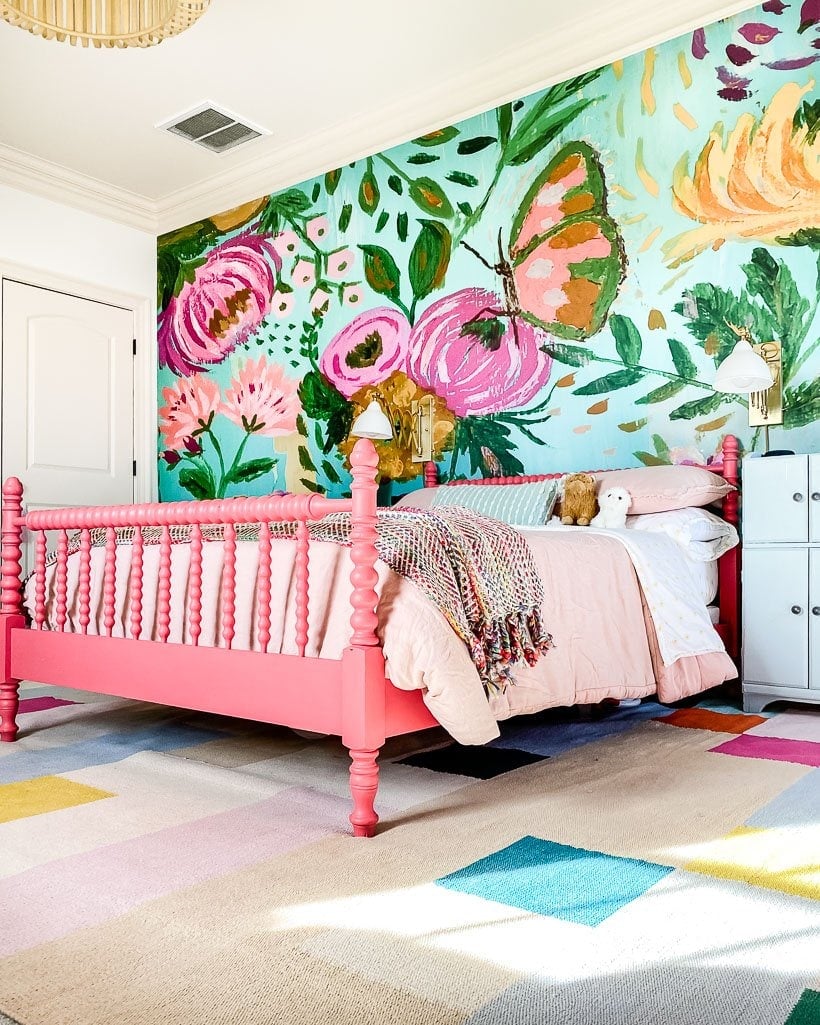 We also used peel-and-stick murals in both of our girls' rooms in our old house.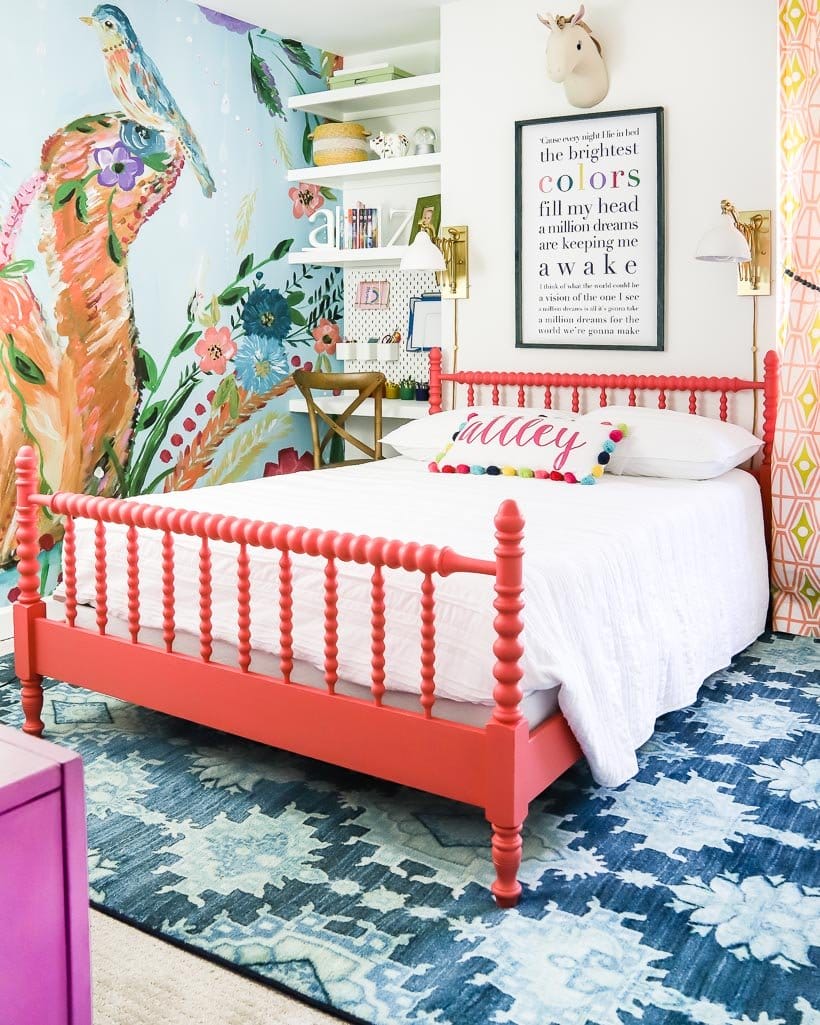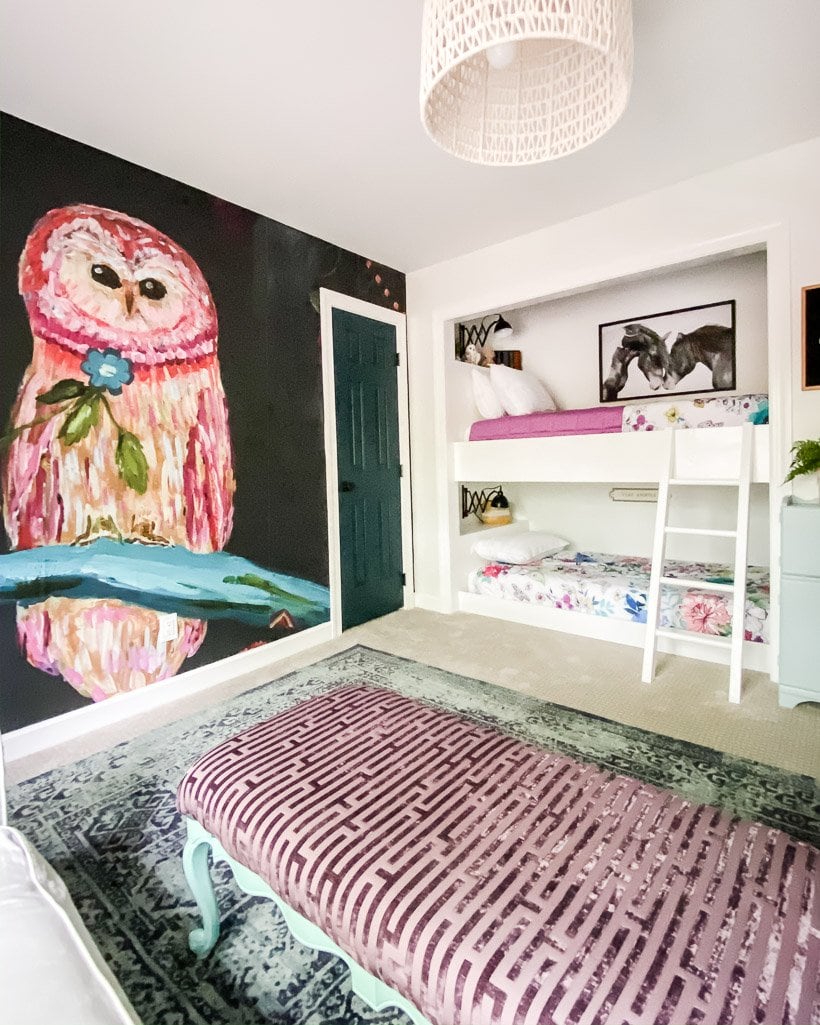 But murals aren't just for kids or kid spaces! I would say they are far more popular as accent walls in dining rooms, living rooms, home offices and more!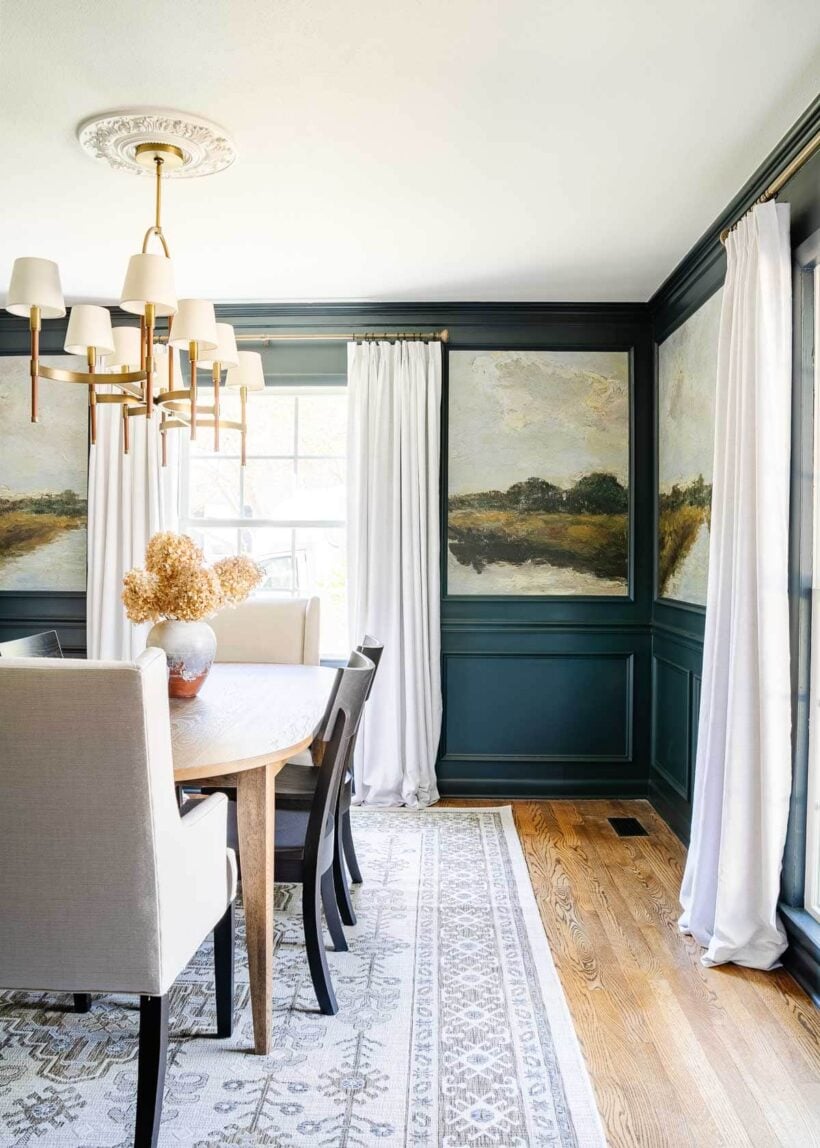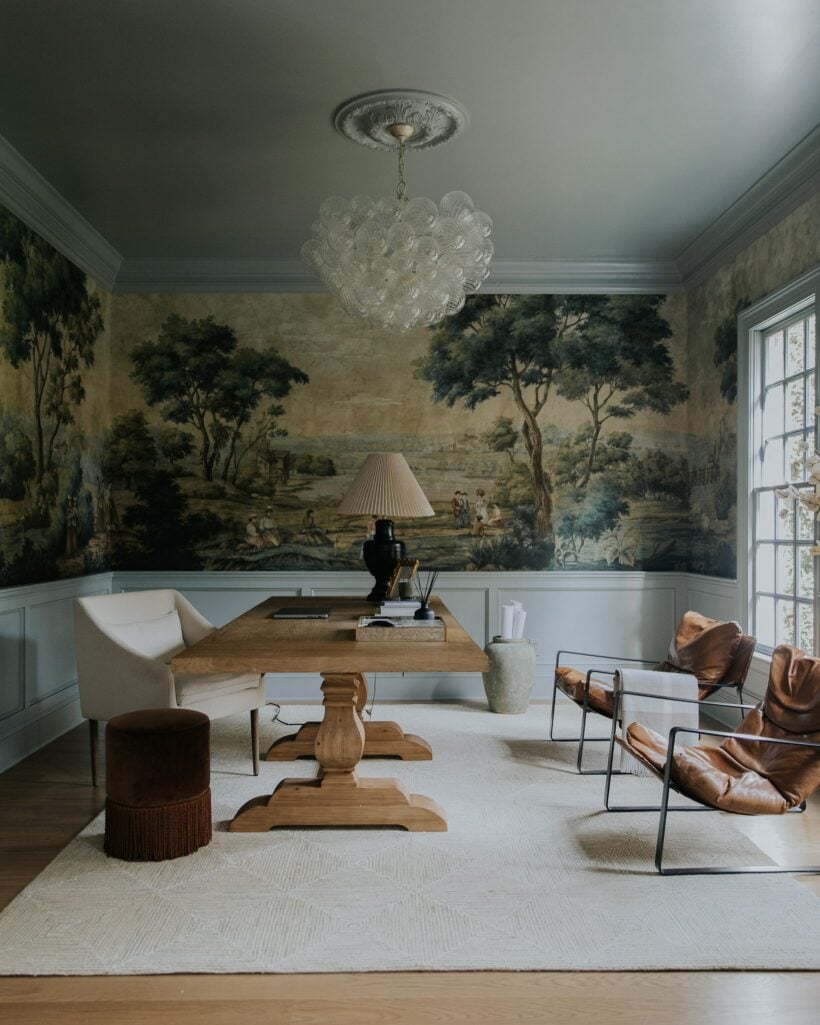 Keep it Classic With a Shiplap Accent Wall
Don't underestimate how versatile shiplap is! It may have become popular with the rise of farmhouse style, but it can be used in so many modern ways. I absolutely love it painted a dark color and installed vertically.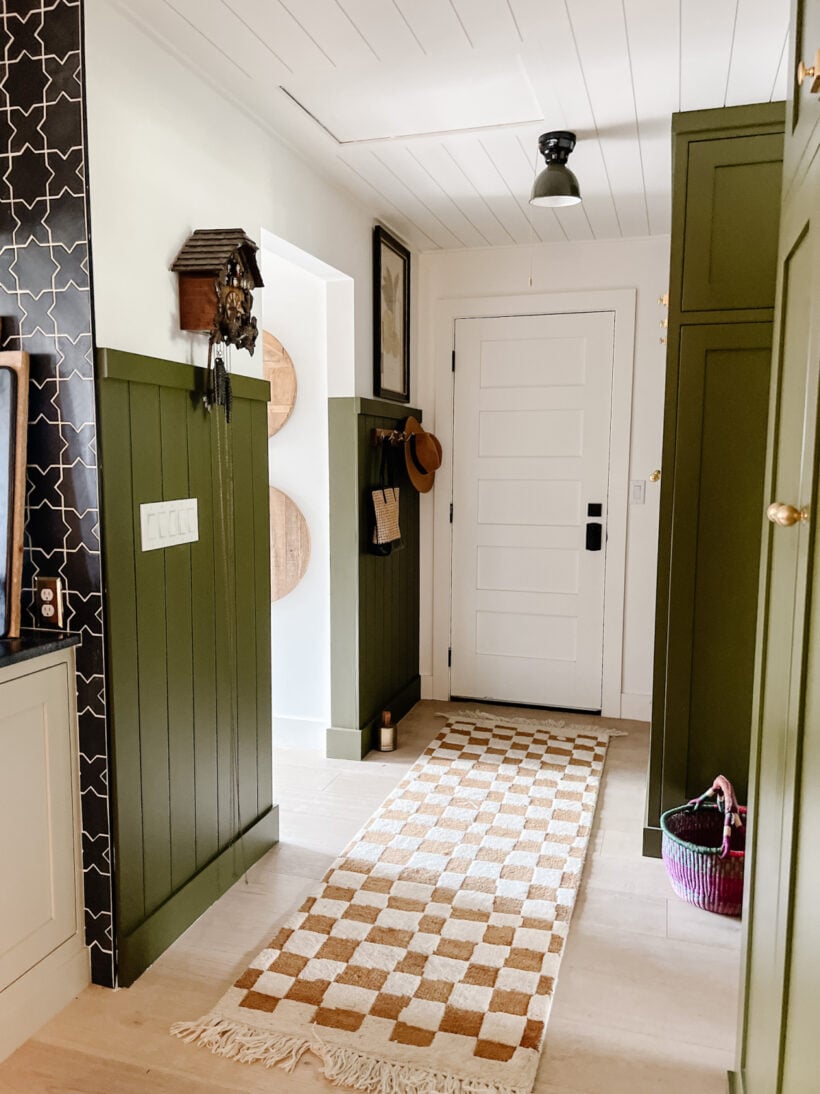 And how gorgeous is this vertical shiplap in this living space? I love the dark navy blue paint color!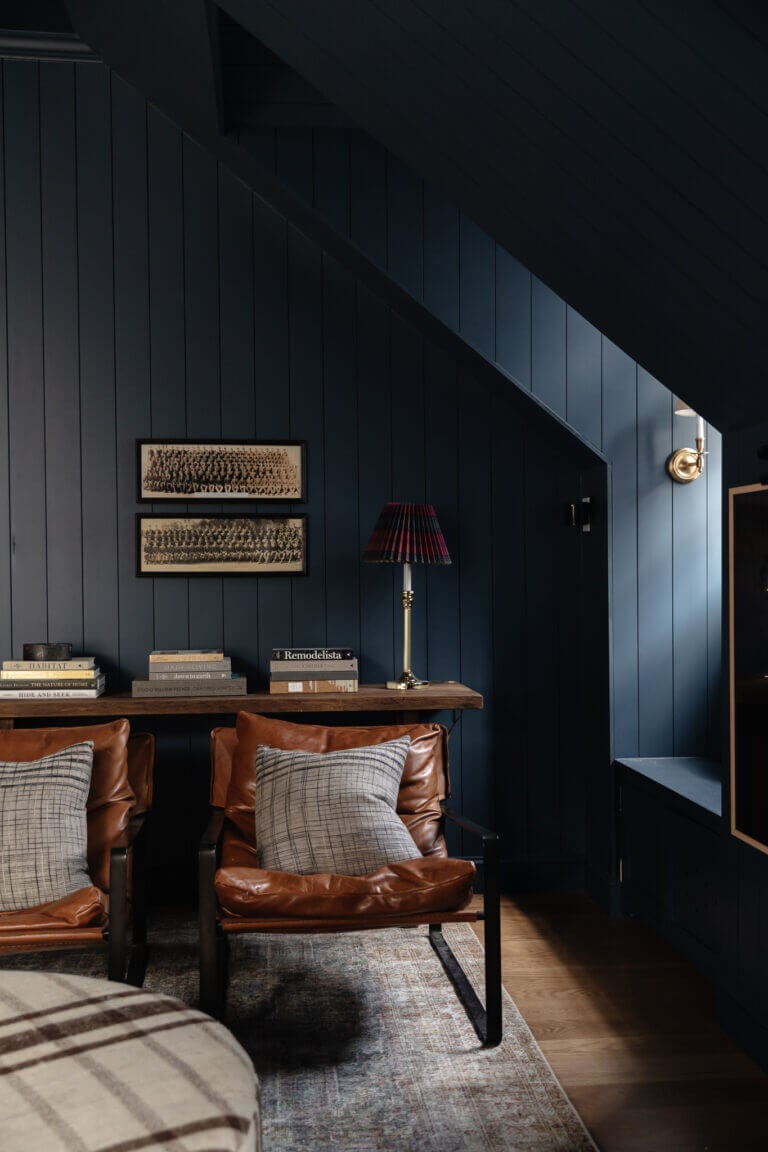 Install a Gallery Wall
I'm a HUGE fan of gallery walls because they make such a great focal point and don't require any power tools or paint! If you want to create an accent wall that isn't permanent and is easy to change around any time, then go with a gallery wall. Be sure to check out my gallery wall ideas and tips if you have never created one before :)
I created this eclectic gallery accent wall in our bedroom. I even added digital art to our smart TV so that it blends in with the rest of the art (you can display art on any smart TV)!
You can also create an accent gallery wall using family photos. In our old home I created this colorful gallery wall in our hallway and we loved it so much.
Make a Statement With a Tile Accent Wall
Instead of just installing a tile backsplash in a kitchen or bathroom, use it over an entire wall for massive impact and style. I absolutely love how the tile forms 2 whole accent walls in this kitchen!
We included a DIY tile accent wall as part of our colorful kitchen remodel and I loved it so much. And it was such an easy project to tackle ourselves because of the simplicity of the stacked pattern.
And instead of just tiling a shower enclosure, consider tiling entire walls for the biggest impact possible! This colorful bathroom is one of my favorites of all time.
Create a Headboard Accent Wall
Want to draw attention to your headboard? Create a feature wall formed by upholstered panels! You could even skip a headboard all together and have the upholstered wall serve as the headboard AND accent wall all at once! If you don't want to DIY your own, you can buy gorgeous upholstered headboard panels.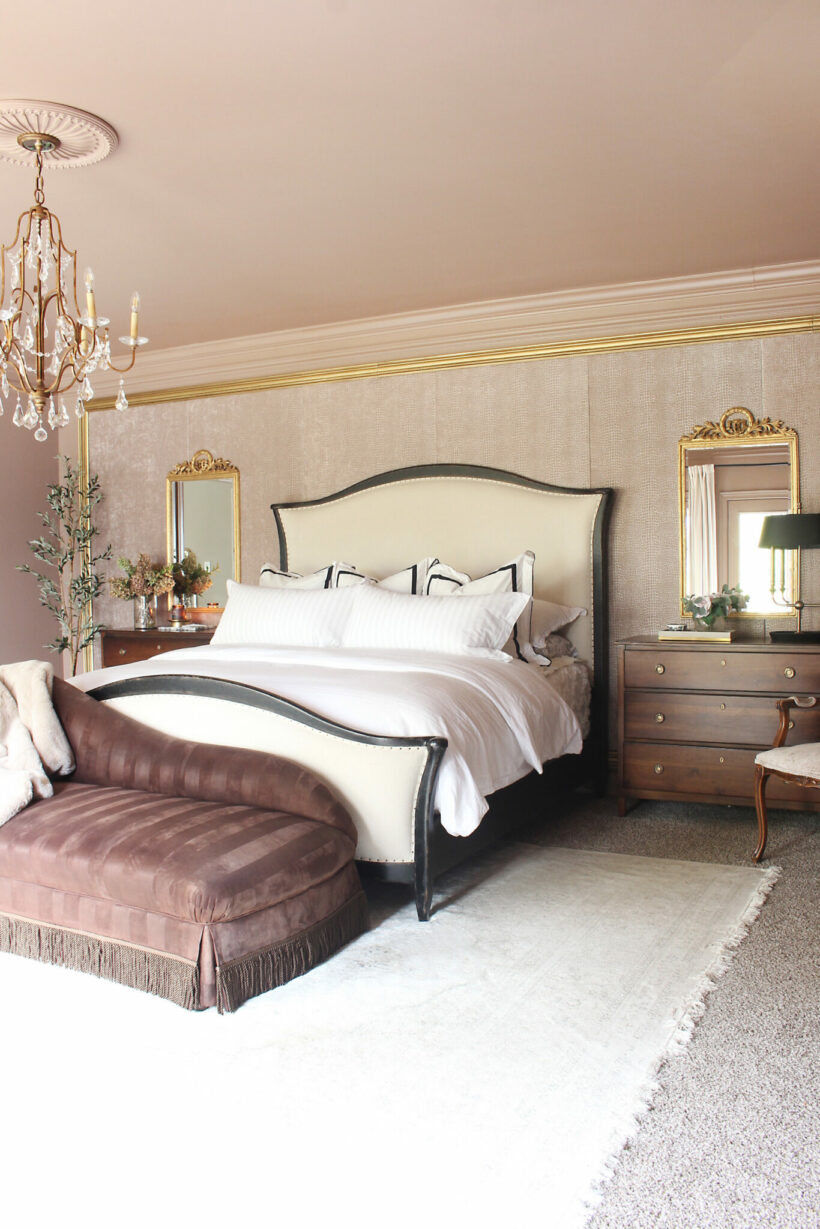 Keep It Classic With Board and Batten
There are so many different board and batten wall ideas that I love. Traditionally, board and batten is a siding and paneling style that places narrow strips of wood over the joints of wide boards, resulting in a really pretty and classic wall treatment. "Battens" are vertical molding pieces installed on larger "boards." But these days most people use their wall surface as the "board" portion and simply apply "batten" strips on top of their wall to create the look of board and batten with far less work. That's what we did! I have a full tutorial for the easy method of installing a DIY board and batten accent wall.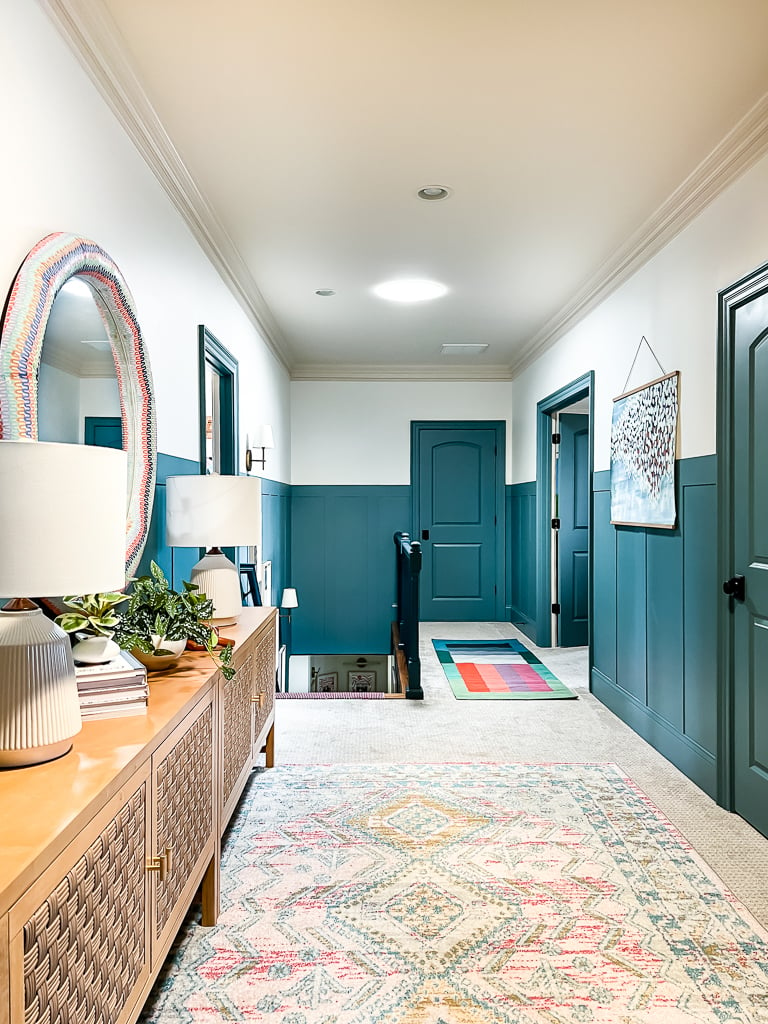 I hope you are feeling inspired by these accent wall ideas and add some WOW to one or more walls in your home soon!
Other posts you may enjoy:
Wondering how I approach transforming rooms and spaces in our home? Check out Designer in a Binder®.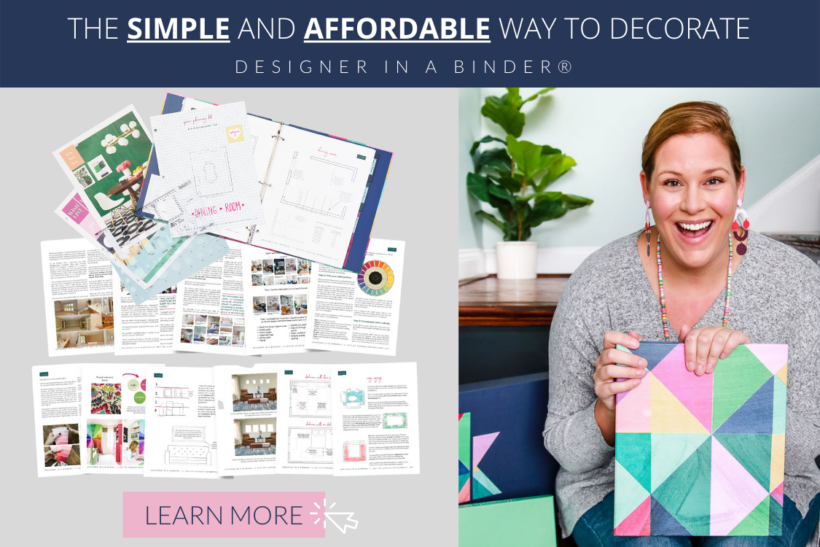 And if you want exclusive content and behind-the-scenes sneak peeks, be sure to subscribe before you head out!