15+ Inspiring DIY Staircase Makeover Ideas
You do not have to live with an outdated staircase! A DIY staircase makeover or remodel is totally possible and not as scary as it sounds–I've done it twice! You can give your staircase a totally new look by removing carpet and installing wood stair treads, adding a stair runner, sprucing up your stair risers, updating the stair railing and more. If you ever been wondering how to modernize a staircase, these staircase makeover ideas will provide you with tons of inspiration!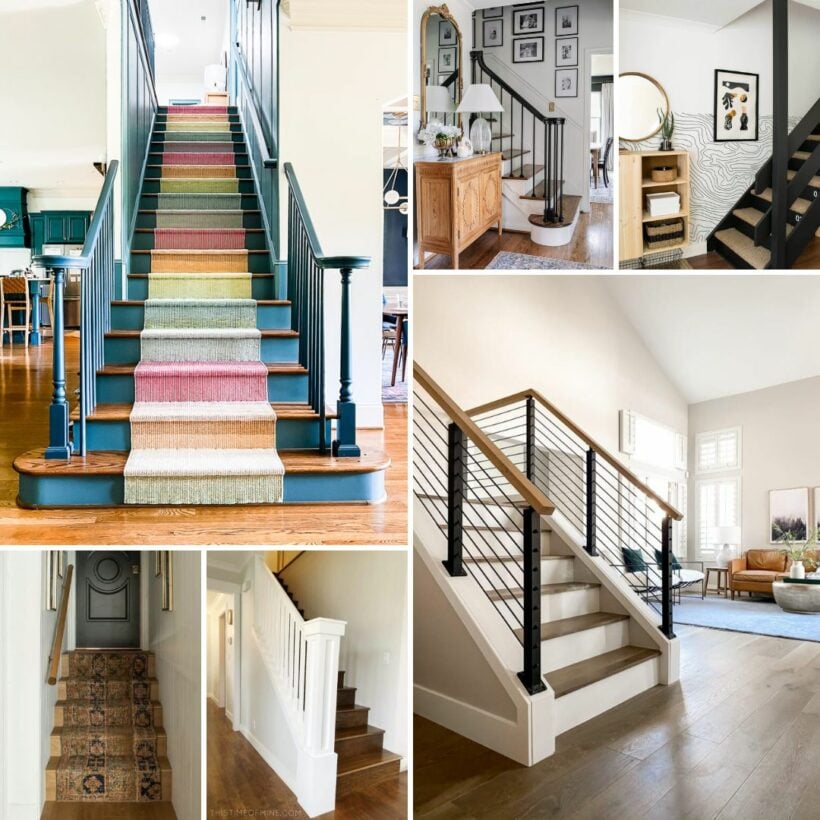 I have found in our last two homes that a stairway makeover has made an enormous impact on the overall feel of the house. Your stairway is usually one of the main focal points in a house and if you don't love it, then it brings down the overall style. I love what we did to both of ours, and I gathered lots of other inspirational projects as well. There are some truly amazing DIY staircase makeover projects out there! These will get you inspired to tackle this project and make your staircase something you are proud of.
How Do You Renovate an Existing Staircase?
There are lots of ways to update an existing staircase without starting from scratch because there are so many different part of a staircase that can be updated to make a huge visual impact, including:
stair treads
stair risers
skirt board / stringer
walls (in most stairwells)
spindles / balusters
hand rails
newel posts
lighting, art and accessories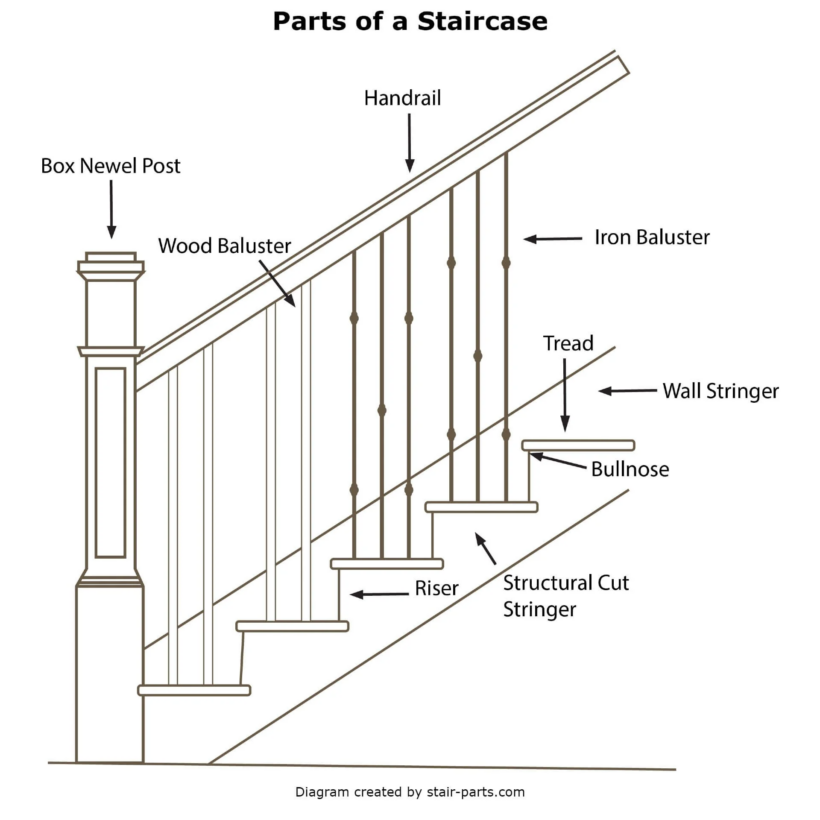 DIY Stair Railing Makeover
I hated this staircase from the moment we moved in and it was high on the list of things that needed to get a makeover. The stairs themselves were in good condition, but we replaced the spindles / balusters, continued the DIY board and batten accent wall from our upstairs hallway, and installed the stair runner. Now we LOVE it!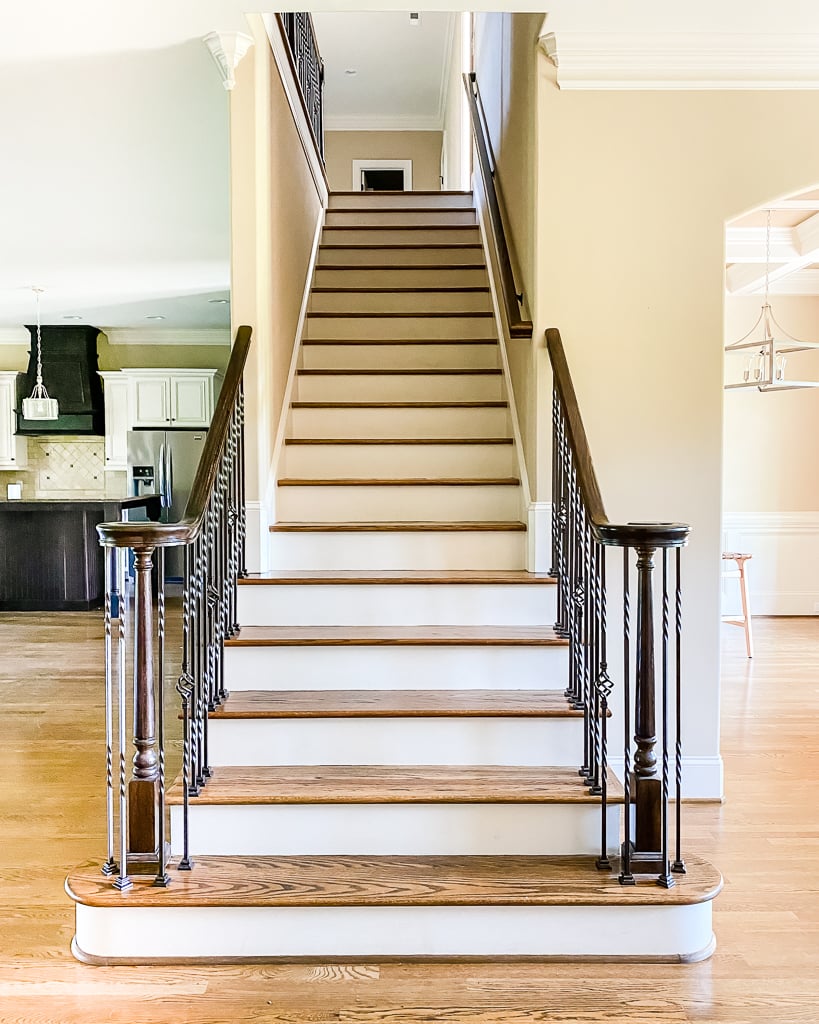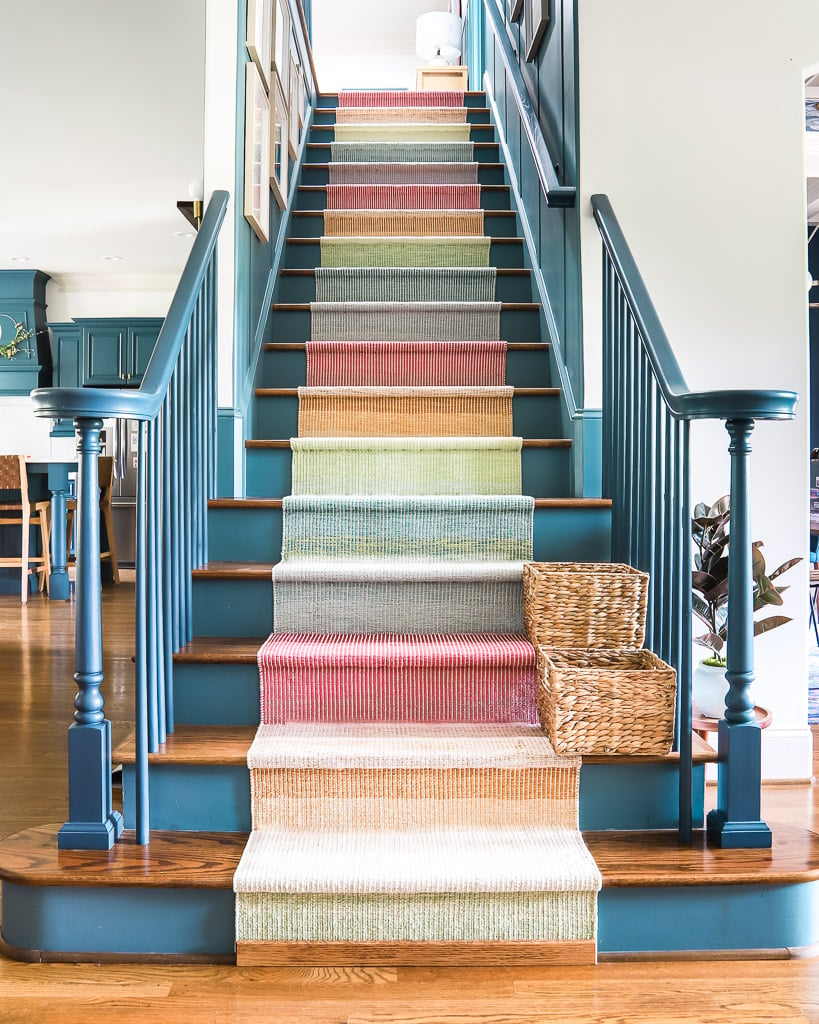 Out With Carpet, In With New Wood Stair Treads
In our old home, we removed our old carpet and installed DIY wood stairs. I was so happy to see the yucky carpet go and the small touches like the right stain and paint made all the difference. Best of all, it only took 1 1/2 days and cost $2,000 since we did the work ourselves. It was a total game-changer and looked amazing when we finished! Once we added the modern plank wall that we painted with one of our favorite blue paint colors, the space was perfect.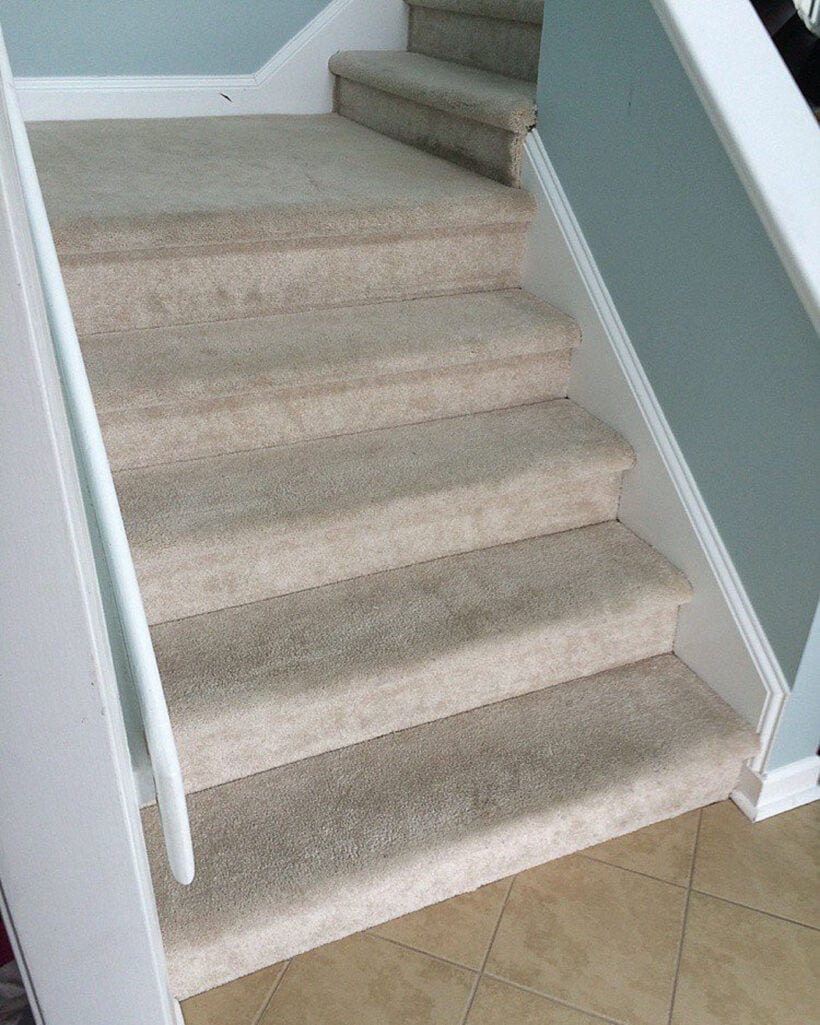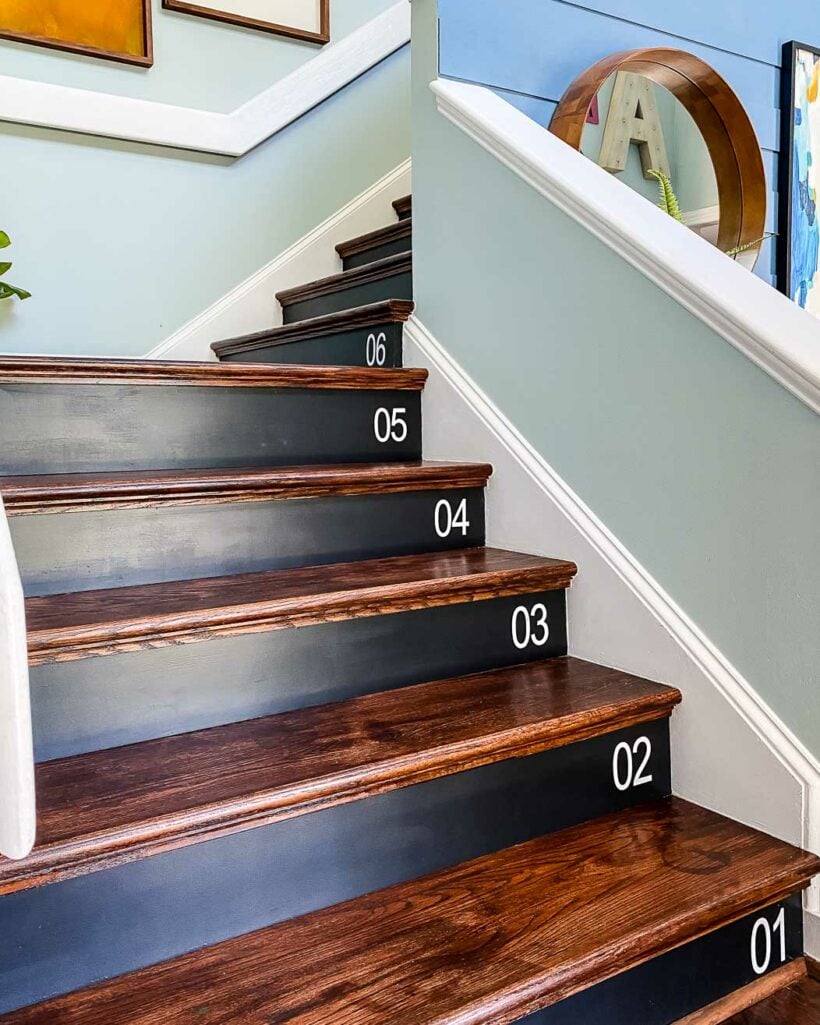 DIY Wood Treads and Updated Stair Risers
Lisa hated her stairs and wanted to modernize the treads. She started with the messy task of removing the carpet, tack strips, and staples. She wanted her stair nose to be squared instead of a bull nose, so she was able to find a tread that fit over her existing one! She also updated the risers with double-sided premade risers. One side was traditional beadboard but she opted for the more modern chevron-patterned side. The end result of this makeover is stunning!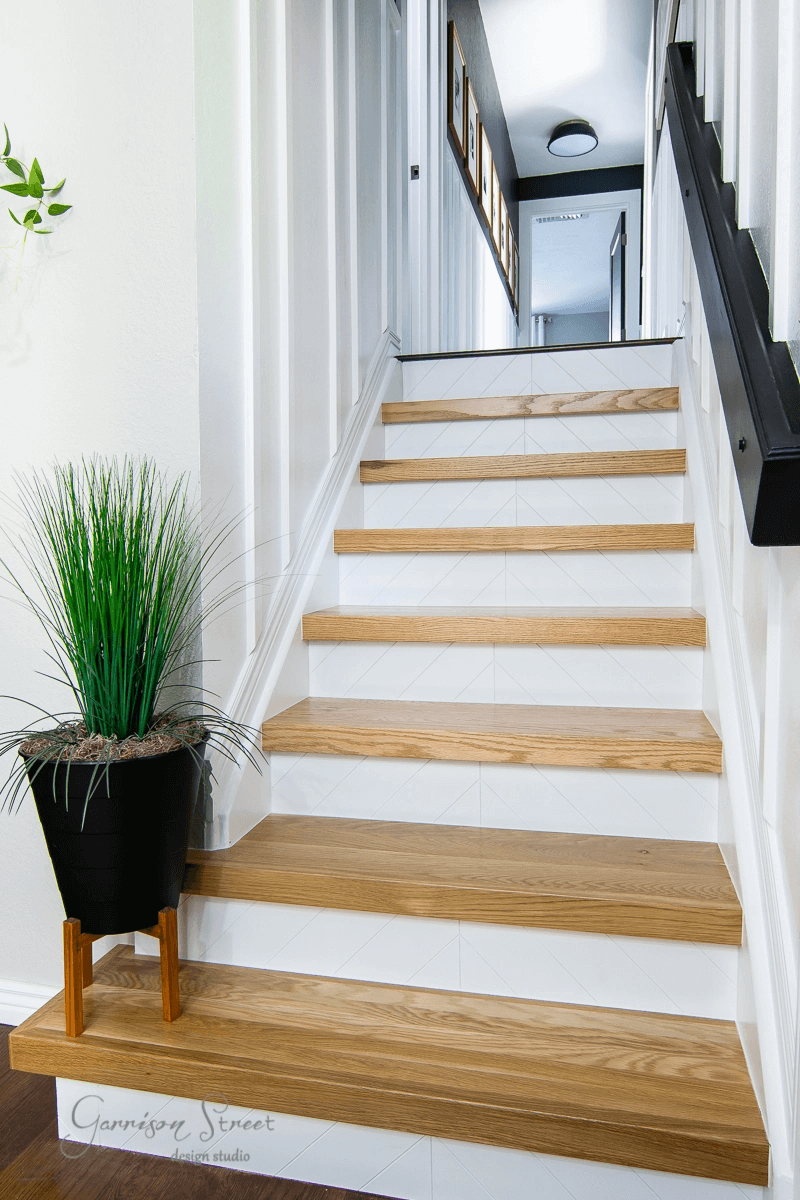 Updated Floating Stairs
These stairs went from outdated carpet with a terrible board backer to gorgeous floating stairs with metal safety bars and black accents. I cannot believe she did this project for under $75 and that she was new to DIY! She was able to use the existing stairs by updating them with wood putty, wood stain and polyurethane. The same brackets were reused and the railing got updated with black spray paint!
Modern Staircase Makeover
The look of the original staircase was not what Angela wanted in her home! She ripped out the carpet and removed all the weird niches and angles in the stairwell. But the real transformation comes from the railing and rod system that totally modernizes the whole look. I can't believe this is a DIY!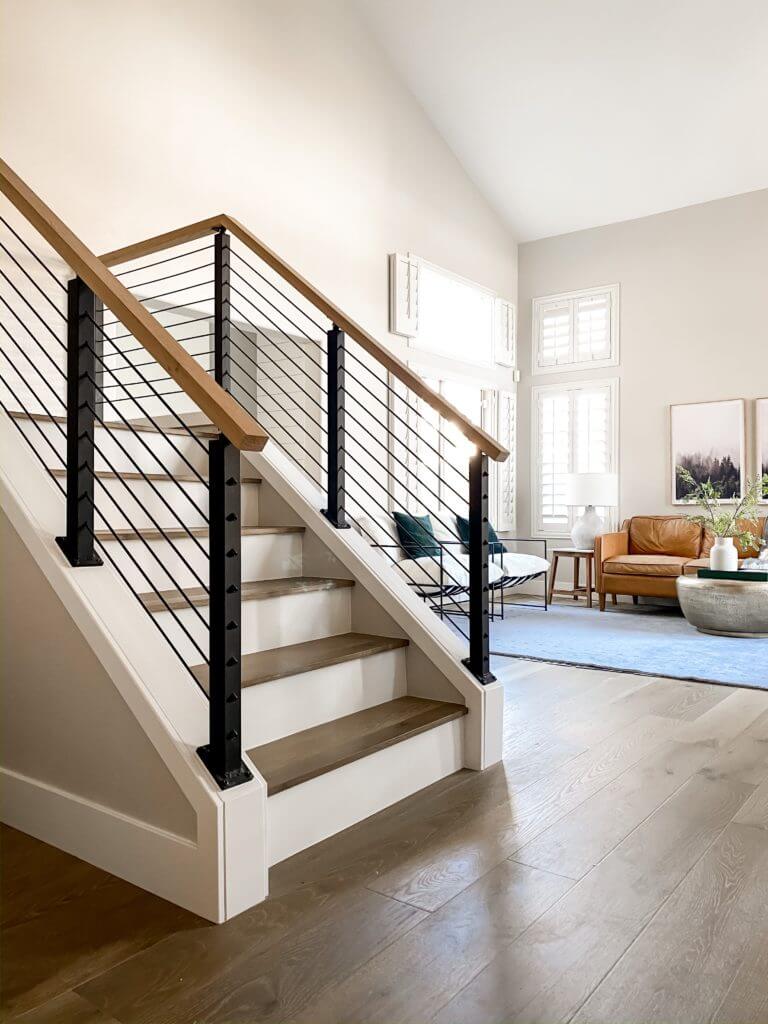 Carpet Covered Modern Stairs
Medina's project is a great example of what we think we want isn't always the best for our family and lifestyle. She redid her stairs and brought them back to wood, only to discover they hated how loud they were! So she did a second phase and put carpet on each existing stair and painted the risers black. Sometimes you have to be willing to admit it didn't work and evolve the plan!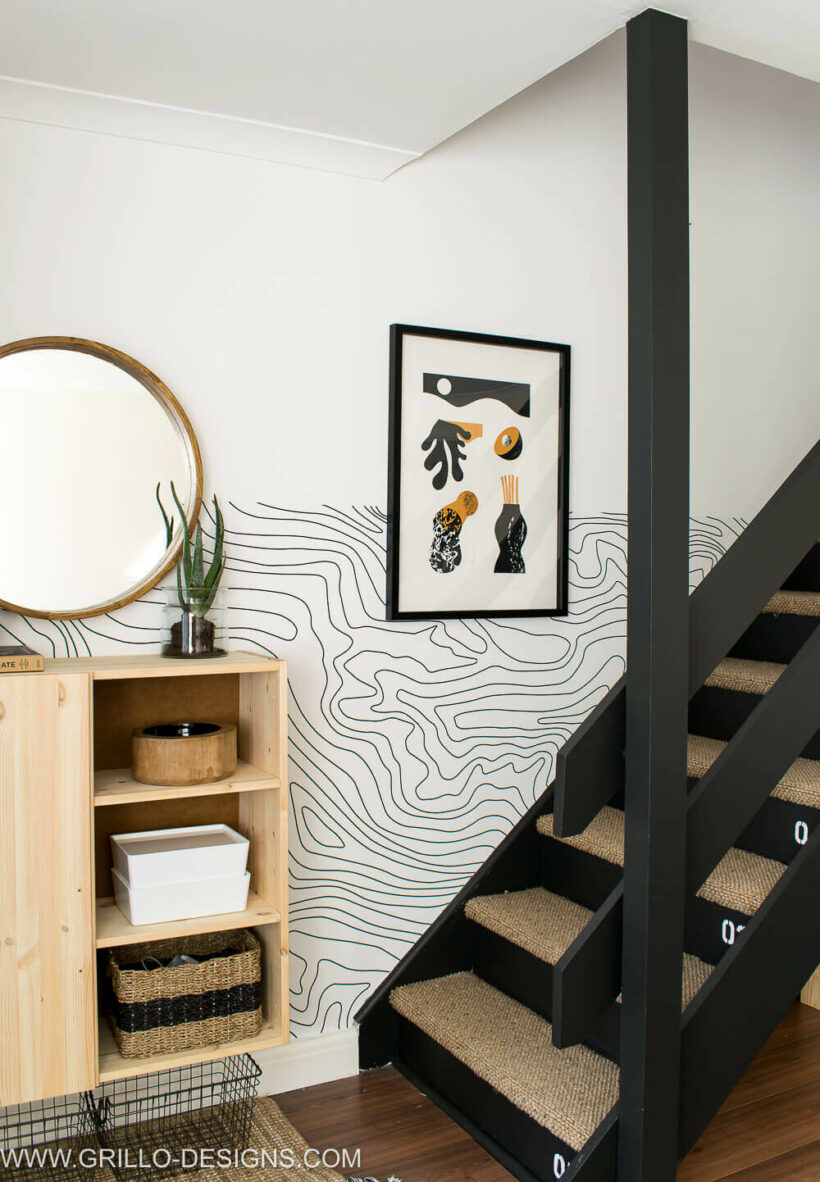 Simple Spindle + Painted Handrail Update
This budget-friendly DIY switched out the old twisty iron spindles for a more modern clean version, also in iron. This is an excellent tutorial for each step of the process! Their hand rail was in good shape so they reused that, but the rest is new. She does recommend you have a partner to make the installation process go more smoothly!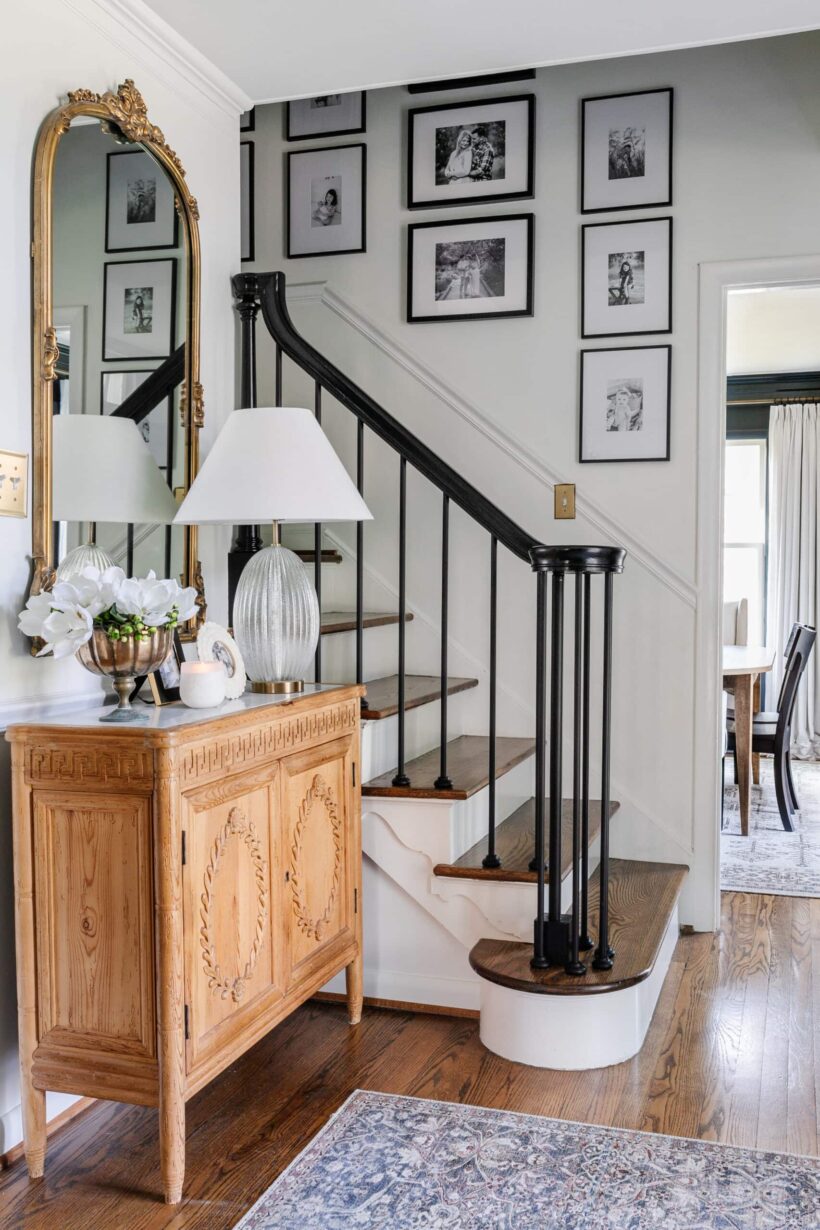 Modern Balusters and Indoor-Outdoor Carpet
This basement remodel also called for a staircase makeover! This project got big fast, but the end result was totally worth it. Each new stair tread had to be fitted and installed and the whole thing had to be painted. Then the traditional wood balusters were replaced with these cool iron ones. To finish it off they wisely choose a durable indoor-outdoor stair runner since these get a lot of traffic!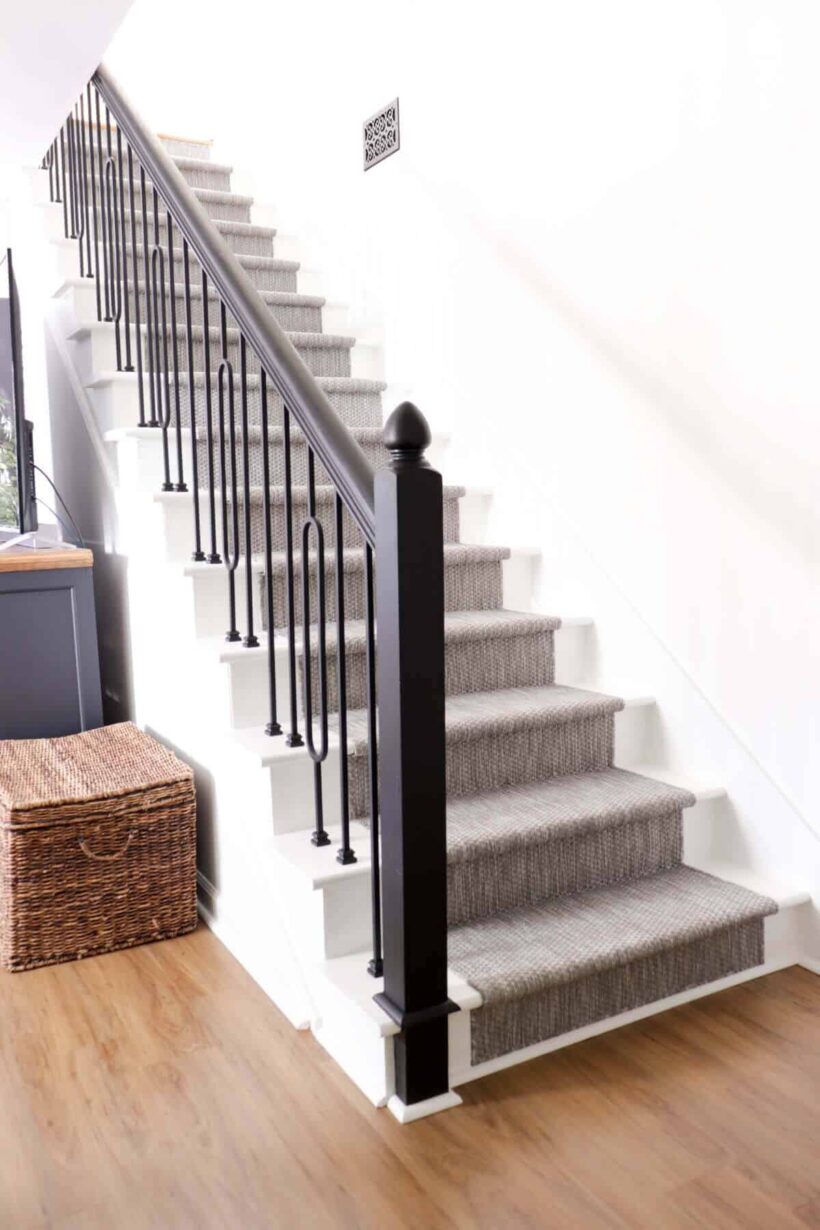 Lots of houses have traditional oak banisters that make them feel very dated. This tutorial shows how to wrap your existing newel post with MDF to create a cleaner, more updated look. They also added a new handrail and new square balusters to complete the totally new look. It is amazing what a project like this can do to change the look of the whole entryway!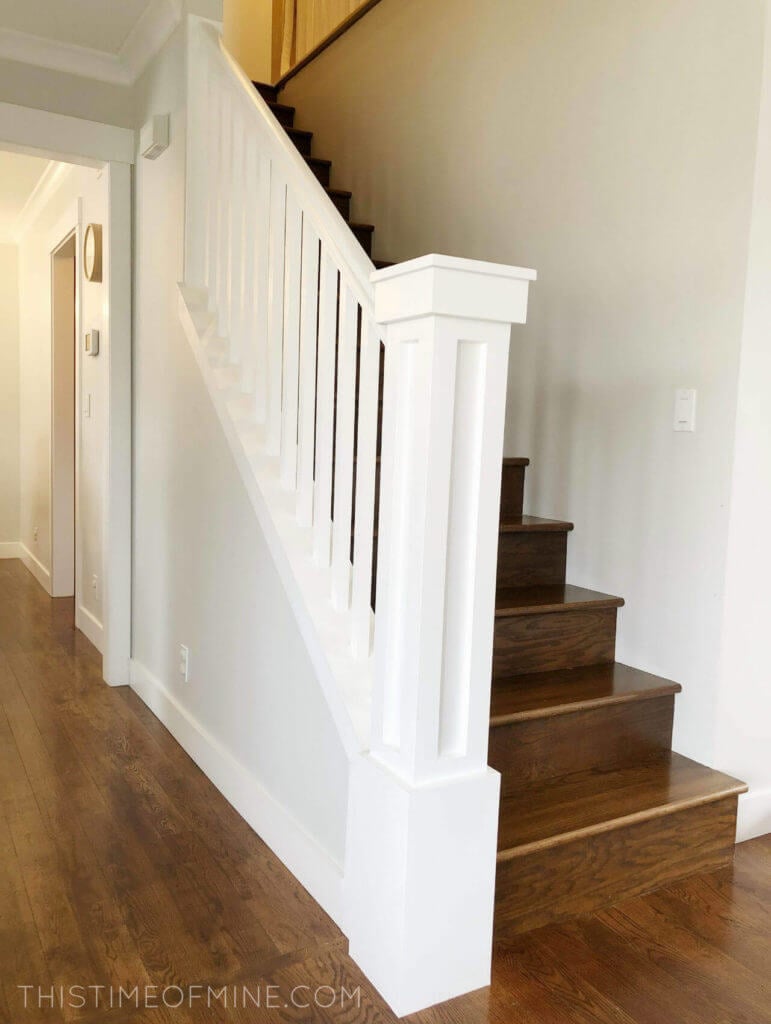 Black Iron and Clean Lines
This staircase reminds me of the one we have in our home. Like us, Sonja's stairs are front and center and did not match the feel of her home. A big change that transforms the style of the staircase is altering the angles on the starter step. She removed the curves and added in newel posts with straight clean lines. The new balusters and handrails match the style, and it is now the perfect fit!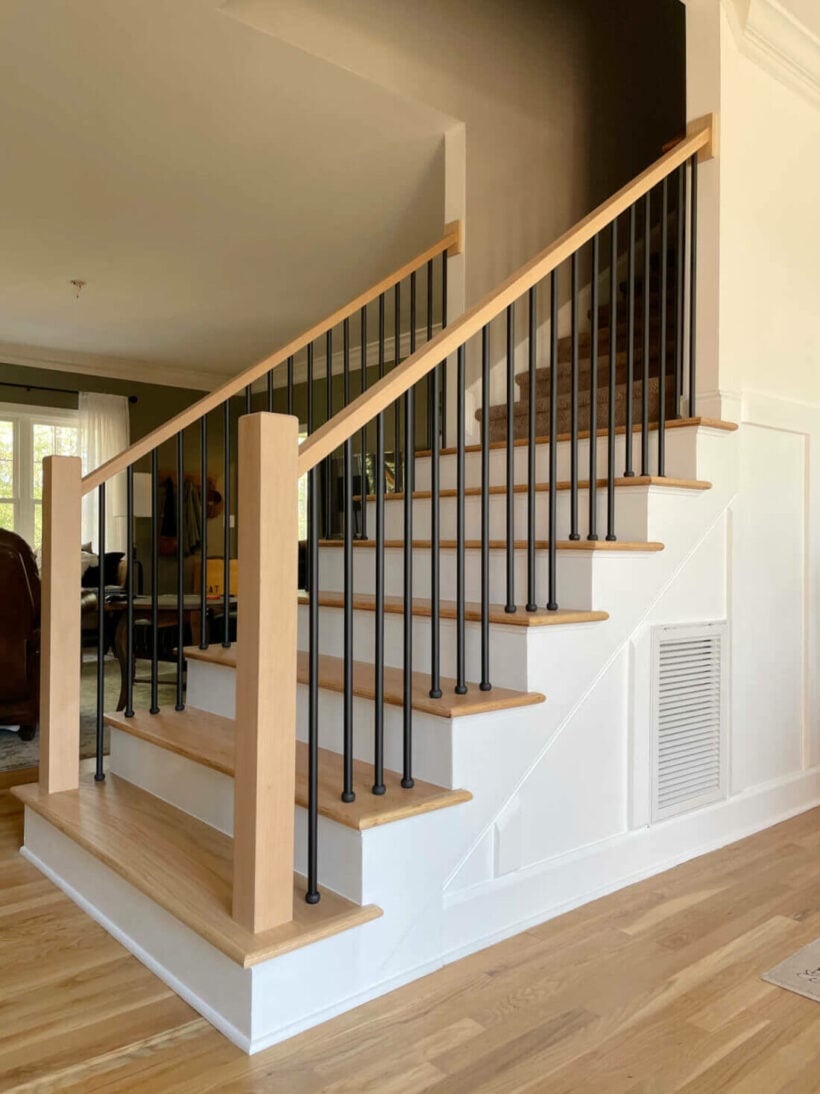 Updated Basement Steps with Runner
This may only be five steps, but they made the most of it with this stair makeover! Honestly, this doesn't even look like the same space. The ugly carpeted stairs and paneling are transformed into a stunning little staircase. The homeowners opted for the durability of LVP and put a runner on top. I love the brass accents on the stair rail!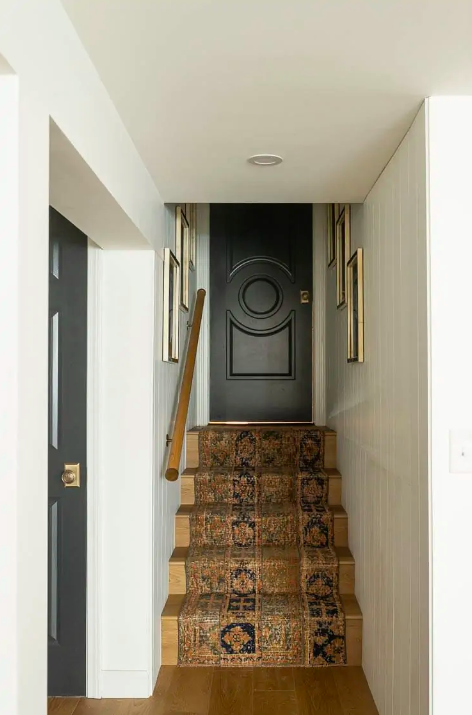 A Staircase Gallery Wall
Don't underestimate how much art can change the look of a staircase. Once we updated our stair railing, installed the board and batten and stair runner to update our stairs, I installed this colorful and eclectic gallery wall and it adds so much life and interest!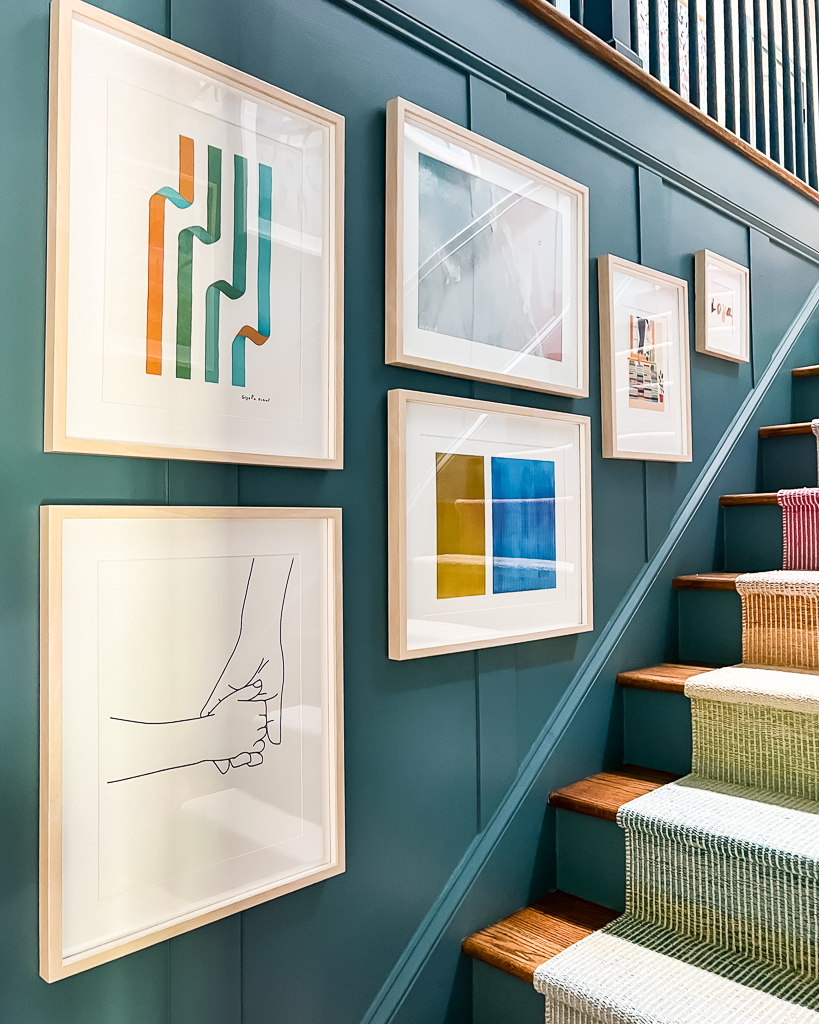 And in our old home, I also created a gallery wall with my own DIY art frames to add a ton of color and interest to our freshly updated staircase.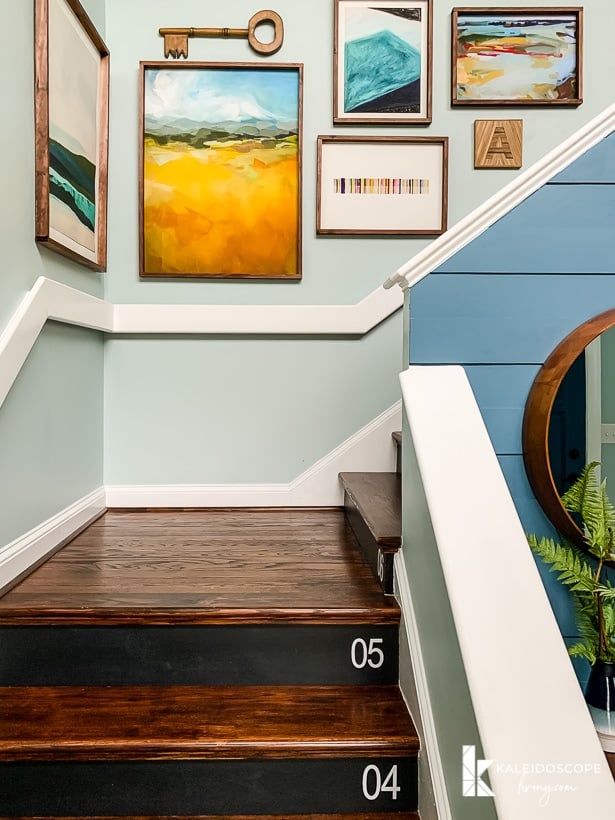 DIY Painted Stairs for a Brand New Look
If your wood stairs have already been painted or the wood is damaged and you are on a tight budget, paint them! You can go for a colorful look like this…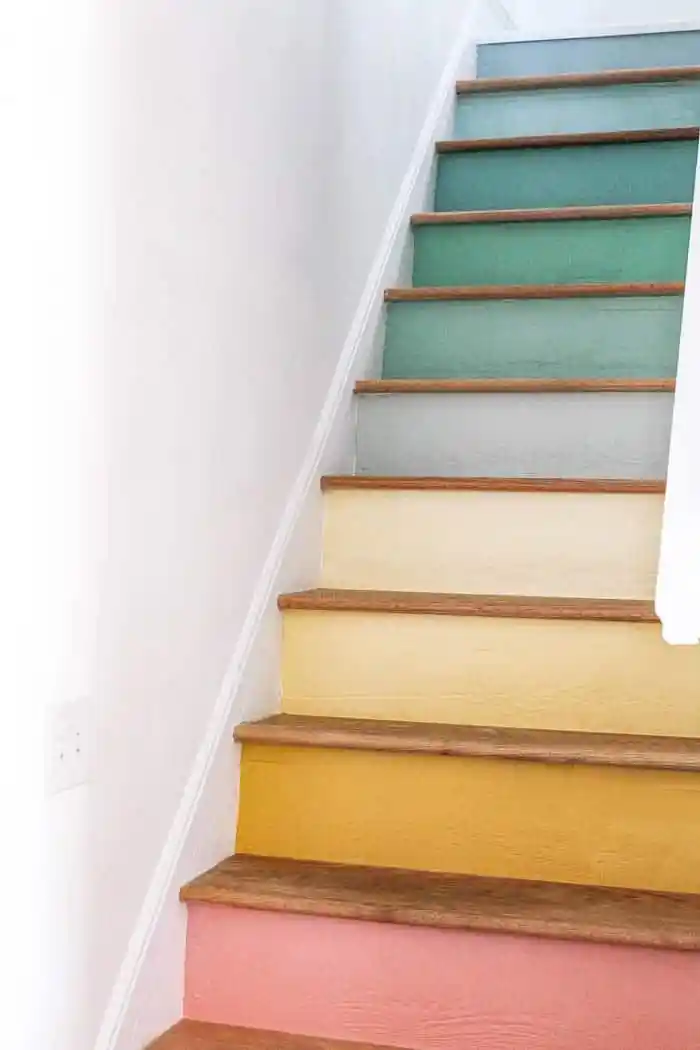 Or a more neutral look by painting the stairs and a faux stair runner.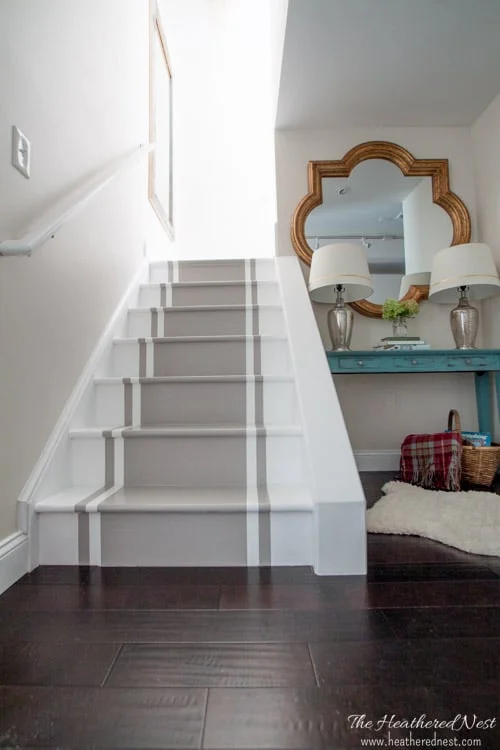 Aren't these staircase makeovers amazing? Some of them are subtle, and some of them are off the charts. But they are all beautiful DIYs that update the staircase and make it feel like a cohesive part of the house. Don't live with stairs you don't love! With some planning and innovation, you can create something that you love.
Frequently Asked Questions
How do you modernize a staircase?
To modernize a staircase, some ideas include replacing traditional balusters with sleek metal ones, painting the staircase a bold color, adding a runner or carpet to the stairs, and installing modern lighting fixtures. The ideas in this post should give you lots of ideas.
How can I update my stairs cheaply?
To update your stairs cheaply, I would recommend starting with paint (paint the walls, railing and/or the stairs) and installing a stair runner. If you don't want a runner on your stairs, do something inexpensive and creative to add interest to your stair risers. If you have a slightly larger budget, I would look into replacing the spindles / balusters with a more modern style.
Is it expensive to redo stairs?
Installing a completely new staircase is extremely expensive. Even having carpet removed and wood treats installed can be expensive if you hire the work out. But if you are willing to do the work yourself, it's reasonably affordable. When we removed the carpet and installed new wood stair treads in our old house, it cost $2,000.
Other Posts You May Enjoy:
Wondering how I approach transforming rooms and spaces in our home? Check out Designer in a Binder®.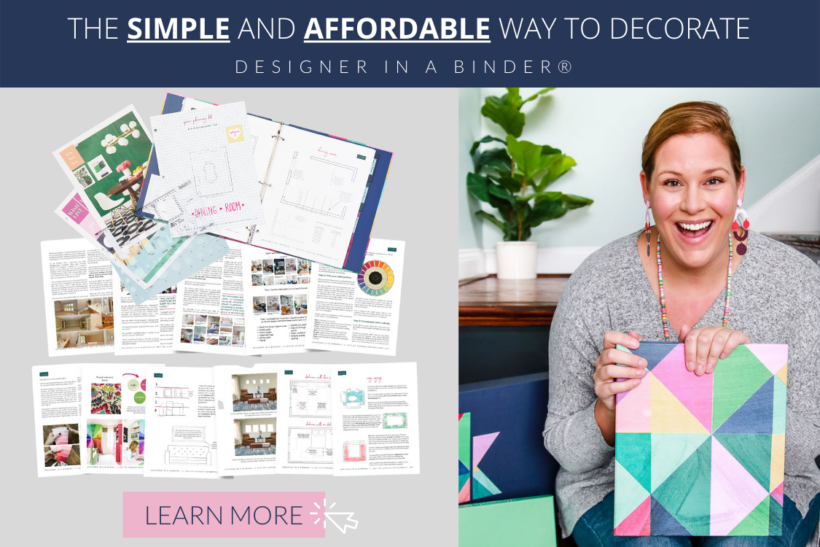 And if you want exclusive content and behind-the-scenes sneak peeks, be sure to subscribe before you head out!