15 Chic Stair Railing Ideas to Update Your Staircase
Every stairway comes with a stair railing that someone thought was the perfect choice. But if it's not what you would have chosen, you can change it! Stair railing design varies from traditional to modern to rustic to classic, and your staircase should have the railing that matches the interior design style YOU have chosen for your home. Giving your staircase railing a makeover will change the entire look of your stairs, and it is totally worth the time and money!
These chic stair railing ideas will give you tons of inspiration for updating your stairs and creating the staircase of your dreams. You won't believe how one small design change can have such a dramatic impact!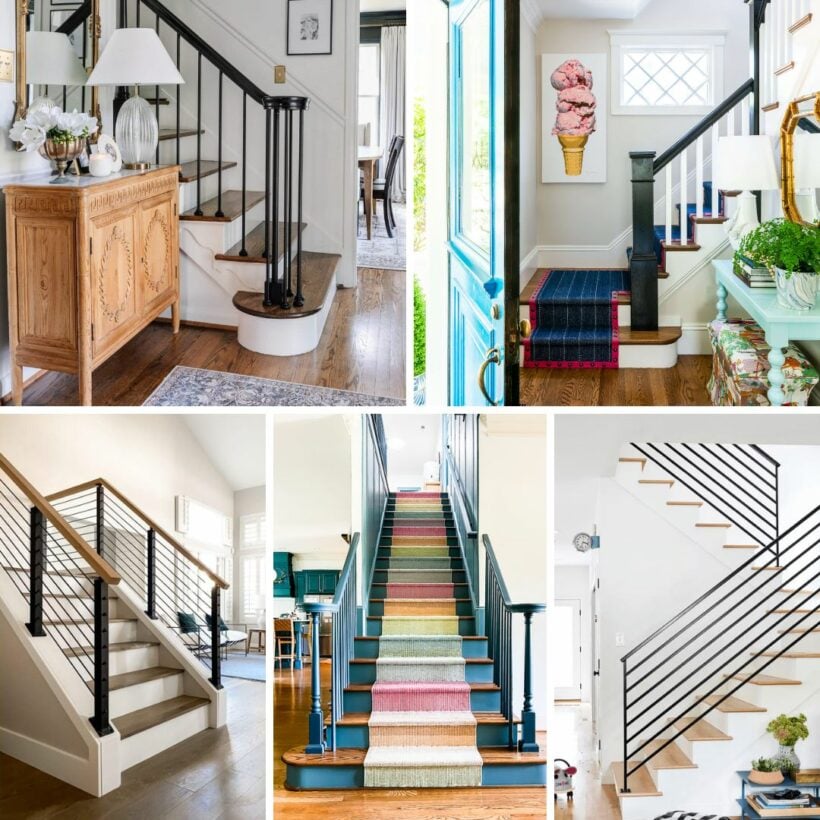 Let's take a look at 15 stair railing ideas to get you inspired!
Classic Pool Cue Balusters
Last year we completed a full staircase makeover, including installing a stair runner and completely updating our wood stair railing by replacing the balusters/spindles. We chose classic wooden pool cue balusters to replace the ornate iron balusters that were just NOT our style. We painted the new spindles the same blue color that we used for the DIY board and batten in the stairwell and it totally changed our entryway! By totally revamping our stair railing and making it our style, our staircase now blends with the style of our home beautifully.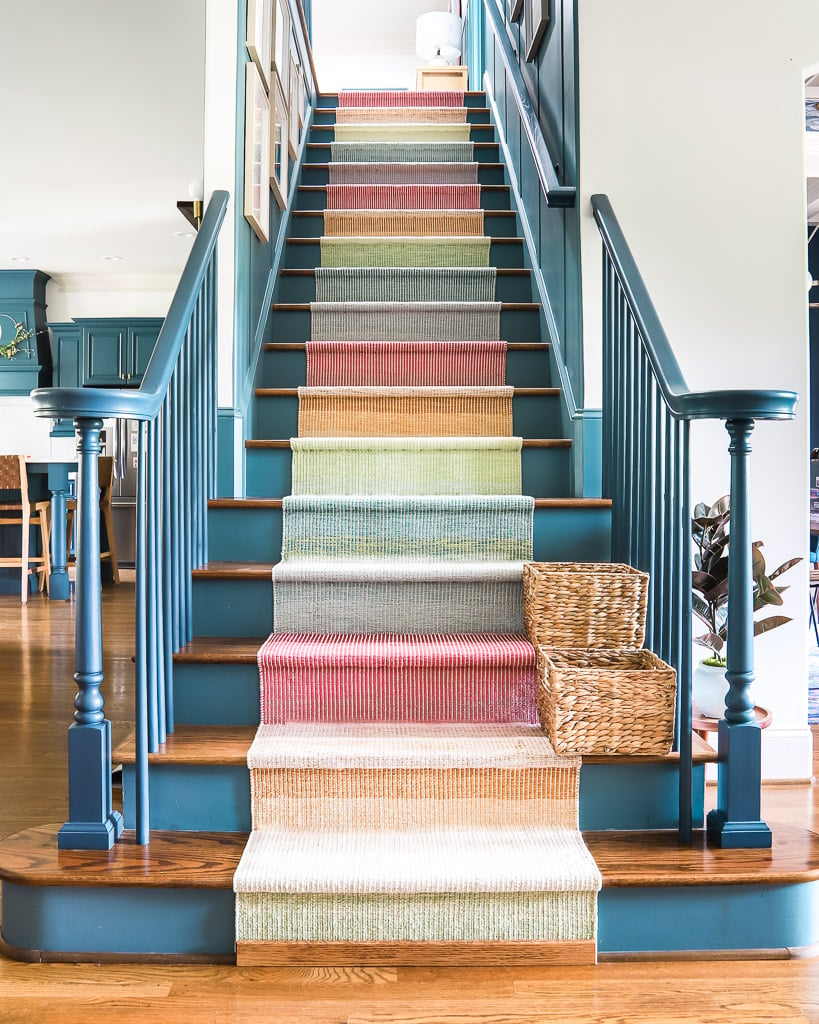 Modern Black Cable Railing
This DIYer gave her whole stairway a dramatic renovation, but the gorgeous wood and iron railing system is what really makes the design. I love the clean lines and how open it makes the space feel. The thin metal allows lots of light through and keeps the whole staircase from feeling to heavy and dark.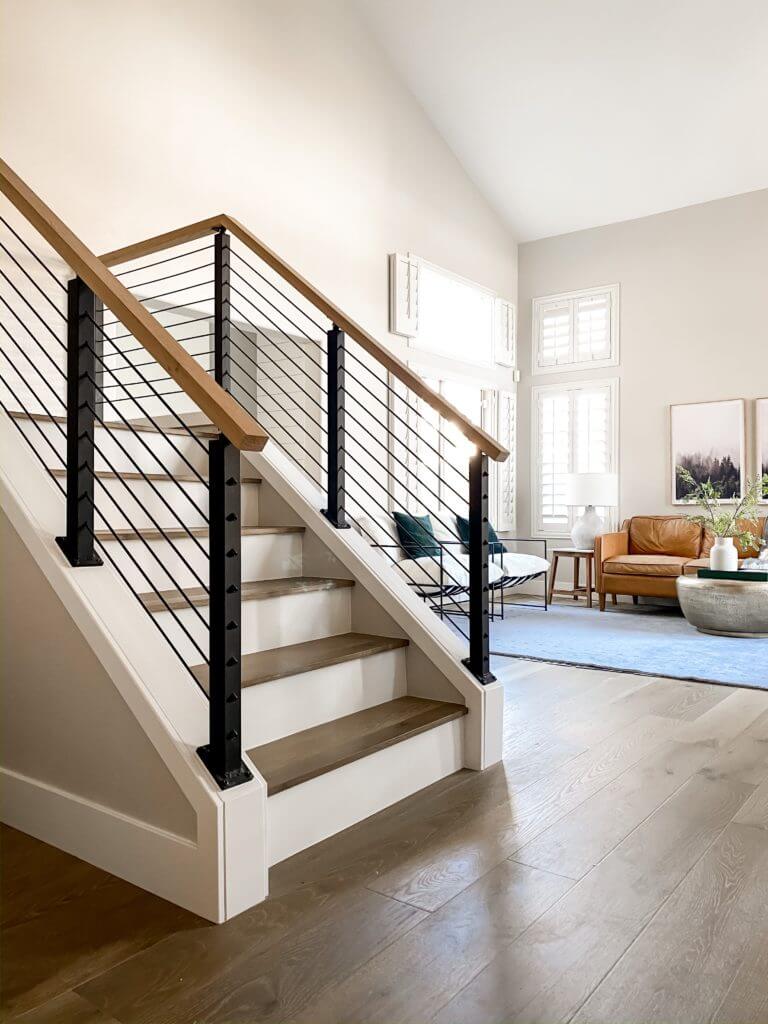 Updated Iron Balusters
Lauren replaced her old, ornate wrought iron balusters with a much more simple and modern iron option. She reused the same wood handrail after and updated it by painting it black. These simple changes totally changed the look of her foyer and was exactly what she wanted to match her home decor and style better.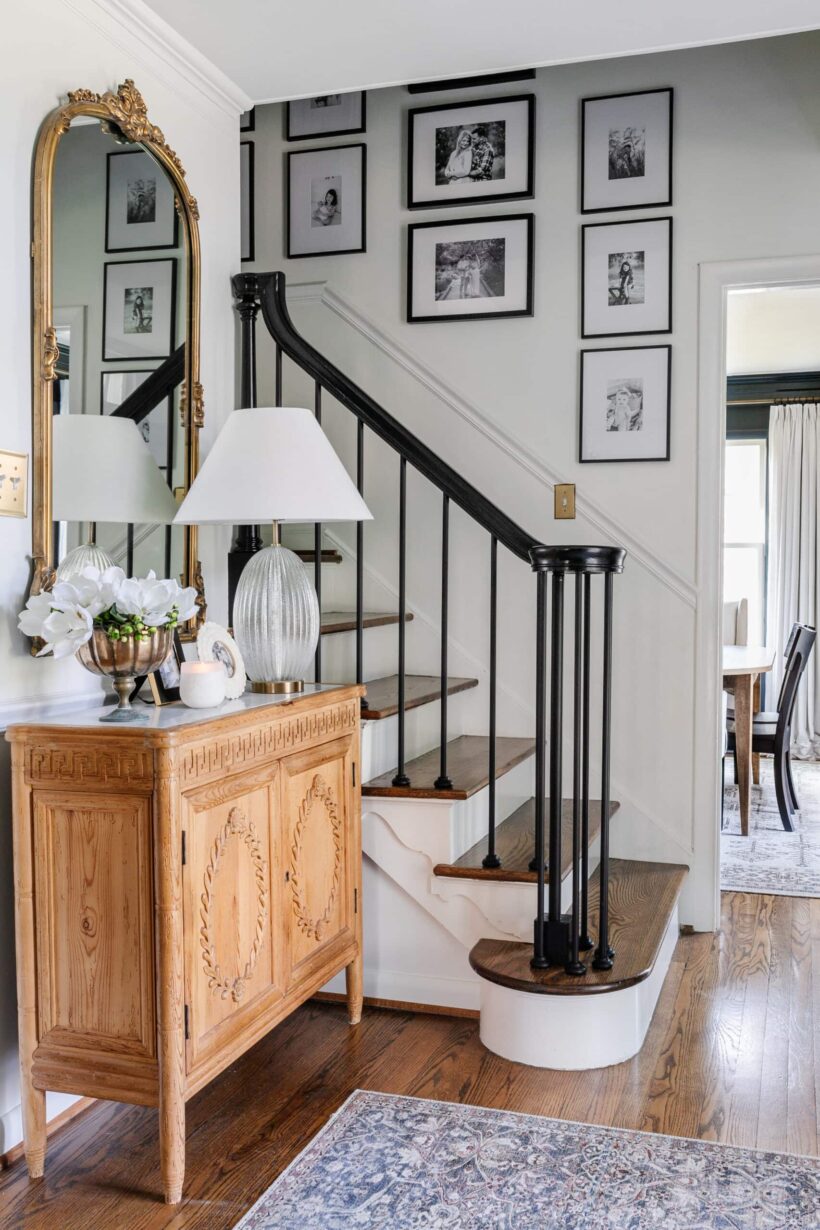 Metal Stair Railing with Glass Panels
This staircase is totally non-traditional, but I absolutely love it! The funky eclectic style in this old house works perfectly with the modern stair railing. The industrial feel of the metal railings and glass plays perfectly with the brick and that stripe is the perfect added touch of flair! Don't be afraid to think outside the box when you are thinking about new stair railing ideas.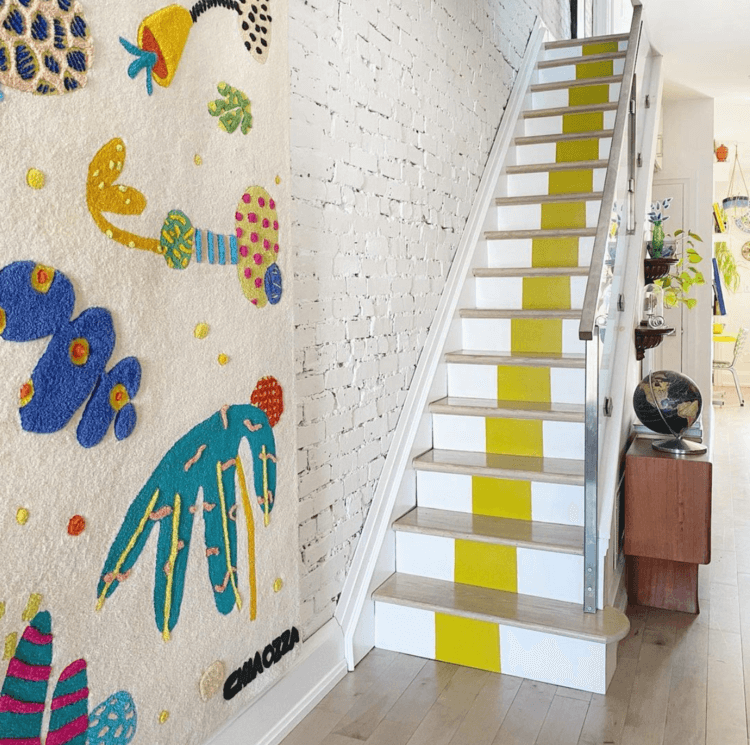 Modern Farmhouse Metal Stair Railings
This picture-perfect home has metal railings that are unexpected but look absolutely perfect. The horizontal black metal balusters paired with the white walls and light wood stair treads leave the staircase feeling open and airy.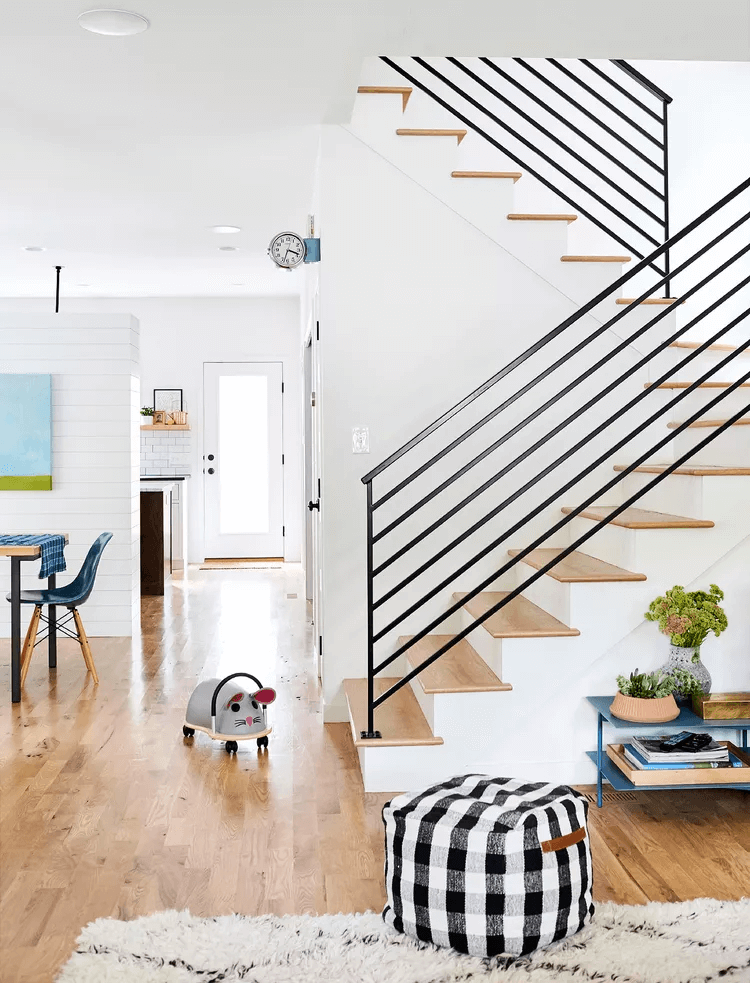 Wooden Handrails with Metal Balusters
A wood banister with metal balusters and a lower metal handrail is a cool look for this modern wooden staircase. The metal portion doesn't look like indoor stair railings, but the wood softens it up and balances it perfectly with the wood stairs, making it a cool and creative choice.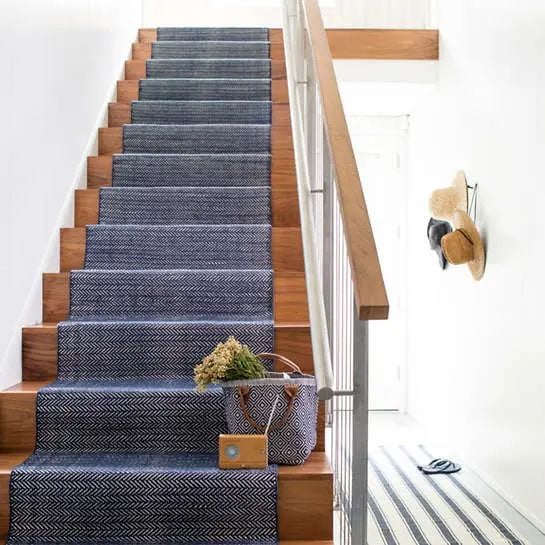 DIY Oak Banister Makeover
This DIY'er gave their stair railing a complete overhaul! They changed out the balusters and the handrail and created a new newel post for a totally updated look. Home renovations like this can seem scary, but they actually are very doable and the end result is gorgeous!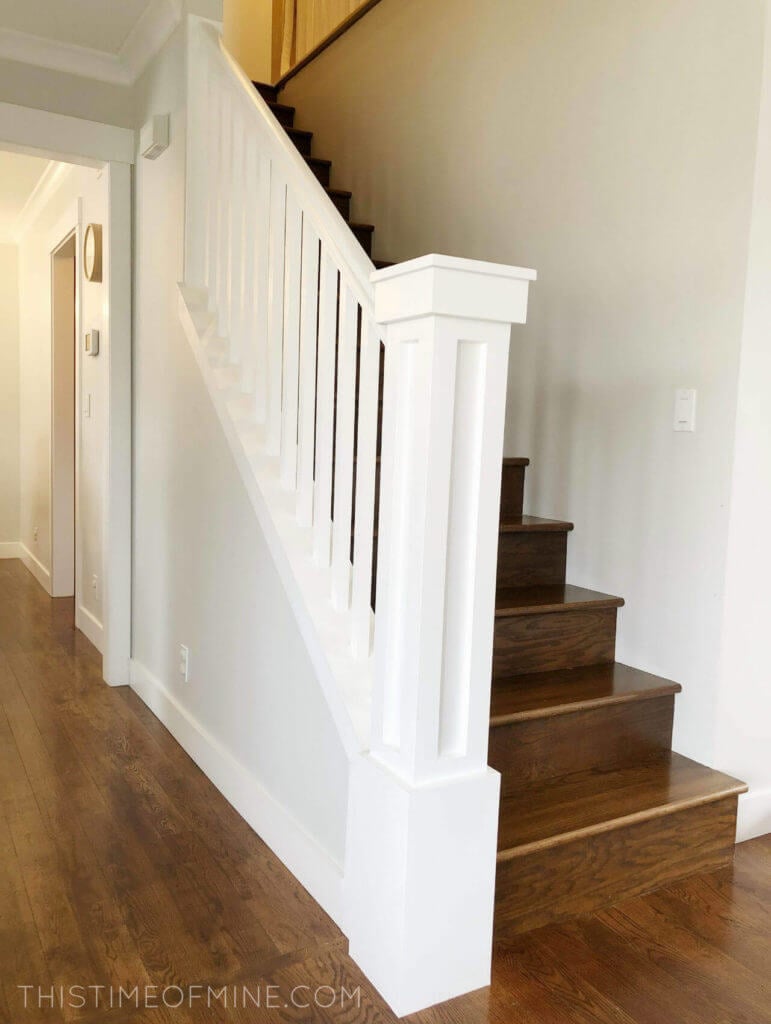 Sweeping Curved Staircase
I love the drama of a curved staircase, and this gorgeous traditional set of stairs brings it. The black stair risers and black railing with the white spindles is perfect–it shows the curve while also letting the artwork and light fixture show.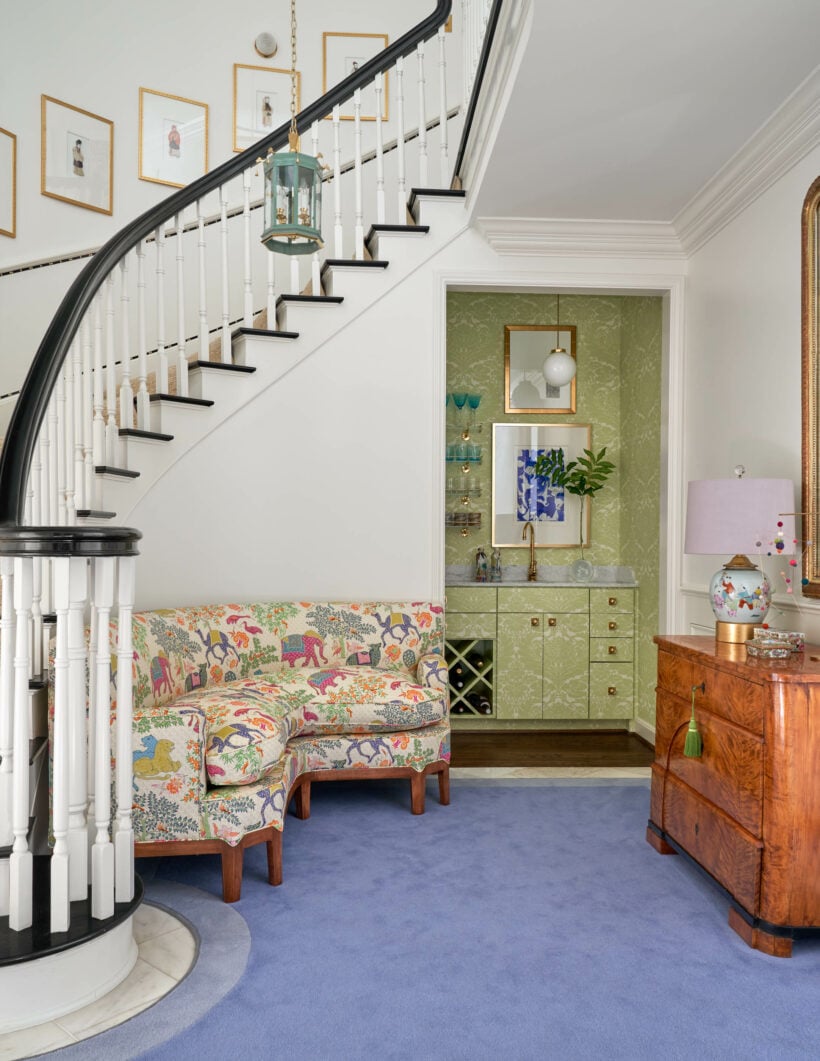 Custom Wood Railing and Balusters
Custom woodwork on your staircase adds interesting details. The specially designed stair rails and balusters in this home play off the board and batten perfectly, giving the staircase that special touch. Even though it is all white, the architectural details provide lots of texture and set the stair railing apart.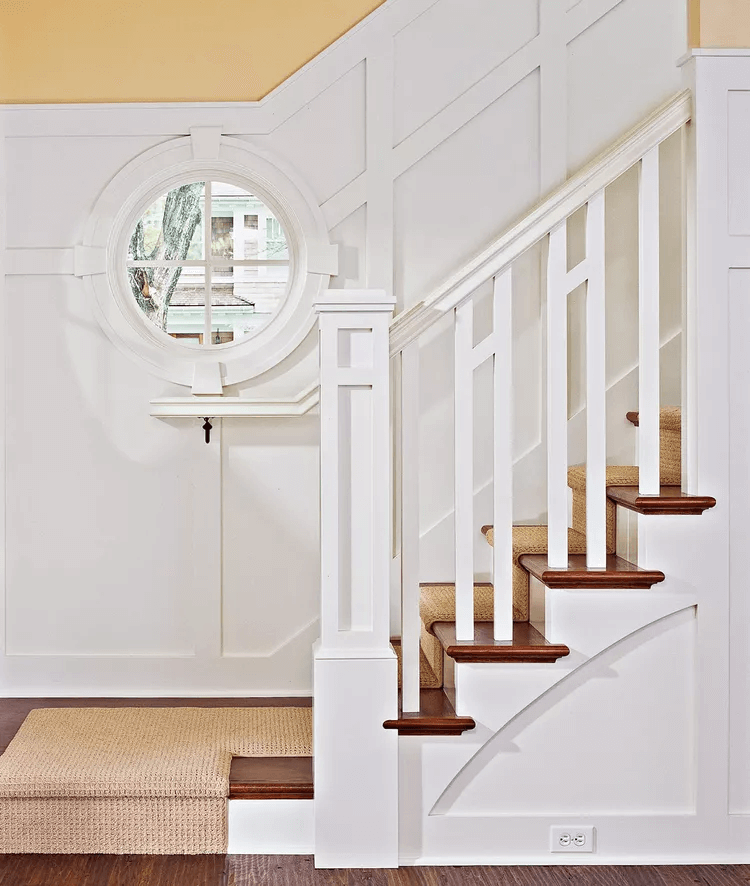 Modern Design in an Old Home
This designer updated their staircase by painting just the handrail and newel posts black. They pop against the bright white walls and spindles and it is the perfect accent to the chic modern art and cool lighting.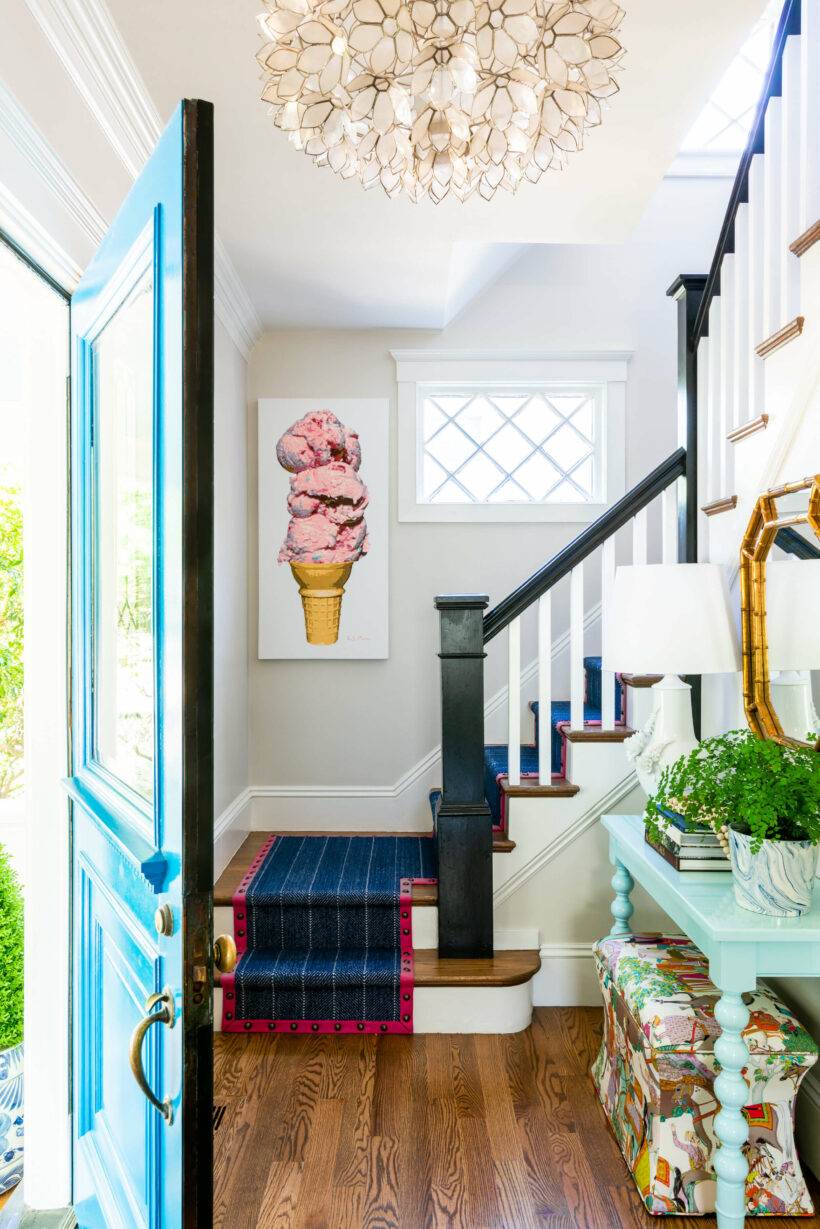 Some stairwells don't have the space or architecture to support balusters under the handrails. That does not mean you cannot give your banister a makeover and bring it up to date with the style of the rest of your home!
Modern Handrail with No Balusters
Our old house had a modern staircase design and a unique handrail. Every time I posted a picture of our DIY carpet to hardwood stair renovation or showed the flat banister in another DIY, someone asked me how we made it! It was original to the house, but we did paint it to match our trim so that it really stood out. I loved that it added an interesting focal point on the stairs.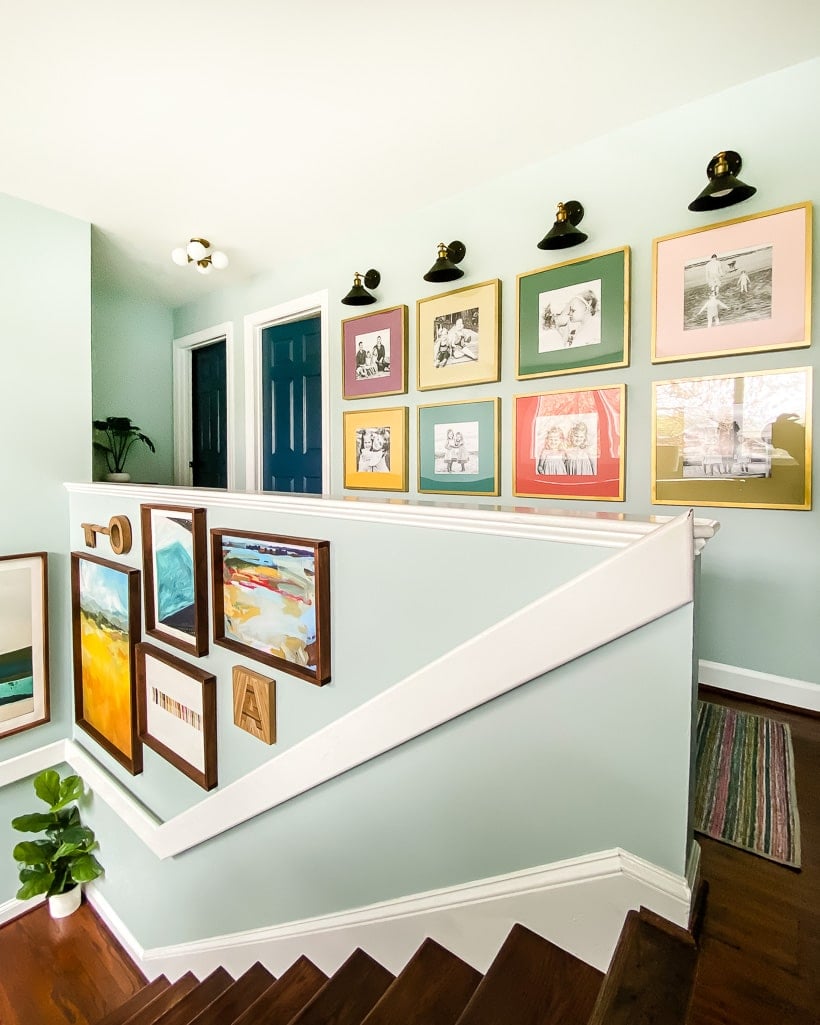 Chunky Handrail on Plank Wall
This staircase already had the perfect handrail in place and their DIY only improved it! They added the plank wall detail and I love that it mimics balusters. The gorgeous wood grain treads with the black stair rail and white wall is classic!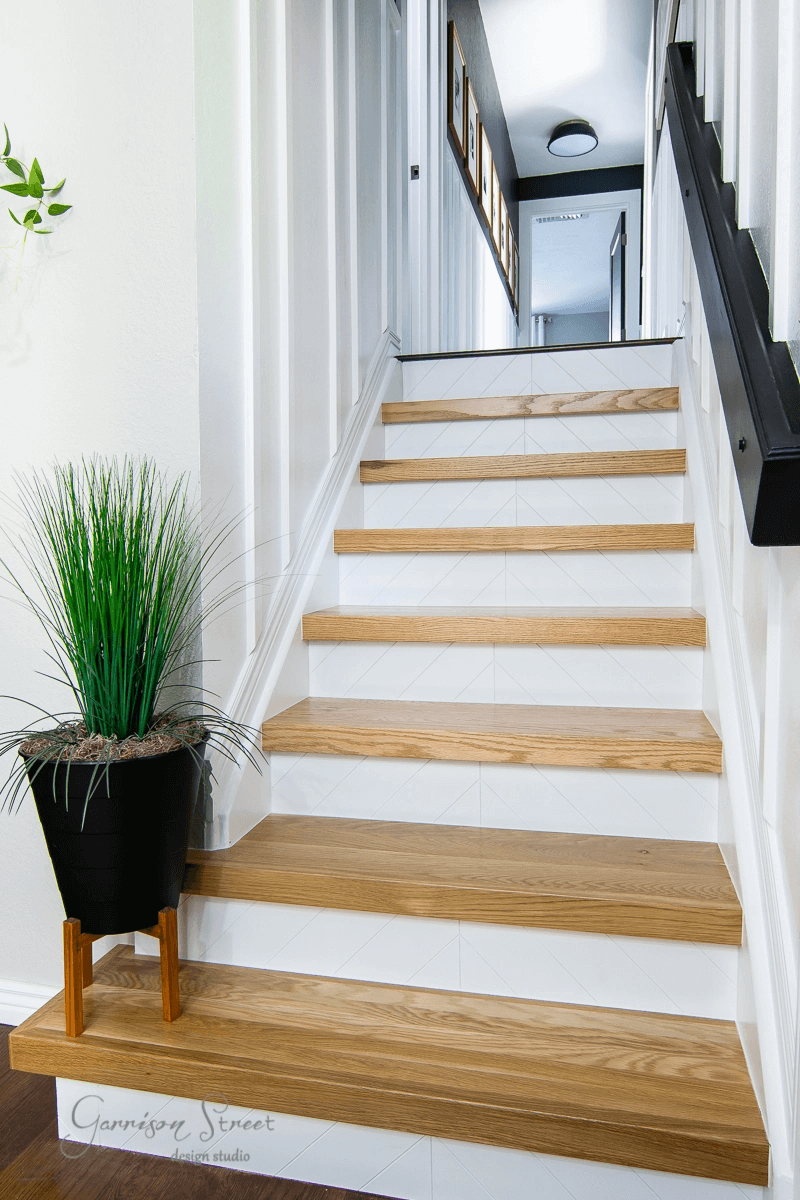 Rounded Handrail with Brass Accents
This chic handrail DIY dressed up a traditional white oak banister with brass end caps and brackets. I love the ingenuity of taking something not very exciting and adding accents that completely change the look. It dresses up the stairwell and looks perfect with the runner.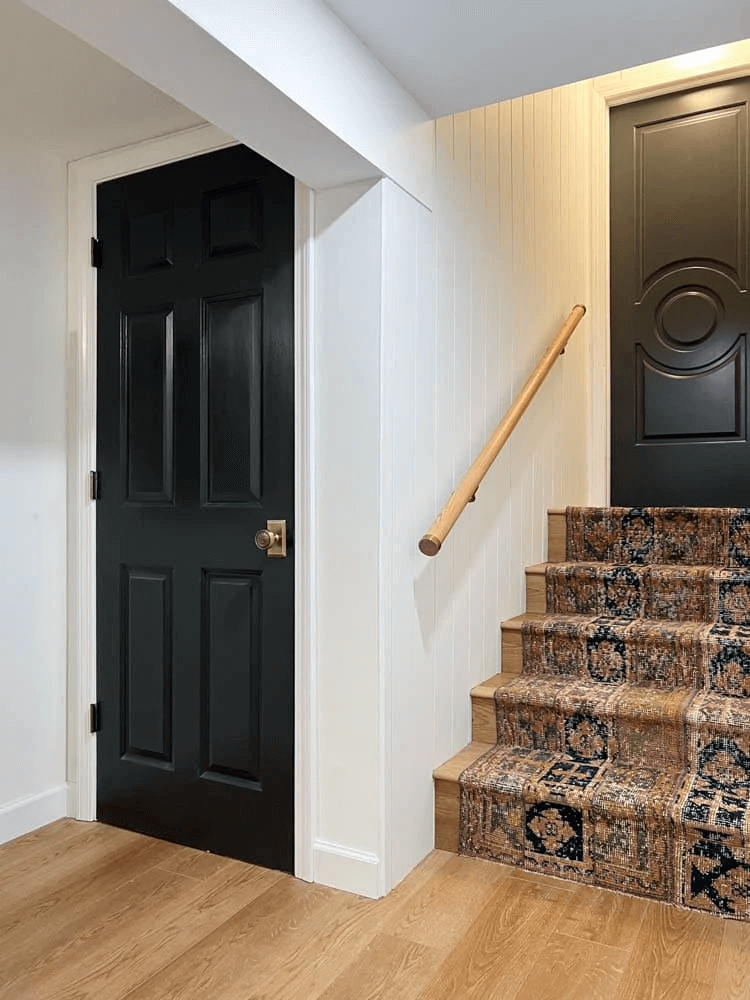 Lucite Handrail
This banister is the stuff of design dreams! Haneen replaced the boring plain handrail with this lucite handrail with brass brackets and the change is dramatic. If you are looking for a way to really dress up your space lucite is a great way to do it!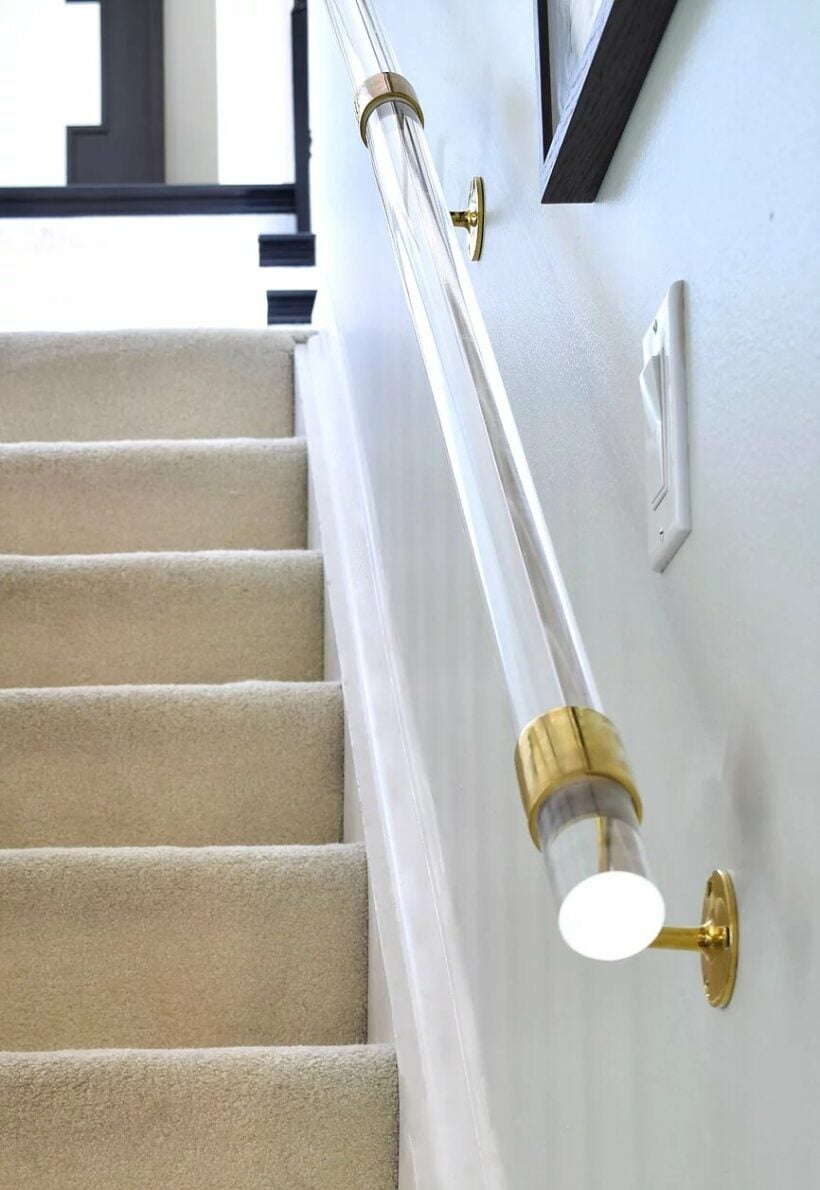 Simple Handrail On One Side
This basement staircase keeps it very simple, but it works! One side is open and totally without any handrail, which keeps the space open and not too tight. The other side is just a white-painted stair rail attached to the wall. Sometimes, simple really is best. In this case, the plain stair rails lets the painted runner on the stairs take center stage!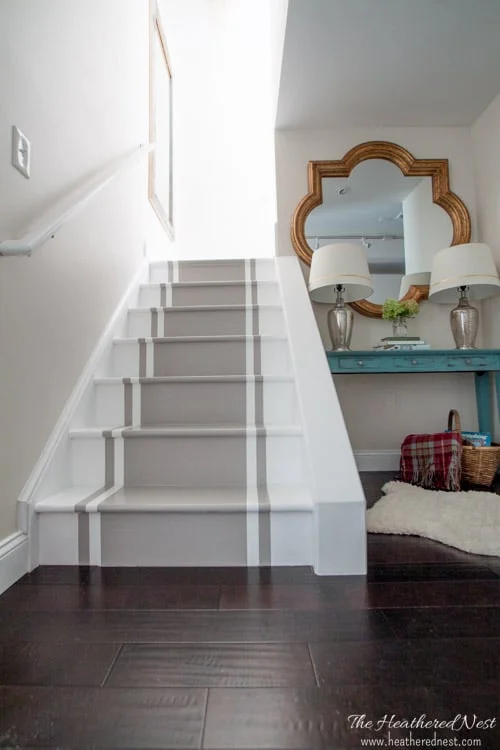 Are you feeling inspired by these incredible stair railing ideas?! I hope you have discovered one that will blend in with the aesthetic that you have created for your home. There's just no reason to live with a stair railing someone else picked out years ago that isn't your style! Bring your staircase up to date and choose a new handrail that fits your style and makes your stairwell a beautiful focal point for your home.
Other Posts You May Enjoy:
Wondering how I approach transforming rooms and spaces in our home? Check out Designer in a Binder®.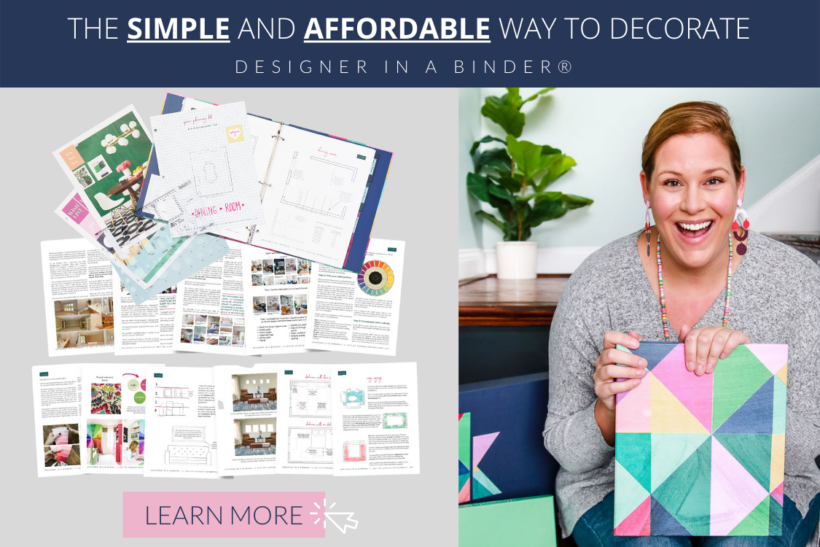 And if you want exclusive content and behind-the-scenes sneak peeks, be sure to subscribe before you head out!