Stair Riser Ideas to Make Your Stairs More Stylish
Last Updated on August 2, 2022
Stairs aren't just a transition between floors in a home. Stairs deserve to be decorated, too! You can inexpensively make your stairs more stylish with these stair riser ideas!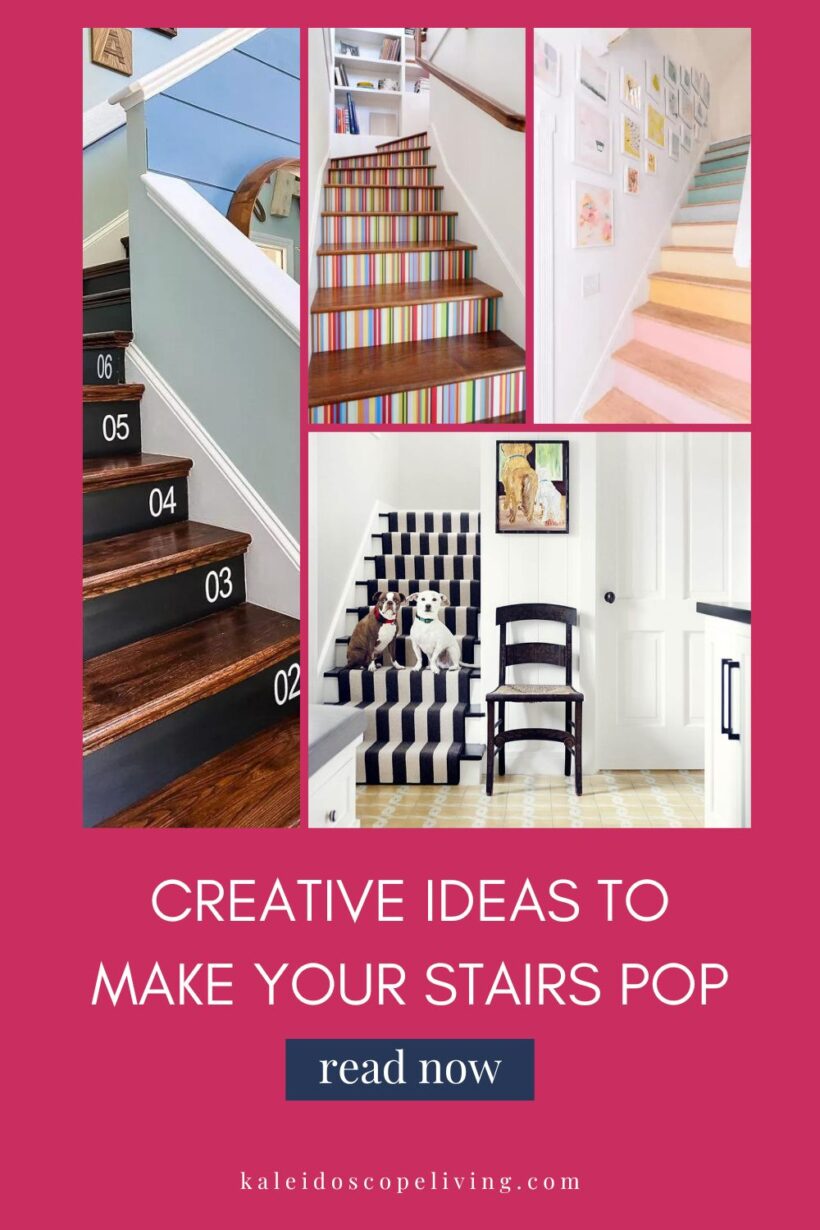 Wood stairs are beautiful, there's no doubt about it. But they can also be a TAD boring, which is a shame because wood stairs are such a great opportunity to create a beautiful focal point in your home. An obvious way to add style to your stairs is with a stair runner (you can easily install a stair runner yourself). But not everyone wants a stair runner! More and more, people are "embellishing" their stair risers and it's a trend I am loving. Here are some of my favorite stair riser ideas from around the web.
Add Stripes to Your Stair Risers
These fun stripes add a pop of color to an otherwise neutral staircase.
This post contains some affiliate links for your convenience. Click here to read my full disclosure policy.
Add Graphic Wallpaper to Your Stair Risers
I love how much interest Rachel from Sprucing Up Mamahood added to her stairs with graphic peel & stick wallpaper. And she gives you a full tutorial on how to do it!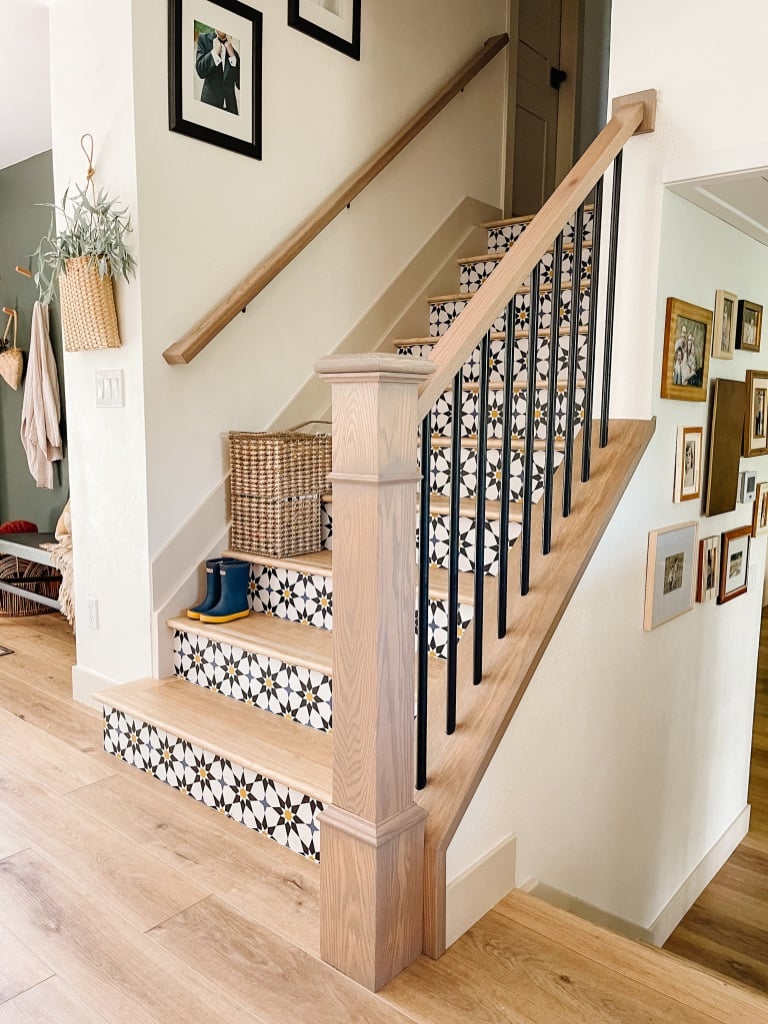 Removable wallpaper is pretty easy to install. And you can check out some of my favorite removable wallpaper options below.
Scroll and click on any image for full product details.

Tile Your Stair Risers
I have always LOVED how one of my favorite designers, Shauna Glenn, tiled her stair risers. Notice how she alternated the orientation of the tile to make it even more interesting? So beautiful!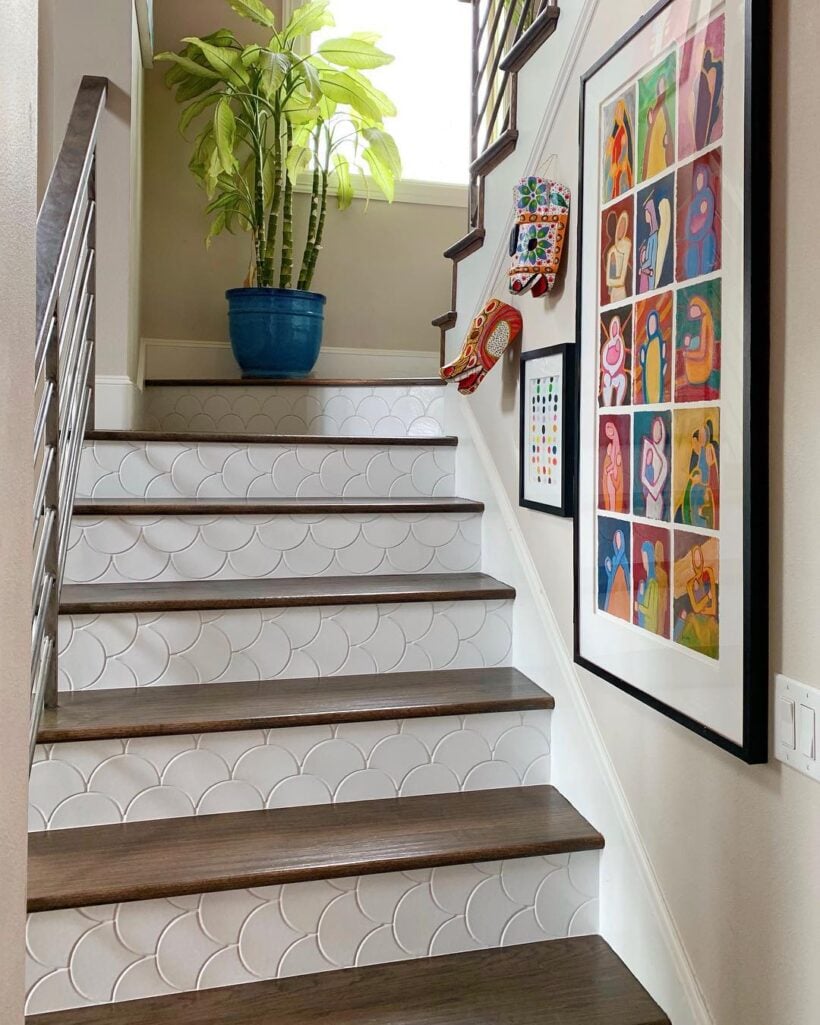 Add Tile Stickers to Your Stair Risers
I love the idea of tiling your stairs, but tiling can be tricky and can get expensive. Fortunately, tile stickers are a GREAT alternative. They are affordable and super DIY-friendly. Check out my favorite tile sticker options below.
Scroll and click on any image for full product details.

They are easy to install! Just watch the video below for an overview of how to install tile stickers (the process would be a bit different on stair risers, but you can still see how easy it is!)
Paint Your Stair Risers Interesting Colors
These pastel rainbow stair risers by At Home With Ashley always stop me in my tracks. It's definitely one of my favorite stair riser ideas because it's affordable and easy, but makes a big impact!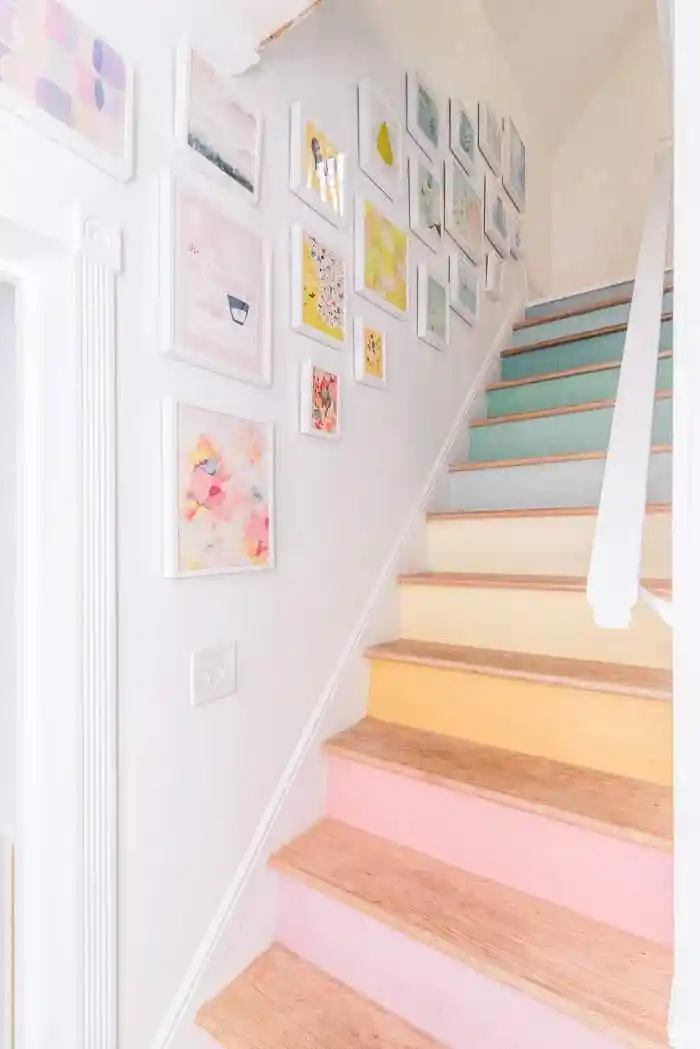 Add an Interesting Stair Runner
There are so many incredible stair runner ideas out there! Adding a stair runner will not only add style to your stairs, but if you have young kids it also helps protect them from slippery stairs. And believe it or not, you can learn how to install a stair runner yourself (we did it and it's easy)!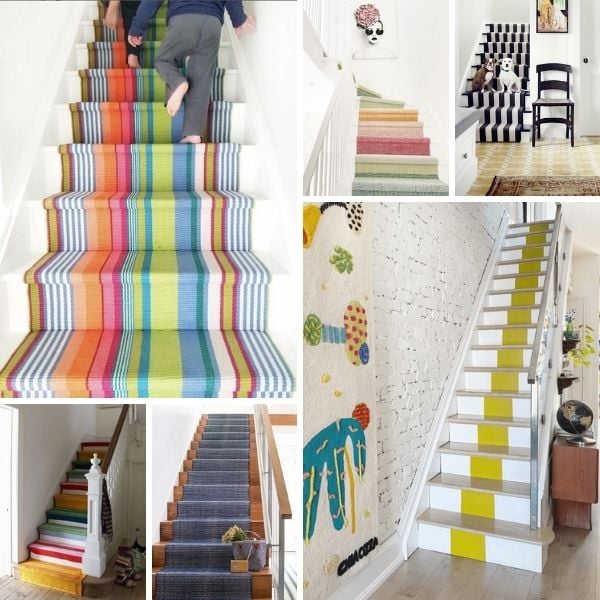 Number Your Wood Stairs
This is what we decided to do in our old house. When we ripped out the carpet on our stairs and installed hardwood stairs, I knew I didn't just want basic, white stair treads. I looked at tons of inspiring stair runner ideas, but I didn't want to cover that much of our gorgeous new stair treads. Instead, we decided to paint our stair risers black and number them. A simple detail, but it adds a whole bunch of personality and I am in love with the results. Read on to learn how to number your wood stairs yourself :)You can find the full tutorial for how to number your stairs below!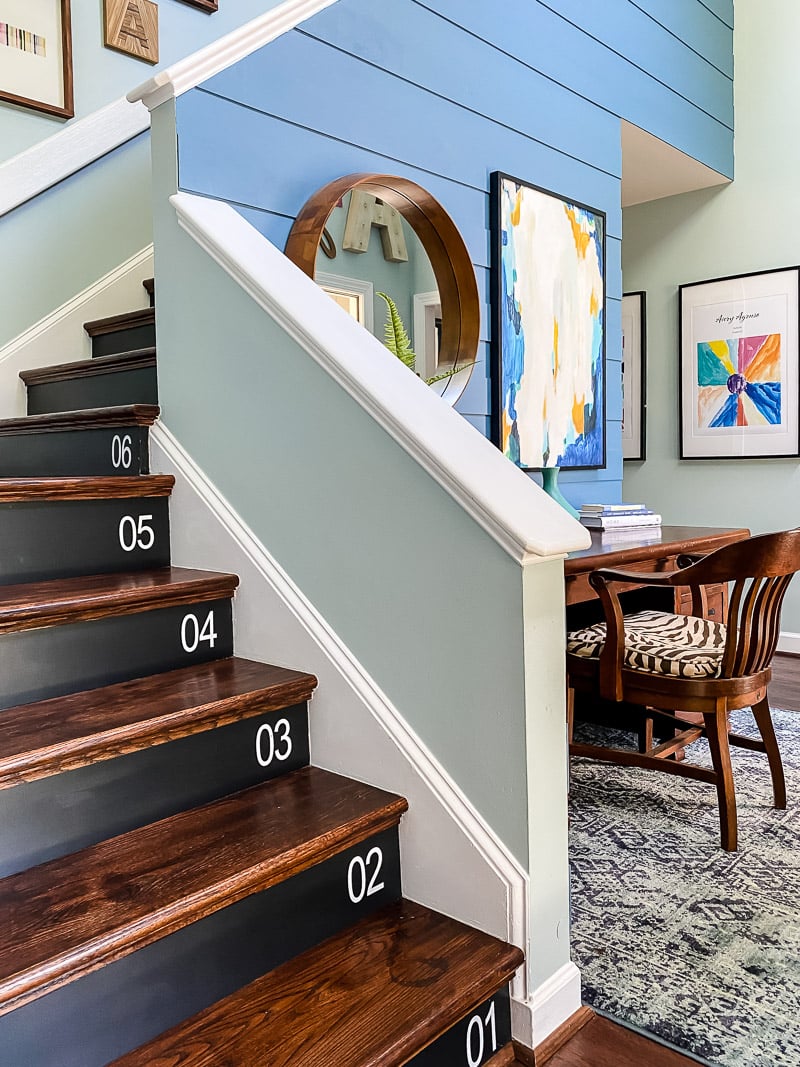 Materials needed to number your wood stairs:
Vinyl and a cutting machine OR pre-made house number stickers

If you go with vinyl, know that I STRONGLY prefer Silhouette Brand vinyl–it's much easier to peel off the backing paper than other brands.
I use the Silhouette CAMEO but have heard great things about the Cricut Explore as well.
Note that if you use pre-made address stickers, I have no idea how well they will adhere, whether they may damage your paint when peeled off and/or whether they will work well with the transfer paper. But, it's definitely worth a try if you don't have a vinyl machine!

Transfer paper (the Silhouette brand is great, but I purchased this huge roll about a year ago because it's so much less expensive and it works perfectly)
Steps to number your wood stairs:
1. If you are using pre-made stickers to number your wood stairs, go straight to Step 2. If you are using vinyl, use your cutting machine software to design the numbers you want to use on your stair risers. Be sure to measure your stair risers and pay attention to the measurements as you create your design to ensure they will fit properly :) Then cut out your design and weed it.
2. This is THE MOST IMPORTANT step, whether you are using store-bought address stickers or vinyl you cut yourself… Apply your numbers to transfer paper that is cut to roughly the same size as your numbers. This will help you get your numbers nice and straight as you apply them to the stairs! It's MUCH EASIER to position a square than it is to position a number. Take my word for it–I learned the hard way as I applied my first few numbers without transfer paper.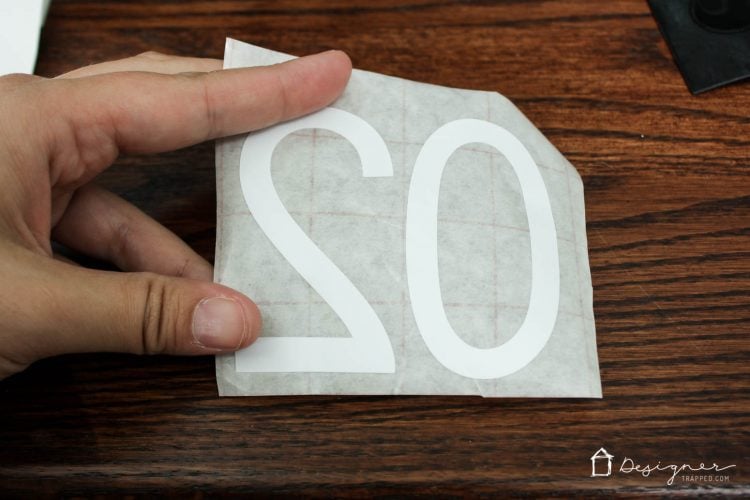 3. Once you have positioned the transfer tape and are sure the number is where you want it, use an old credit card or scraper to firmly rub over the entire surface of the transfer tape. This will adhere your number to the stairs and enable you to remove the transfer paper without removing the number. Note that one reason I prefer to work with vinyl and not stickers is that vinyl is very forgiving and if you make a mistake, you CAN peel it off without damaging the paint and reposition it. That may be possible with some address stickers, but I have to warn you that the pre-made, non-vinyl variety may damage your paint when peeled off.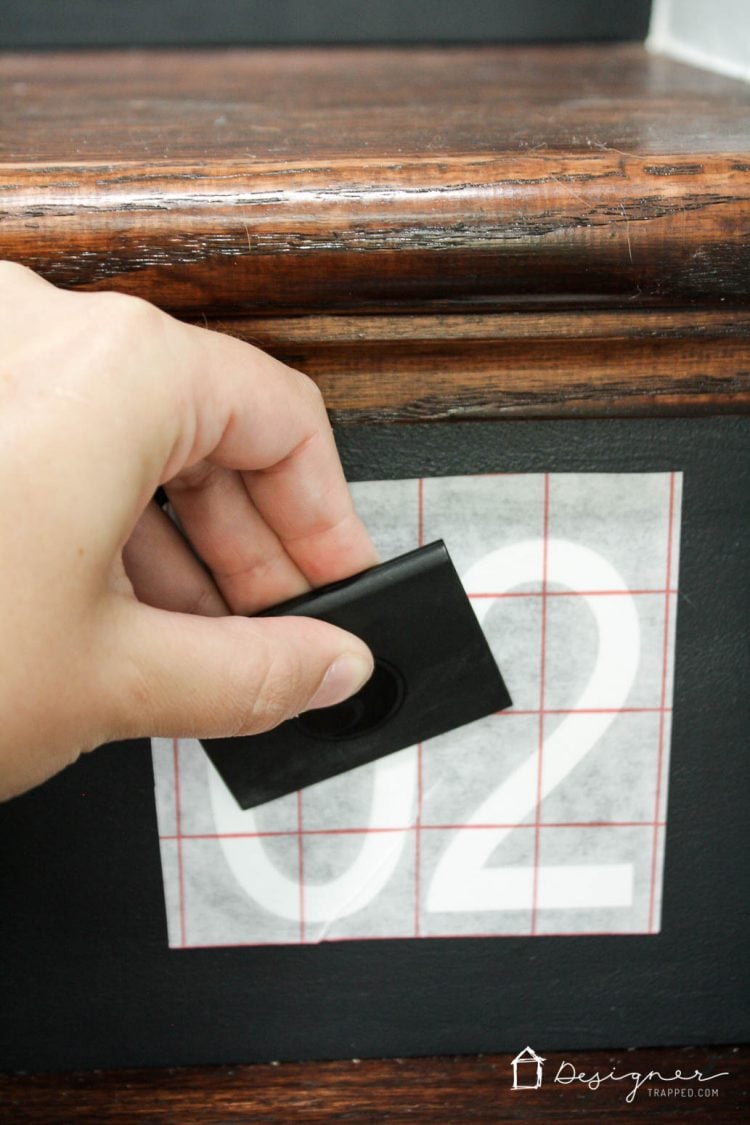 3. After rubbing your vinyl into place, slowly peel the transfer paper off.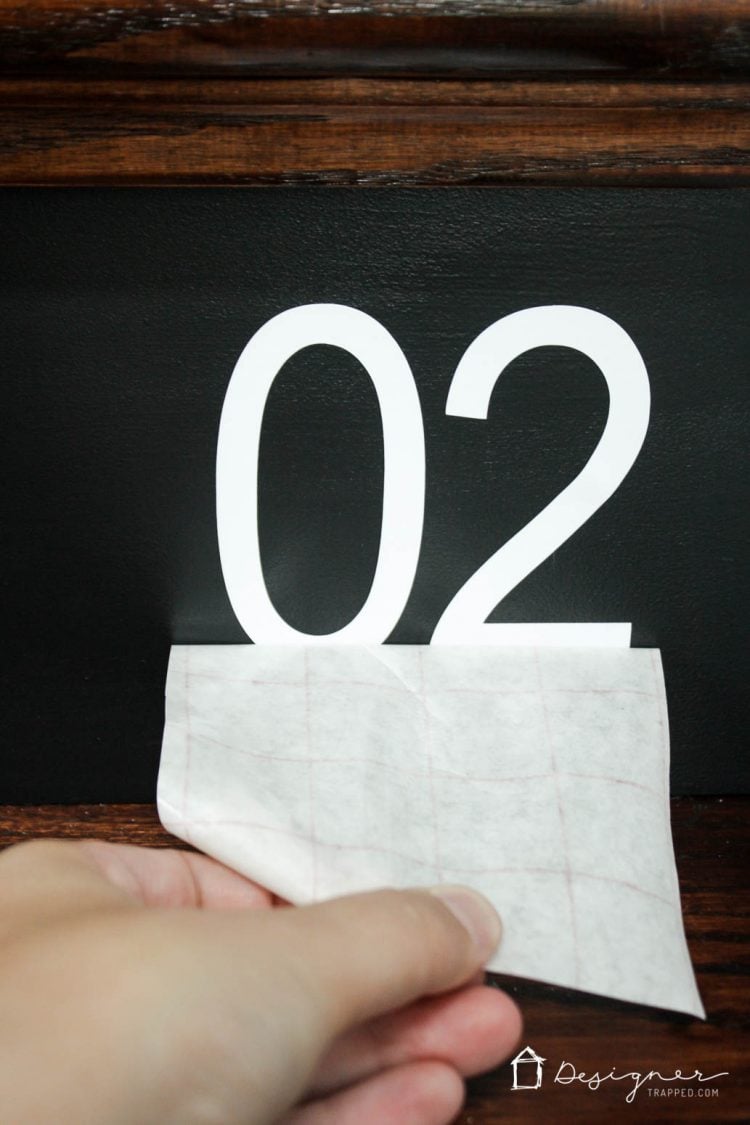 That's it!!!! It's so easy and adds such an awesome touch to our wood stairs.
Other posts you may enjoy:
Wondering how I approach transforming rooms and spaces in our home? Check out Designer in a Binder®.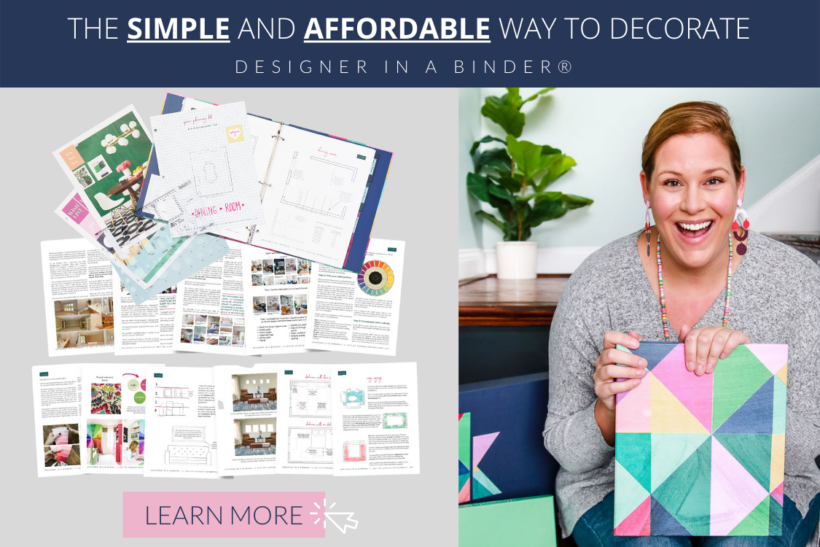 And if you want exclusive content and behind-the-scenes sneak peeks, be sure to subscribe before you head out!