23 Clever & Inspiring Hallway Decor Ideas
People often struggle with how to decorate a hallway. Hallways vary so much in shape and size–some are wide and long, others are narrow, and some are like mazes. No matter what shape and size your hallway is, you can make it amazing! If you aren't sure how to decorate a hallway, this post is full of inspiration to help you. These 23 hallway decor ideas prove that paint, art, shelves, wallpaper, and so much more can make any hallway beautiful and full of life.
Hallways can be tricky to decorate so they are often ignored and forgotten. But that's a mistake! A well-decorated hallway that reflects your style can have a huge impact in your home. Below are my favorite ideas for how to decorate a hallway.
Include Smart Hallway Storage
The hallway is a sneaky spot to add storage! There are lots of easy storage solutions that can be brought into the hall to take advantage of all that space.
Add a Slim Shoe Cabinet
A slim shoe cabinet fits perfectly at the end of this hall and blends into the decor style perfectly. This is a great way to store essentials without using a ton of space!
Include Bookshelves
Adding bookcases down a long hallway is a beautiful way to add visual interest and storage. The shelving can be used for books, small art, and other pieces you love! Here the gallery wall that stretches the length of the shelves looks awesome and balances it perfectly.
Store Blankets On a Pretty Blanket Ladder
This beautiful hallway is a neutral color and texture lover's dream! I love the trick of using the previously empty space to store blankets on a ladder. Such a smart use of space. And you can have your beautiful textiles out where you can see them and enjoy them as decor!
Add Console Tables for Storage
Our upstairs hallway got a full makeover when we added this DIY board and batten accent wall. To maximize this huge space, we also added two console tables pushed together to look like one long piece. This gives us an amazing amount of storage and a place to hide our clutter!
Style a Bench
If you have the floor space, add a bench! It not only creates a spot for putting on shoes, it is also a natural spot for sliding a few baskets underneath for extra storage. Adding the bench makes the hallway feel like an extra room!
Add a Focal Point
Creating a spot in your hall for the eye to land is what gives your hallway a punch of personality! I love these hallway focal point ideas.
Display a Unique Find
Adding a unique statement piece at the end of a hall is such a touch. These antique theater seats at the end are the perfect interesting focal point and that olive green paint on the bottom of the seat creates a fun pop of color.
Add an Accent Gallery Wall
Putting a contrasting accent wall at the end of the hall turns a small narrow space into an interesting one! Dark hues on the wall create a cozy feel which is perfect here. And the curated gallery wall art in this small hallway is the perfect addition to the bold wall. If you love the idea of a hallway gallery wall, but aren't sure how to go about it, check out my best gallery wall tips and ideas.
Add a Plant
Don't ignore a hall just because it is short. This shiplap, wall sconce and large fig plant make the most of the small space. The plant gives the small space a sense of life!
Create Multiple Focal Points
Some hallways need multiple focal points. Lauren has created multiple focal points in her formerly boring hallway with interesting lighting, plants and artwork at two different points.
How to Decorate a Long Hallway
If you are struggling with how to decorate a long hallway, these ideas will help! There are lots of ways to add interest to the space.
Add Architectural Interest
Dress up your long hallway! A bright wallpaper and moldings can make even the darkest space feel brighter. This painted lower half blends beautifully with the carpet color and lets the other details shine.
Make a Statement With Sconces
We made the most of the very long hallway in the upstairs of our last home. I created the colorful gallery wall and added 4 sconces above it for a big statement. The bold color-block runners complete the space!
Let In Natural Light
If you are lucky enough to have a hallway with lots of windows, let the natural light be the star! Simple black and white art and modern glass pendant lights complete the look.
Use Interesting Lighting
Smart lighting is key for decorating a long hallway. This long dark hall has a funny angle and feels a little disjointed. Beautiful matching light fixtures in two spots not only physically brighten up the space, but they also tie it together. Don't underestimate the power of lighting! Whether you love a modern sleek fixture, a chandelier or a vintage sconce, it will work wonders in a long hallway.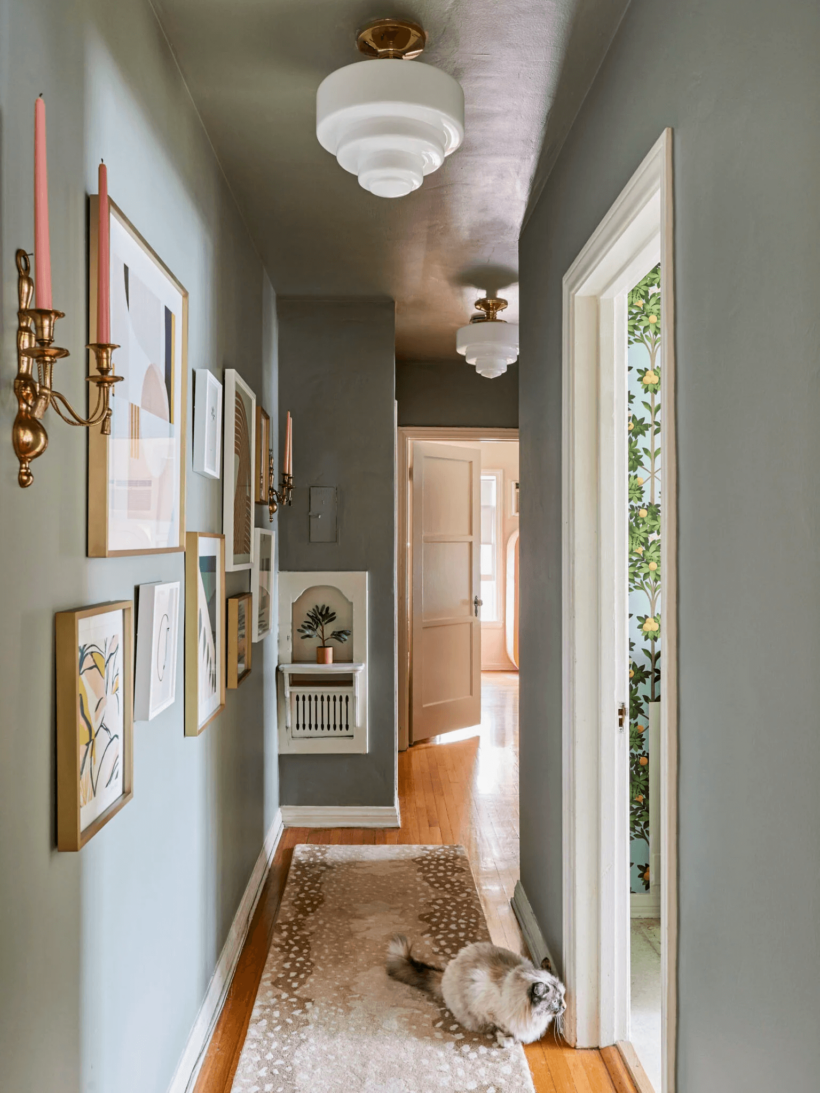 Completely Unique Hallway Ideas
Hallways don't have to be boring! These hallway decorating ideas are outside of the box in the best way.
Make Bedroom Doors Look Like Apartment Doors
I wanted to make the hall outside their doors special for my twin girls! I transformed the hallway area by their bedroom doors to look like exterior apartment doors. They love it so much and think it's absolutely magical. After the holidays, we switched everything out and decorated them for Spring!
Paint Your Hallway Doors a Color
Be creative when you are bringing color to your space! I love the different shades on these doors. This is so unique and perfect with the muted rug and sweet floral prints.
I also painted my doors and trim the same blue as the boad and batten we used in the upstairs hallway. Yes, I love blue paint colors and use them as a neutral in our homes!
Hang a Corner Gallery Wall With Shelves
Make the most of your hall's corners! These blush shelves are an easy way to create interest in an unexpected way. I love that they match the trim. Layer art and accessories to create an interesting corner of your hall.
Paint Your Hallway Ceiling
This previously plain en suite hallway got a real glow-up with molding, a gorgeous rug and a giant mirror. But the best part is the ceiling! She finished the space perfectly by painting her ceiling black, which gives it such a sophisticated-feeling finish.
Add Interest to Your Hallway With Art
Your hallway doesn't have to be over-the-top to still be cool and interesting. There are lots of ways to elevate your hallway style.
Hang Oversized & Colorful Artwork
I had artwork painted by my young daughters enlarged and then framed to create large-scale art pieces. They fill the space and are perfect for the colorful vibe of our home.
Hang Large Framed Art
Don't ignore the hallways that lead to outside doors! The addition of large framed art or photos in perfect symmetry adds so much interest to this utilitarian hallway and creates a perfectly warm welcome for you and for guests.
Hang a Gallery Wall Over Console Table
You can style a narrow hallway! An interesting gallery wall above a slim console filled with vases and small sculptures are the perfect decor touches to elevate this narrow space.
Go Bold With Wallpaper or Paint
Never underestimate the power of paint or wallpaper in a hallway! Hallways are a space in your home where you can choose something a bit more bold than you might use in a room that you spend a lot of time in. Have fun with it!
Choose a Dramatic Paint Color
The moody blue balanced with the bright white trim and finished with the gorgeous rug makes the most of this short hallway.
Hang Graphic Wallpaper
Graphic wallpaper sets this hallway apart! It may be neutral, but the pattern adds so much interest to this space and makes it pop.
Are you feeling inspired to decorate your hallway? I hope so! Don't let your hallway go to waste. Use these hallway decor ideas to give it a makeover and make it a space you really love! After all, you probably walk through it a million times a day, shouldn't the trip be beautiful?
Other posts you will enjoy:
Wondering how I approach transforming rooms and spaces in our home? Check out Designer in a Binder®.
And if you want exclusive content and behind-the-scenes sneak peeks, be sure to subscribe before you head out!