Stylish Family Photo Wall Display Ideas
Last Updated on August 4, 2022
Wondering how to display family photos in your home? These fresh family photo wall ideas are perfect for displaying family photos in a stylish and modern way!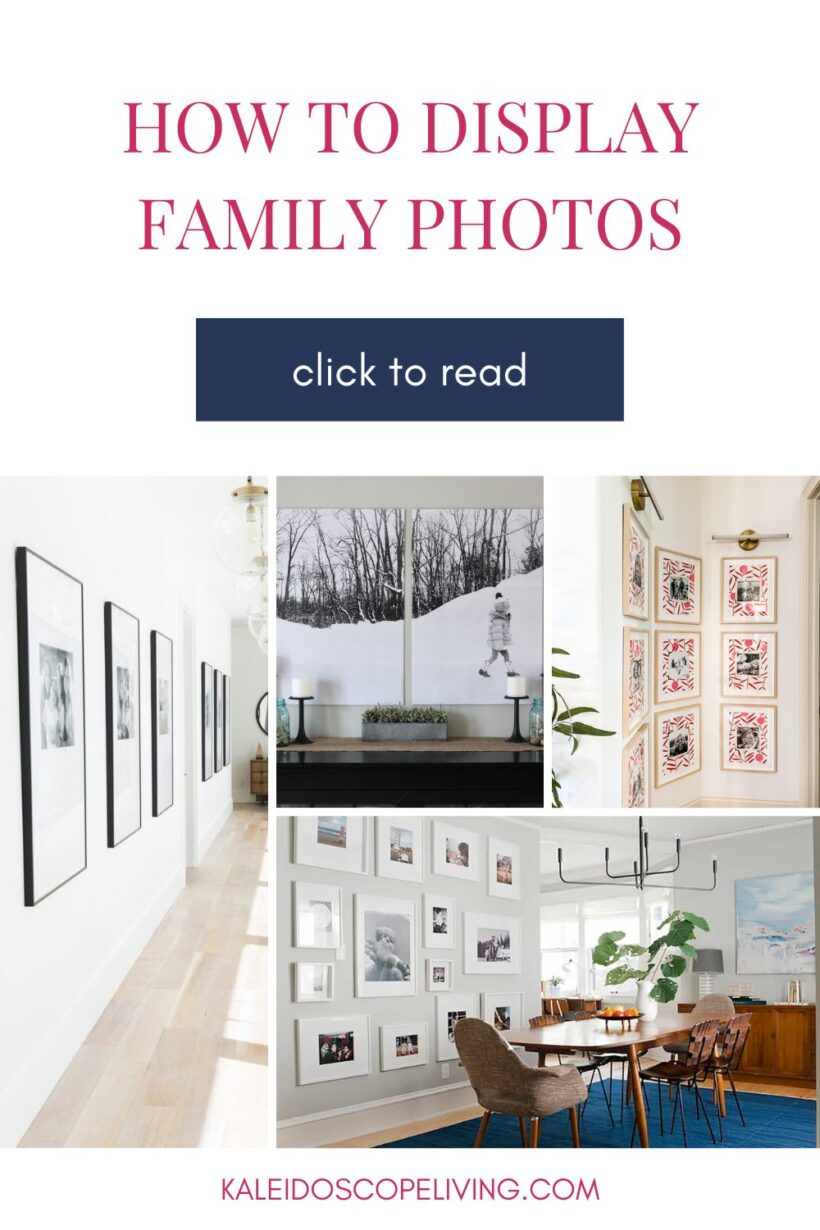 Looking for a fresh way to display your photos? You are in the right place because I'm sharing all of the best family photo wall ideas that I have seen! There are so many creative ways to share your collection of family picture frames!
I'm no stranger to displaying family photos in our homes, so you'll see several examples for my own homes on this list.
We've been in our current home about 18 months and I finally added a this unique family photo gallery in the alcove outside our bedroom and I am in love with how it turned out. It may be my favorite way to display family photos so far!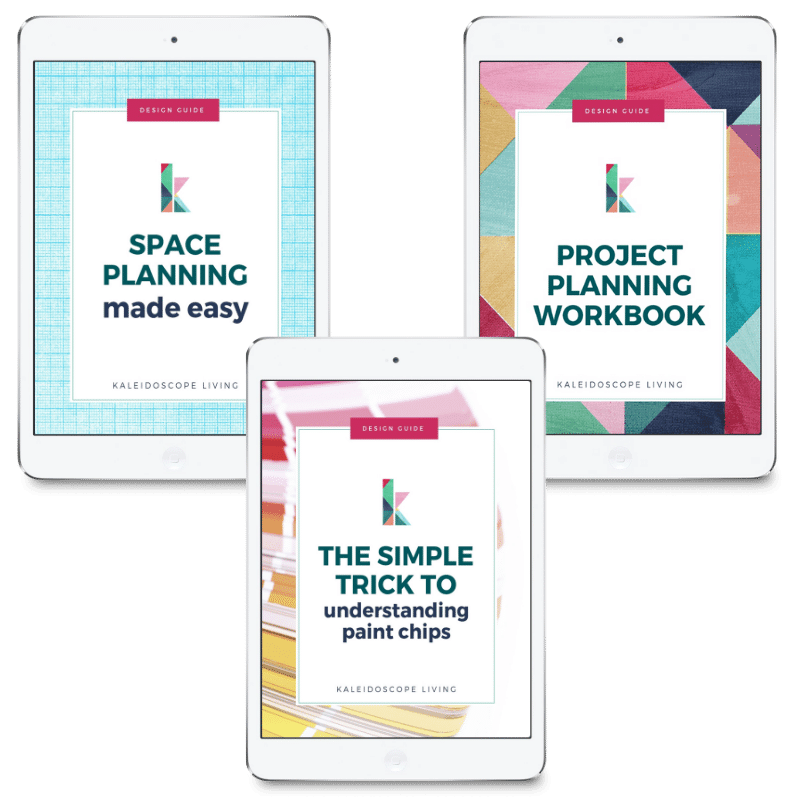 Get my FREE design guides when you subscribe!
Now check out all of my favorite ways to display family photos below :) I hope you will feel inspired by them!
My Favorite Ideas for Displaying Family Photos
Unique Family Photo Gallery. This small alcove desperately needed some color and interest, so adding this family photo gallery wall here really accomplished both of those things. I love the wallpaper mats surrounding photos of my favorite people! You can watch the video below for an overview of how I completed this simple project!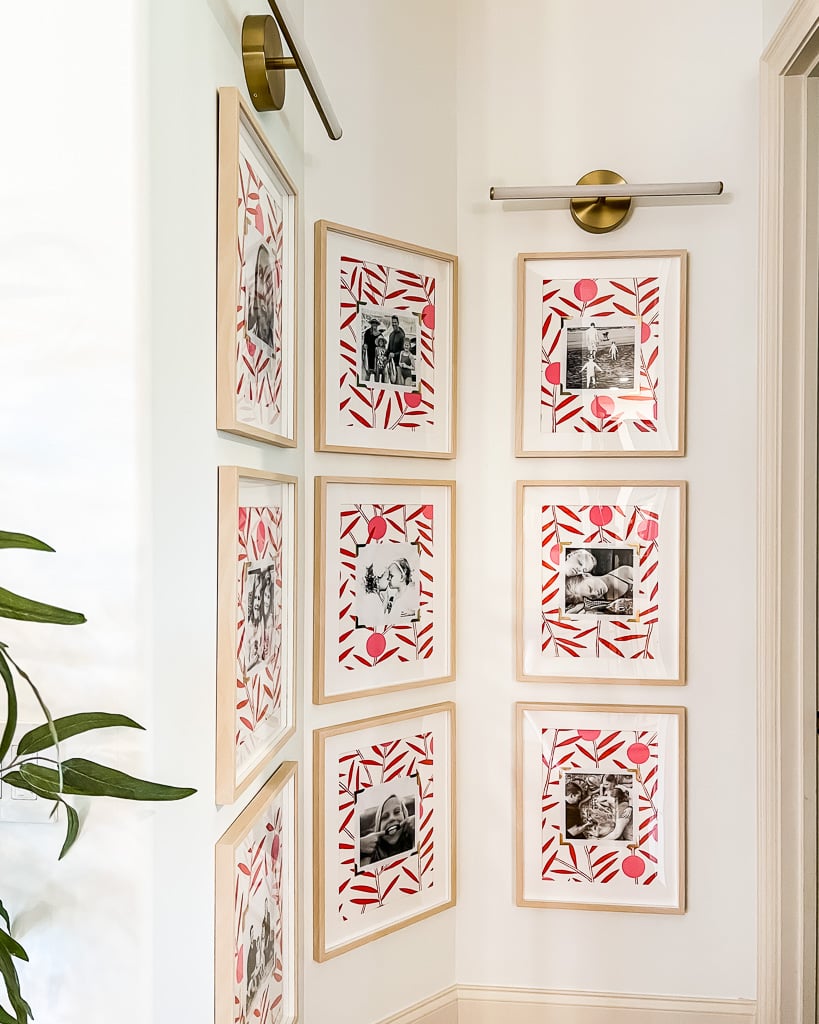 Colorful Gallery Wall with Gold Frames. A simple DIY takes a black and white family photo wall to the next level! I filled the entire wall between the doors with family photographs matted with bright colors and gold frames. The sconces elevate the gallery and make it feel super stylish. Before this gallery wall, I had my DIY canvases up in my hall and they had so much fun color and texture (and are so simple to make).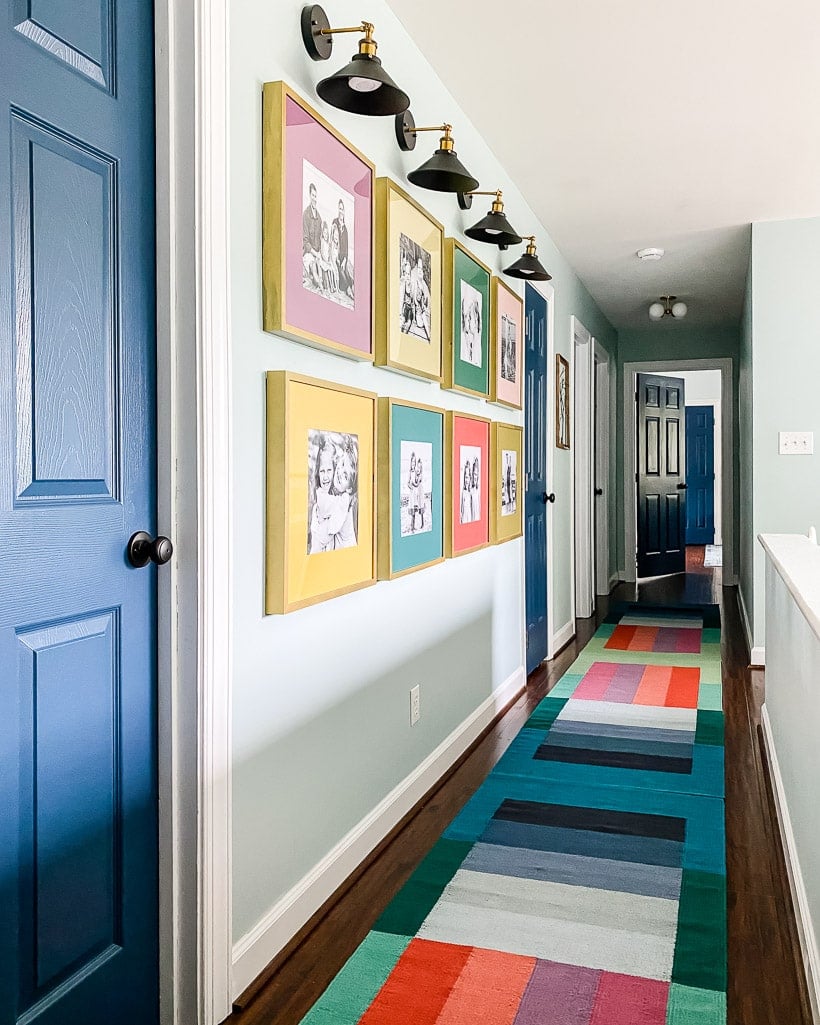 Photo Ledges with Matching Frames. Using similar frames on matching picture ledges in varying lengths gives your photo gallery a cohesive feel but lets the pictures stand out! I mixed my favorite black and white and color photos to bring this collection to life.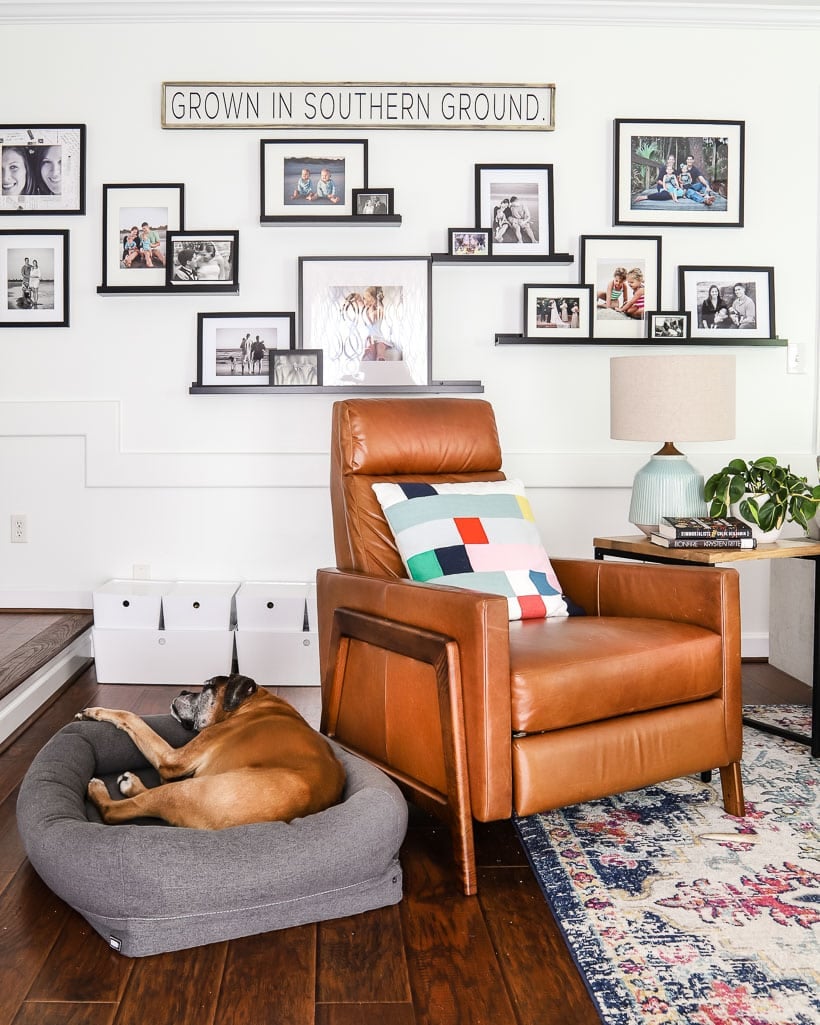 Split Photo Wall Art by House By Hoff. Sometimes we catch a snapshot that is perfect! Use this cool idea to create a modern diptych out of canvas prints. I love this creative idea to display a favorite phone in a fun way.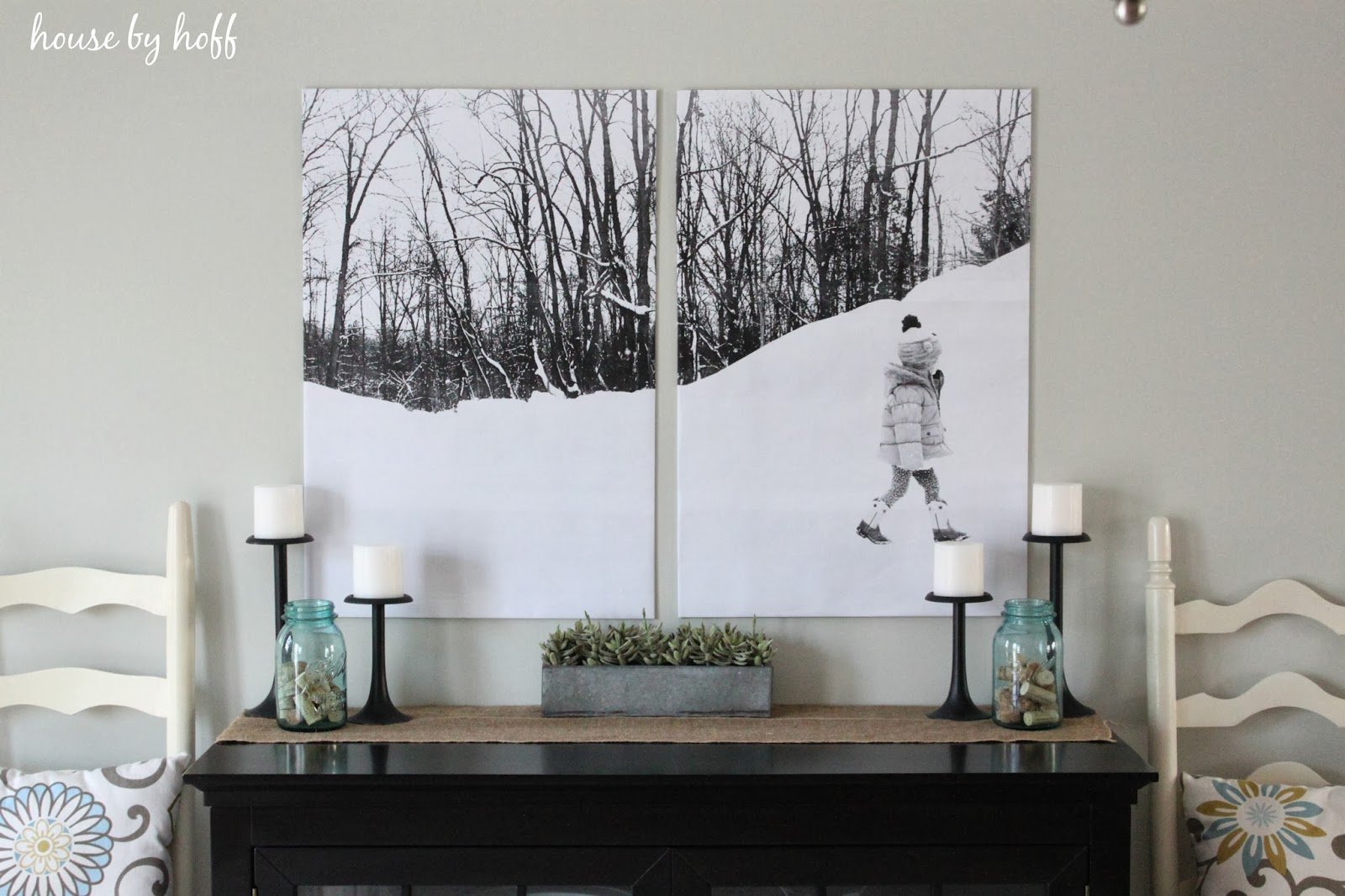 Large Family Photos in Colorful Frames by Martha Stewart. Pair black and white pictures with colored frames to make your family photo wall gallery feel fresh and stylish! Printing them really large makes it a cool focal point. I love the balance between the close-up shots and the more pulled-back ones.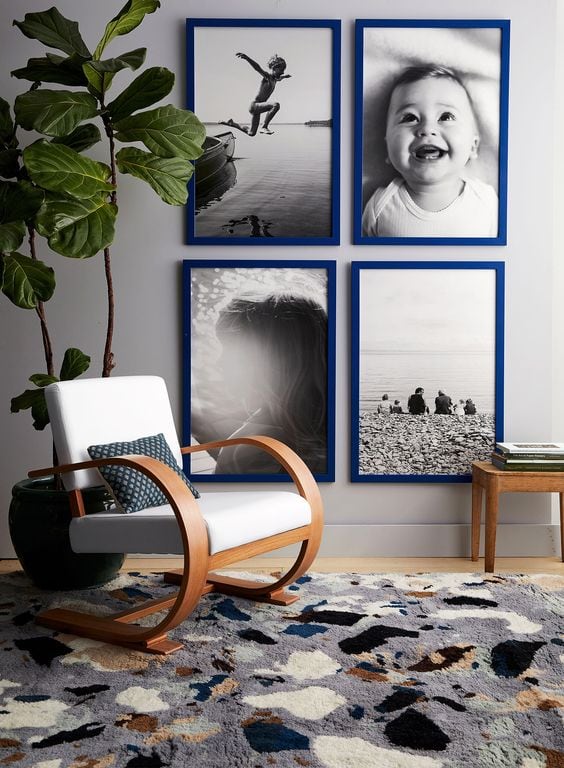 Giant Family Gallery Wall by A Beautiful Mess. Have a giant wall and photos you love? This is the perfect way to display them! Identical gallery frames hung in a grid fill this large space perfectly. This is a perfect photo wall for Type A's who love a symmetrical display.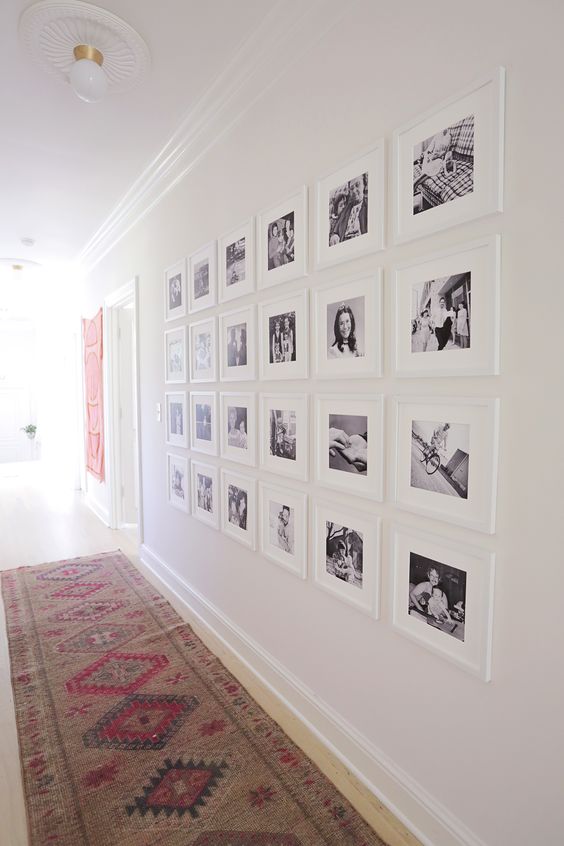 Polaroid Display by Emily Henderson. Take all those fun iPhone pics and turn them into Polaroids! Then pop them up on the wall to enjoy forever. There is something about these kinds of snapshots that feel fun and casual!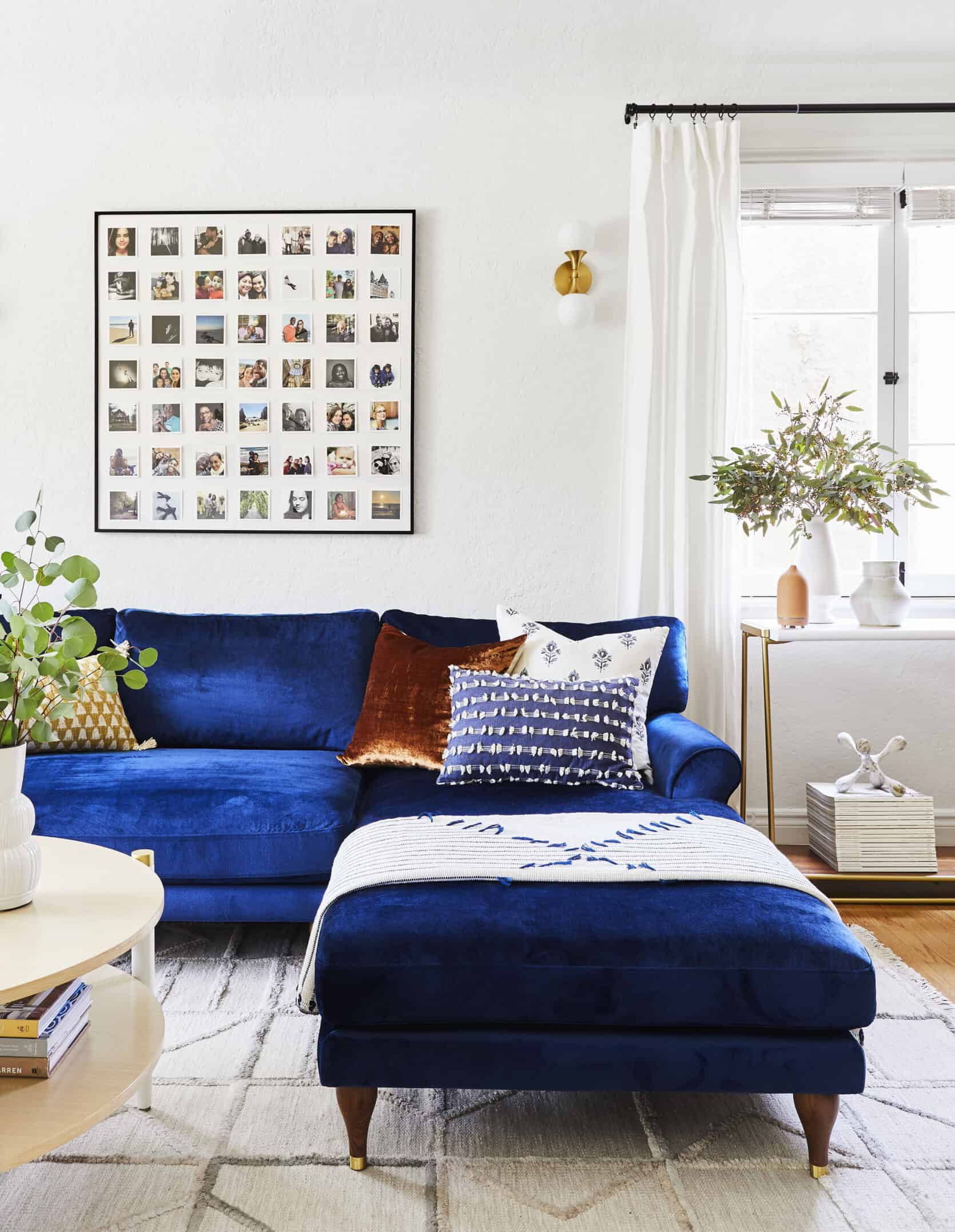 The Classic Gallery Wall by Emily Henderson. There is a reason this type of gallery is a classic. It looks great! Use cohesive frames and plan your wall out carefully and it is fool-proof. Need ideas? Look at Pinterest for ideas and layouts.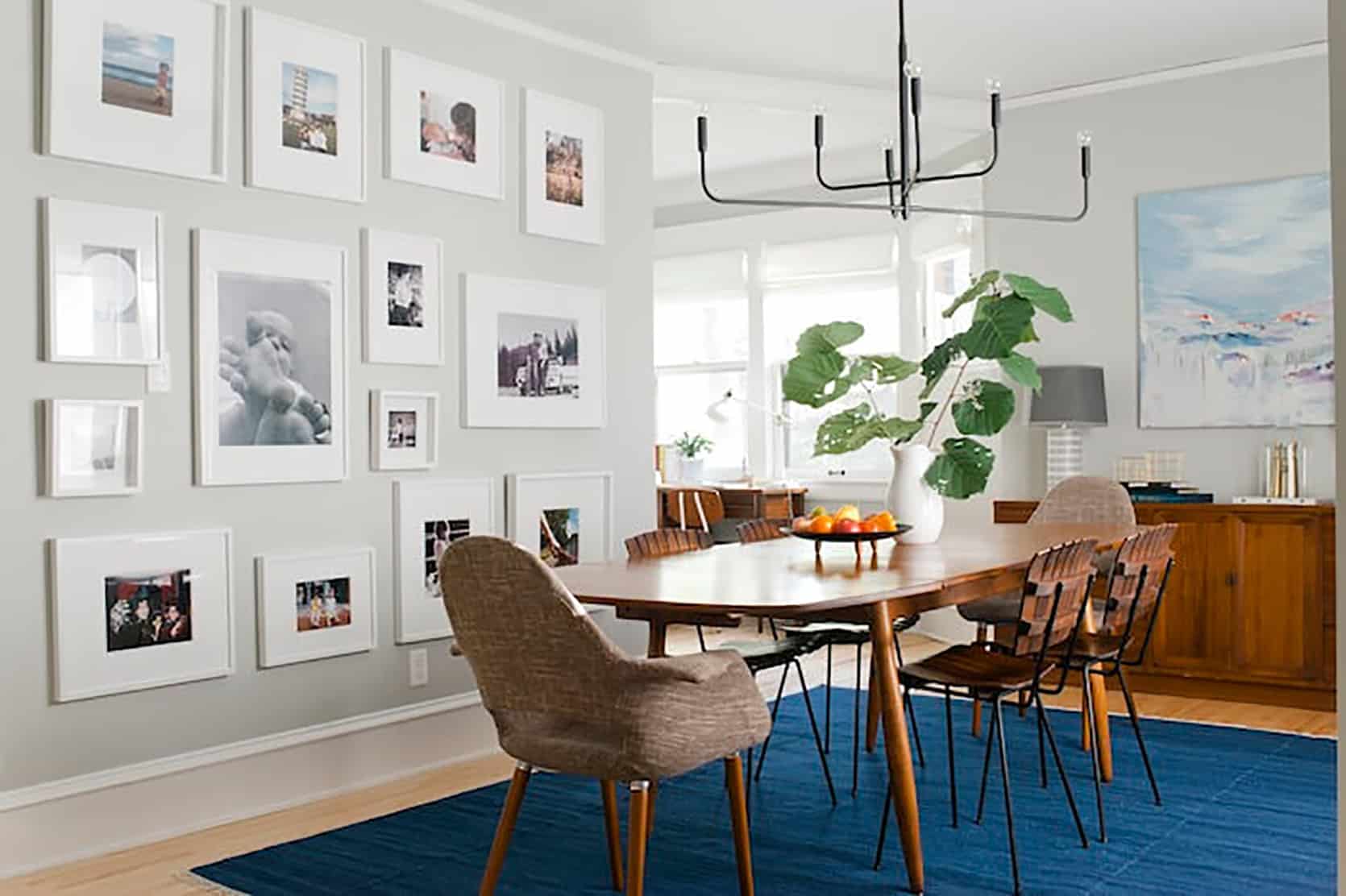 Family Photo Grid by Emily Henderson. Create a small grid with your favorite photos. Less is more! Hang them in a spot that allows you to really enjoy them up close. This showcases a small number of family photos but makes them feel extra special.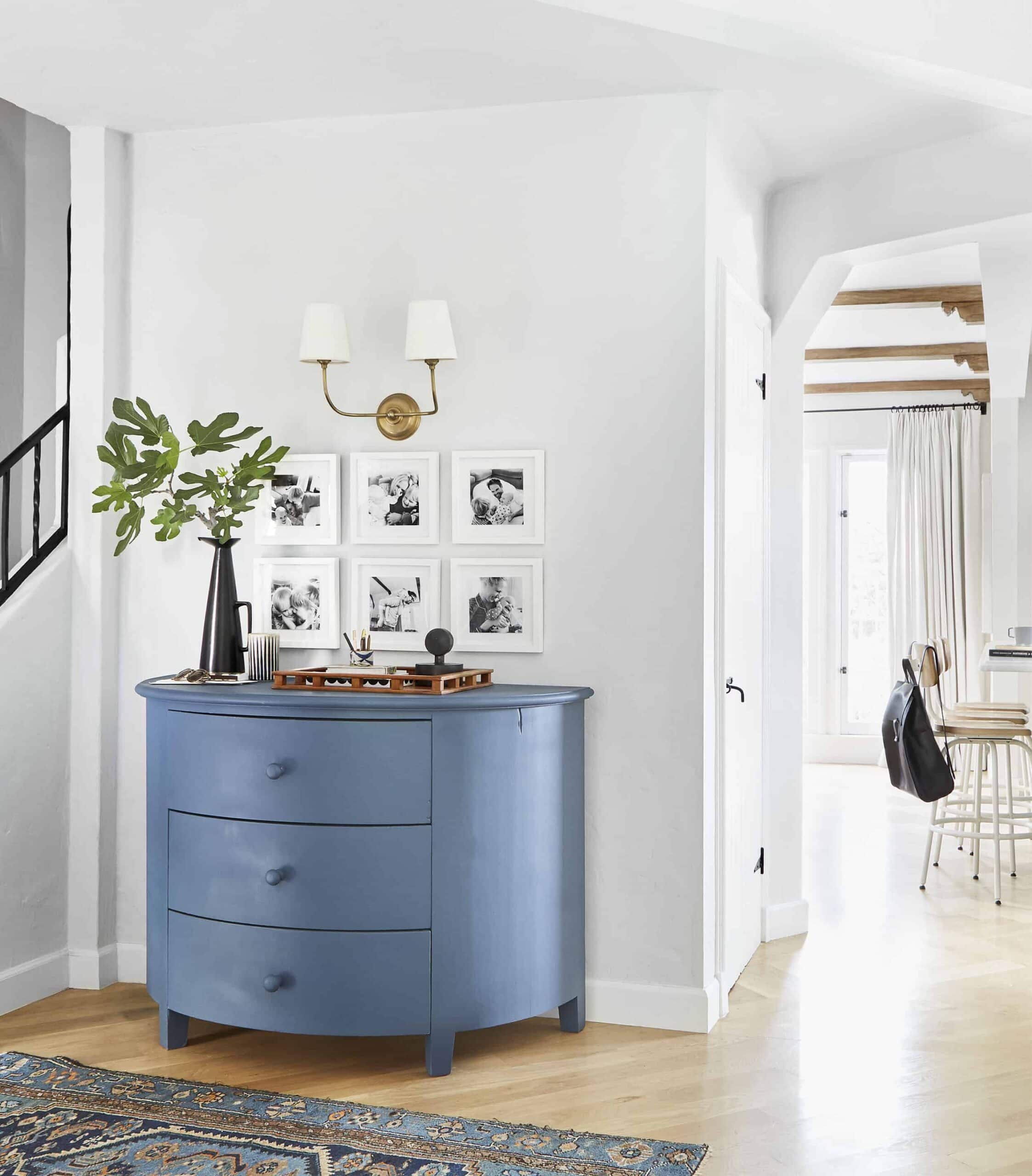 Large Black and White Hall Gallery by Studio McGee. Take advantage of a long hallway with lots of wall space by creating a gallery of photo posters! The black frames and large white borders make it feel very high-end. This has the feel of an actual art gallery as you walk down the hall.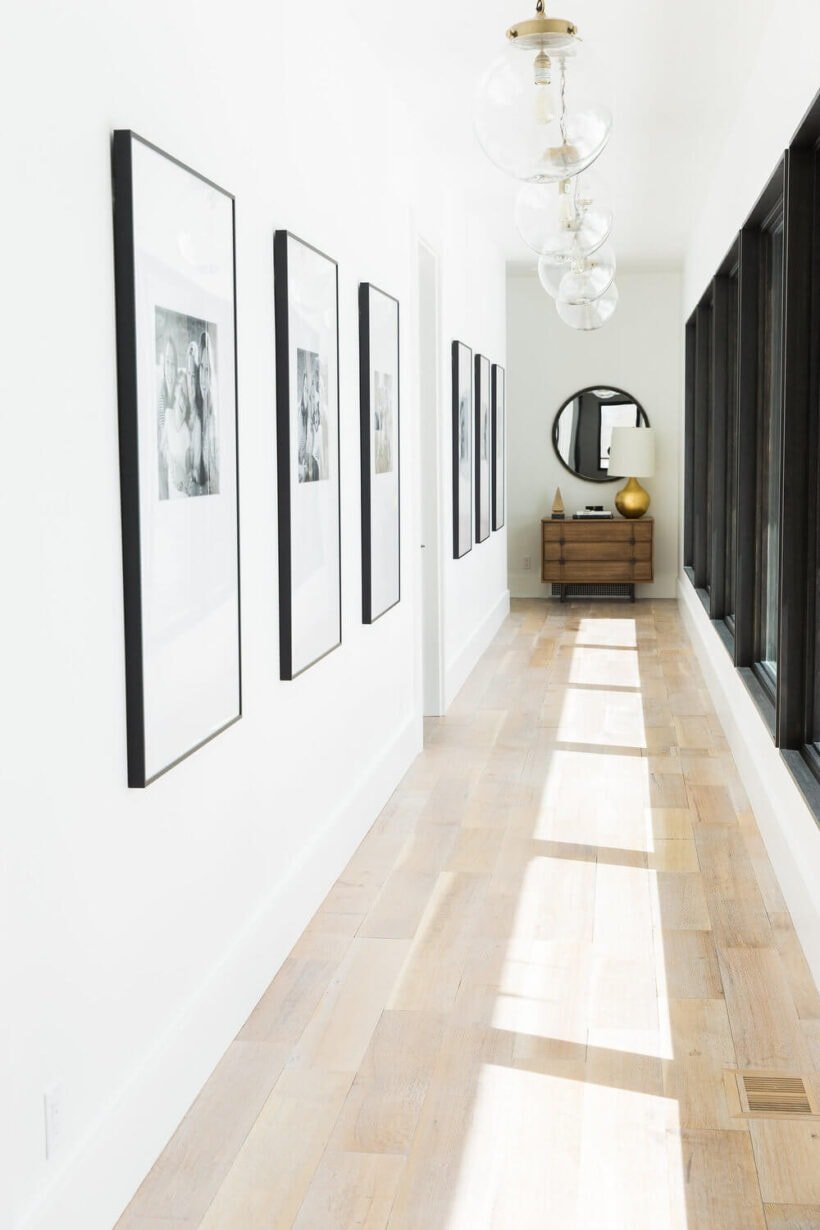 Staircase Photo Wall By A Cup Of Jo. Blow up your favorite photos and create a gallery up your stairs! These natural frames pair perfectly with the colors of the photos. Using a collection of photos all taken in the same place creates a cohesive color story going up the stairs.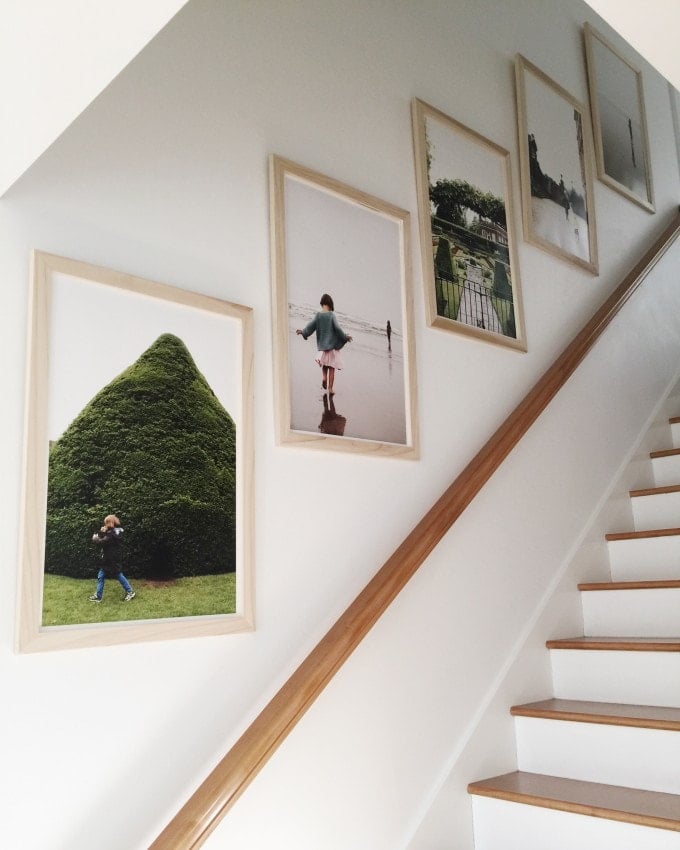 Minimal Family Photo Wall by Chris Loves Julia. Going minimal can make a surprisingly big impact! I love these portrait-style photos blown up. This is a family photo display that is simple but high on style. Not to mention so easy to replicate.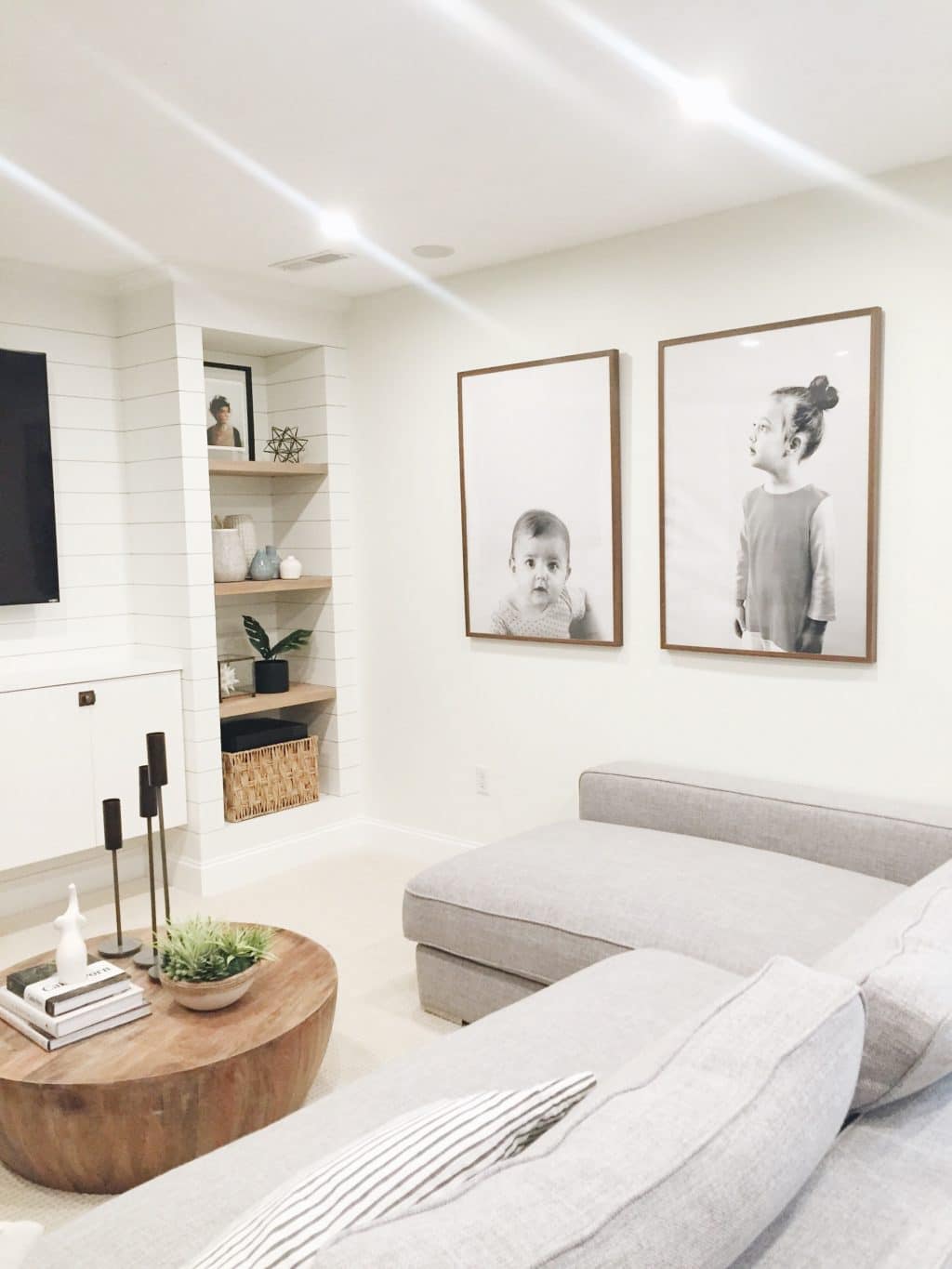 So many great ideas! Adding family photos turns a well-designed house into a beautiful and inviting home. Personal touches are so important in creating a home that is truly a reflection of your family! Don't be afraid to add pictures–just do it in a way that makes sense for the decor and design of your home. Create a fresh family photo wall that is stylish and modern. You will love it for years to come and your family portraits will always be in style!
Other posts you may enjoy:
Wondering how I approach transforming rooms and spaces in our home? Check out Designer in a Binder®.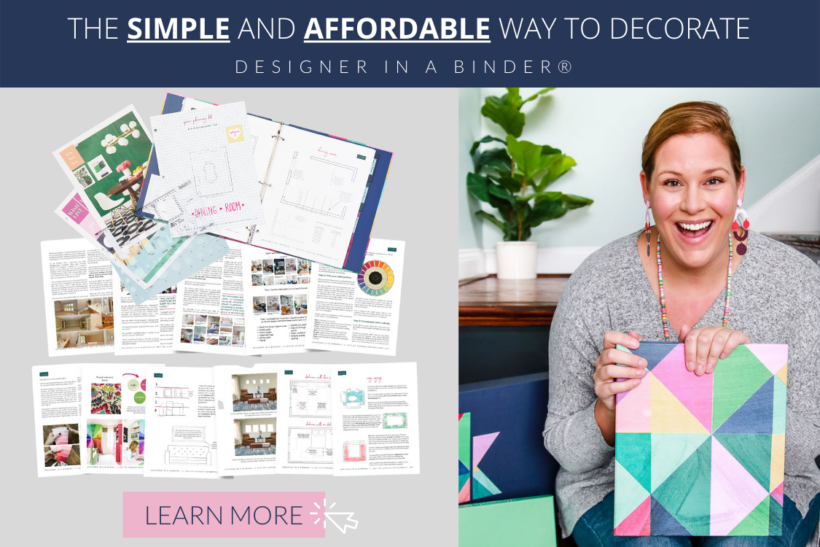 And if you want exclusive content and behind-the-scenes sneak peeks, be sure to subscribe before you head out!