Colorful Family Room Updates
Last Updated on March 3, 2022
Check out the updates we've made to our colorful family room. It's comfortable, stylish and kid-friendly.
It's reveal day! We've made some changes in our colorful family room and I'm excited to show them to you. Now, before you ask there's a full source list at the bottom of this post, so be sure to check that out if you are curious about where we bought something. I've tried to remember to link to DIY tutorials that you see in the room throughout the post. And there are lots of photos. But first, a bit of background…
Our family room is long and narrow. I've learned that long and narrow rooms can be tricky when it comes to furniture layout. We've tried several different layouts in this room. For a while we had a love seat and two chaise lounges, but that layout just never felt cozy. It felt sparse, for lack of a better description.
Then we had two full-sized sofas facing each other. We absolutely loved how that layout looked and it functioned well for a while. We could easily prop our backs against the arm to watch TV or lay down with one adult + 1 kid per sofa to watch a movie. But then our girls grew a lot, and that became less comfortable. We still adore the sofas, though, so we moved one up to our master bedroom and the other one is now in my office–don't worry, I'll be sharing those spaces soon.
At long last, we admitted to ourselves that the best layout for the room was going to be a sectional sofa. If you read my recent post about how to protect your sofa and keep it looking new, you already know that the sectional sofa we fell in love with was pricey. It was definitely an investment even after waiting to purchase it during a 30% off sale. And for any skeptics out there, let me assure you nothing in this post is sponsored and we paid for everything out of our own budget. No blogger perks on this one, lol!
Drum roll…. Here's what our colorful family room looks like now.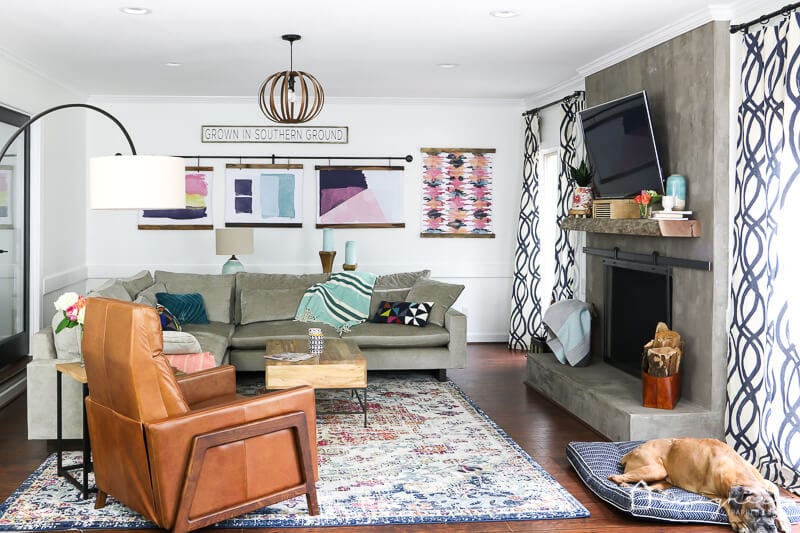 When I tell you that this is hands down the most comfortable sofa we have ever sat on, it is not an exaggeration. The seat is deep and all of the cushions and pillows are wrapped in down for ultimate softness. And the distressed velvet fabric should withstand pretty much anything, but we used our favorite fabric protector to be extra safe.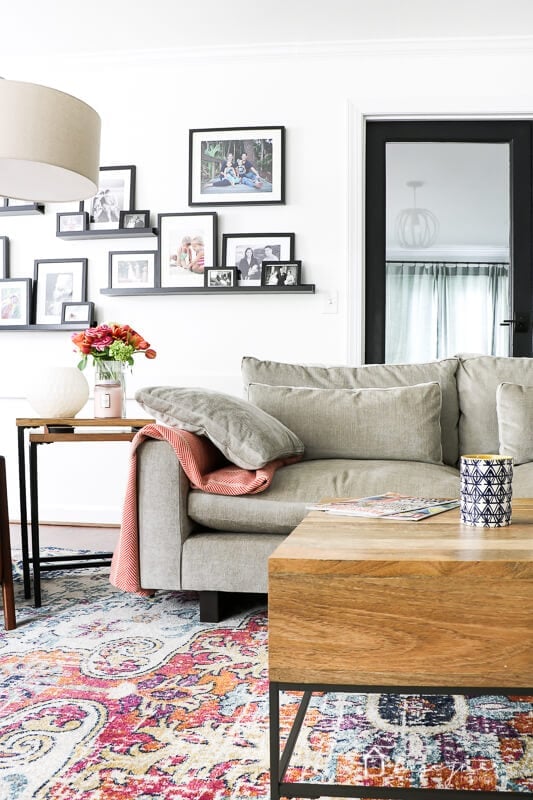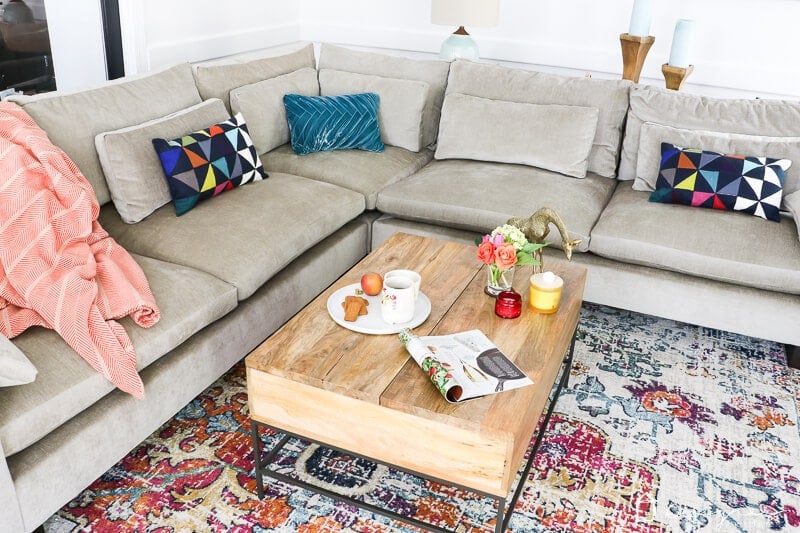 And with the switch to a sectional sofa, we were finally able to carve out a space for a stylish recliner, which Joe has wanted for the entirety of our 16 years of marriage. But it literally took us 16 years to find a recliner that 1) meets his comfort requirement and, 2) meets my aesthetic requirements (I've since shared my full review of the West Elm Spencer recliner). But we finally did it. And it was worth every bit of the 16-year wait.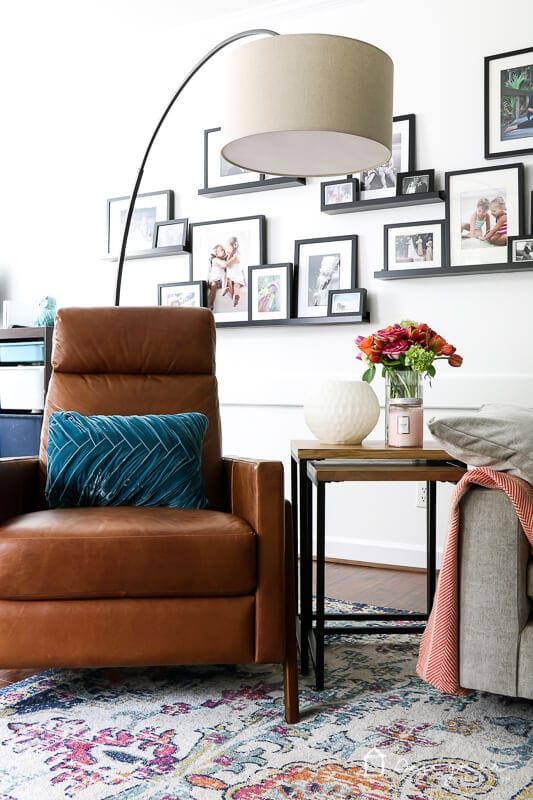 We also opted for a colorful new rug in the family room (if you are unsure about choosing a rug, check out this post about how to choose the correct size rug for a living room). It lightens and brightens the space up and I am 100% in love with it. We've had the coffee table for a few years now and it's still one of my favorite purchases ever–I'm a big fan of unique coffee tables. The built-in storage can't be beat and it's great for pizza nights :) And we've had those curtains for about 6 years now.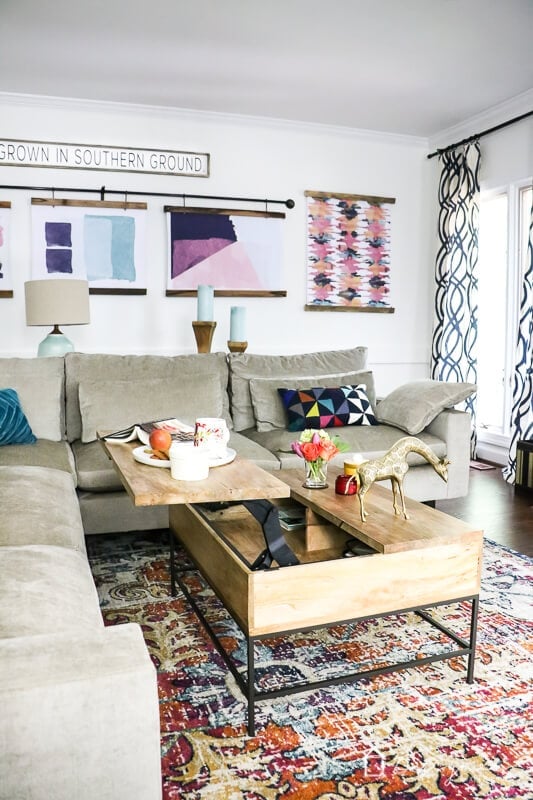 You may have noticed that we also added some new lamps to the room, which was definitely needed. This large room needed more soft lighting for the times that we don't want to turn the recessed lights on. Of course, we kept our DIY bentwood pendant light because we still looooove it so much. And of course, one of the highlights of the room for me is our DIY concrete fireplace that we created for under $100 along with the DIY barn-door style sliding fireplace screen that we made a couple of years ago.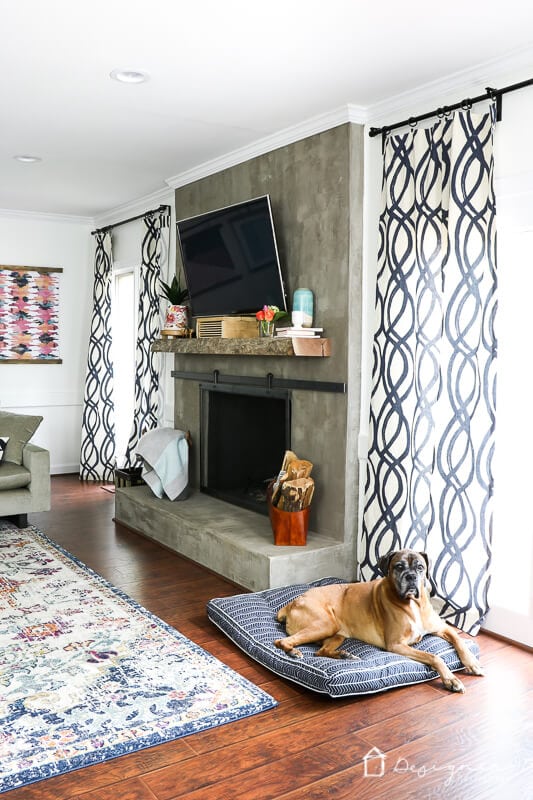 The only other change we made in the room was to swap out the artwork. I designed the new watercolor prints hanging behind our sofa in our DIY half frames. You can find all four of the prints in my digital art shop and have them printed inexpensively.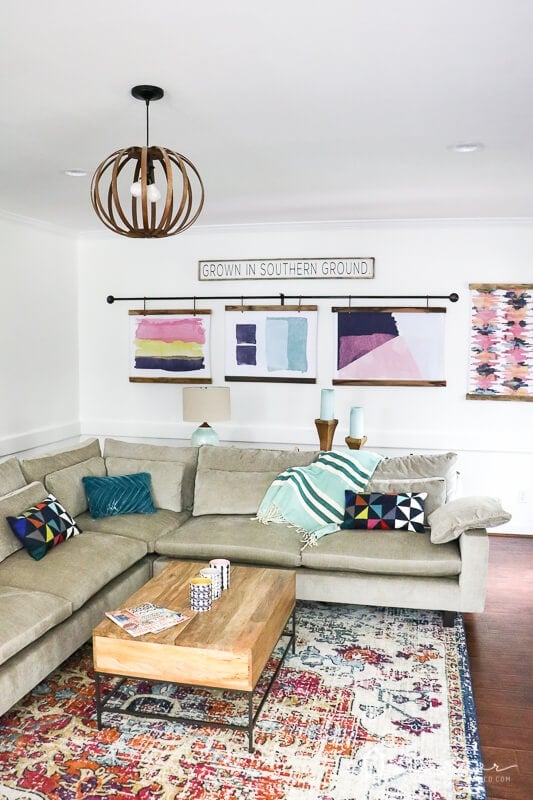 I also made a new print for above the girls' table in their play area. It's our family motto—work hard and be kind. I also made a print that says "A is for Agruso" for the other side of their play area.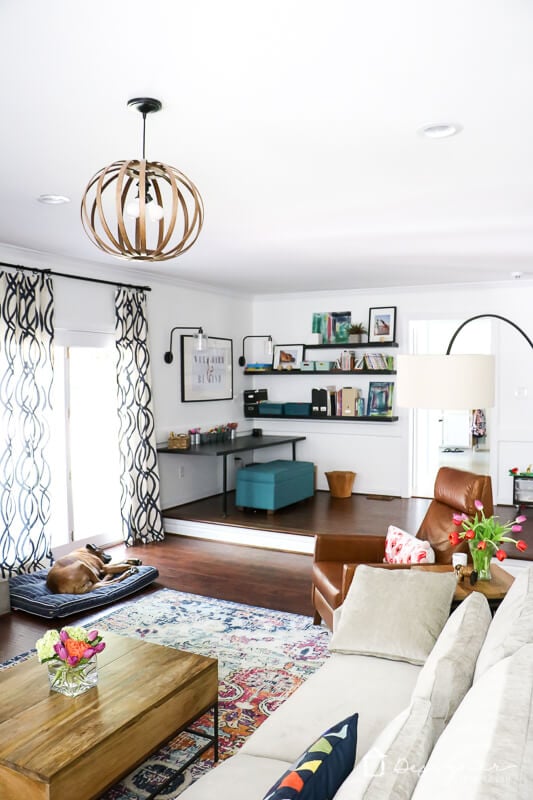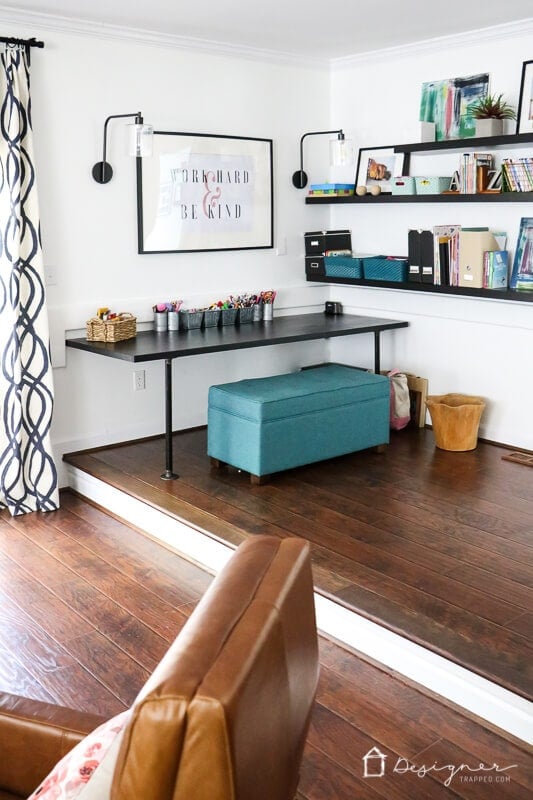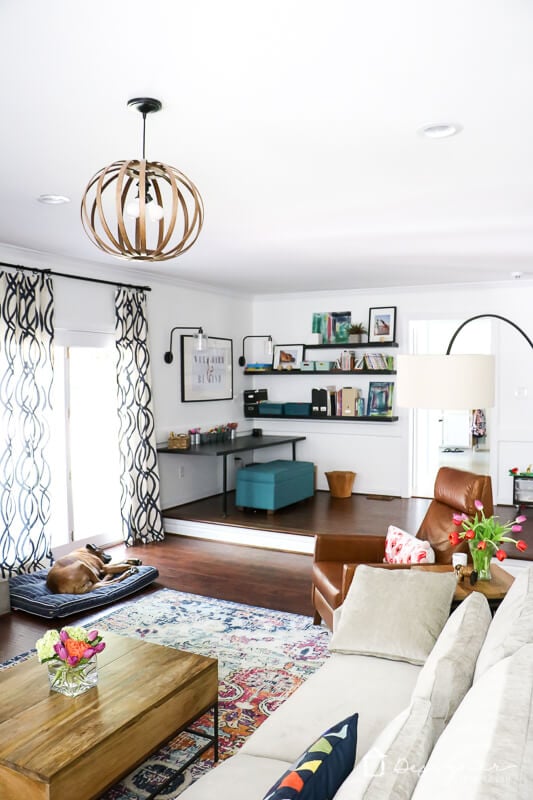 Long story short, we had to make some pretty big furniture investments to create a space that is comfortable for us and our rapidly growing girls, but we nailed it. And I don't see ever having to buy furniture for this room again.
This post contains some affiliate links for your convenience (which means if you make a purchase after clicking a link I will earn a small commission but it won't cost you a penny more)! Click here to read my full disclosure policy.
Colorful Family Room Source List
First up, here are the prints that are hanging behind West Elm Harmony sectional sofa.
And here are links to all of the other items in the room (that are still available). Just click on any of the images below for full product details.

Wondering how I approach transforming rooms and spaces in our home? Check out Designer in a Binder®.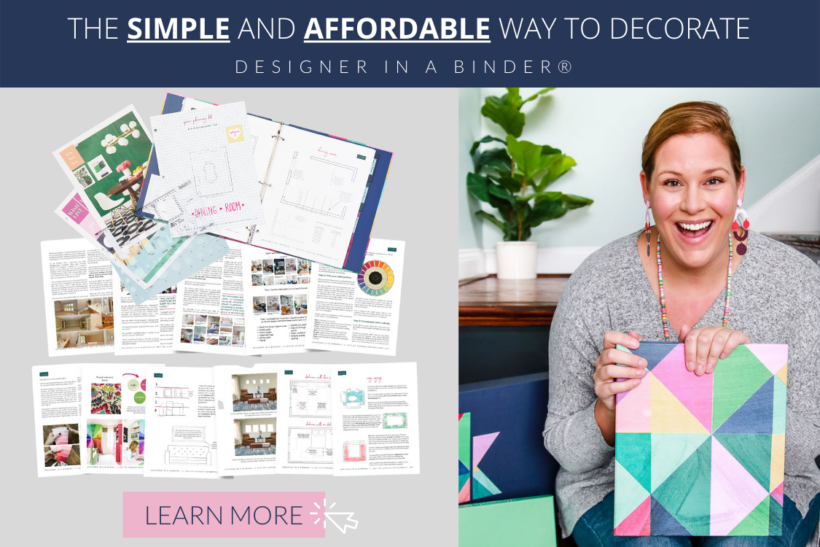 And if you want exclusive content and behind-the-scenes sneak peeks, be sure to subscribe before you head out!


​