Our Unbiased West Elm Harmony Sofa Review (After 4 Years of Using It)
I get asked a lot about the sectional sofa in our family room! And I understand why. Our West Elm Harmony sectional sofa is beautiful and offers so much seating. Our family of four has used our sectional daily for over 4 years. So what do we think of it? I'm finally sharing my unbiased, detailed review so you can decide if it is a good fit for your home and family.
Note that this is not sponsored. We paid for our Harmony sofa ourselves and I've never done any sponsored work for West Elm.
Note: If you are looking for sources to other furniture, rugs or decor you see in my photos, you can find links to pretty much anything on my home tour page.
This post contains affiliate links for your convenience. Click here for my full disclosure policy.
If you've been around a while, you may remember that we originally purchased our West Elm Harmony sectional when we still lived in our old house. And it was a very long process of sitting on every sofa option within a 90 mile radius (I wish I was kidding) before we found it. When we finally sat on the Harmony sectional at the West Elm in Durham, Joe and I both sighed with relief because we knew we had finally found our new sofa! Fun fact… we also tested and ordered our West Elm Spencer Recliner that you see in some of these photos at the same time!
My Review of the West Elm Harmony Sofa
I have sooooo many thoughts and comments about our sectional. If you are looking for the short version, here it is…
We absolutely love our West Elm Harmony sofa! We have zero regrets about purchasing it and have recommended it to countless people. And I think it's a great sofa option for the vast majority of families out there.
Now, for a more specific look at the many pros and few cons of the West Elm Harmony sectional, keep reading…
Pros
Comfort– I still cannot get over how comfortable the Harmony sofa is. The cushions are deep (34″) and soft and the back cushions are feather wrapped. On the West Elm scale of softness of 1 to 5 with 1 being the softest, the Harmony is a 1. So if you prefer a firmer feel, the Harmony would not be a good fit for you. As fairly tall people (I'm 5'9″ and my husband is 6'1″) we love how deep the seat is. The Harmony is a sofa that you will want to lounge and linger in. It almost feels like it is hugging you.
Sleek Design- I was drawn to the West Elm Harmony sectional because of the design. It's modern, but not overly so. It's clean lines compliment every decor style, whether traditional or contemporary. As soon as I saw it, I knew it would look beautiful in any family room for years to come even if our style evolved and changed. It looks beautiful from every angle (even from behind, which is important if you float it off the walls like we do).
Size– One of the best things about the West Elm Harmony sectional is that it is modular, so you can configure it so many different ways. You can include a chaise lounge, make sections longer or shorter, etc. We configured ours so that it is 2 sofas and 1 corner piece. This provides more than enough seating for our family of 4 to spread out (especially since we also have our West Elm Spencer Recliner in our family room). It's also plenty of seating for when we have guests over. I would say we can sit 5 adults with space in between them and 7 adults sitting side-by-side, but without feeling super crowded.
Durability- We have kids and a dog, so we wanted a family-friendly fabric. We chose the distressed velvet in the color Dune. The distressed velvet fabric is 100% polyester, but you would never know it by looking at it or touching it. It has a beautiful, soft texture and subtle shine thanks to its chenille yarns. It is GREENGUARD Gold Certified and suitable for high-traffic use (tested up to 50,000 rubs). It is machine washable and dry clean safe, though West Elm does not recommend removing the covers because I was told it can be tricky to keep the shape of the feather-wrapped cushions when removing and replacing the covers. Spot cleaning is recommended. We have not even had to spot clean ours! We just vacuum it as needed. It looks as good as it did the day we bought it. That said, we rarely eat while sitting on the sofa and our big dog is not allowed on the sofa. And we did follow this simple DIY tip to protect our sofa and keep it looking new.
Cons
So many pillows- There are a lot of pillows on this sofa! In addition to the back pillows every sofa has, there are lumbar pillows in front of each back pillow and pillows for each sofa arm. I have had so many people say, "but what do you do with all the pillows?" I thought it was a weird amount of pillows also, but I realized quickly that the pillows absolutely add to the comfort of this sectional. The seats are so deep that the lumbar pillows are wonderful to have! And the pillows that go over the sofa arms mean you never feel the hard arm below them. That said, straightening up this sofa after people have been lounging on it is definitely a bit more tedious that most sofas. It hasn't bothered me because the extra comfort they provide is well worth it.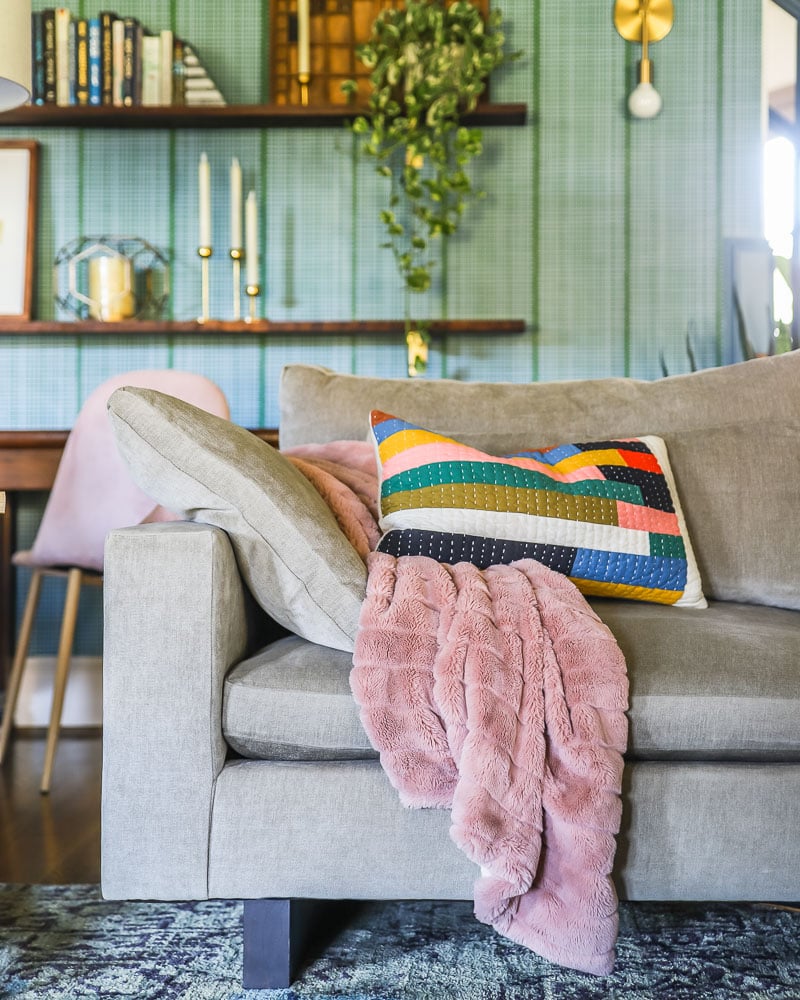 It's not slipcovered– We had originally hoped to find a sofa that had slipcovers we could easily take off and wash whenever we wanted (like an old Pottery Barn sofa we had years ago). As I mentioned above, while the fabric we chose is machine washable, West Elm does not recommend removing the covers to wash them because it can be tricky to keep the shape of the feather-wrapped cushions when removing and replacing the covers. I think many families with young kids and pets have peace-of-mind knowing they can wash slipcovered sofas and that just isn't in the cards for the West Elm Harmony sectional.
It's pricey- Let's just call a spade a spade… The West Elm Harmony line is expensive. I would have loved to find an option that we loved as much as this sofa that cost less. But we didn't find anything we liked nearly as much as the Harmony. I definitely feel like it's one of those "you-get-what-you-pay-for" kind of furniture purchases. We purchased our Harmony sofa and Spencer Recliner during one of West Elm's Buy More, Save More sales and saved a total of 30% which helped a lot.
I hope if you are considering purchasing the West Elm Harmony sofa or sectional that this has been helpful! Feel free to reach out if you have any other specific questions about it. If you are looking for sources to other furniture, rugs or decor you see in my photos, you can find links to pretty much anything on my home tour page.
Other posts you may enjoy:
Wondering how I approach transforming rooms and spaces in our home? Check out Designer in a Binder®.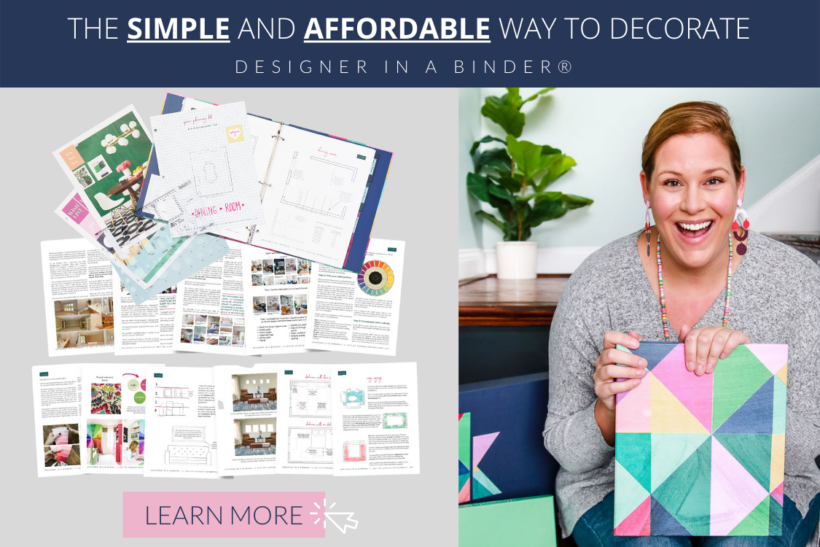 And if you want exclusive content and behind-the-scenes sneak peeks, be sure to subscribe before you head out!