Is the Samsung Frame TV Worth It? Maybe Not.
Last Updated on October 25, 2022
If you have ever seen photos on Instagram where the person's TV looks like framed art, it's almost definitely a Samsung Frame TV. After seeing them all over the place, we finally purchased one for our family room and we had very high expectations.
Now that we've had our Samsung Frame TV for well over a year, I wanted to share my unbiased review of this TV that looks like framed art with you. Spoiler alert… I don't think it's a great fit or necessary for everyone.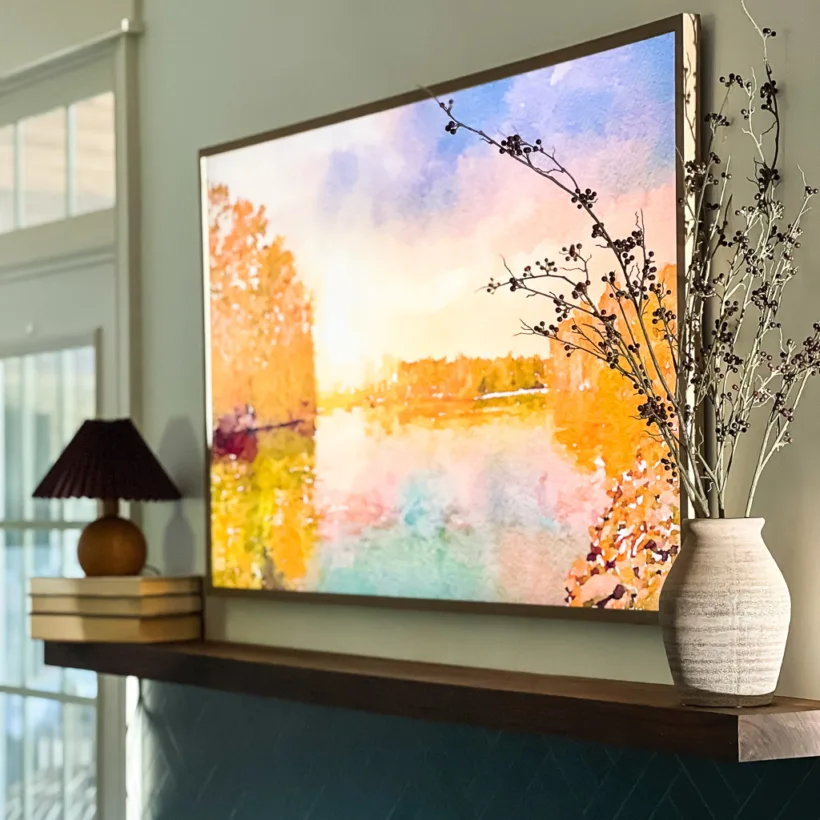 The Frame TV is hyped as the only TV that looks like framed art when you aren't watching something. But is that true? And is this "picture frame TV" worth the money? Here's my unbiased review + thoughts about what has changed with the 2022 Frame TV.
What is the Samsung Frame TV?
The Samsung Frame TV is a QLED HDR Smart TV (4K), so you can use it to stream from Netflix or any of your other favorite streaming services. The Samsung Frame TV is also equipped with Amazon Alexa and Google Assistant, so you can use voice control features if you want to.
But what makes the Samsung Frame TV different than a regular TV? Well, let's start with the fact that it mounts almost perfectly flat to a wall. But what makes it really different and sets it apart from other TVs is that it displays high-quality artwork and photos when you aren't watching something. That's right–it's a picture frame TV.
It uses a brightness sensor to detect when external lighting conditions change and responds by automatically adjusting screen brightness to keep the colors of your artwork consistent even when external lighting changes. And it uses a motion sensor to turn your artwork on and off based on motion (more on this later).
You can almost mistake it for a piece of original artwork hanging on the wall when you are not watching TV on it. I say almost because since it is backlit, it's never going to look like an original canvas or print hanging on a wall. But the resolution is stunning and you can adjust the white balance/tone to make it look as realistic and natural in your room lighting as possible. And without a doubt, it looks more like art than a big black box on the wall!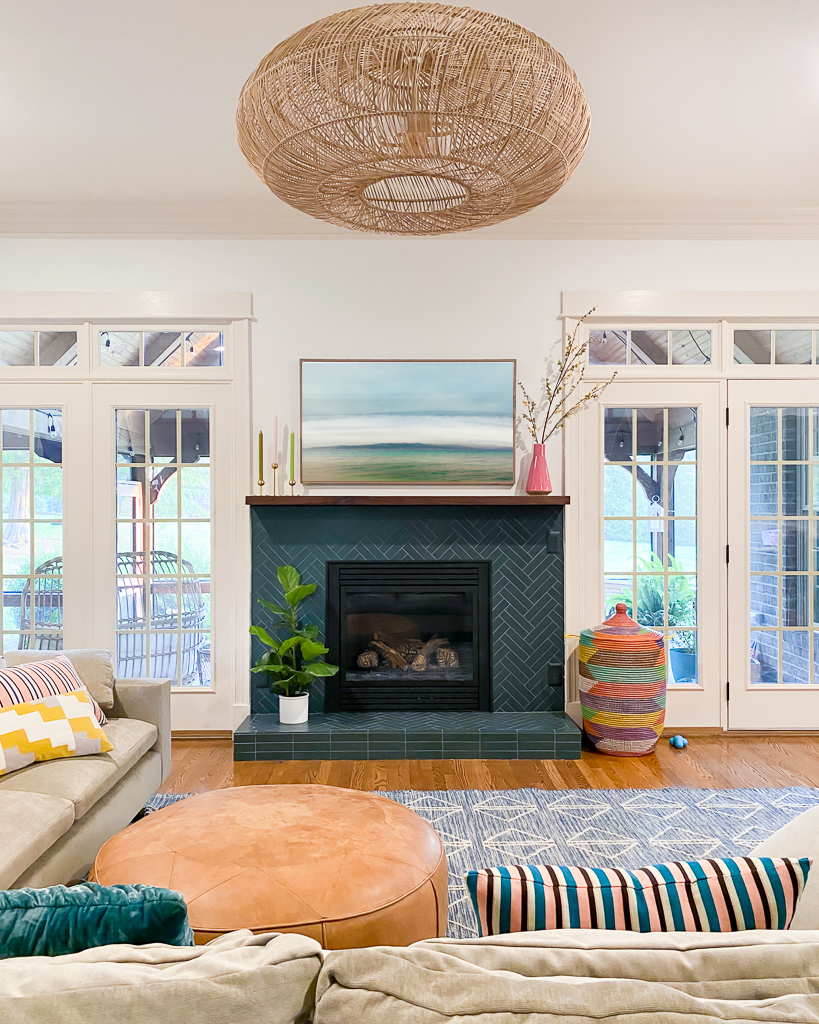 What I love about our Frame TV
There are several unique features that are unique to the Samsung Frame TV, many of which I didn't even know about until after we hung it on our wall and started using it. First of all, the no-gap wall mount that comes with the TV is AWESOME. It mounts your TV directly onto the wall, exactly like a piece of art. Typical TV mounts leave several inches of space behind them.
My favorite feature is that when you turn your TV "off" it displays your chosen art. As I mentioned above, the Frame TV has a motion sensor. So when we go to bed, it eventually shuts the screen off entirely. But when we walk back in the room, the art comes right back on the screen.
On some TVs, leaving an image on the screen for long periods of time will burn the image into the television's display. But Samsung has LED Quantum Dot technology, which apparently means that images can't be burned into the screen. It also means you get very realistic and sharp images on the screen.
The ability to display digital art on our Frame TV is definitely my favorite feature and it's what made it worth the price for our family room. I love, love, love how easy and fun it is to change the digital art display, and I do it pretty frequently. It's especially fun to change it up for the holidays! I added this colorful digital Christmas art to our Frame TV this past Christmas.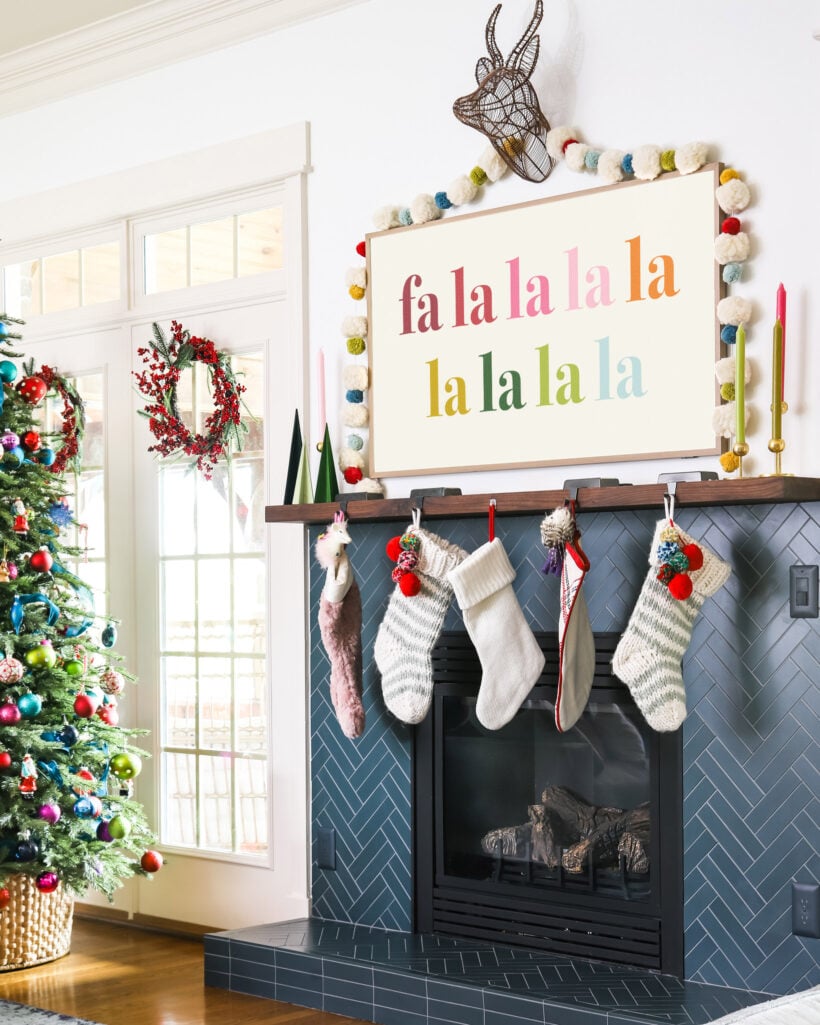 Does the Frame TV actually look like a picture frame hanging on the wall?
As I mentioned earlier in this post, you can almost mistake our Frame TV for a piece of original artwork hanging on the wall but because it is backlit, it's never going to look like an original canvas or print hanging on a wall. In addition to being backlit, the screen does result in some glare, much like a piece of glass over framed art would have. But the glare from the TV screen coupled with being backlit just results in a different look than a framed art print. So there will be a visible difference between it and other art in your home.
But there's good news! The Frame 2022 features a new matte, anti-glare display that seems to go a long way in making it look more like artwork hanging on your wall. It sounds like this was made possible by Samsung switching from a semi-gloss screen coating to a matte, anti-glare screen coating.
According to reviews and articles I have read about the 2022 model, the upgraded display is a "noticeable improvement." Apparently, the new screen is "engineered to maximize light scattering surface irregularities, limiting the glare." Other people praise the "heightened sense of realism" the anti-glare screen has when using the TV in art mode.
I don't have the new model nor do I plan to buy one just for the anti-glare feature. But it sounds pretty amazing and I will admit that I was SUPER bummed we weren't in the market for our Frame TV after the anti-glare feature was added, lol.
What can you do with the Frame TV?
As I've already mentioned, you can display artwork on it using what is called "art mode"! This is the biggest draw for most people who want a TV that blends seamlessly into their home decor. You can even choose to display your high-resolution artwork with a digital mat, making it even more realistic.
But you can also choose to display family photos or any photos you choose! You can have your Frame TV display one piece of art or photo at a time or have it cycle through them like a slideshow.
How much does the Frame TV cost?
The Frame TV comes in 7 different sizes. It is EXPENSIVE. The price starts around $575 for a 32-inch TV and climbs all the way to over $4,000 for an 85-inch TV.
What do you get for your money?
You get a high-quality smart TV (yep, you can use your favorite apps like Netflix and Hulu on it) and beautiful artwork that can be changed with the press of a button! Now, if you are wondering what literally comes in the box, you get a 4K QLED TV, the amount you will need to hang your TV on the wall, and something called a "One Connect Box."
The One Connect Box runs the whole TV and acts as a hub for all of your cables and connections in one place. That means you can connect all your devices such as cable boxes, streaming devices (Apple TV, Fire Sticks, etc.) and more with the following ports:
(4) HDMI inputs
(1) Optical Digital Audio Out
(1) Cat 5 Ethernet Port
(1) Coax Input
(3) USB Input
(1) Ex-Link
Then the One Connect Box connects to the Frame TV with one tiny, fiber-optic cord that is referred to as an invisible connection. That cord is all you need to power it and connect all of your devices to the TV. It's pretty cool.
What you don't get for your money is a custom frame for your TV. Out of the box, the frame of the TV is black plastic. Sure, it's thin. But it doesn't look like a picture frame. I didn't realize that when we first started looking into it, so I feel it's worth mentioning.
To get the look of a true picture frame for your TV, you have to purchase a frame or "bezel" separately (they retail for around $150) or you can purchase a more ornate frame like these, which are even more expensive. No matter what, the frame you choose needs to be factored into the overall price of the Frame TV, which is expensive to begin with.
We chose this modern beige bevel frame for our TV and we absolutely love it. Everywhere I looked the price was the same–$150. A lot of people (including my sister) prefer something more substantial that look even more like a picture frame you would use to frame artwork like these Deco Art Frames.
Where do you put the One Connect Box?
This was something we had to figure out before we decided to invest in the Frame TV. The One Connect Box isn't small. It's 13.7″ wide x 2.6″ high x 5.4″ deep. If you are hanging your TV above an entertainment center or some sort of console table, then it's no big deal–you can just put the One Connect Box in the piece of furniture. But if you are like us and you are hanging your Frame TV above a fireplace, chances are you don't want a big, black One Connect Box sitting out.
We were lucky that we already had an electrical outlet above our fireplace. So in the end, we wound up cutting a hole in the drywall behind our TV and installing a recessed media box to hold our One Connect Box and other components. You can see a photo of the hole we cut in our drywall and this box we installed below. It does mean we will need to take the TV off the wall if we ever need to reset the box for any reason, but the TV is not difficult to remove from the bracket, so we are okay with that.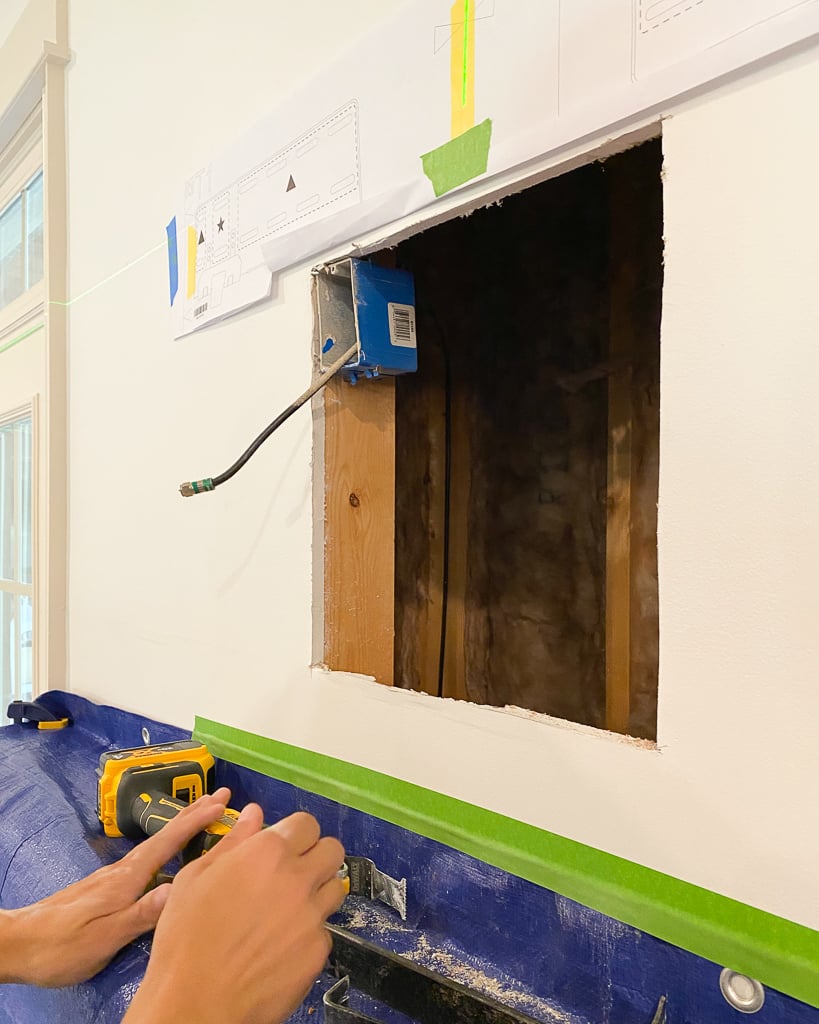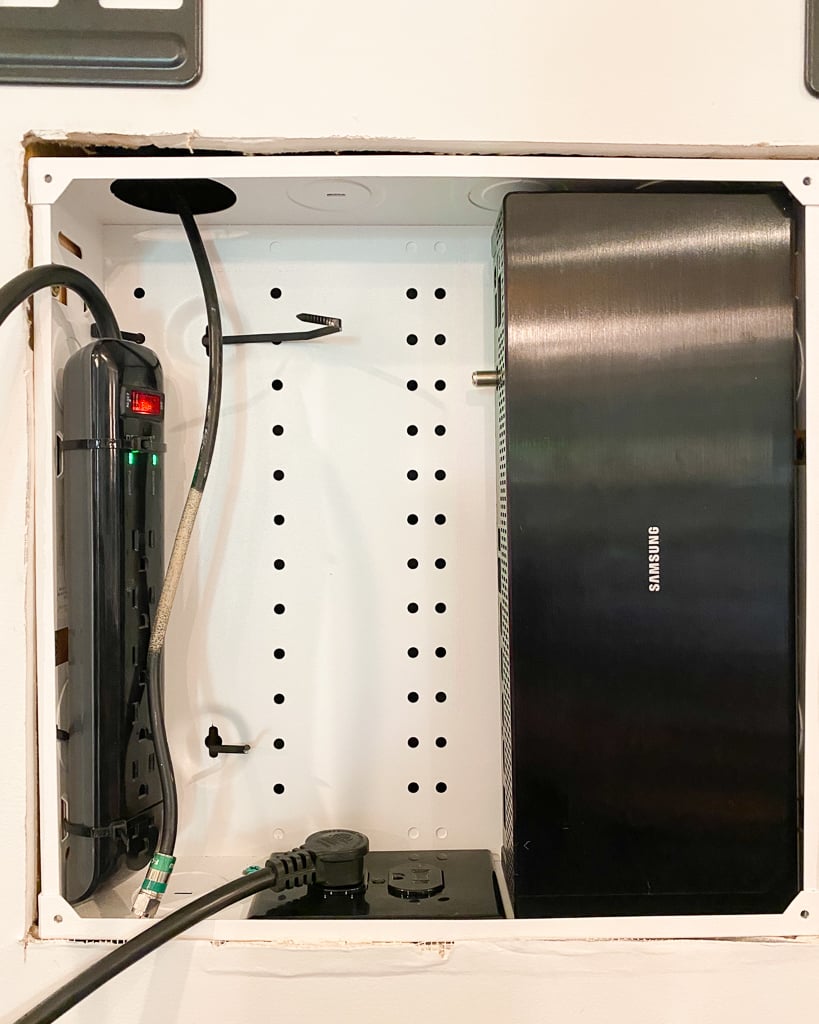 Pros and cons of the Samsung Frame TV
Pros: Sits completely flat to the wall, can display artwork when TV is not in use without burning the screen, nice picture quality when watching movies or TV, comes in a variety of sizes (32-inch, 43-inch, 55-inch, 65-inch, 75-inch). The 2022 model has an anti-glare display so the Frame TV looks more like artwork when in Art mode than ever before.
Cons: It's expensive, you have to buy a frame/bezel separately, the One Connect Box has to be stored or hidden somewhere.
Can you use any TV as a Picture Frame TV?
Wondering if there are there other ways to get the look of a frame TV?
I can't say that there are are "better" alternatives, but there are definitely very good and much less expensive alternatives. I transformed the very basic TV in our primary bedroom and figured out how to display digital art on it so that it blends into our gallery wall. You can read all about how I did it in this post. It's a much better option for our bedroom, which is a private space. I would NEVER spend the money to buy a Frame TV for any space other than our living room.
That said, the "screensaver" function in our bedroom won't stay on longer than 30 minutes, which is much, much different than the Frame TV. That's why I strongly prefer the Frame TV for our living room. After all, the TV in our living room is off 95% of the time. And I love that I can look at beautiful art the entire time it's off. In our bedroom, that's simply not an option. But it's also not an issue since I'm not spending much time in our bedroom when I'm not sleeping.
What's the deal with the Samsung Art Store?
Art pieces can be downloaded from Samsung's Art Store, which has a diverse collection of famous paintings and art pieces in 4K resolution. The Art Store is a digital marketplace where users can buy digital versions of world-famous paintings and art pieces. The Art Store has more than 1,500 pieces of art. I believe it currently costs $4.99 a month to subscribe.
I have not subscribed. I prefer to buy my high-definition digital art on Etsy for between $2.50 and $5.00 each. I find the selection to be wider and it's easier to find pieces that suit my particular style. You can see some of my favorite picks below!
Click on any image below for full product details.

What's the best price for the Frame TV and where can you buy it?
We had our fireplace makeover project planned for a while and knew we wanted a Frame TV, so we were hunting for a good deal. In the end, we wound up purchasing the 2021 55″ Frame TV model on Prime Day for $1,197, which was the best deal we had found. Prior to that, we were searching everywhere (Best Buy, Walmart, Target, etc.) and it seemed like Amazon always had the best deal. But you may be able to find a coupon or promotion code for another retailer if you hunt around.
The 2021 models are still available and are less expensive than the new 2022 model with the anti-glare feature.
Click the image below to see the current Amazon deals on the Frame TV.
Bottom line… Is the Samsung Frame TV worth it?
Now let's turn our attention to the question that I've received countless times since we hung our Frame TV this summer… Is the Frame TV worth it? My answer is YES if you are planning to use it in a space that you spend a lot of time in with the TV off and on, like a living room or family room. That makes the art mode display feature really, really worth it. It's so nice not to stare at a big black box on your TV.
If you need a TV that you only look at when you are watching it or that you spend very limited time looking at when it's off (like our primary bedroom TV) I would recommend saving your money. Just use this method to upgrade your basic TV! We've done it in our bedroom and our bonus room (see below).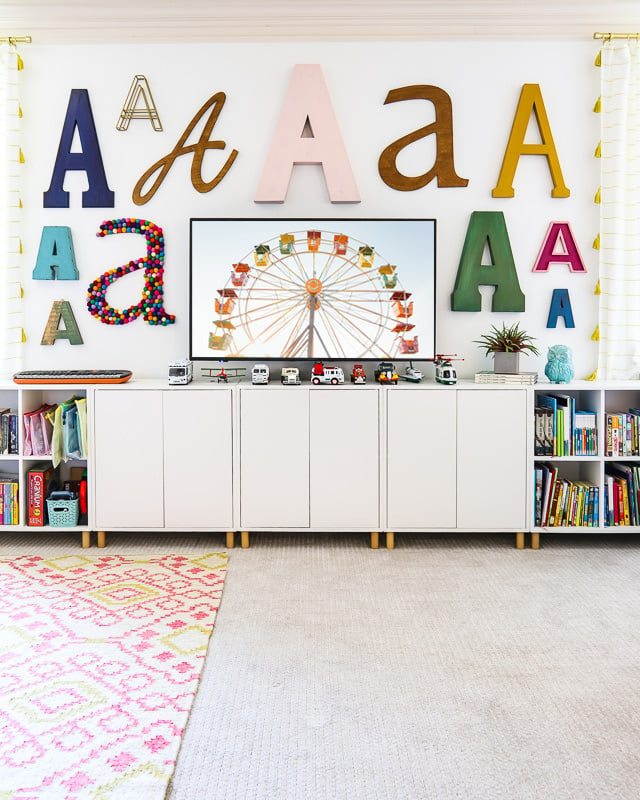 I hope you have found this helpful! I wish we could have found something like this to help make our decision a bit easier when we were trying to decide if we should spend more than $1,000 on a TV (because it seemed a bit crazy to us at the time). But because of where it is, I'm definitely glad we went for it. That said, we don't need one of these in any other room in our home. Less expensive TVs in those rooms will suit us just fine.
Other posts you may enjoy:
Wondering how I approach transforming rooms and spaces in our home? Check out Designer in a Binder®.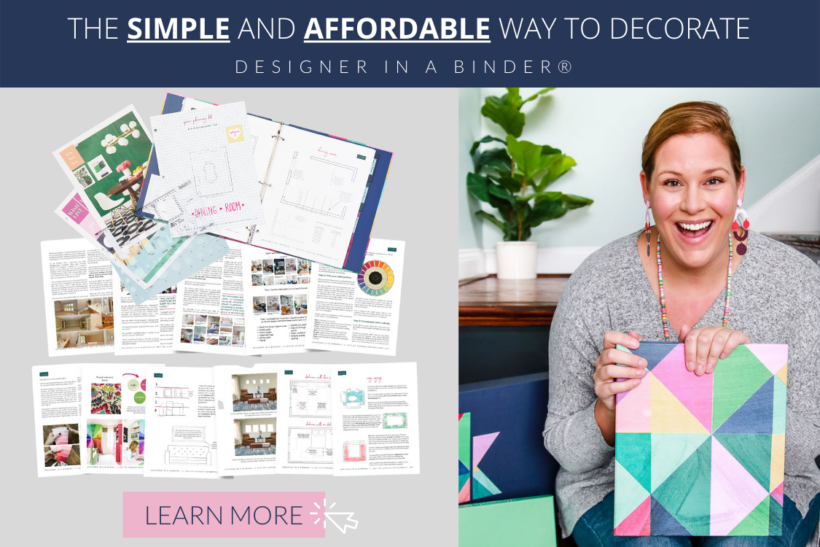 And if you want exclusive content and behind-the-scenes sneak peeks, be sure to subscribe before you head out!


Wondering how I approach transforming rooms and spaces in our home? Check out Designer in a Binder®.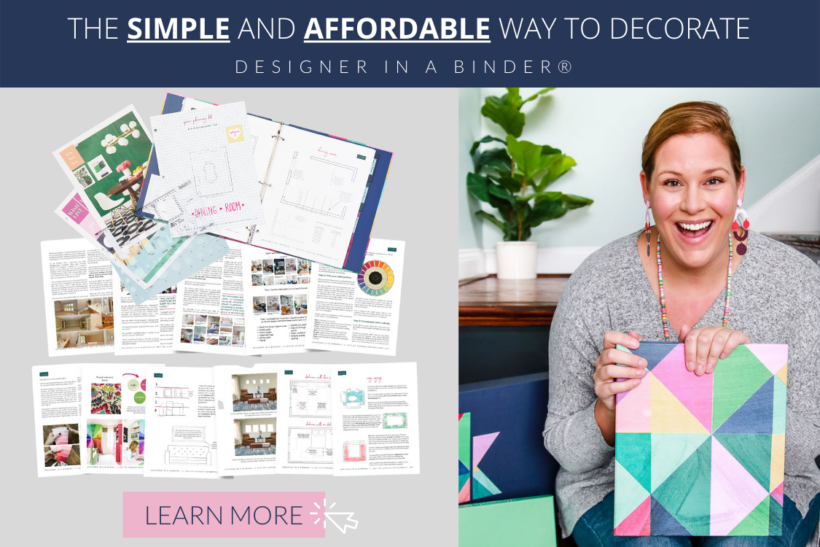 And if you want exclusive content and behind-the-scenes sneak peeks, be sure to subscribe before you head out!