How to Display Art On Any Smart TV + Affordable TV Update
Last Updated on October 12, 2022
Looking for an affordable Samsung Frame TV alternative? This is it! Give your basic smart TV an affordable but high-end look and learn how to display art on any smart TV! I shared my little TV update + art displaying trick on Instagram recently and everyone went nuts for it, so I decided to create a tutorial for you!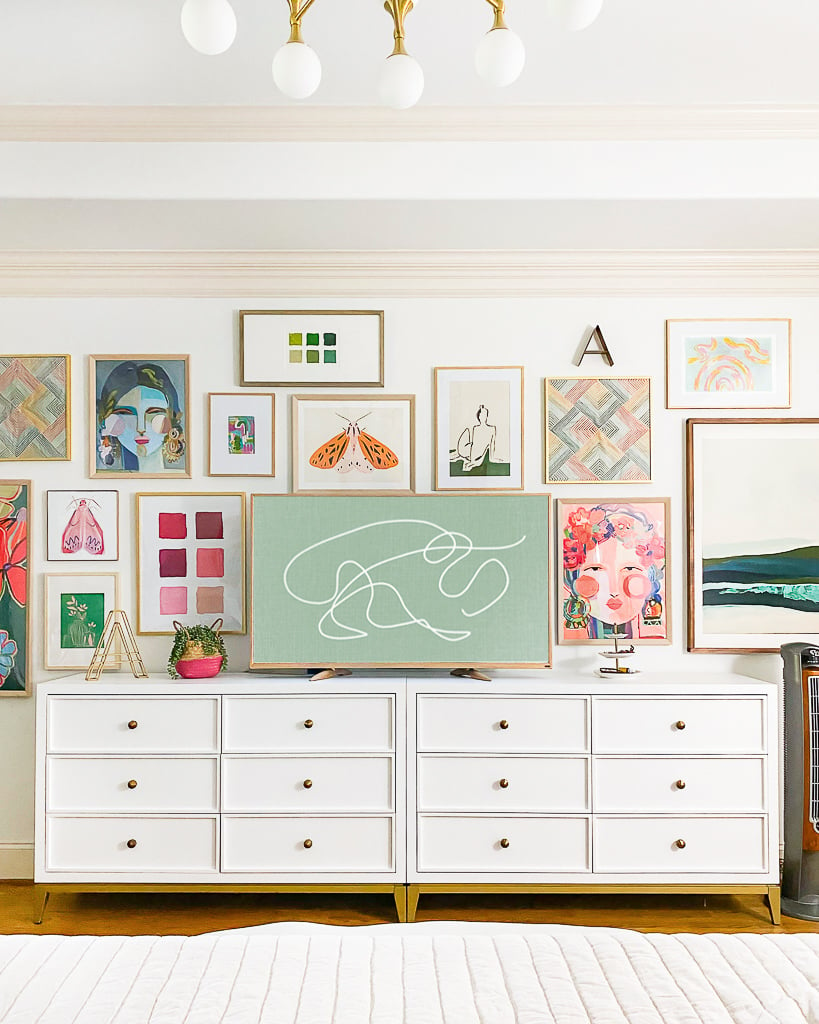 Why display art on your TV?
I think this project struck such a cord when I shared it on Instagram because let's be frank… TVs can be eyesores. And decorating around a TV can be tricky because they are big black boxes. I think that's why the Samsung Frame TVs have become so, so popular. But they are expensive! I wrote an entire post sharing my unbiased review of the Samsung Frame TV if you are thinking of buying one, definitely check it out!
Fortunately, I came up with a way to make the very basic Fire TV in our bedroom look beautiful for less than $15 in around 15 minutes. It's an affordable alternative to the Samsung Frame TV and makes decorating around a TV easy because it's so pretty!
I've broken this post into 2 parts for you. The first part is a tutorial for how to display art on any smart TV. And the second part is all about how to make your TV a bit more attractive (perfect for blending into a gallery wall–see my favorite gallery wall ideas and tips here). With these 2 tricks, you can mimic the look of a Samsung Frame TV for a fraction of the price!
Just look at what a HUGE difference these two tricks made in the gallery wall of our primary bedroom!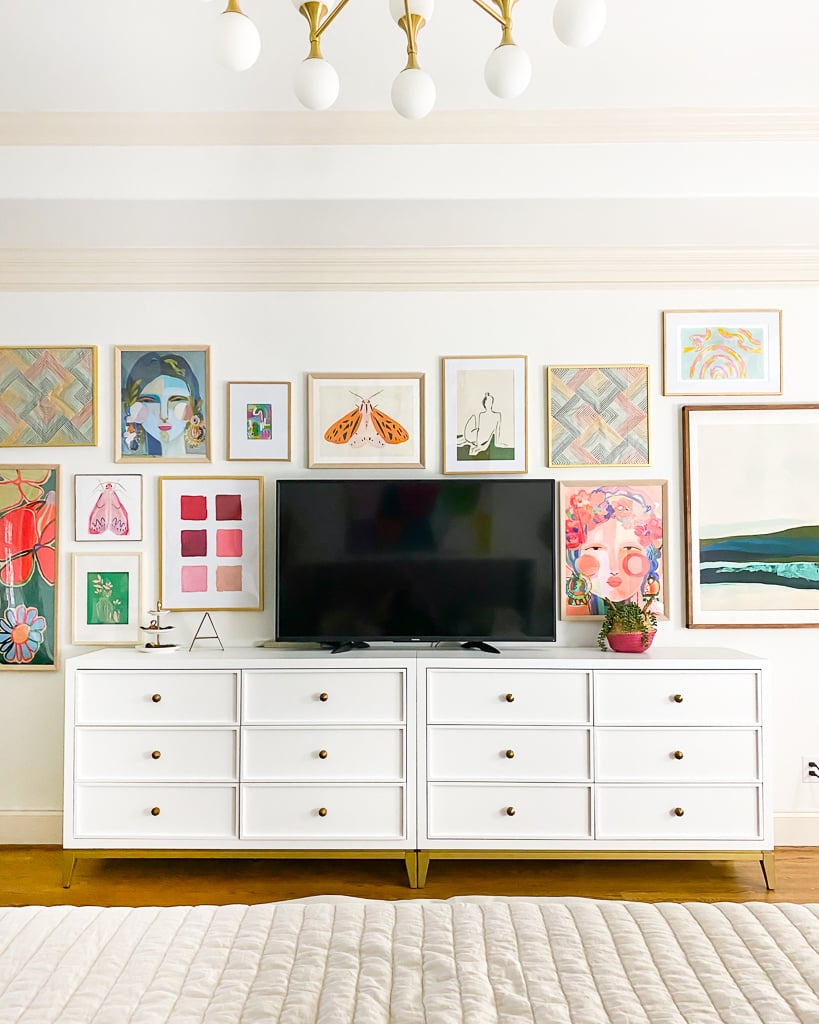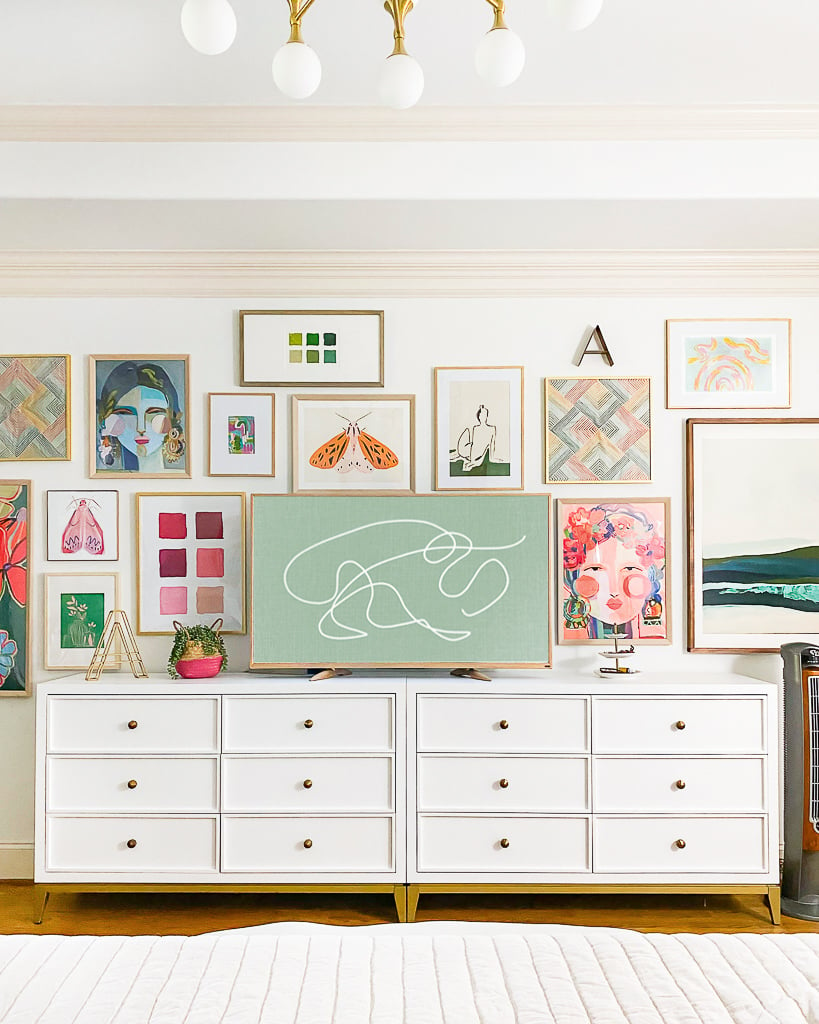 How to Display Art On Your Smart TV
The first step is finding digital art that will display properly on your smart TV. The good news is that it's EASY and inexpensive. You can buy pretty much anything you can imagine for between $2 and $6 per digital art piece. I've rounded-up some of my favorites (including the one we used) for you at the bottom of this section.
Once you find and purchase something you love, go ahead and download it. Read on to learn how to actually get it on your smart TV screen!
The steps you follow for displaying digital art on your TV will depend on what type of smart TV you have. We have a Toshiba Fire TV, so I'll cover Fire TVs first :)
Display Settings for a FireTV
1. Download the Amazon Photos iOS or Android app, or sign in on the web browser (I found it way easier to just use the web browser, especially since I purchased and downloaded my digital art on my computer anyway).
2. Log in to Amazon Photos and upload the art piece or pieces you have chosen. I recommend putting them in a folder labeled "TV Art."
3. Next, go into the settings on your FireTV. Click on "Display & Sounds" and then scroll down until you see "Screensaver."
4. Then click on Screensaver and select "TV Art" (or whatever you named your folder).
4. Last, choose your display settings. I have mine set to come on after 5 minutes and I turned off the Smart Captions, Alexa hints and Date & Clock so that when the art is displayed there aren't any words or messages displayed over it.
Display Settings for Chromecast
1. Upload the art piece or pieces you have chosen to a gallery in Google Photos.
2. Open the Google Home app on your phone.
3. Choose your Chromecast device.
3. Click Settings, then Ambient mode > Art Gallery (or whatever else you may have named it).
Digital Art Display Settings for Roku
1. Upload the art piece or pieces you have chosen to a gallery in Google Photos.
2. Install the Photo View channel.
3. Open "Photo View" and then sign in with your Google account.
4. Choose the album with the art piece or pieces you want to display.
5. Set "Photo View" as your Roku's screen saver by clicking Click Settings > ScreenSaver > Change Screensaver > PhotoView option.
6. Finally, you will want to adjust the amount of time before the screensaver starts from Roku's settings. To do that, click Settings > ScreenSaver > Change wait time.
Digital Art Display Settings for Apple TV
1. Upload the art piece or pieces you have chosen to an album in iCloud.
2. Next, turn on your iCloud integration in your Apple TV settings. Do not turn on Photo Stream when prompted.
4. Go to screen saver options in Apple TV's settings.
5. Click Photos > iCloud.
6. Choose which album you'd like to use.
My Favorite Digital Art Options
As promised, you can find a link to the digital art I chose for our bedroom and some others I love below.
Click on any image below for full product details.

I love displaying Christmas art in our home and that includes digital art for our TVs! You can find links to some of my favorite options for Christmas TV art by clicking on the image below.
If you are looking for more ideas for art for your home, you can check out all the art in our home here and lots of my art recommendations here!
How to Create a Gold TV Frame
Materials needed
Rub N' Buff– I used the color Antique Gold (but it comes in a whopping 16 different metallic finishes, so choose whatever works best with your decor). One tube is way, way more than what you will need to complete this project. A little goes a long way.
Paper towels
Gloves (if you want to avoid having gold fingers)
Steps
You can watch a really short video overview of this project below. If you prefer written instructions, those are below the video :)
1) Start by taping off your TV screen to protect it–you don't want to get any Rub N' Buff on your screen. But if you do, don't worry! A magic eraser will get it off easily.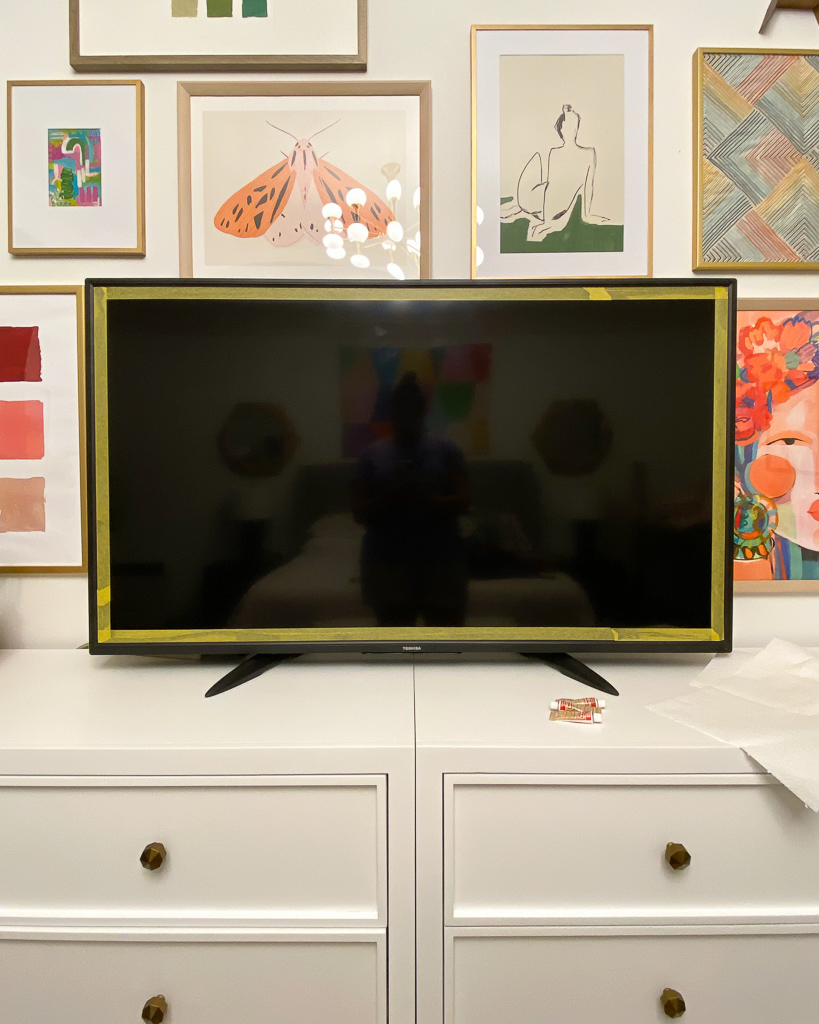 Next wrap your finger in a paper towel and squeeze a SMALL amount of Rub N' Buff onto the tip of your finger.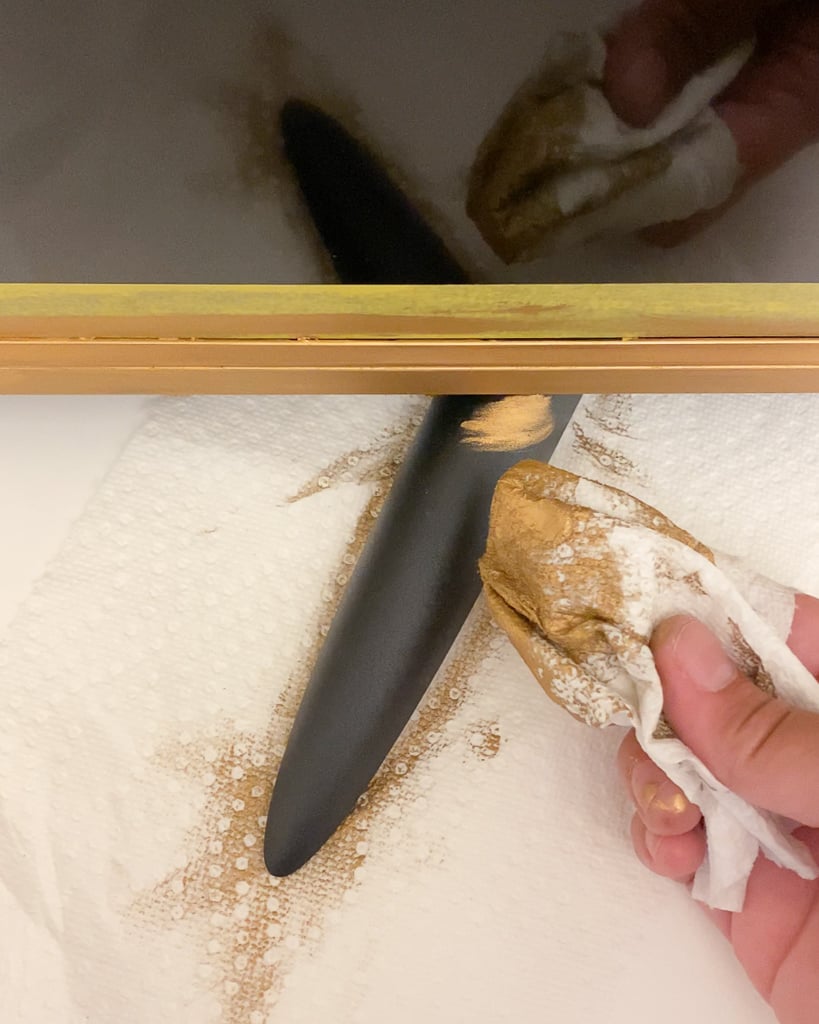 Lightly rub the Rub N' Buff along the "frame" of your tv. I coated the front and sides of our tv, but I left the back solid black since you can't see it. I also used the Rub N' Buff on the legs of the TV stand. You may not get full coverage on your first pass. That's totally okay! I got great coverage where the plastic frame was textured (on the front of the TV and the stand). But the sides were very, very smooth and shiny so I had to apply 2 coats to the sides. If you want, you can then gently buff the waxed surfaces with a soft cloth after the product has dried for an hour or so–the more you buff, the more the surface will shine. I didn't buff mine at all because I didn't want it to be shiny.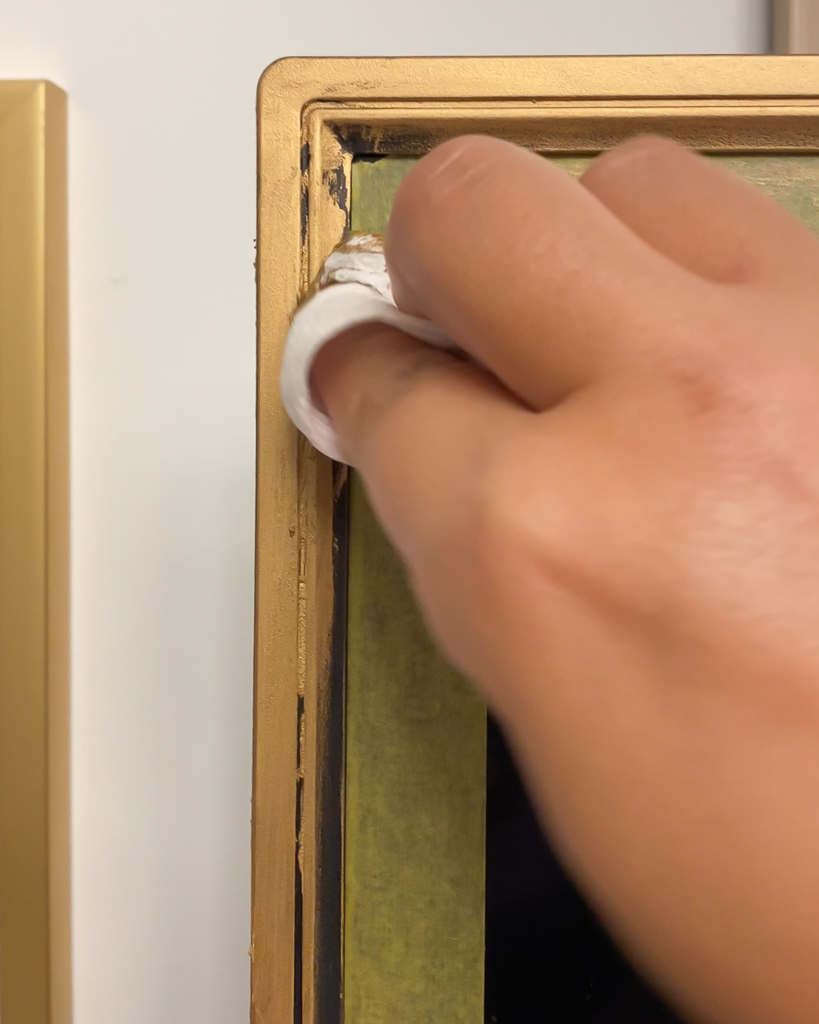 Rub N' Buff dries almost instantly, so once you are done, peel your tape off and you are good to go! Since Rub N' Buff is a wax finish, it is far more durable than spray paint and won't come off as your dust or clean your TV. You could clean it off with a solvent if you really wanted to, but it really is "permanent" in terms of staying power.
That's it. In less than 15 minutes and for less than $15 you can replicate the look of a Samsung Frame TV in any room in your home! What do you think?
Other posts you may enjoy:
Wondering how I approach transforming rooms and spaces in our home? Check out Designer in a Binder®.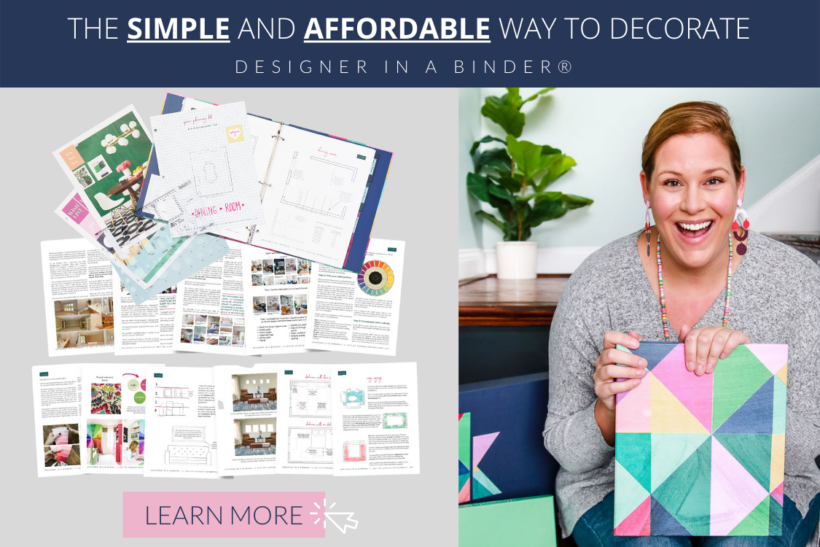 And if you want exclusive content and behind-the-scenes sneak peeks, be sure to subscribe before you head out!