23 Creative DIY Wall Decor Ideas
Creating a warm and welcoming home is a goal for most people. And if there is anything in a home that feels cold and unwelcoming, it's big, blank walls. It often feels like we have to spend tons of money on art and decor to fill our homes, but that just isn't true. One of the most affordable ways to add interest and beauty to your walls is by creating your own wall decor. Whether you are looking for a budget-friendly way to decorate your home or just want to add a unique touch to your walls, I'm sharing my favorite DIY wall decor ideas that are sure to inspire you!
Large DIY Art Ledge
We made this DIY art ledge to fill a giant blank wall in our living room in our old house. We moved it with us to this house and it looks amazing in the family room here also. We lean layered pieces of big art on it to make a colorful statement and I love how easy it is to change out the art pieces.
DIY Abstract Art Mural
This tutorial teaches you how to let go and set your creativity free to paint your own DIY abstract art mural. This accent wall can be totally customized to your own palette and style and even though it looks hard this is actually a DIY project that anyone can do!
Paint by Numbers Bathroom Mural
This is one of my favorite DIY wall decor ideas of all time! To fill this wall, Mandi reached out to an artist she loves and had her create a paint-by-numbers mural that she could do herself! With the help of the artist's instructions, some color matching, a projector and a confident hand, this gorgeous closet entryway got a brand new look.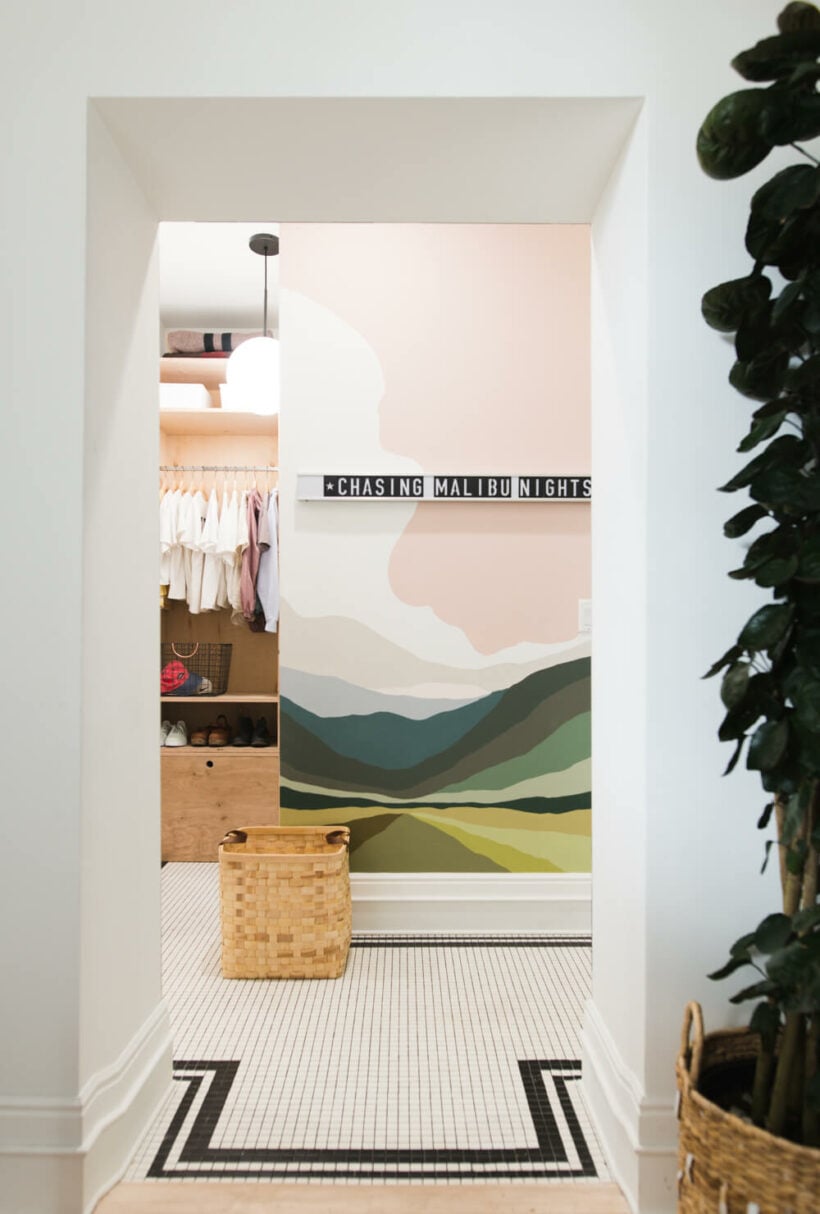 Add a Wall Calendar that Doubles As Art
Cover your wall in something useful! This giant monthly wall calendar is easy to use and perfect for scheduling work, family, or all of the above. We have several options to choose from and there are lots of ways to hang it depending on your space. I love the OG colorful style with a white chalkboard pen hung all together so you can see the rainbow!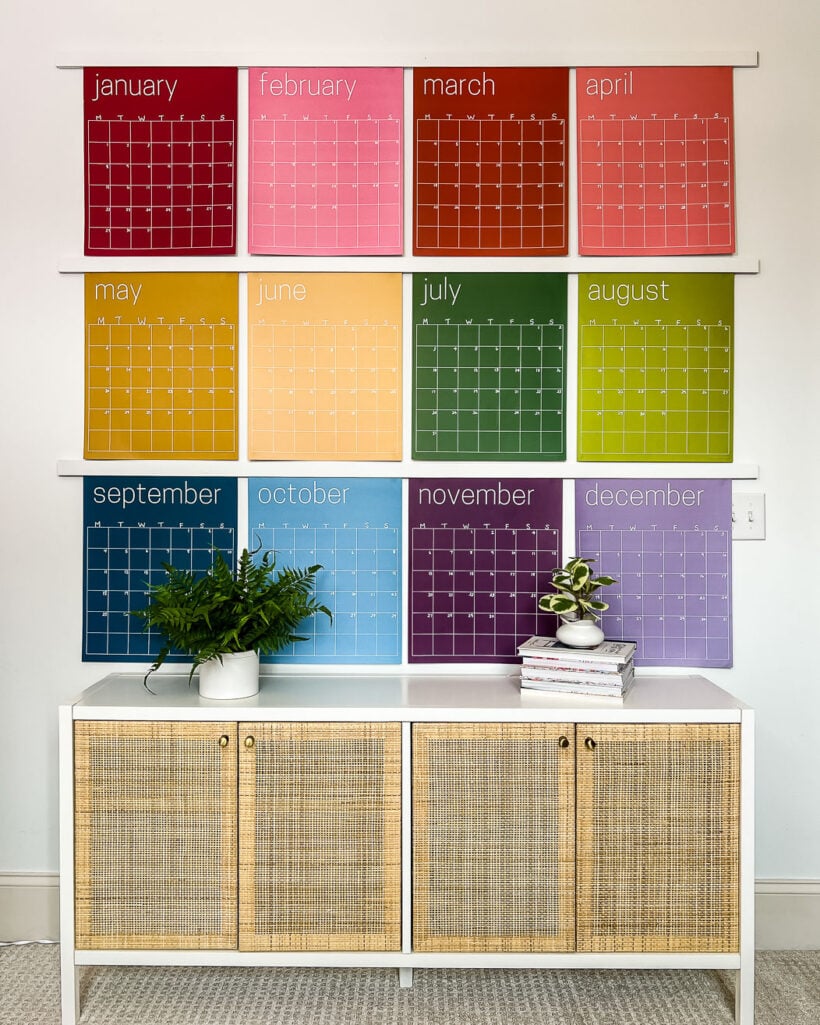 Painted Quote Wall
You can paint a fun wall quote anywhere, but blank garage walls are just begging for a pop of color! This is one of my favorite colorful DIY wall decor ideas. Choose a quote that inspires you and follow the tutorial to make it a part of your family's home and mantra!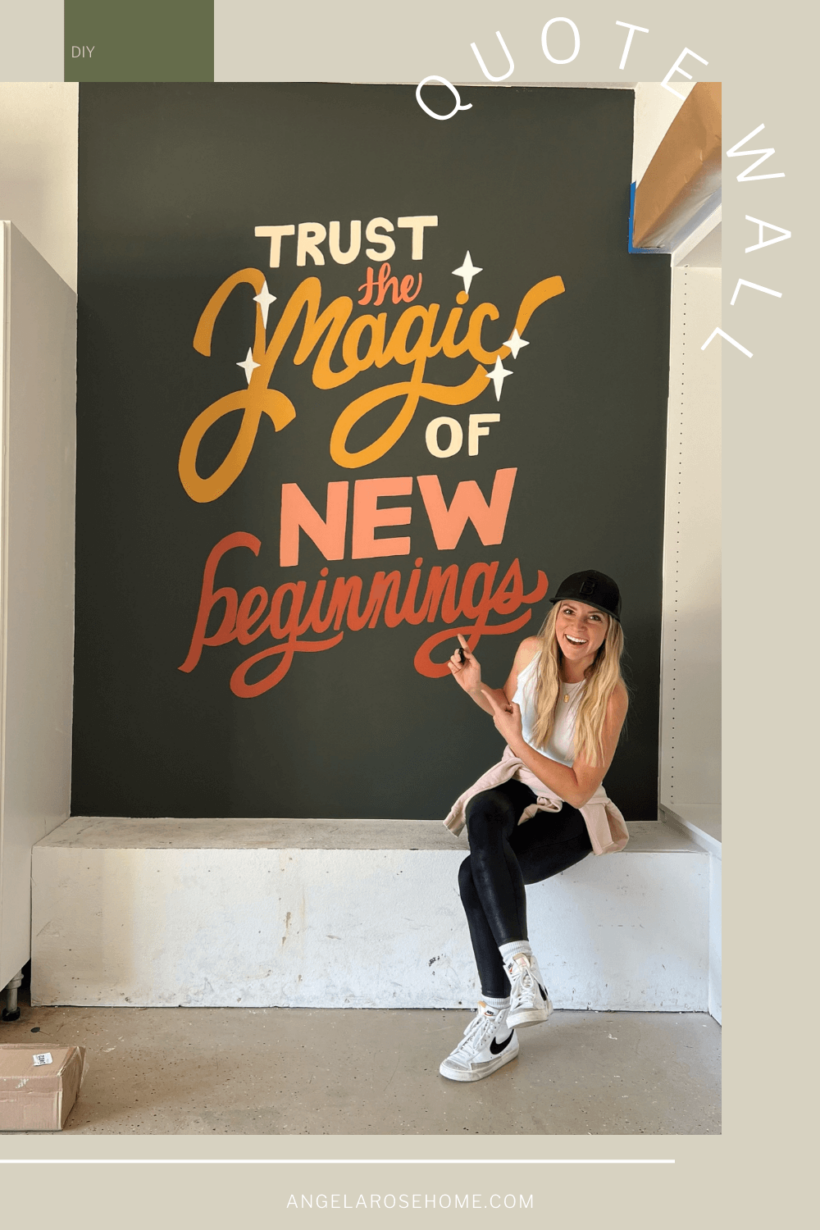 Letter Gallery Wall
We originally used a lot of these letters in the foyer of our old house and when I designed our new colorful family bonus room I knew they would be perfect around the TV. I love typography and all the different colors and textures that the gallery creates. I have been collecting these through the years but large letters are pretty easy to find!
Simple Circle Mural
It is hard to believe a simple pink circle can make such a high impact on a white wall! Sometimes the most simple DIY project is the best option. This is incredibly easy to duplicate and you can make it any color that works with your decor. This wins for the quickest DIY wall decor idea with the best results!
Colorful Yarn Wall Hanging
Macrame and weaving are really popular right now, but not all of us have the skills for that kind of wall hanging. This craft project is perfect for beginners and gives the same fun vibe as those more complicated projects without all the extra effort. Yarn wall hangings can be any color combination, but I really do love these rainbow hues. Choosing yarns with texture is the key to making this interesting!
Giant Pixel Wall Mural
This pixel wall mural is a fun trick of the eye–small squares of color placed individually make up one large piece of art. From across the room, it looks like a pixelated art installation but up close it is square after square of beautiful colors. This one takes some planning but the effect is stunning.
DIY Abstract Art
I needed some really bright pops of color on this large white wall in our colorful bonus room and when I could not find the exact right thing, I created my own works of art! Painting can be so intimidating, but when I use a putty knife I really love it. If a paintbrush makes you nervous, grab a putty knife (I used the same one that I use for spackling) and some paint and start spreading and scraping! You can also easily repurpose old canvases to create your own art like this.
Paper Chain Wall Hanging
Beautiful wall hangings don't have to be yarn or textiles. Paper can do amazing things! This paper chain wall hanging is the stylish and cool big sister to those paper garlands we all made when we were little. The tutorial is straightforward for this one or your could use theirs' as inspiration and make your own!
Painted Arch Mural
Every time I design one of my kids' rooms, we talk a lot about color and what makes them happy in their space. Attley loves bright colors and her room is full of them! To add a fun pop to this white wall that doesn't have a ton of room to hang art, I painted an easy DIY arch in one of her favorite colors. It goes over the trim, which makes it more interesting, and it is the perfect thing to break up all the white and make her desk area stand out.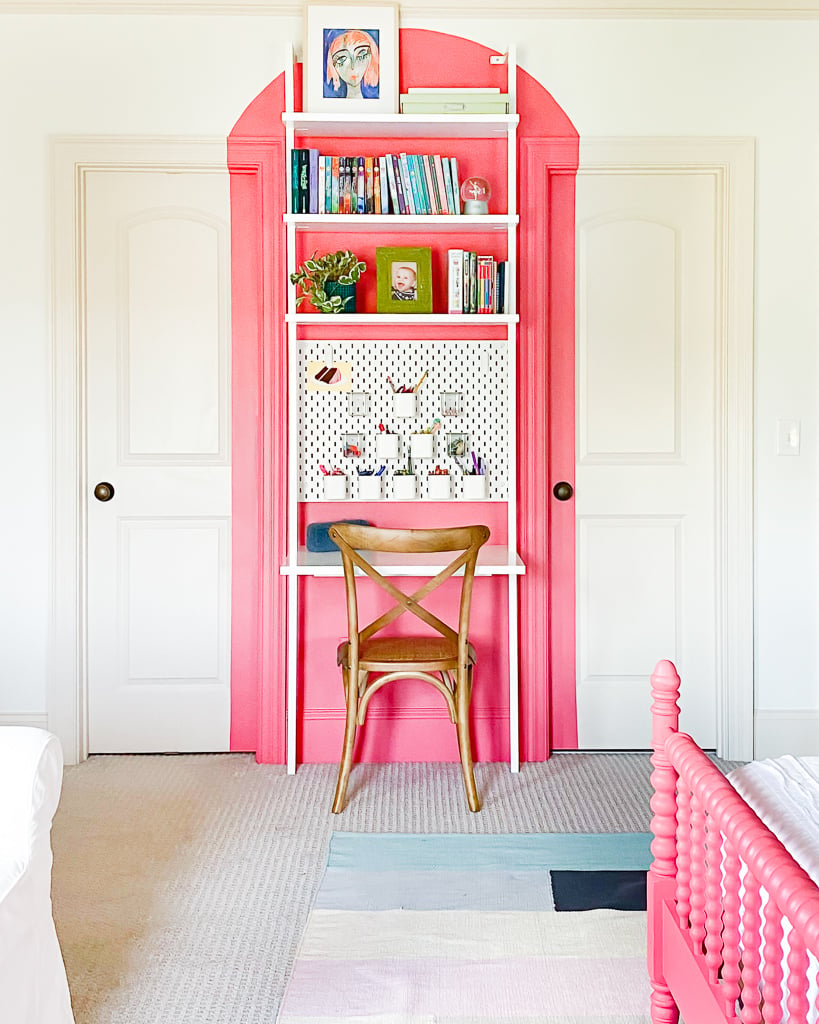 Layered Fan Art
Create a large piece of art with lots of dimension using this super simple DIY wall decor idea. These beautiful fans are all cardstock! This one is especially budget-friendly and perfect anywhere you want something fun and different.
Floor to Ceiling Squiggle Mural
Handpainted murals by artists are popping up everywhere, but that doesn't mean you cannot DIY one! I love this color-blocked squiggle mural because it brings tons of color and movement to the space without overwhelming it. There is still lots of white space and it feels light and airy but also so fun!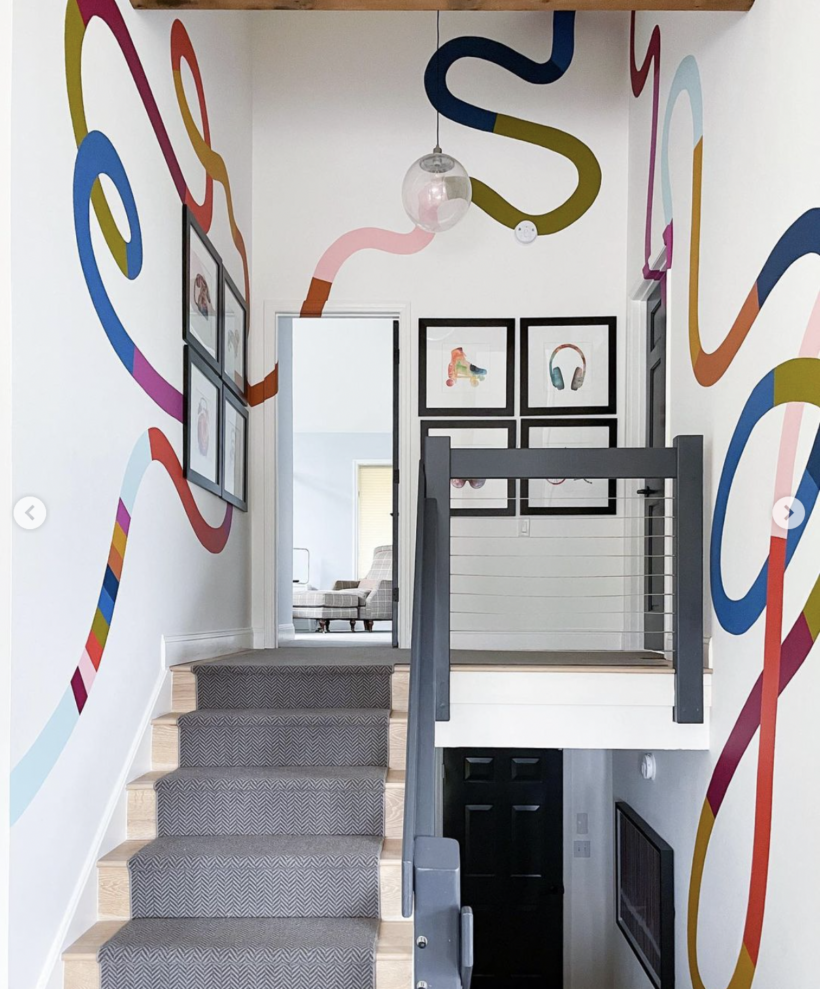 Colorful Gallery Wall
Filling your home with family photo walls will always be a classic way to fill some wall space. I wanted something that popped in this space so I created this colorful gallery wall. The mats are so happy and perfect with our black and white family photos. This is an easy look to recreate and you can use whatever colors fit your style.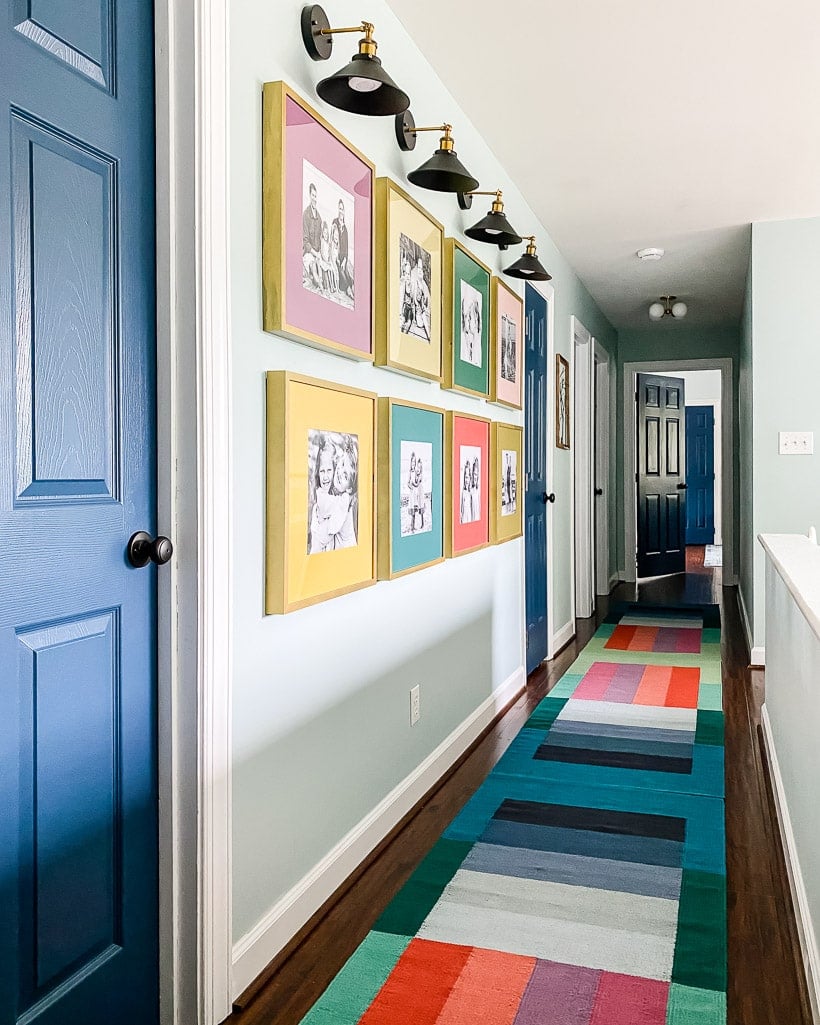 Dowel Pixel Art
I still rank this as one of the most creative wall decor ideas I have ever seen. This pixel art is made from painted dowels! It takes a special type of artistic mind to make something this unique and beautiful. I love the flower she designed and I am so impressed with the time and thought it took to make this.
Felt Ball Letters
Each of my girls got a large DIY letter made from felt balls back when they got room makeover several years ago. Attley opted for rainbow colors and it turned out so cute! We now have it hanging on our colorful bonus room typography wall and it is so cute with all the other A's I have collected over the years.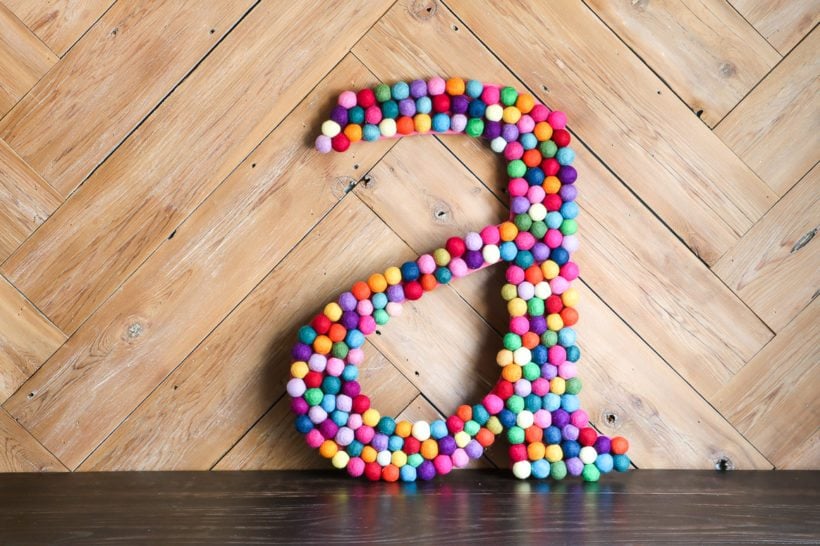 Shadowbox Collection
Don't hide you special collections away! Order a set of matching shadow boxes and display your favorite things. This collection of necklaces looks stunning in matching white shadow boxes. Anytime you group like items in a grid it makes a big impact. You can do this with anything–jewlery, baseball cards, playbills, the options are endless!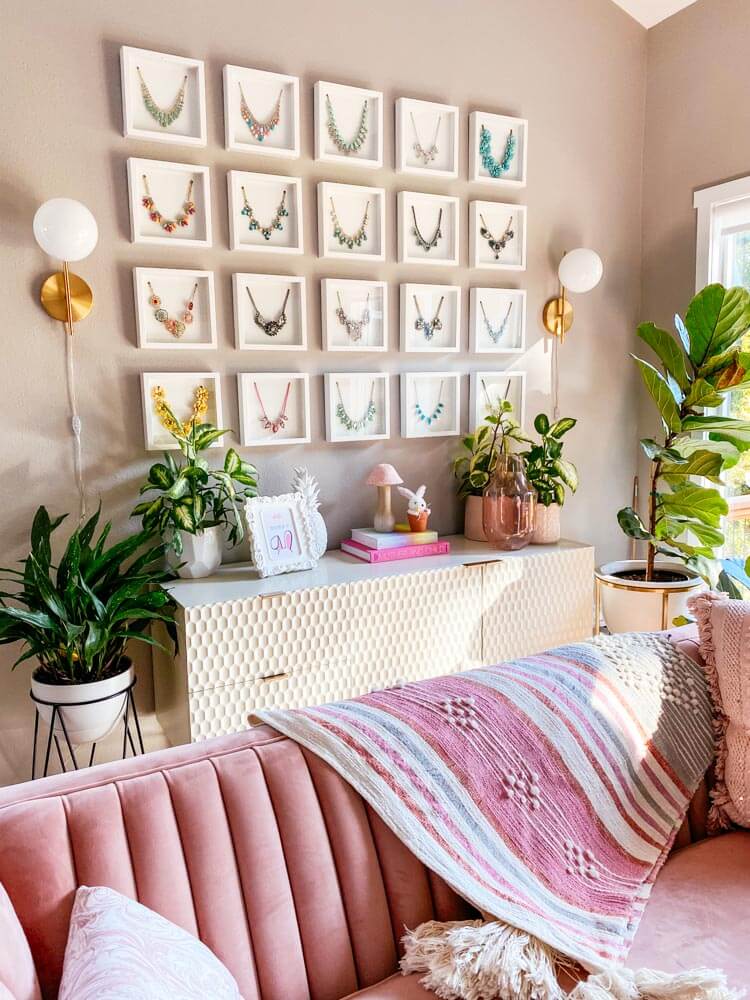 Floating Wall Shelves
Hang shelves on an empty wall and add decor to create dimension and interest. I filled these DIY wall shelves with items like colorful layered small art, candles, and books to create beautifully styled shelves. There are lots of floating shelf ideas to choose from out there! Shelving is also a go-to for me because it allows me to change things out seasonally or as I get bored, which I love.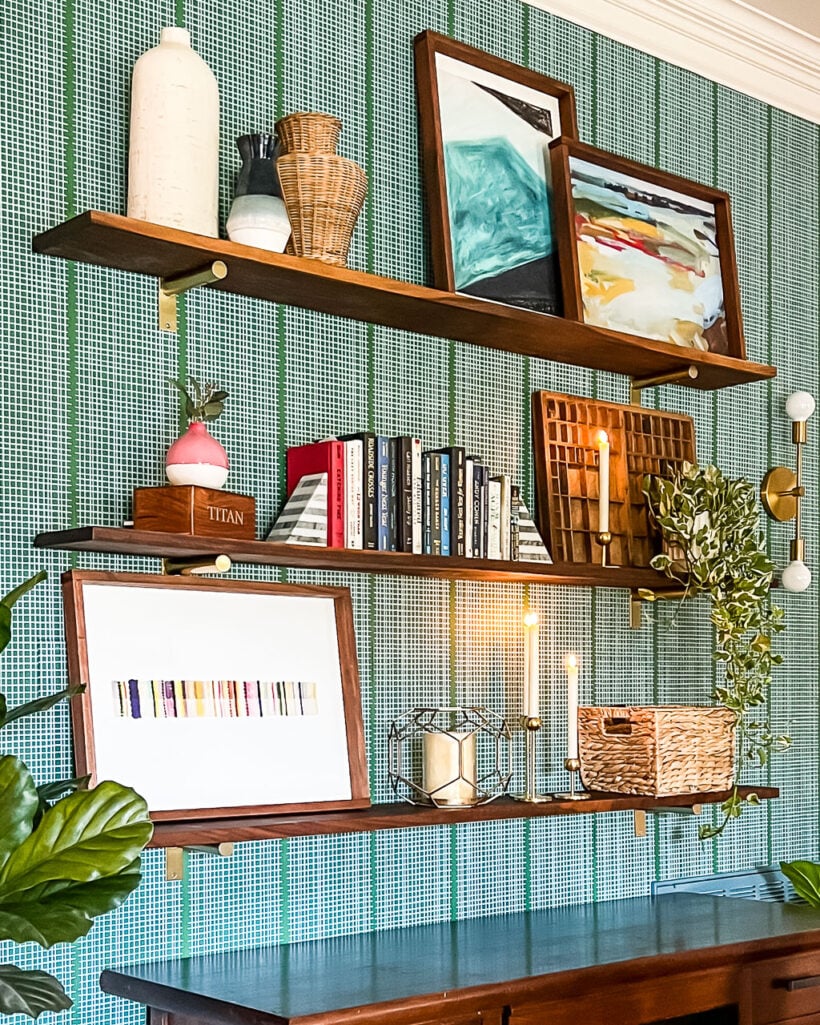 DIY Black and White Mural
Don't be afraid to just go for it with an idea! Cassie grabbed a paintbrush and went bold with these black and white graphic rainbows painted by hand down her hall. This is an awesome way to fill your walls and it is easy to cover up because it is just paint. So don't be scared! Often your gut instinct turns out to be the right one.
Vinyl Wall Quote
My girls shared a room for a really long time. When we gave them a big girl room makeover, I created a vinyl wall quote about sisters to fill this large wall. This is a really easy DIY, especially if you are handy with a cutting machine. Pick any quote and color scheme and make the idea your own!
DIY Plywood Pegboard Wall
Storage doesn't have to be blah. This color-blocked pegboard wall is an amazing use of an empty space land Aniko designed a wall that is as cool as it is versatile. I love this idea for a wall in a small office or kids' room! It provides storage, places to display photos and mementos, and accommodates a desk. Such a great use of space!
Wallpaper Mats for Photo Gallery
Think outside the box if you have an awkward wall space to fill. We have a funny angled niche outside the door to our master bedroom that goes into the family room area and figuring out how to fill the walls there was tricky. I opted for a family photo gallery with bright wallpaper mats to make it interesting! You can also do this with wrapping paper or any paper you love. Add some sconces to brighten it up and you have a simple and stylish DIY wall decor idea that anyone can do.
Blank walls are just decorating opportunities! When it comes to wall decor, the possibilities are endless, and with a little creativity, you can transform any space. Whether you choose to create a gallery wall, hang a statement painting or print, create a wall mural, or use wall decals, the most important thing is to do what feels right for your style and budget. So, don't wait–start filling up your blank walls. I love all of these beautiful DIY wall decor ideas and I hope they have inspired you!
Wondering how I approach transforming rooms and spaces in our home? Check out Designer in a Binder®.
And if you want exclusive content and behind-the-scenes sneak peeks, be sure to subscribe before you head out!