The Best Gallery Wall Ideas and Tips To Inspire You
Last Updated on August 5, 2022
Gallery walls are a great way to give your walls some personality and fill up blank walls! Here, 16 of our favorite gallery wall ideas to inspire you. Plus, we share our tips for creating your own gallery wall.
You have a room. You picked furniture you love, bought an amazing rug that's the perfect size, and even found the perfect decor touches. But something is missing. There are large blank walls, looming over you, waiting to be filled!
It can be SO overwhelming to figure out how to fill a blank space with the perfect art or family photos. But y'all, I am here, and I have you covered!
I rounded up my favorite gallery wall ideas from some really amazing and talented people. I love all of these galleries–they each bring something fun and unique to the game of filling a big wall with beautiful things! The thing I love most about a gallery wall is that it allows you to put lots of pieces of art and decor into one space and view it as a whole, and then to look at each individual piece and appreciate each it separately.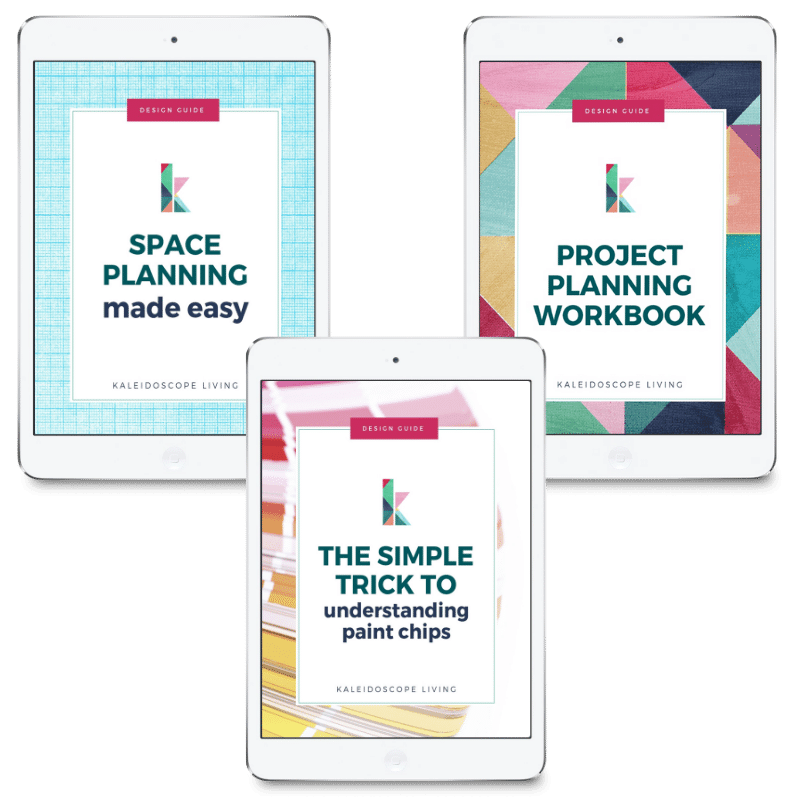 Get my FREE design guides when you subscribe!
When a gallery is put together with intention it can be the most powerful part of the room. So I'm also sharing my tips for how to put together a gallery wall. With these tips and inspiring gallery wall ideas, you will able to create a wall that you can't stop staring at!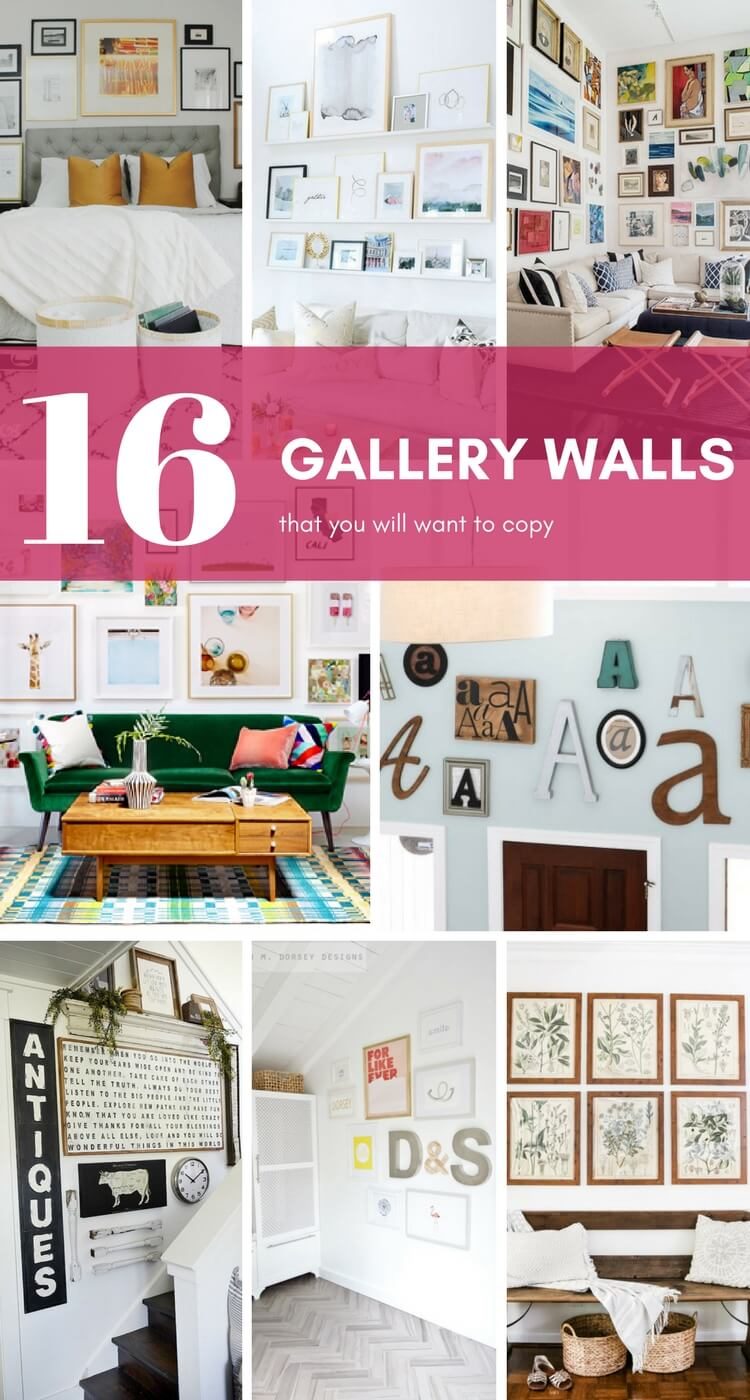 What's the Best Layout for a Gallery Wall?
There's no such thing as a "best" layout for a gallery wall. Some people prefer perfectly symmetrical layouts while others perfect asymmetrical (collage style) gallery walls. The beautiful gallery walls we share in this post include some of each, so take note of which ones you prefer.
What Should a Gallery Wall Include?
Symmetrical Gallery Walls
If you are opting for a symmetrical gallery wall layout, I personally think they work best with the same type of media (all art or all photographs).
Asymmetrical Gallery Walls
If you are going to install an asymmetrical gallery wall, here are some guidelines that will help you:
Curate pieces that you LOVE– Gallery walls take time! Don't expect to be able to find all the pieces of artwork and other accents you may include in a week or even a month. Because you should really LOVE everything in your gallery wall, take your time collecting your pieces.
Choose a large statement piece to anchor your gallery wall- You need at least one piece that feels like it's the one in charge. If you only have a bunch of smaller pieces your gallery wall will look messy and there won't be anything to really draw your eye in. Anchoring your gallery wall will give it a nice focal point.
Choose a color scheme– Make sure to have a consistent color palette, but don't make it too matchy-matchy. You just want to make sure the colors share the same tone and vibrancy. In other words, I don't recommend mixing muted earthy tones with bright vibrant tones.
Repeat each color 2 to 3 times– Every piece you include should have 1-2 "friends." Those "friends" are other pieces that share a similar color or tone.
Vary the sizes and orientation of your pieces– You need both horizontal, vertical and square pieces to make your gallery wall feel balanced. And the pieces should vary in size. While you want a big pieces to anchor the collection, you do need smaller pieces of art to fill in the space between larger pieces.
Include 3D found objects– I think the most interesting gallery walls include interesting 3D objects, like old typography pieces, architectural salvage pieces, clocks, etc.
Where Can I Find Art Pieces to Include in a Gallery Wall?
I'm so glad you asked! I get asked about the art hanging in my house more than almost anything else, so I have put together a ton of resources to help you find pieces that you love. Here are the posts that will help you!
The Best Gallery Wall Ideas & Inspiration
Hallway & Entryway Gallery Walls
Colorful DIY Gallery Wall by Kaleidoscope Living- This symmetrical gallery wall of family photographs down a long hallway includes a twist–colorful photo mats!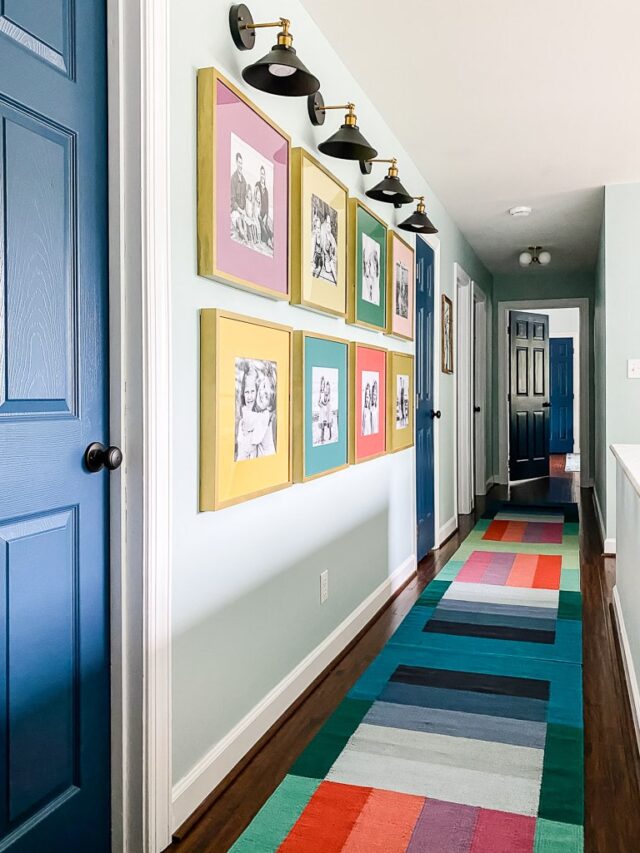 Farmhouse Stairwell Gallery by Liz Marie Blog- Notice how this staircase gallery wall uses pieces of different sizes and orientations, which makes it so interesting. I also love that home decor pieces like the clock and the old stair ballusters of dimension.
Botany Prints Gallery by Bless'er House- This symmetrical gallery wall made up of botany illustrations was super affordable to put together (seriously, check Lauren's post out) and it makes a big impact above the bench in her entryway.
Entry Gallery Wall by Sarah M. Dorsey Designs- This gallery wall is a great example of including dimensional objects in a gallery wall. Those initials of the homeowners add such an interesting and personal touch.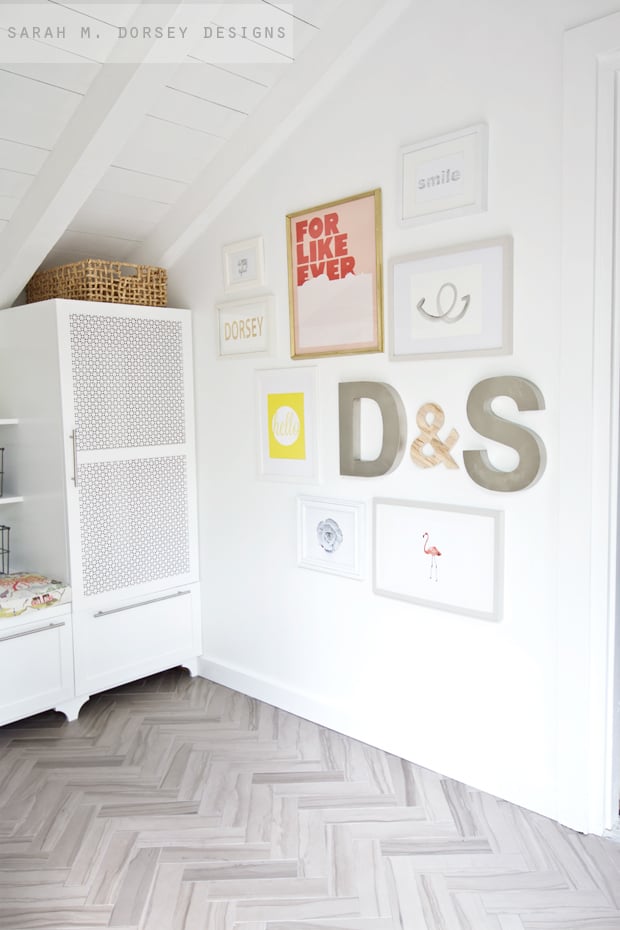 Typography Gallery Wall by Kaleidoscope Living- This typography gallery wall shows how fun it can be fill up an empty wall with mostly 3 dimensional pieces that share a neutral color palette.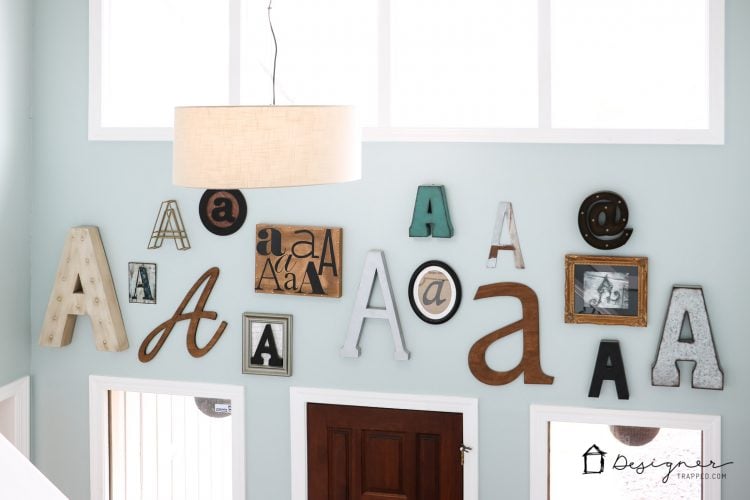 Bedroom Gallery Walls
NY Style Gallery by Homemade by Carmona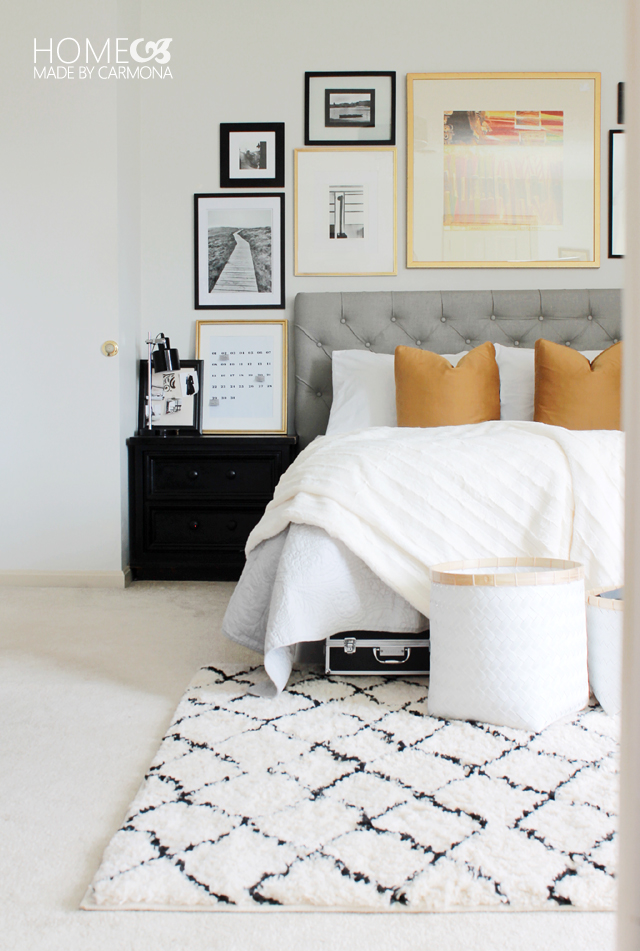 A Gallery Wall Planned Around a Smart TV That Displays Digital Art by Kaleidoscope Living- This colorful gallery wall in a bedroom is proof that you can include a TV in the grouping without ruining the look! The key is to either incorporate a Samsung Frame TV (here's my assessment of whether a Samsung Frame TV is worth it) or to use this trick to display digital art on any smart TV.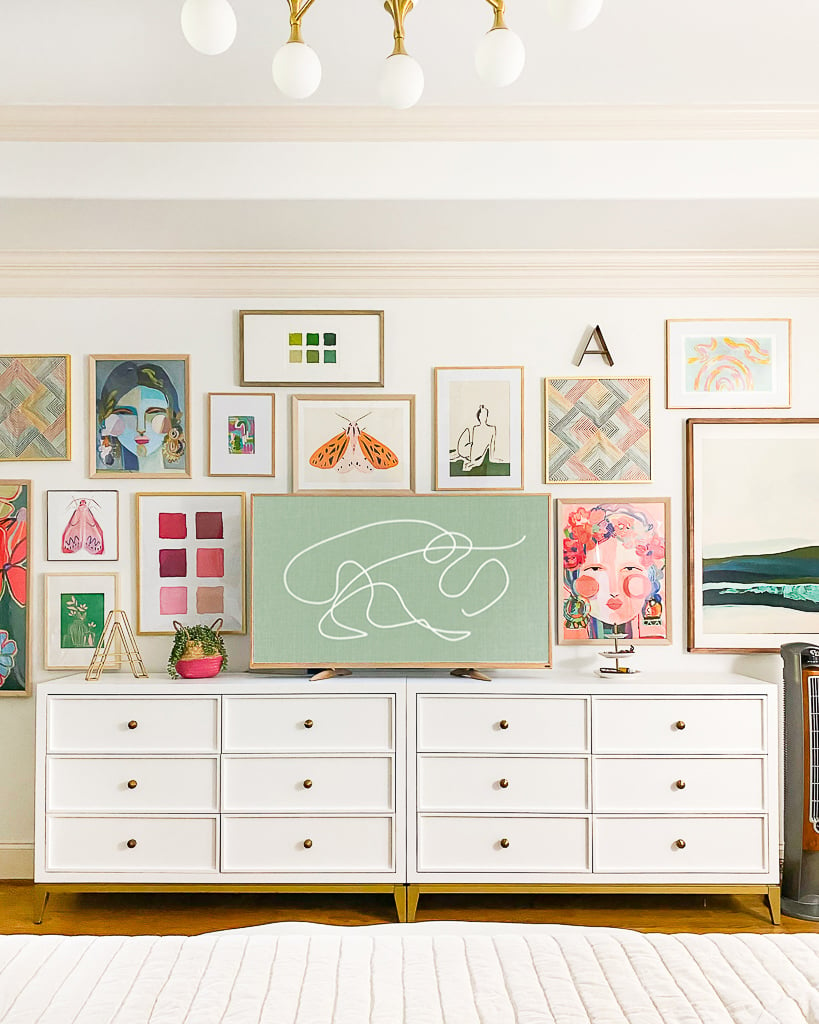 Master Bedroom Gallery Wall by Chris Loves Julia
Embroidery Gallery Wall by At Charlotte's House- This gallery wall full of embroidered art is a GREAT example of curating a collection over time. See how it pays off?!
Living Space Gallery Walls
Symmetrical Typography Wall by Polished Habitat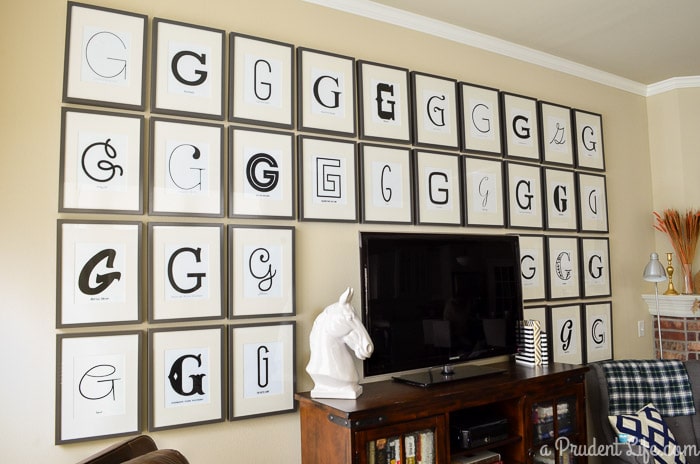 Oversized Art on DIY Art Ledge by Kaleidoscope Living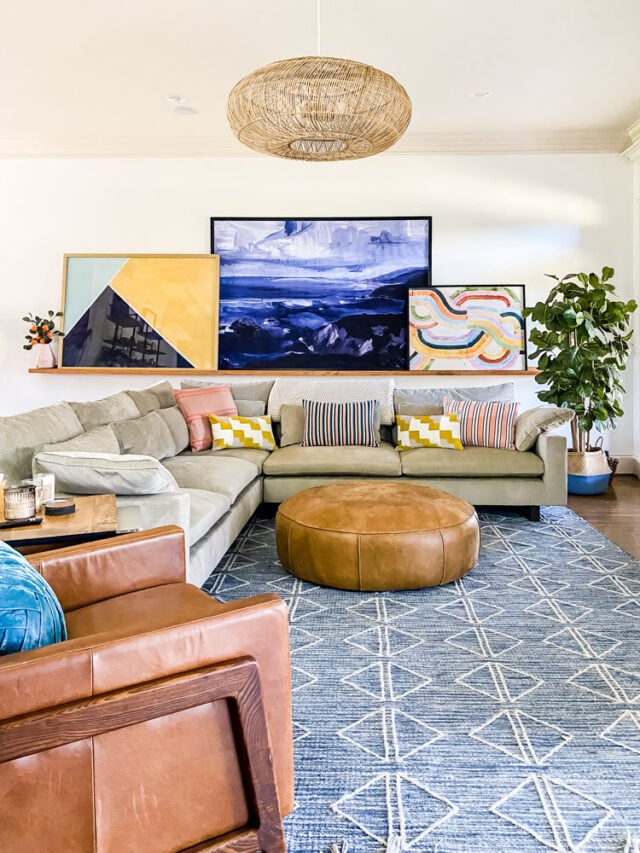 Gallery Wall in a Studio by Yellow Brick Home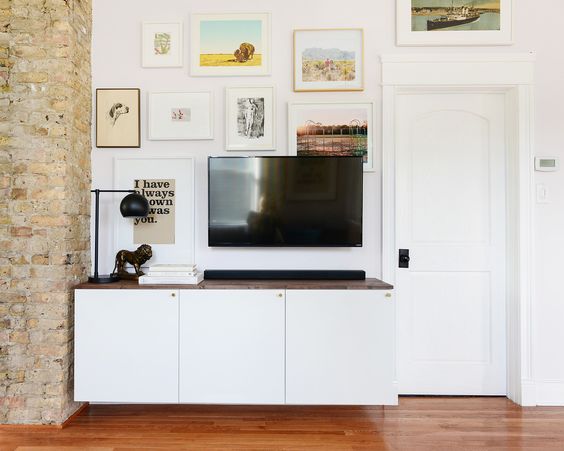 Bright & Cheerful Gallery Wall by Studio DIY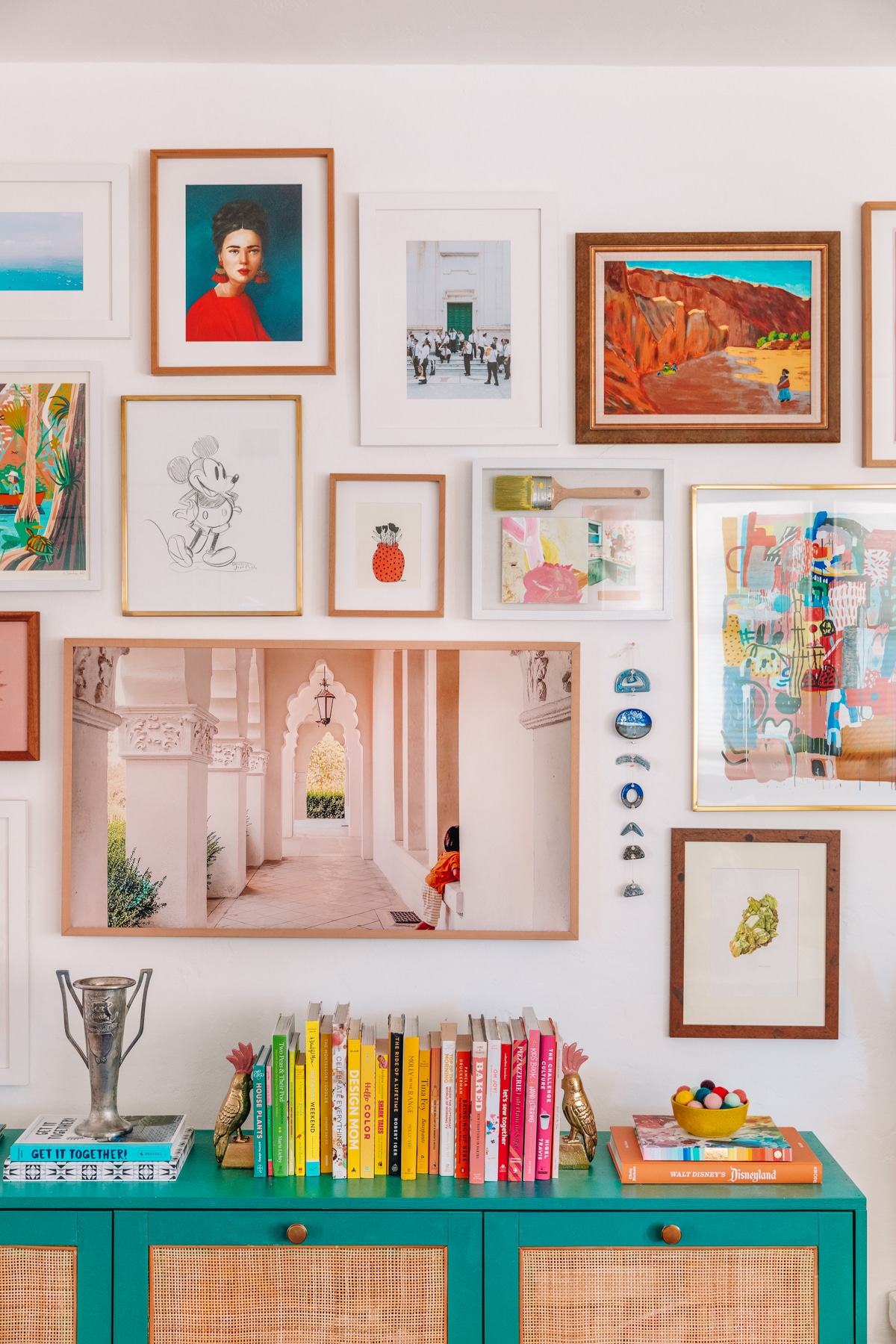 Modern Kid-Friendly Gallery by Chris Loves Julia
Family Room Gallery Wall by The 36th Avenue
Guide to a Good Gallery Wall by Emily Henderson
Studio Gallery Wall by Oh Joy
Grid Style Gallery by Making Home Base
Styled Corner Gallery by A Beautiful Mess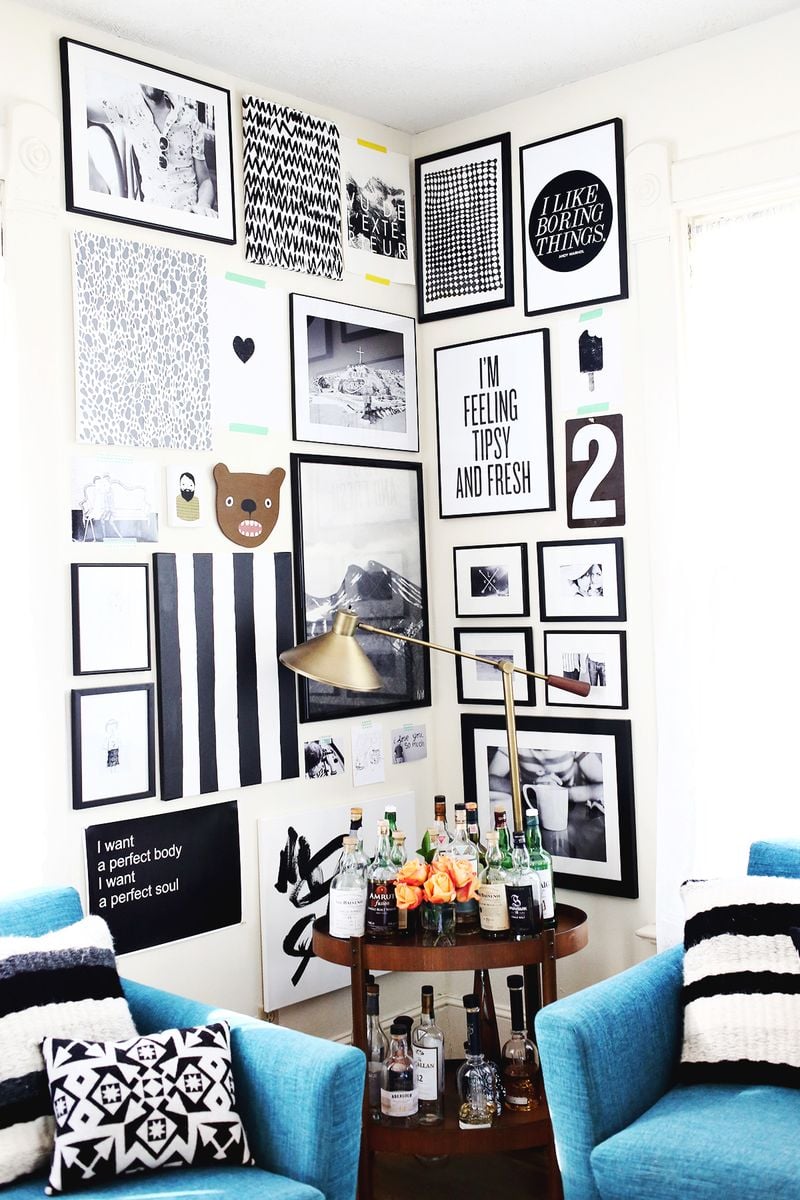 This post contains affiliate links for your convenience. Click here for my full disclosure policy.
Neutral Palette Gallery Wall by Minted
Gallery Walls in Other Spaces
Bathroom Gallery Wall by Kaleidoscope Living- I love incorporating kid art whenever I can! I used a lot of my girls' own artwork in their old bathroom and it made me smile every time I saw it.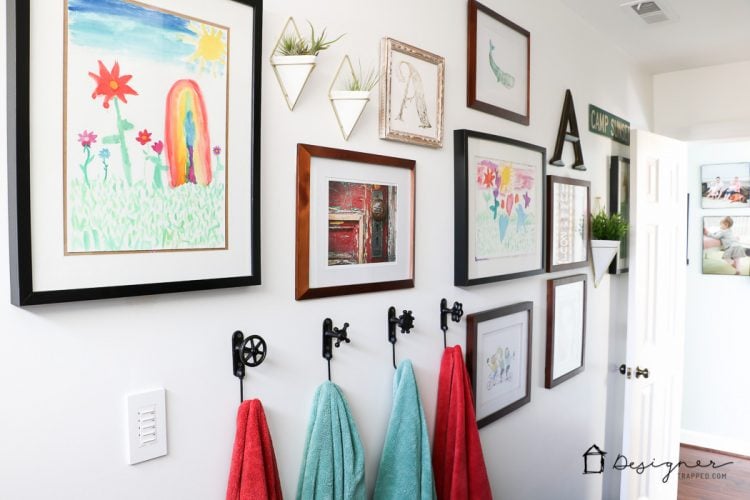 Mudroom Gallery Wall by Kaleidoscope Living- Now that we are in our new house, I used many of those same pieces to create a fun gallery wall in our mudroom area.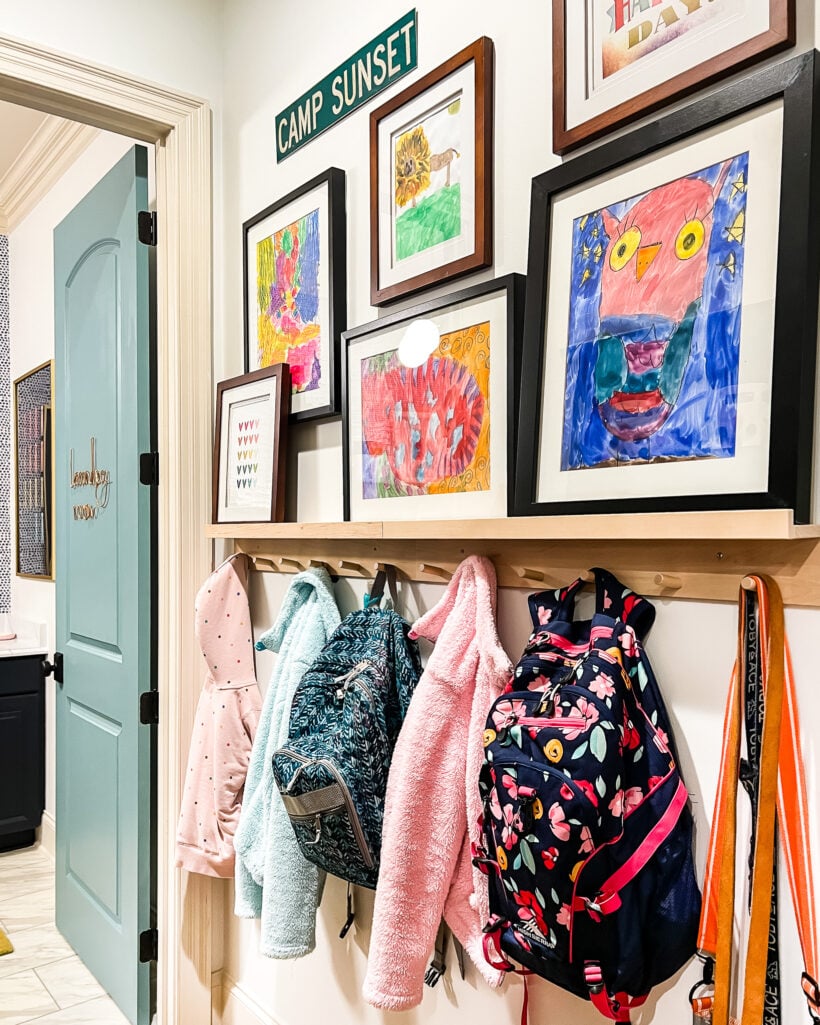 Aren't they all amazing? These gallery wall ideas are sure to get you thinking about what you want to display, and how you want to do it! Get creative, find the perfect pieces that speak to you, and start planning. You can go with all the same frame and color palette, or you can mix it up. Don't forget, it doesn't all have to be flat-framed art. Some of the most fun galleries mix in three-dimensional pieces (like my typography gallery). Creating your perfect gallery may take a little more time and attention than just hanging a few frames and being done, but the extra effort will be so worth it in the end. You will love your own gallery wall, and be so glad you went for it!
And if you need some affordable art to get your gallery wall started, be sure to join our free community. When you do, you'll get access to my FREE printable art library full of more than 30+ modern and colorful designs!
Other posts you may enjoy:
Wondering how I approach transforming rooms and spaces in our home? Check out Designer in a Binder®.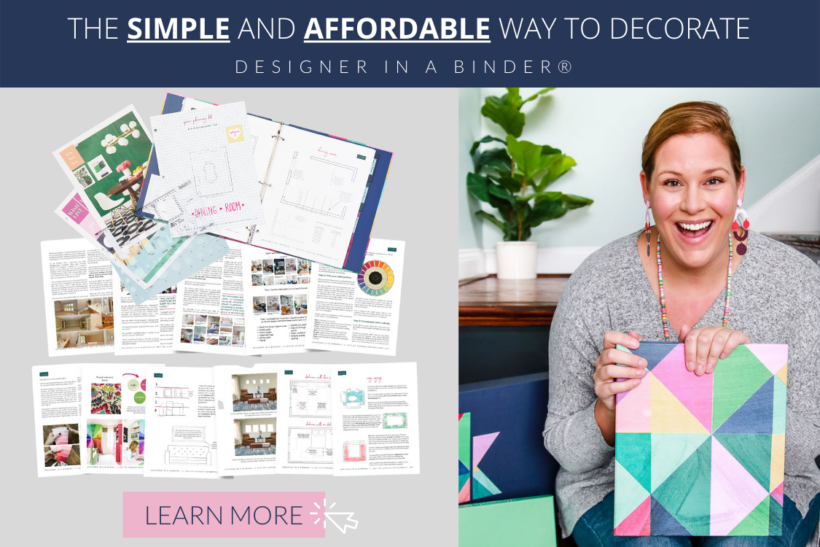 And if you want exclusive content and behind-the-scenes sneak peeks, be sure to subscribe before you head out!