DIY Bathroom Remodel REVEAL
Last Updated on June 5, 2022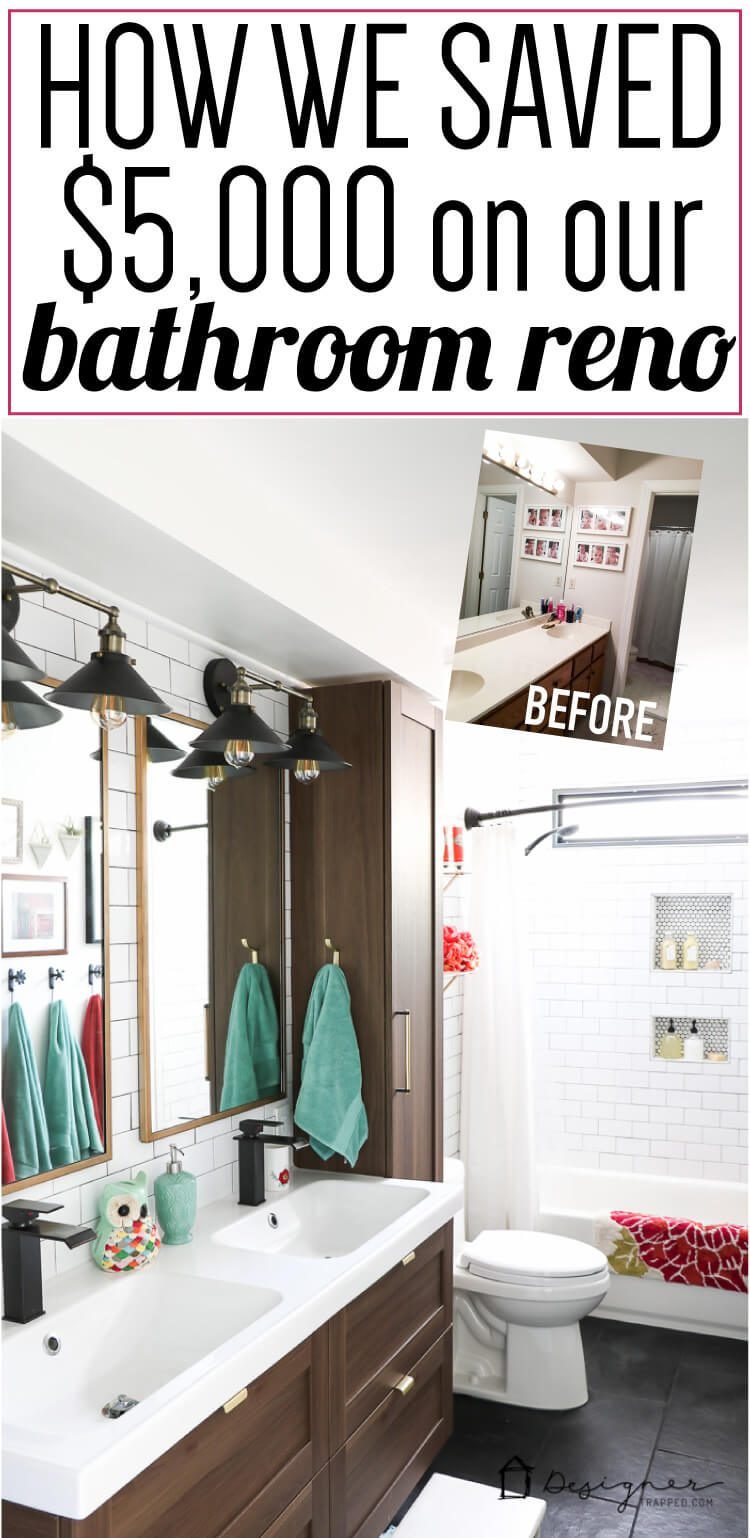 Y'all, we survived our DIY bathroom remodel. WOOOO HOOOO! If you've been following our DIY bathroom remodel here on my blog, you know we've put our blood, sweat and tears into it week after week. But we have reached the finish line and though we are EXHAUSTED, I can definitely say all the hard work was worth it.
The average mid-range bathroom remodel in 2016 was $10,499 according to the National Kitchen and Bath Association and $14,975 according to BathroomRemodel.com. Well folks, ours cost just over $5,000 because we got sweaty and dirty and did it ourselves! You can see the cost breakdown at the end of the post.
Before I show you all the reveal photos, here's a list of everything we did in the space:
List of projects we did all by ourselves (#DIYwarriors):
Gutted it down to the studs and subfloor
Removed wall between vanity and shower/tub area.
Moved plumbing and electrical as needed
Installed a window (there was NO window or natural light of any kind in this bathroom before)
Installed some new subflooring (some of our old subfloor was damaged)
Installed new tub
Installed Hardie board on 3 of the floor walls and the floor
Painted the ceiling and wall that was not tiled
Reframed the soffit above the sinks, reducing the depth and height of it
Installed subway tile in shower area and on wall behind toilet and sinks
Installed black slate tile floor
Grouted all tile
Installed new vanity lights
Installed new can lights in ceiling (we had none before)
Installed new bathroom fan
Installed new cabinetry
Installed mirrors and shelves
Installed and painted base trim, door trim and quarter-round along ceiling
Installed sink and new faucets
List of projects we hired out:
Small amount of plumbing work to reconfigure the tub drain area, which was complex for a variety of reasons
Drywall on the gallery wall and ceiling
Phew. Yep. It was a lot. Here's a photo collage of "in progress" shots along the way.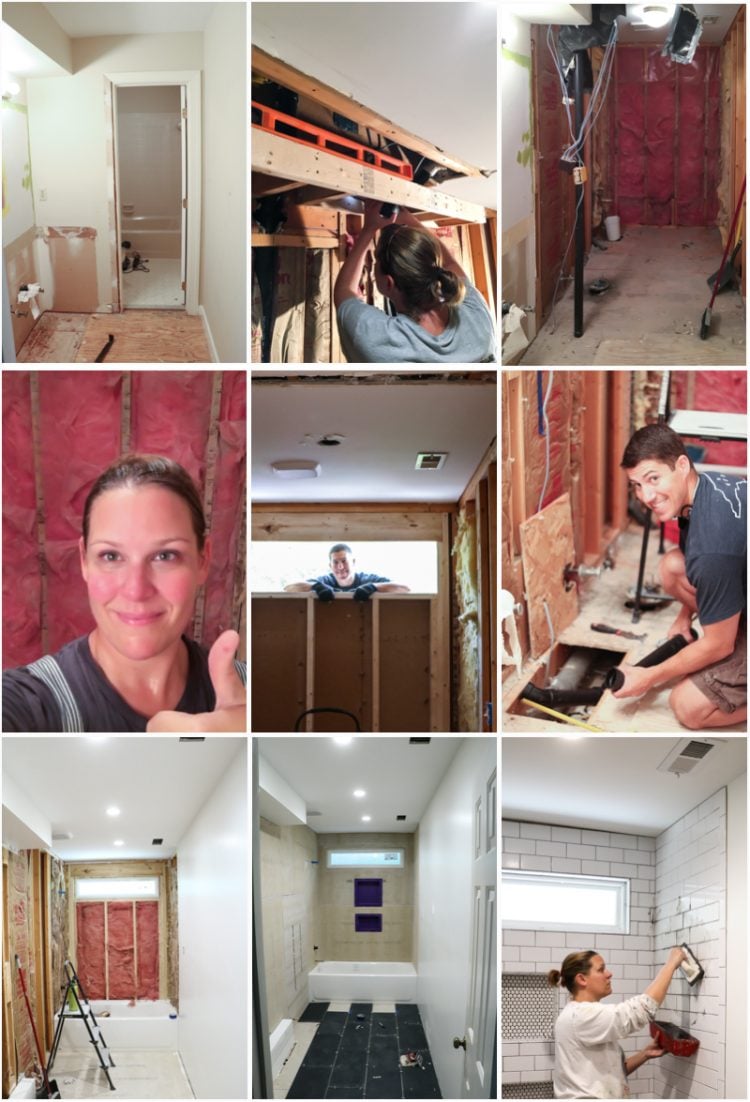 And here are the grisly before photos. Yes, there was DIRTY carpet on the floor. There was no natural light and it was just super, super outdated.
DIY Bathroom Remodel REVEAL
Well, let's take a look at how it looks NOW! There is a full source list at the bottom of this post for you :)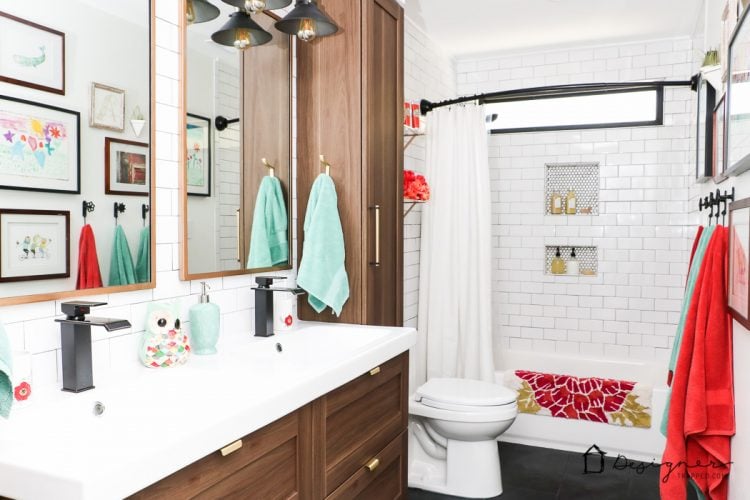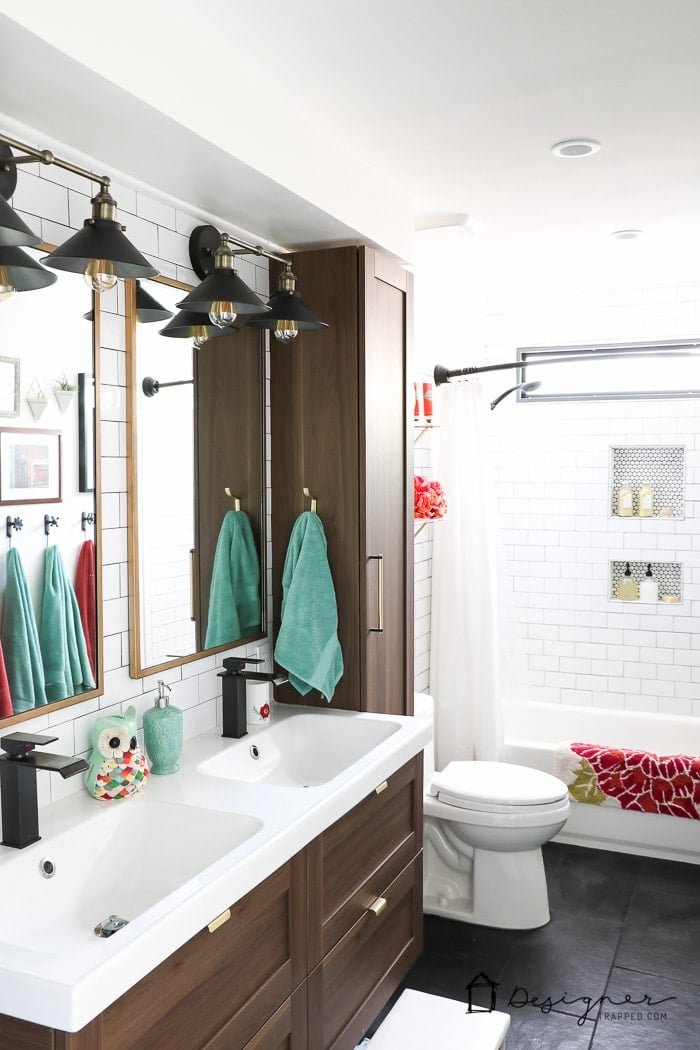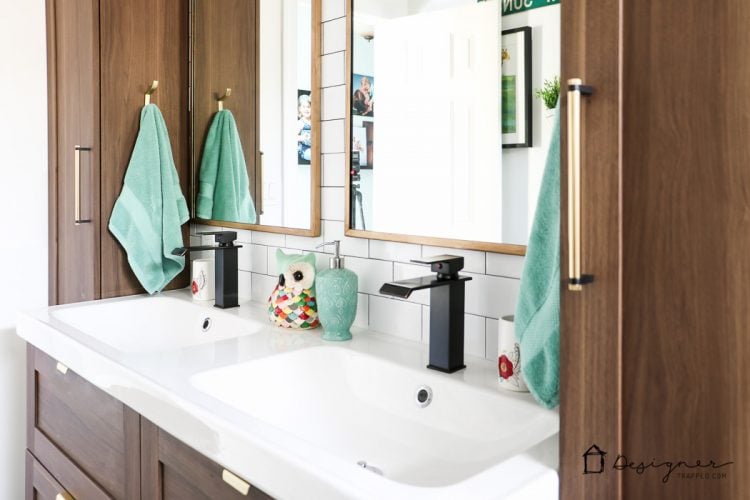 Though it was a TON of work, I am so glad we decided to carry the subway tile from the floor to the ceiling on the mail wall in this DIY bathroom remodel. It just makes all the difference in the world. It serves as the perfect backdrop for this awesome lucite shelves I found at Homegoods (don't worry–I've already figured out how to DIY this project and that tutorial should be coming in a couple of weeks). They just wouldn't pop the same way if this wall was just painted.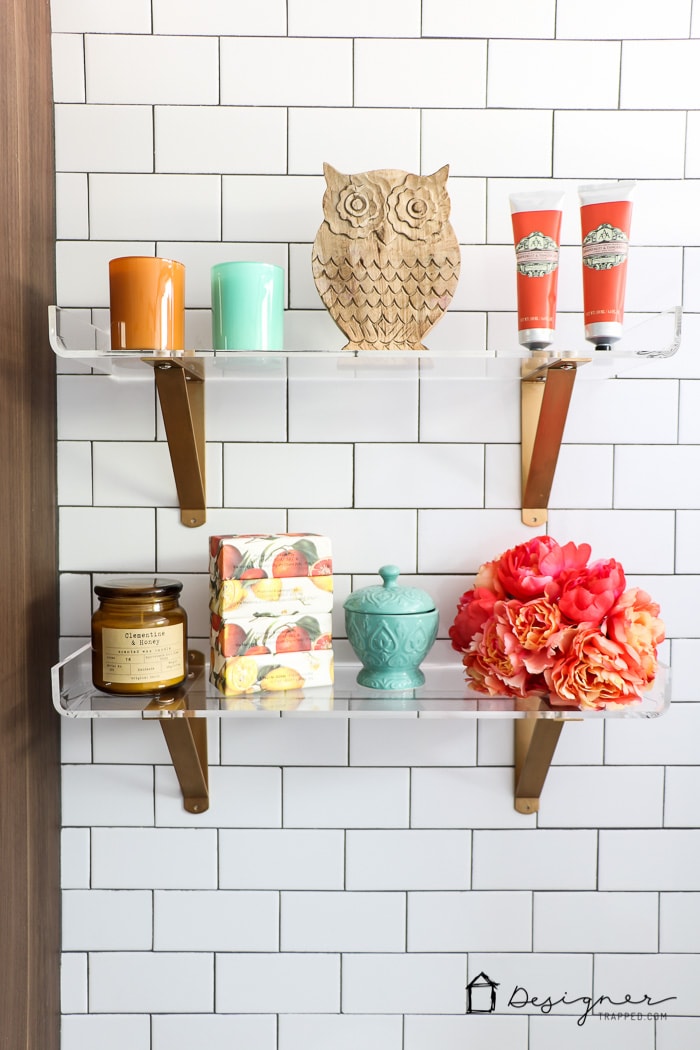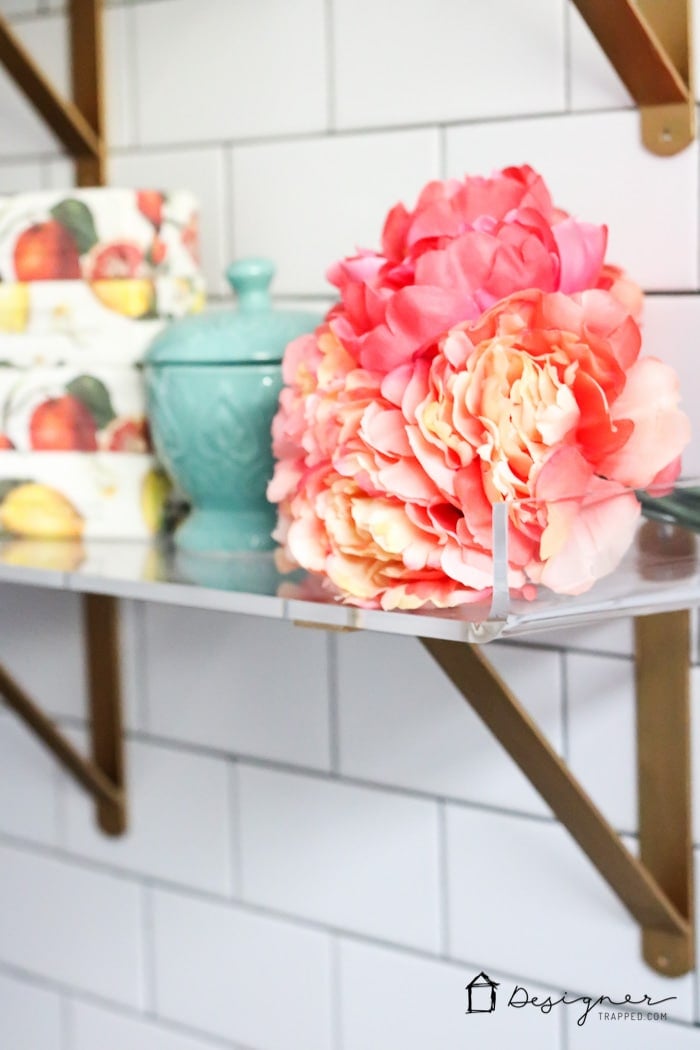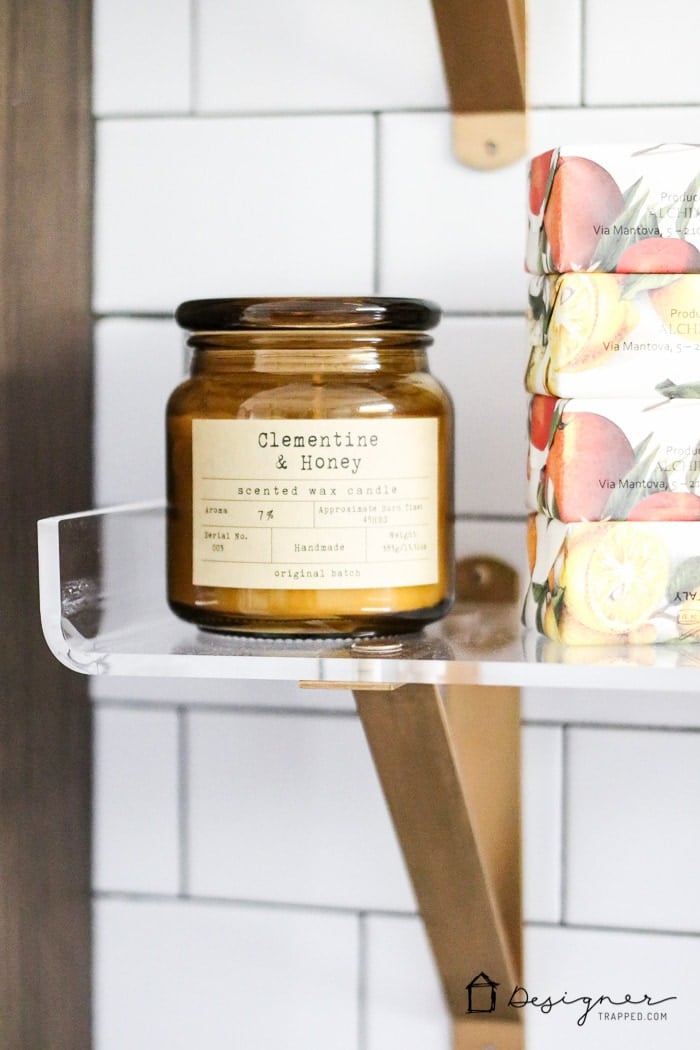 Another decision I am BEYOND thrilled with is the fact that we used penny tile in the shower niches. I love the contrast and visual interest it adds. And can we talk about how much our newly installed window POPS since I painted it black. Best decision ever!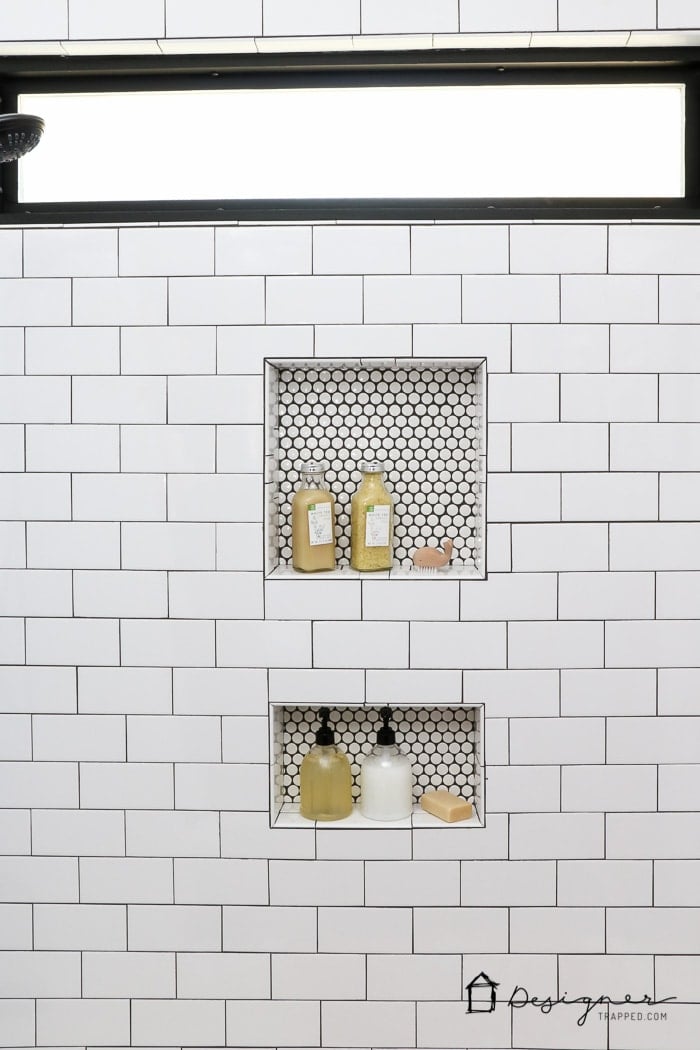 I put the girls' shampoo and conditioner in these cute plastic pump dispensers since they shower themselves now. It's so much easier for them than trying to squeeze it out of regular bottles.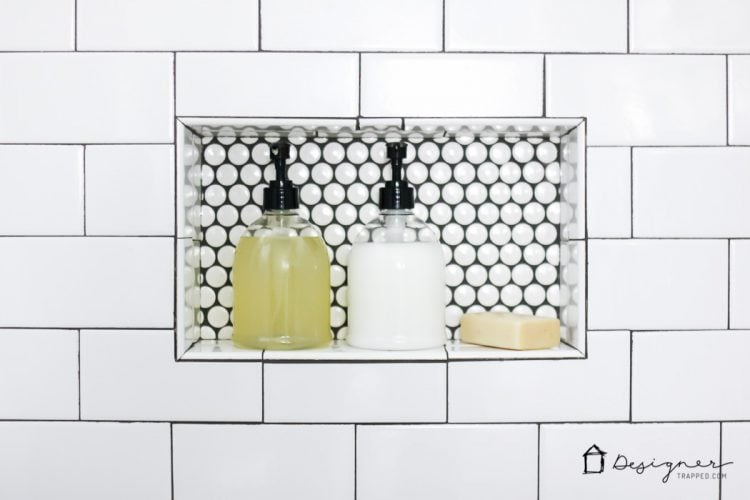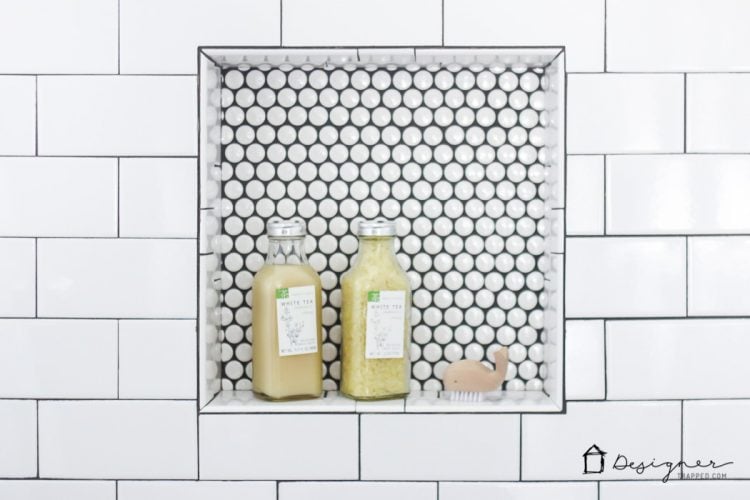 As usual, the small details in this room are what really make it feel special. I love the super inexpensive faucets that we selected. And those mirrors you see? I got those for a steal and added that gold finish myself to get just what I wanted (tutorial coming soon).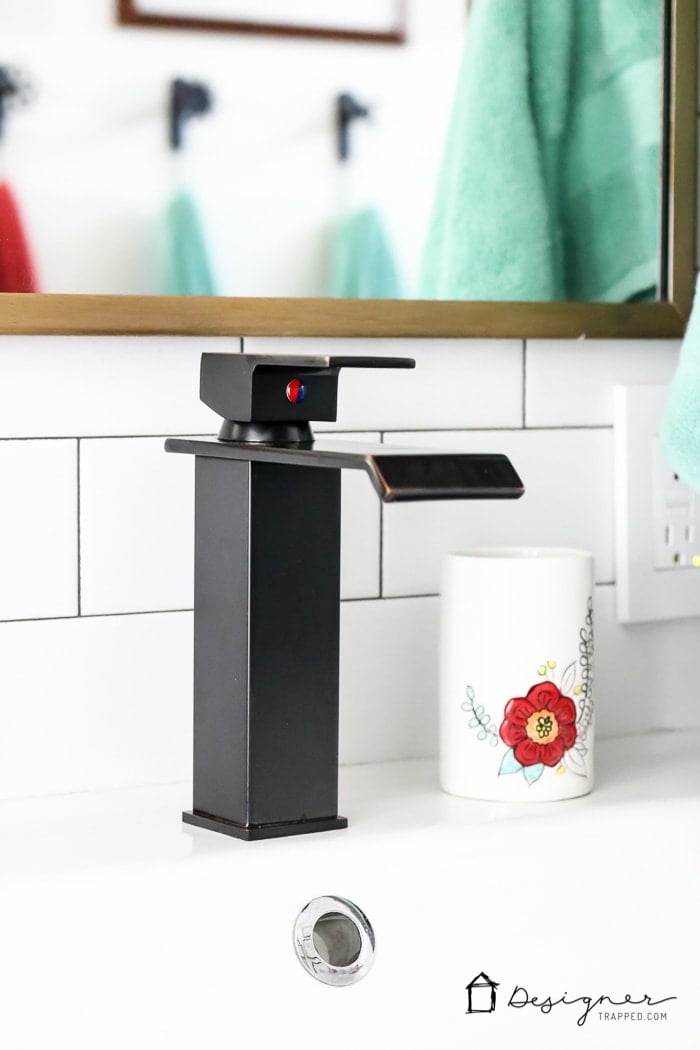 Speaking of details, check out the cabinet and drawer hardware we found. I'm IN LOVE with it.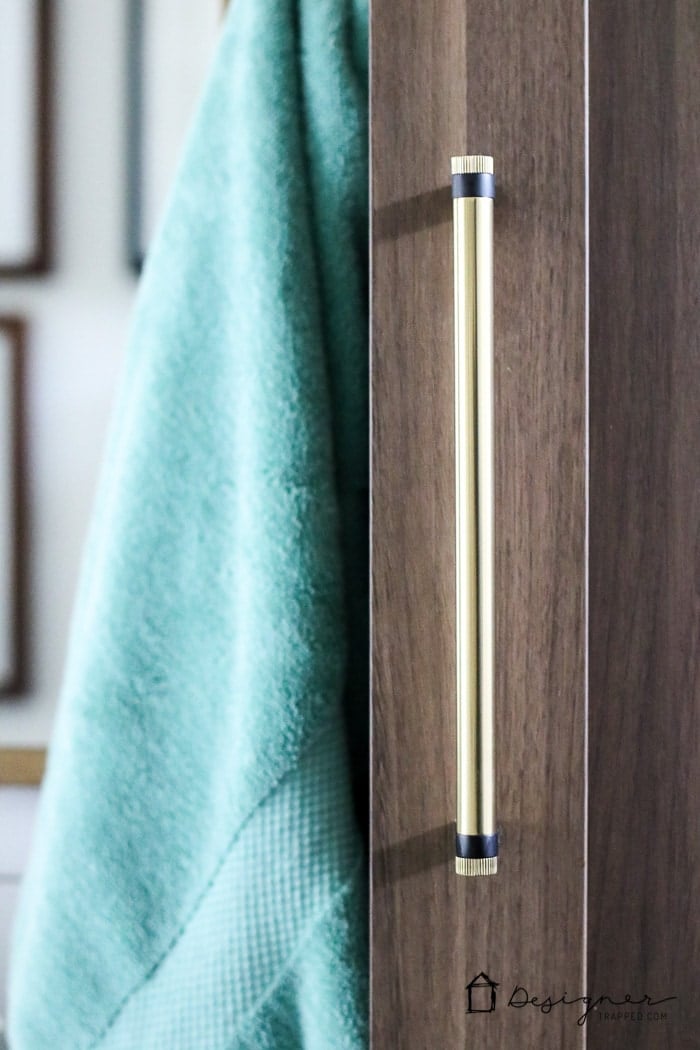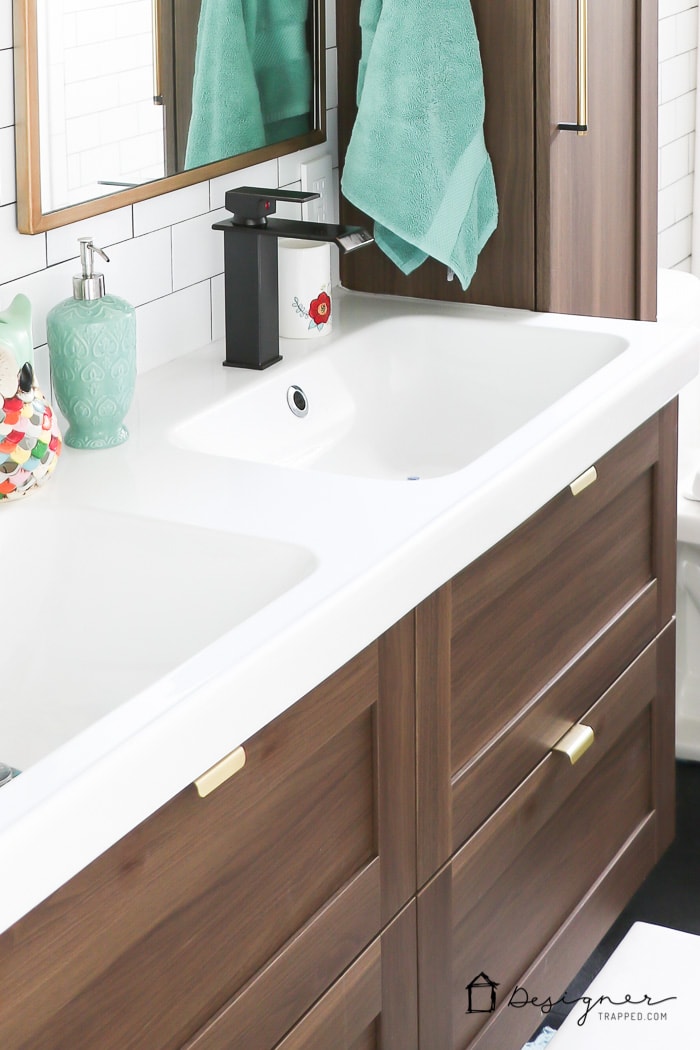 And can we talk about those vanity lights? Ahhh, they are one of my favorite touches of this DIY bathroom remodel and they were SUPER inexpensive.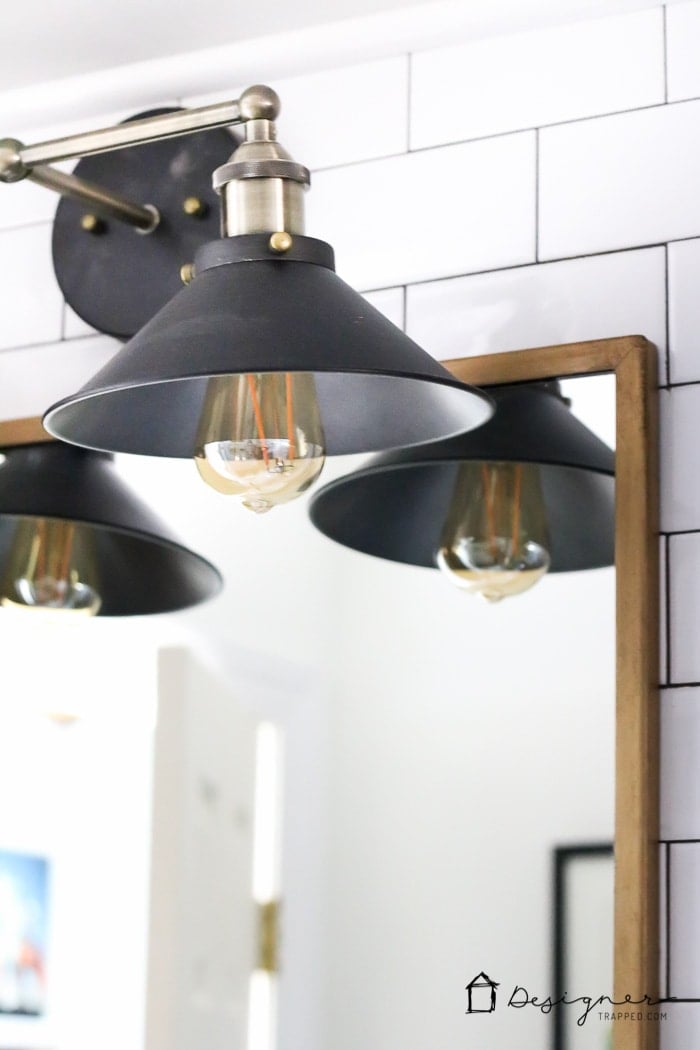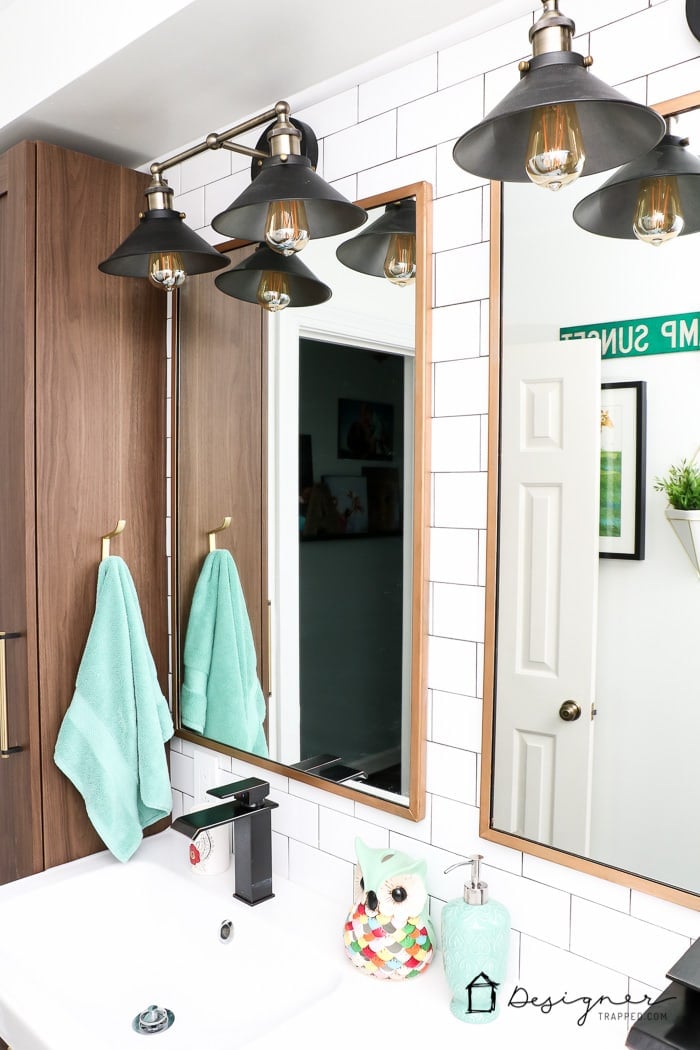 Now, let's turn our attention to the opposite wall, where I created a fun art gallery for my sweet girls. It features some of their original art, and the rest of the pieces scattered in I either already had or I got out of these crazy inexpensive art print books and popped them in frames we already had. Throw in some fun geometric wall vases with air plants and it was a wrap. I love how it turned out.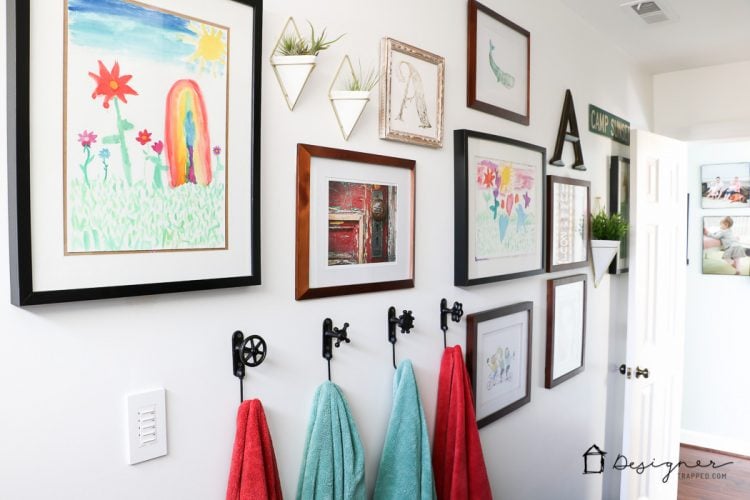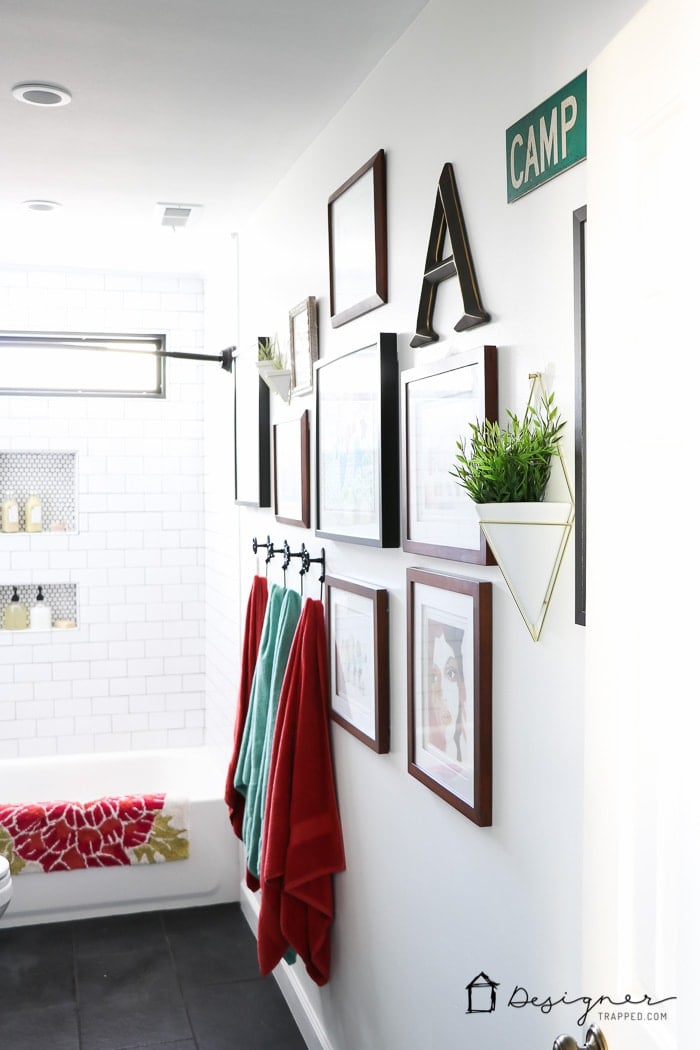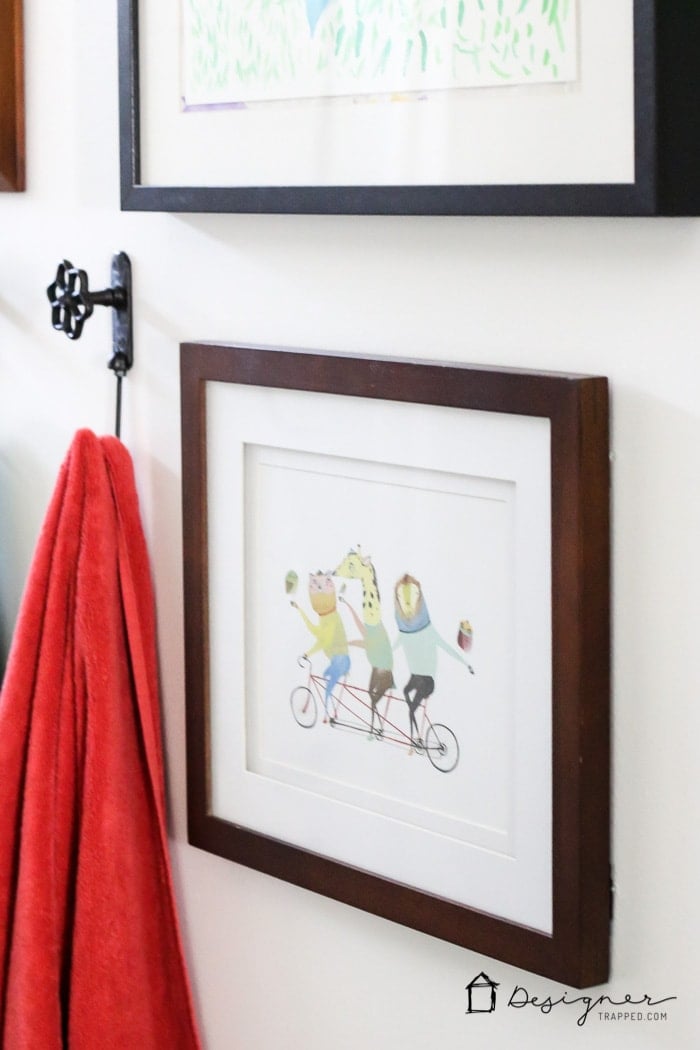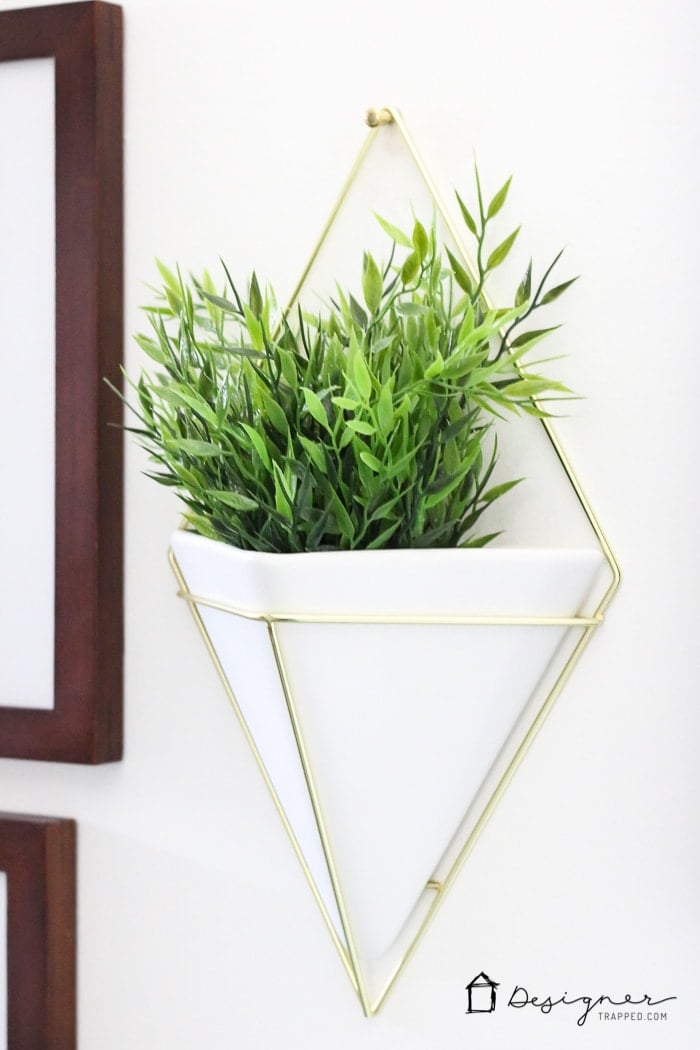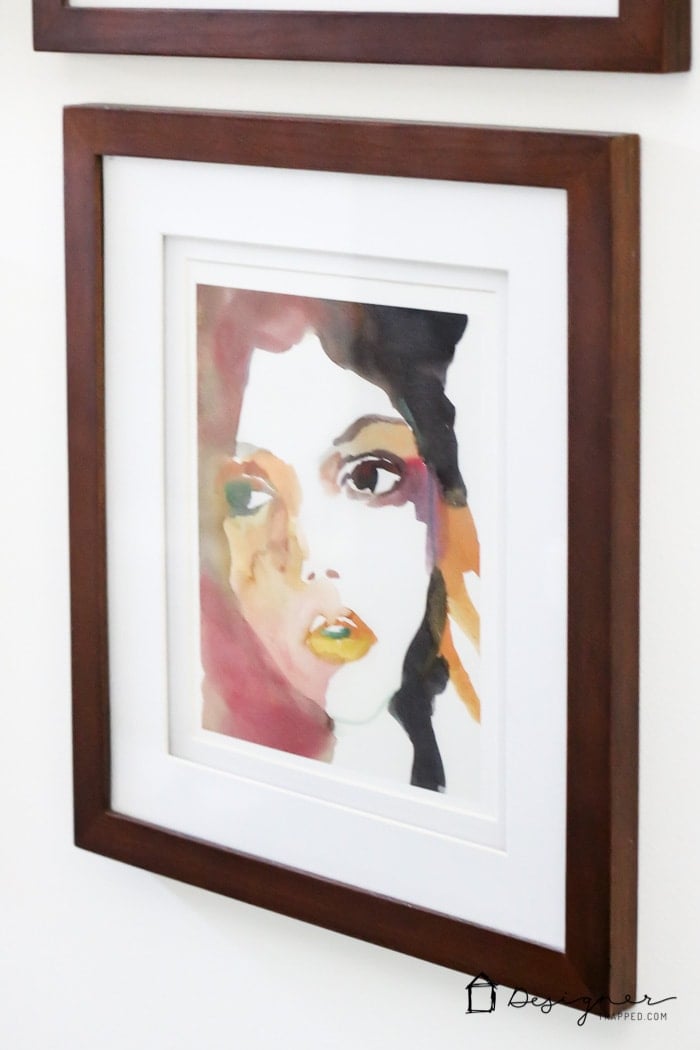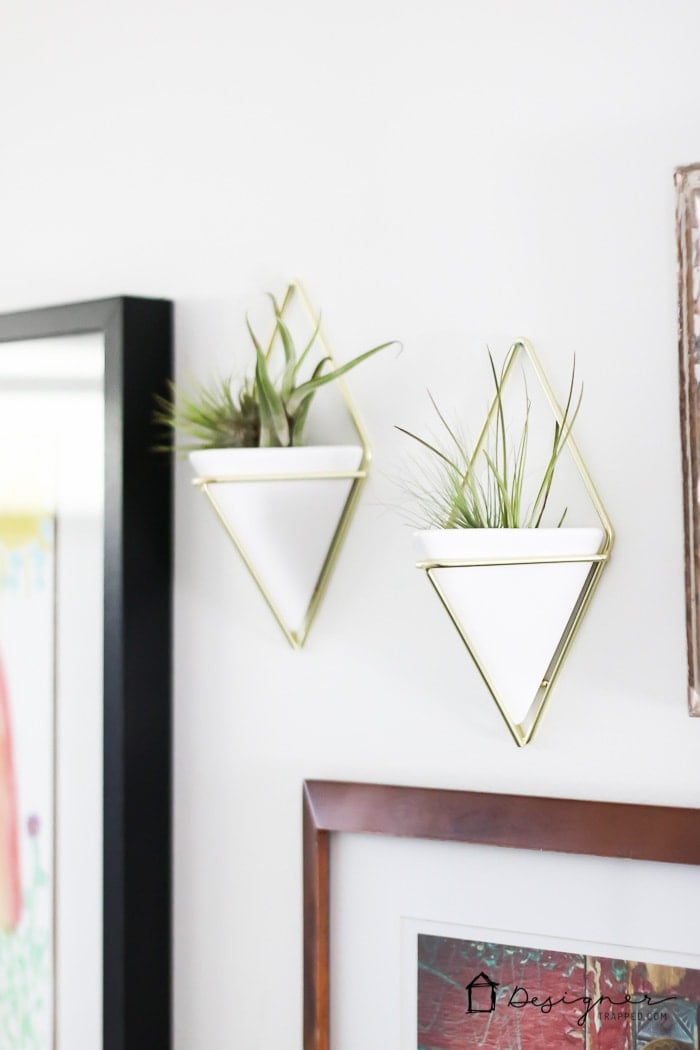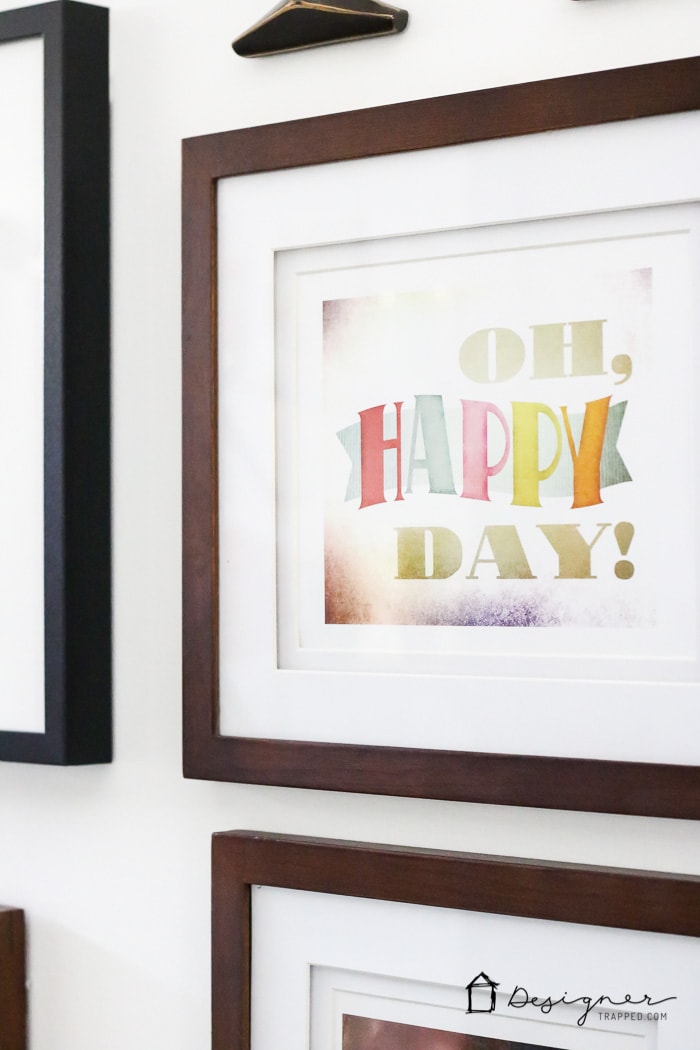 And those towel hooks–aren't they the BEST?! They make it so easy for our girls to hang their towels up when they are done showering and they are so friggin' cute. I ordered them from Decor Steals about 8 months ago and am so glad I did.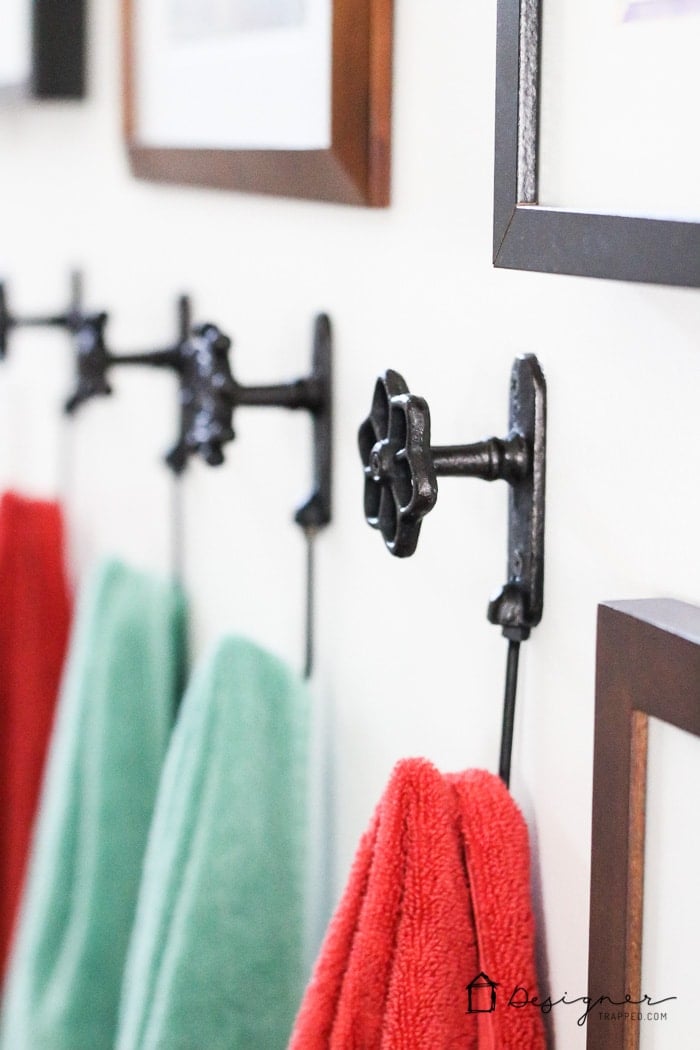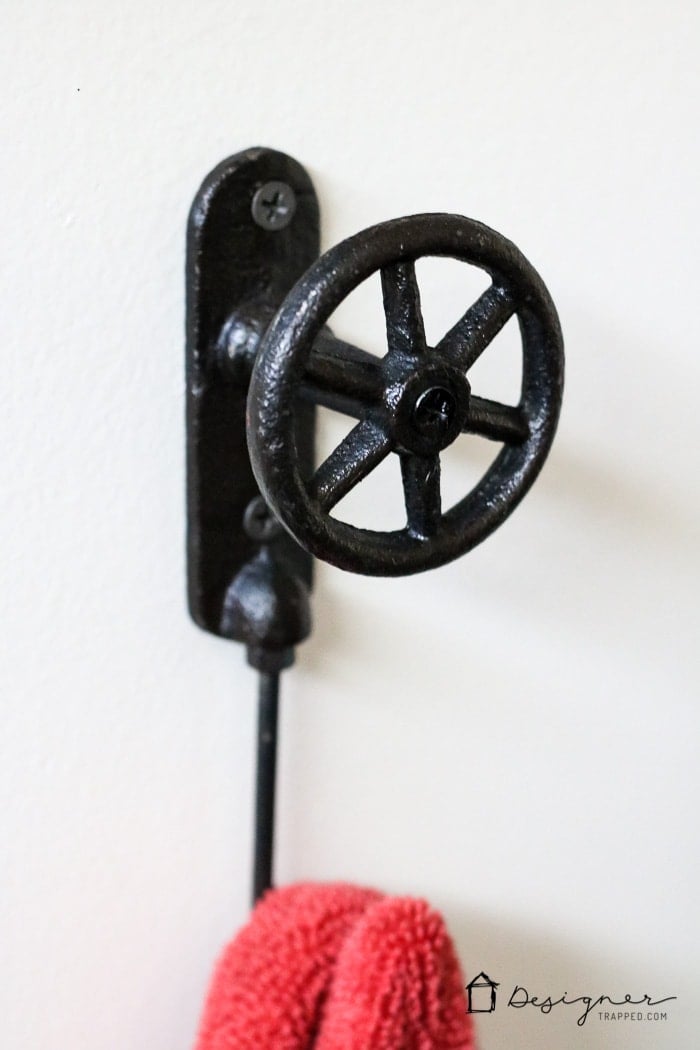 So that's it folks. What do you think of our DIY bathroom remodel? I think it's PERFECT. We went with classic and neutral choices (black and white tile, walnut finish, gold and black accents) so that as our girls get older, it will be super easy to add in more "mature" decor and we can make it as colorful or neutral as we want it. And if/when we ever sell this house, the fact that the bones are classic and neutral should definitely appeal to most buyers.
Cost of our DIY Bathroom Remodel
Here's the breakdown of our DIY bathroom remodel cost. Again, remember that the average bathroom remodel in 2016 cost is $10,499 to $14,975 (depending on who you ask).
Cabinets and sink: $1,084
New tub: $185
New toilet: $149 (learn how to install a new toilet yourself)
Tile and all tiling supplies from Floor & Decor (including Hardie Board and wet saw): $813
Faucets: $78 ($39 each)
Vanity lights: $138 ($69 each)
Drawer and door hardware: $170
Mirrors: $198 ($99 each)
Raw materials (plumbing supplies, subfloor, can lights, paint, caulk, trim, etc.): $657
Limited plumbing and drywall work that we hired out: $1,535 (see how QUICKLY labor adds up when you don't do it yourself???)
TOTAL COST OF OUR DIY BATHROOM REMODEL: $5,007
TOTAL SAVINGS BY TACKLING THIS OURSELVES: $5,492 to $9,968
Now for that source list for our DIY bathroom remodel that I promised you :) This post contains some affiliate links for your convenience. Click here to read my full disclosure policy.
DIY Bathroom Remodel Source List:
Staple items:
Wall color: Falling snow by Behr
Cabinets & sink (we chose walnut effect cabinets and the Odensvik sink)
We purchased all of our tile from Floor & Decor

White subway tile (grouted with charcoal gray grout)
White penny tile (grouted with charcoal gray grout)
Black slate floor tile (grouted with black grout)
Decor items:
Shower fixtures/accessories:
Gallery wall items:
All of the art prints you see (except for those painted by my girls) were pulled out of these two inexpensive framable print books:
And if it's easier for you to shop visually, you can click on any of the photos below for more info on what you see.

What do you think?! Can you believe this DIY bathroom remodel transformation?
Other posts you may enjoy:
Wondering how I approach transforming rooms and spaces in our home? Check out Designer in a Binder®.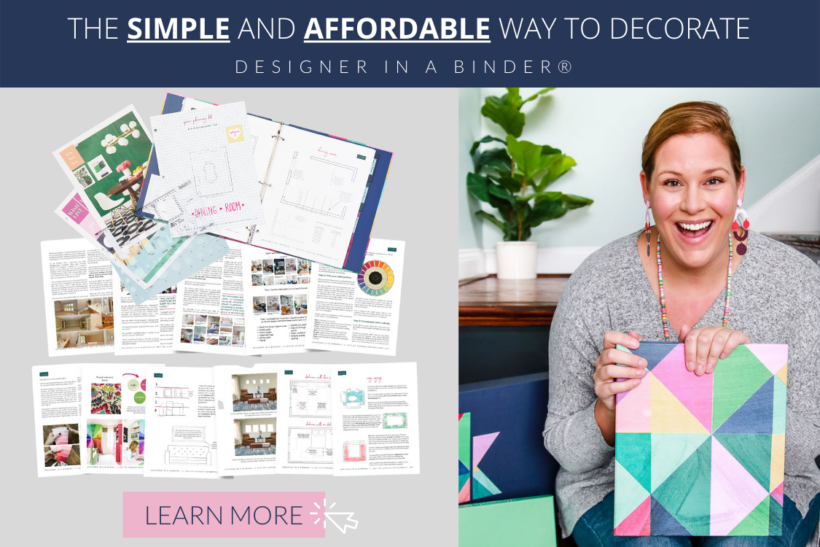 And if you want exclusive content and behind-the-scenes sneak peeks, be sure to subscribe before you head out!


​