Attley's Budget-Friendly Bathroom Makeover REVEAL
Last Updated on July 27, 2022
We totally transformed this very beige and boring bathroom into a colorful and beautiful space. We used some creative solutions to avoid spending a fortune ($8,100 is the natural average for a bathroom renovation) and demo!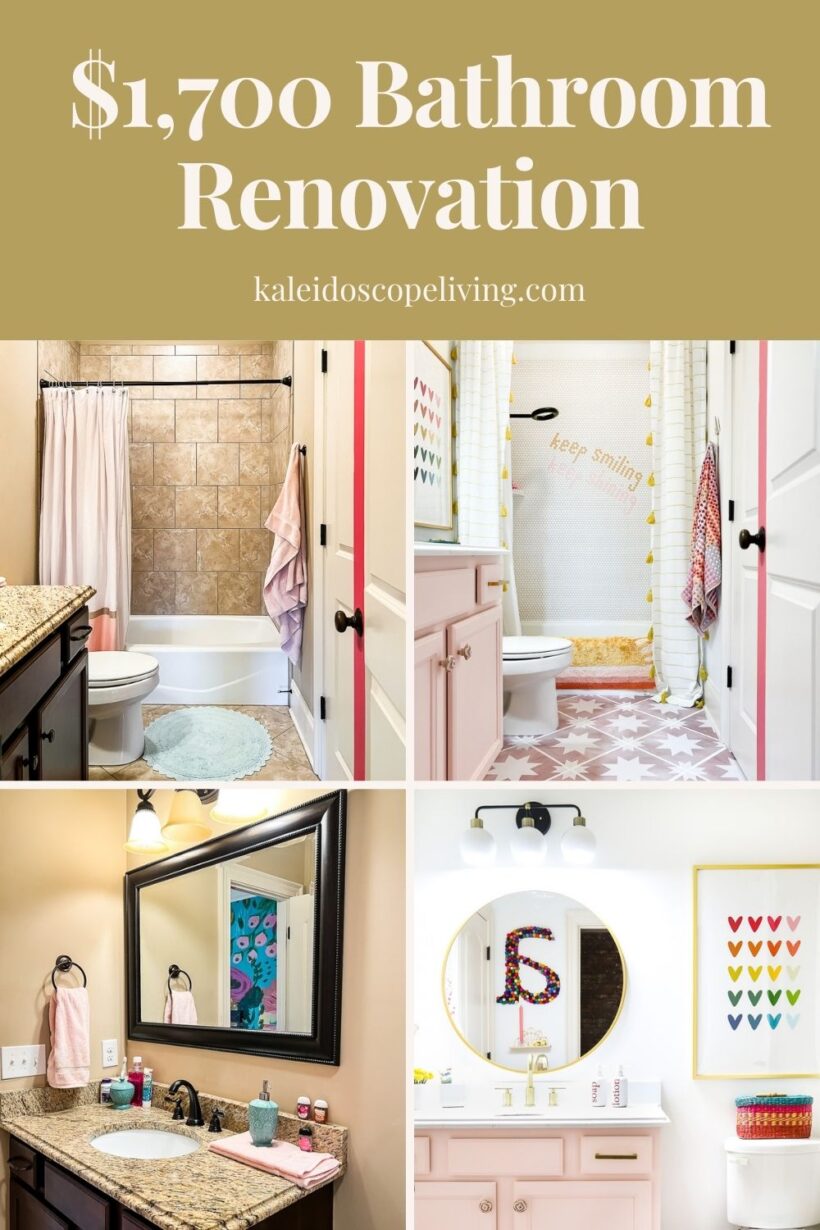 Y'all, we survived yet ANOTHER bathroom makeover/renovation! This is far from the first bathroom makeover/renovation we've done. We completely gutted and remodeled our girls' bathroom and the powder room in our last house ourselves. And then we gave our primary bathroom a super affordable makeover shortly before moving out a year ago. Then a couple of months ago, we totally updated Avery's bathroom in our current house.
If you read the post where I laid out the plans for Attley's budget-friendly bathroom makeover, you know that I had a lot of work to do in here and that was BEFORE we decided to re-tile her shower. THANK YOU to everyone who followed along on my Instagram stories and cheered me on the whole time–that made it super fun!
Originally, we had planned to work with all the existing materials in Attley's bathroom because though it was outdated, there was absolutely nothing "wrong" with her bathroom. As with Avery's bathroom, the layout was great and there were no leaks, cracks or any other problems. The bathtub, sink and vanity were all in great shape. So again, I just couldn't wrap my head around ripping everything out and starting from scratch. It felt wasteful from a material standpoint AND from a budget standpoint. And we managed to give Avery's bathroom a totally new look without changing any of the tile, so I was ready to just go for it again.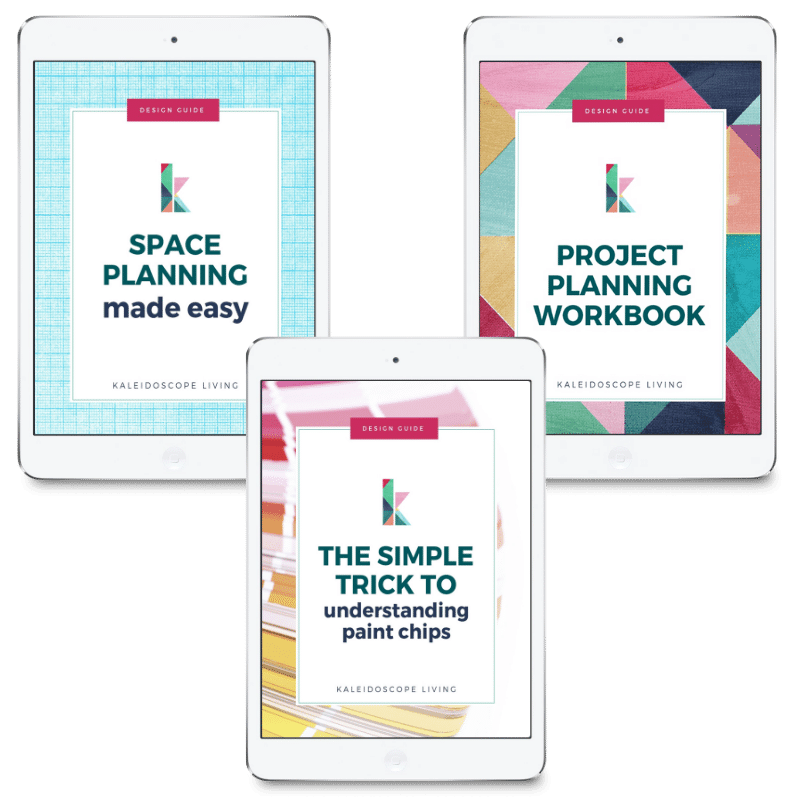 Get my FREE design guides when you subscribe!
This was the original plan for Attley's bathroom. We were essentially going to "hide" her ugly shower tile behind curtains like we did in Avery's bathroom.
But then I remembered that my friend Bre from Brepurposed tiled over existing tile in one of her bathrooms (and her father-in-law is a tile expert, so I was convinced it could be done well). She didn't do it in a shower, but it made me wonder if I could. So I started googling. And this is what I found! A detailed tutorial video from a highly reputable contractor.
This post contains affiliate links for your convenience. Click here for my full disclosure policy.
Once I confirmed we could tile over tile in Attley's shower, we decided to go for it! I ordered the penny tile we chose immediately and gathered the rest of the supplies we needed. As you'll see from the photos, it worked like a charm! (And yes, I do think we will tile Avery's shower now that we know this method works, but I'm not sure when).
You can watch a good, short video overview of this budget-friendly bathroom renovation below.
This is what Attley's bathroom looked like when we started on this project right before Thanksgiving.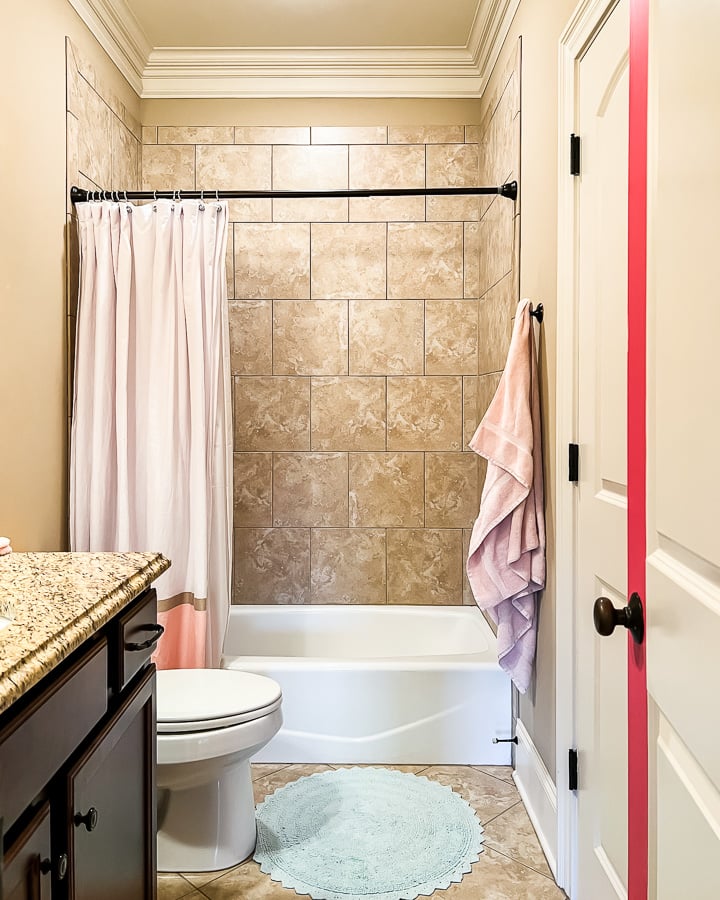 Attley's Budget-Friendly Bathroom Makeover Reveal
Take a look at how it all turned out! We even recently had a VELUX Sun Tunnel installed in Attley's bathroom, so now it's flooded with natural light!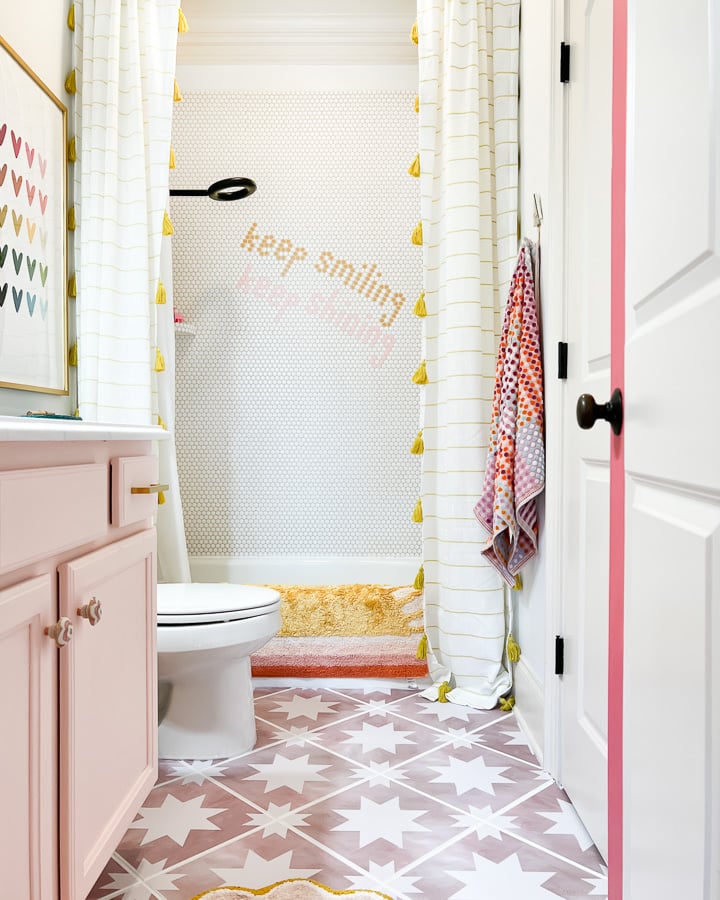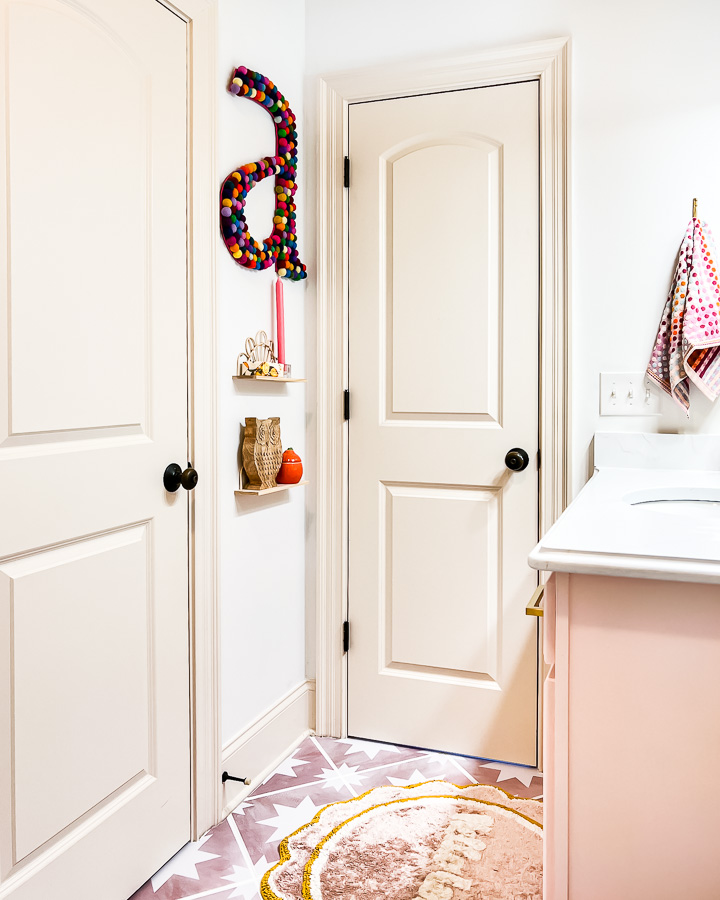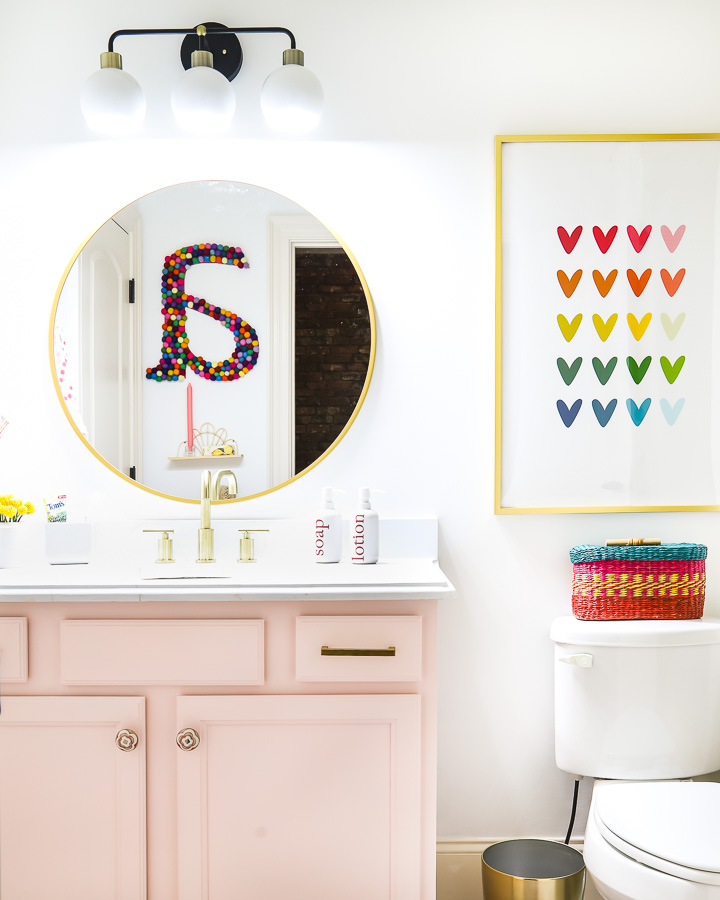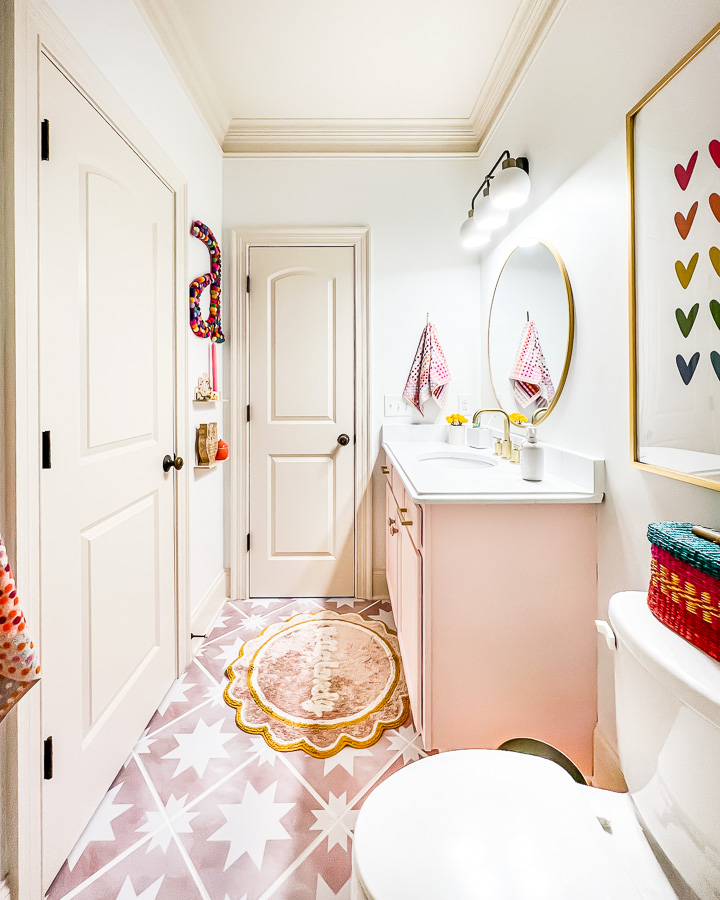 A Recap of the Work
I painted the brown walls white (Pure White by Sherwin-Williams). And I swapped out the old mirror for this one. I also updated the light fixture with this beautiful and modern light fixture and swapped out the faucet for this more modern option.
I covered Attley's old brown floor tiles with these GORGEOUS tile stickers (you may remember that we used tile stickers in our laundry room several months back and in Avery's bathroom as well).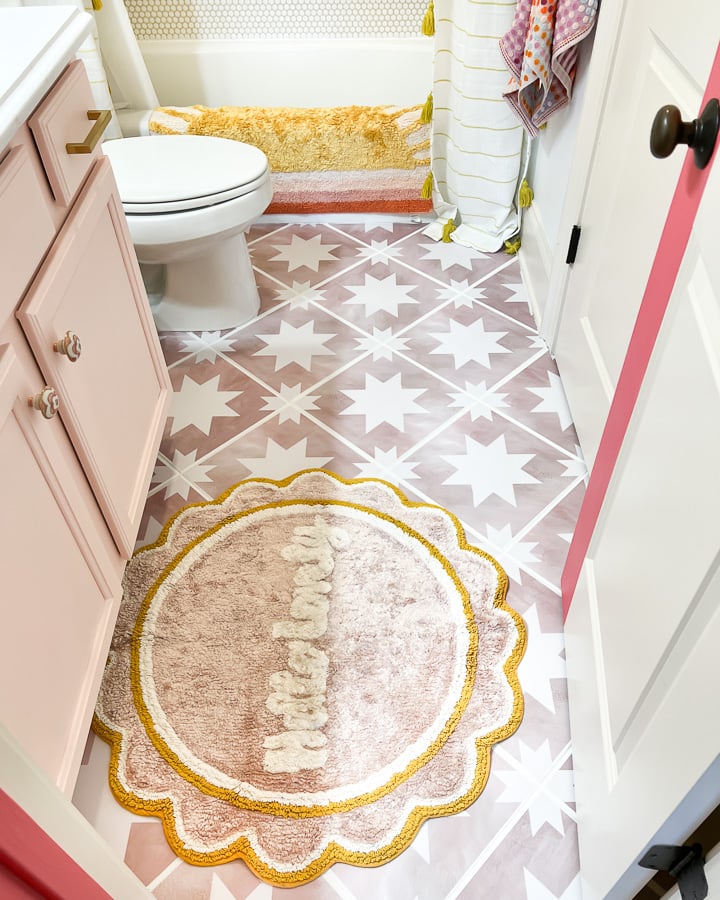 You can see how to install tile stickers in my Google Web Story below–the video shows me installing the tile stickers on Avery's bathroom floor.
Tiling and grouting Attley's shower was not a small job, but we did save ourselves a lot of work by tiling over the existing tile. And it turned out beautifully!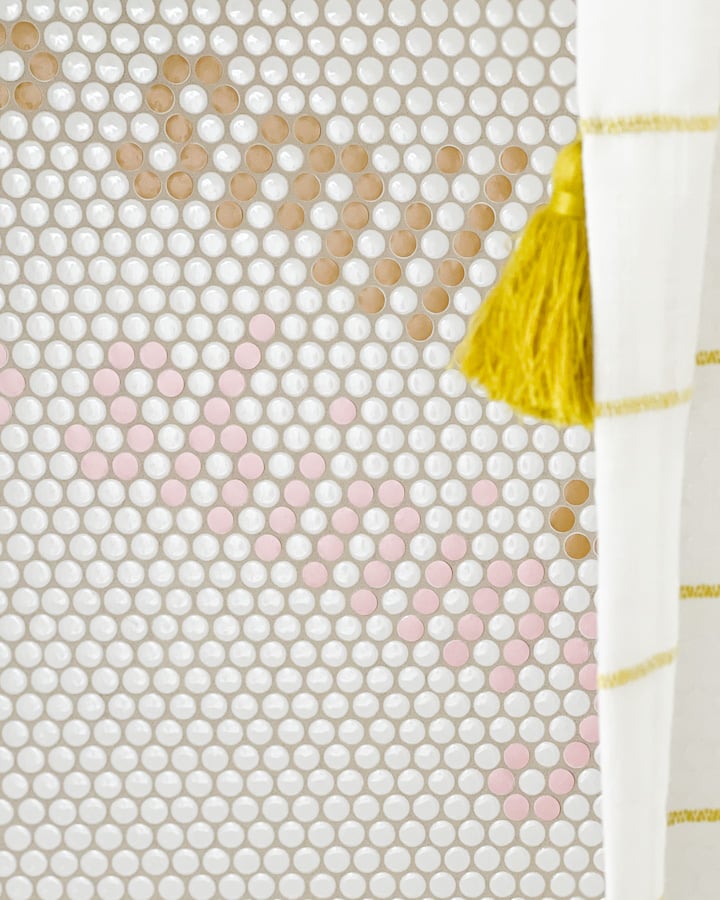 I also added a personal touch by using the same method I used on our DIY tile headboard–you can see it in the video below (viny is waterproof!).
I hung these 9-foot curtains on each side of the shower and this 9-foot shower curtain in the middle. This is a perfect solution if you are looking to hide ugly tile! We don't need to hide Attley's gorgeous new shower tile, BUT I always prefer curtains hung as high as possible regardless of how pretty the tile may be.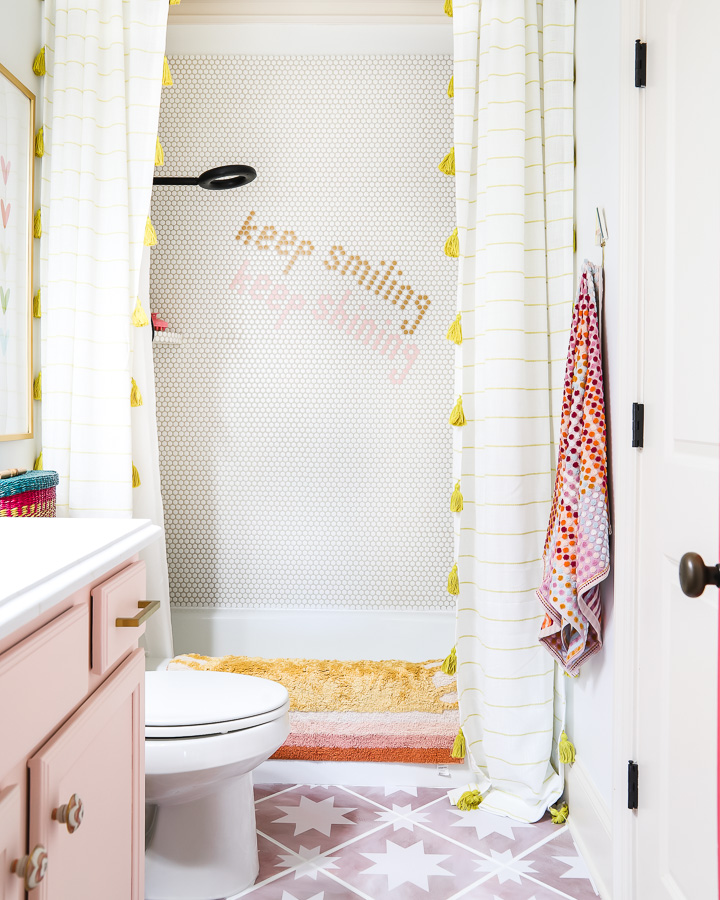 To update the vanity, I painted the cabinet base using this method AND I painted the granite countertop using this method. I also replaced the hardware. I found these inexpensive drawer pulls that look great and these beautiful ceramic knobs for the doors that Attley absolutely loves. It looks like a totally new vanity and countertop now!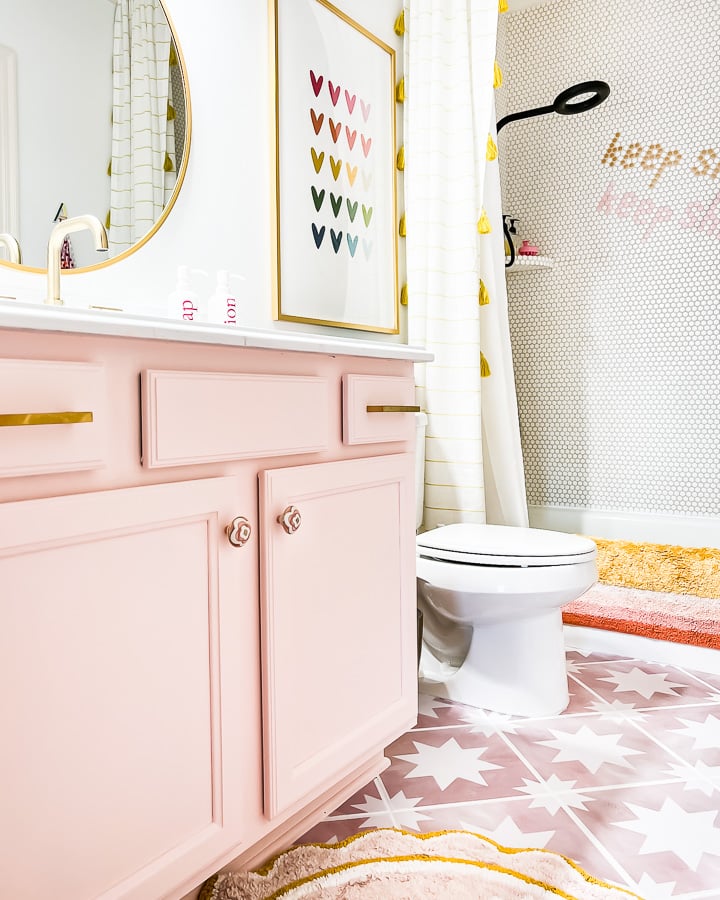 And added colorful artwork and accessories. If you have been around a while, you know Attley loves ALLLLLLL the colors :) Attley begged for me to include this rainbow heart art print in her bathroom (I chose the 24 x 36 size) and framed it with this inexpensive poster frame that is a favorite of mine. And when I saw this storage basket that fits toilet paper perfectly, I knew we had to have it in her bathroom.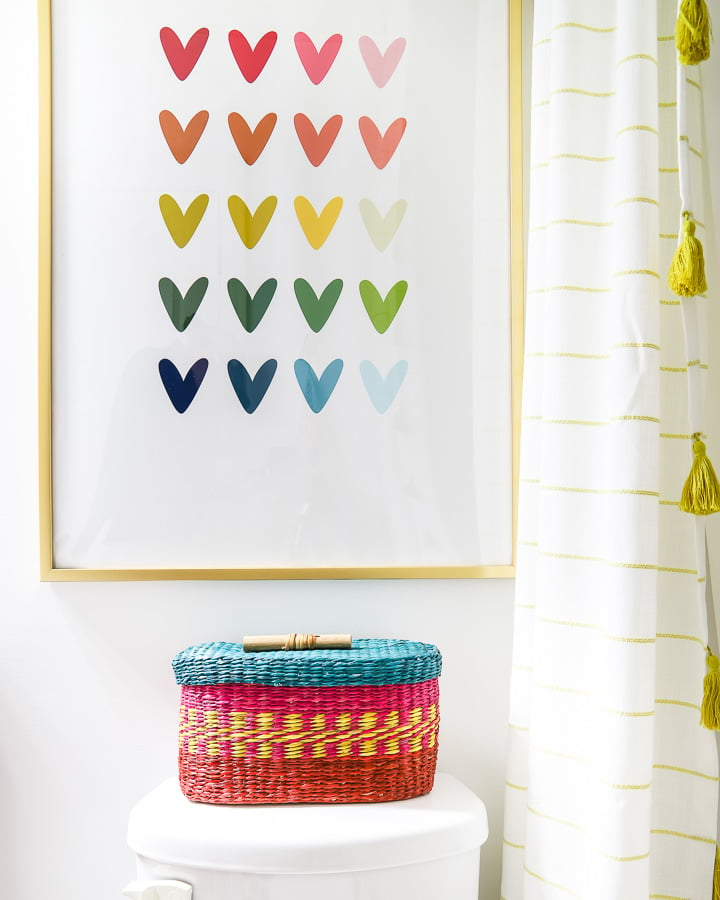 There are also a few other fun touches in her bathroom, including this adorable ceramic hook for hanging her bath towel.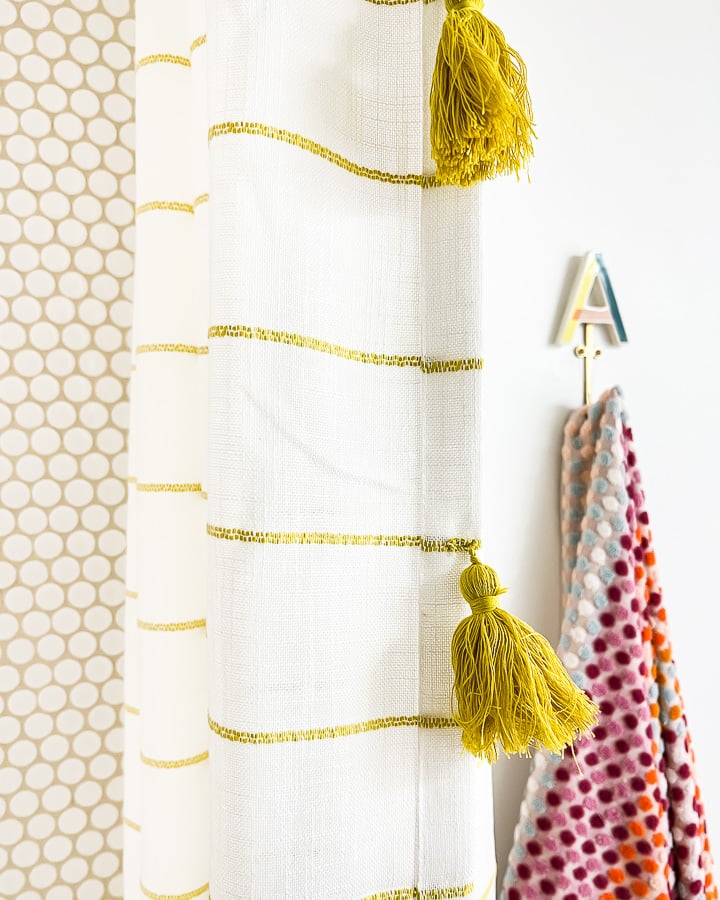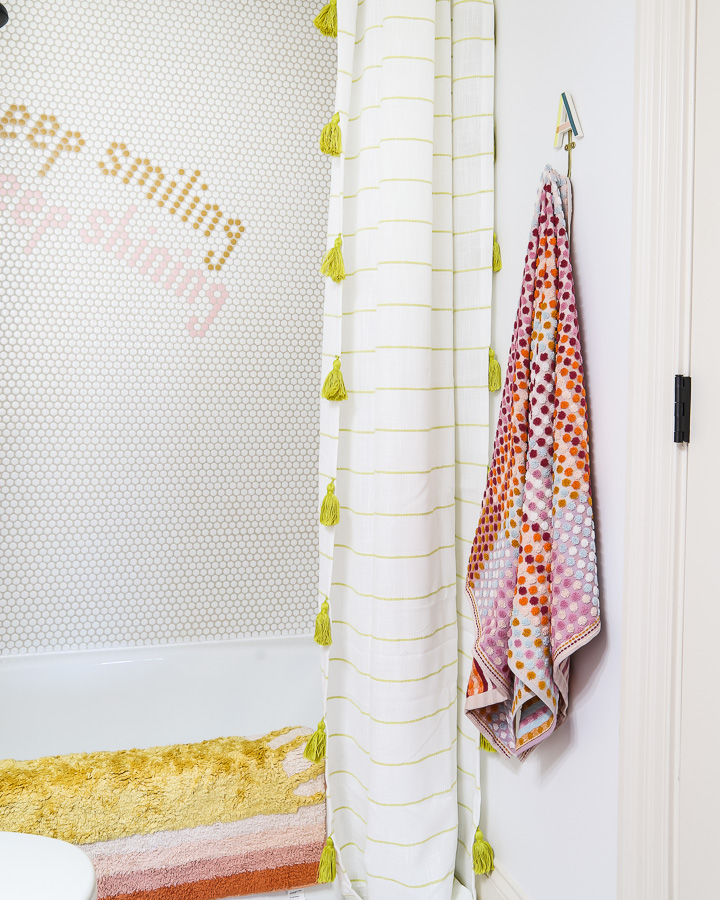 Last but not least, I hung the felt ball A that I made for her several years ago above some inexpensive boho shelves that I found for $5 each about a year ago. Attley loves little touches like this the most :)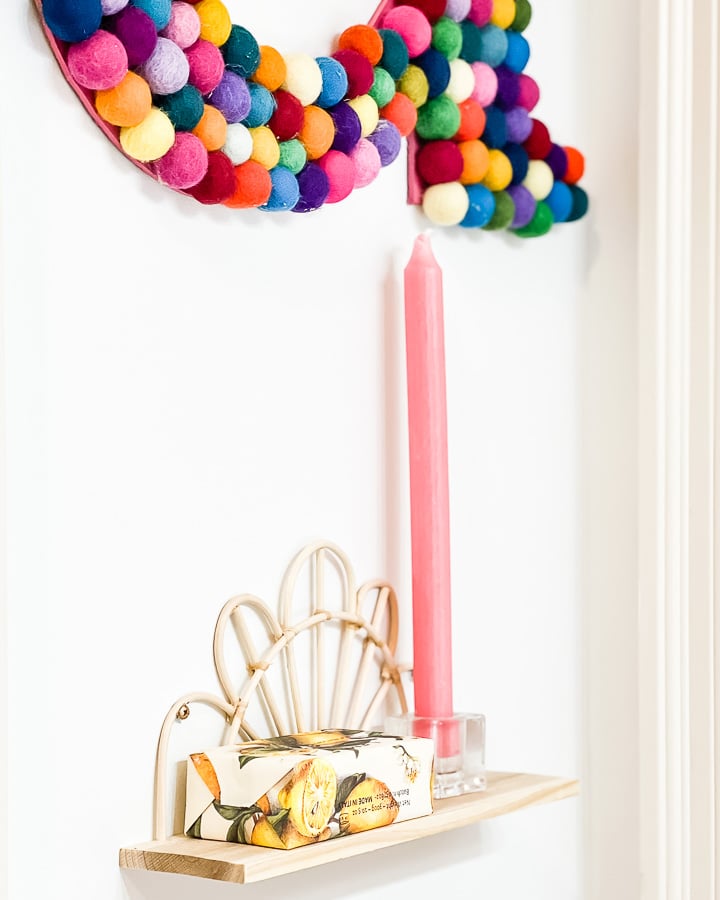 What do you think?! Attley literally bounced up and down when I revealed the finished space to her. That made every bit of work totally worth it.
Though we spent a bit more in this bathroom because of the shower tile, I hope this shows you that you can dramatically transform a bathroom in a budget-friendly way by working with the elements you already have. And you can avoid horrible tile demo work by tiling over your existing tile!!!!
Here's some side-by-side comparisons for fun. And please note that SIMPLY CHANGING THE LIGHT BULBS to 3000k temperature makes a HUGE difference in the space!!!!!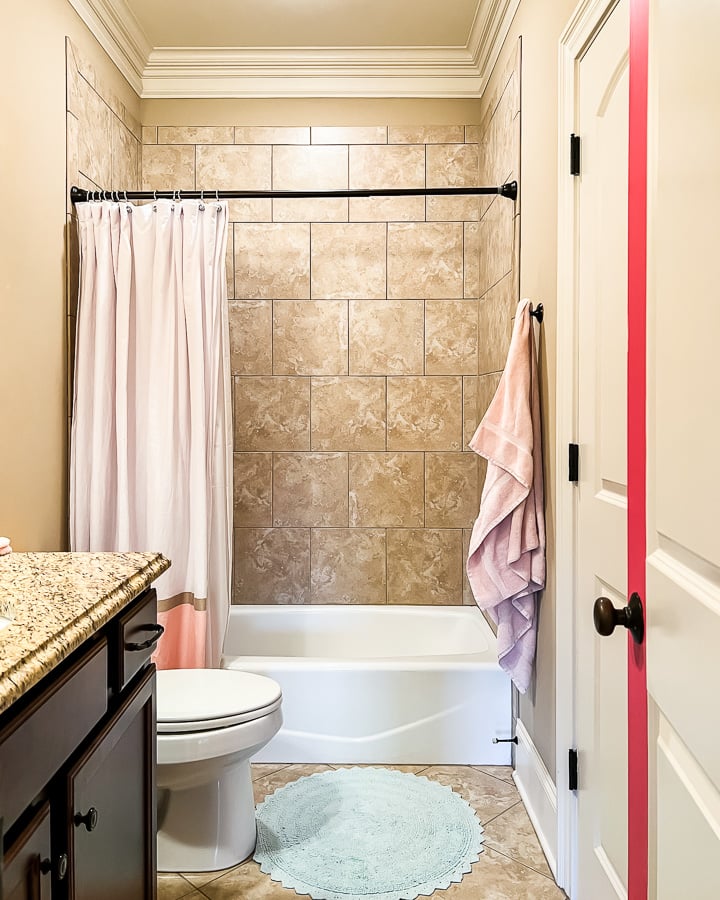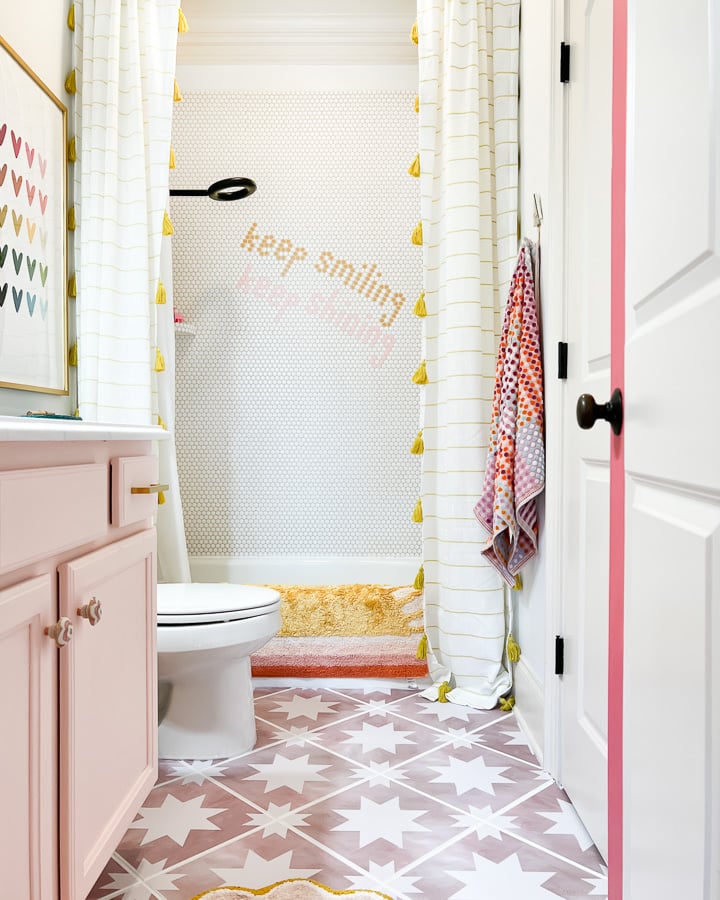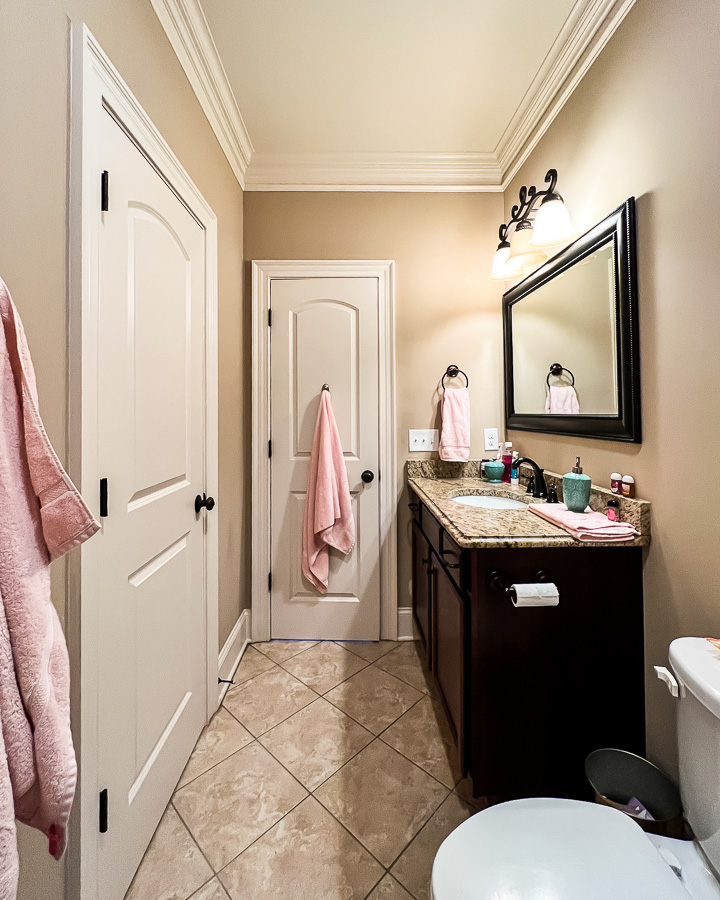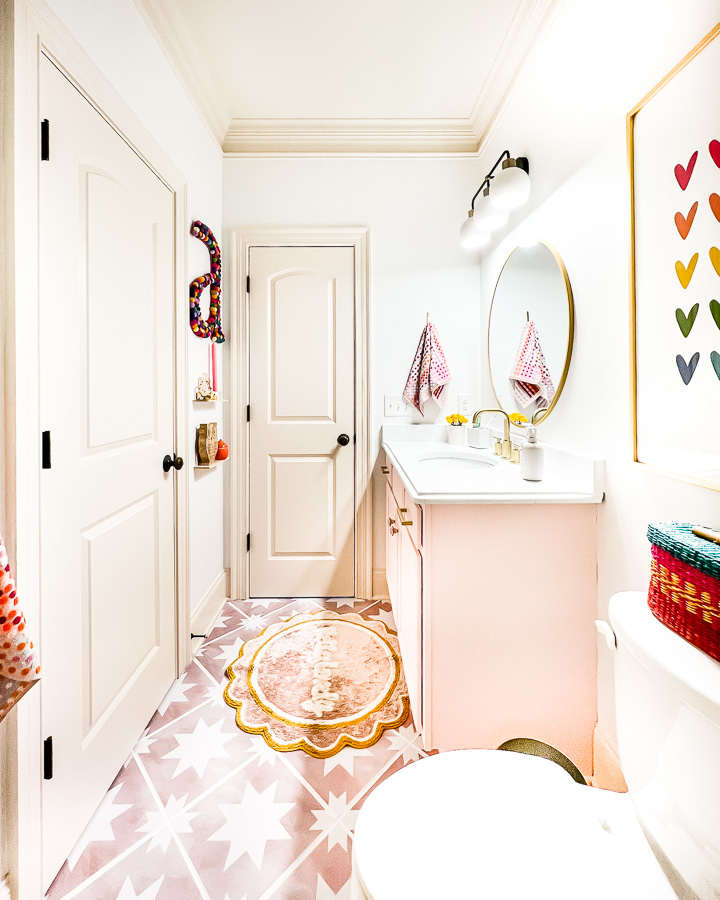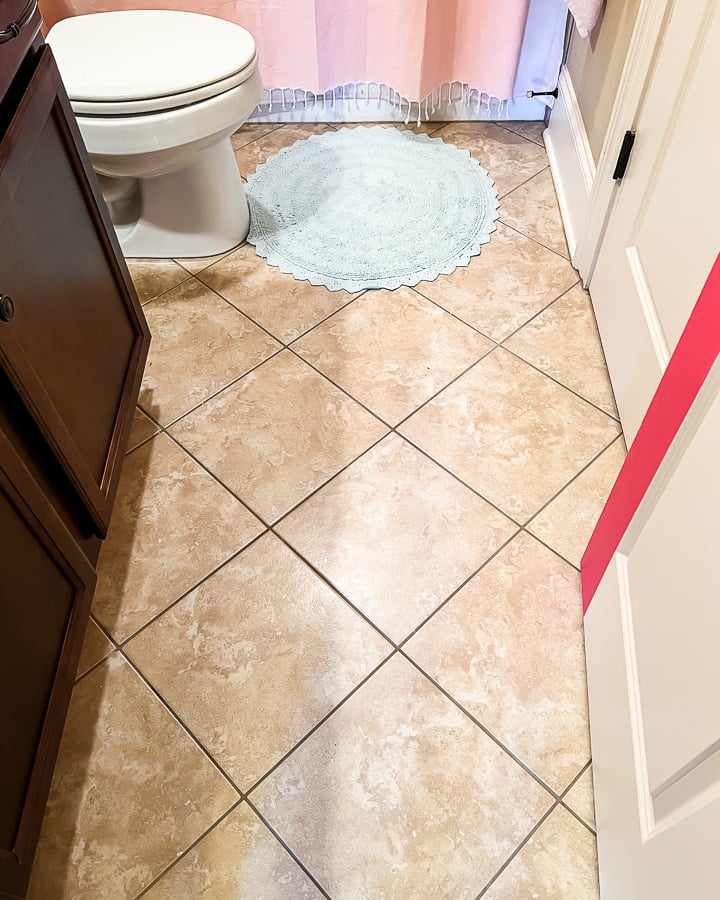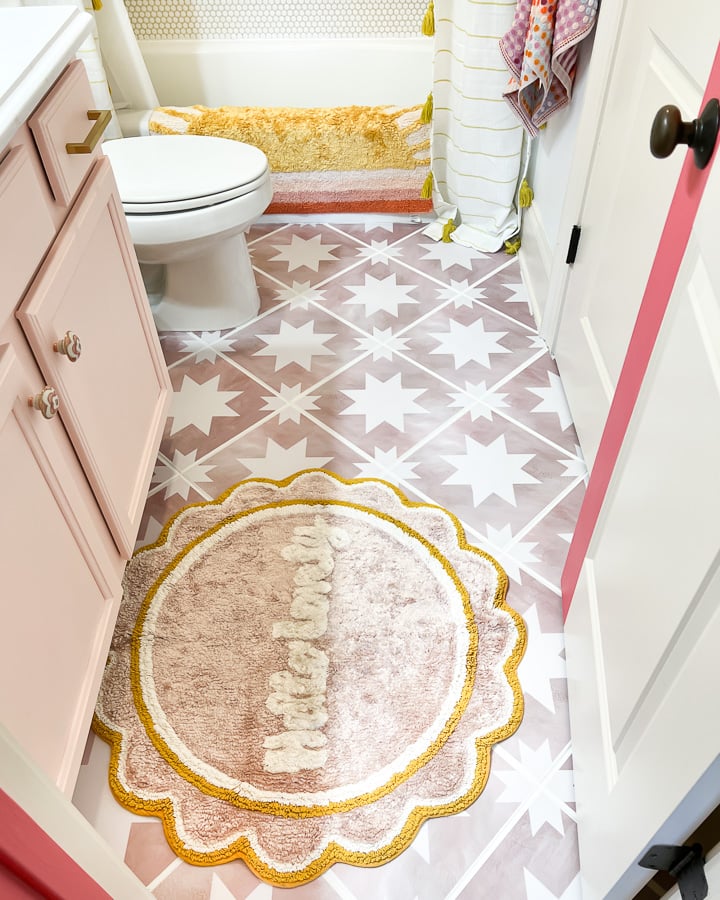 This post contains affiliate links for your convenience. Click here for my full disclosure policy.
Budget Breakdown
Wondering how much this makeover cost? You can find the breakdown below:
Shower tile: $213
Grout, primer, thinset and other supplies for tiling over tile: $286
Tile stickers (3 packs of 9): $153
New vanity light: $259
New mirror: $90
New sink faucet: $85
Pair of 9-foot curtains: $50
9-foot shower curtain: $18
1/2 gallon wall paint: We used leftover paint, but a gallon of paint would cost around $40
Cabinet paint: $22
Countertop paint (we used leftovers for free but new would cost $44–all you need to complete this countertop is this white base coat and this for the veining)–then top with polycrylic)
Polycrylic: We used leftovers for free but new would cost $10
New cabinet hardware: $30
Inside curtain rod mounting brackets: $5
Curtain rod: $32
Decor (bath mats, art, frame, towels, hooks, etc.): $204
Shower head (gifted–would have cost $250)
GRAND TOTAL OUT-OF-POCKET COST: $1,447
So our out-of-pocket cost was $1,447 out of pocket (and would have cost about $350 more if we hadn't had any leftover materials from other projects and if we had purchased the showerhead ourselves. Still, we would have come in under $1,700! That's pretty great considering that the average bathroom renovation costs a whopping $8,098!
Bathroom Source List
Wall color: Pure White by Sherwin-Williams
Trim and ceiling color: Divine White by Sherwin-Williams
All other products that I can find links to are below. Click on any image for full product details :)

Other posts you may enjoy:
As always, I created this design the same way I create all of my other designs. I pulled out my Designer in a Binder® and moved through it step-by-step (if you are aDesigner in a Binder® customer and are curious, the bathmat was the "crucial element" for Attley's bathroom–it made all the other decisions so easy)!
Wondering how I approach transforming rooms and spaces in our home? Check out Designer in a Binder®.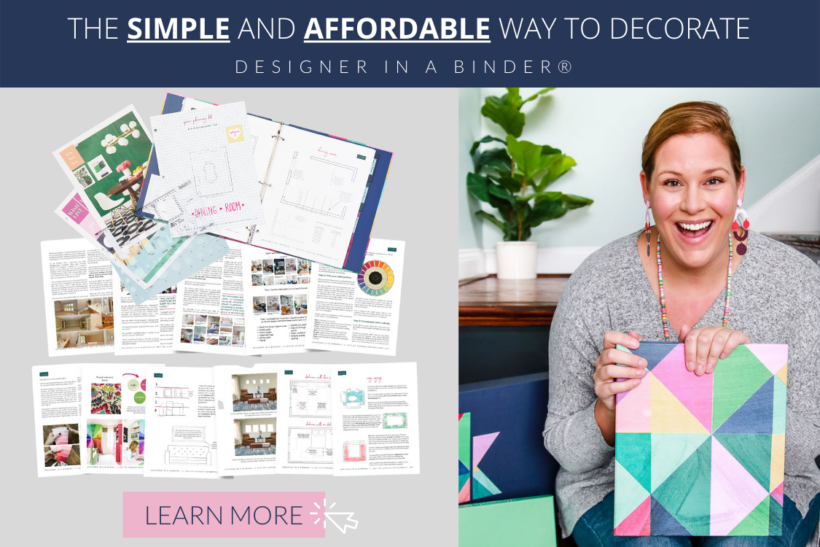 And if you want exclusive content and behind-the-scenes sneak peeks, be sure to subscribe before you head out!