The REVEAL of Our Colorful DIY Bathroom Remodel
Last Updated on June 5, 2022
It's REVEAL DAY! Check out how our DIY bathroom remodel turned out! It's modern, colorful and happy and we are in LOVE with it!
Y'all, I could almost cry I'm so happy. Now that we've finished our powder room renovation, THE ENTIRE FIRST FLOOR OF OUR HOME IS FULLY RENOVATED! It has taken us nearly 7 years to get to this point and it feels oh so good!
We tackled this DIY bathroom remodel over the past 4 weeks after teaming up with some awesome sponsors as well as 6 incredibly talented (and color-loving) bloggers for a "Primp and Pamper" bathroom renovation challenge hosted by my friend Jewel of Jeweled Interiors.

The Bathroom Remodel VIDEO
If you want to see how we completed this DIY bathroom remodel in 7 (yes, only SEVEN) days of work, just watch the video below!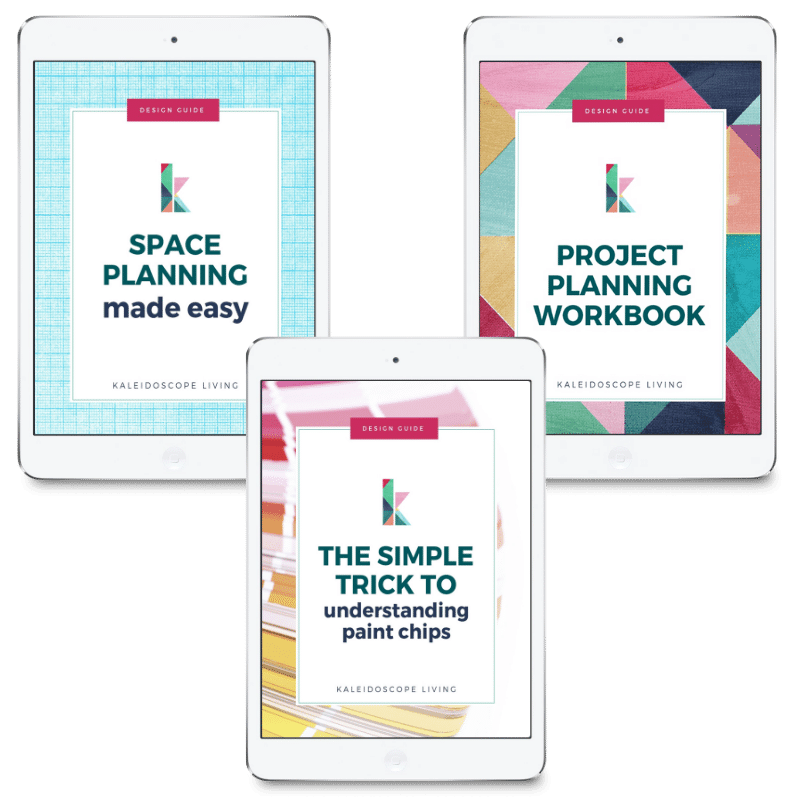 Get my FREE design guides when you subscribe!
The Bathroom "Before"
Let's take a peek at what it looked like when we bought our house over 6 years ago. (And no, the faux flowers did not belong to us). It was outdated and very basic, beige and boring.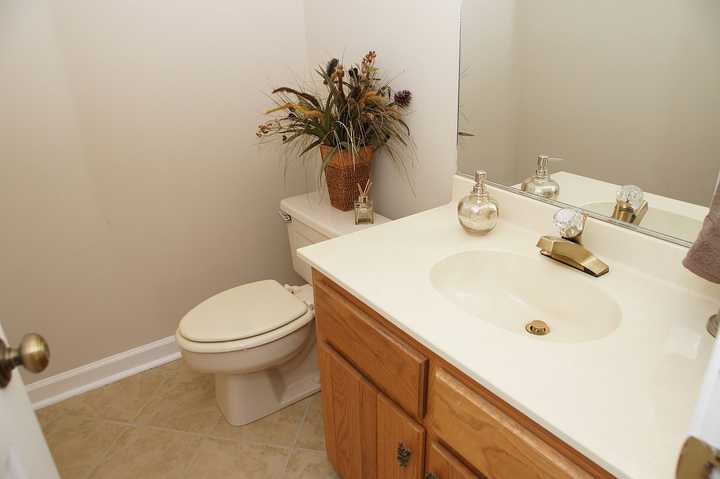 About 5 years ago we gave it a little refresh by giving the sink and countertop this DIY concrete overlay and painting the cabinet. We also added a cool DIY wood frame with concrete inlay to the builder grade mirror and updated the outdated lighting with this easy fix. This was the result.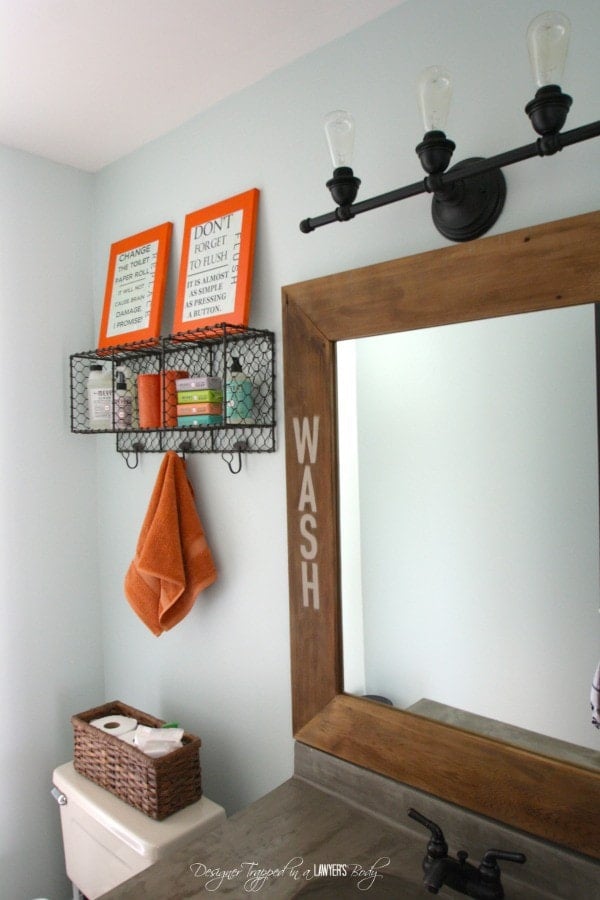 This post contains some affiliate links for your convenience. Several sponsors, including Build.com, Signature Hardware, Peerless Faucet and Saba Tile have gifted us with products for this project. We are so grateful for their support! Click here to read my full disclosure policy.
The Bathroom "During"
But for this renovation, we ripped everything out and started from scratch. Here are some of our progress shots from the past few weeks, as well as the complete list of everything we did in the space.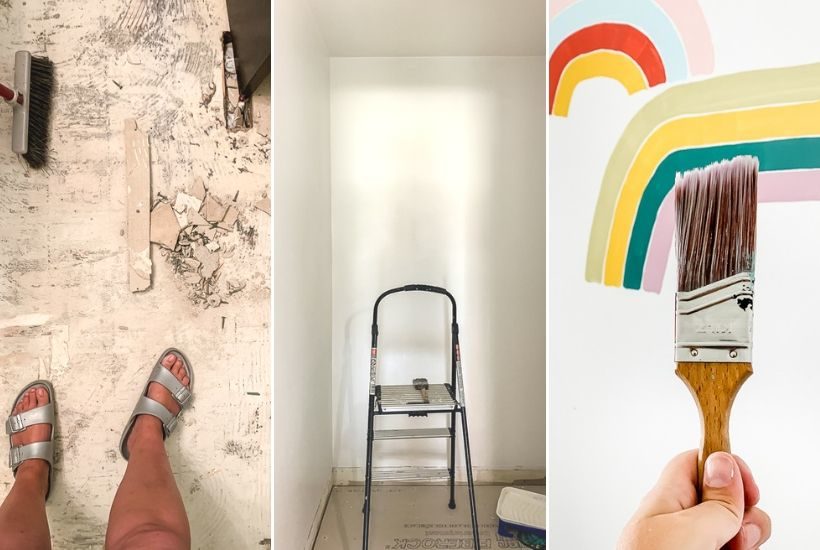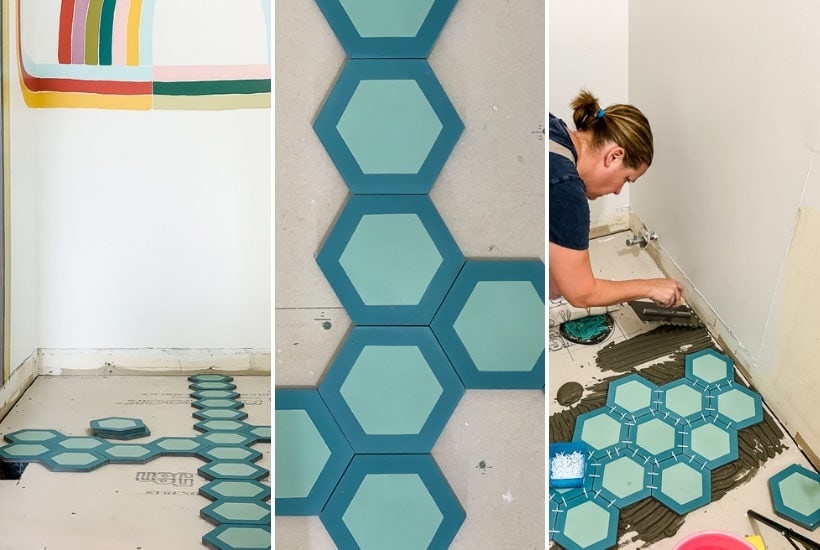 The Bathroom REVEAL
Enough background. Let's take a look at how it turned out!!!! You can find a complete source list at the bottom of the post.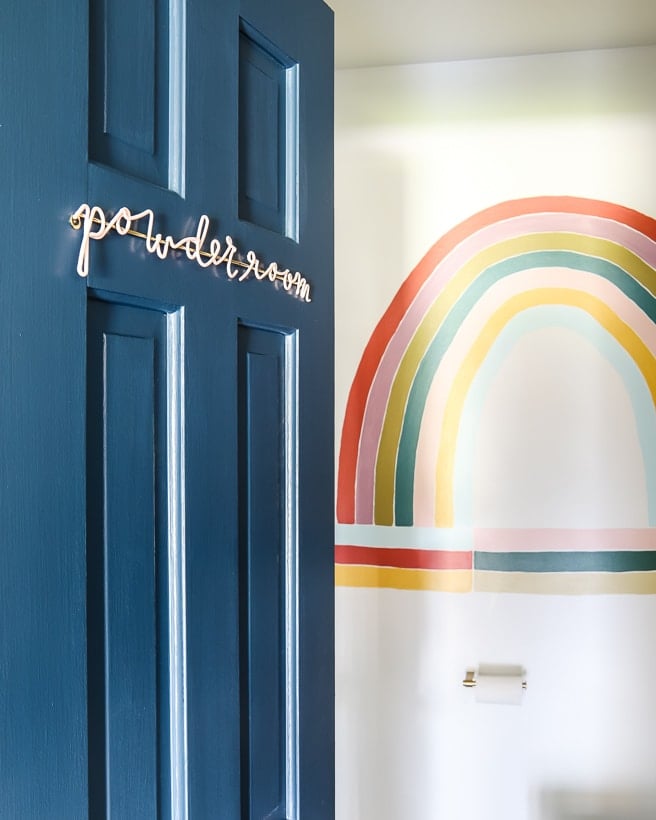 Source: Powder Room Sign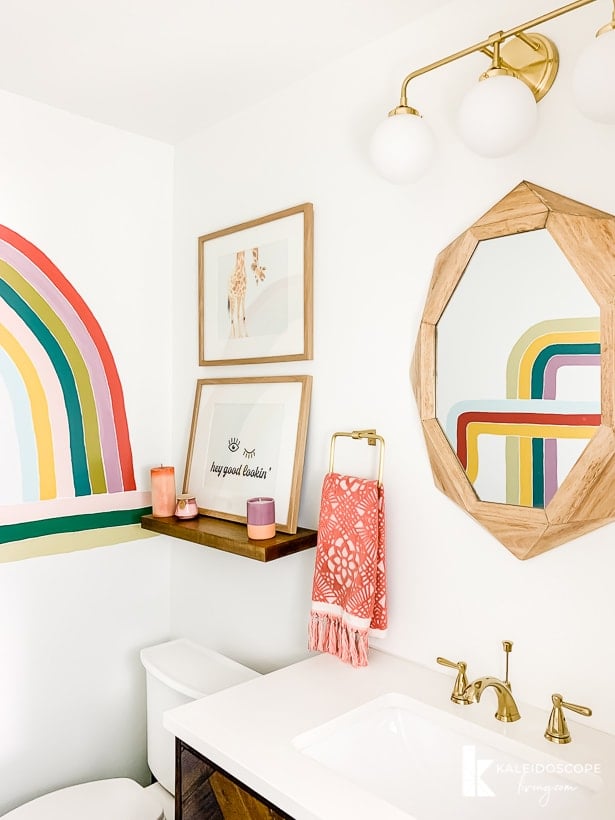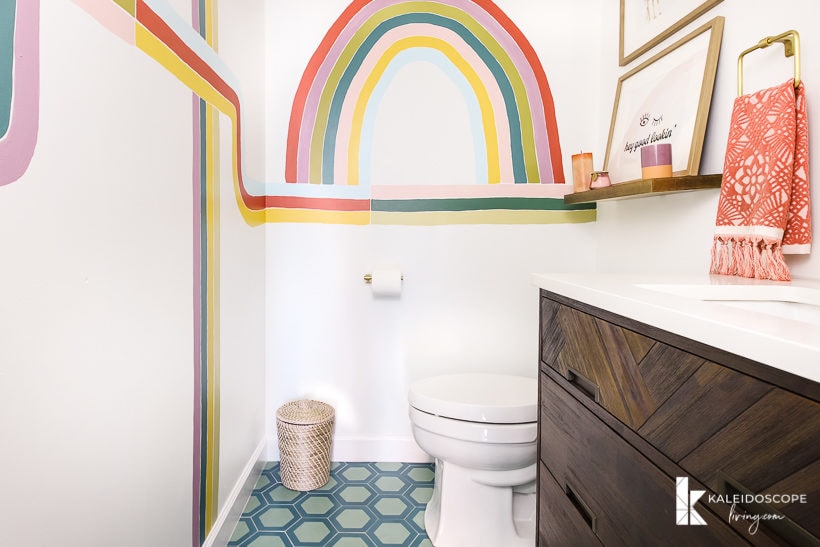 Cement Tile | Vanity | Vanity Light | Towel Bar | Toilet Paper Holder | Toilet | Wall Mural (I painted my own, but it was inspired by this beauty)| Mirror| Faucet | Hand Towel | Trash Can
It's really hard for me to say what my favorite thing about this space is, so I'm just going to highlight the things that I think make this space so special. First, let's talk about this vanity from Signature Hardware. It's so unique and feels like a piece of furniture, which I love! The herringbone pattern at the top is on point and the mid-century modern legs give me all the feels.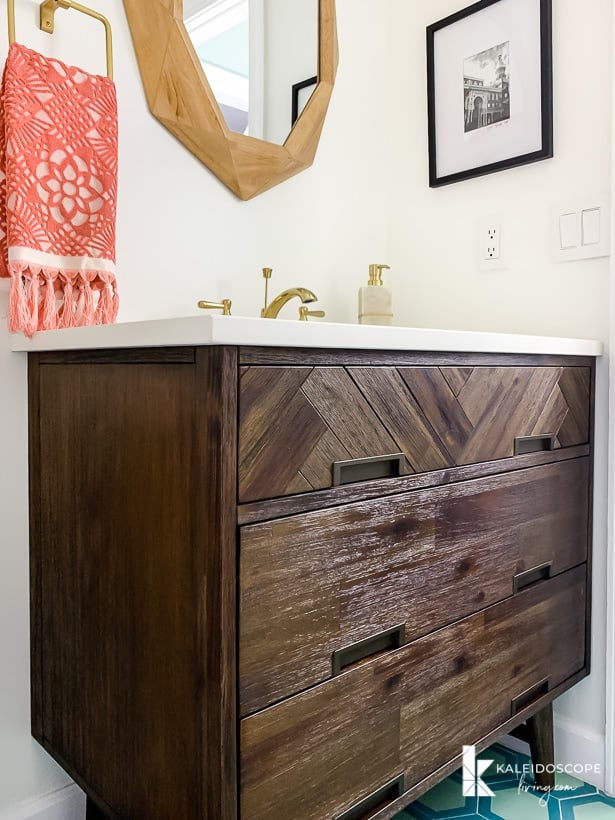 And then there's the cement tile. I have wanted cement tile forever. It's so smooth and chic. But most of the cement tiles you see out there right now have a real "farmhouse" vibe, which is not my jam. So one day I literally googled, "cement tile not farmhouse" and after sorting through all kinds of weird results, I found Saba Tile. It was love at first sight! I contacted the owner pretty much immediately and asked him if he'd like to collaborate and was thrilled when he said yes! This tile is everything, y'all!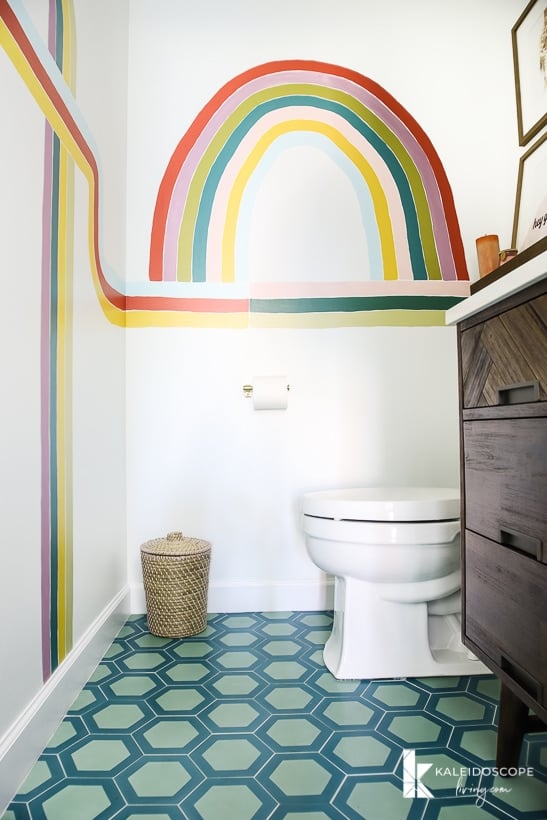 Now let's talk about the fixtures we chose. I fell in love with this vanity light pretty quickly. It's a beautiful satin brass finish.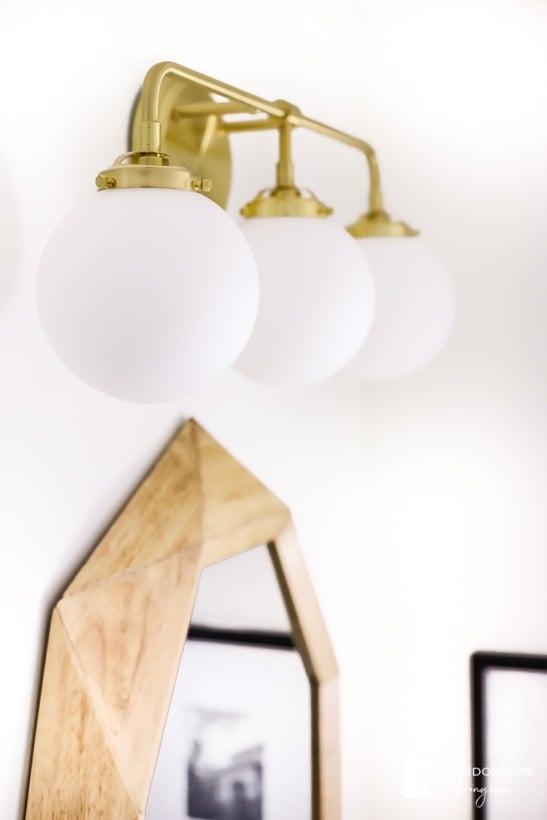 Once that decision was made, we chose the towel bar and toilet paper holder in the same finish.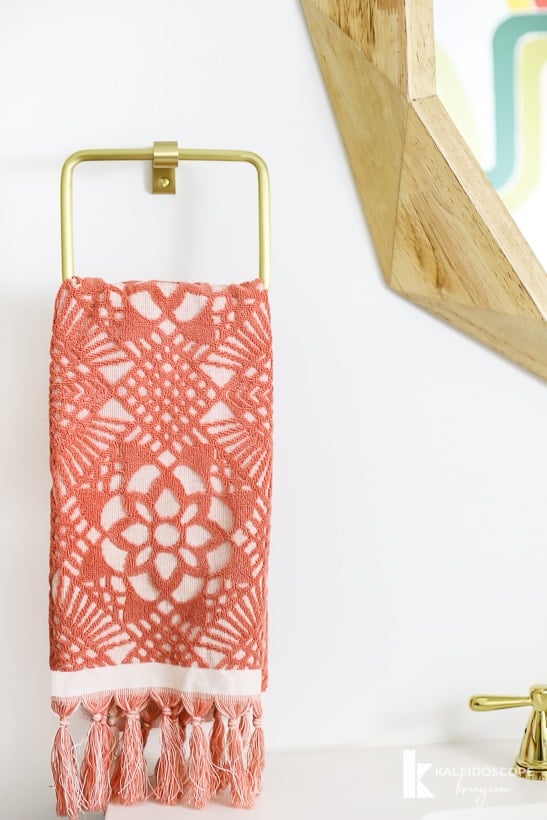 And then there's our sexy faucet. We chose this polished brass faucet from Peerless and I'm loving it. It's the perfect balance of style and functionality, all while remaining water efficient. The gorgeous finish is shimmery and like added jewelry to the space, standing out against the white countertop and walls. The fact that I can see the colorful mural reflected on the shiny surface makes me very happy.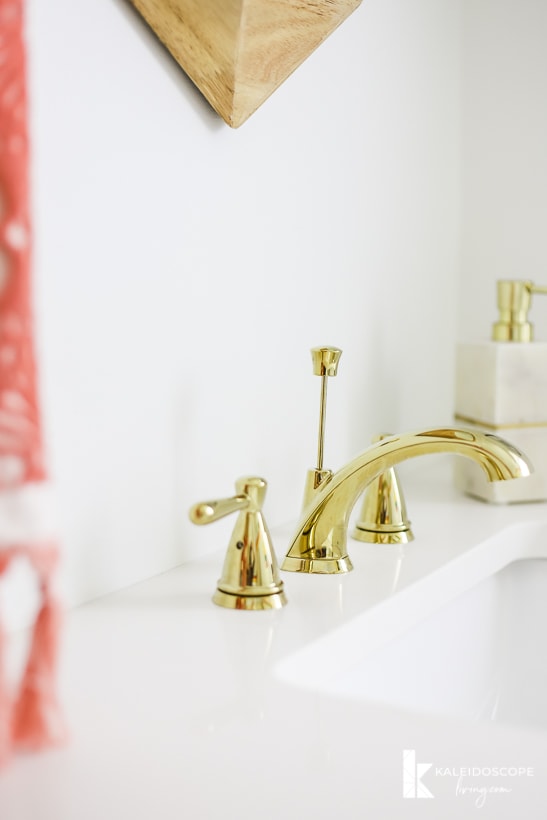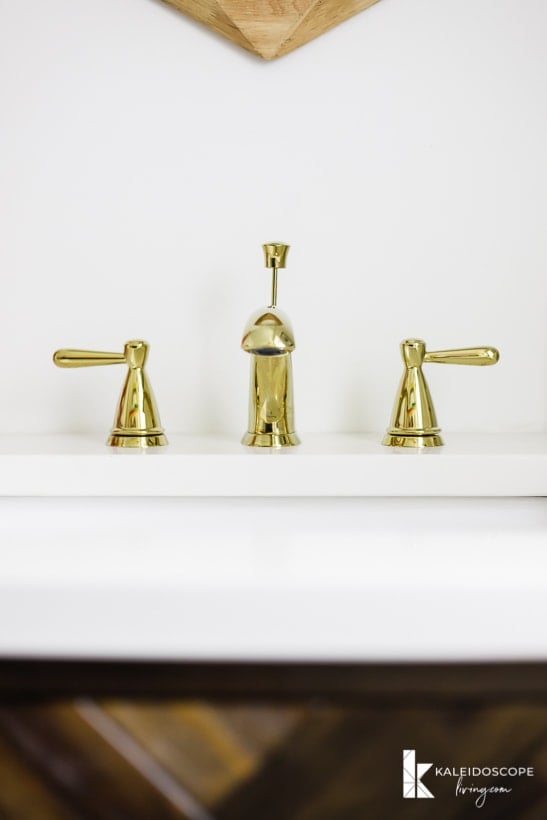 And then there is the wall mural I painted. I was terrified to go for it with a wall mural, but I'm so happy I did. I am OBSESSED with it. A tutorial for the mural will be coming soon :)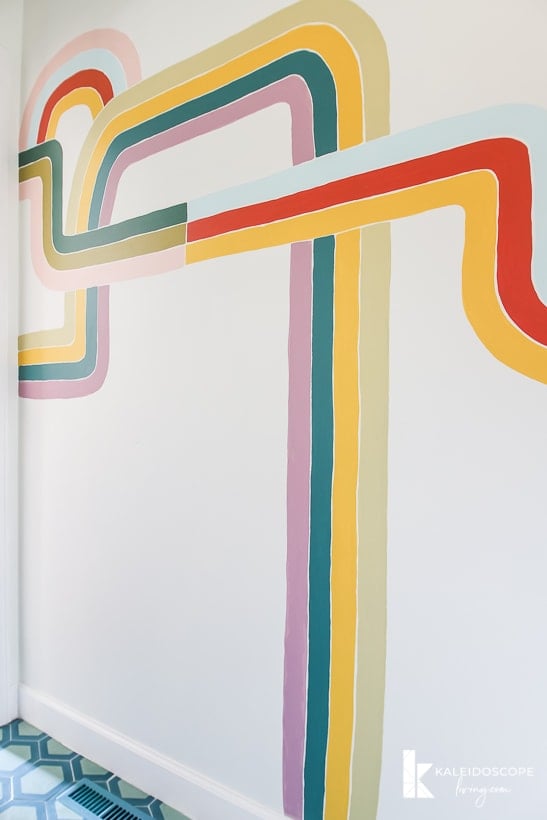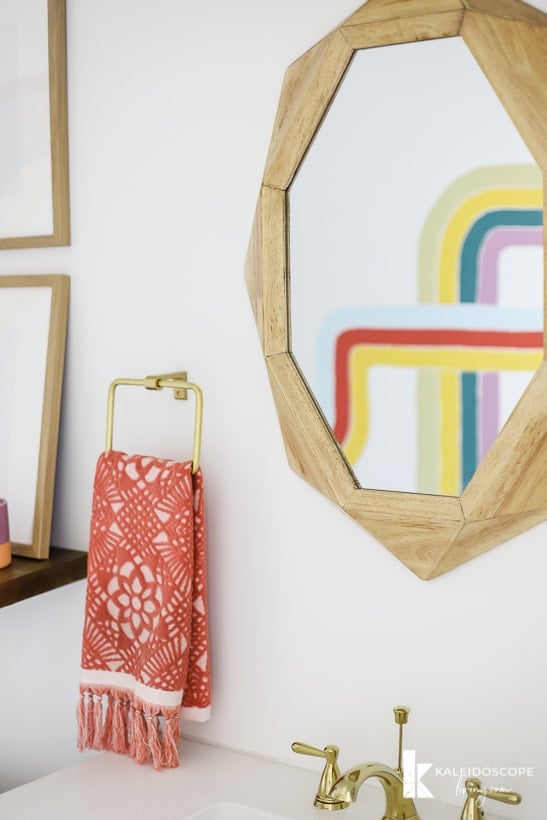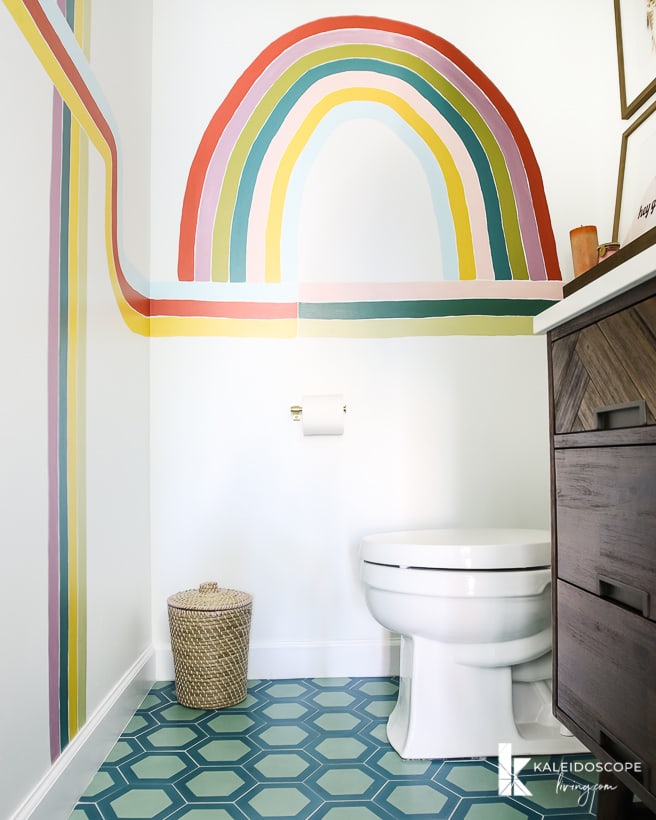 Then there are other small touches in the room, like this artwork I created for above the toilet (you'll be able to grab it FOR FREE very soon, by the way–just subscribe to get access to my free art library full of gorgeous prints you can fill your walls with)!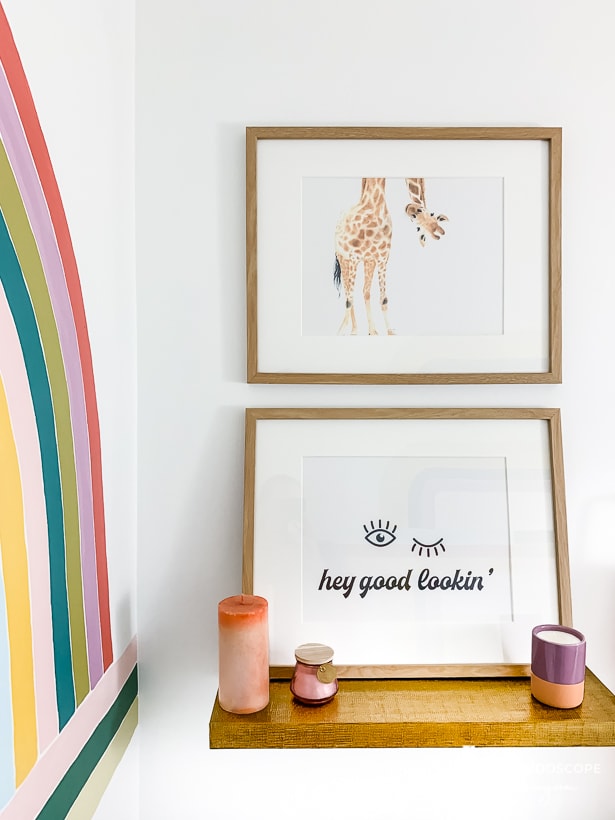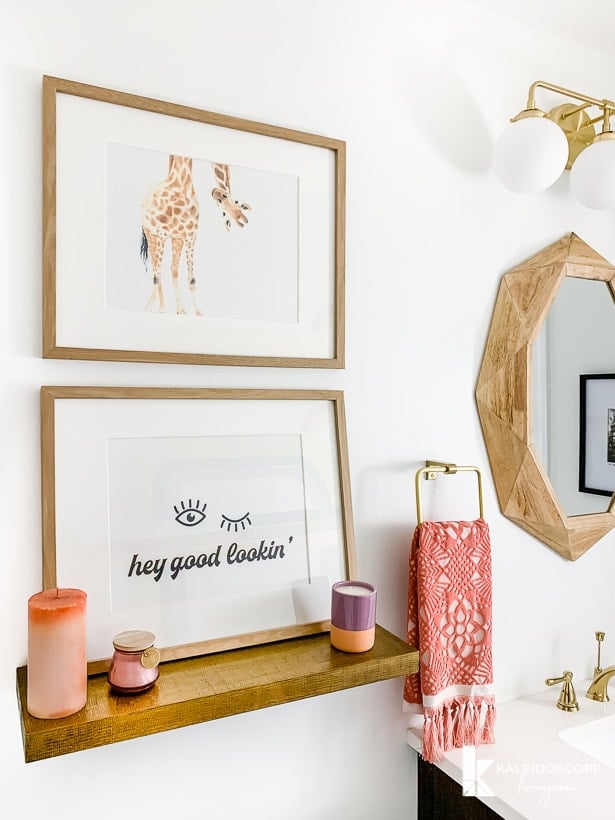 Oh, and there is the new throne toilet. I love the fact that it has a square base. It just gives it a more modern feel.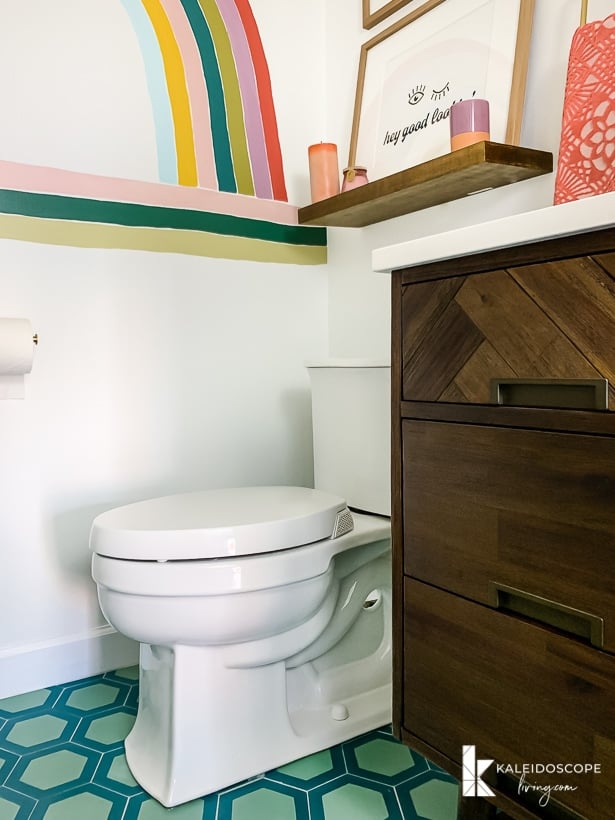 Bathroom Remodel Source List

Phew! What do you think? This room has come a long way! As usual, I have to finish it off with a side-by-side comparison.
Now, before you head out be sure to check out the MIND-BLOWING reveals by my friends who have also renovated their bathrooms!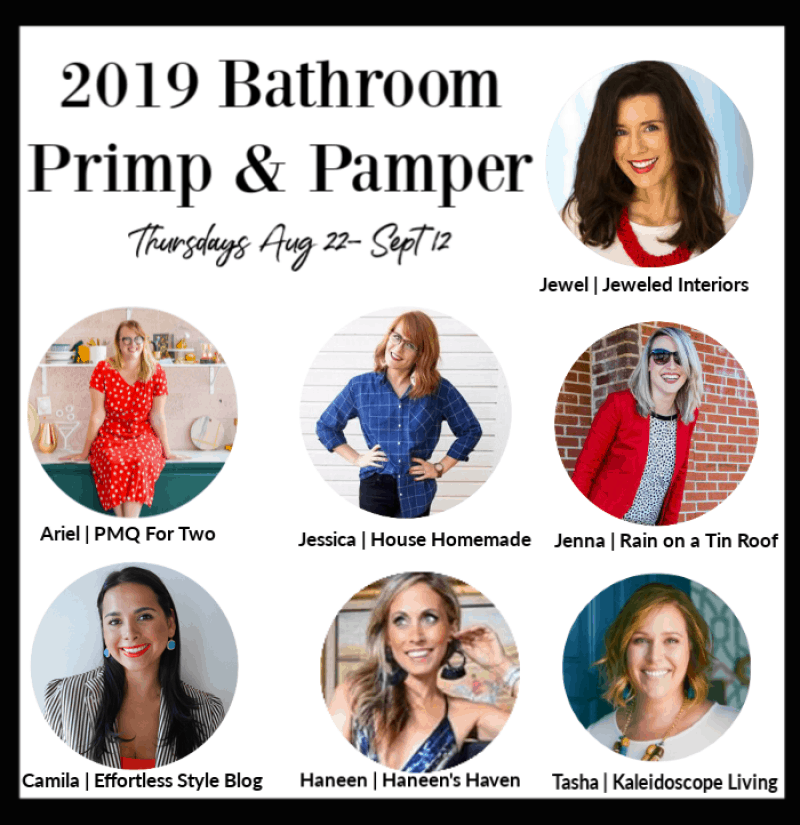 Jeweled Interiors | PMQ for Two | House Homemade | Rain on a Tin Roof | Effortless Style Blog | Haneen's Haven | Kaleidoscope Living
Wondering how I approach transforming rooms and spaces in our home? Check out Designer in a Binder®.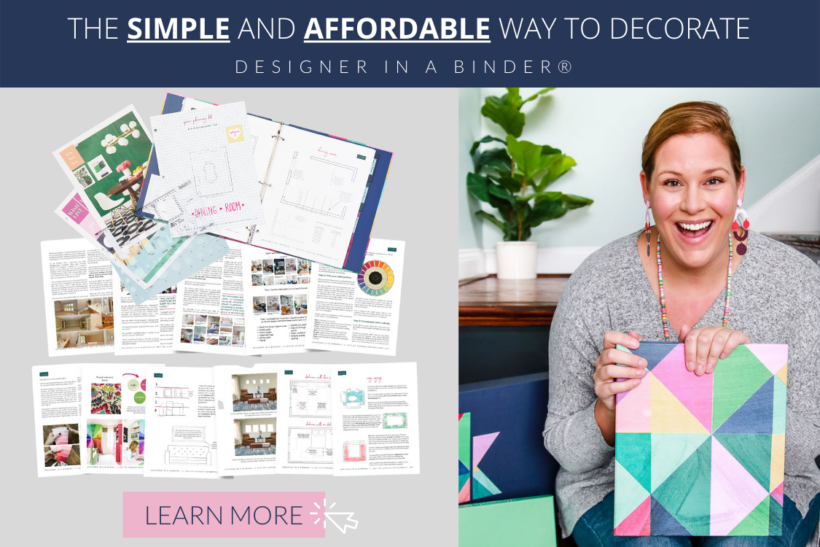 And if you want exclusive content and behind-the-scenes sneak peeks, be sure to subscribe before you head out!