15+ DIY Bathroom Remodel Ideas to Save You Money
Bathroom remodeling can be expensive and overwhelming. Knowing where to start, what to do, and how to keep the costs down can be challenging. Fortunately, there are tons of DIY bathroom remodel ideas that can help you completely revamp your bathroom without spending a fortune. In this post, I'm sharing the best budget-friendly bathroom remodeling ideas that you can easily tackle on your own.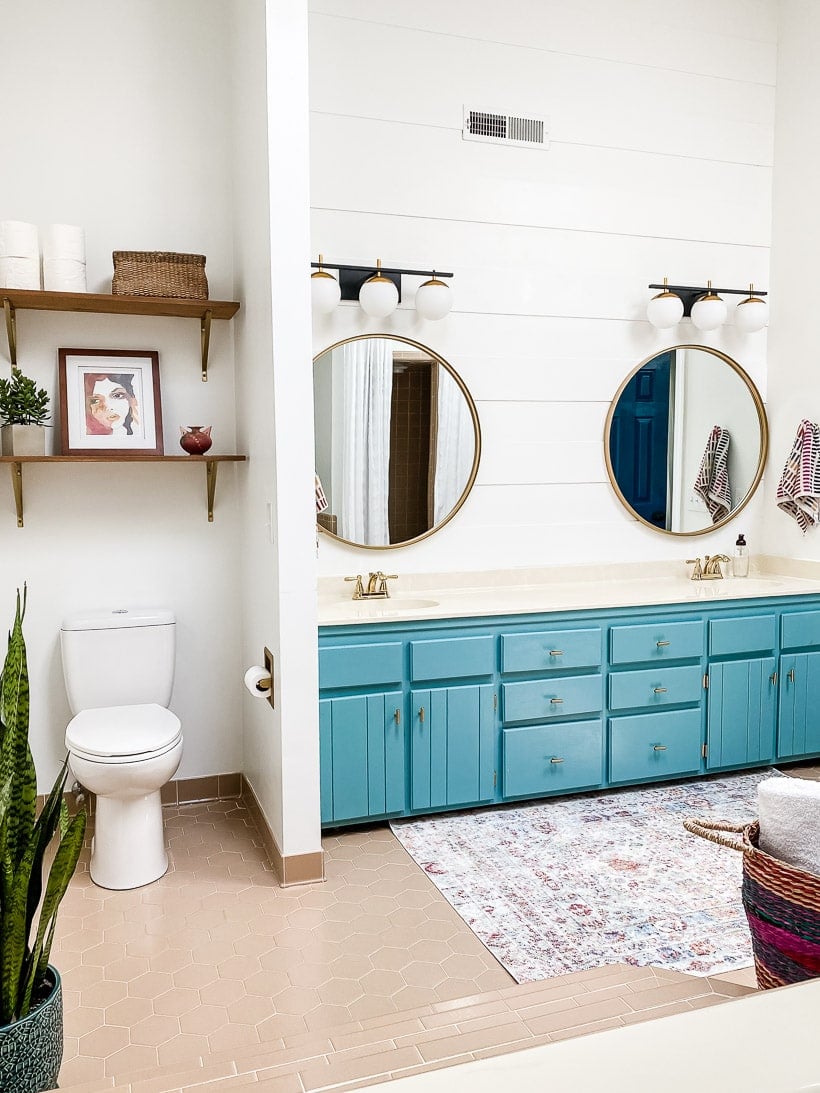 What is a realistic budget for a bathroom remodel?
According to 2023 data from home-improvement site Angi, the average cost to have a bathroom professionally remodeled in the United States is $11,365 in 2023, ranging from $6,621 to $16,773.
The cost of a bathroom remodel depends on a lot of factors, including the size of the bathroom, the materials used, the extent of the remodel, and whether or not you hire a professional.
Remodeling contractors (from electricians to plumbers, etc.) typically charge $40-$100 per hour depending on their particular field of expertise, making labor the most expensive part of a bathroom remodel. It's estimated that between 40 percent and 65 percent of a bathroom renovation is the cost is labor. So if you are willing to DIY your bathroom remodel, you will save a ton in labor costs.
Is a DIY bathroom remodel worth it?
The answer is almost always YES! According to Zillow, "data shows that bathroom remodels yield the biggest returns in terms of boosting your home's resale value. For minor cosmetic changes, you'll see a $1.71 increase in home value for every $1 you spend." And when you DIY your bathroom remodel, your return on investment is even better. So in addition to enjoying a more functional and updated bathroom, you should also see a return on your investment when you decide to sell your home. Plus, a newly remodeled bathroom can be a major selling point for potential buyers, making your home sell more quickly.
Because bathrooms are so expensive to renovate, we have become pros at updating our bathrooms on a budget! We have fully renovated two bathrooms and have given more budget-friendly makeovers to three bathrooms. So we definitely have a fair amount of bathroom remodeling experience, and I can say that every single one of our DIY bathroom remodels has been worth it!
Not only have we saved thousands and thousands of dollars, we have loved using every single bathroom we updated! You can check out the details of all 5 of our DIY bathroom remodels by clicking here to jump to the end of the post, but here's a few examples:
Since hiring a contractor for a full bathroom remodel is not in the budget for many people, I've rounded up some of the best DIY bathroom remodel ideas that will help you give your bathroom a new look without spending a fortune!
DIY Bathroom Remodel Ideas
Refresh Cabinets With Paint and New Hardware
Another budget-friendly DIY project for your bathroom remodel is updating your cabinets with paint and new hardware. This is a great way to give your bathroom a fresh look without replacing your entire vanity. You can choose a paint color that complements the rest of your bathroom décor, and add new hardware that matches your personal style. This is an easy project that can be completed in a weekend, and the results will be well worth the effort.
We painted the vanities in both of our girls' bathrooms to give them a totally new look and are thrilled with how they turned out. We used my favorite quick and easy cabinet painting tutorial.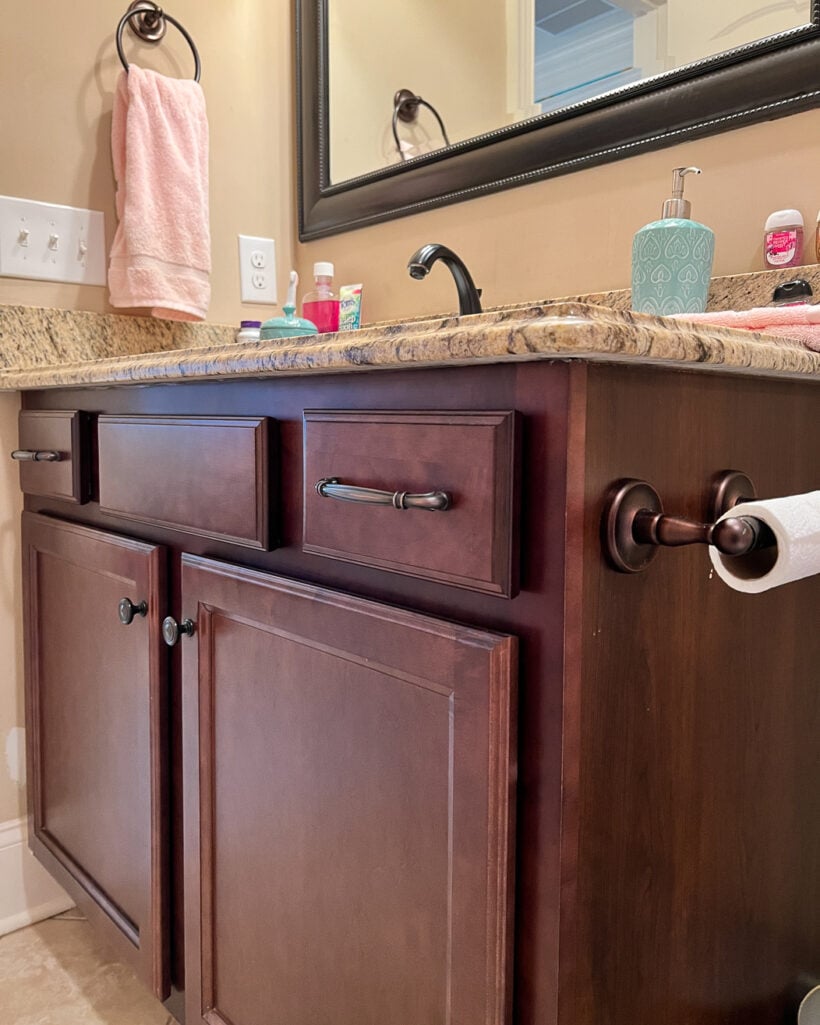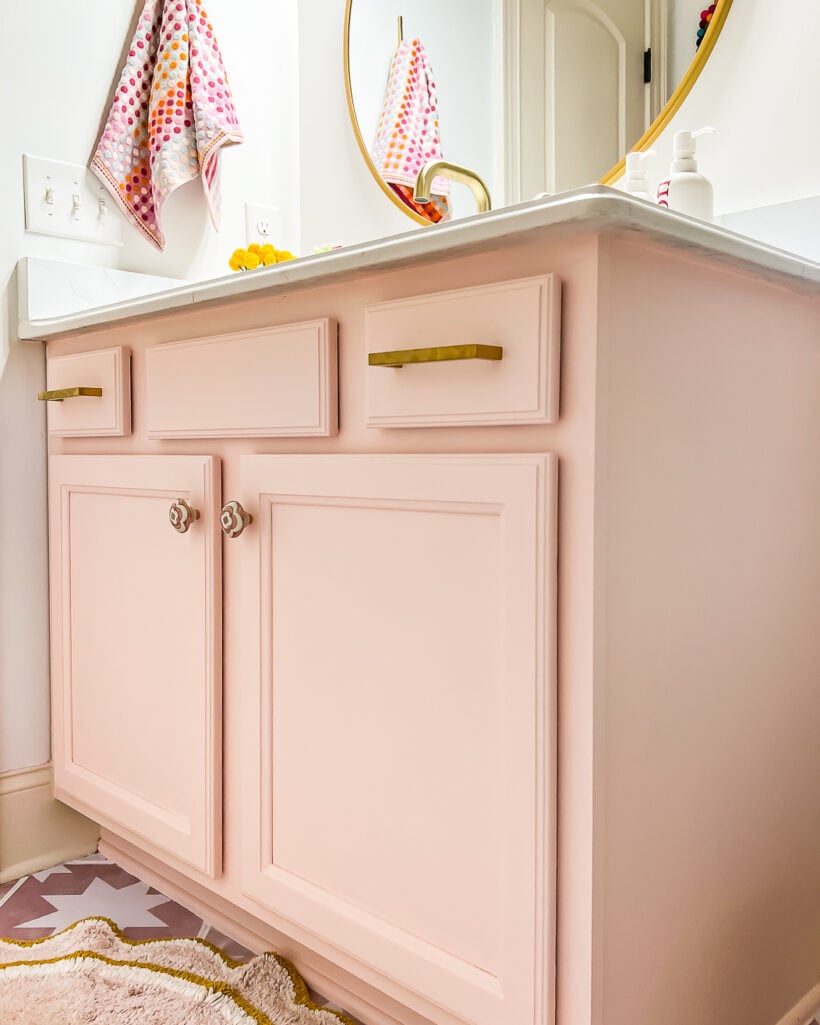 Make Your Own Bathroom Vanity
Another DIY project that can save money is transforming an old dresser into a bathroom vanity. This project involves cutting a hole in the top of the dresser to accommodate a sink and adding plumbing fixtures. By repurposing an old piece of furniture, you can create a unique and charming bathroom vanity that adds character to your space. Plus, you can customize the look with paint or stain to match your decor. Just be sure to seal the top of the dresser well to protect it from water damage.
Paint Your Counter to Look Like Marble
Once I painted the countertops in our kitchen to look like marble, I was kind of hooked. Our girls' bathrooms had the same brown granite in their bathrooms that our kitchen used to, so I painted them using the same tutorial. They are holding up beautifully!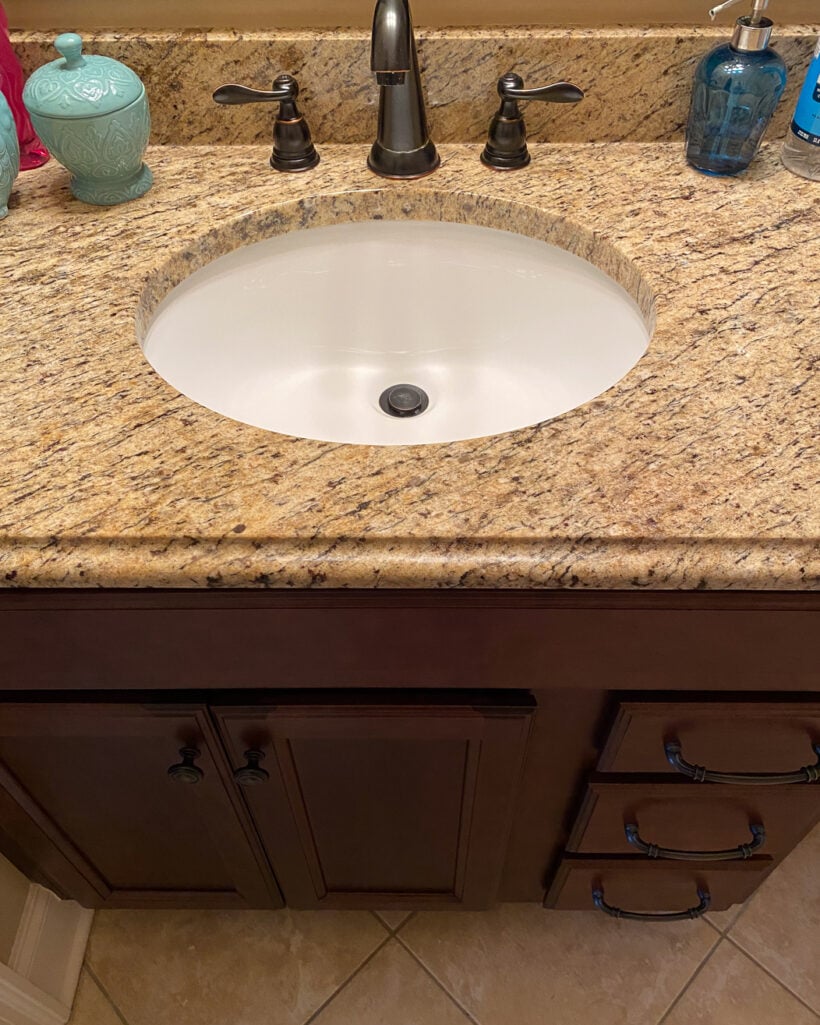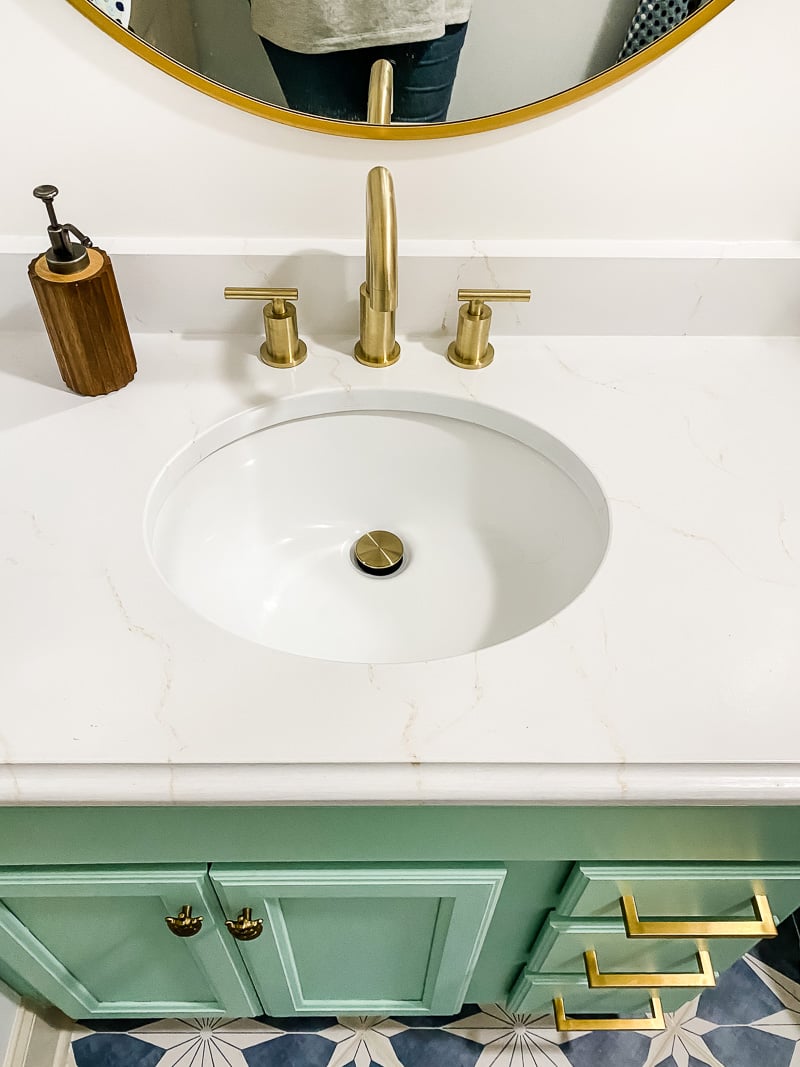 Update Your Sink and Counter With Concrete
When we updated the 1980s half bath in our old home, we only wanted to spend a couple hundred dollars, so we had to get very creative. In addition to painting the cabinet without sanding or priming, I updated the ugly, fake cultured marble with a concrete overlay and it cost me less than $50! I had no idea if it would work, but it did! And it still looked great 5 years later before we completely gutted and remodeled that bathroom. Thousands of people worldwide have used my tutorial, which makes me so happy! You can find the tutorial for the DIY concrete vanity top here.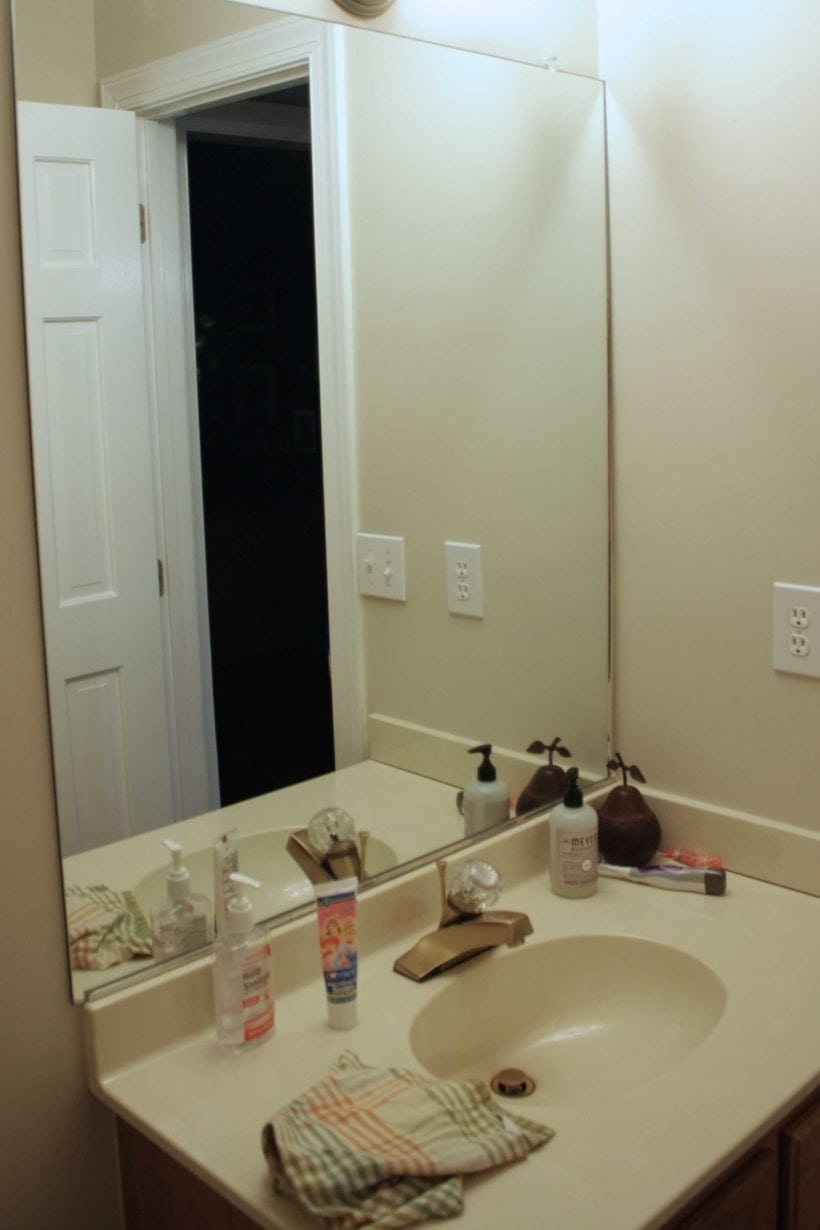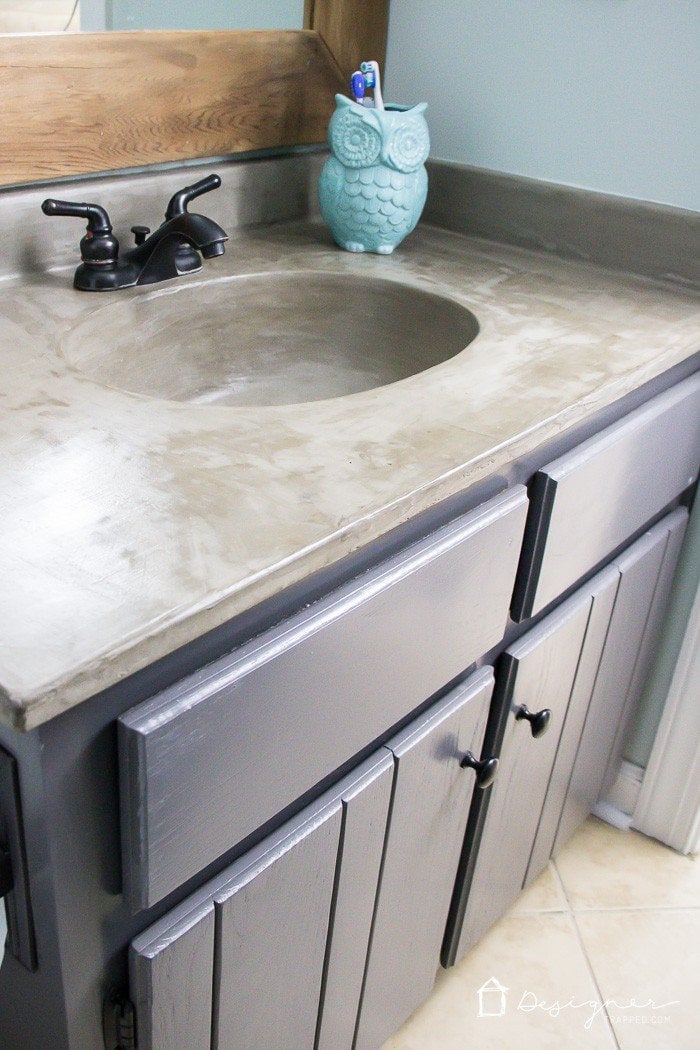 Refresh Your Bathroom Walls
If you want to add color, pattern and interest, consider wallpapering your bathroom walls. Wallpaper can dramatically transform a small space like a bathroom.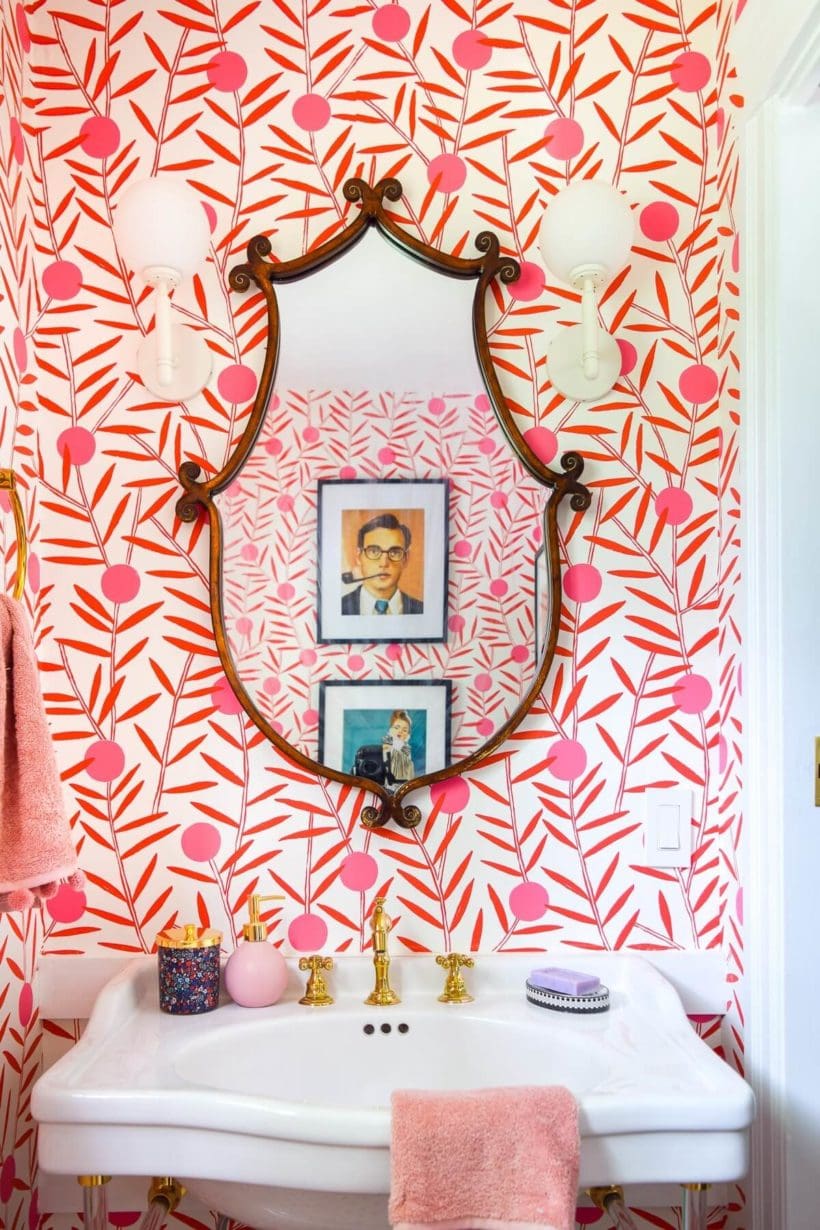 One of the easiest and cheapest ways to give your bathroom a fresh new look is by painting your walls. Paint can transform a space and make it look and feel cleaner. Consider choosing light and bright colors to make your bathroom feel more spacious and airy. A fresh coat of paint can make your bathroom look updated, and the best part is that you can do it all by yourself! I painted a fun mural in the half bath we remodeled in our last home. It made a big impact but was far less expensive than wallpaper!
If you want to update your bathroom walls in a more substantial way, you can also install board and batten in your bathroom to add lots of character and detail. It's an easy DIY job and is very budget-friendly. I love how Yellow Brick Home added this pink board and batten during their DIY bathroom renovation. It adds so much character!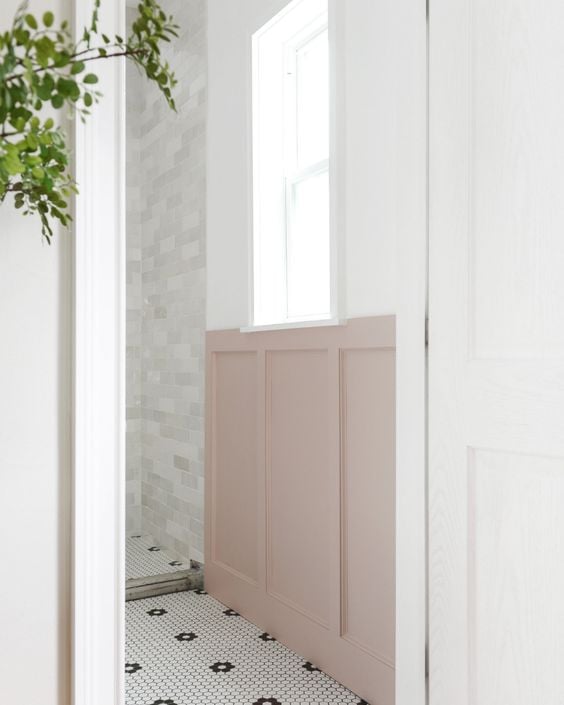 You could also opt for an even simpler wall treatment, like this modern plank wall we installed in our old master bathroom that hadn't been updated since the 80s. We needed to give the bathroom a makeover on a very small budget before listing it for sale and we were so happy with how this simple wall treatment turned out.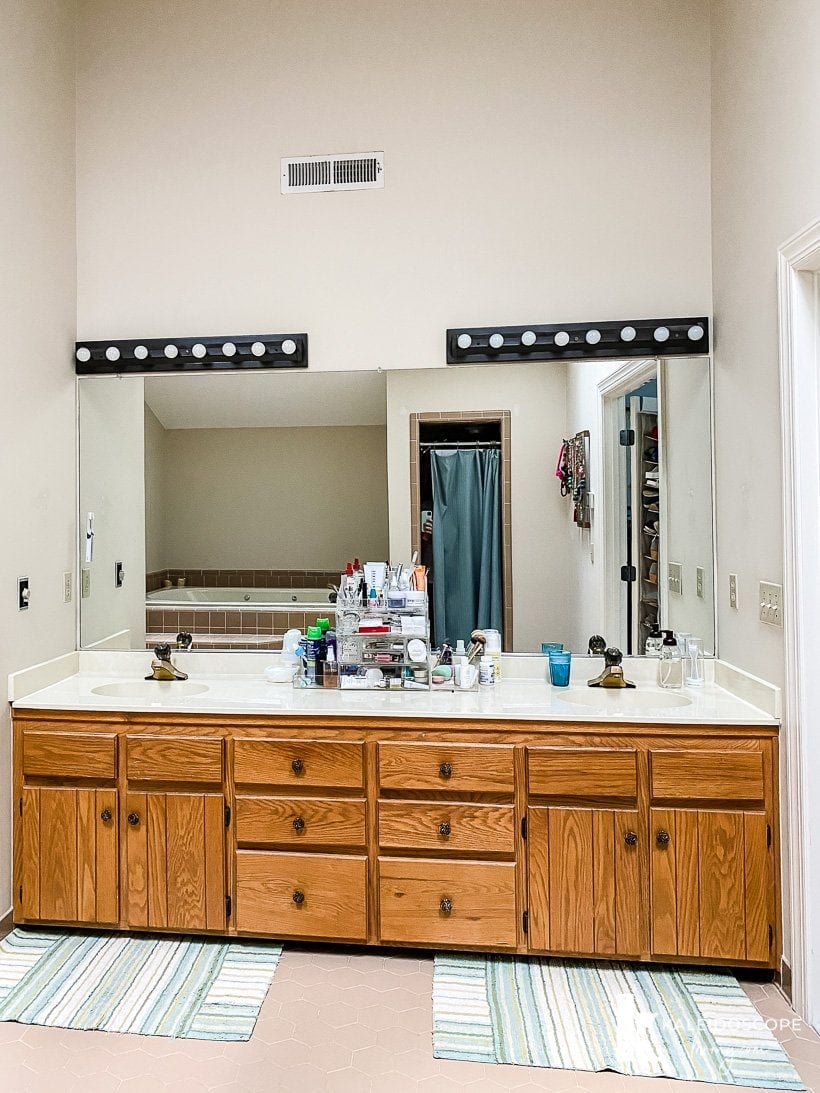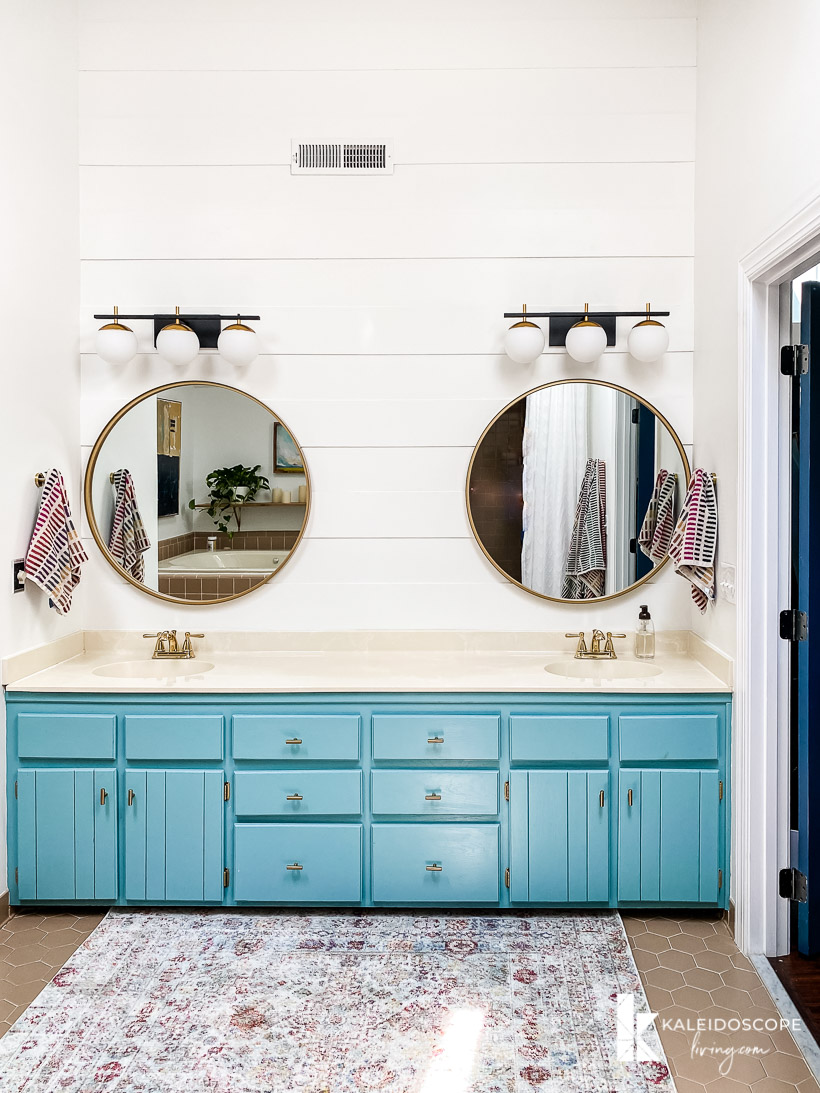 Update Your Light Fixtures
Changing out your lighting fixtures can make a big impact on the look and feel of your bathroom. You can swap out old and outdated fixtures with new, modern ones that can brighten up your space or even add some mood lighting. It's easy to replace lighting fixtures yourself–just be sure to follow the manufacturer's instructions and turn off your home's electricity. We added new light fixtures to both of our girls' bathrooms and they made such a big difference!
Replace Old Faucets and Shower Heads
Replacing old and outdated faucets and shower heads can also transform your bathroom. New fixtures can make your space feel more modern and create a cohesive look throughout your bathroom. There are tons of budget-friendly options available online or in-store that are easy to install yourself. No need to call in a professional for this task.
Install New Bathroom Flooring or Update Your Existing Tiles
If your bathroom floor has seen better days, consider installing new flooring to give it a fresh new look. Luxury vinyl or laminate are affordable options and it's incredibly easy to install a floating tile floor yourself. You can also install new tile, which is a bit more challenging, but it looks great and adds value to your home.
When we gutted and renovated the shared bathroom in our old home, we removed the old carpet (yes, carpet) and tile and replaced it with natural stone tile. We changed a ton in the space including removing a wall and adding a transom window, but the updated and uniform flooring made one of the biggest impacts in the transformation.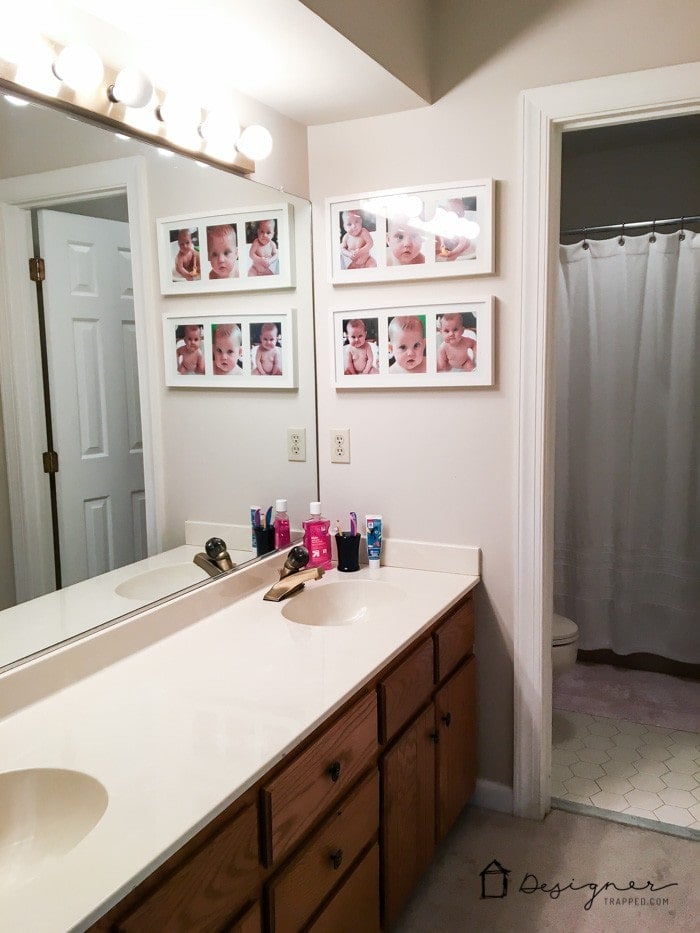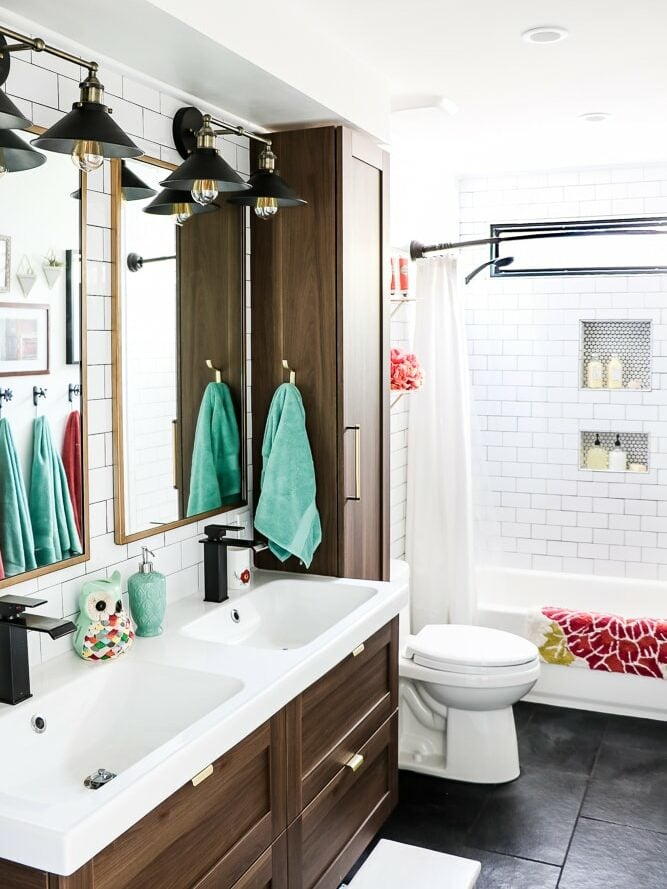 We didn't have the time or budget to install brand-new floors in our girls' bathrooms, so we got creative and updated their outdated tile floors with tile stickers. Tile stickers are incredibly durable and waterproof, so they are a great option for updating tile on a budget. You can see how ours are holding up over a year later and learn all about tile stickers here. I'm a HUGE FAN.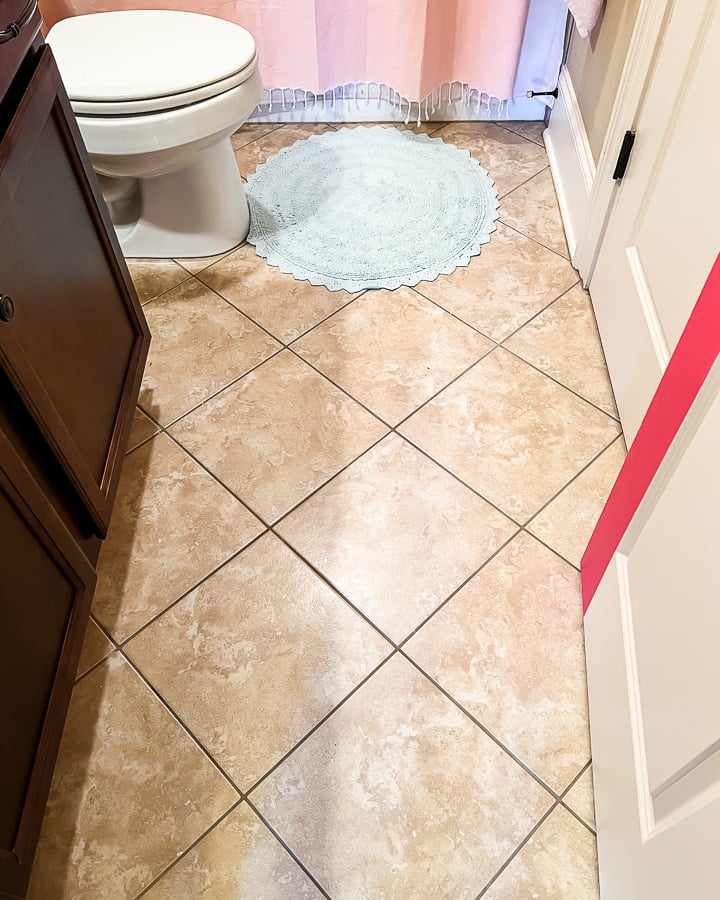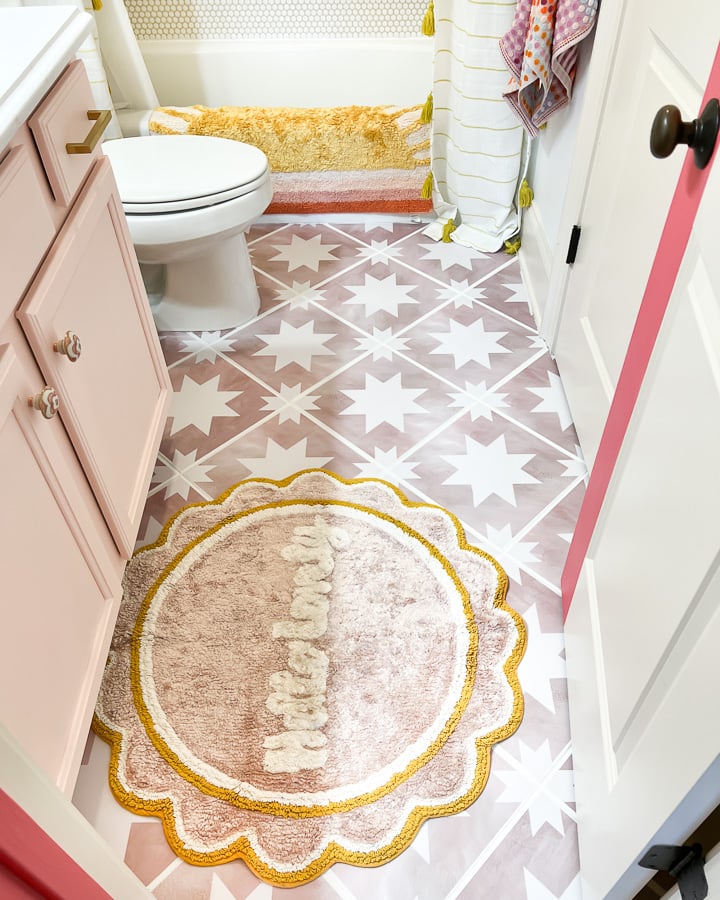 Hide An Outdated Shower with Full-Length Curtains
We didn't have the budget to do anything about the outdated brown tiles in our daughter's shower, so instead, we "hid" it with long curtains. I hung these 9-foot curtains (yes, they are regular window curtains) on each side of her shower and this 9-foot shower curtain in the middle. Everything hangs together on a single curtain rod that is mounted using inside mounting brackets. The result is that we really don't see the tile unless we are in the shower. It's the perfect way to hide an outdated shower!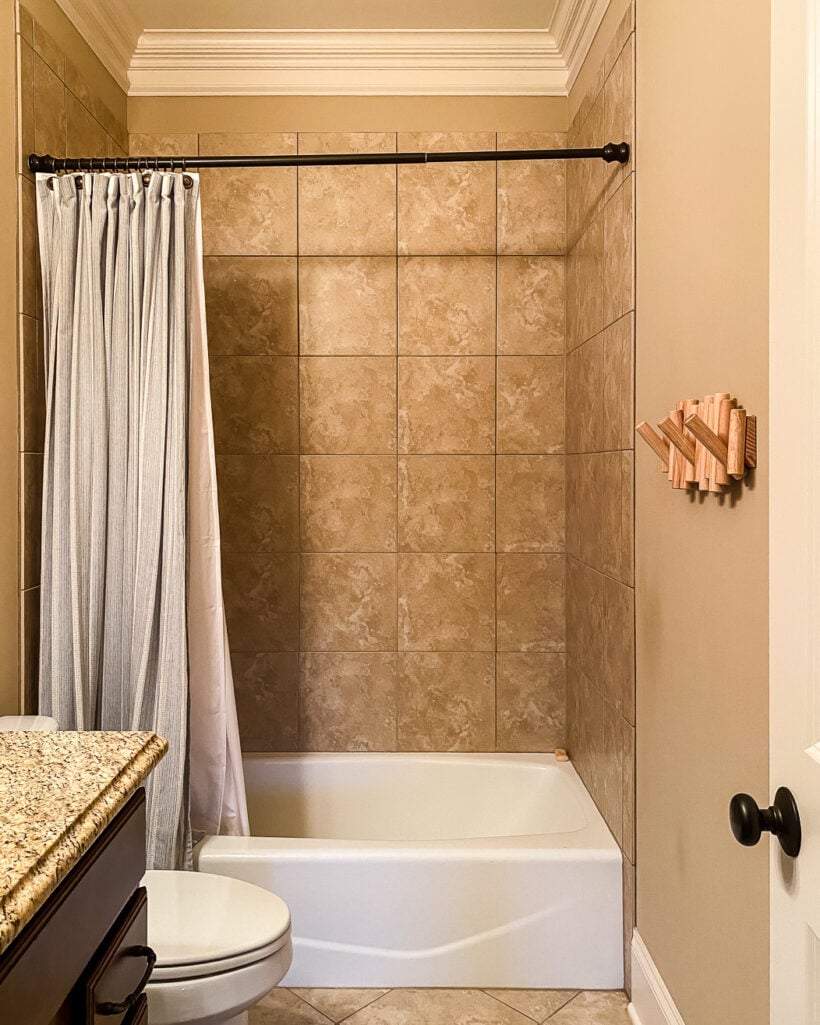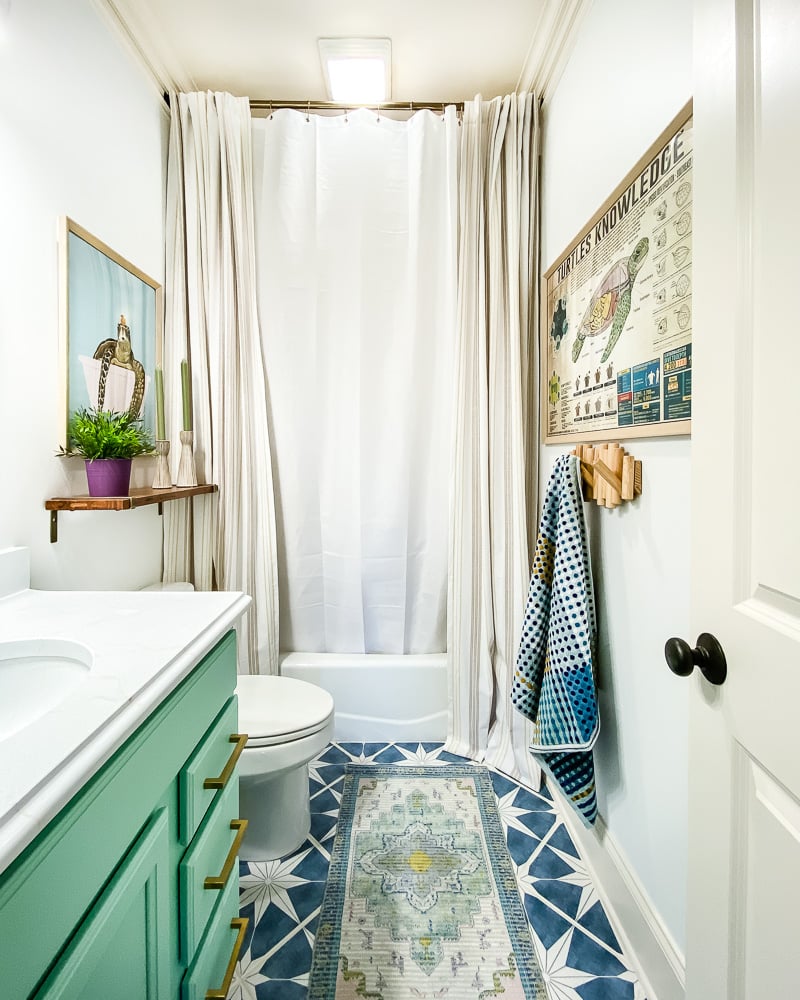 Paint Your Walk-In Shower Doors
So what can you do with outdated shower doors? Turns out, you can give them a fresh, modern look pretty easily. All you need is some paint and wood to totally transform your outdated sliding glass shower door. You can find the detailed tutorial from The Pauper's Castle here.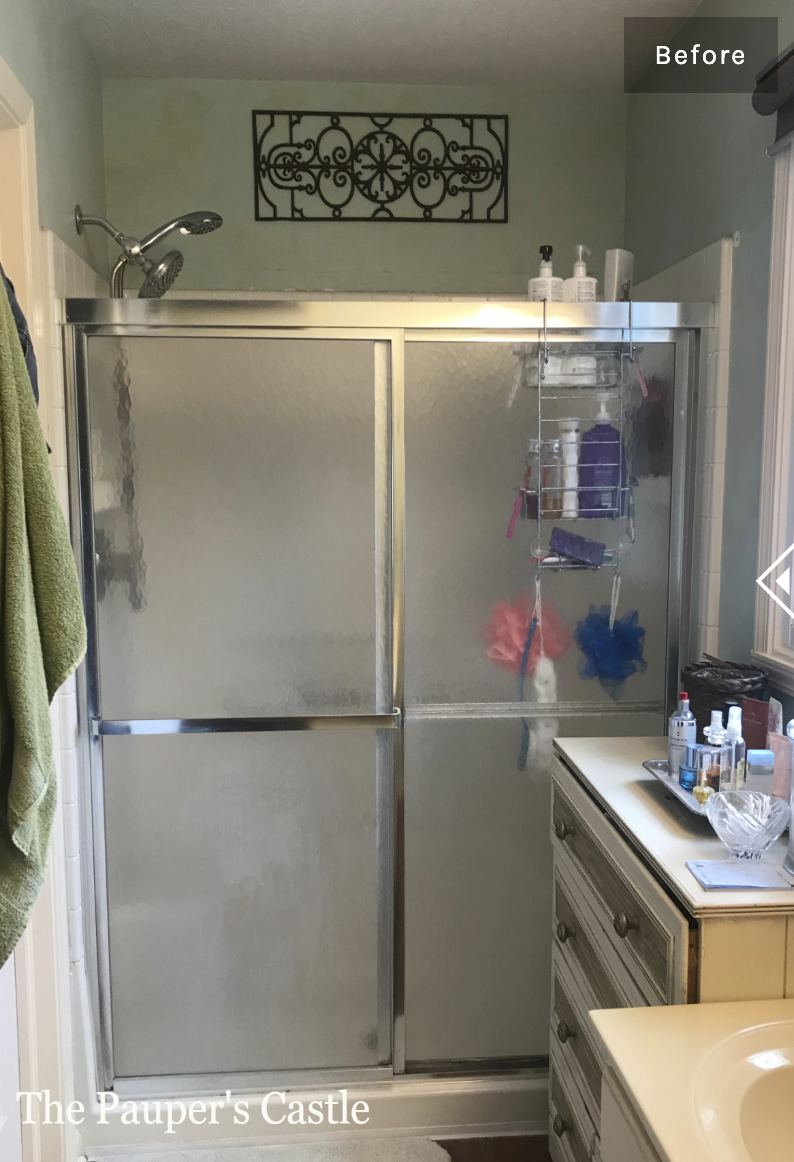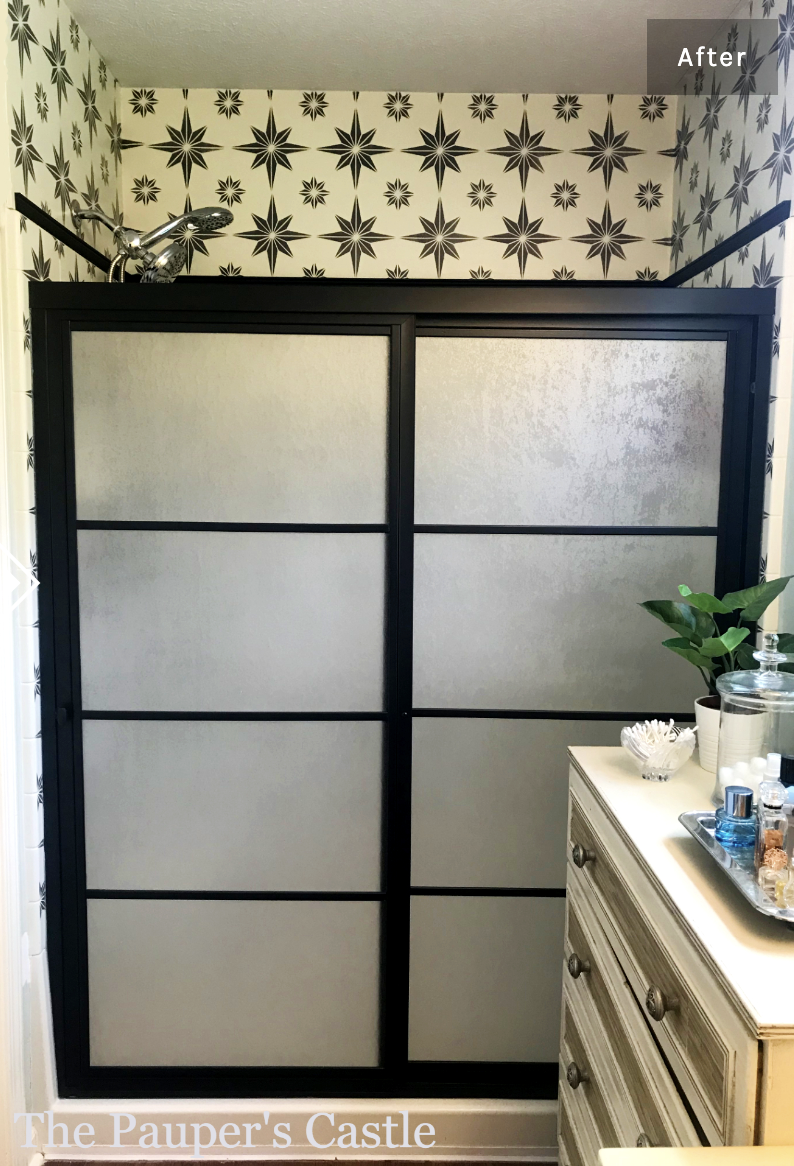 Paint Your Shower Tiles
If you're looking for an inexpensive way to update your shower, consider painting the tiles yourself. This DIY project can give your shower a fresh, new look without the expense and hassle of a full remodel. Be sure to clean your tiles thoroughly before painting, and follow the manufacturer's instructions carefully for the best results. With a little bit of time and effort, you can transform your shower into a beautiful and updated space.
There are specially formulated paints available that are designed for use in moist environments like a shower, and they come in various colors. Check out our full tutorial on how to paint shower tiles white. See that photo below? Yep, those shower tiles are painted with a specialty kit. They used to be BROWN.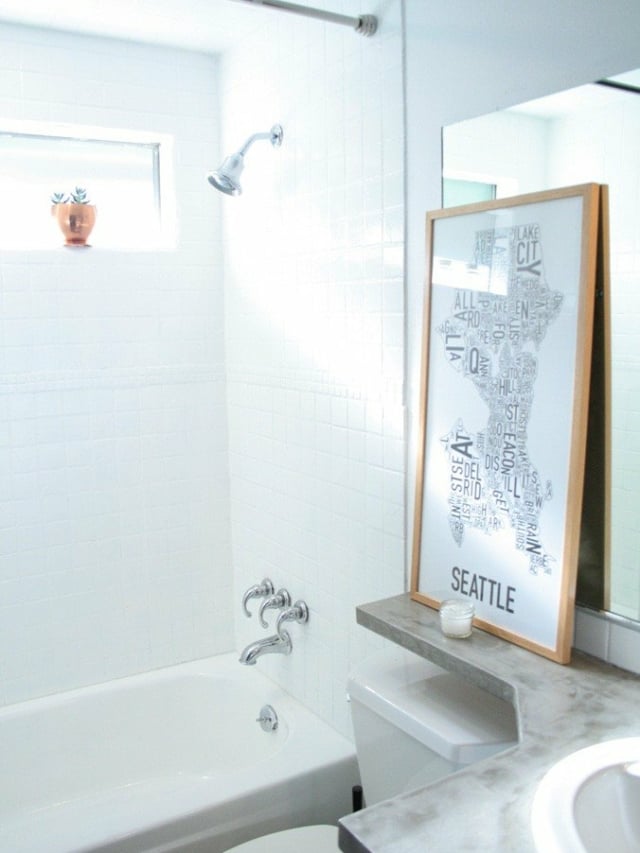 Tile Over Existing Tile
Are you tired of the outdated tiles in your kitchen or bathroom? Is it time to refresh your space but you are intimidated by the thought of removing the old tiles? Good news… sometimes you can tile over tile without the hassle and expense of removing the old tiles first! Check out my post on how to tile over tile to learn about when tiling over existing tile is a good option (spoiler alert–it usually isn't) as well as a step-by-step tutorial for how to do it!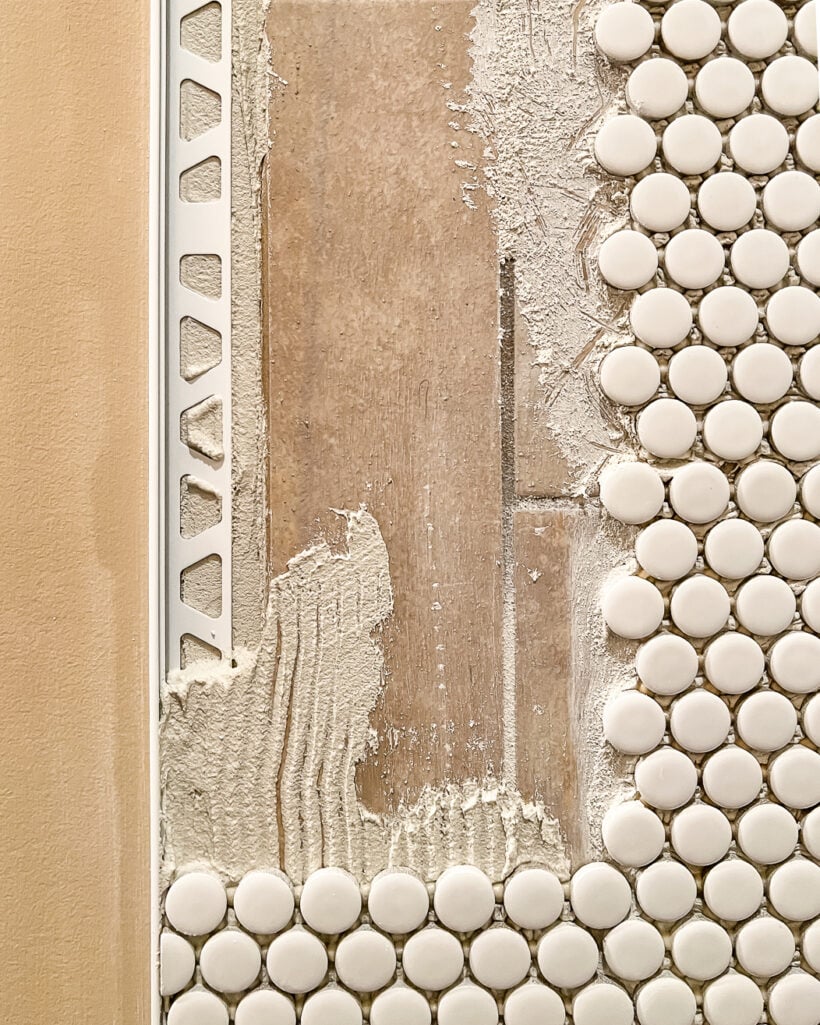 Focus on Changes that Don't Require Demolition
Don't underestimate the power of paint and décor. Using accessories and décor items can personalize your bathroom and make it feel more like your own. Consider adding shelving, artwork, mirrors or other items that can add both style and functionality to your space. We totally transformed our old master bathroom without any demolition by painting the walls and double vanity, installing new lights and adding lots of decor. The new decor included a rug to help detract from the outdated brown floor tiles.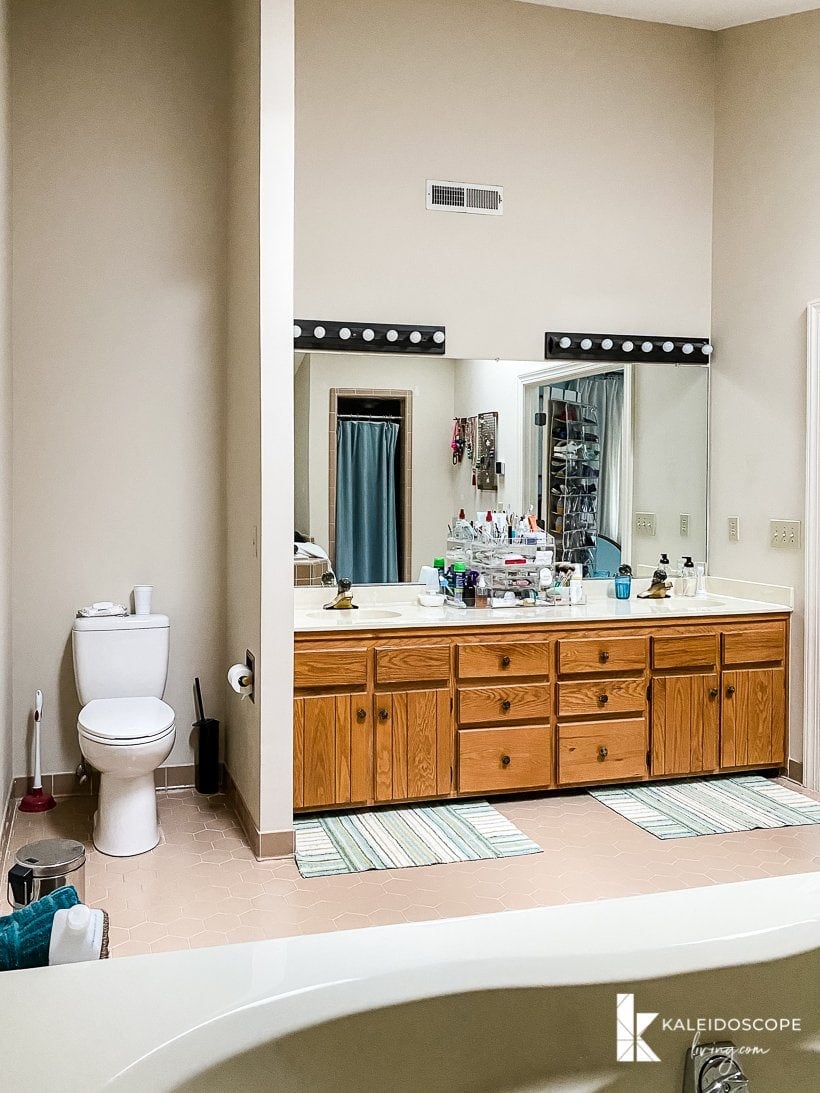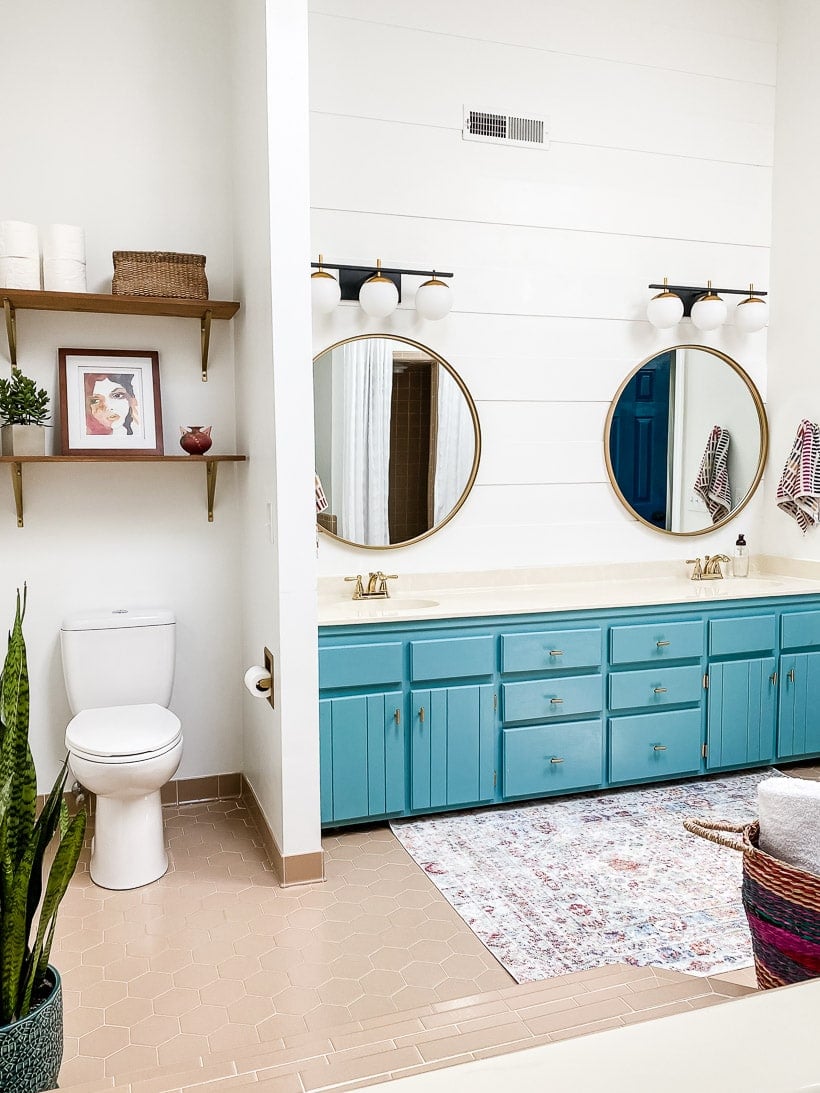 Refinish Your Tub & Tub Surround Instead of Replacing Them
Refinishing your bathtub can be a great alternative to replacing it altogether. We had the tub and the tile surround in an outdated bathroom of our third home reglazed and were thrilled without how it turned out. Not only does it save you money, but it can also be a more environmentally friendly option. Reglazing involves cleaning and sanding the surface of your tub, then applying a new coating to give it a fresh new look. This process can be done by a professional, or you can do it yourself with a bathtub refinishing kit. Keep in mind that reglazing is not a permanent solution, and you may need to repeat the process every few years to maintain the finish. Nevertheless, it can be a great option for those looking to update their bathroom without the cost and hassle of a full remodel.
Install Your Own Toilet
Installing a new toilet may seem daunting, but it is a project that most DIYers can tackle with the right tools and patience. And a brand-new toilet can go a long way in making a tired bathroom look fresh and updated. Check out our full tutorial for how to install a new toilet here.
I hope these DIY bathroom remodel ideas have shown you creative ways to save money as you renovate your own bathroom! Remember, some of the most impactful changes you can make in a bathroom can be DIYed by YOU! So roll up your sleeves, grab some tools, and let the fun begin!
Our 5 DIY Bathroom Remodel Projects
If you have read this post and want more details about the bathroom makeovers and remodels we have done ourselves (including finding sources, etc.), you can find them below:
Wondering how I approach transforming rooms and spaces in our home? Check out Designer in a Binder®.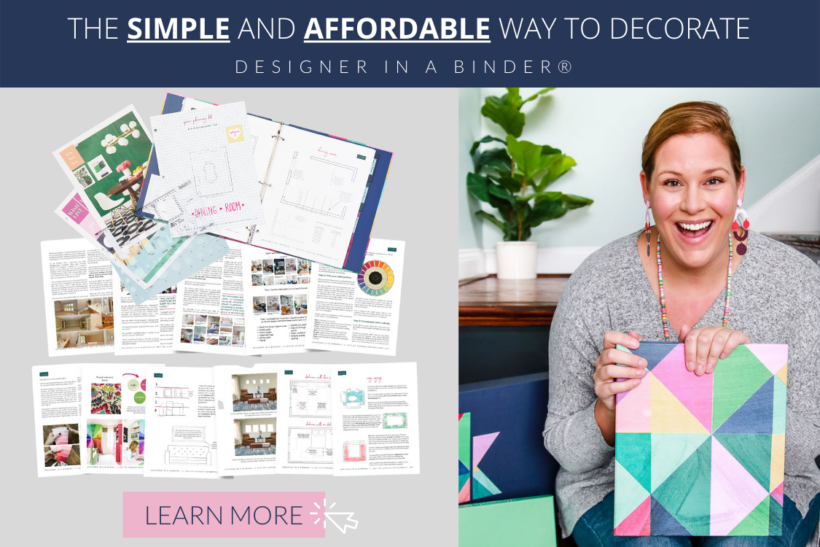 And if you want exclusive content and behind-the-scenes sneak peeks, be sure to subscribe before you head out!