How to Paint Kitchen Cabinets the Easy Way (2 days, no packing)
Last Updated on June 22, 2022
Want to know how to paint kitchen cabinets the easy way that will get you professional-looking results that LAST? This DIY painting kitchen cabinets tutorial is the one you have been waiting for.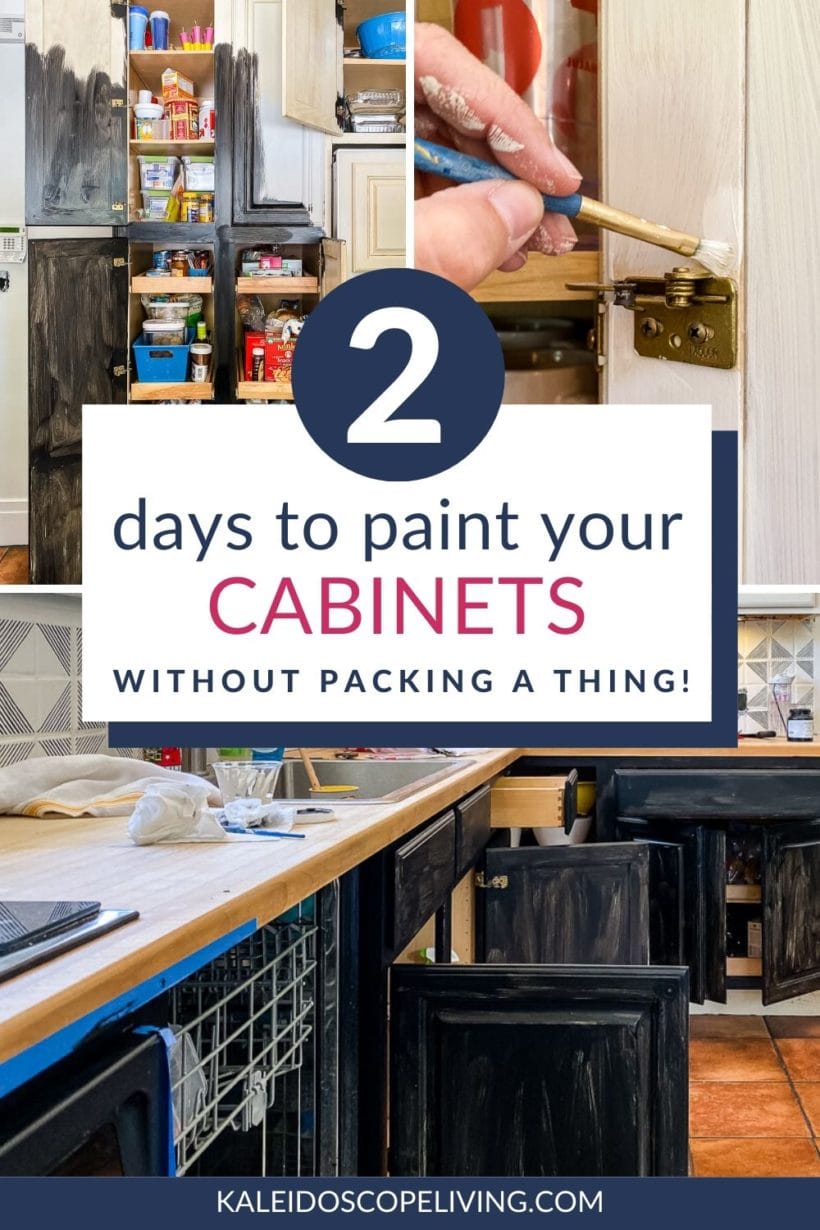 Y'all have been patiently waiting for this tutorial, which I appreciate! We finished Thea's $997 full kitchen makeover back in October, and that included transforming her kitchen cabinets with paint. And y'all, it was the easiest kitchen cabinet painting EVER. The reason I know that is we painted our own kitchen cabinets without sanding or priming about 7 years ago. Well, I'm here to tell you that Thea's DIY kitchen cabinet painting was even easier! So excited to share this with you!
This post contains affiliate links for your convenience. Click here for my full disclosure policy.
Now, a bit of background. We absolutely could have used the method of painting kitchen cabinets without priming or sanding that we used in our own kitchen to paint Thea's kitchen cabinets. And I was tempted to! We knew how well the General Finishes Milk Paint and High-Performance Topcoat held up. They looked perfect in our kitchen even after 6+ years of heavy use.
BUT, since I had already shared that kitchen cabinet painting method with you years ago, I really wanted to try some different products so I could share another really easy and effective way to paint your kitchen cabinets with you.
So I did a lot of research on the best paint for kitchen cabinets. A lot. And we ultimately decided to use Fusion Mineral Paint (you can save 10% with coupon code AFFMP10 at checkout!) and topcoat products to transform Thea's cabinets. And it is my new favorite method to paint kitchen cabinets!
If you have wanted to paint your kitchen cabinets, but are worried that it is too hard or will take too long, this is the tutorial for you. I'm telling you, this is WAY MORE DOABLE than you think it is. And you absolutely can get results that will last for years and years (though professional painters will try to convince you otherwise). You can watch an overview of how easy this project is below.
Thea's cabinets were solid wood and were in pretty good shape, they just needed some new paint and hardware (and some hinges needed to be tightened). This is a close-up of what they looked like before. They were a creamy beige color that Thea didn't like at all.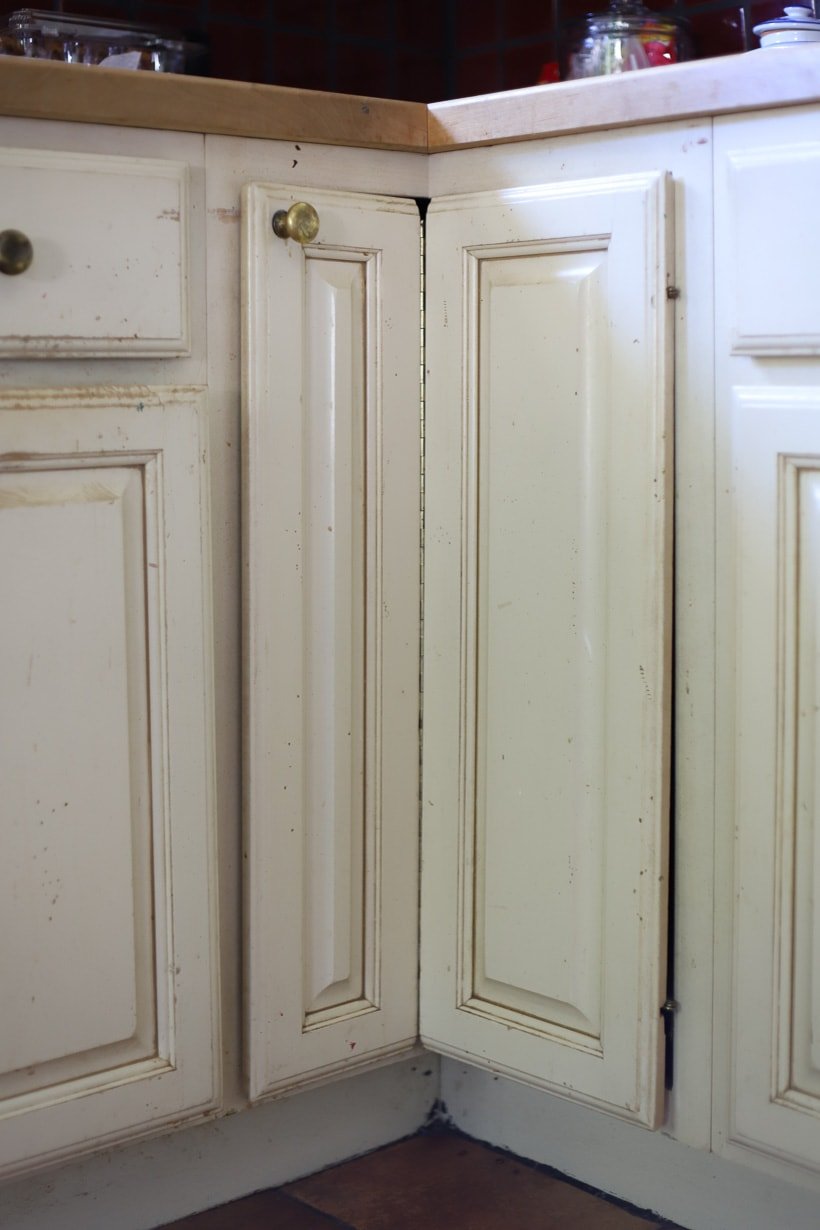 Check out the full tutorial below!
The Easiest Way to Paint Kitchen Cabinets Tutorial
Materials Needed
T.S.P. (trisodium phosphate)
Fusion Mineral Paint (save 10% with the code AFFMP10 at checkout)

We used (3) 500 mL/1 pint containers of Coal Black for the lower cabinets and (1) 500 mL/1 pint container of Raw Silk for the upper cabinets.
You can learn about how Fusion Mineral Paint is made here.
You can see the color options here.

Sandpaper and electric sander (optional–you can hand sand if you don't have an electric sander)
Paint brushes, including a small detail brush
Fusion Mineral Paint Tough Coat

We used the matte finish, but it also comes in gloss. One container should be plenty.

Hemp Oil (one container should be plenty)
Tack cloth
Old t-shirts/rags
Steps
A few notes before we dive in. We did not pack up a single thing in Thea's kitchen, nor did we remove any of the cabinet doors or drawer fronts. If you have hidden hinges (like Thea) OR do not want to paint or change your existing hinges, I highly recommend that you leave the doors and drawers on. This project moved SO QUICKLY by leaving everything in place, and the results were perfect.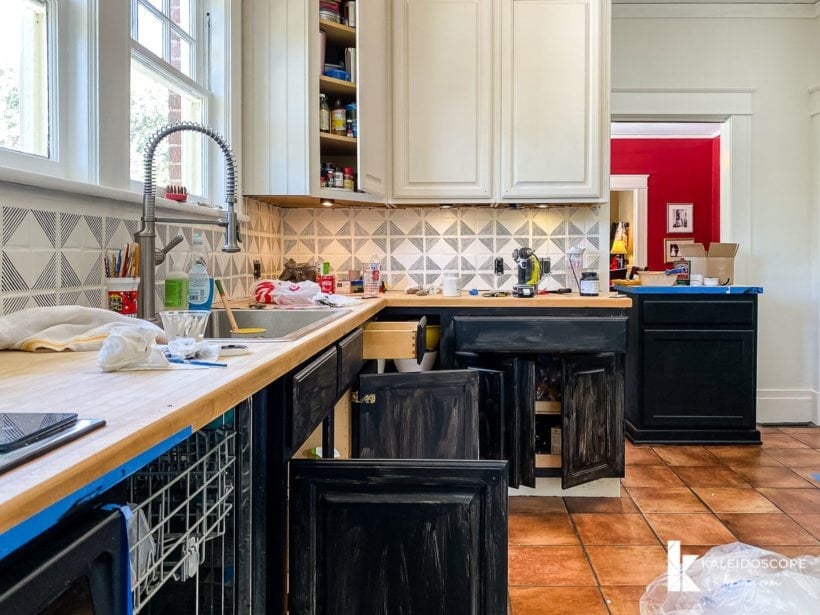 You can watch the video below to walk you through each and every step of the process. Or if you prefer to read the written tutorial, just scroll past the video!
Step 1: Remove hardware & clean your cabinets.
First, remove all your cabinet hardware and clean your cabinets using T.S.P. Just follow the instructions on the bottle. It's super easy and shouldn't take you more than an hour. It will help remove any grease and grime from your cabinets.
Step 2: Lightly sand (shouldn't take more than 30 minutes)
Next, you are going to quickly and lightly sand the surfaces of your cabinet frames, drawer fronts and doors. The light sanding we did took around 30 minutes–it was faster than the cleaning. You do not need to sand the existing finish off or get down to bare wood! You just need to rough the surface up and that is quick and easy to do! Do not make this step harder than it is. We used this palm sander for the job, but you can sand by hand if you don't have one! When you are done, be sure to wipe all the dust off the cabinets with tack cloth.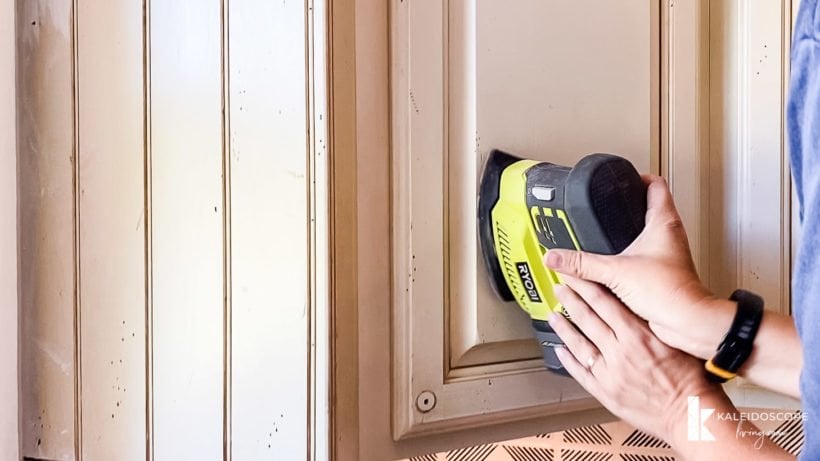 Step 3: Paint (that's right–you don't need to prime)
You are ready to paint! That's right. You do NOT need to use primer on your cabinets before painting. That's because this paint has excellent adhesion and is super durable (it's a very different type of paint than latex paint). We chose it because Thea's family will put a lot of wear on these cabinets, so we wanted something that would hold up to everything they can dish out!
We started by sampling someFusion Mineral Paint color options (when you order directly from Fusion Mineral Paint you can save 10% with coupon code AFFMP10 at checkout). We ultimately decided on Raw Silk for her upper cabinets and Coal Black for her lower cabinets and pantry cabinetry.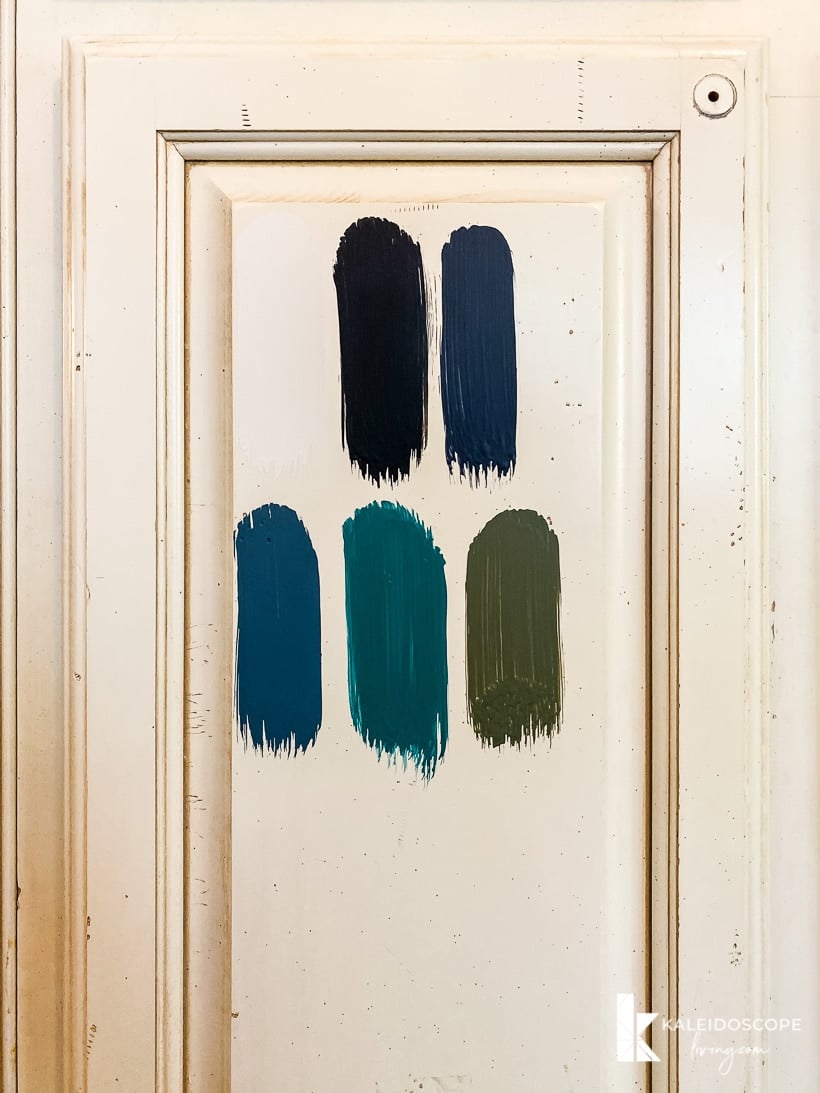 The Fusion Mineral Paint is easy to work with–it may be a bit thinner/runnier than some paints you've used, but the coverage is EXCELLENT. There are minimal (if any) brush strokes. It's incredible. We got the first coat of paint on the upper and lower cabinets done in just a few hours. We used a small foam roller for the flat surfaces and a brush to get in the ridges created by the beadboard and raised panels. We completed the entire first coat and most of the second coat in one day. We had some additional cabinets to second coat on day 2. The photo below shows the difference in coverage from the first coat to the second coat.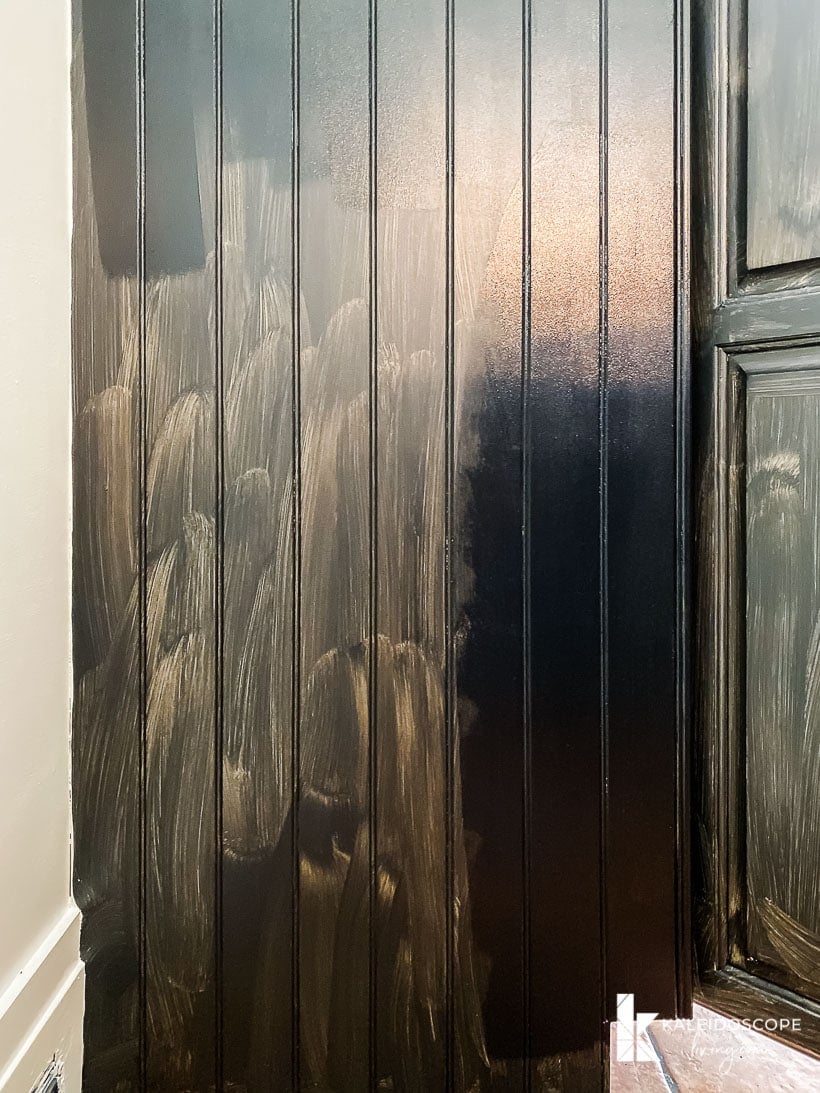 Step 4: Apply your top coat (it's quick and easy)
Once you have full coverage (which should require no more than 2 coats!), allow the paint to dry. Once the paint is fully dry, you are ready to give the paint a bit of protection with either a topcoat or hemp oil. We used Fusion Mineral Paint Tough Coat on the upper Raw Silk cabinets. But that product can leave a bit of a milky haze on dark colors.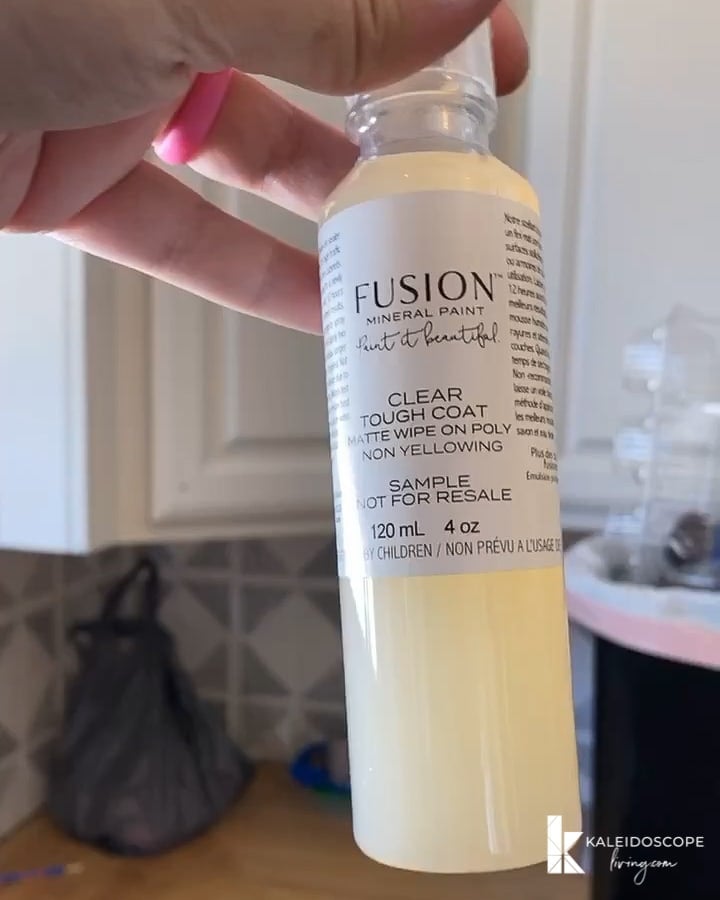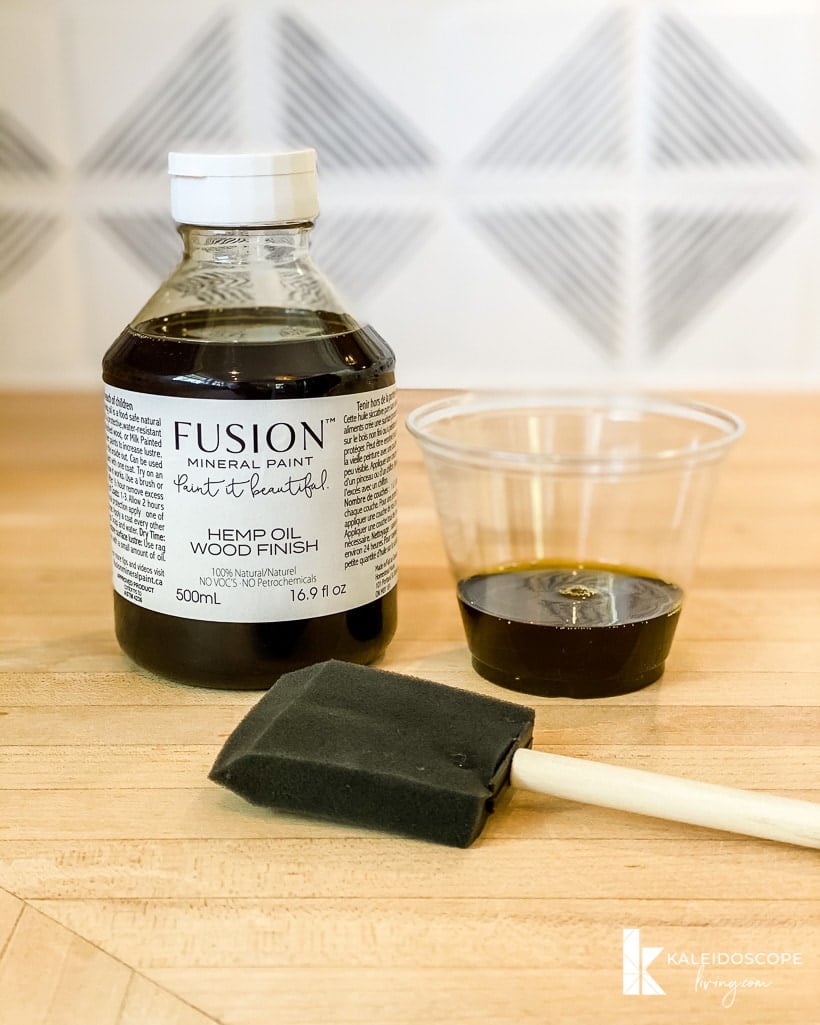 Step 5: Replace your cabinet hardware.
Once your topcoat of choice dries, you can replace your cabinet hardware. We added inexpensive new hardware to Thea's cabinets–we chose these gorgeous and inexpensive knobs.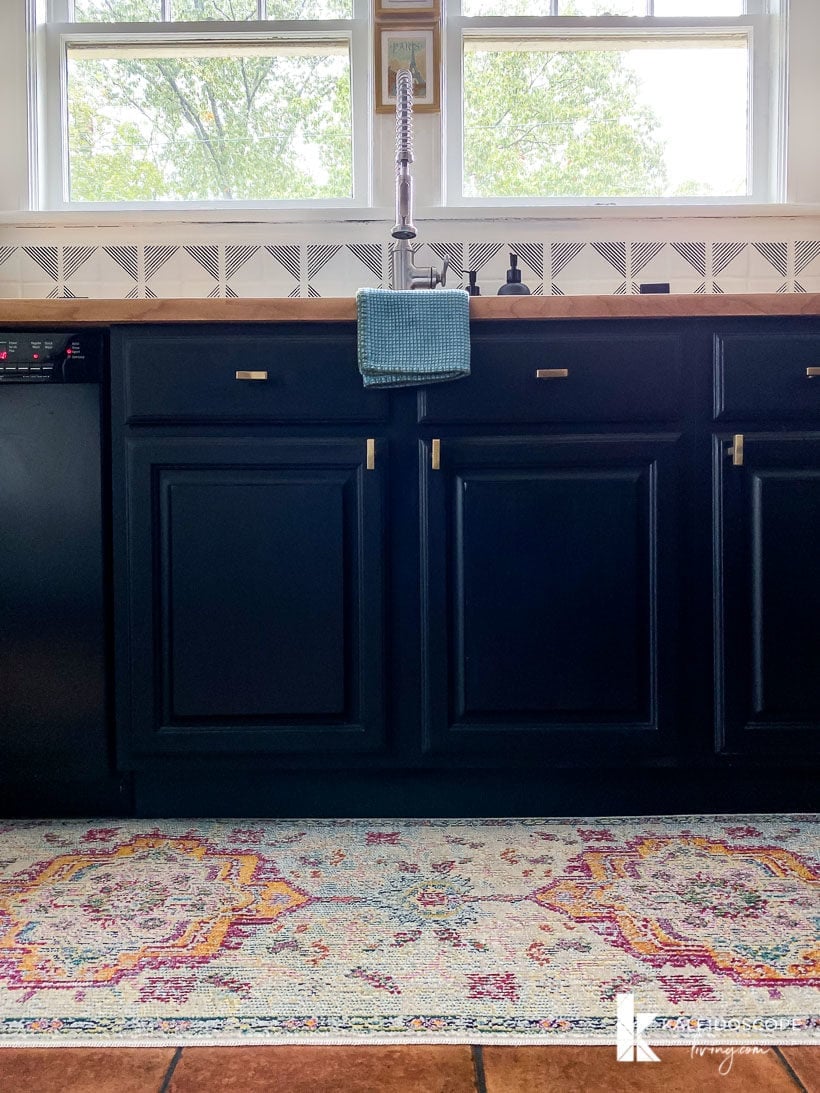 How long did this easy cabinet painting method take us?
It took us only 2 days to paint and seal Thea's cabinets. And those weren't full days of cabinet painting. I'm telling you, this MOVES REALLY QUICKLY! Your kitchen will be back up and running in no time! Take a look at some of the before and after photos!
Other posts you may enjoy: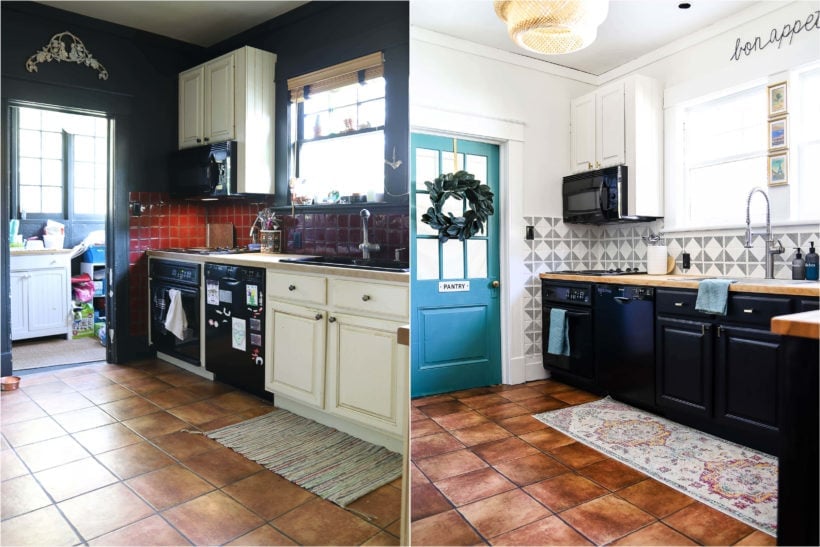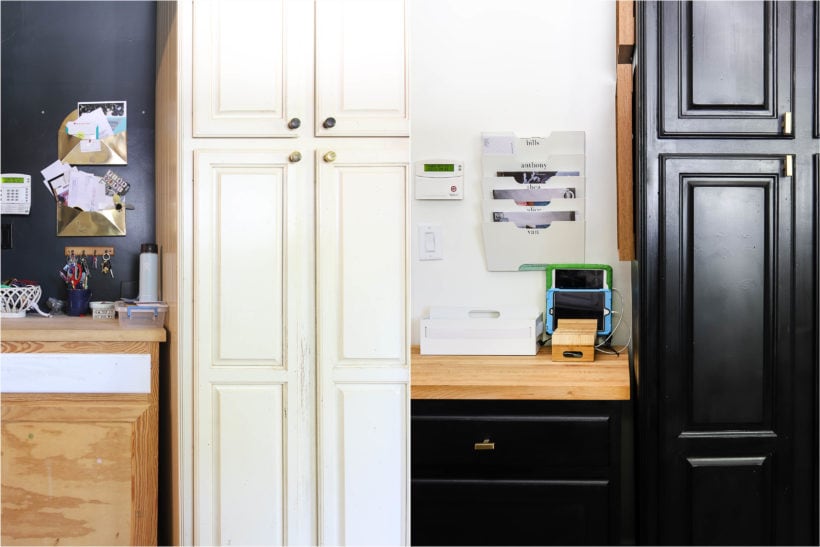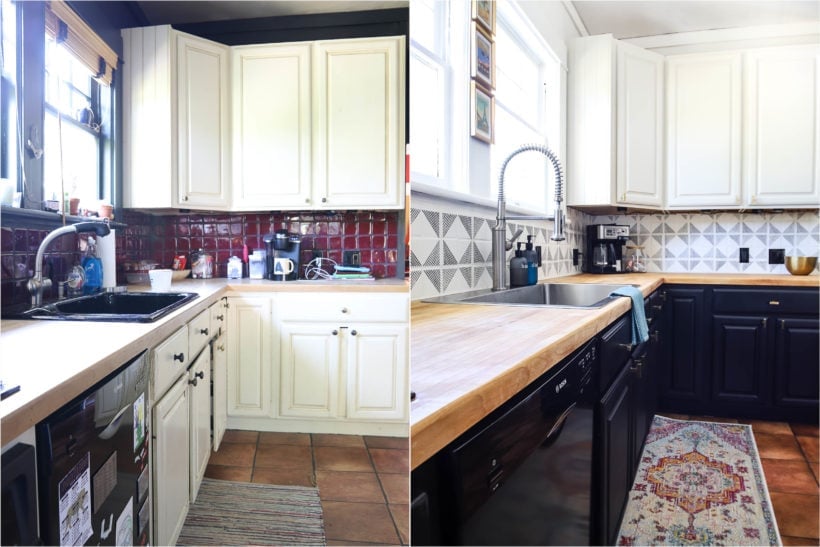 You can see Thea's full kitchen makeover that we did for only $997 (including all the accessories, rug, etc.) HERE. And be sure to check out how we painted and stenciled her backsplash tile here–it's AMAZING!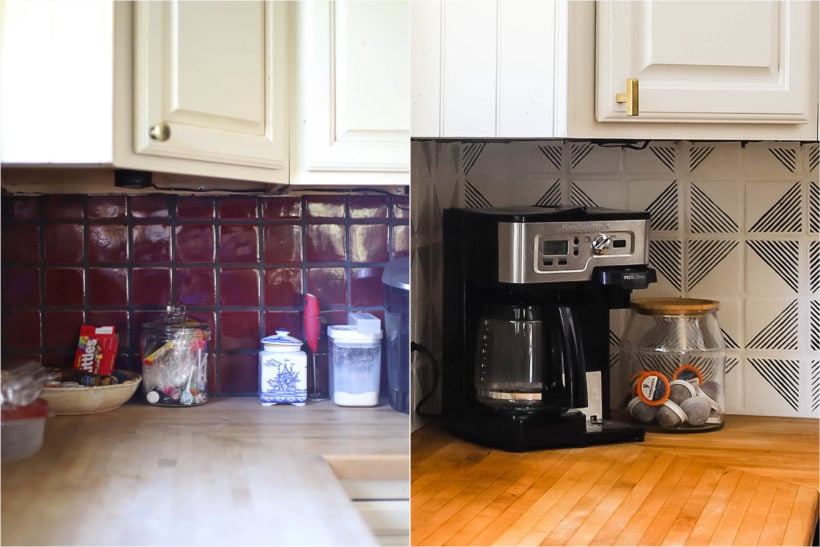 Other posts you may enjoy:
Wondering how I approach transforming rooms and spaces in our home? Check out Designer in a Binder®.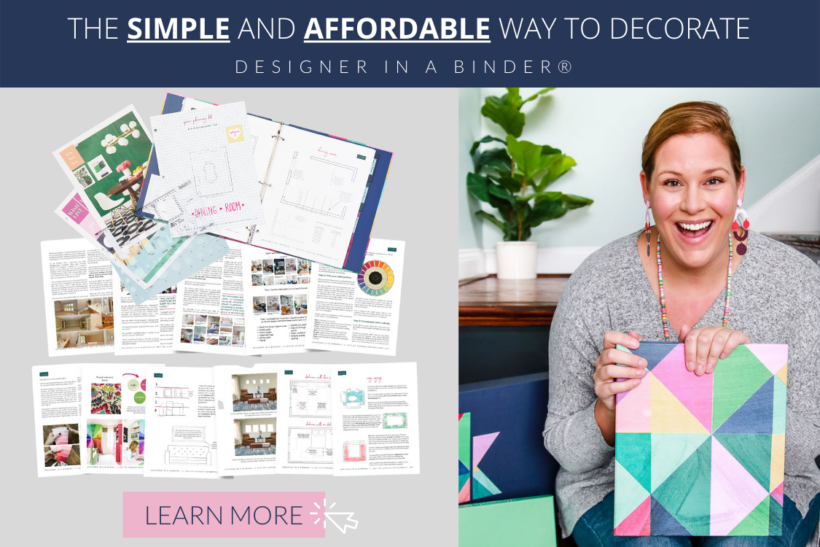 And if you want exclusive content and behind-the-scenes sneak peeks, be sure to subscribe before you head out!