Cute Bathroom Signs for Your Doors & Walls
Decorating your bathroom can be a fun and easy DIY project, no matter your style. And one of the best ways to personalize your bathroom is with cute bathroom signs on your doors and/or walls. I've rounded up the cutest and most stylish bathroom signs that are sure to add personality to your space!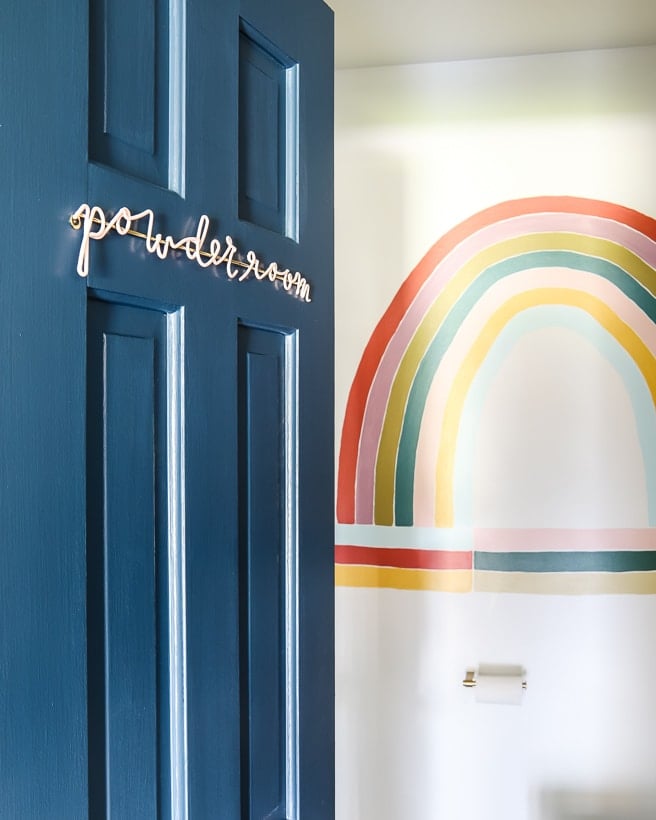 I'll admit it. I'm a sucker for a bathroom sign and I really don't know why, other than they are cute, fun and just a tad bit whimsical. And for powder rooms, they also have the added bonus of helping your guests find the bathroom easily. When we completely renovated the powder room, I repainted the door navy blue and added an adorable metal powder room sign. It was black, but I painted it a pale pink and was absolutely smitten with it (it is pictured above).
I still get asked about that powder room sign all the time, so I figured it was time for me to round-up some cute bathroom signs for y'all! That exact sign is no longer available, but I've found a similar option, don't worry.
This post contains affiliate links for your convenience. Click here for my full disclosure policy.
Bathroom Signs for Doors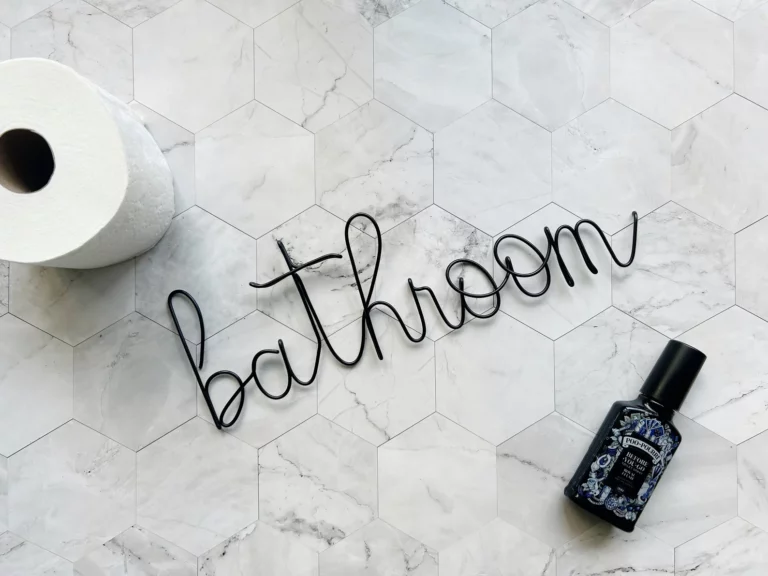 Wire Bathroom Sign
This cute sign made from wire is the closest I have found to the "powder room" sign on my door above. You can also place a custom order, so if you have your heart set on "powder room" that is totally doable! There's also a variety of colors available.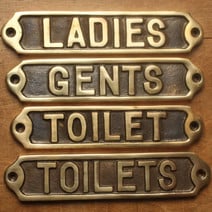 Solid Brass Door Signs
These solid cast brass toilet door signs are beyond charming. They are made from an original Victorian Railway pattern and cast using traditional methods used in the 1900s.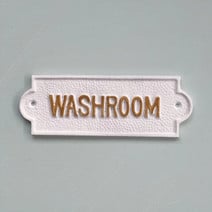 Washroom Door Sign
This vintage-inspired metal washroom sign would be adorable on any bathroom or powder room door! You can customize your sign to fit your bathroom decor by choosing gold or black text.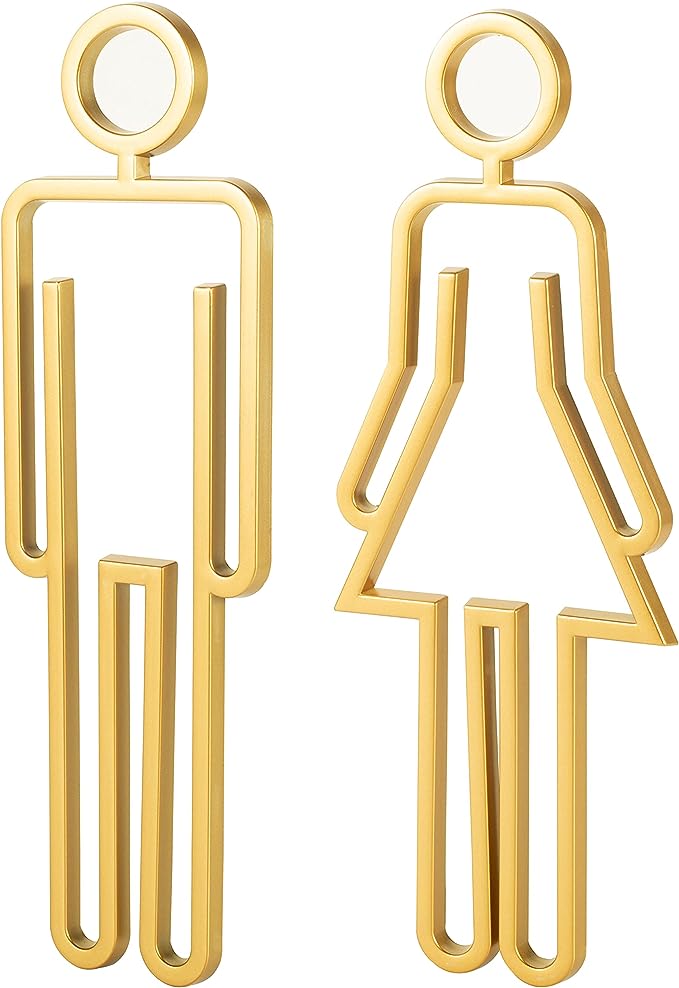 Acrylic Woman & Man Signs
I absolutely LOVE these acrylic bathroom signs! They come in gold, black or silver and are self-adhesive. They are meant for commercial bathrooms, but I think they would be magical used in a home!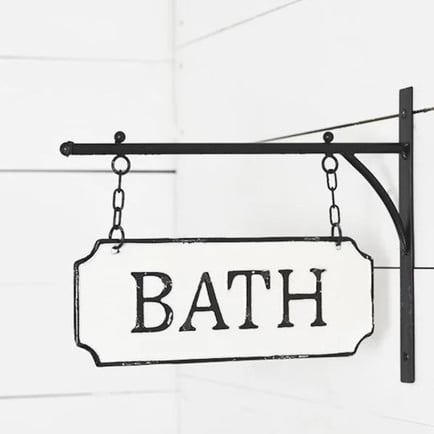 Hanging Bath Sign
If you don't want to hang a sign directly on your door, this hanging bath sign is so fun! It would be perfect in a hallway of multiple doors so there's no way a guest can confuse which one is the bathroom.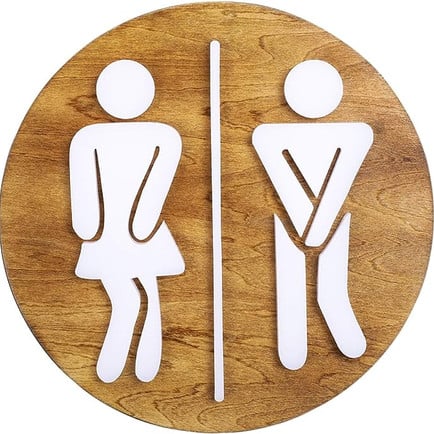 Funny Bathroom Door Sign
If you want a bathroom sign with a touch of humor, look no further. This bathroom sign of stick figures doing the pee-pee dance made me chuckle out loud. But it's not just funny, it's cute and stylish too. It also comes in black.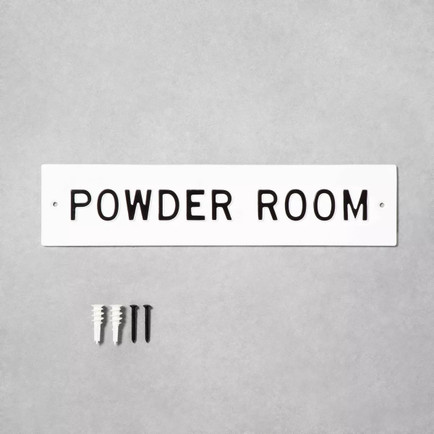 Classic Powder Room Sign
This simple black and white pressed aluminum powder room sign will compliment nearly any decor style. And it's classic design will never go out of style.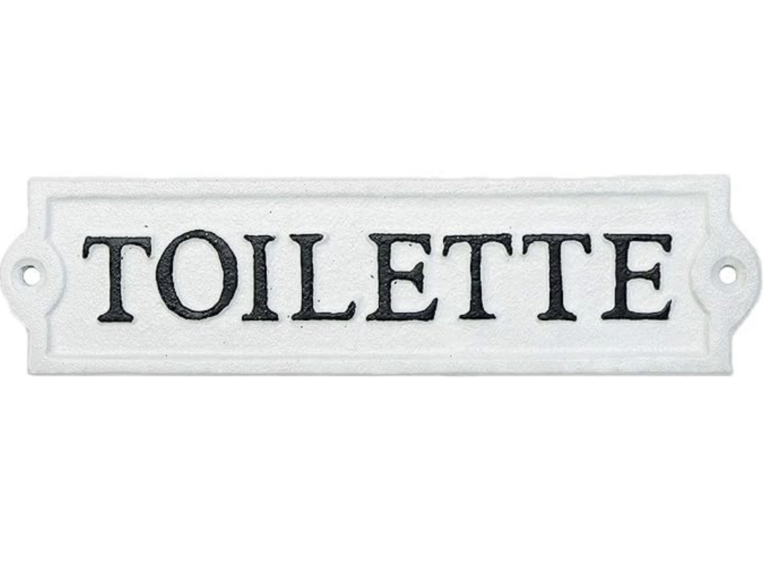 Toilette Sign
Another classic black and white bathroom sign, but this time with a french twist. This toilette sign is made from heavy duty cast iron, which adds to it's nostalgic feel.
You can find even more options for signs to hang on your bathroom or powder room door below.
Scroll and click on any image below for full product details

Bathroom Signs for Your Walls
Doors aren't the only fun place to hang cute bathroom signs. It can be hard to know what kind of art is appropriate to display in a bathroom, am I right? But bathroom signs are always appropriate! They are a great option for hanging on bathroom walls or leaning on a bathroom shelf.
Funny Bathroom Signs
A bathroom is one of the only rooms in the house where you can get a little cheeky with your decor. If humor is your thing, consider one of these funny bathroom sign ideas.
You can find even more funny bathroom sign options below.
Scroll and click on any image below for full product details

More Cute Bathroom Signs
If funny isn't your thing, there are plenty of other stylish bathroom signs to choose from!
You can find even more bathroom signs and art below.
Scroll and click on any image below for full product details

We have already tackled two DIY bathroom remodels in our current home and I can't wait to renovate the powder room in our current home. You better believe I will be including at least one or two cute bathroom signs when I do! I hope you feel the same way and that this post has helped you narrow down your search for the perfect sign for your bathroom. Happy decorating!
Wondering how I approach transforming rooms and spaces in our home? Check out Designer in a Binder®.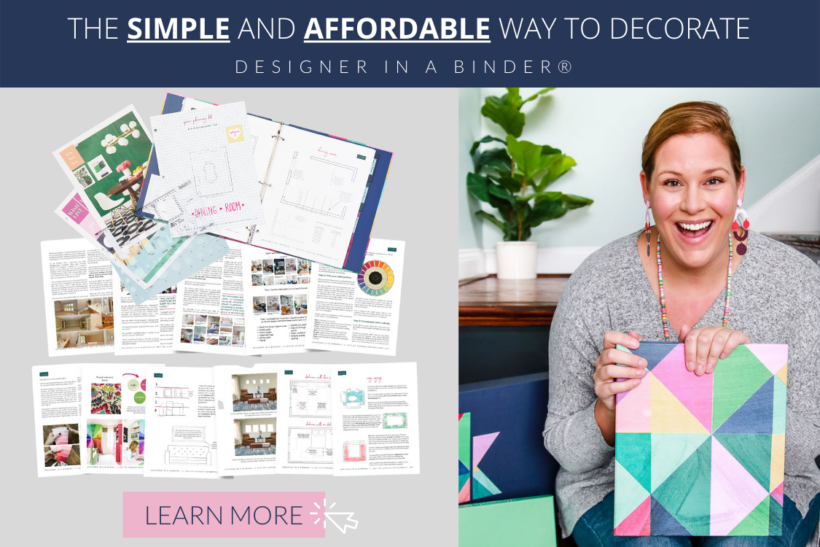 And if you want exclusive content and behind-the-scenes sneak peeks, be sure to subscribe before you head out!