Thea's Office Makeover Reveal!
Last Updated on March 3, 2022
Thea's office makeover reveal is finally here, and I think it will blow your socks off. We added function, color and interest without spending a fortune!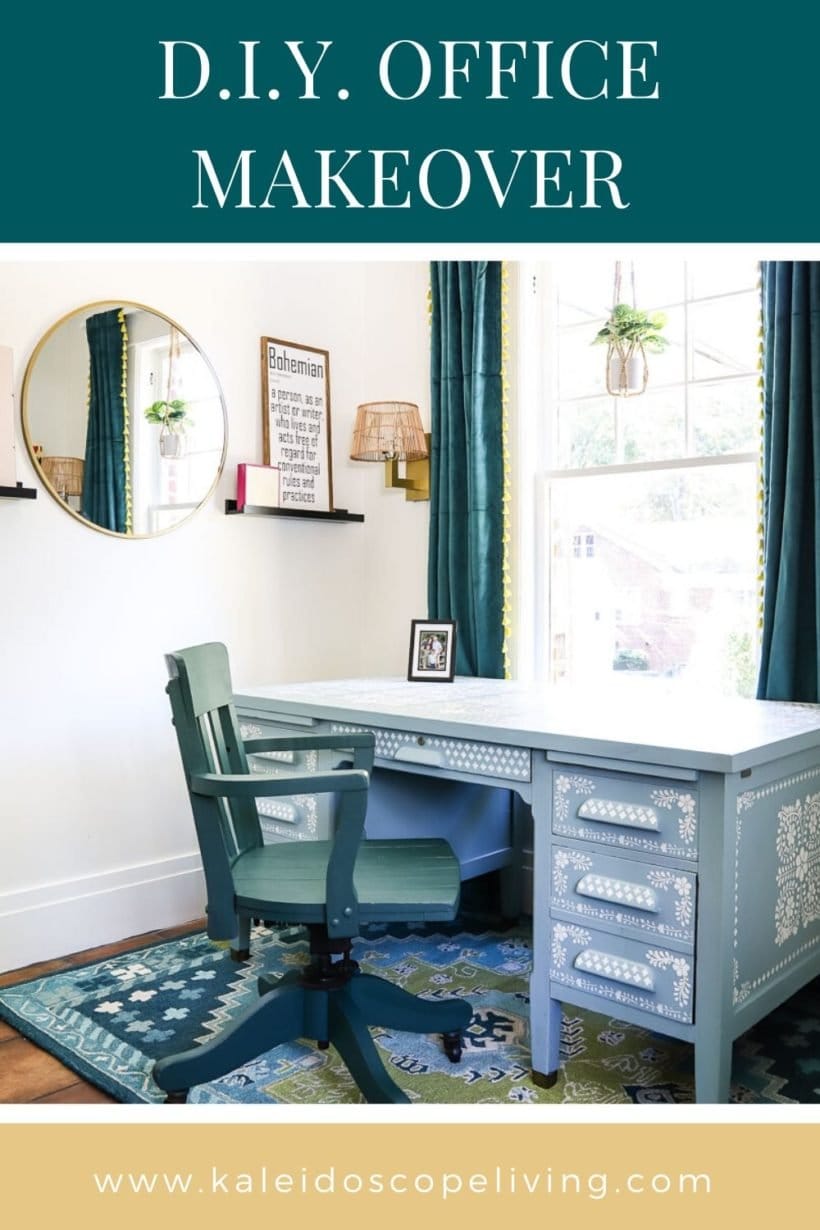 Yowzer… It has taken me FOREVER to get around to writing this post. And so many of you have been sweet to ask about it since we finished it way back in October. Thank you for your patience!!!! I hope you will think it was worth the wait :)
Our goal with Thea's office area (located in a "nook" of their kitchen, we which also gave a complete makeover for only $997), was to make it lighter and brighter, more functional and beautiful without spending a fortune. And I feel like we nailed it!
Now, since it's been FOREVER since we worked on this project, let me remind you what Thea's office area looked like before we got started. Prepare yourselves.
Thea's Office BEFORE the Makeover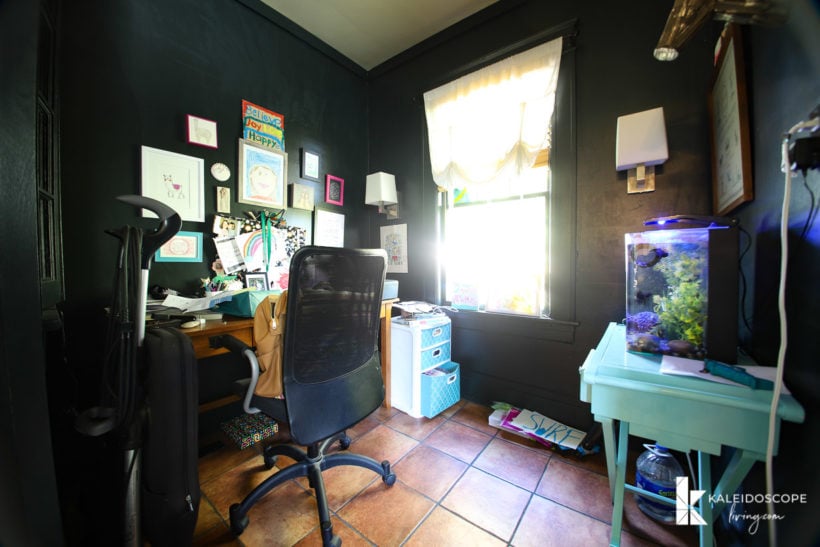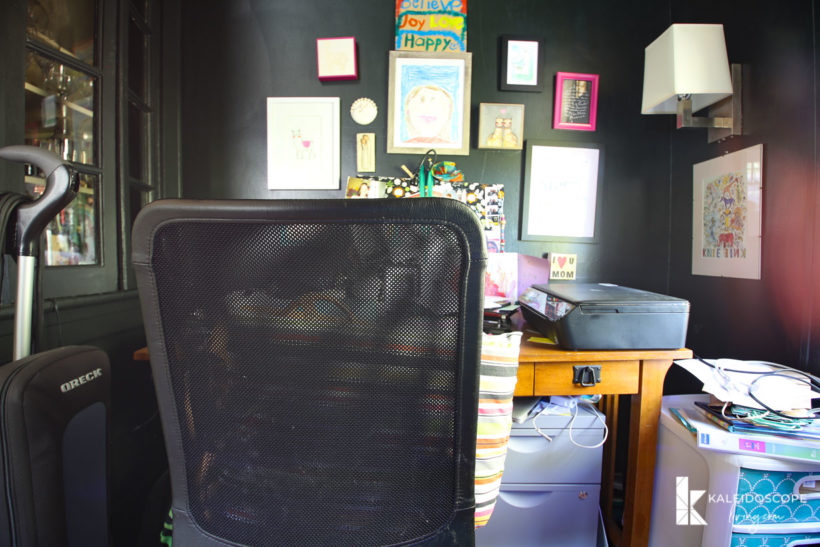 It was dark and kind of depressing. It was a hodgepodge of furniture that wasn't super functional, and the layout wasn't the best. Not only that, but this historic house had a super charming built-in cabinet (check out these easy IKEA built-in hacks if you want to create something similar in your house). You couldn't even see them before because the walls and trim were all painted a super-dark green color that looked black. Can you see it hiding over there to the left in the photo below? (You can also see the yellowish-beige color her cabinets were before we gave her whole kitchen a makeover).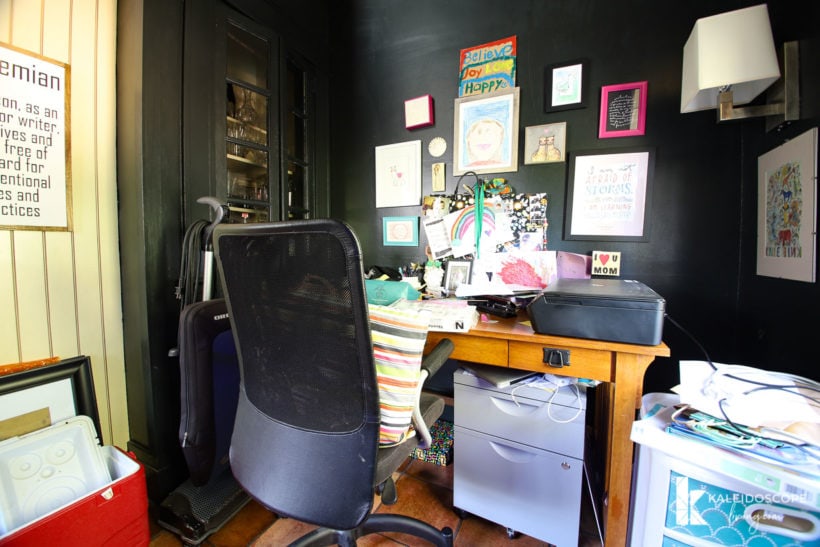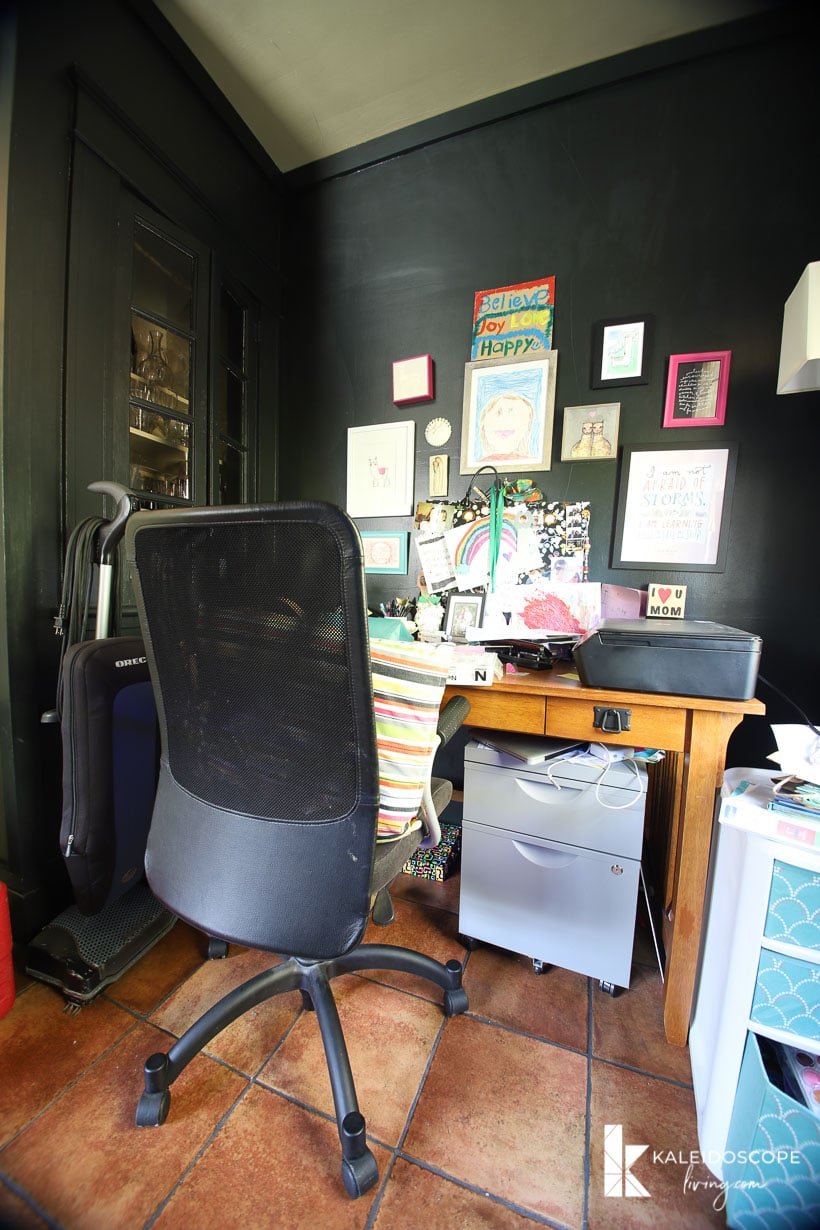 Since Thea is a dear friend of mine AND my content manager, I was super excited to give her an office makeover so that she would have a better space to work in!!!! Check out what it looks like after her office makeover! Before you ask, you can find a source list and paint colors at the end of this post :)
Thea's Office REVEAL
We painted the ceiling, trim and walls different shades of white and that alone transformed the space DRAMATICALLY. We also changed the orientation of her desk because it made more sense for the space.
Then we added color and texture by bringing in curtains and a rug and painted furniture. I bought the desk and chair on the Facebook Marketplace for only $150 and painted both. The tutorial for the bone inlay stenciling on Thea's desk will be coming eventually :)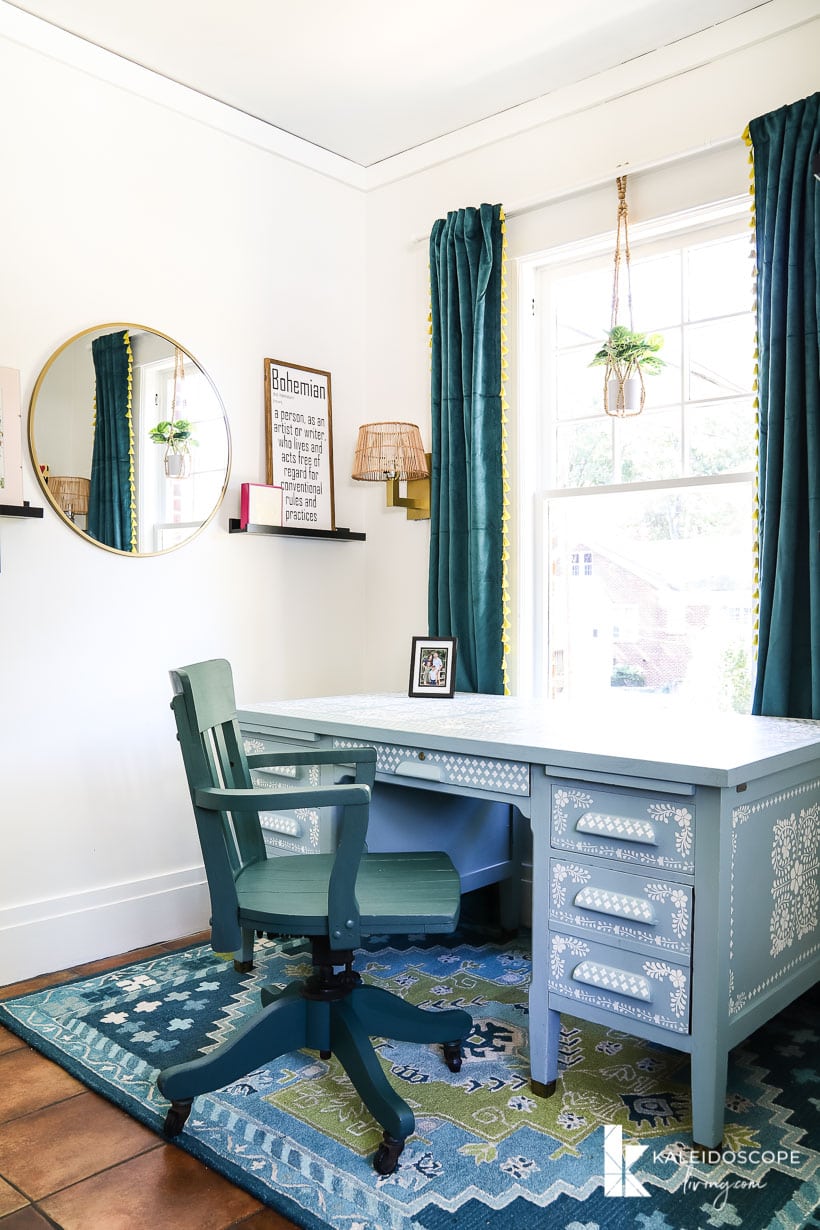 We painted the doors of the charming built-in a pretty aqua color so that it would stand out in the space. We used Thea's existing art, but gave it a bit more order and purpose by adding inexpensive photo ledges from IKEA.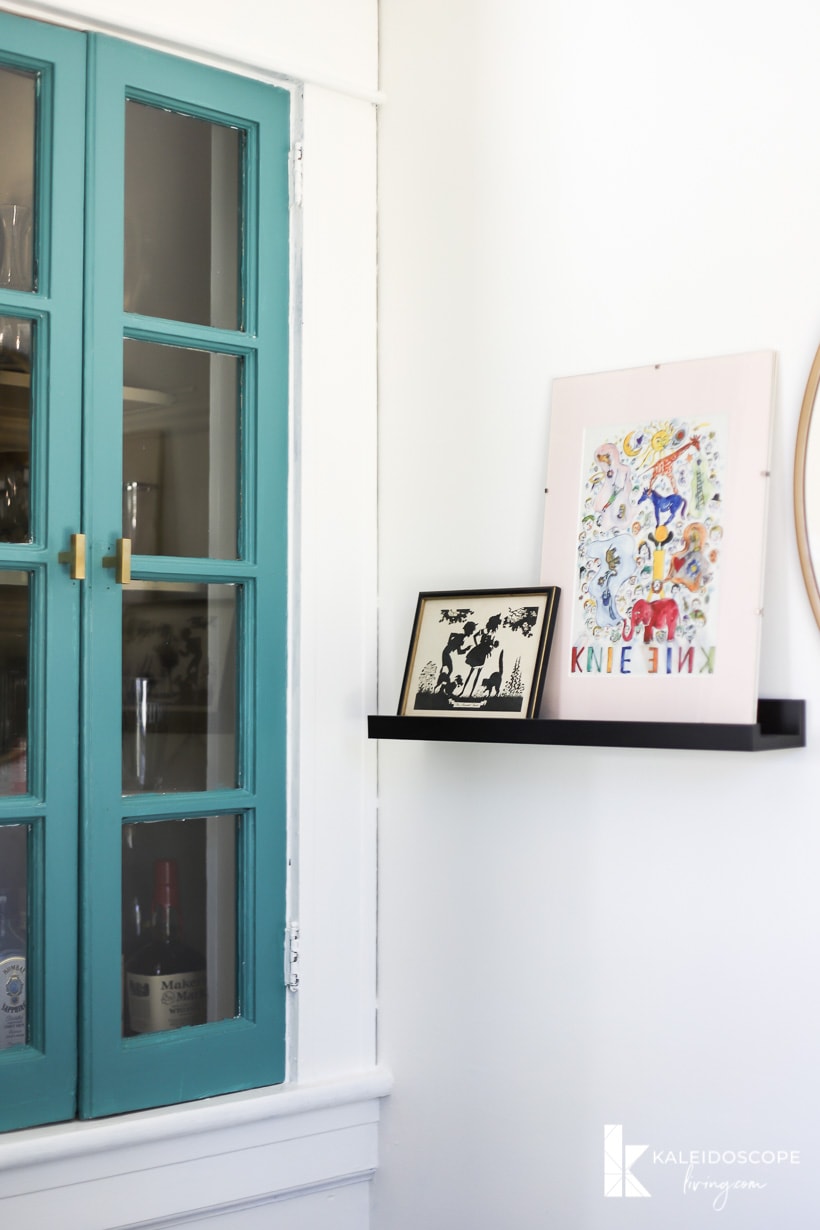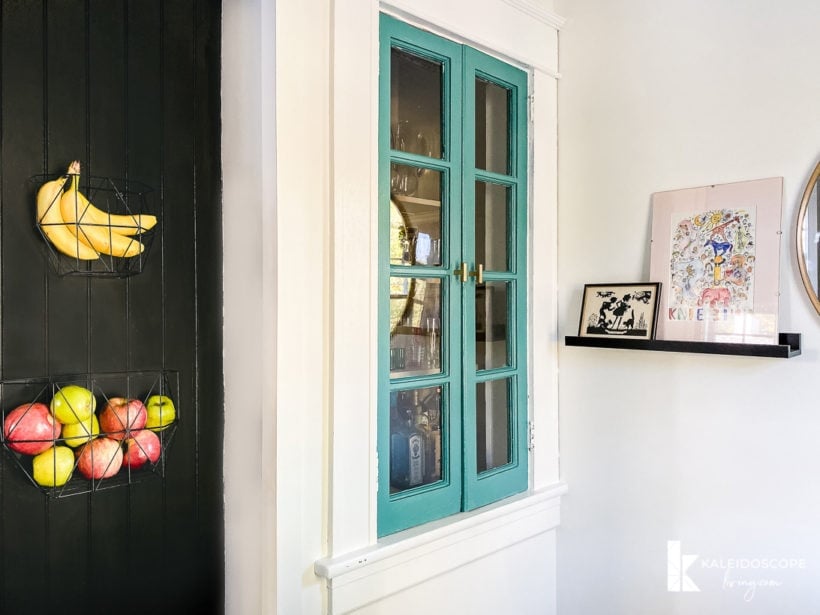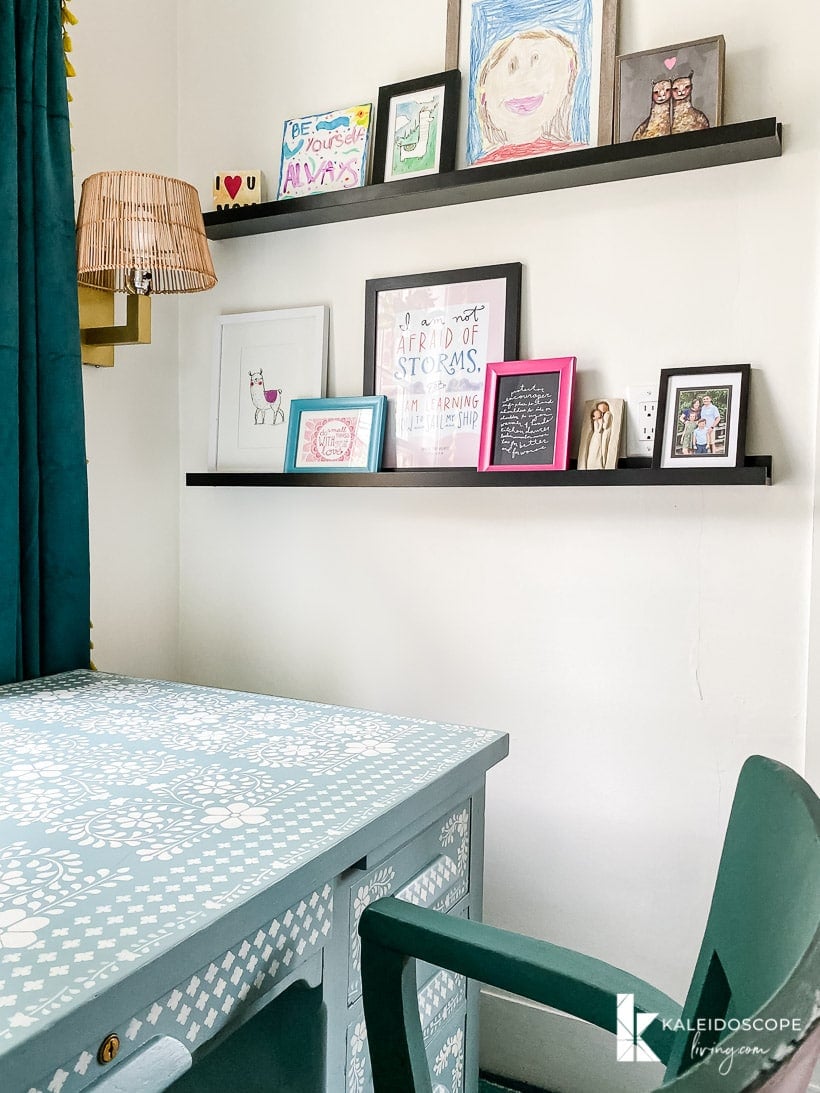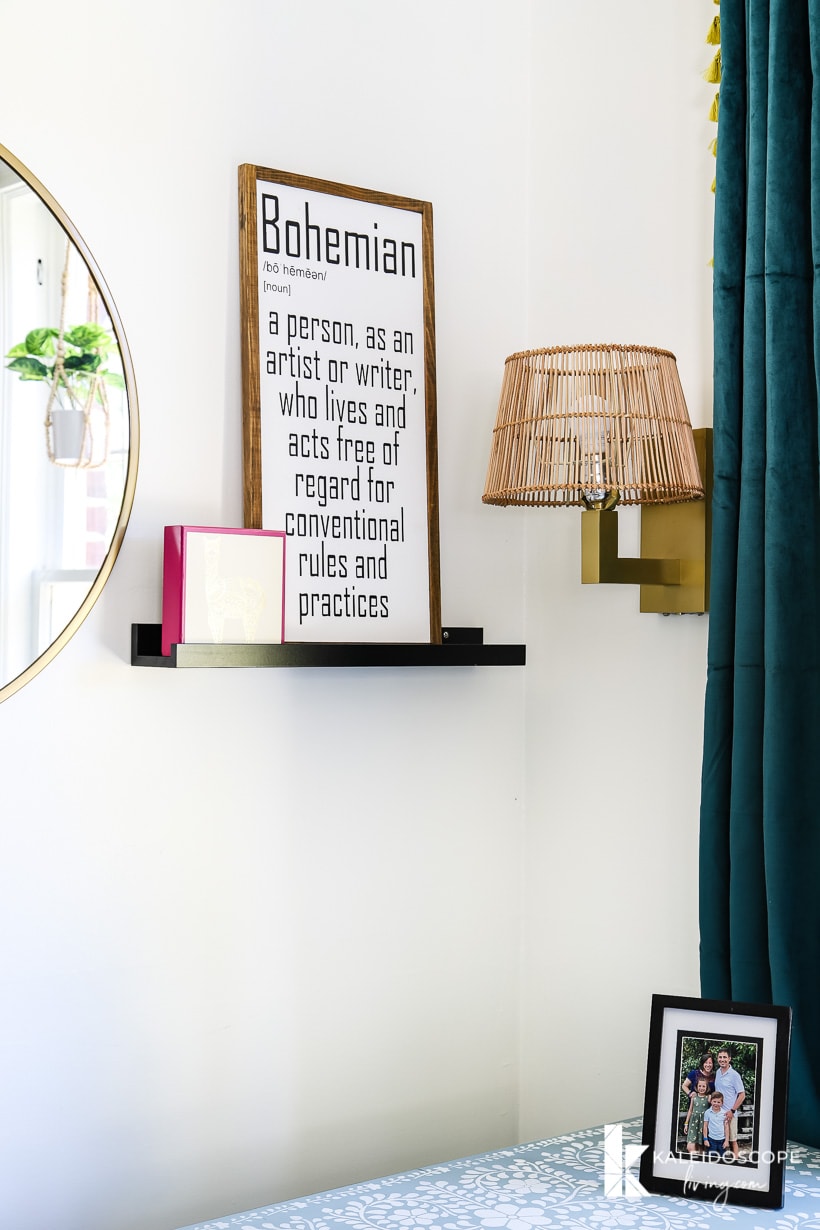 I repurposed the existing wall sconces by spray painting them gold and adding these cute boho shades that I found.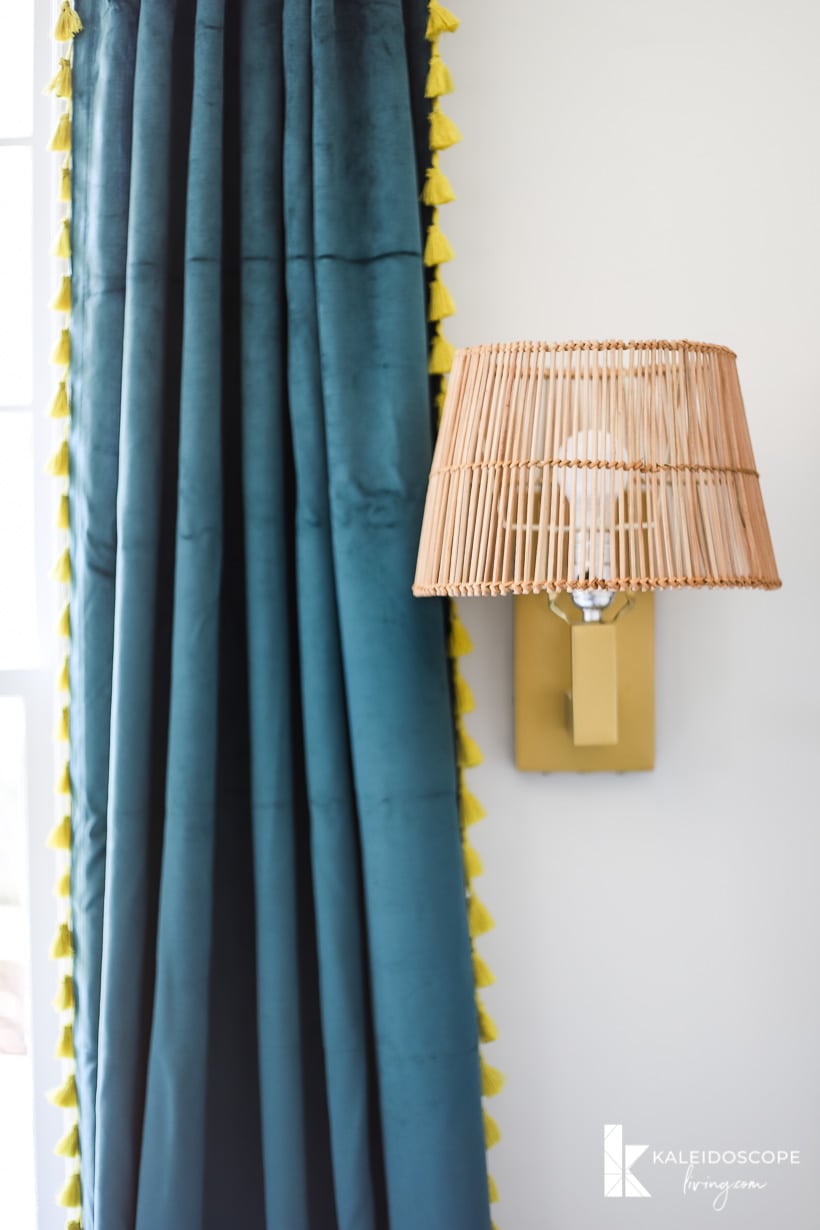 As I mentioned before, Thea's office is in a "nook" of their kitchen, so painting the kitchen cabinets also made an impact in the view in Thea's kitchen. And the stylish and cute fruit storage we added to the side of the cabinets looks so fun!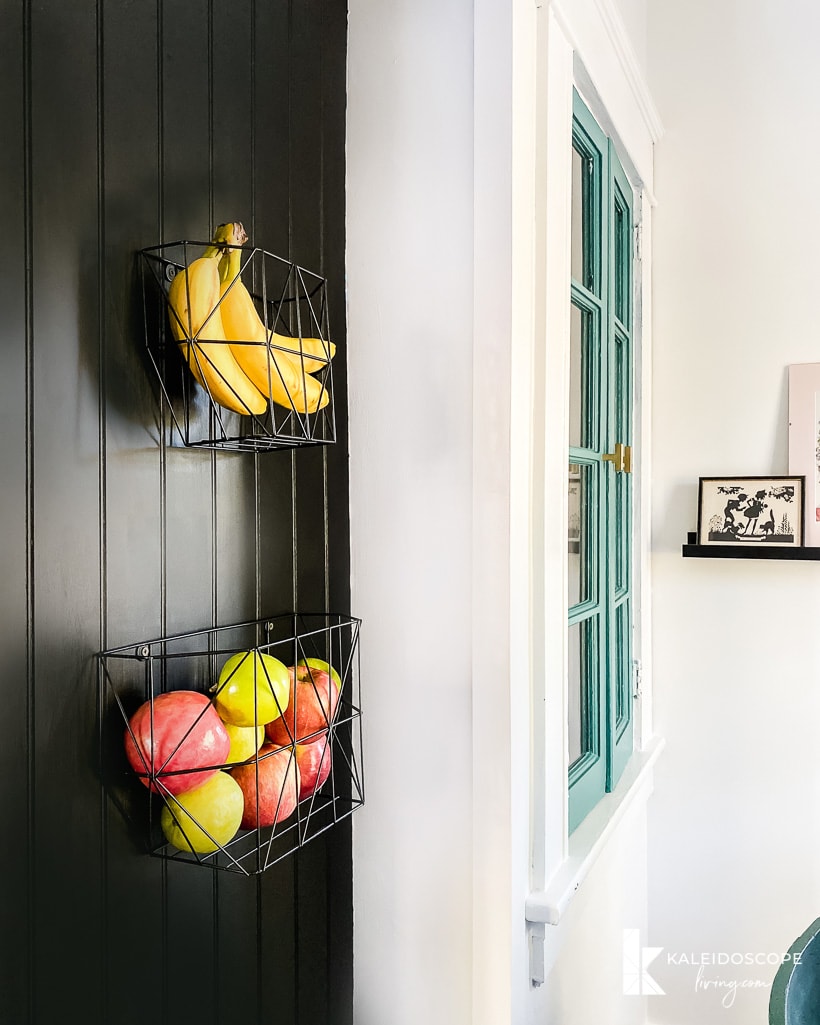 Here's a peek into her office area from the stove area of her kitchen.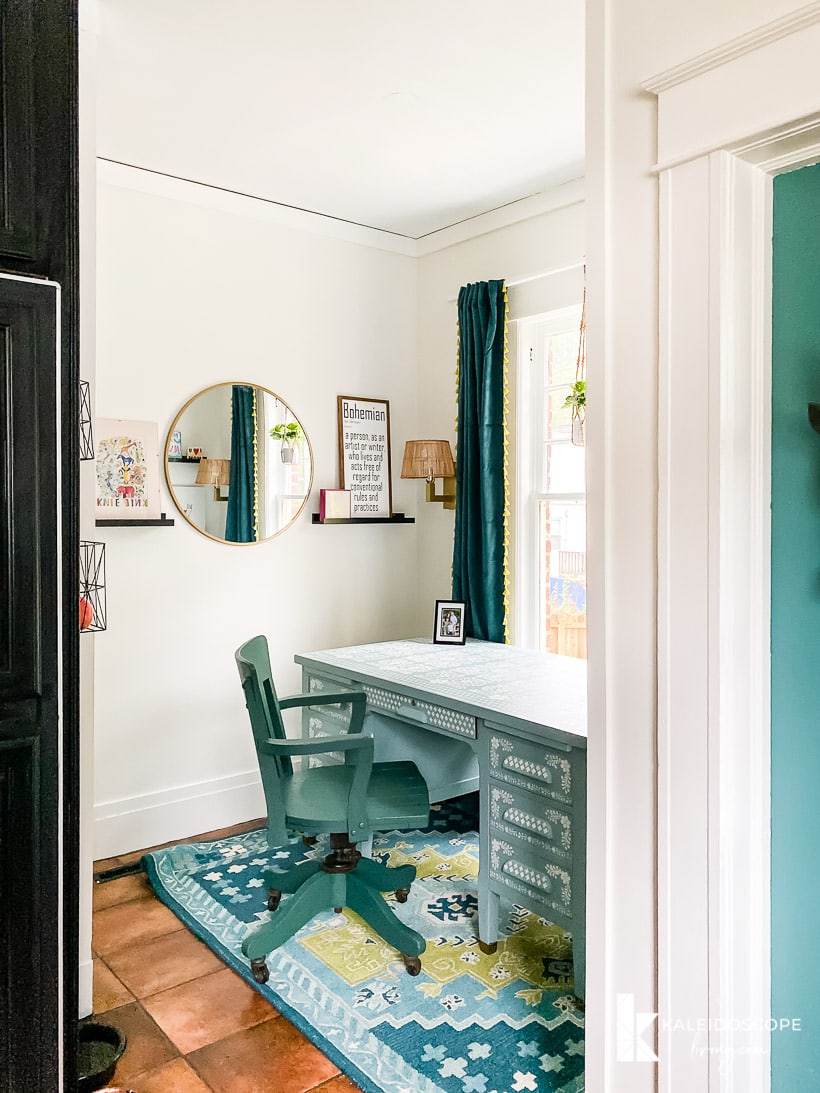 To give her office some context, here are a few photos of the rest of her kitchen. You can check out this post to see the full details of her $997 kitchen makeover and you can check out how we painted and stenciled her tile backsplash here.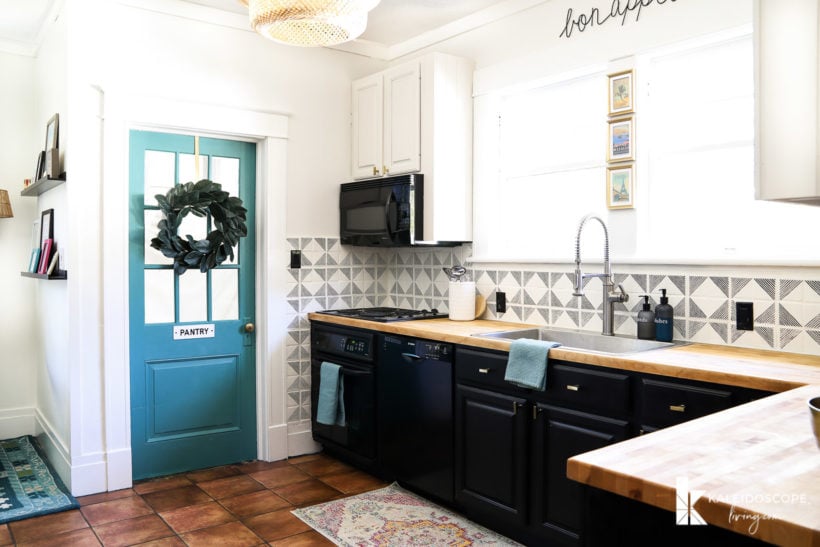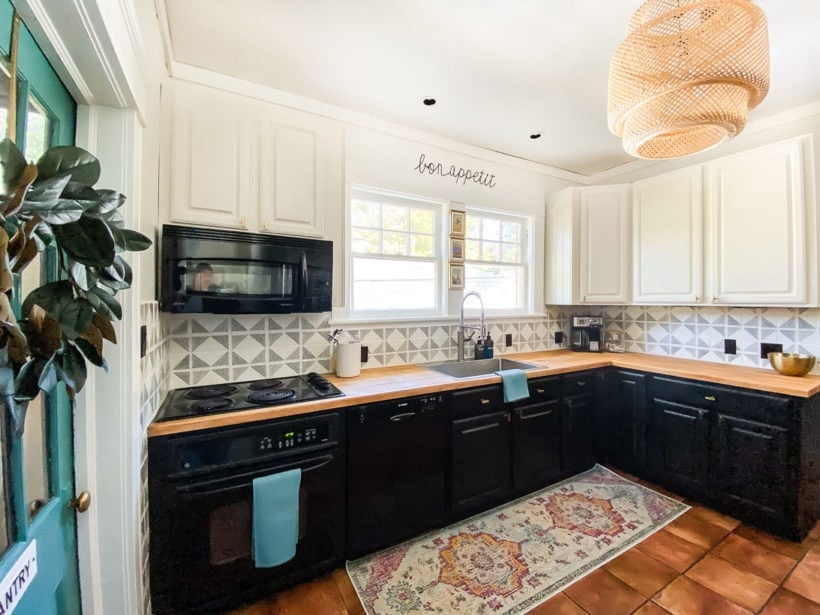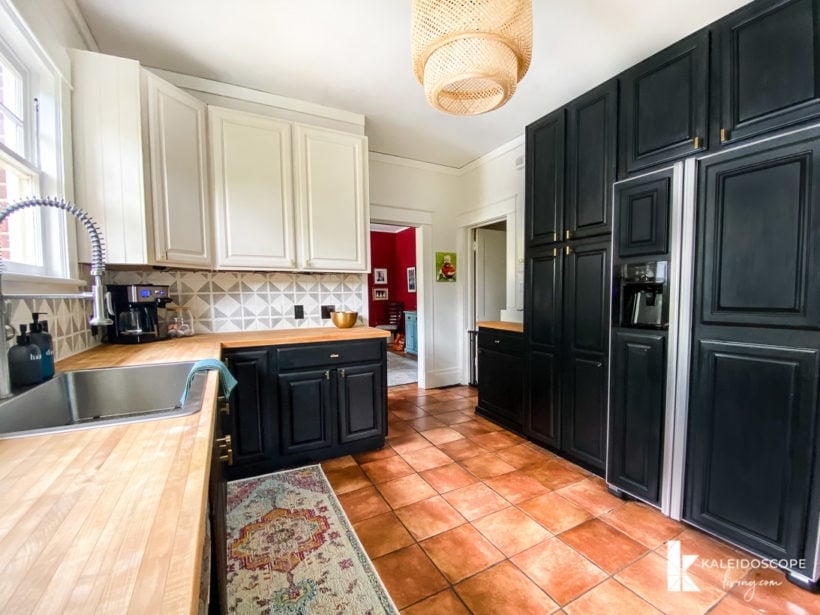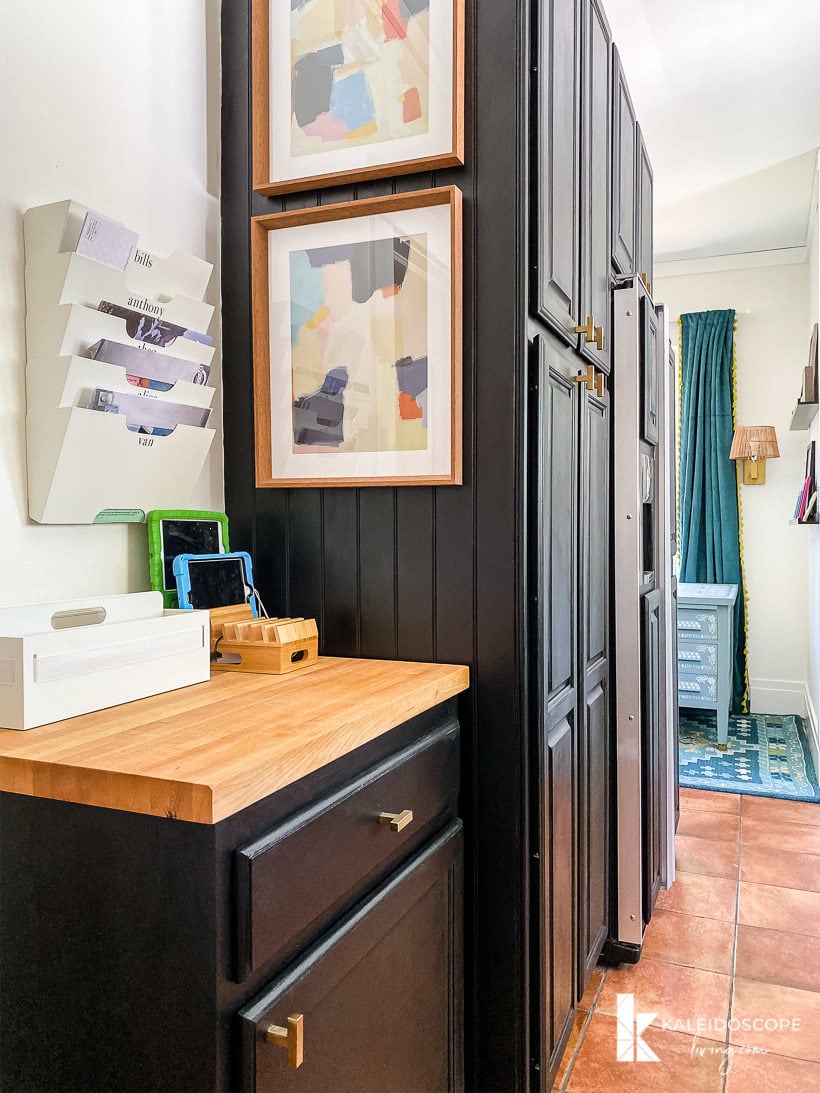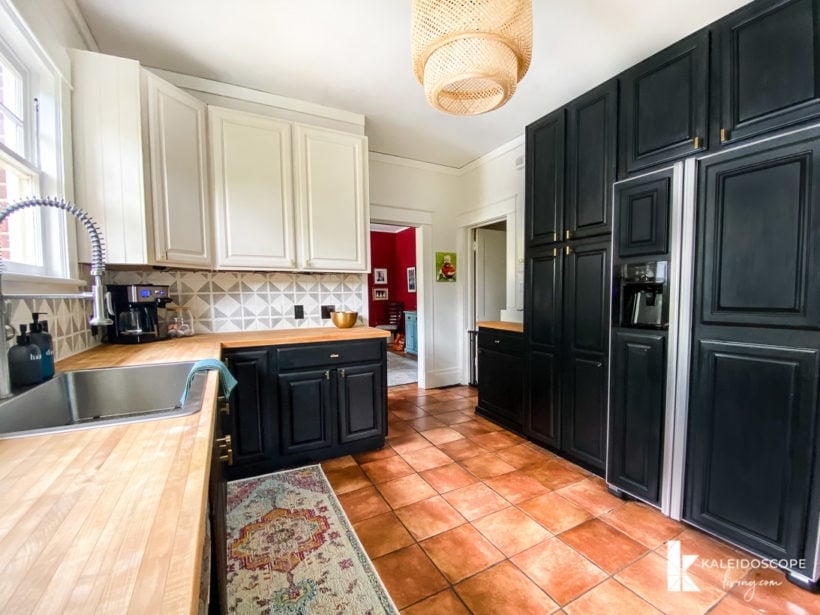 Thea's Office Source List
As I mentioned above, I bought Thea's desk and office chair from the Facebook Marketplace for only $150. I painted them myself, but will link to the paint colors for you below. We used Thea's existing artwork, so I can't link you to any of that–sorry!
Products available for purchase are pictured below. Just click on any image for full product details :)

So what do you think of Thea's office makeover?! I adore it and so does Thea, which is what matters most!