The Fireplace Makeover Reveal
Last Updated on March 3, 2022
Our fireplace makeover is FINALLY done! Check out how we transformed an outdated beige fireplace into a teal blue showstopper!
Phew! If you follow me over on Instagram then you probably thought this project was never going to end. It certainly felt that way to us! We started this project with demo on JUNE 24th. And we finished it on AUGUST 27th. So if you have ever felt bad about how room makeovers or projects take you, please don't! This project took us a long time because 1) there were a lot of steps, 2) it took us several weeks and 30+ tile samples to choose a tile, 3) we were in Hawaii for almost 2 weeks on vacation in July and 4) the tiling was complicated. That's life y'all!
I'm not going to share a "tutorial" for this project because I don't think a step-by-step would be helpful since everything is so specific to our house, dimensions, etc. But I do hope you will find some inspiration for what is possible with an outdated fireplace that you don't love. You can absolutely turn it into something that you DO love!
This isn't our first rodeo with fireplaces. In our last home, we ripped off outdated (and improperly sealed) stone and gave it a smooth concreted finish for under $100. And in our old bedroom, we added a fireplace where one didn't exist before! When it comes to fireplaces, the world is your oyster. Promise.
Now, let's turn to our most recent fireplace makeover. First, here's a review of what the fireplace looked like before.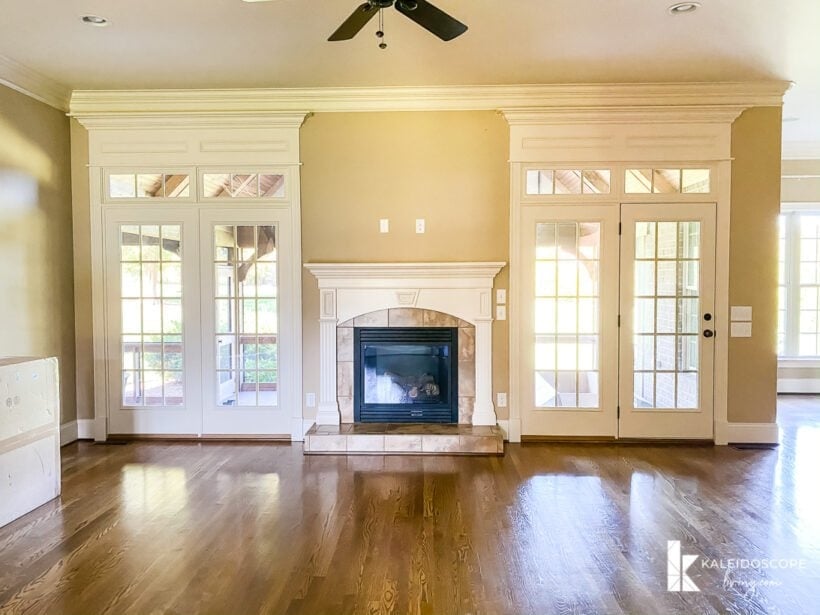 Nothing about it was our style. It was beige and all the detail on the mantel was a bit too "fussy" for our taste. And I'm sure I don't need to tell you that we weren't super into the beige tile. We also didn't like that the hearth and surround didn't fill the entire space between the windows. It made the fireplace look kind of small and less like a feature.
There was another big problem on this wall that bothered us as well. See all that trim above the transom windows? It almost touched the crown molding! It felt too heavy and a bit extra to us.
So, I did what I normally do. I started playing around with creating a mockup. This was my initial concept. You can see what we were thinking in terms of simplifying the trim above the windows as well as what we had in mind for the fireplace.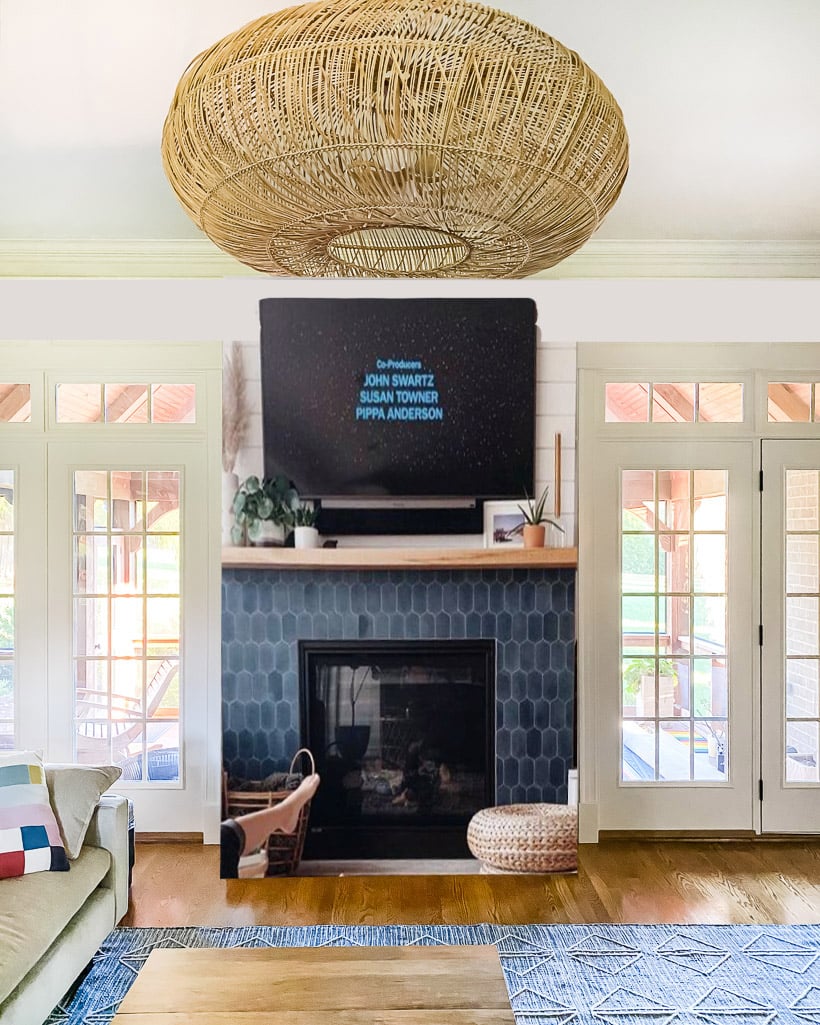 After Joe and I both agreed on the general direction, the hunt for tile began. Holy cow. I never dreamed it would be so hard to pick tile. Below is the 3rd tile sample I ordered and the tile I REALLY wanted to use. I LOVE the kit kat shape. Joe didn't like it. I made him a mockup in an attempt to convince him it would be great. He still didn't like it, lol.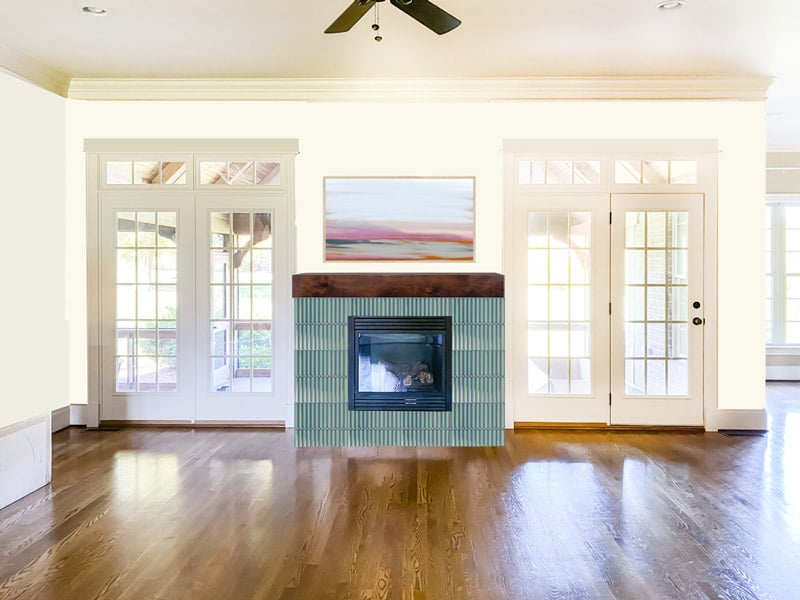 So our hunt for tile continued for about a month. No, that's not a joke. If you want to see many of the other tile samples we ordered and considered, click HERE.
In the end, we decided on this gorgeous matte ceramic tile by Zia Tile and chose a double herringbone pattern for the installation. *NOTE: The Pacific Blue tile is what we used. It looks less navy and more teal in person. The photo I took below is a more accurate color representation than what you see on the product page.*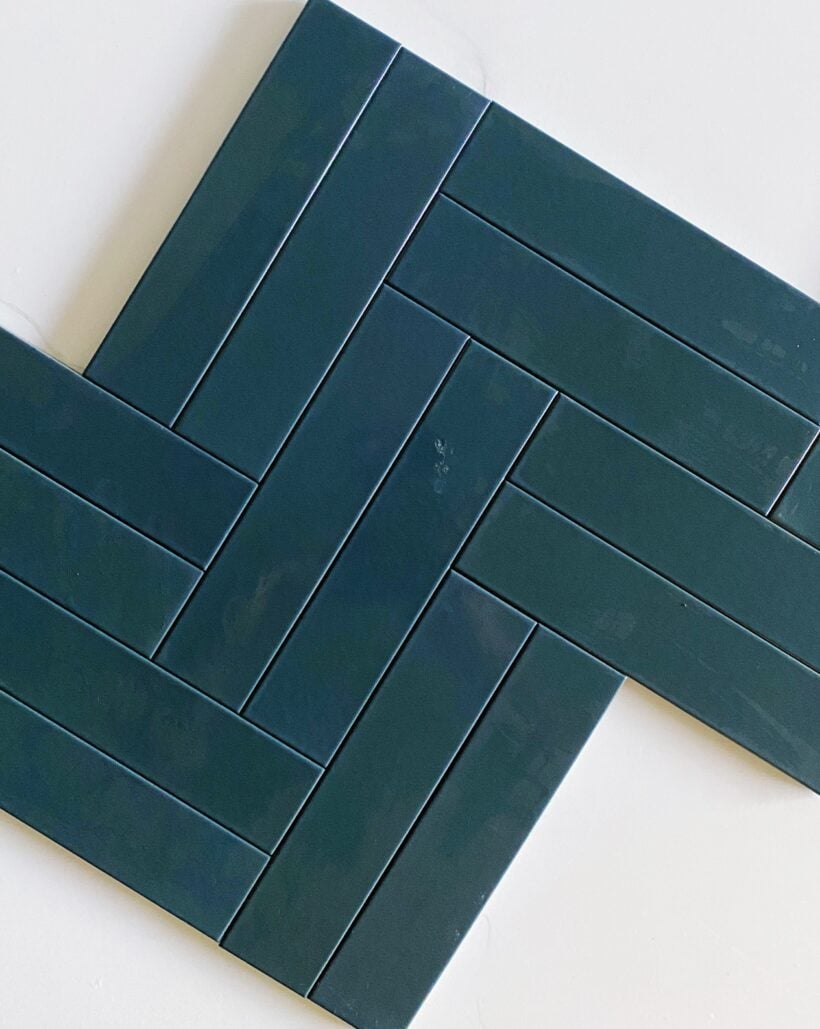 We have a fair amount of tile experience. I tiled every bit of our girls' bathroom in our last house by myself. We tiled the powder room in our old house ourselves. And we've tiled many backsplashes before, including the backsplash in our last kitchen. I mention that so that when I tell you this is THE MOST DIFFICULT TILING WE HAVE EVER DONE you will know I do not say that lightly. Y'all, working around a fireplace box, outlets, and trim with a double herringbone pattern was not easy and frankly, I don't recommend it. If we could do it over again, we probably would have hired this out.
But the good news is we took our time to make the install as perfect as possible. It took soooooo much longer than we thought it would. Progress was SLOW. Here's a little look at how this project unfolded.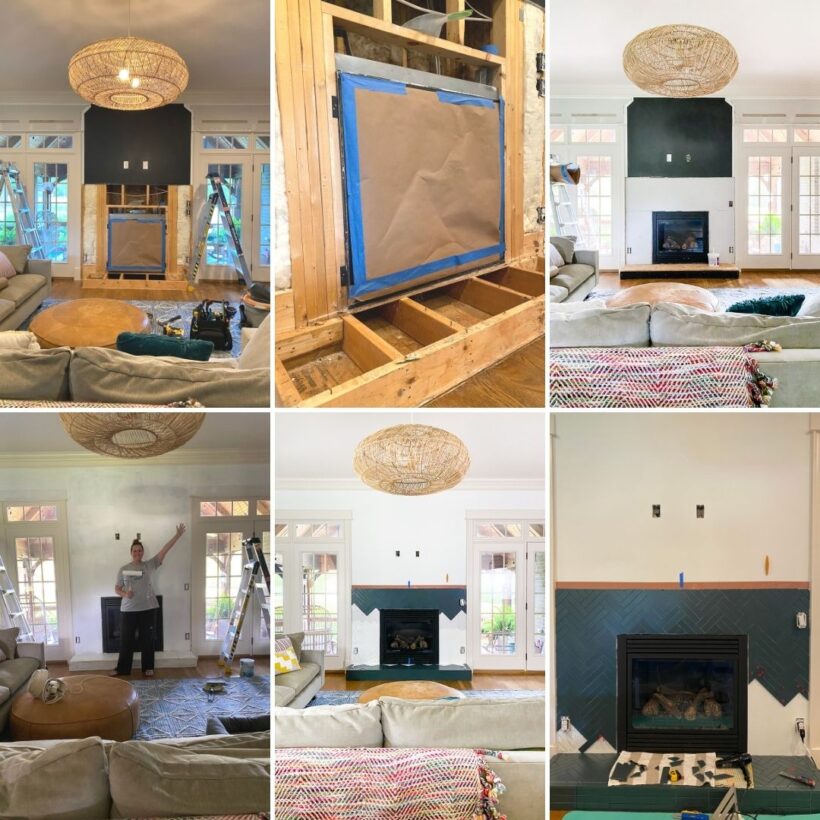 But it was worth it! We LOVE how our fireplace makeover turned out. Take a look for yourself!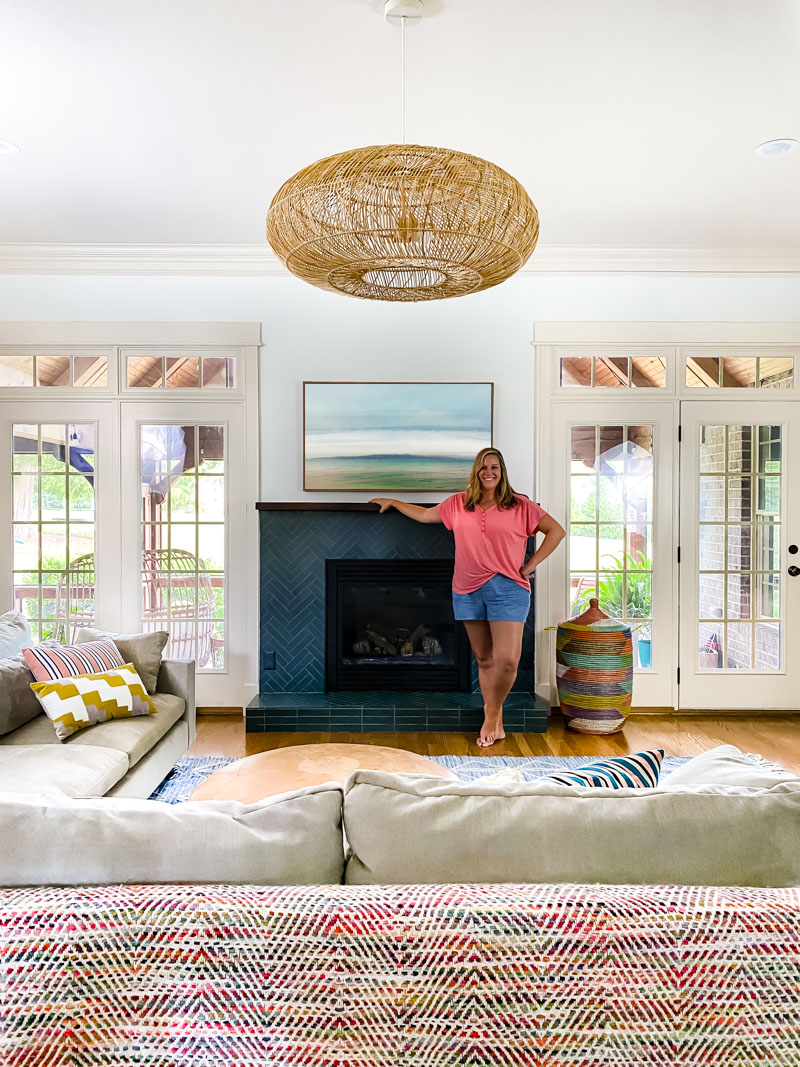 We couldn't eliminate the outlets on the fireplace (or the switch since that operates the gas fireplace), but I did use paintable outlet covers and custom mixed paint to make them blend in as well as possible.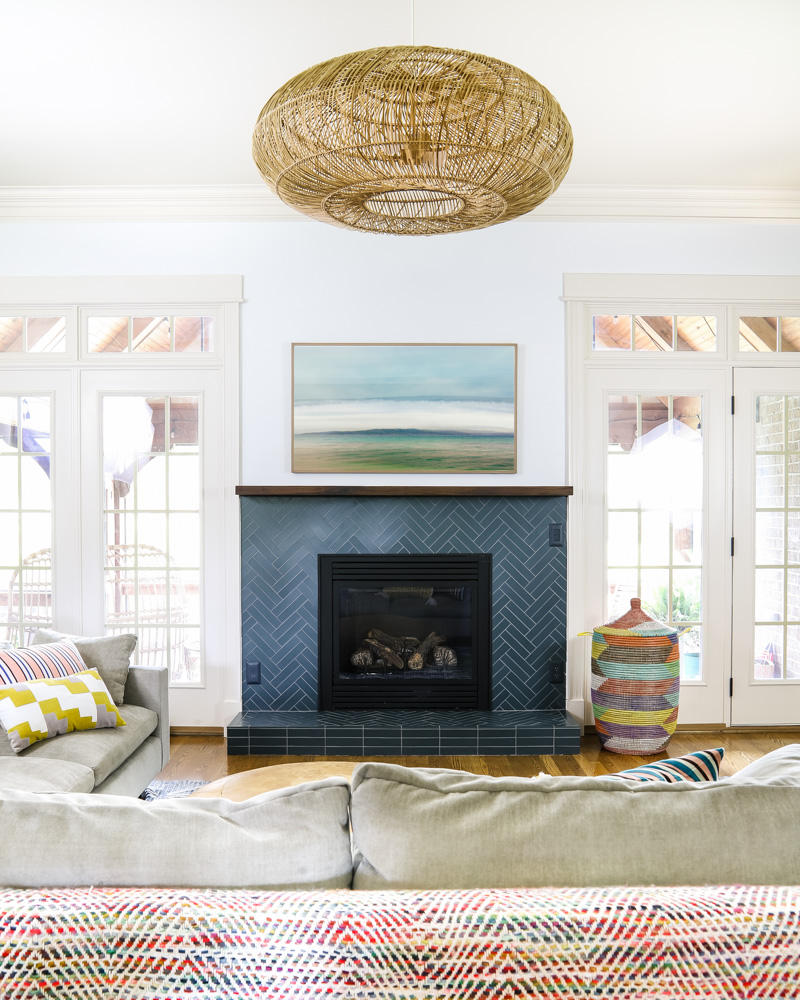 I still haven't styled the fireplace because I'm not sure exactly what I want to do and I need to hunt through our house for some books vases and maybe candles to use. But we are loving the change SO MUCH!
What do you think? Here's a fun before and after for you!
That's it for now! For all of you who followed along every step of the way in my Instagram stories and cheered us on, THANK YOU! Y'all are the best!
Wondering how I approach transforming rooms and spaces in our home? Check out Designer in a Binder®.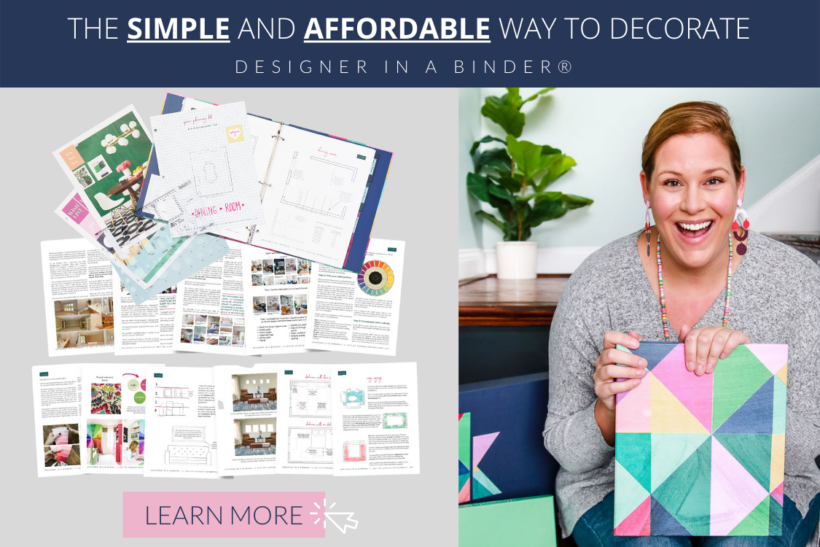 And if you want exclusive content and behind-the-scenes sneak peeks, be sure to subscribe before you head out!


[mv_create key="3″ type="list" title="Room Reveals" thumbnail="https://designertrapped.com/wp-content/uploads/2016/05/angies-list-after-5.jpg" layout="circles"]