Best Sources for Affordable Accent Chairs
Beautiful accent chairs don't have to cost a fortune, you just have to know where to shop for them! I've found all the best sources for affordable (and sometimes downright cheap) accent chairs. Plus I've picked 50 of my favorite options!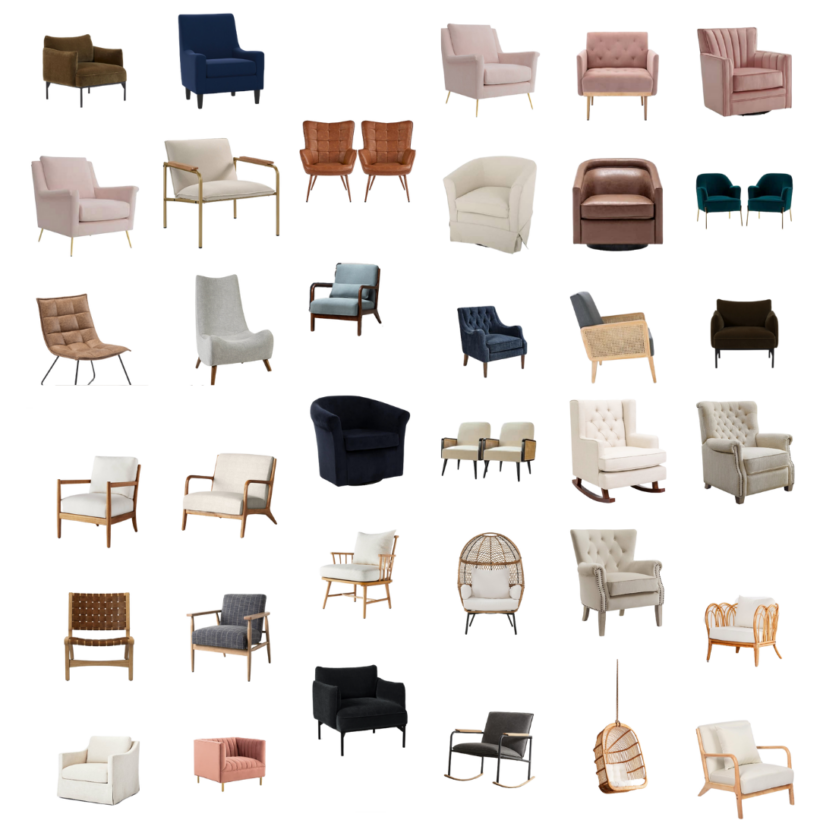 Over the past 20 years of being a homeowner, I have sourced accent chairs for myself, friends and even clients many, many times. And you know, I am ALWAYS on the lookout for a good bargain because I love sharing my favorite furniture and decor shopping guides with you! I'm happy to report that I have once again I have sniffed out the best sources for affordable accent chairs.
This post contains affiliate links for your convenience. Click here for my full disclosure policy.
What is An Accent Chair?
Accent chairs are single-seat chairs that are added to rooms to provide extra seating and extra comfort in a room. They are sometimes called side chairs or lounge chairs. I especially love living room and family room arrangements that use sofas and accent chairs.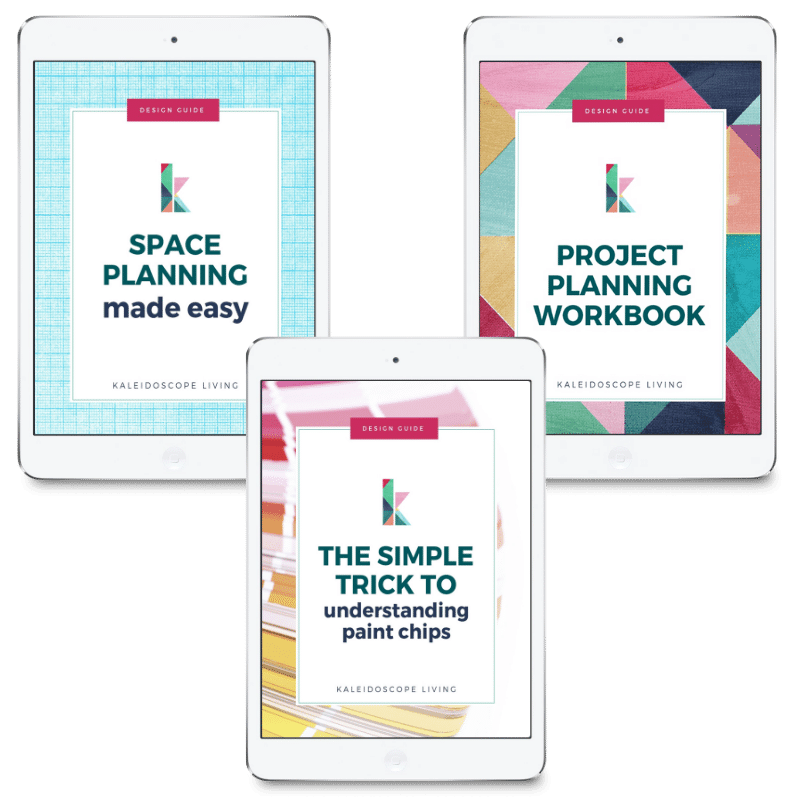 Get my FREE design guides when you subscribe!
They not only look more interesting, but they tend to be conducive to conversation if you have guests over. In our own family room, we have paired our sectional sofa with this leather recliner (sadly it was not under $500 so I haven't included it in this list of cheap accent chairs, but you can read my full review of the West Elm Spencer Recliner if you are in the market for one).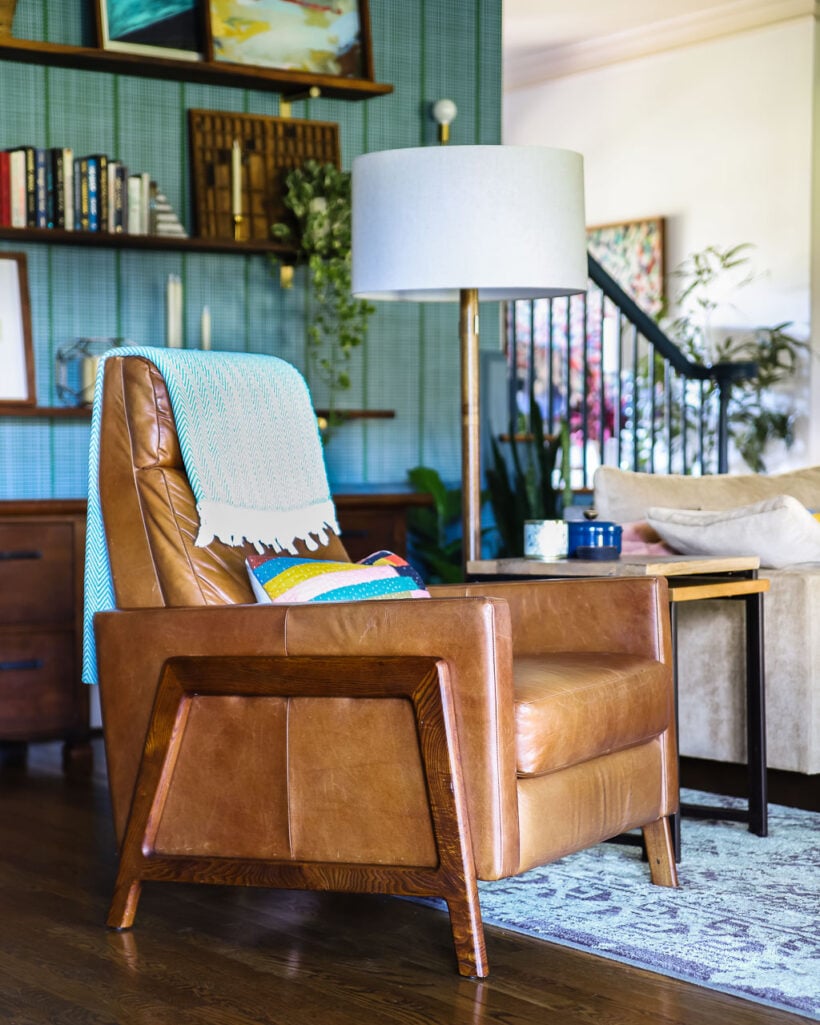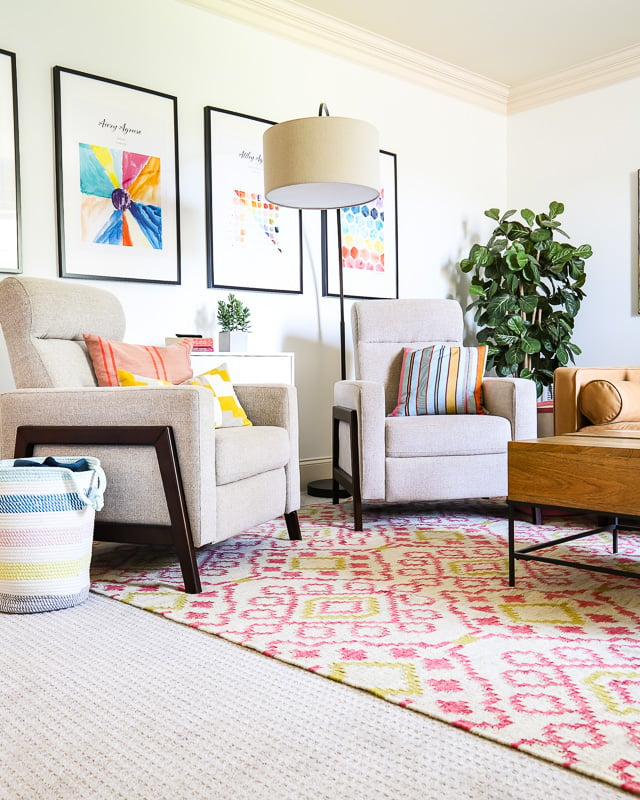 And in our bonus room we've paired a loveseat with two accent chairs (which are also recliners that were super affordable but they are no longer available). It is absolutely possible to find stylish recliners, but is is very hard to find them under the $500 mark so you'll only see a few on this list!
We also have two beautiful navy blue velvet accent chairs in this sitting area off of our kitchen where we have set up a DIY coffee bar.
How much should I expect to pay for an accent chair?
Accent chairs can get VERY expensive. Like, shockingly expensive (think over $2,000). But this post is about AFFORDABLE accent chairs. So let me start by telling you how I define an affordable accent chair. If I can find a gorgeous and substantial accent chair for under $500, I consider that affordable. Don't get me wrong– that's still a lot of money to me! But given that some beautiful accent chairs I have seen sell for well over $2,000, I feel that $500 or less per chair is an investment that is worthwhile and not totally outlandish.
If $500 is totally out of your budget, fear not! There are some downright cheap accent chairs (cheap in price, not in appearance or quality) in this post that cost FAR LESS than $500.
So if you are wondering where to buy accent chairs that will look beautiful without completely blowing your budget, you are in the right place!
This post contains some affiliate links for your convenience. Click here to read my full disclosure policy.
Best Sources for Cheap Accent Chairs + 50 Accent Chairs I Love
Target
 Target is still one of the best sources for accent chairs that are beautiful without being cost-prohibitive. And the selection is great! Target has everything from fabric chairs to faux leather chairs. I LOVE Target and generally find everything from their colorful shower curtains to their furniture pieces that I own to be good quality and great value. Below are a few of my favorite accent chairs from Target.
Scroll and click on any image below for full product details

World Market
World Market is an under-utilized resource when it comes to decorating your home! It's one of my go-to sources for things like bathmats, planters, and definitely colorful Christmas decor! And though World Market doesn't have a huge selection of furniture, what it does offer is reasonably affordable and solid quality! Below are some of my favorite armchairs and accent chairs from World Market. The blue velvet swivel chair and faux sherpa chairs have me wishing I had somewhere to put them!
Scroll and click on any image below for full product details

Wayfair
The selection of armchairs and lounge chairs available at  Wayfair is ENDLESS. Lots of them are of high on style but easy on the budget. And most of the upholstery-covered chairs come in at least a few different color options (some offer 10+ colors). Below are some of my favorites Wayfair accent and lounge chairs.
Scroll and click on any image below for full product details

Amazon
Amazon: Yep! AMAZON has some of the most affordable and most beautiful accent chairs. That set of faux leather chairs you see below is under $500 for the pair. They would be perfect to pair with an affordable sofa in a living room! And if you are a Prime member like me, most of them come with FREE two-day shipping. It's hard to beat that. There are literally countless accent chairs under the $500 price point on Amazon. You can see some of my personal favorites below.
Scroll and click on any image below for full product details

West Elm
If you have followed me for any length of time, you know how much I love West Elm. But I wouldn't really call it "affordable." So imagine my shock when I found this ONE gorgeous accent chair (which is available in two neutral but not boring colors) that came in well under the $500 price threshold! And it's not on sale–that's the regular price. This is such a sophisticated design. I absolutely looooooove it.
Scroll and click on any image below for full product details

Home Depot
If you are in your 40s like me, you may remember that Home Depot used to have a sort of sister company called Home Decorator's Collection that sold furniture and home decor. At some point, Home Decorator's Collection disappeared and Home Depot started selling furniture and home decor directly and you can find some gooooood stuff!
I know it sounds weird to look for furniture on Home Depot's website, but just trust me on this. I found pages and pages of accent chairs under $500 on Home Depot's site. I even found a couple of pairs of accent chairs that come under the $500 mark together! You can see some of my favorite picks (most of which are available in lots of different colors) below.
Scroll and click on any image below for full product details

Urban Outfitters
Oh how I love Urban Outfitters. It's always the first place I look when I am hunting for colorful shower curtains and colorful bathmats (you'll understand why if you go look). And when it comes to home decor items, I find Urban Outfitters' prices to be reasonable. Sadly, its furniture is kind of pricey. But I found these three GORGEOUS accent chair options that are under $500. I don't know how comfortable the rattan chairs are, but talk about making an impact in a room!
Scroll and click on any image below for full product details

Walmart
You may have seen me write about this before, but let me say it louder for people in the back… Walmart has come a long way in terms of its home decor and furniture offerings. In my opinion, it's always a source worth checking when you are looking for affordable furniture. I mean, look at the accent chairs I picked from Walmart below. Would you have guessed they were from Walmart if I hadn't told you that?! And one of them is a recliner. Can you guess which one?! So good.
Scroll and click on any image below for full product details

That's it! I hope this leaves you feeling like you can find a cheap accent chair without sacrificing style, because it's definitely doable!
Other posts you may enjoy:
Wondering how I approach transforming rooms and spaces in our home? Check out Designer in a Binder®.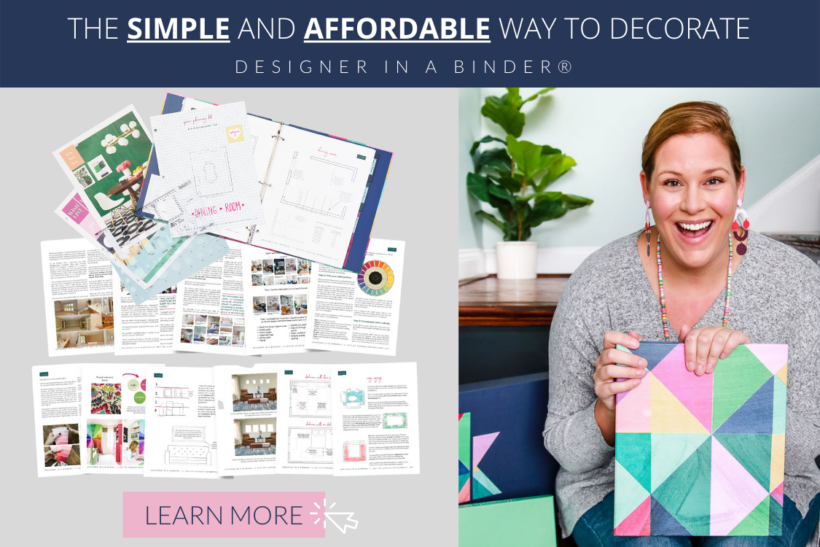 And if you want exclusive content and behind-the-scenes sneak peeks, be sure to subscribe before you head out!