DIY Photo Canvas Prints With Authentic Texture
Last Updated on August 5, 2022
DIY photo canvases are EASY to make and look just as great as expensive, store-bought options!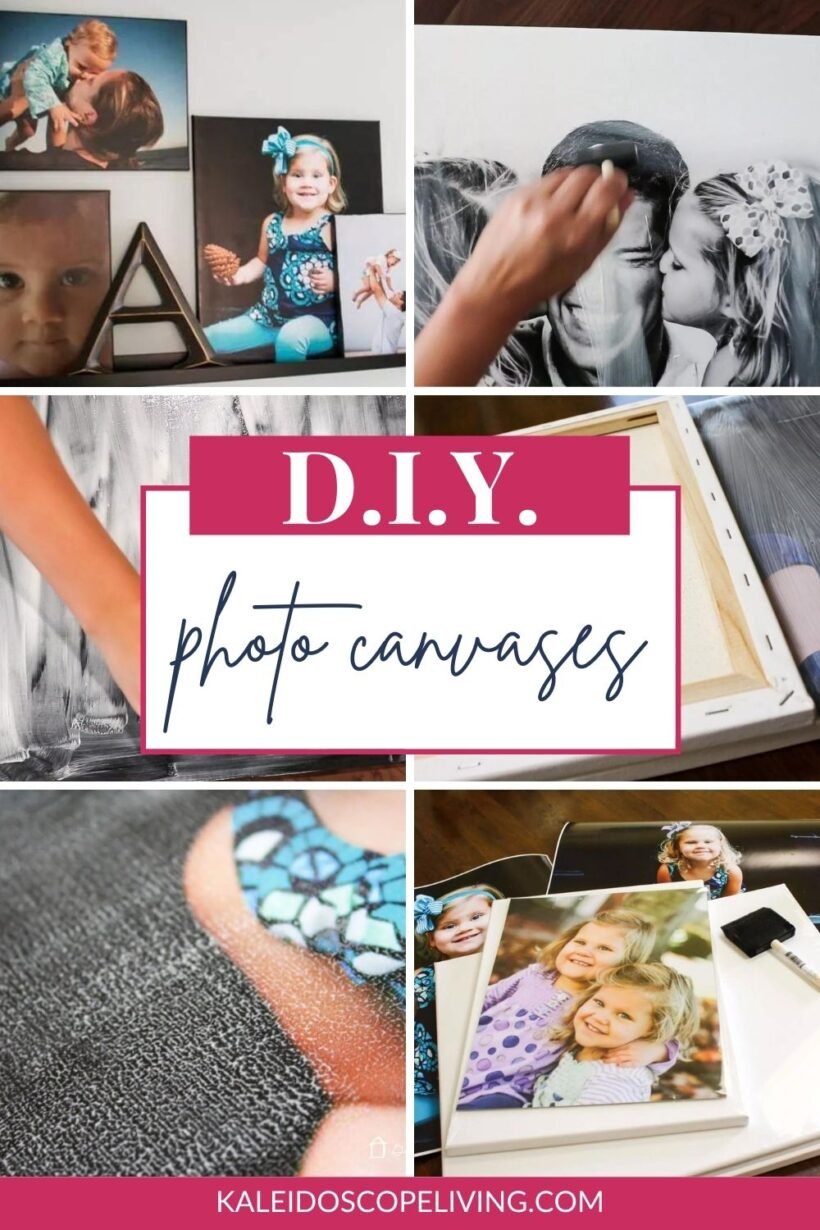 Hi friends! I've finally decided to take the time to update this old post of mine because I have found a new, easier way to add texture to my very popular DIY photo canvases and I wanted to share that with you, but I thought it made more sense just to add it to this existing post :) If you've been a reader for a while, you know I love to make my own photo canvas prints and have them hanging all over my house. They are fun and easy to make, and they are an incredibly affordable option. So get those awesome photos off your phone or computer and start displaying them on your walls! Once you learn how to make your own DIY photo canvas, you will be hooked :) So, without further delay, I am going to tell you how to make photo canvas prints for yourself!
This post contains some affiliate links for your convenience (which means if you make a purchase after clicking a link I will earn a small commission which helps keep my blog up and running but it won't cost you a penny more)! Click here to read my full disclosure policy.
How to Make a DIY Photo Canvas with Authentic Texture
If you prefer video tutorials, this short video gives a GREAT overview of this project.
You can also subscribe to get FREE printable instructions for this project!
Materials Needed for DIY Photo Canvas Prints
Art canvases

You can also upcycle old canvases that you have around your house or buy at Goodwill!

Enlarged photo prints on photo paper (I get mine enlarged at Costco's photo lab) by a photo lab

I do NOT recommend this method for photos printed at home. Also, do not get "poster prints" from office supply stores–those are printed on banner paper and that paper will peel.

Mod Podge Matte Finish
Black paint (latex, acrylic, chalkboard, etc. are all fine to use)
Cutting board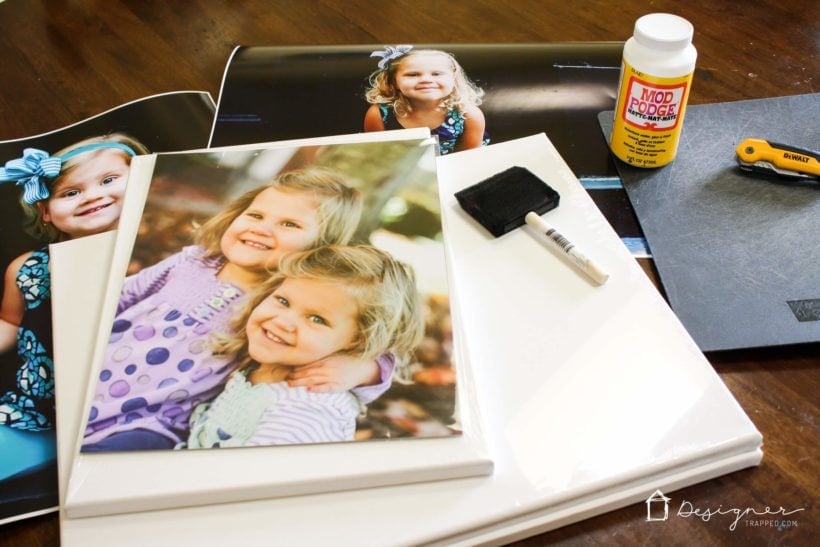 Steps to Create a DIY Photo Canvas
Step 1- Have a photo PROFESSIONALLY Printed
First, choose the photo you want to create your canvas with and have it enlarged and printed to your chosen size at a photo lab on photo paper. I do not recommend printing them at home–I've heard from many, many people telling me the Mod Podge smeared their photos that were printed at home (even if printed on nice photo paper). Also, make sure they are not printed on "banner paper" (which is often used at office supply stores like Office Depot and Staples). For this tutorial, I chose to focus on professional photos that were taken of my girls on the steps of a lighthouse this fall. I LOVE these photos, so I went with a nice, large size–16 x 20. I had mine blown up at Costco for $5.99 each.
Step 2- Paint your canvas (optional)
Buy a canvas in a corresponding size. Since my photos are 16 x 20, I purchased a 5-pack of 16 x 20 canvases on sale at Michael's Crafts for $15.00. Paint the edges of the canvas black. If you are upcycling an old canvas, paint the entire canvas black.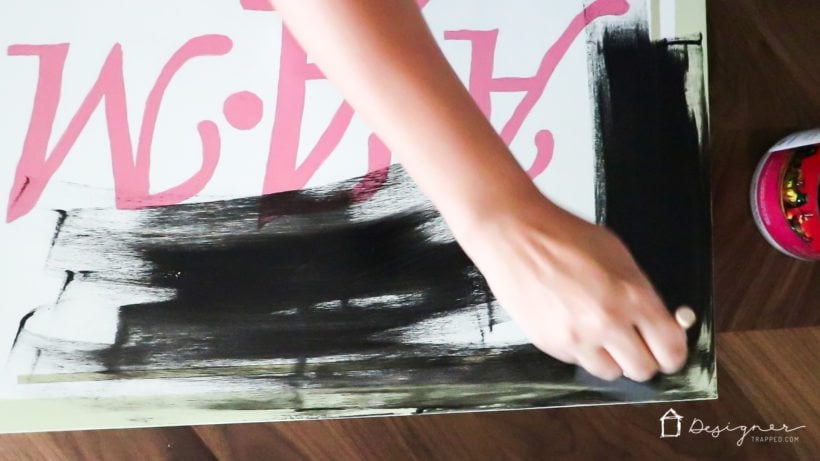 Step 3- Coat your canvas with Mod Podge
After your paint dries (if you painted your canvas), use your foam brush to coat the top of your canvas with a layer of Mod Podge.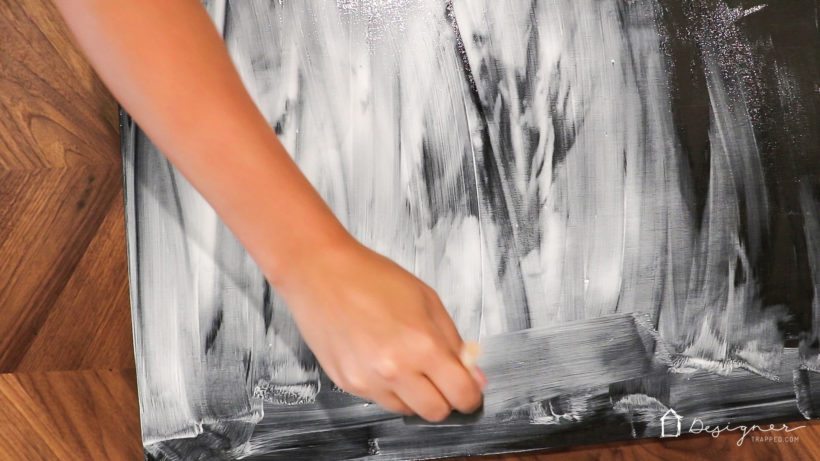 Step 5- Add your photo
White the Mod Podge is wet, place your photo on top of the Mod Podge covered surface and smooth it on, being careful to make sure it's straight. Then flip the canvas over and flatten it with your hands to ensure that it adheres nicely and to smooth out any air bubbles.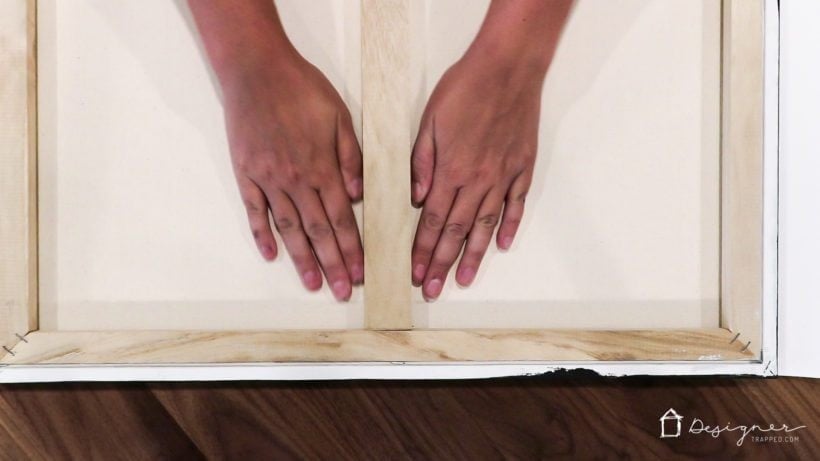 Place some heavy books on top of the canvas and allow it to dry overnight.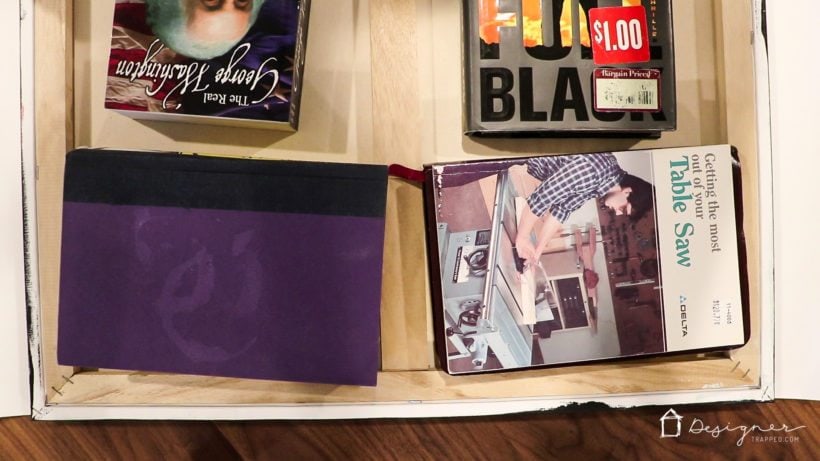 Step 6- Trim off the excess
After it dries, you will have to cut off any portion of the photo that is overhanging the canvas. My enlargements from Costco are always a tiny bit larger than my canvases. No problem. Flip the canvas over and grab your Exacto (or utility) knife and cutting board. Using the edge of the canvas as your guide, cut off any portion of the photo that is overhanging the edge of the canvas with your utility knife.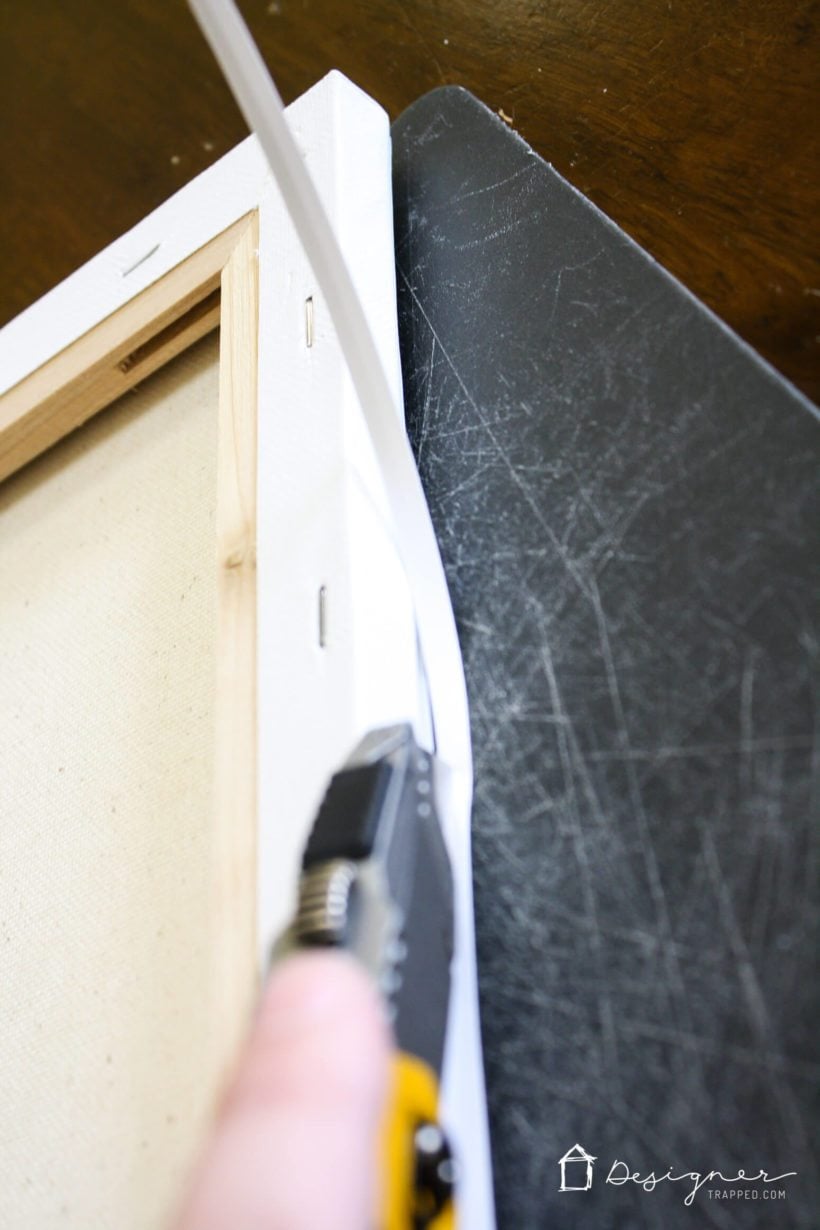 Step 7- Add your texture!
Next is the fun part, but you have to have a little faith that this is all going to work out. You are going to "stamp" that canvas texture right on to your photo. THIS TOTALLY MAKES THIS PROJECT so don't wimp out on me and stop now. Paint a thin layer of Mod Podge (matte finish) RIGHT OVER THE TOP OF YOUR PHOTO. Do not panic, I promise, promise, promise you that it will dry clear and will look gorgeous. Use long, even strokes. Seriously, calm yourself down :) You are about to get to the good part.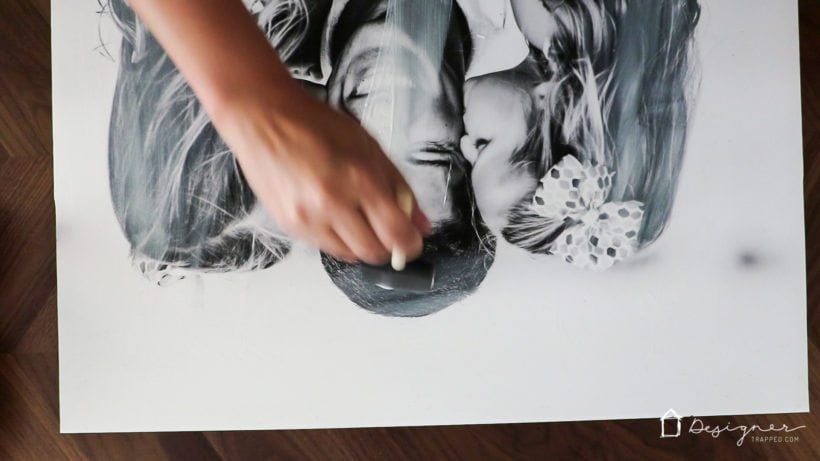 Now it's time to add texture to your DIY photo canvas! You know, the texture that makes people spend $50 to $75 on the "real" photo canvases. But not you, you are too smart and thrifty for that! You can choose one of two methods for this:
The Old (but tried and true) Method
Quickly grab a blank canvas and sandwich it ON TOP of your wet photo. Gently press the two surfaces together. Now, peel the blank canvas off and you will be left with that authentic canvas texture. Since I used a spare canvas that was smaller than 16 x 20, I repeated this process until my entire canvas was done.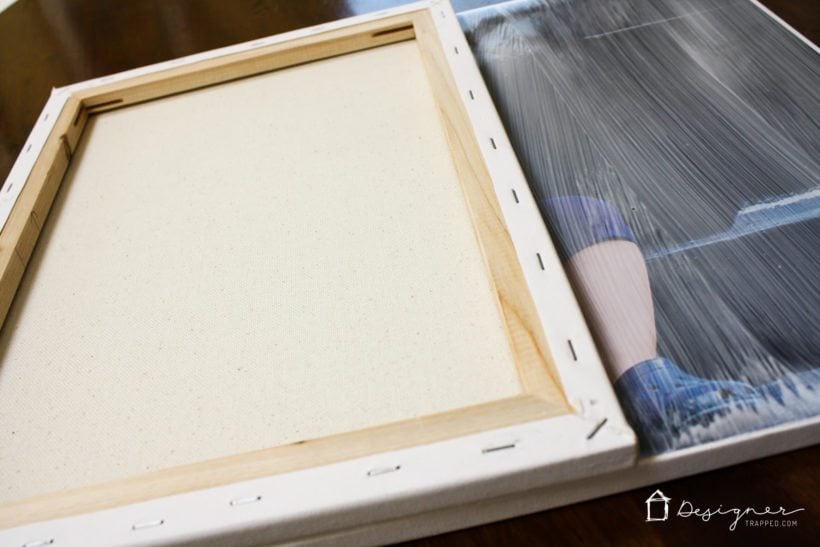 You can use the same canvas to "stamp" 3 to 4 photos. If the "stamping" canvas starts to lose its texture, simply Mod Podge a photo on the "stamping" canvas and start stamping with a new one. Bottom line, no canvas ever goes to waste!
This is a quick step. You want to "stamp" your canvas texture on AND remove the blank canvas while the Mod Podge is still wet. *Note- if your texture does not look right and looks more like the Mod Podge was just smushed around, you may have used too much Mod Podge. Again, don't panic. Wipe some of the excess Mod Podge off with your foam brush, smooth out the strokes and try again.* Now, let the Mod Podge dry.
OR
The NEW (super easy) Method
Quickly grab an old t-shirt or dish towel. Spread it out on top of the photo and wet Mod Podge, being careful to avoid wrinkles. Gently press it on top of your photo and then lift it off!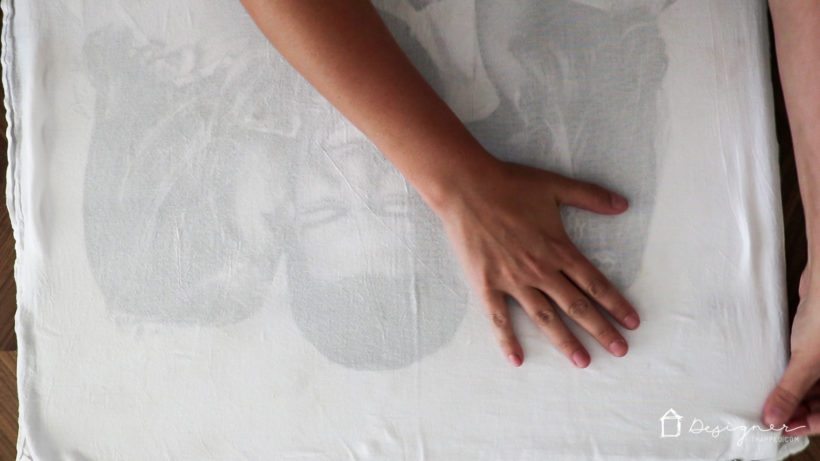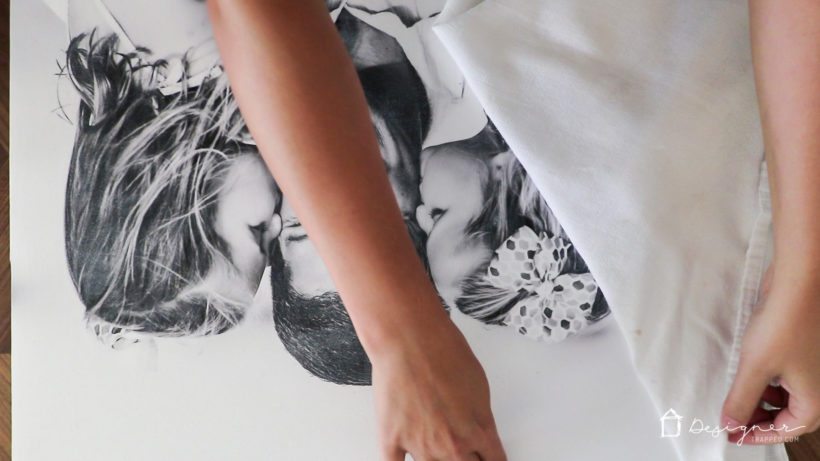 This is what the texture will look like when it is still wet.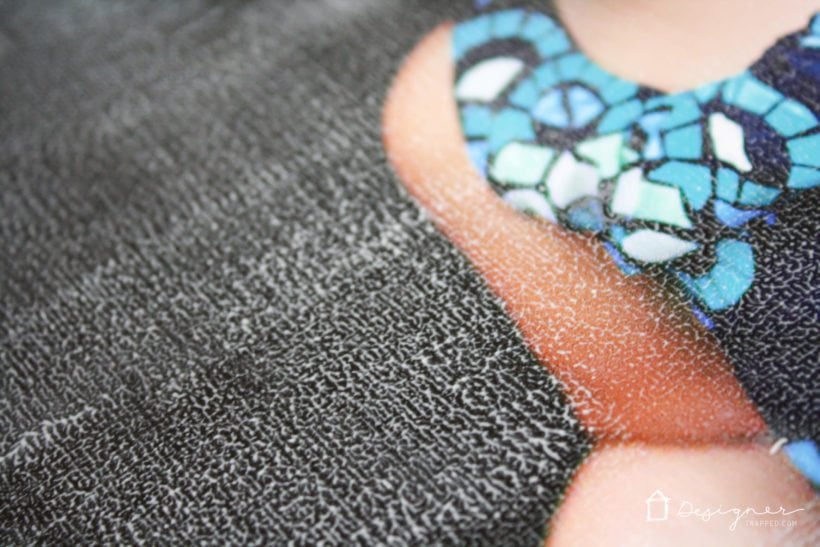 And this is how that G.O.R.G.E.O.U.S. texture will look once it is dry. The first photo is texture using the canvas stamping technique. The second photo is the texture from using the dishtowel technique. Both are beautiful, so use whatever method you prefer!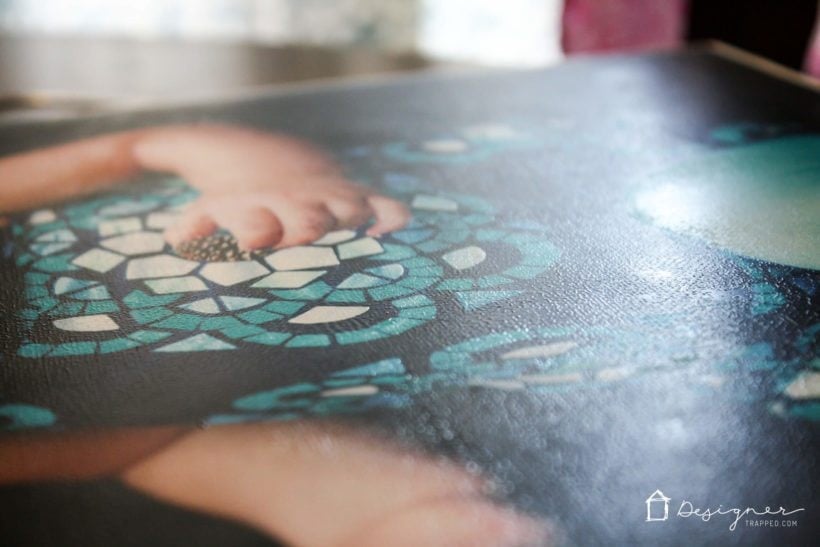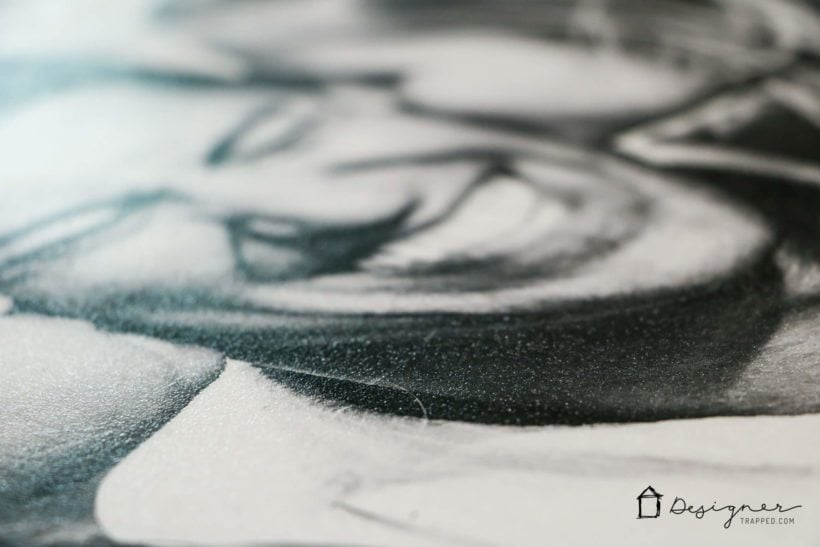 After the Mod Podge dries, hang up your beautiful DIY photo canvas and admire your work! I have a bunch of the DIY photo canvas prints that I have made hanging in our hallway.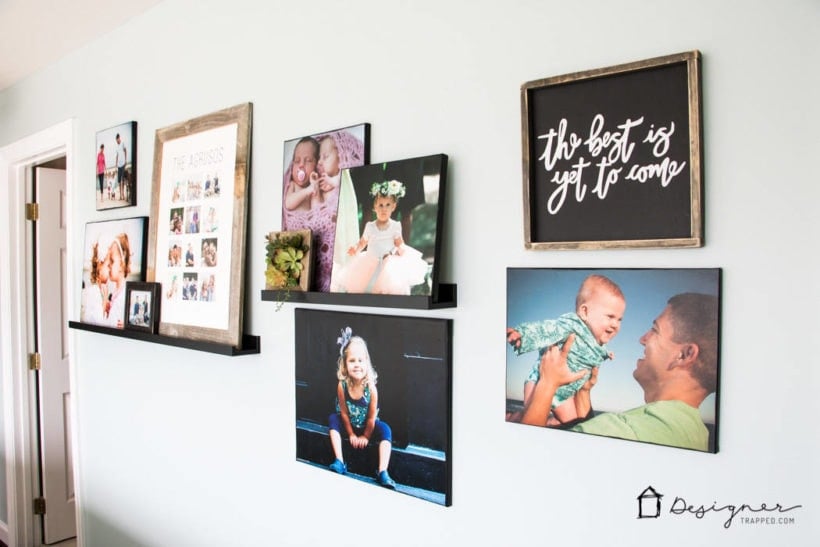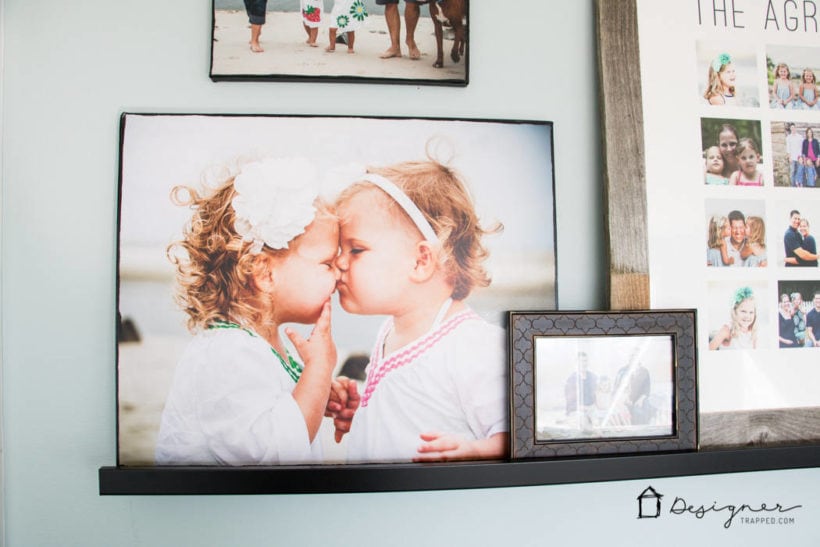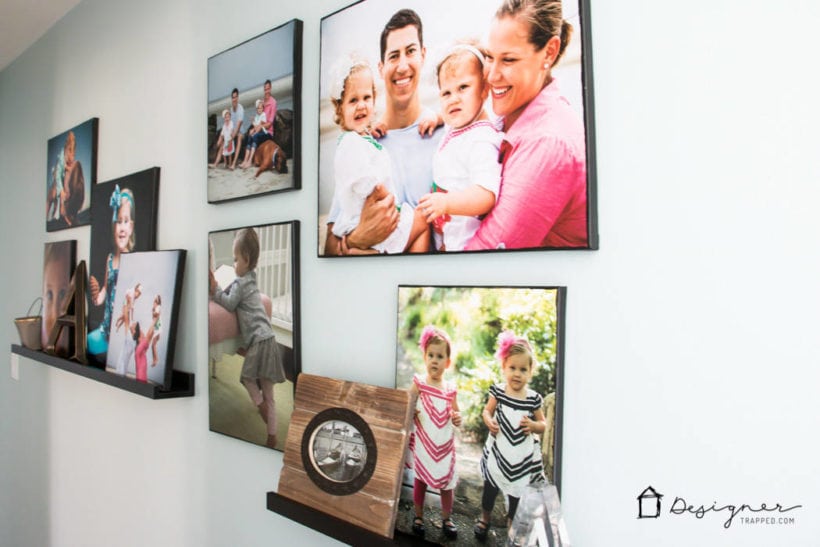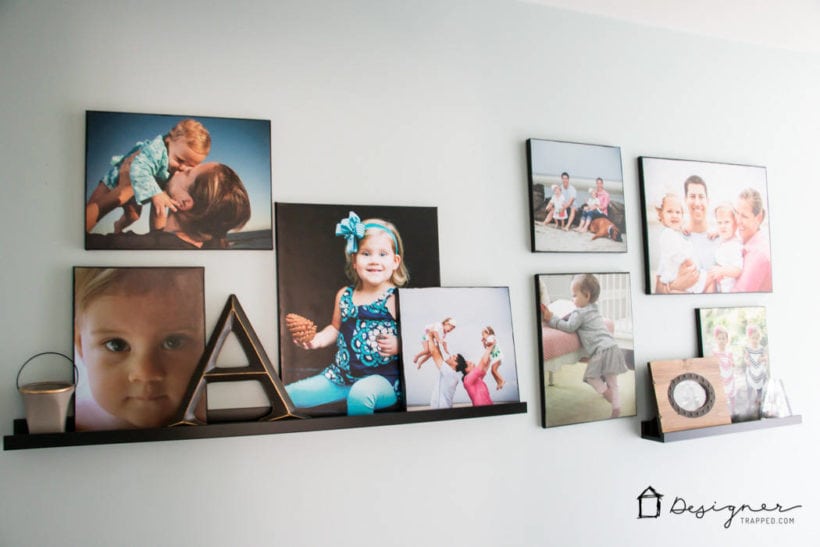 And the two new black and white photo canvas prints that I recently made are hanging in Avery's room.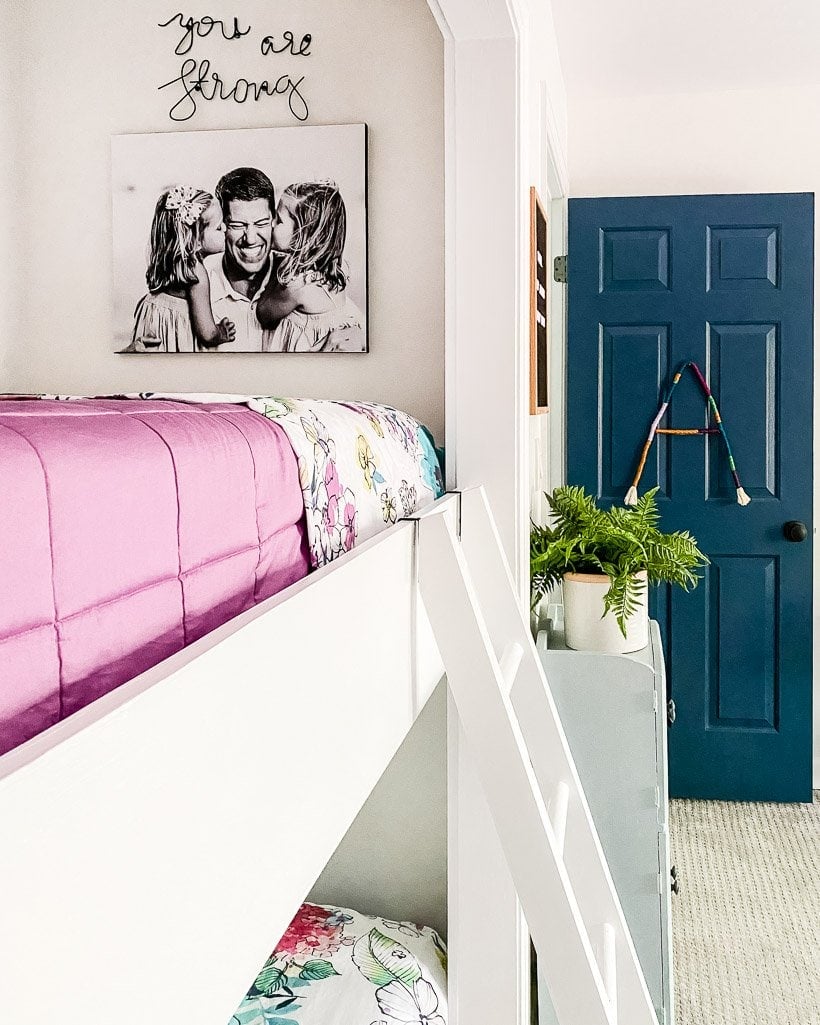 Cost and Time to Make a DIY Photo Canvas Print
A single DIY photo canvas in size 16 x 20 cost me around $10. Not bad! To order a 16 x 20 canvas from Shutterfly is $71.99 ON SALE. How crazy is that?! I love saving $62.00 :) Each canvas takes me about 20 minutes to complete, not including drying time. It's a fast, easy and fun project.
Want more cool ideas for displaying pictures? My Favorite Creative Photo Display Ideas and DIY Personalized Photo Frames are DIY ideas that will get you inspired and feeling creative!
What do you think? Don't you just LOVE that authentic texture?! It totally MAKES this project and it's not a tip I have seen before–I was pretty proud for thinking of it ;) Be sure to pin this post to Pinterest if you want to be able to find it again later.
Other posts you may enjoy:
Wondering how I approach transforming rooms and spaces in our home? Check out Designer in a Binder®.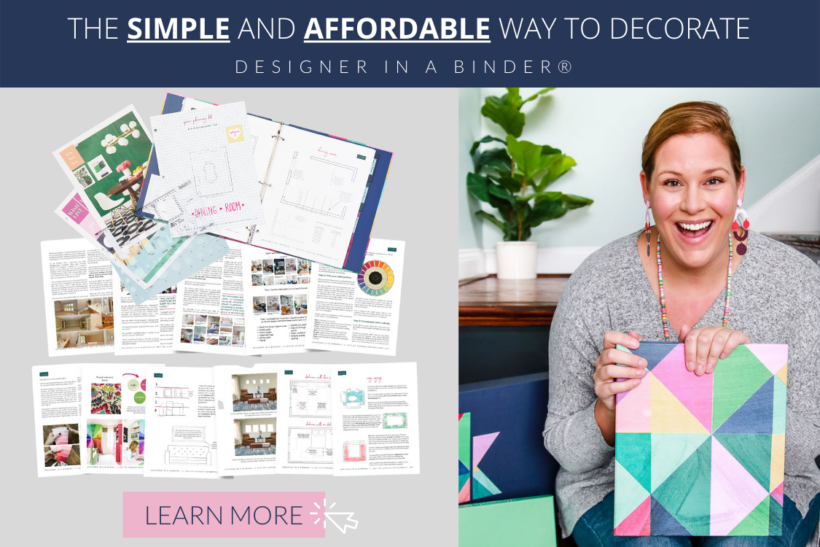 And if you want exclusive content and behind-the-scenes sneak peeks, be sure to subscribe before you head out!


​​