Our UNIQUE Hallway Decor + Makeover Reveal
Last Updated on October 13, 2022
We transformed our dark hallway full of doors into a space full of interest and light! Come learn all about our unique hallway decor and see how we transformed our girls' bedroom doors into "apartment doors."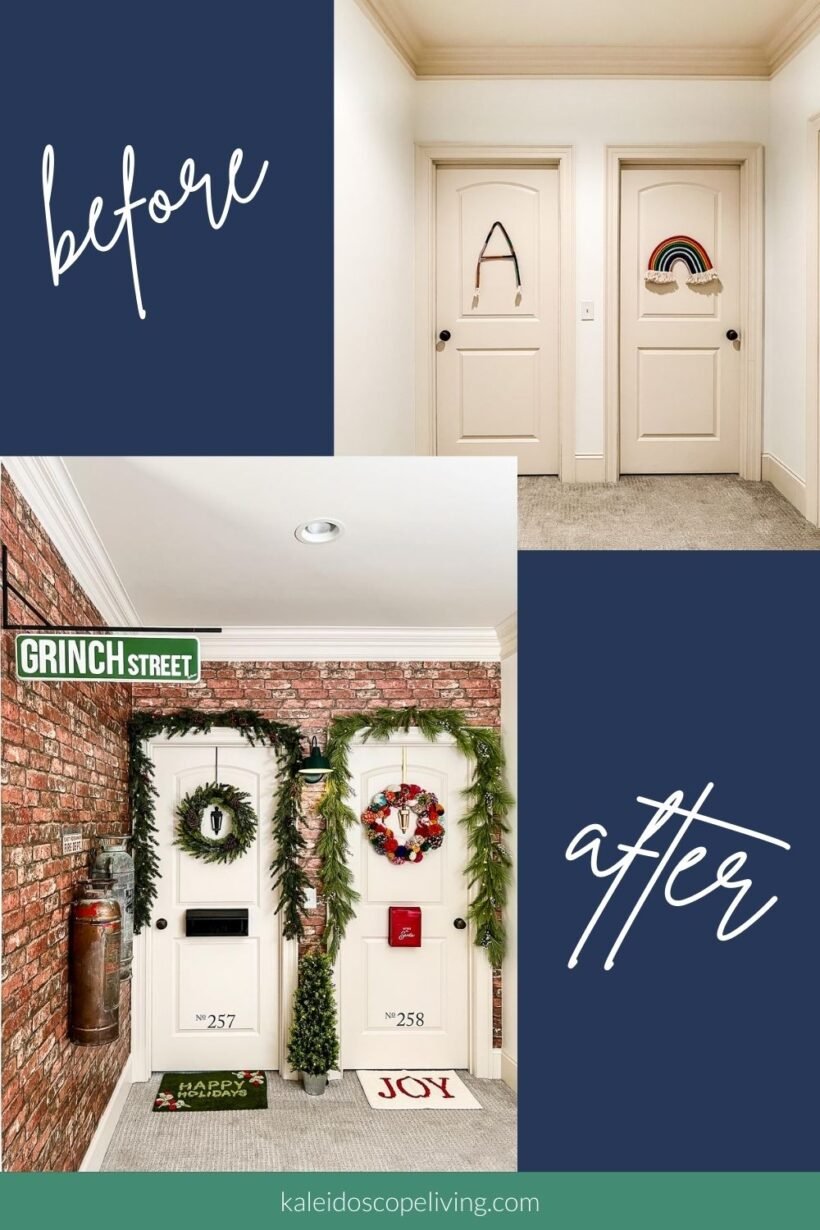 If you follow me on Instagram, there's a VERY good chance you saw this project in progress and have already seen photos of the finished project. But here you can find a complete source list along with more details about why we gave our hallway a makeover and what a difference it has made.
First let's take a look at just how boring our hallway was before. It has 10, YES 10 doors. And it's a dark hallway because it doesn't have any direct source of natural light. The only natural light it receives comes from the doors to the adjoining rooms being open. It's also awkwardly large (it's both long and wide). To be completely frank, this hallway is by far my LEAST favorite part of our new house.
All we had done in the space since we moved in a year ago was paint the walls white and replace the carpet. So it was a long, boring hallway full of doors. So many doors.
Here's a few different views of the "before."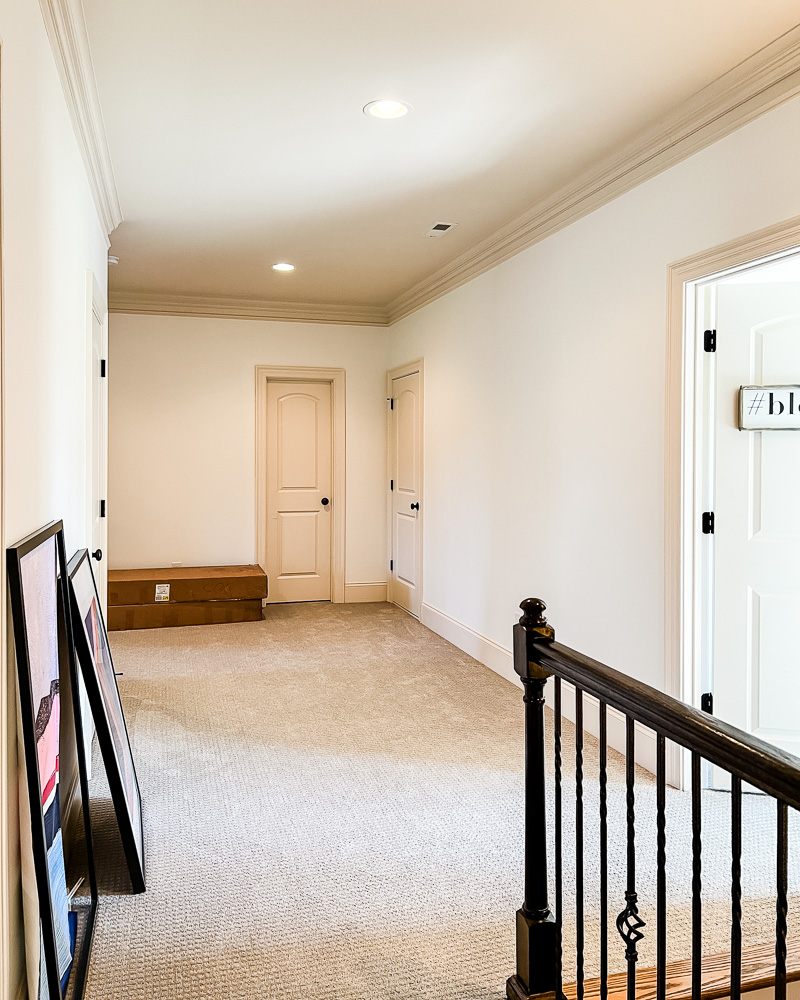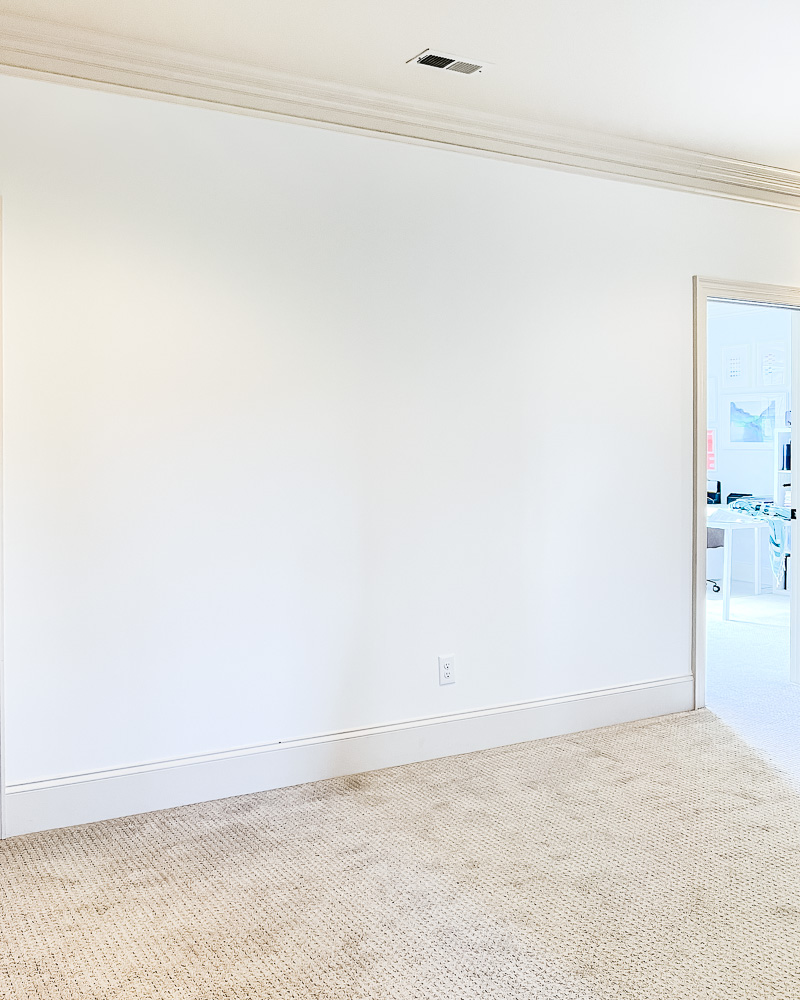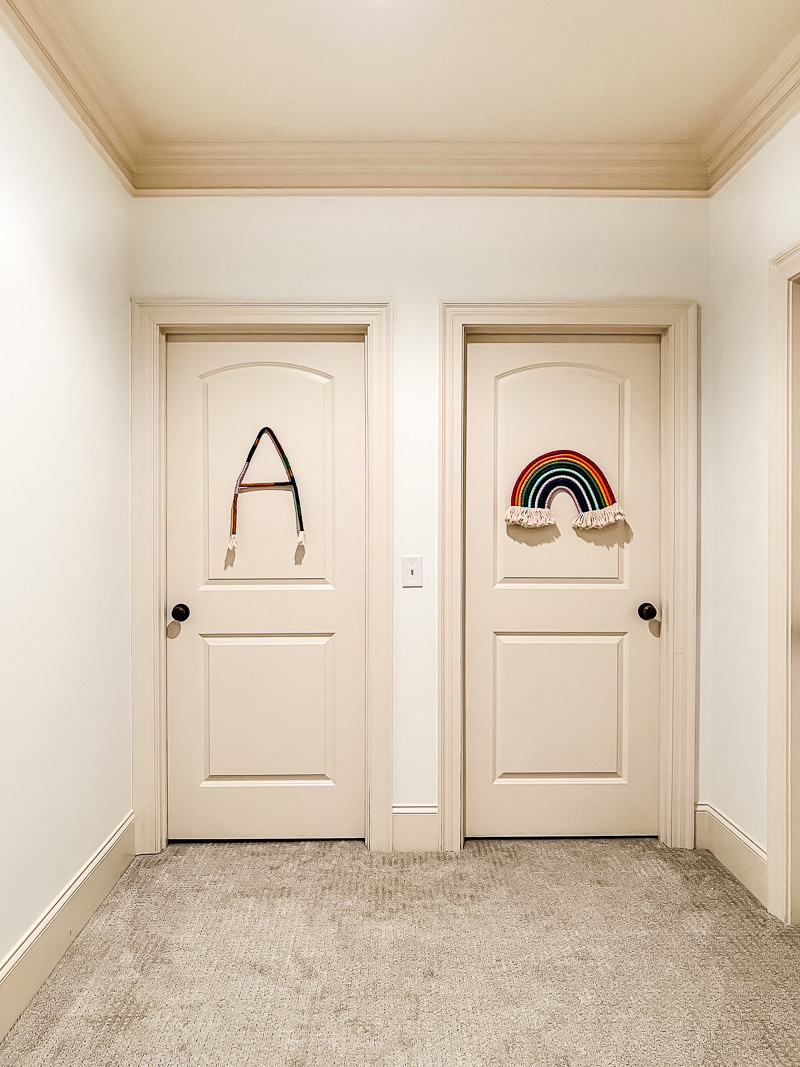 This post contains affiliate links for your convenience. Click here for my full disclosure policy.
The Hallway Landing
Let's take a look first at the hallway landing. It's SO MUCH brighter and happier now. I added two large console tables to the landing for storage and visual interest. These console tables really ground this space. And this rug ties in perfectly with the colorful gallery wall (that I originally hung in the hallway of our last house). The colorful gallery wall is a perfect way to add unique hallway decor to any hallway space (you can click here to see how it looked in our last house).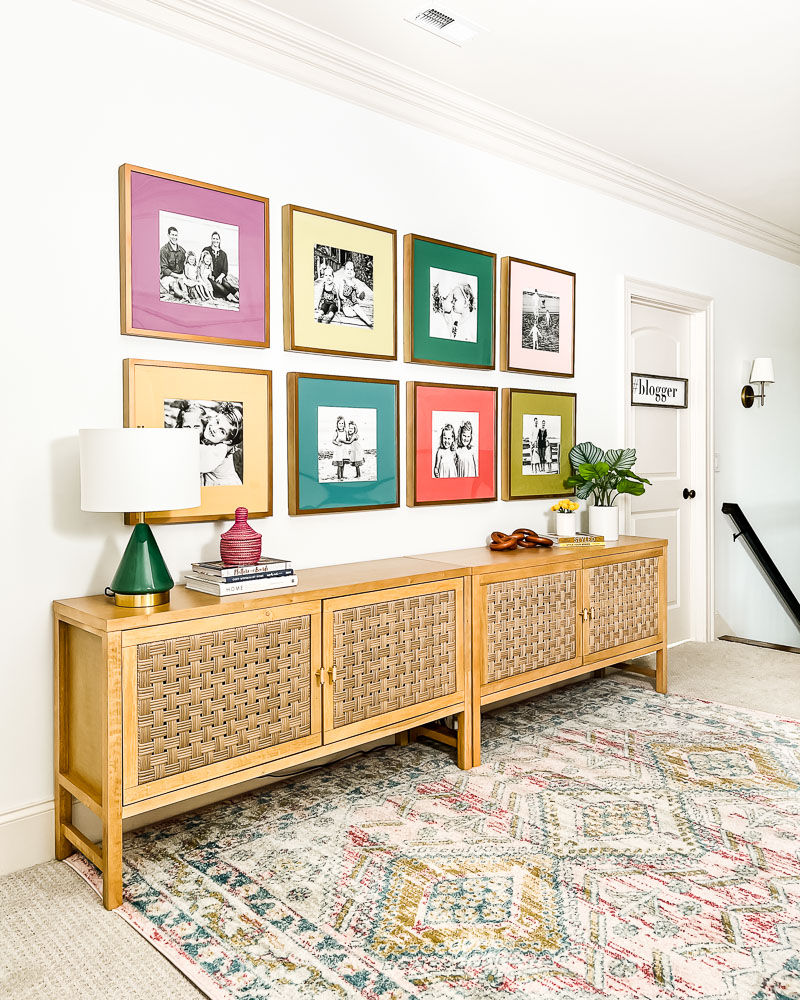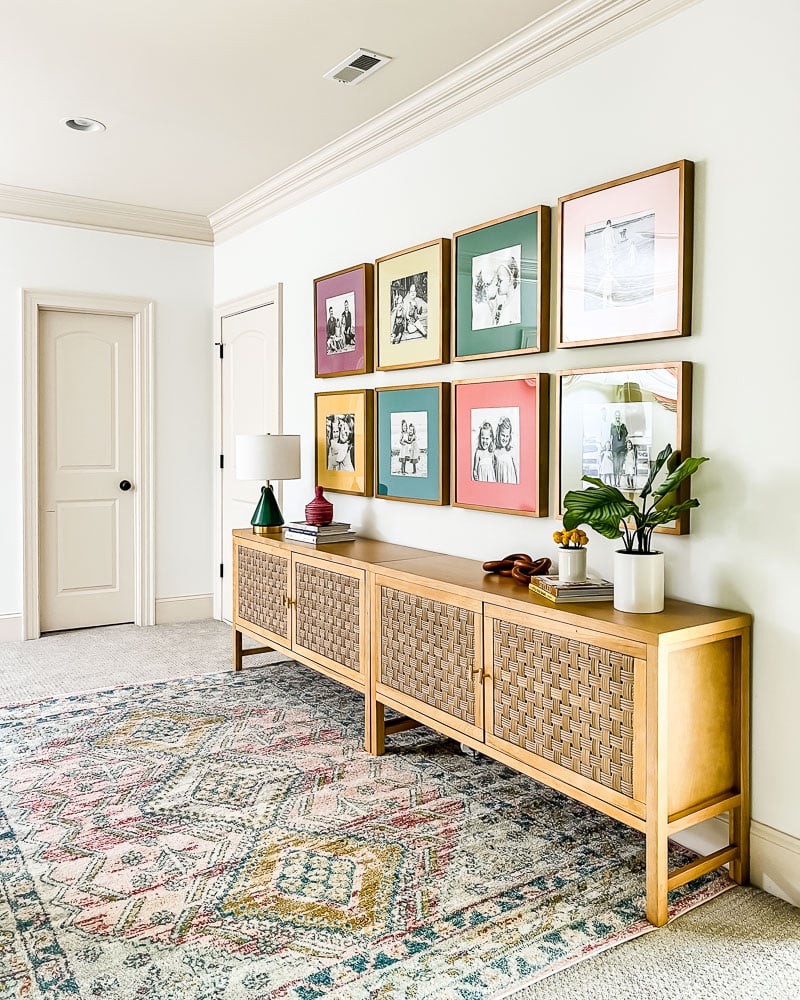 Here's a before and after of this area of the hallway. SUCH a difference!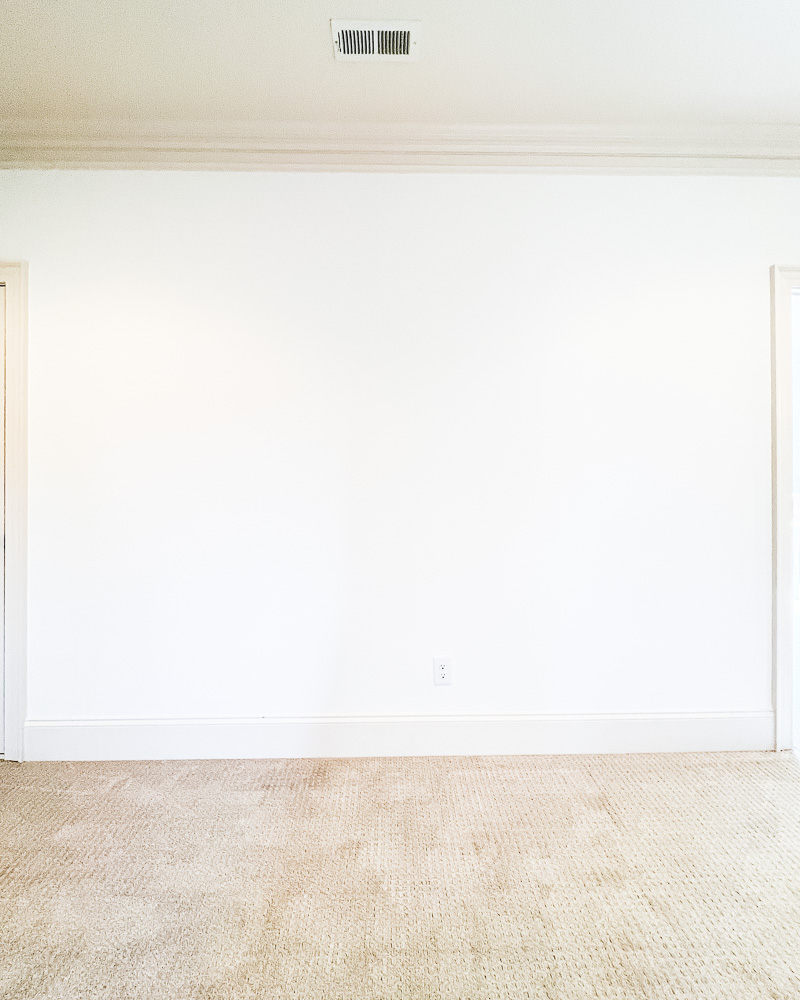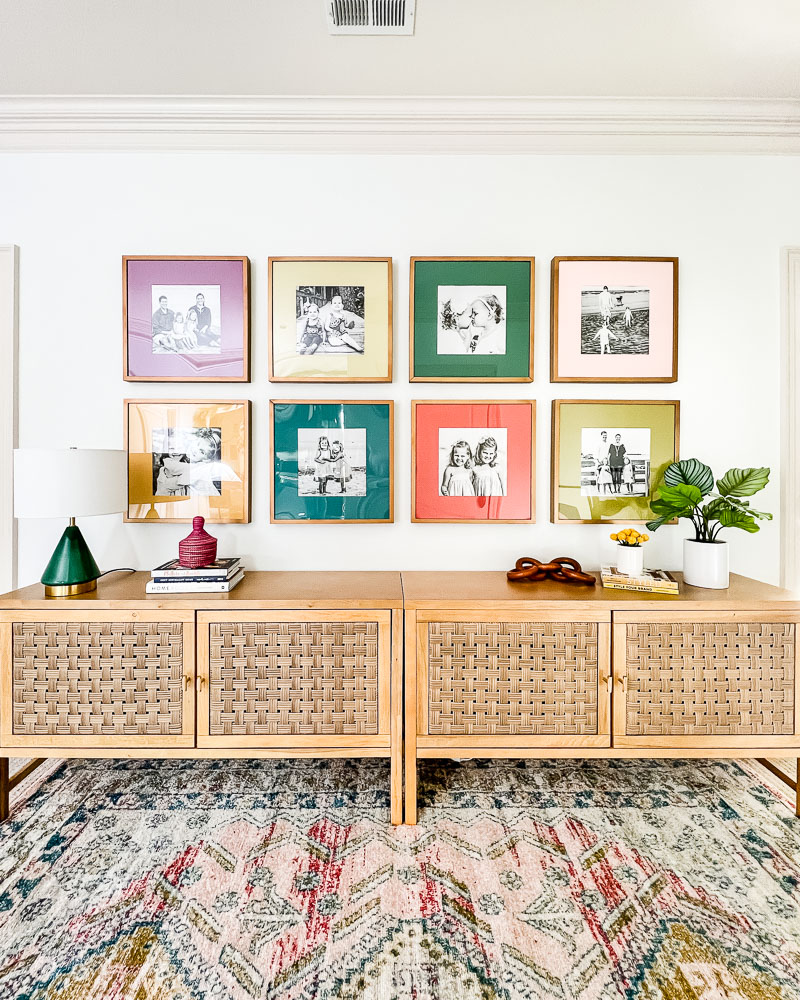 It may sound odd, but the biggest impact in the space comes from the lighting solutions. I have the lamp set up on a smart plug to come on each night before dark (you can click here to hear all about how I use our smart home devices to make life easier). And the recessed lights are on a motion detector to come on every time we walk up the stairs. I can't tell you what a difference the lighting has made to transform this space. It no longer feels like walking into a dark cave!
The "Apartment Doors"
If you enjoy videos, the video below to see how this space came together!
As much as I love what we did in this landing portion of our hallway, it's what we did to our girls' bedroom doors that is TRULY unique decor for any hallway! I decided to transform their basic bedroom doors into exterior "apartment doors." I have truly never seen more unique hallway decor than this! So if you have kiddos and have been wondering how to decorate a hallway in your home, I would encourage you to consider this!!! My girls are OBSESSED with how it turned out!
This project idea came to me because I thought it would be a fun and special way for my kiddos to express their VERY different styles. My sweet Avery doesn't love color. My sweet Attley loves alllllll the color (just like me, lol).
I also came up with this idea as a way to respect their boundaries/privacy (knocking before entering, leaving notes in their mailbox if they are upset and don't want to talk, etc). It just so happens that I finally got around to it near the Christmas season, hence the Christmas decorations!
The "brick walls", door knockers, address numbers, mailboxes, antique fire extinguishers and lantern will stay year-round. And I figure we'll add seasonal wreaths for fun. I will need to swap out Attley's mailbox for a plain one after Christmas. And we will swap out the street sign as well.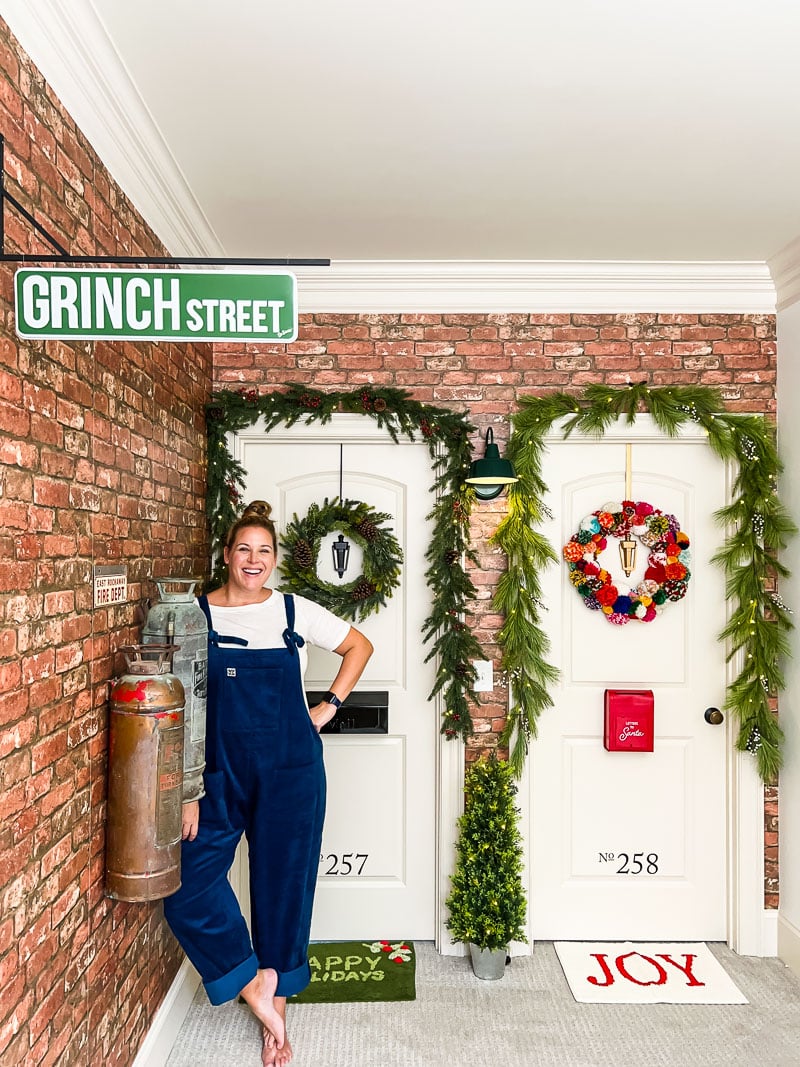 One of the most special parts of this space are the nods to our family's firefighter roots. Y'all probably all know that Joe is a firefighter. But you may not know that Joe's dad, who passed away last year, was a volunteer firefighter. That fire department sign belonged to his dad. And I surprised Joe with the antique fire extinguishers that I found at a local antique shop several years ago. We never had a great place to put them until now.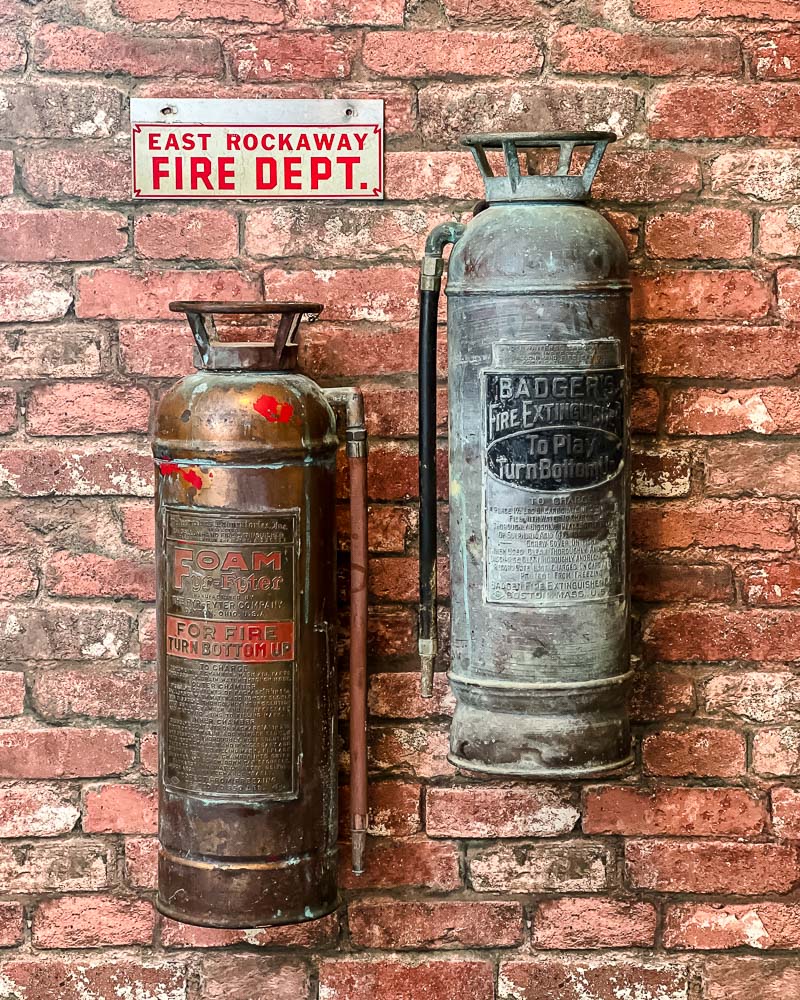 There are some other special touches that you may not notice at first glance. The address numbers are the times that our twin girls were born :) Now you know who is older, by 1 whole minute, lol!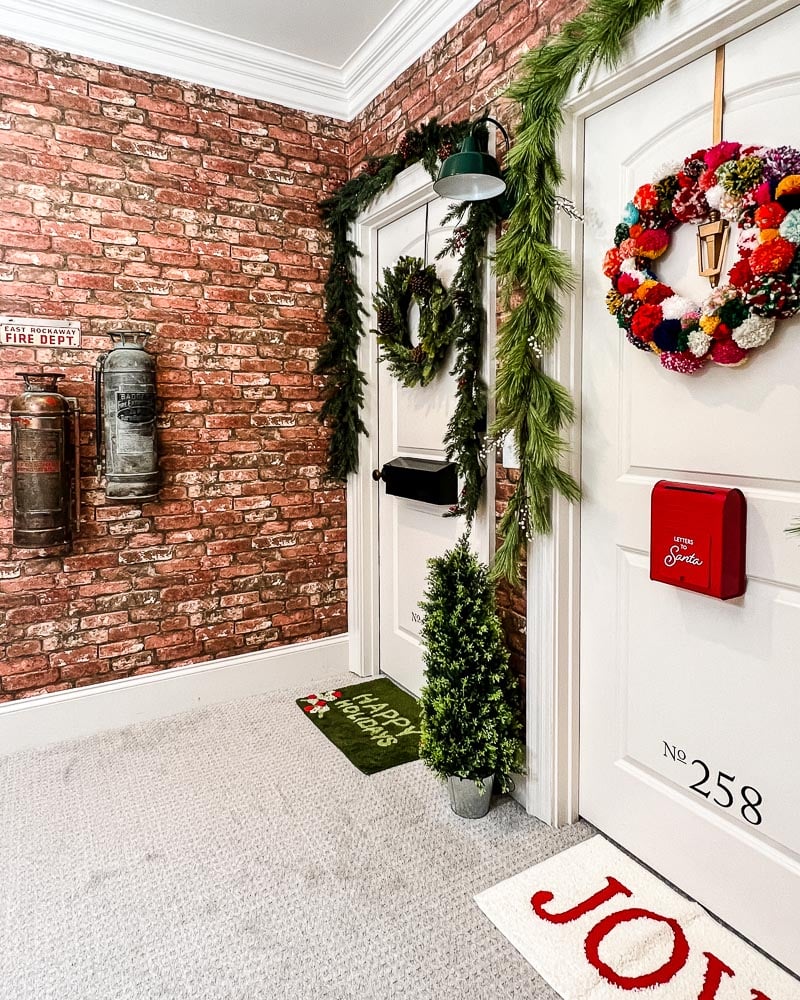 The lantern was just a fun touch. I used this magic light trick to avoid hardwiring it (just note that I prefer to hot glue my puck lights in place–I've never had any luck using the velcro option). And the Christmas lights I added to their garlands are battery operated. They come on every evening with a timer function. So easy!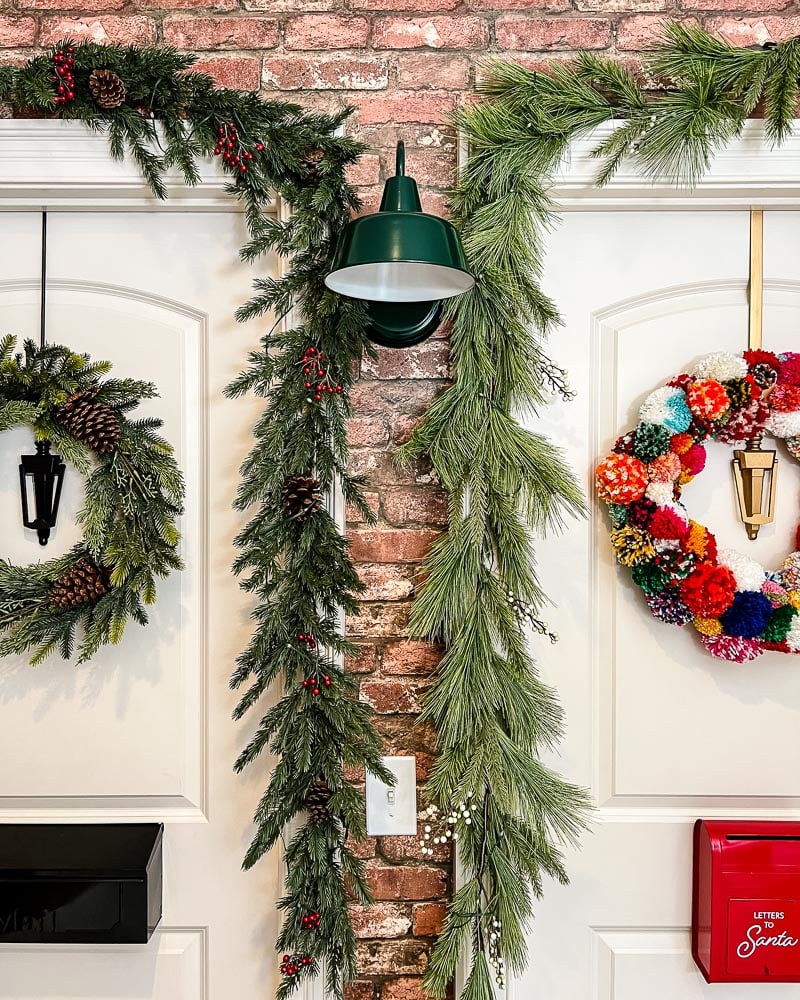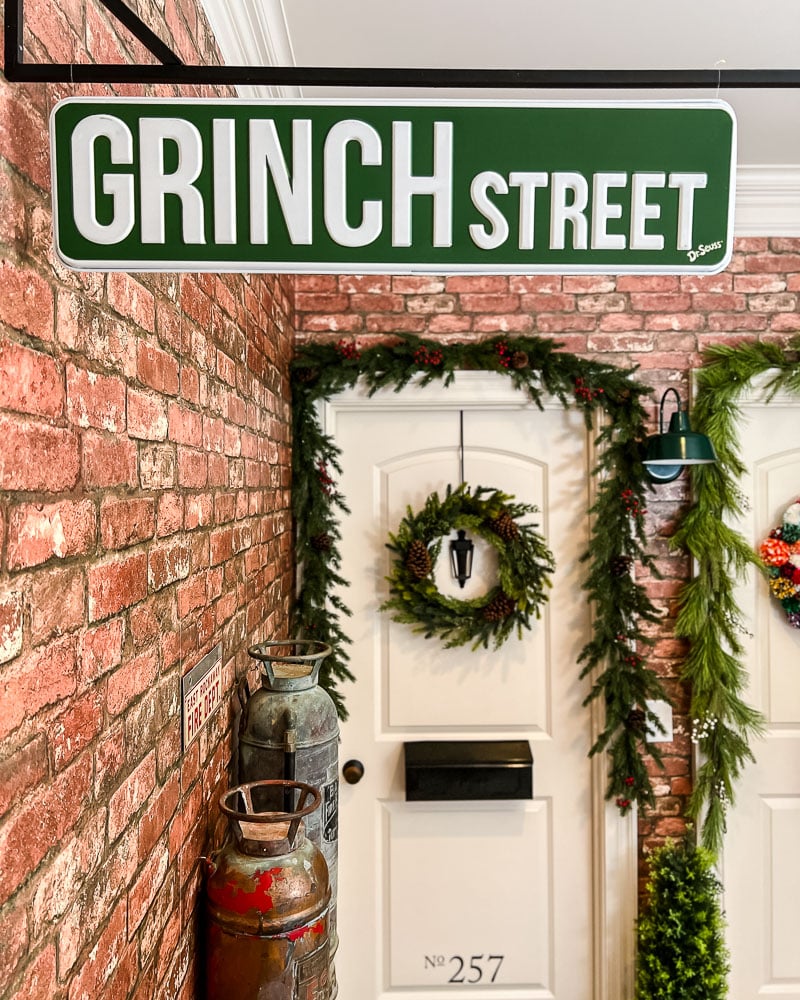 Here's a before and after of this portion of our hallway. WOW.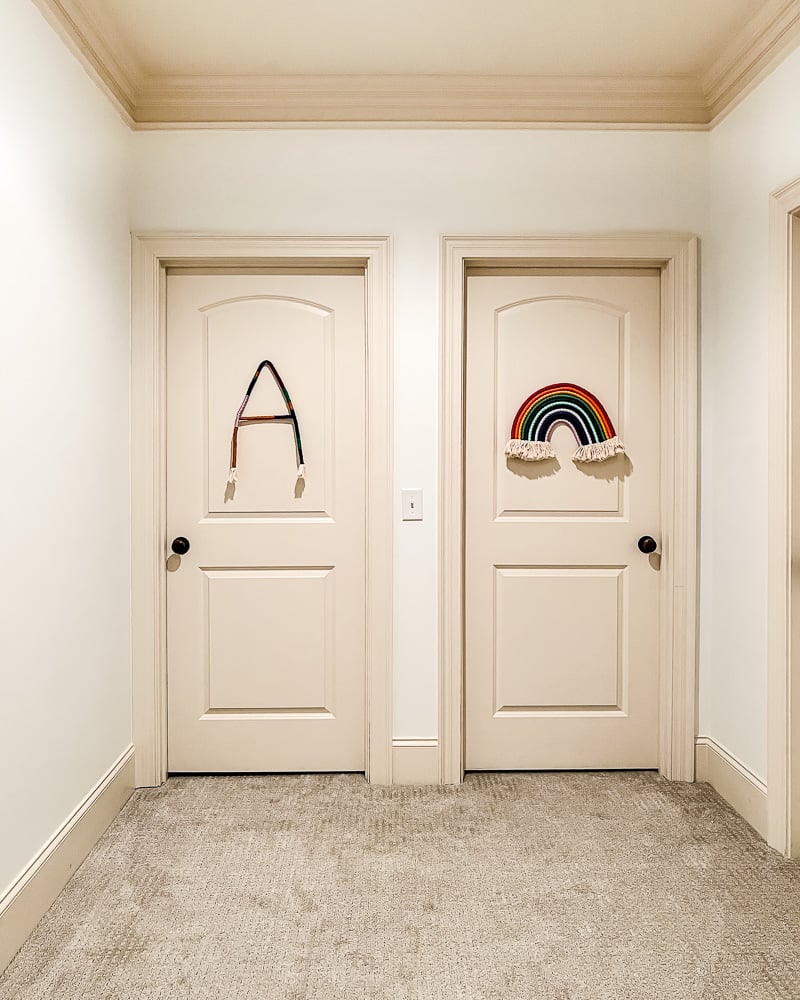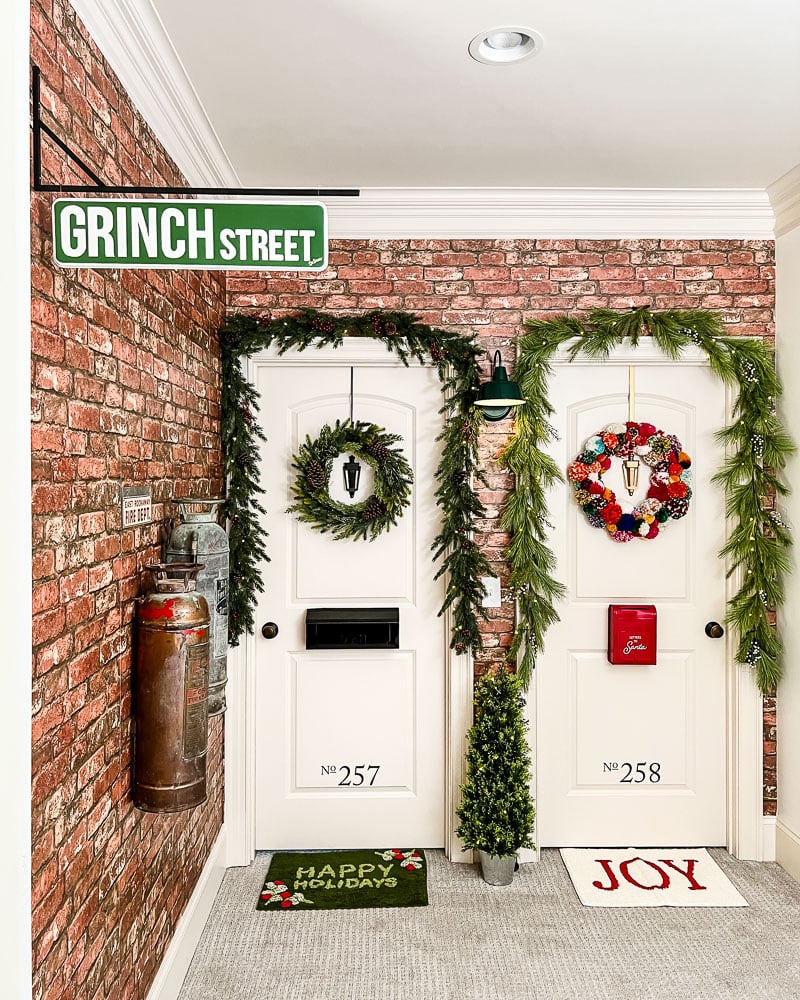 Source List
I've included a list of sources for you below. Please note I don't have links to everything if they are antique or we have had them a long time. I also don't have a link for the letters to Santa mailbox–I found that in the Dollar Spot section of Target a while back. And the pom pom wreath on Attley's door is a DIY project–you can find that tutorial here. But I have linked to a similar option that you can purchase!
Click on any image for full product details.


As with every single room design I create, I used the exact process I set out in Designer in a Binder®. It really works y'all.
Other posts you may enjoy:
Wondering how I approach transforming rooms and spaces in our home? Check out Designer in a Binder®.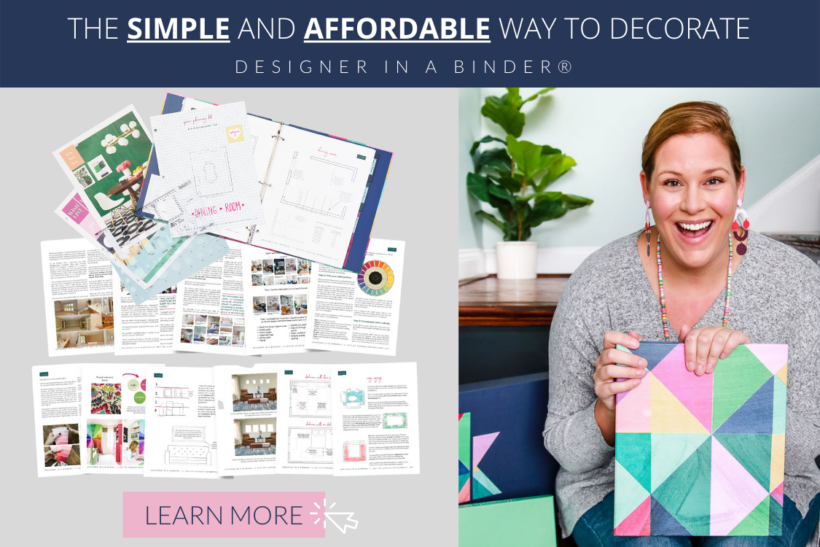 And if you want exclusive content and behind-the-scenes sneak peeks, be sure to subscribe before you head out!