Fun and Stylish Playroom Ideas & Decorating Tips
Thoughtfully designed playrooms spark creativity and imagination. But they also need to be practical and functional. And it is possible to strike the perfect balance. So if you have ever wondered "what do you put in a playroom?" or "how can I decorate a playroom on a budget?" you are in the right place. In this post, I'm sharing my top tips for how to decorate a playroom that will be fun, stylish and functional.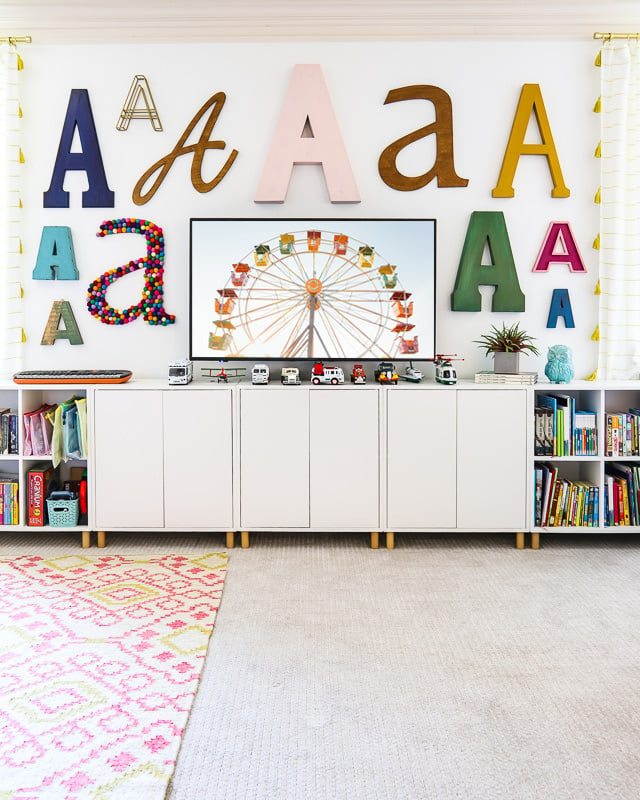 How to Decorate a Playroom: General Tips
I have designed several playrooms since our girls were toddlers. Now that they are 12, we have more of what most people would call a family bonus room, but really, it's a playroom. Our kids just don't think it's cool to call it that anymore, lol.
When you set out to design any space in your home, you absolutely need to come up with a cohesive design plan first. If that's something you struggle with, I highly suggest you check out Designer in a Binder®. It's the system I use every time I design spaces in our homes!
In any event, I have lot of experience with designing playrooms! Before we dive into specific tips and ideas, let's talk about the "big picture" playroom decorating tips. When designing a playroom to be both functional and stylish, you generally want to focus on:
Creating a flexible space that can be used in a variety of ways. This is especially important if you have kids that are multiple ages. You want to be sure all of your kids can enjoy the space no matter their age.
Choosing playroom decor and furniture that you and your kids will still love as they grow and get older.
Including lots of functional and versatile storage that can store anything from toys for young kids to board games and books for older kids.
With those overarching goals in mind, let's talk specifics!
Playroom Decor Ideas
Incorporate Color & Pattern
I know there are tons of neutral decor lovers out there and I totally get it. Neutral decor can be very soothing and comforting. But I feel that playrooms should make our kids (and us) feel energized and there is no better way to do that than with lots of bright colors! Don't worry. I'm not talking neon bright–just vibrant, energetic colors.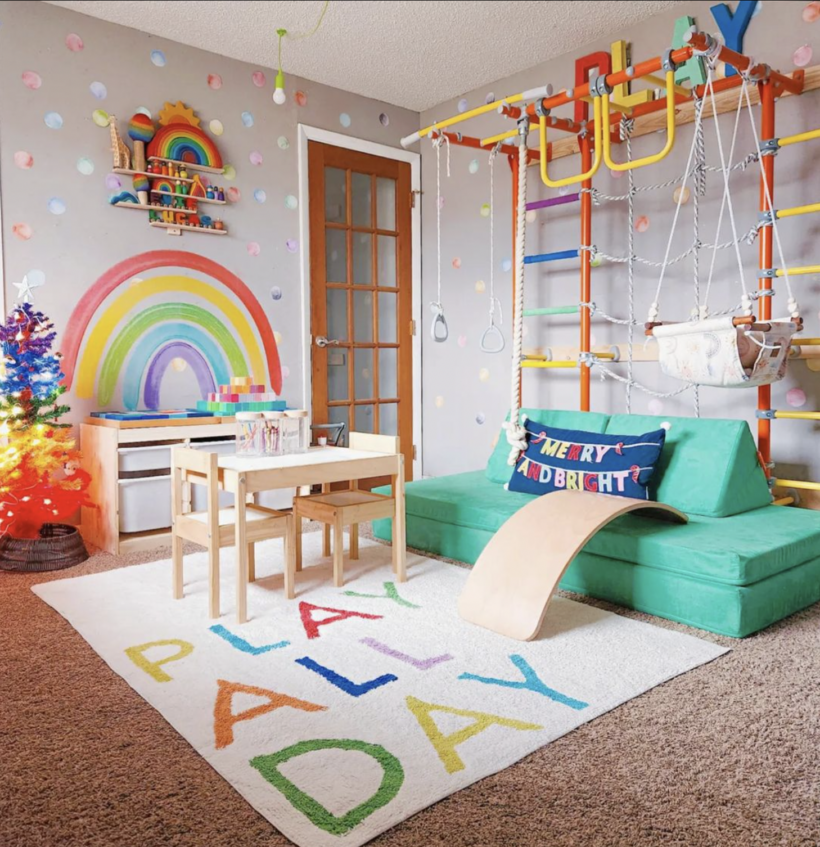 Think beyond your walls! Color and pattern can also be incorporated through things like artwork, a rug, throw pillows, etc.
Use a Fun Wallpaper for an Accent Wall
A playroom is a perfect space to use a fun wallpaper that may feel like a bit too much in a "regular" room. The right one can add a splash of color and pattern!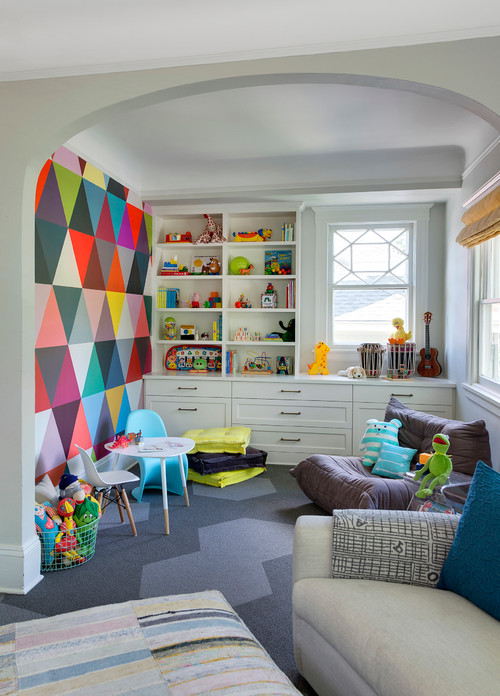 Include Ample Storage for Crafts & Toys
Versatile and simple playroom storage is your friend. I have personally found that a combination of open and closed storage is the way to go in a playroom. Closed cabinets can help you hide items that you don't want to look at all the time, while open storage is great for books and bins for toys that your kids play with the most. You can take a tour of our bonus room to see how we store things below.
Modular Cabinets
Believe it or not, cabinets for playrooms can be very budget-friendly. These IKEA cabinets we used in our current bonus room were affordable and they are STURDY. They are modular, so you can create a mixture of closed cabinets and bookshelves.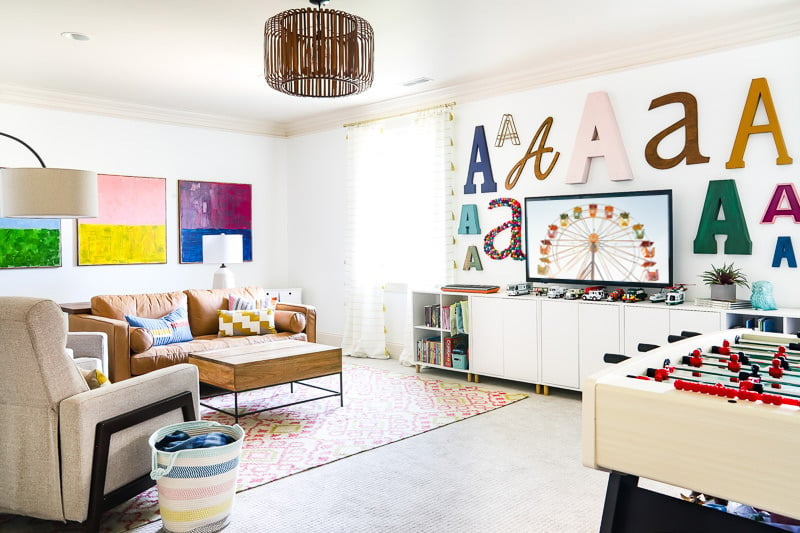 Bookcases
In our old playroom, we built these DIY pipe shelves and desks, which added a ton of storage and gave them somewhere to sit and draw or work on puzzles.
And the beautiful bookcases below are actually a genius IKEA bookshelves hack. Affordable, stylish and functional!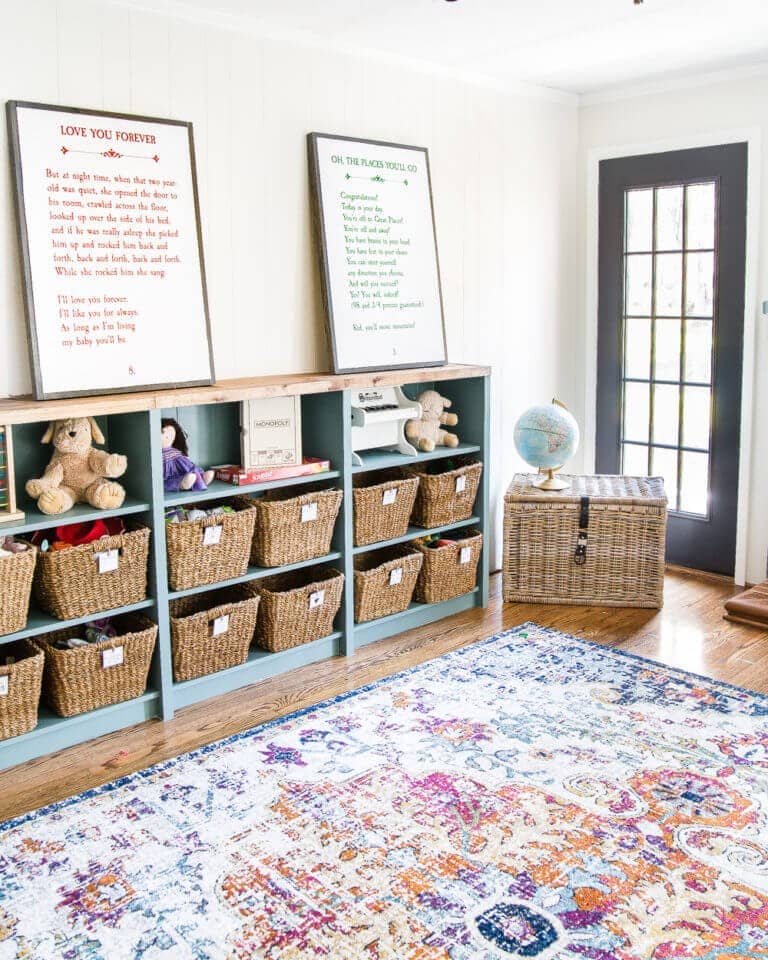 Baskets & Bins
Wondering how to store all those Legos, Polly Pockets, etc. so that they stay organized and are easily accessible? Baskets and bins are your friends.
I personally love lidded bins that can stack and store pretty much anything. We use our lidded bins for legos, which has worked incredibly well. These IKEA Kuggis storage bins are inexpensive, sturdy and they come in different sizes but are designed so that they stack perfectly on top of each other. They are large enough that my girls can keep their lego sets largely assembled when they put them away. See how nice and unobtrusive they are in the background?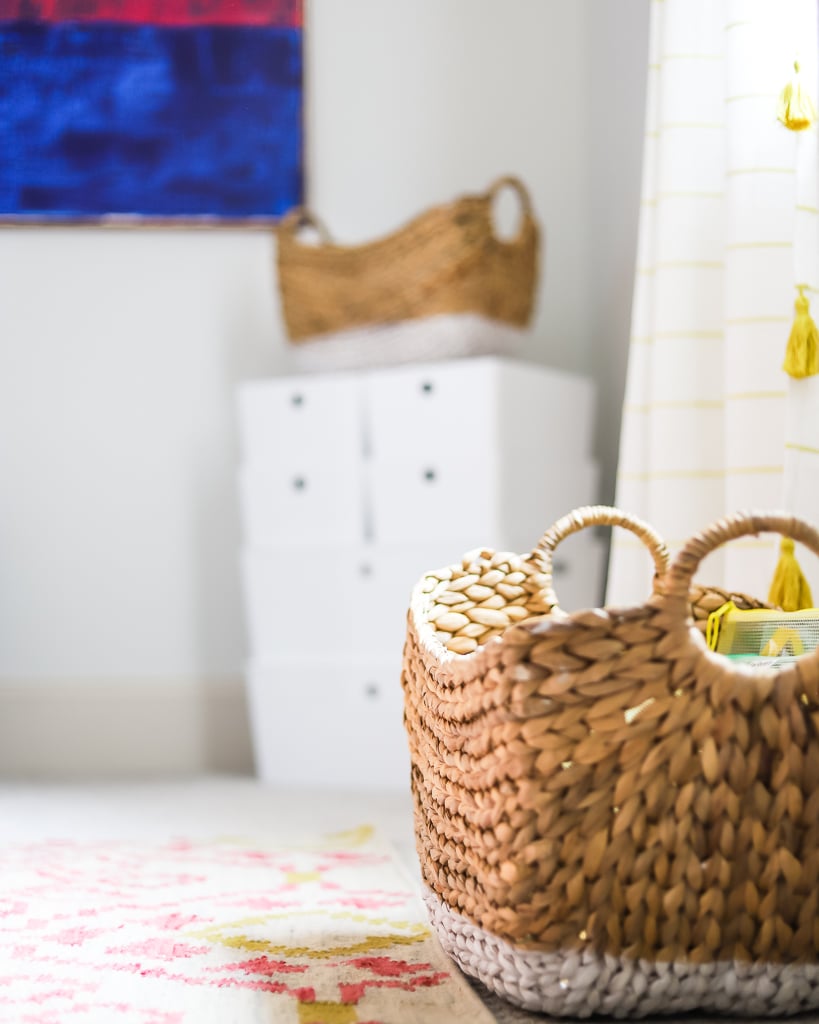 Best of all, they use the lids to build on, which makes them easy to move around AND to clean them up when they are done.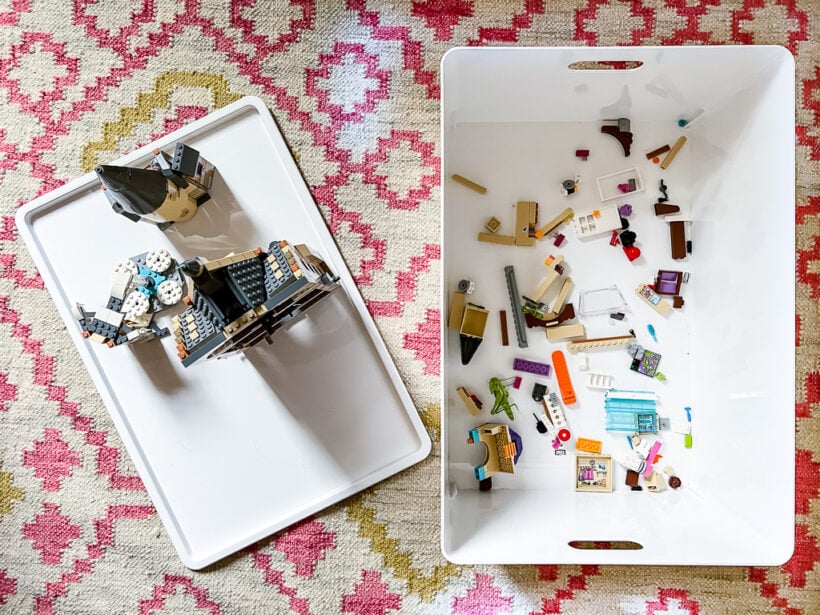 Include Storage Furniture
Using a storage bench for seating and storing things like board games is one of the smartest things you can include in a playroom design. In our last house, I eventually took over my girls' dedicated playroom to use as my home office. At that point, their play area moved to a nook / corner in our family room. They used a storage bench as the seat at their desk and it held all of our board games!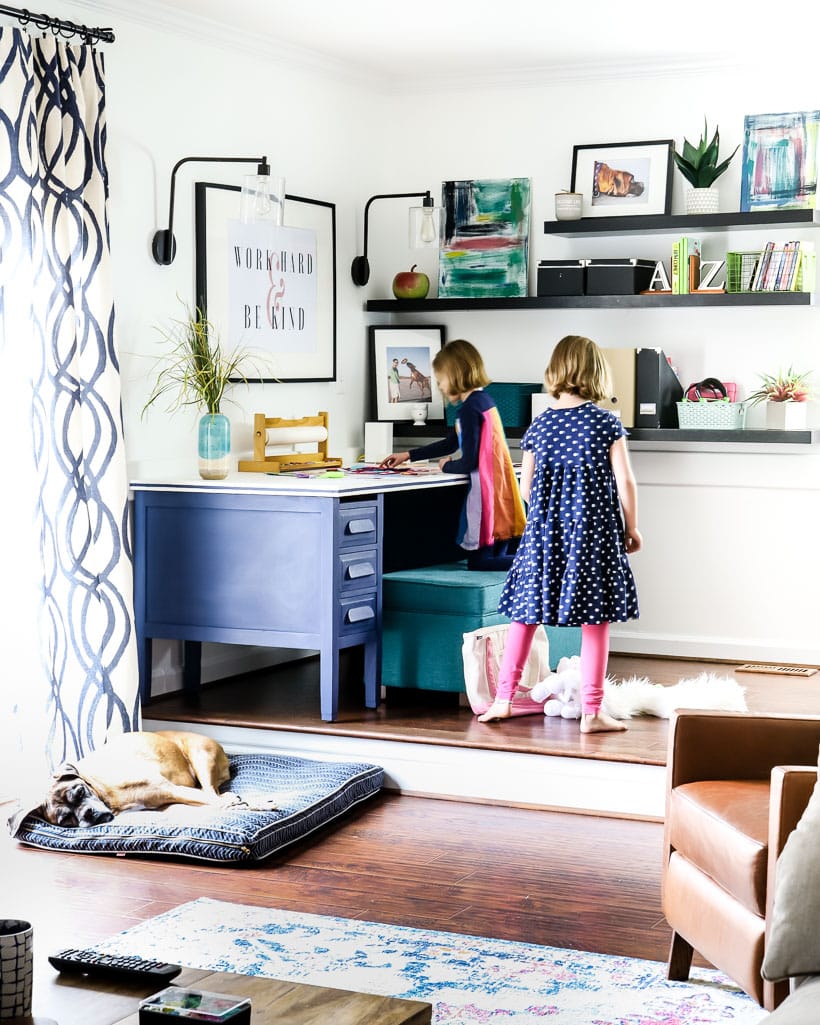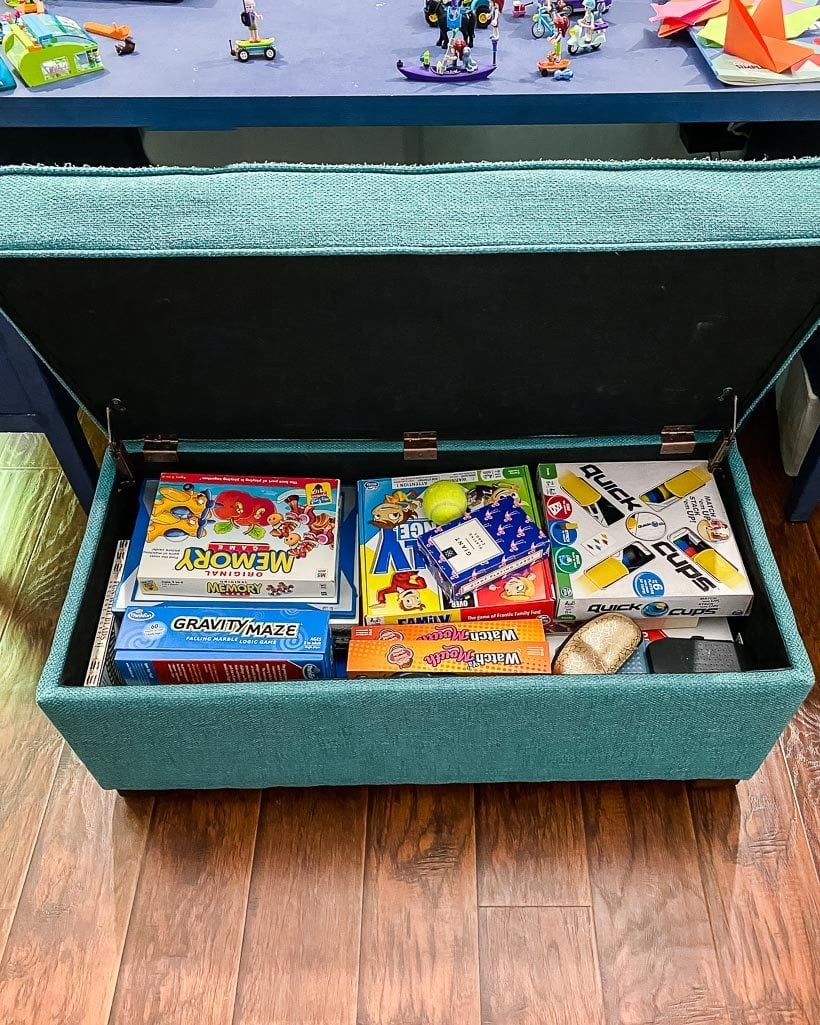 And in our current bonus room, we love our storage coffee table (I'm a suck for unique coffee tables). Not only is it great for storing stuff, but the fact that the top flips up also makes it one of our girls' favorite spots to draw or make bracelets while they watch TV.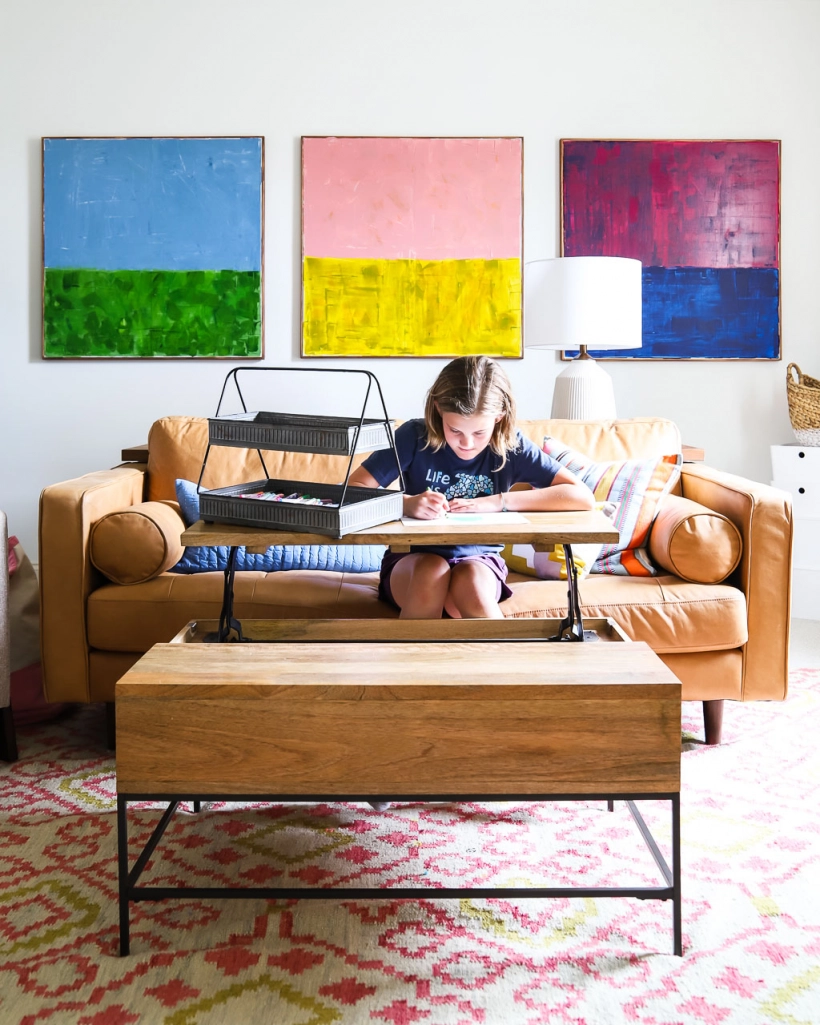 And these incredible storage chairs and coffee table are GENIUS! They add style and function to this playroom space.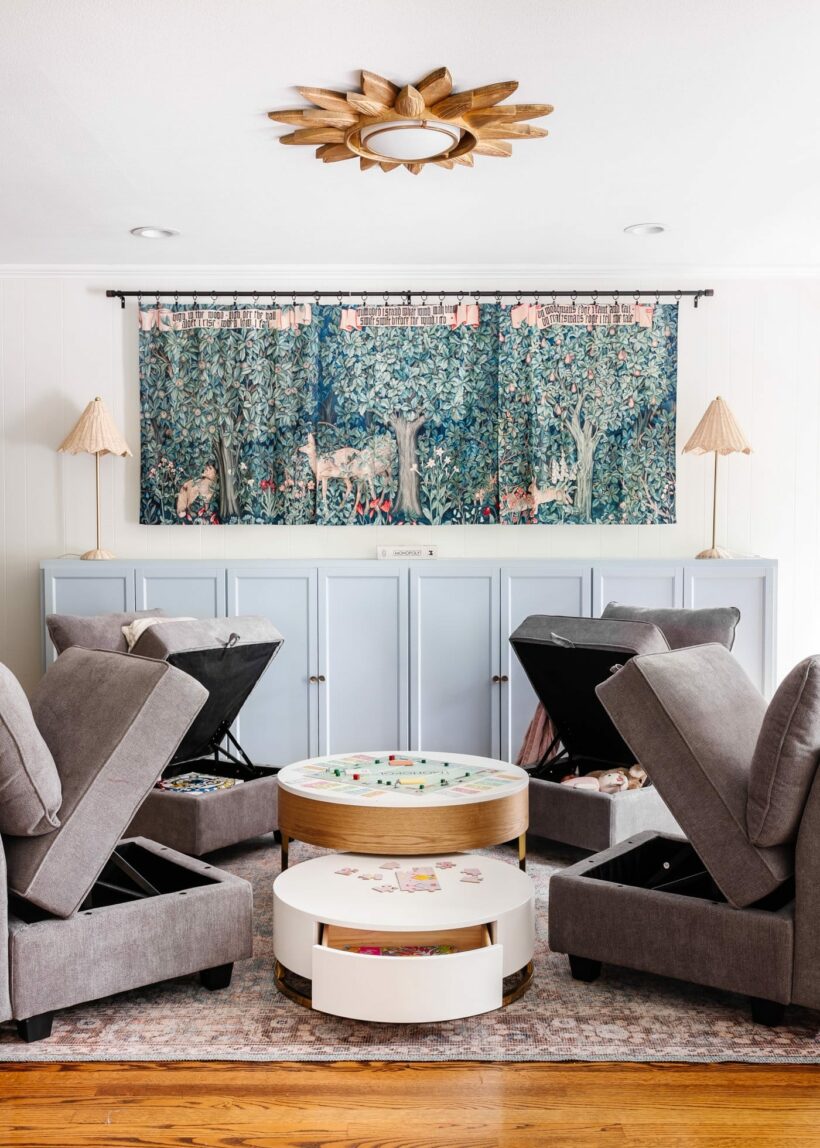 Add Interest to the Ceiling
Playrooms call for whimsical touches, and what's more whimsical than doing something fun on the ceiling? I love this idea of adding simple gold stars to the ceiling (I love ceiling ideas that make a huge impact).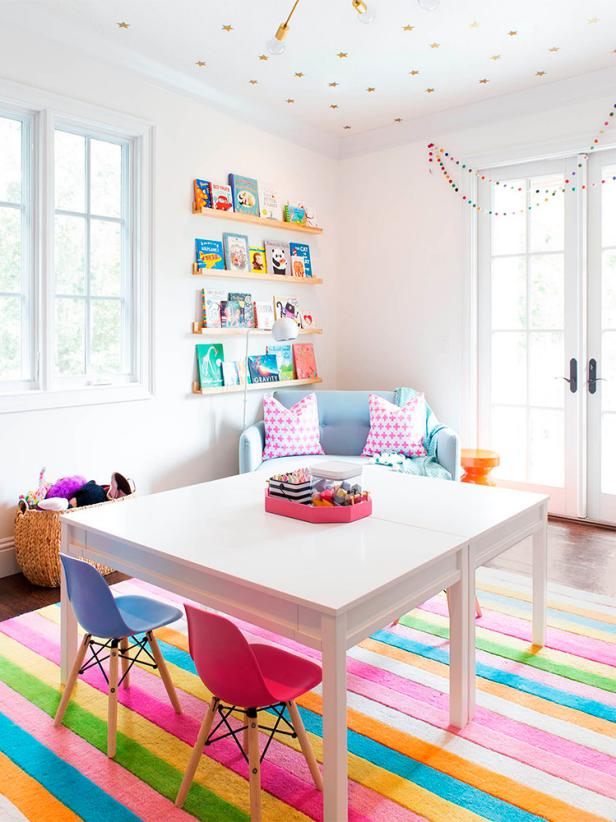 Want to take the whimsy up a notch? This ceiling mimics the inside of a circus tent. SO FUN!
Include a Desk or Table for Homework & Crafts
In every single playroom we have set up for our girls, we have been sure to include a large table or desk. Not only are desk drawers perfect for holding things like crayons and markers, but the large table surface is crucial for doing crafts, putting together puzzles, making friendly bracelets and even doing homework. In our girls' current bonus room space, the large desk sits behind the sofa. Two stools easily tuck under the desk when they aren't using it.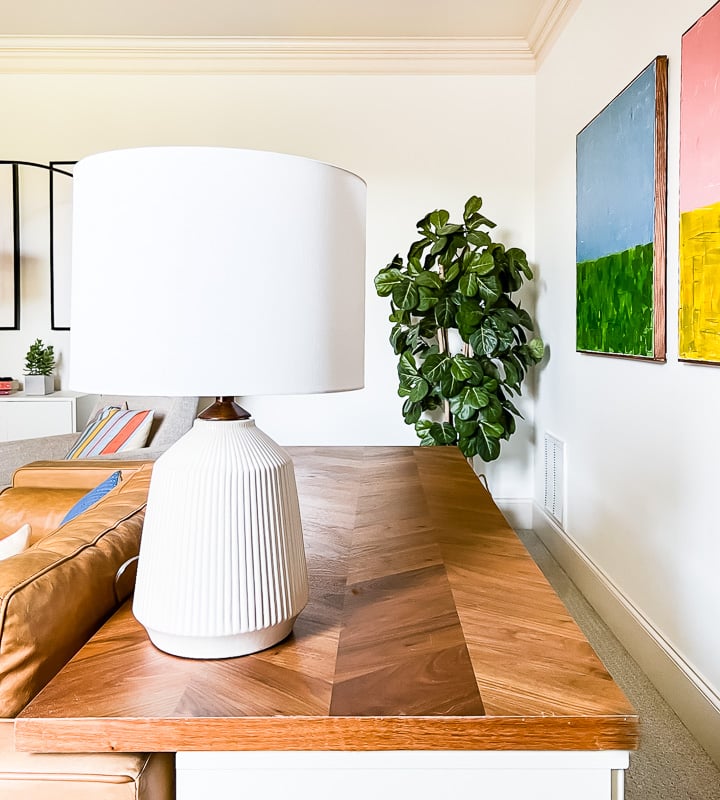 When your kids are younger, you may want to choose a table and chairs that are perfectly sized for them. The more comfortable they are, the more they will use it!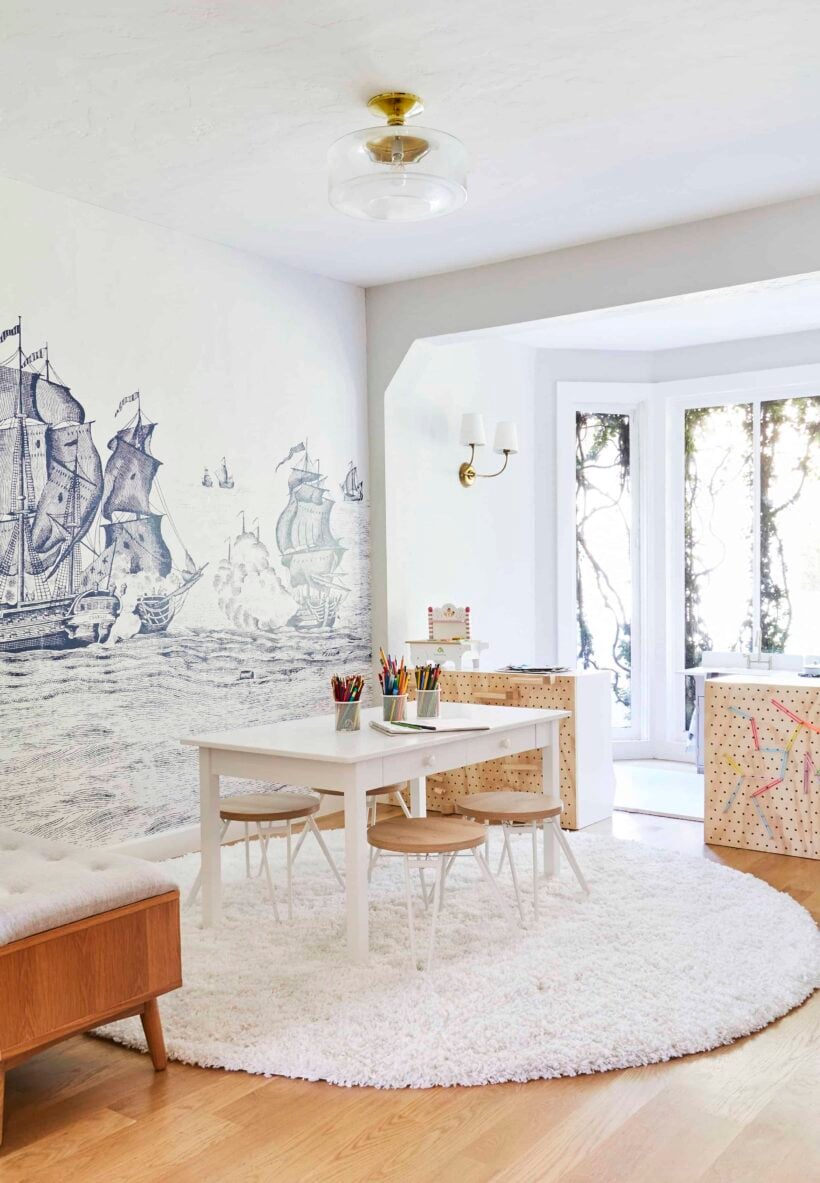 For older kids who may need less floor space, you might even want a large table AND a desk area for a homework zone.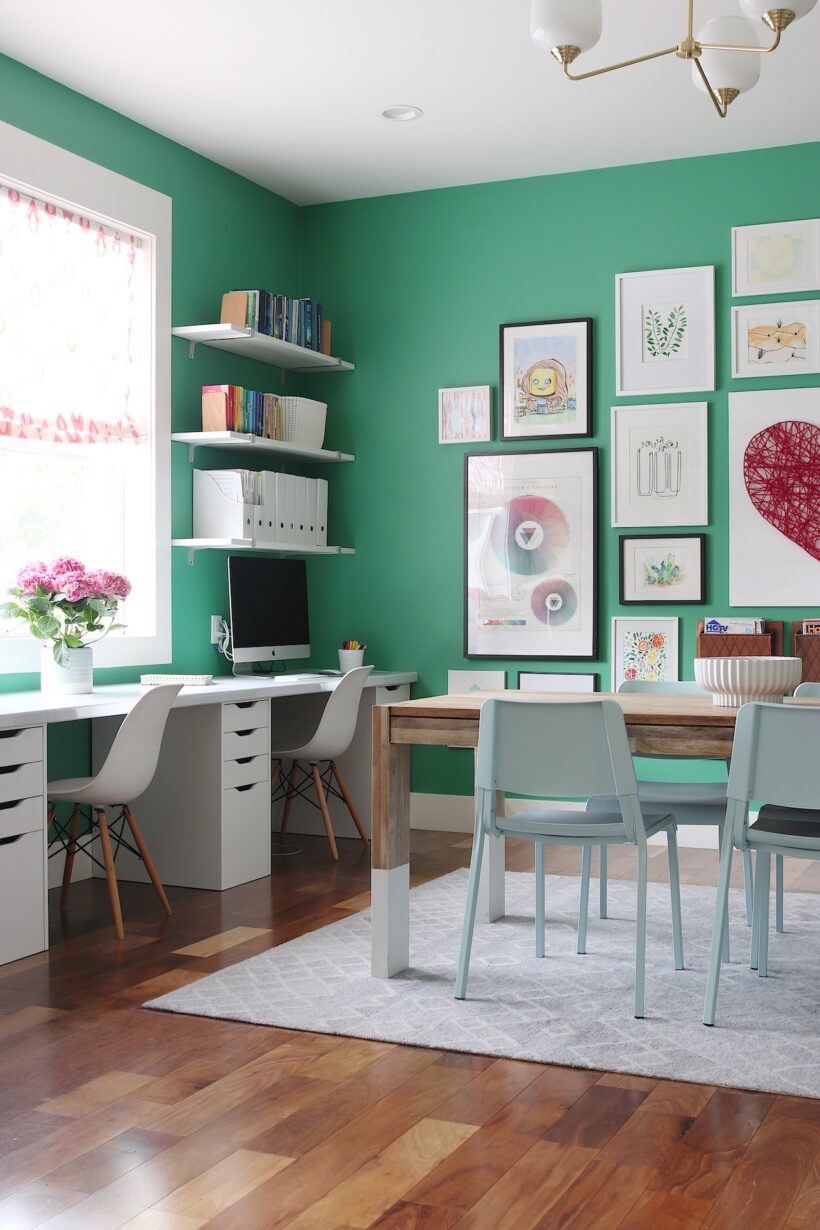 Add Comfortable Seating
Every playroom needs a comfy spot to sit and read books or lounge to curl up and watch a family movie. Choose seating furniture that is durable (think leather or a performance fabric) and can be easily reconfigured so that you can easily rearrange your playroom as your kids get older and how they use the space changes.
In our girls' first playroom, we included a small loveseat and bean bags. Joe and I usually sat on the loveseat, but our girls almost exclusively sat in their bean bag chairs because they LOVED them.
In our current bonus room/playroom, we combined a leather loveseat with two stylish recliners. These 3 separate pieces are so much easier to rearrange than a large sectional would be. I know because we have already gone through 2 different furniture arrangements in this space as our girls have grown and needed a bit more open floor space.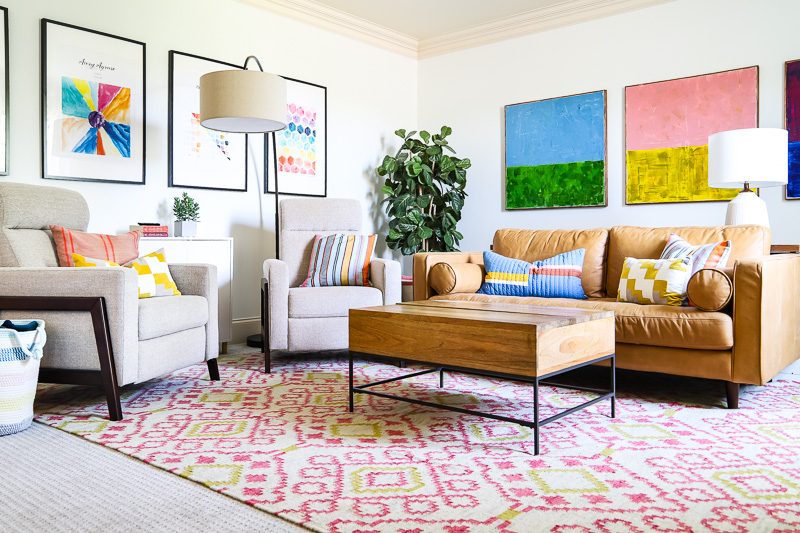 One large sofa or couch and a smaller loveseat would give you a fair amount of flexibility as well.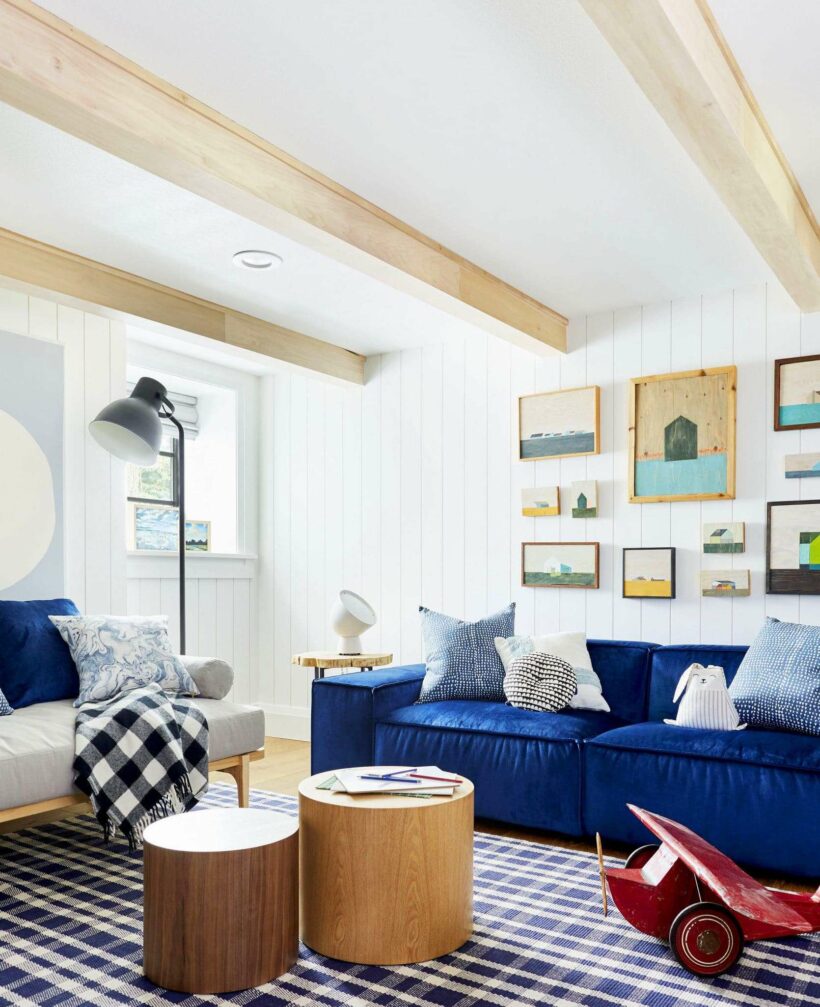 One of my favorite playroom ideas is using large floor cushions to form one long seating area. The best part is that your kids can let their imaginations run wild and use the cushions to build all kinds of creations! Also, how fun are those wall decals?!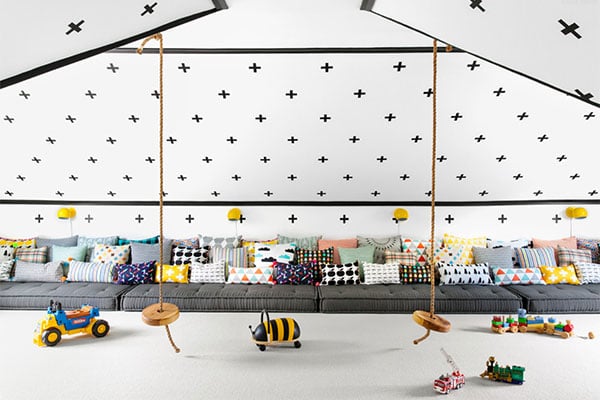 Include a Chalkboard Wall
We painted a large wall in our girls' first playroom with chalkboard paint and I was genuinely shocked by how much they used it for years. The chalkboard dust can make a bit of a mess, so I don't know that I would recommend a chalkboard wall in a room with wall-to-wall carpeting. But it's super easy to vacuum up on any hard floor surface. The best part is that the chalkboard wall itself serves as a huge piece of artwork that is constantly evolving and changing. Sigh. I kind of miss our chalkboard wall.
Add a Swing, Basketball Hoop, Climbing Wall, Etc.
If you have the space, why not include the ultimate play space? Or a full-blown indoor playground?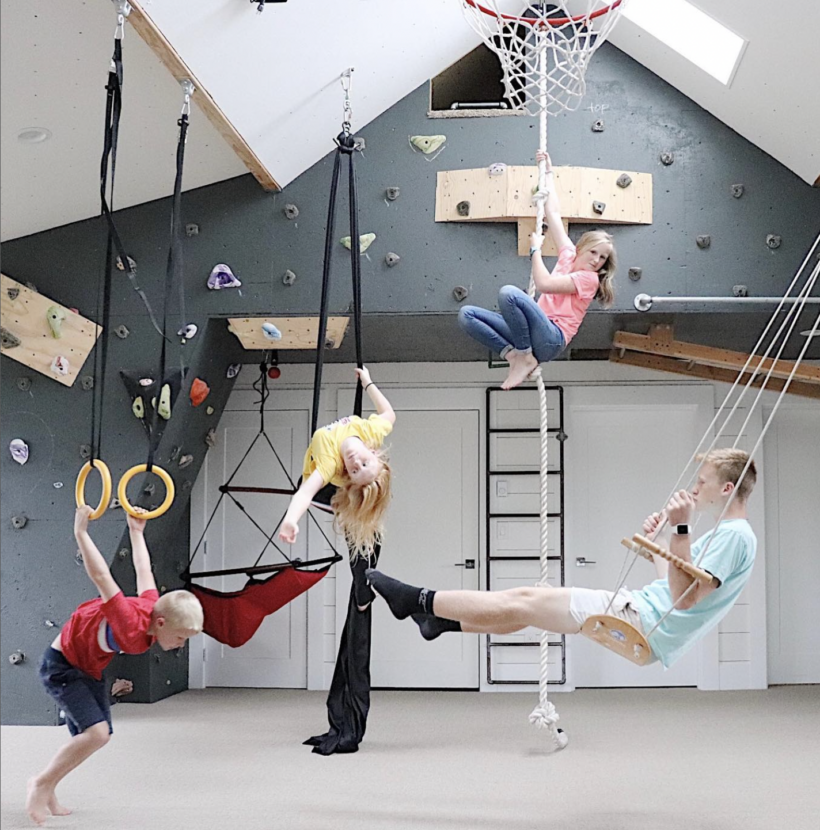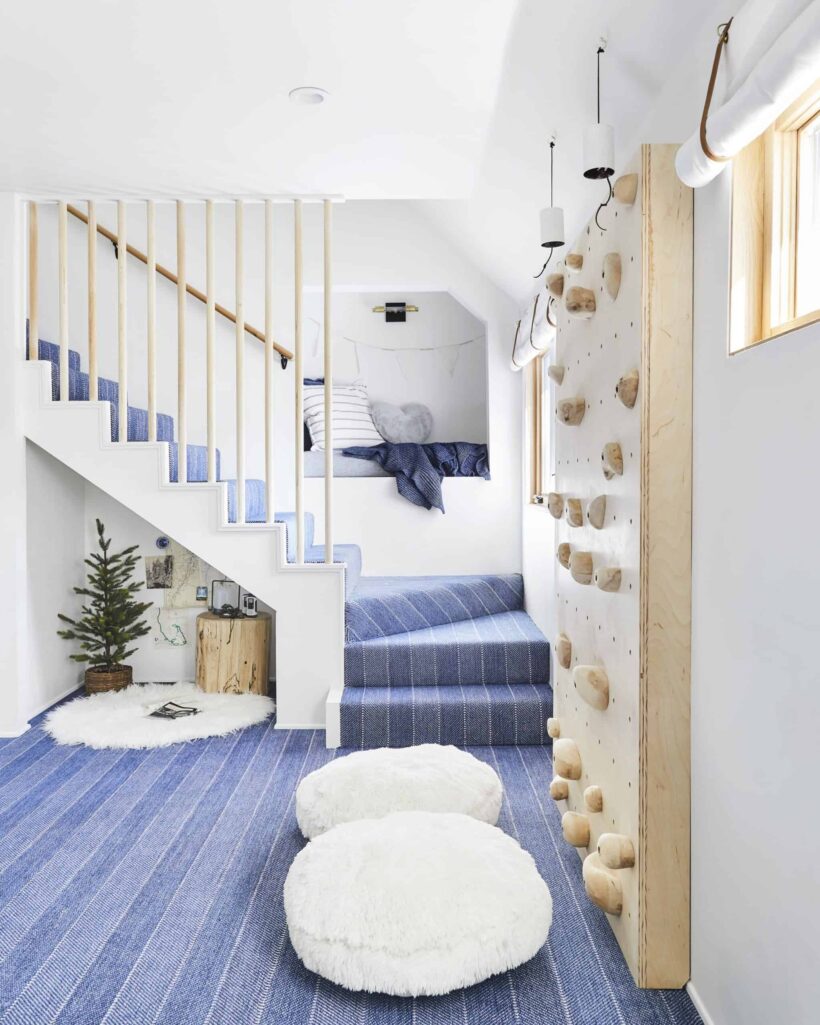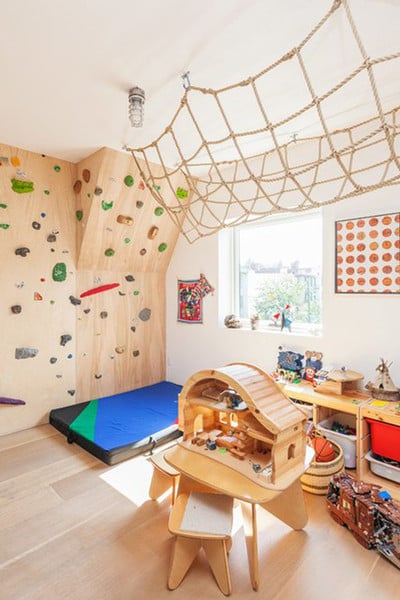 Playroom Wall Decor & Accessories
When it comes to the finishing touches of wall decor and accessories, HAVE FUN WITH IT! I am a huge proponent of filling walls with things like your kids' artwork.
In our own playroom, I turned some of my daughters' original paintings enlarged and framed them. Each piece displays the name of who painted it and the age they were at the time. I absolutely love how they turned out.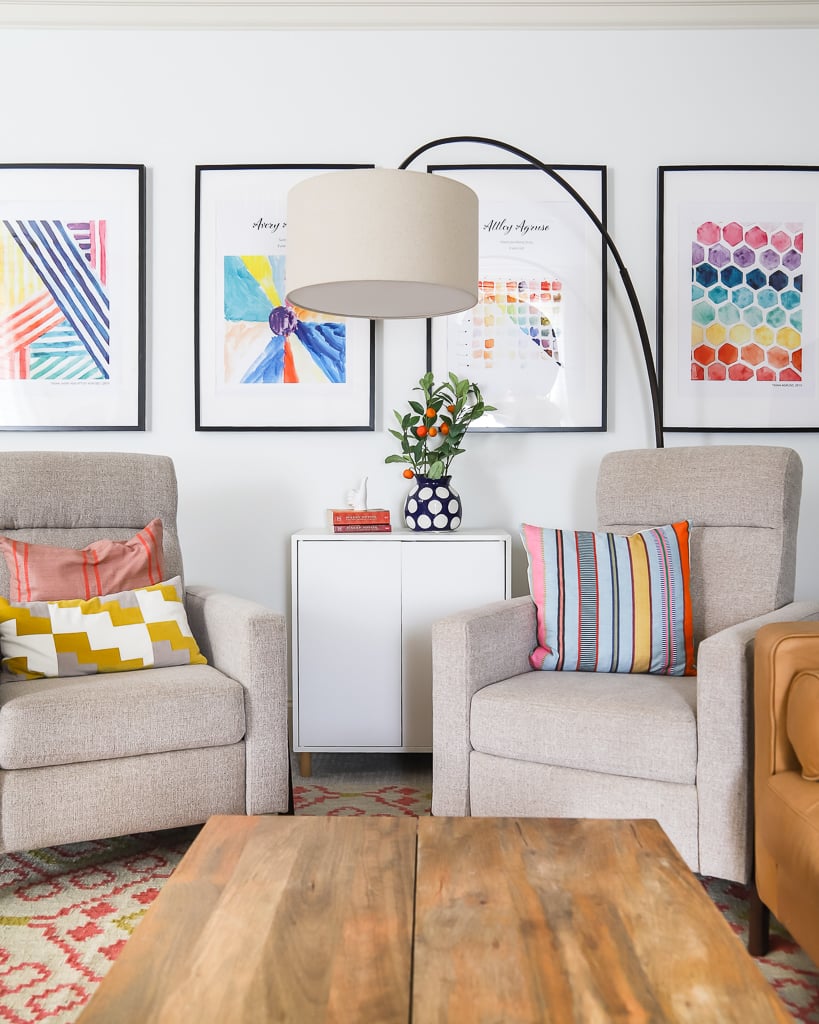 As much as I love our framed prints, I also LOVE the idea of just putting your kids' drawings and paintings directly on a wall–it's such a great accent wall idea. Hot tip: Use museum putty to stick them to your walls–it won't damage the wall surface or the paper when you remove it!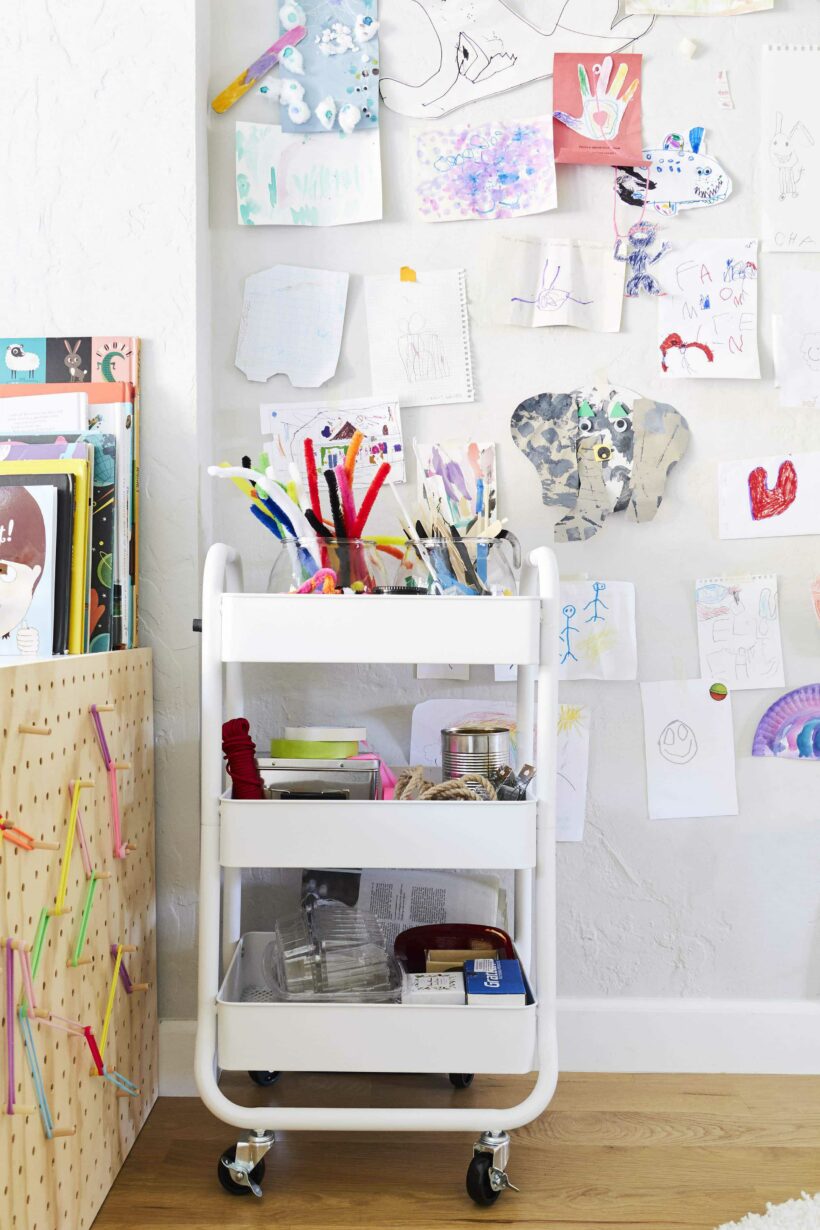 Have fun with the other accessories in the room. I filled an entire wall gallery wall with A's that I've collected over the years. They are perfect for the space because our last name begins with A and both of my daughter's names begin with A as well. They add lots of color and whimsy to the space.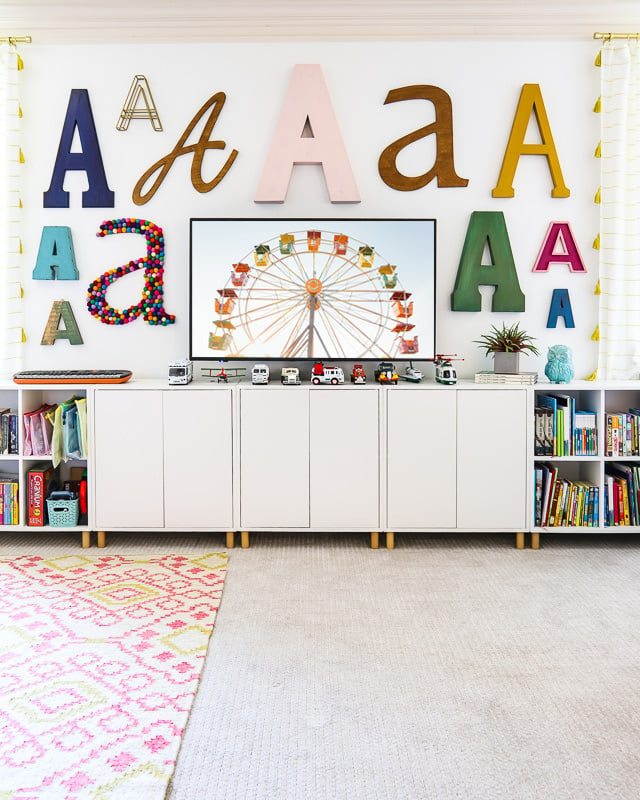 And in our first playroom, I spelled out the word "toys" with oversized paper mache letters and a clock. Quirky and fun!
I hope these playroom ideas and decorating tips have you feeling inspired and prepare to create a fun and functional space in your home!
Other posts you may enjoy:
Wondering how I approach transforming rooms and spaces in our home? Check out Designer in a Binder®.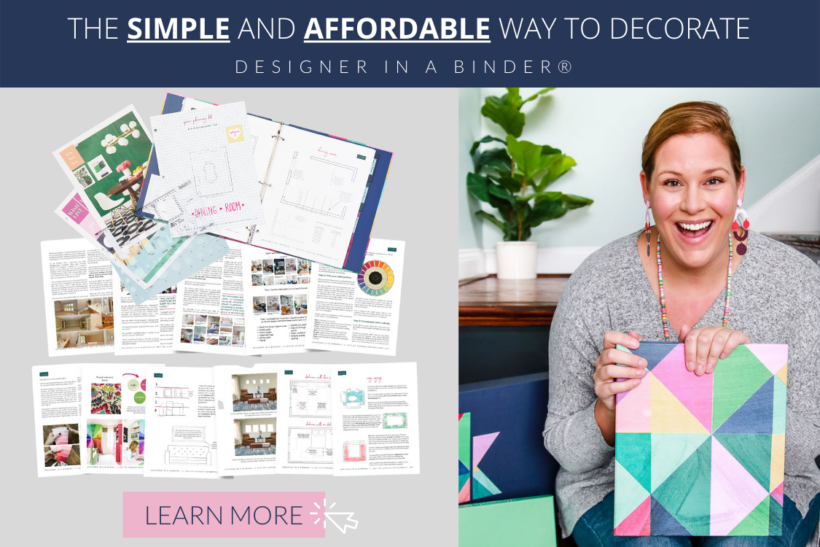 And if you want exclusive content and behind-the-scenes sneak peeks, be sure to subscribe before you head out!