25 Unique Bedroom Ideas for Teen Boys and Girls
Decorating your teenager's bedroom requires a delicate balance. Whether you have a boy or girl, you want to create a space that reflects who they are, their personality, their interests, and most of all, a space they can retreat to and relax. With the right touch, you can elevate your teen's bedroom to a space they will love for studying and relaxing with friends. I've rounded up the best and most unique teen bedroom ideas that are sure to be a hit, whether you're starting from scratch or updating their existing space.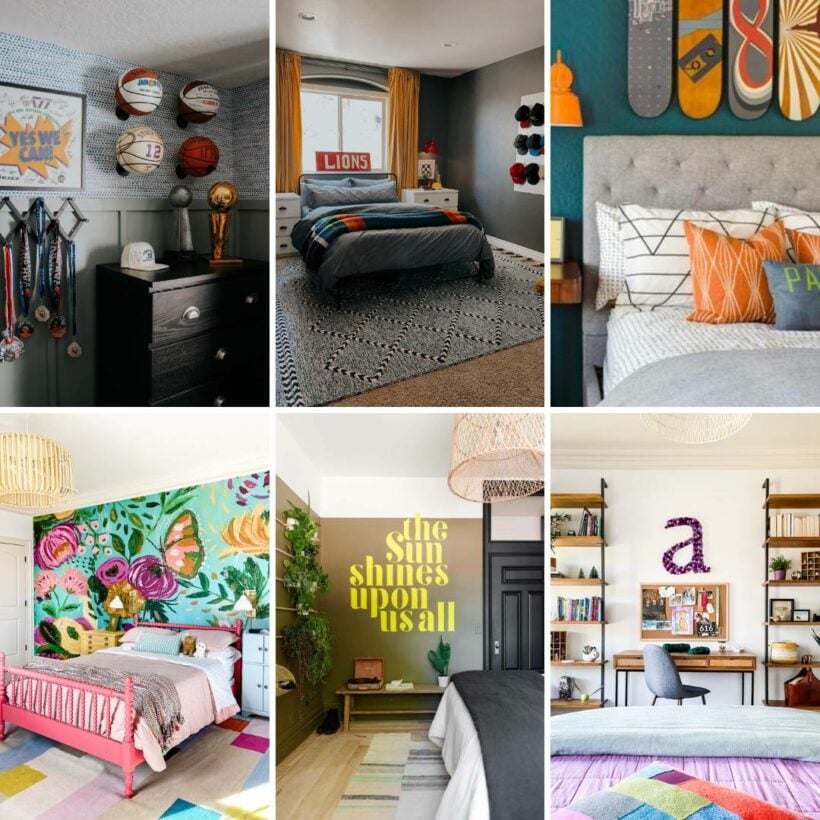 Teenage Girl Bedroom Ideas
As your little girl grows, her needs for her room and her tastes will change! These teen bedroom ideas are perfect for incorporating into your girl's room as they grow into a tween and beyond. Just because they are getting older doesn't mean they don't want a dreamy room too! If you want them to spend time at home, create a sanctuary where they will love to spend time.
Add a Desk that Can Double as a Vanity
Teen girls need a quiet space to sit, do homework, and do their hair and makeup. So including a desk that can double as a vanity is a perfect solution for any teen girl room.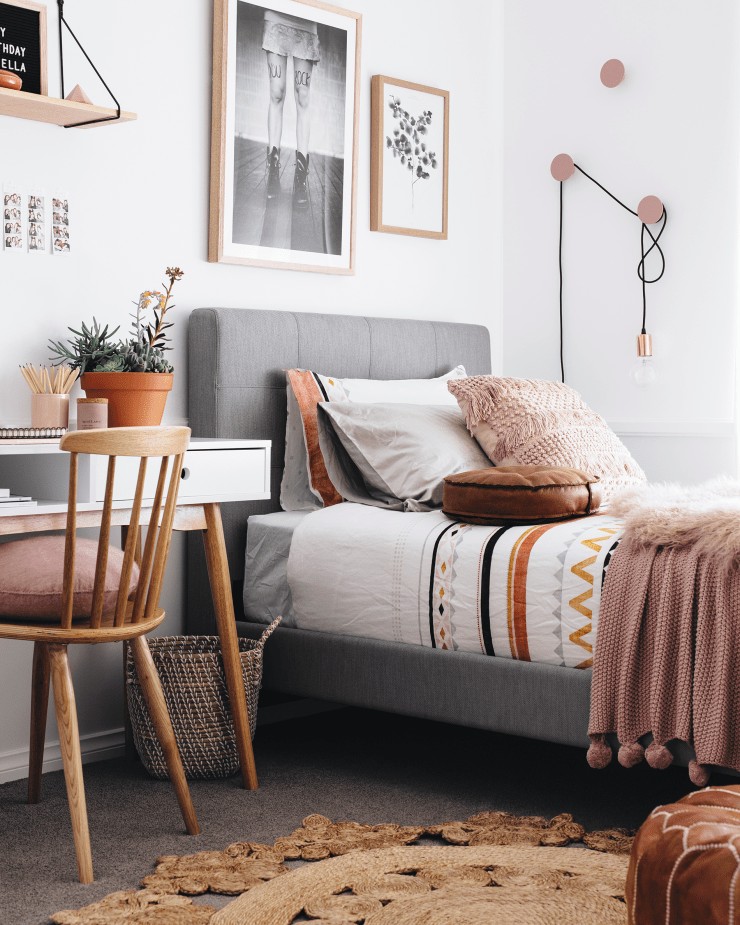 This post contains affiliate links for your convenience. Click here for my full disclosure policy.
Use Smart Shelving
Provide your teenager with a designated place to keep her books, plants, and cherished items! Our solution when designing Avery's new room was to install these practical and stylish wall-mounted bookshelves. By giving your teen shelves for storage, you'll be able to create a tidy spot for their belongings instead of haphazardly piling them all over the room. This helped Avery eliminate the cluttered stacks of books and treasures previously scattered across every surface in her room.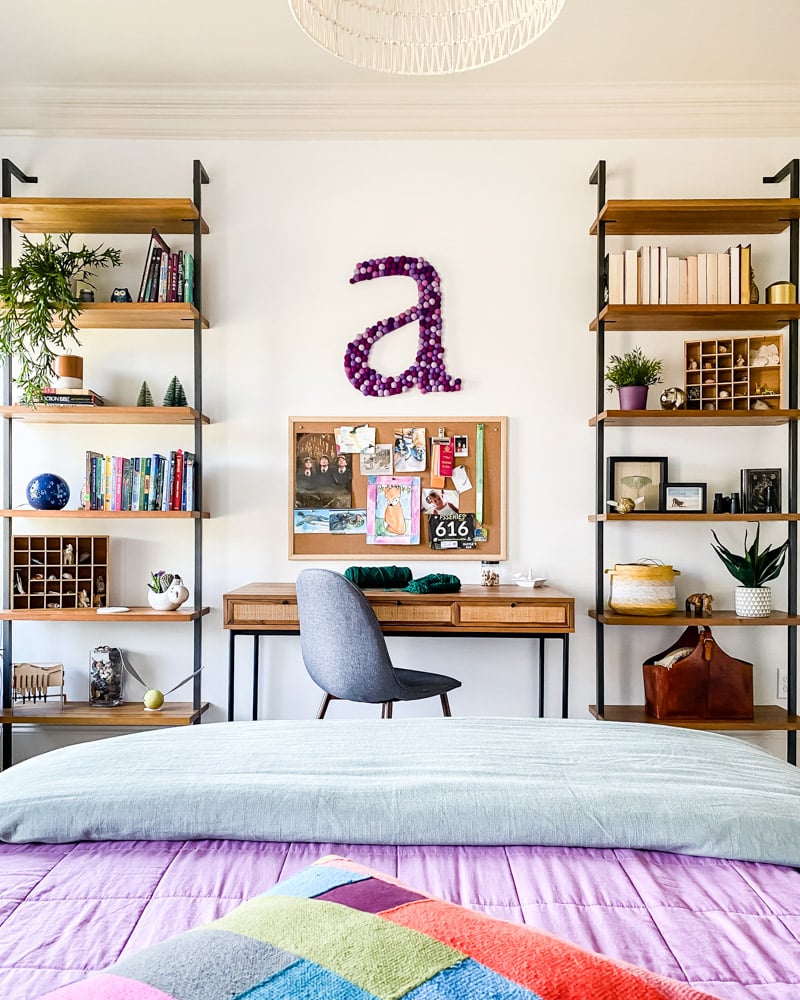 Paint a Simple Mural
Inject a vibrant burst of color in your teen's room by painting a mural on their wall. The simple arch we painted in Attley's room creates a stunning backdrop for her wall-mounted desk. We kept it simple, but you can let your artistic side run wild and create a more dramatic and detailed mural. You could even team up with your daughter and paint it together! All you need is a vision, some paint and materials, and a few hours of time.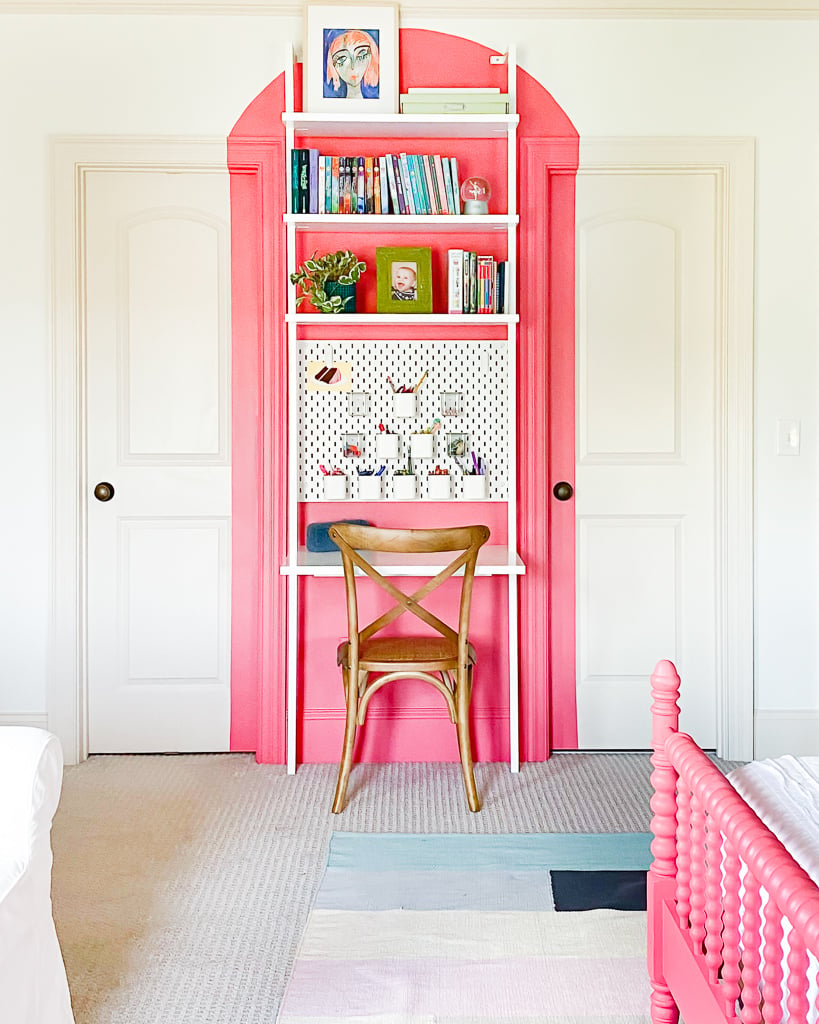 Create a Study Space
Every teen has to study and do homework, so make sure their room has a spot where they can sit and focus. We made the easiest wall-mounted desk–it was inexpensive but super functional. And it's a great space-saving option if your teen's room is small.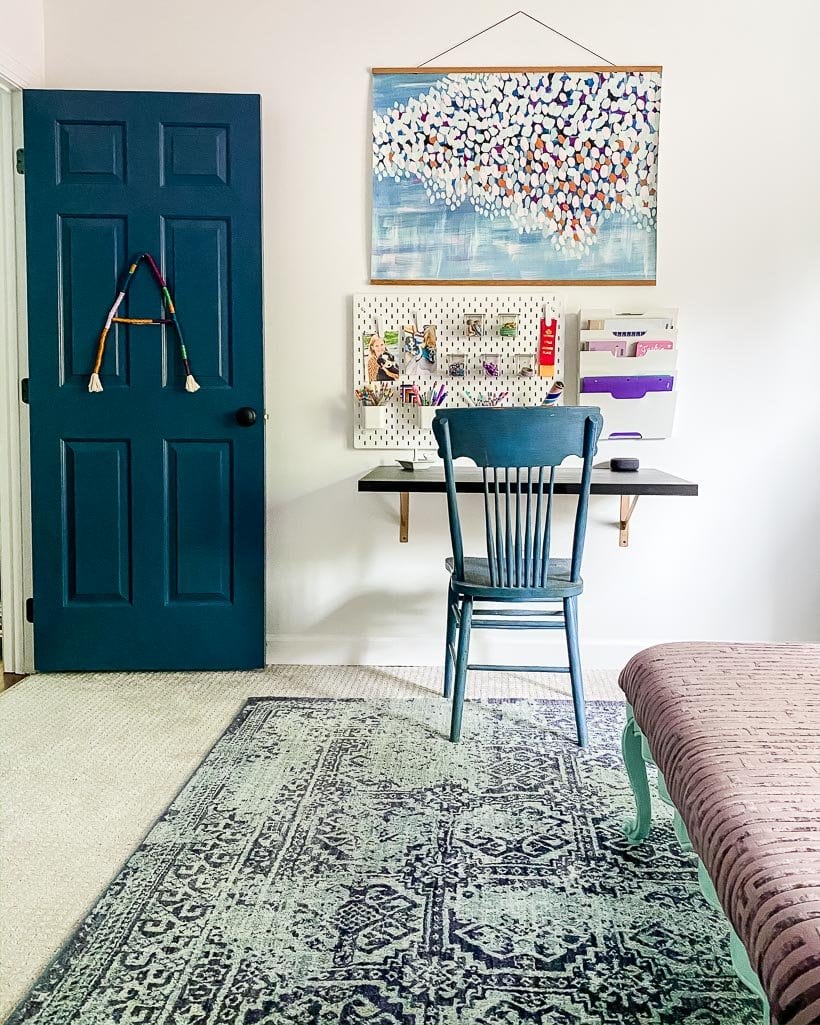 Including a Couch or Seating
If you have the space, I highly recommend including some sort of seating for when your teen's friends come over–that way not everyone is not crammed on the bed or sitting on the floor! We used a small IKEA loveseat in Avery's old room and added a coffee table-turned-ottoman that can also be used for seating.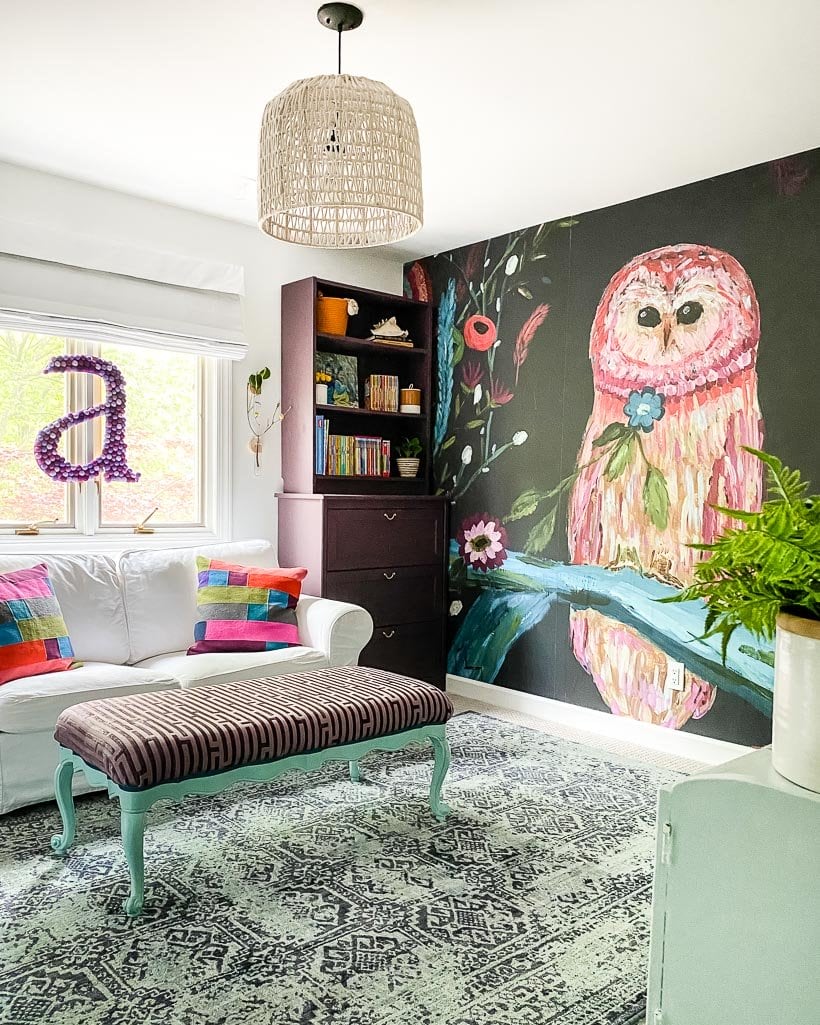 Consider Their Design Aesthetic
If you want your daughter to love her bedroom, letting her choose the color scheme and design aesthetic is so important. My sweet Avery has a very different design aesthetic than me–she prefers clean lines and minimal use of jewel-tone colors. So we worked together to create a design for her room and she absolutely loves it!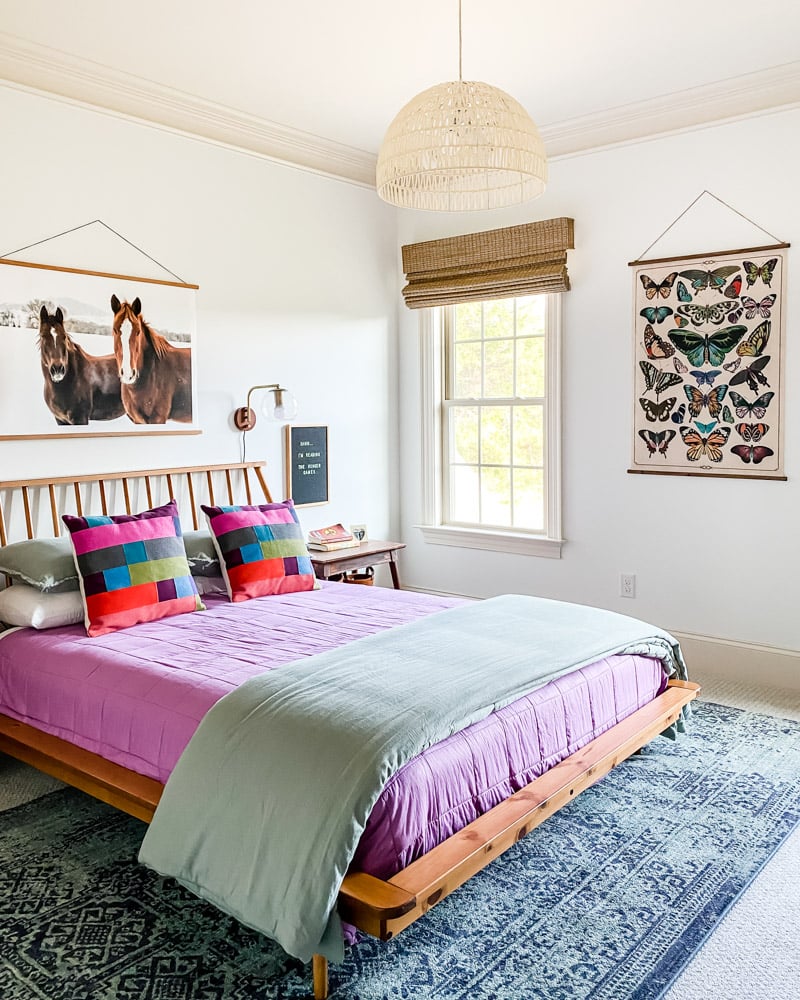 Area Rugs are a Must
Area rugs are a must in a bedroom. They create a sense of coziness and anchor the room. Even if you have carpet, you should still layer area rugs on carpet. Area rugs are such an important way to add color, texture and interest to a bedroom! Area rugs also cozy up any bedroom, especially if they have hard surface floors.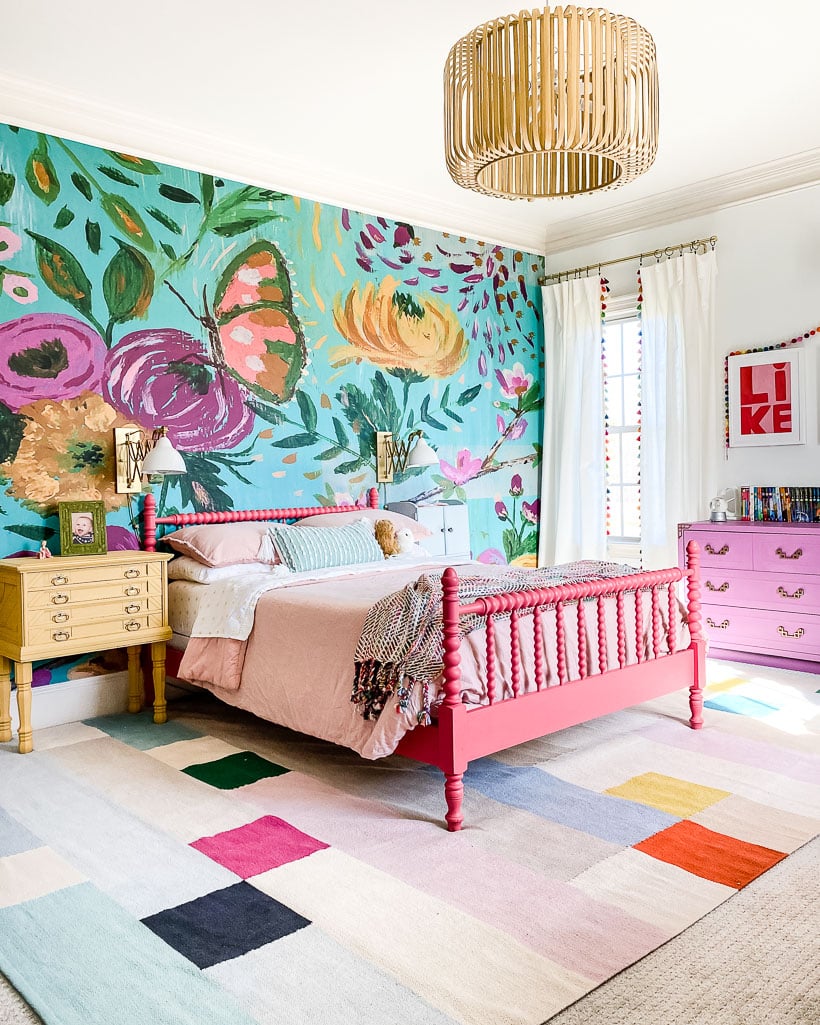 Find Cool Lighting
When it comes to designing teen bedrooms, cool lighting is a great way to add a unique touch. There is something about interesting lighting that brings the space alive and makes it feel more trendy. If you don't want to invest in a statement ceiling light fixture, add an interesting lamp or two.
Mix and Match Styles
An eclectic and layered design is the mark of a beautiful room. When you design your teen daughter's room, choose elements that pull from various styles but still work well together. The wallpaper, bed and textiles in this room have a boho vibe, but the side tables are modern and the curtains are traditional. The result is a gorgeous and interesting eclectic space.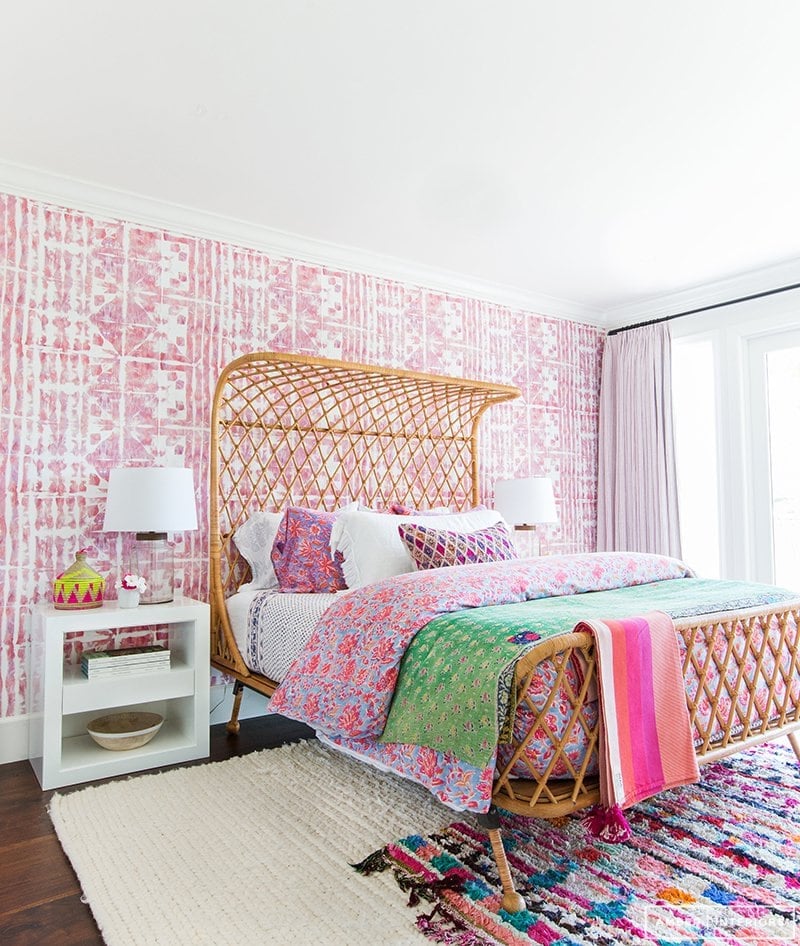 Give Her a Canopy Bed
Nothing will ever be more dreamy than a canopy bed. I think at some point every girl has imagined herself in one! Added curtains create a romantic canopy bed feel and will work wonders to block out the light when your teen wants to sleep late!!!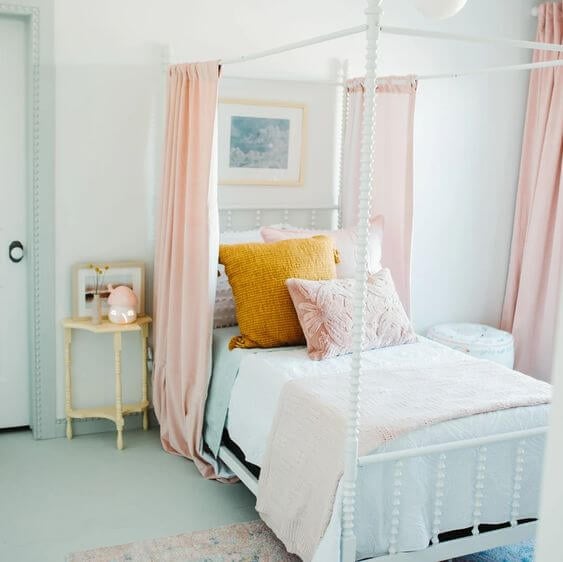 Be Smart with Small Spaces
Make the most of a small room by making a statement with the necessities and eliminating anything that isn't necessary. This small but gorgeous teen room has just the necessities and it's perfectly cozy.
Mix Bold Prints and Bright Colors
Do you have a daughter who has a big, bold personality? Give her a room to match it! The graphic black and white polka dots are the perfect backdrop for the bright-colored art, pillows and rug. Don't forget to pair all those bright hues with some solids, like the white bed and bedding, so the bright colors really pop and it doesn't get too chaotic.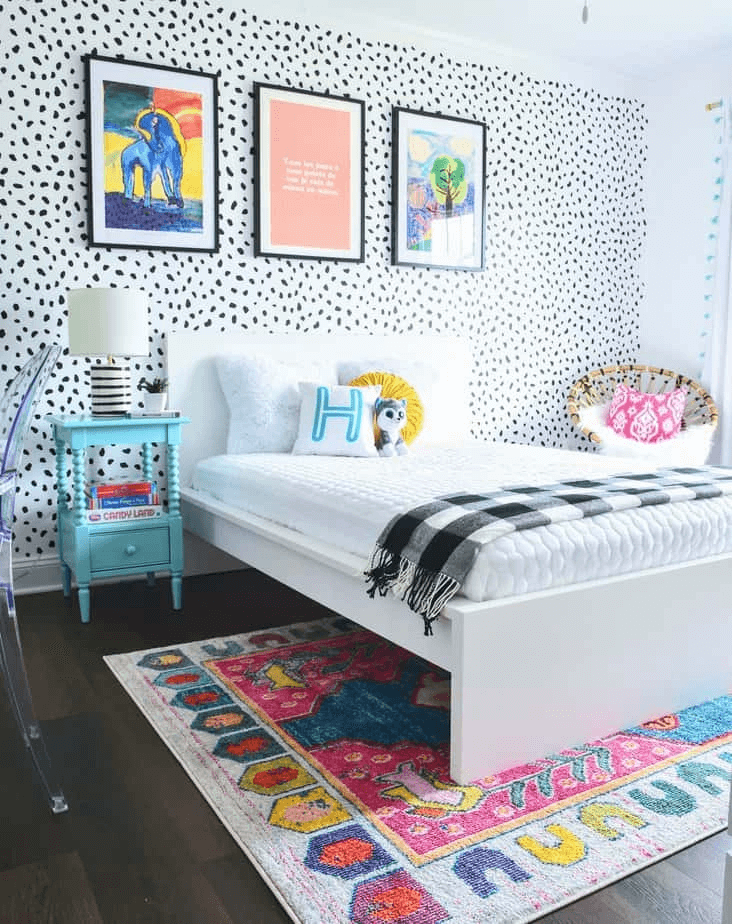 Use Vintage and Antique Pieces
Elevate any of these teen bedroom ideas by including some vintage pieces in the design! Vintage pieces have a way of making any room feel more interesting. If you already have some vintage pieces you can use in your daughter's room, great! If you don't, know that finding antique and vintage beds for a teen girl is actually pretty easy! We found a vintage Jenny Lind bed that we used in Attley's room for only $40 on Facebook Marketplace. The antique iron bed in the bedroom below is the perfect complement to the florals and more modern bedside tables.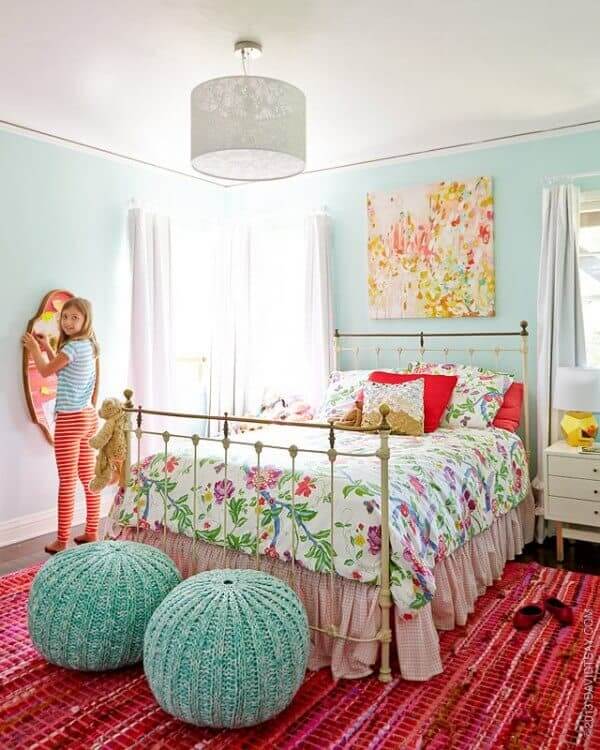 Add An Element of Whimsy and Fun
Girls of all ages want to have fun! Add fun decor touches like these paper lanterns and picture ledges she can use to prop art and photos on. I love the touch of whimsy the lanterns bring–you could also add a disco ball, paper flowers, or paper stars. These lanterns are white and neutral, but it's easy to find paper lanterns in fun colors, too!
Add Plants
Plants are such an easy and effective way to add texture and life to a bedroom! You don't have to have a whole wall of plants like Mandi did for her daughter, but adding a few plants is always a good idea. Make sure to choose varieties that don't need much care, since teenagers are not known for their ability to remember chores and half the time their blinds are not open!!!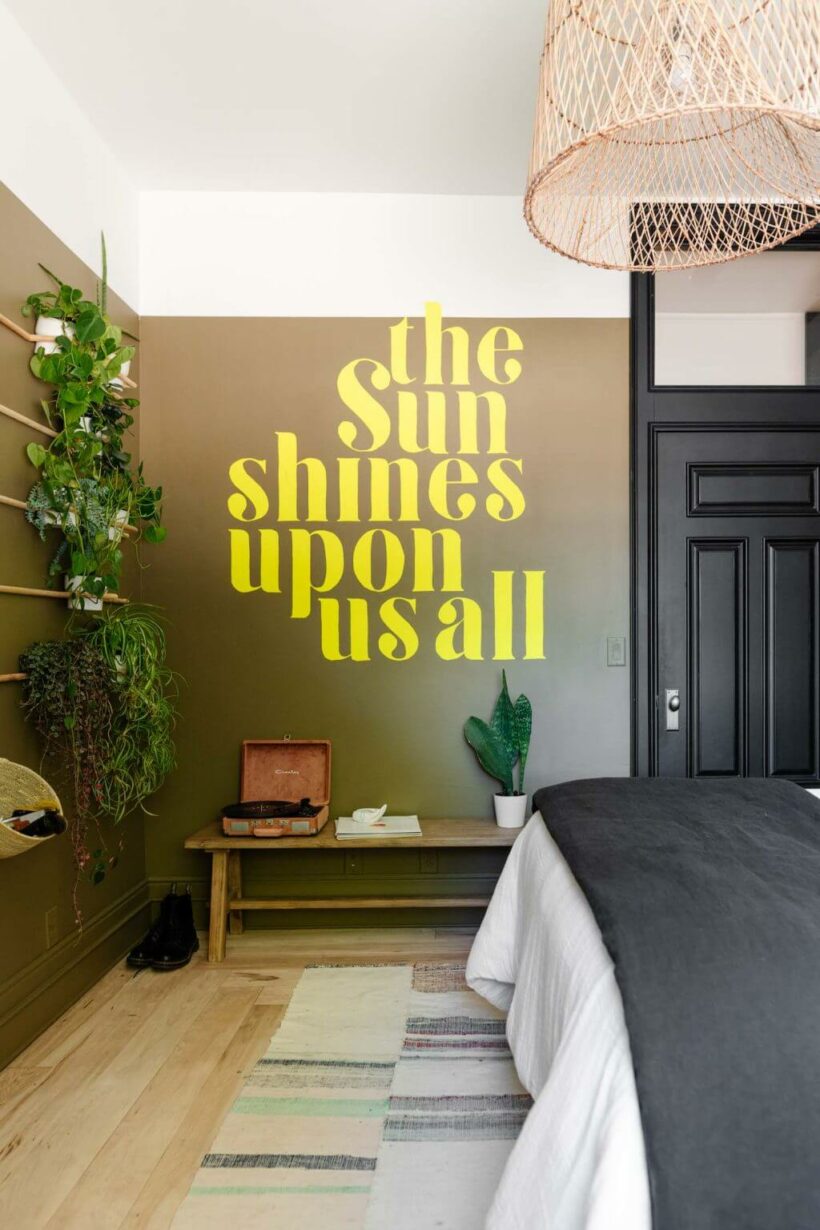 Include Brightly Colored Furniture
Play up your daughter's favorite colors with your furniture choices. This amazing yellow bed is the star of this gorgeous room and looks perfect against the pineapple wallpaper. Don't be afraid to have fun with it, and let your teen do a few DIY-painted furniture pieces herself to add to the room! If you aren't sure where to start, I have a whole post about the best paints for furniture.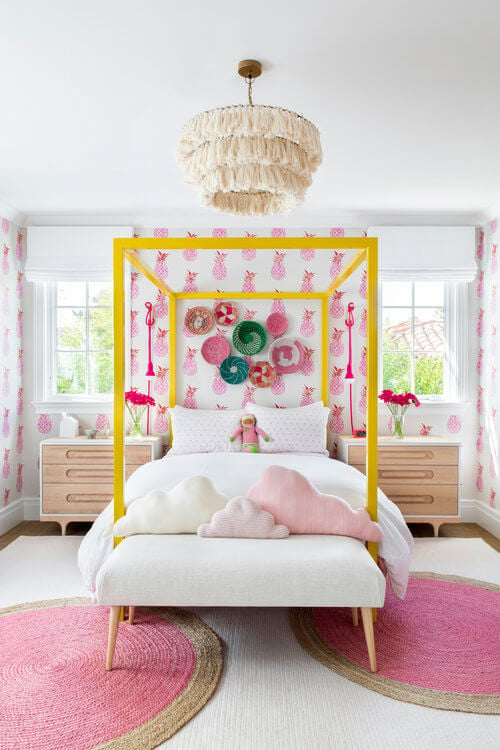 Hang a Bold Gallery Wall
Not sure what to hang on your daughter's walls? Why not fill an entire wall with posters your daughter loves? When this teen girl got her bedroom makeover, her mom pulled these beautiful posters together in a high-impact but inexpensive gallery wall. And since the posters are hung without frames, this gallery wall has a casual, teenage vibe. If you aren't sure how to put together a gallery wall, check out my gallery wall tips and ideas!
Add a Hanging Chair
As a mom of tween girls, I can tell you that they don't think anything is cooler than a hanging chair. In fact, I'm trying to figure out a way to hang one in one of my daughter's rooms because she wants one so badly. If you have space in your teen girl's bedroom for a hanging chair, you will score some major cool points.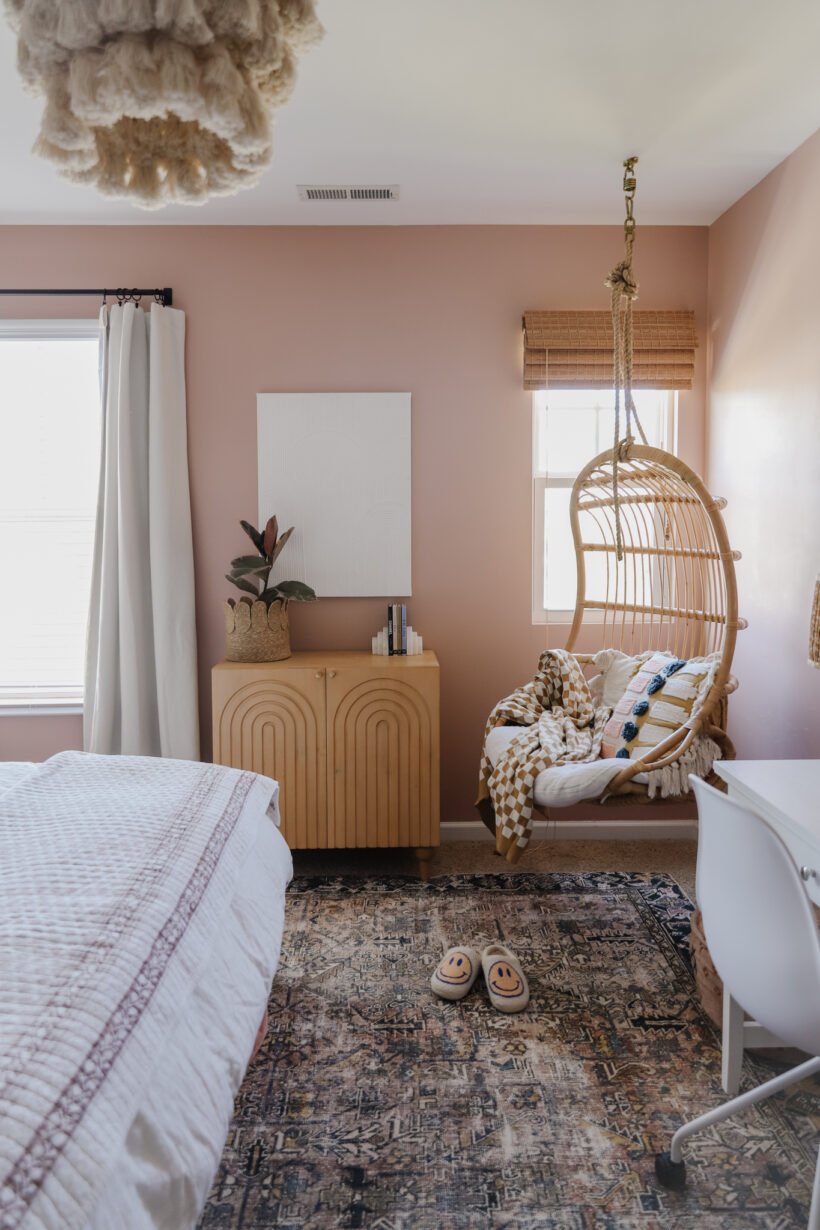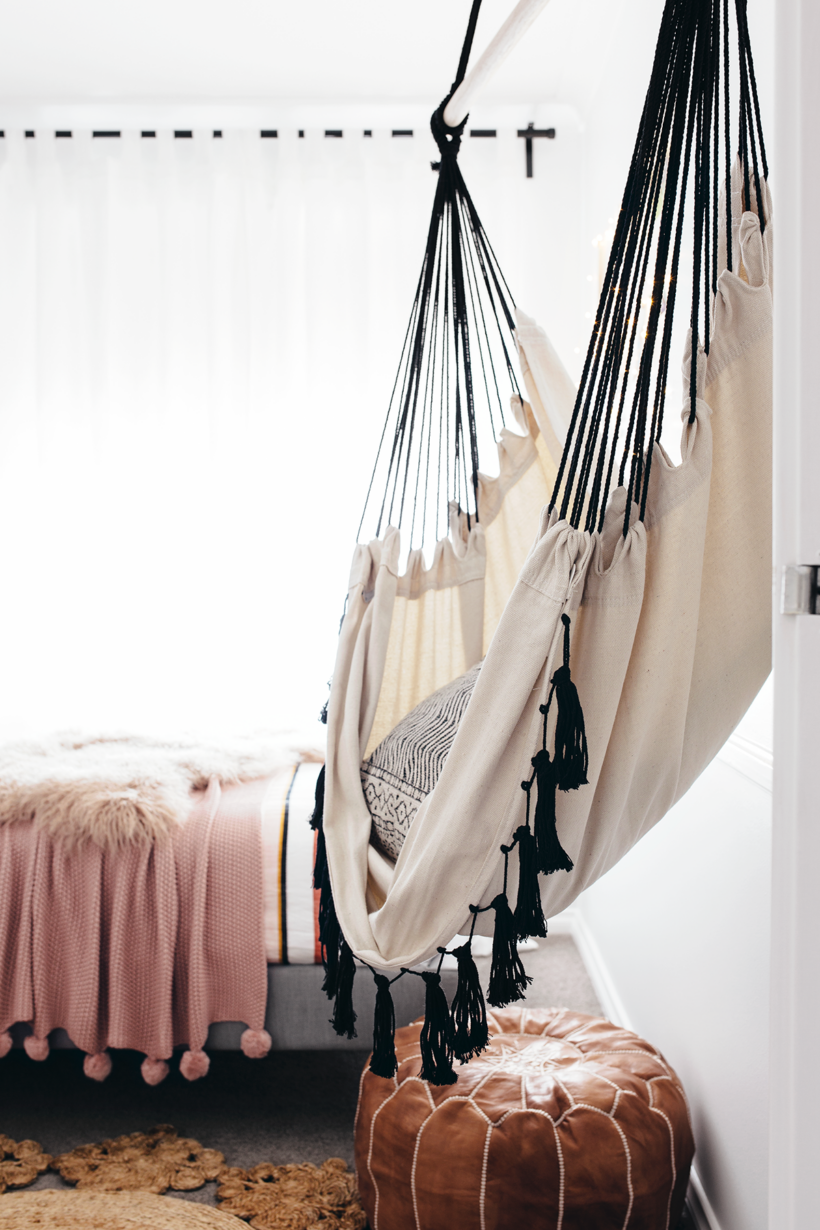 I hope these teen girl bedroom ideas have inspired you! Enjoy the process of decorating it together and teach her how to curate a room that shows off her own personal style. And if you have a teen boy, fear not… I have plenty of ideas for you too!
Teen Boy Bedroom Ideas
I can't speak from experience, but I imagine that decorating a teen boy's room might present more of a challenge, especially if your son really isn't that interested in what his space looks like. But I feel certain it's possible to get your son on board and excited about it–just make sure to involve them!
Consider using neutral or muted tones for a more mature look when choosing a color scheme. Incorporating functional furniture pieces, such as a desk (perfect for doing homework) or a built-in storage unit, can also help keep the space reasonably organized and tidy–we can't expect perfection with teens, and that's okay. Adding personal touches that are meaningful to your son, such as sports memorabilia or framed posters of favorite movies, can make the room feel special and personalized. And that's what it's all about… giving your teen son a room that feels like him.
Add Unique Wall Decorations & Artwork
Have a teenage son who loves to skateboard or play basketball? Or maybe he has a large collection of hats? Lean into his passions and turn those skateboards, basketballs, surfboards, hats and more into wall art! Those items you see every day in your garage can actually make stunning wall decorations and your son will love them!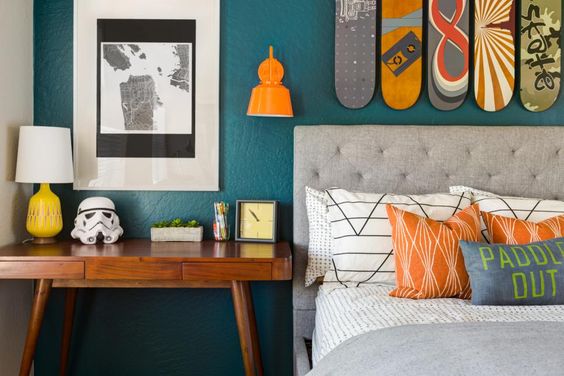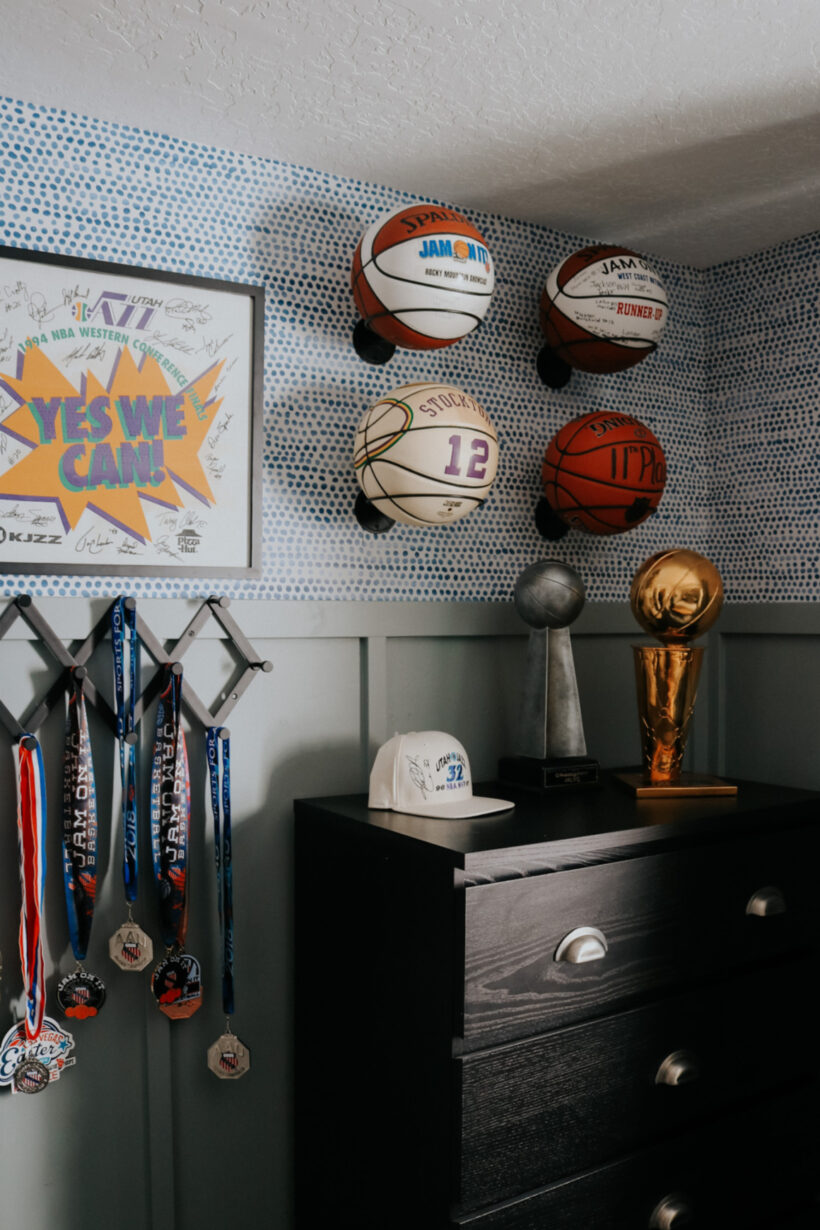 Add an Accent Wall With a Mural
Y'all know I love an accent wall (I have a whole post of stunning accent wall ideas). And large scale wall murals are one of my favorite ways to make a huge impact in a space. If your son loves nature, why not add a beautiful mural that will make him feel like he's living in a forest?! If nature isn't his thing, you can find wall murals for nearly any interest and hobby!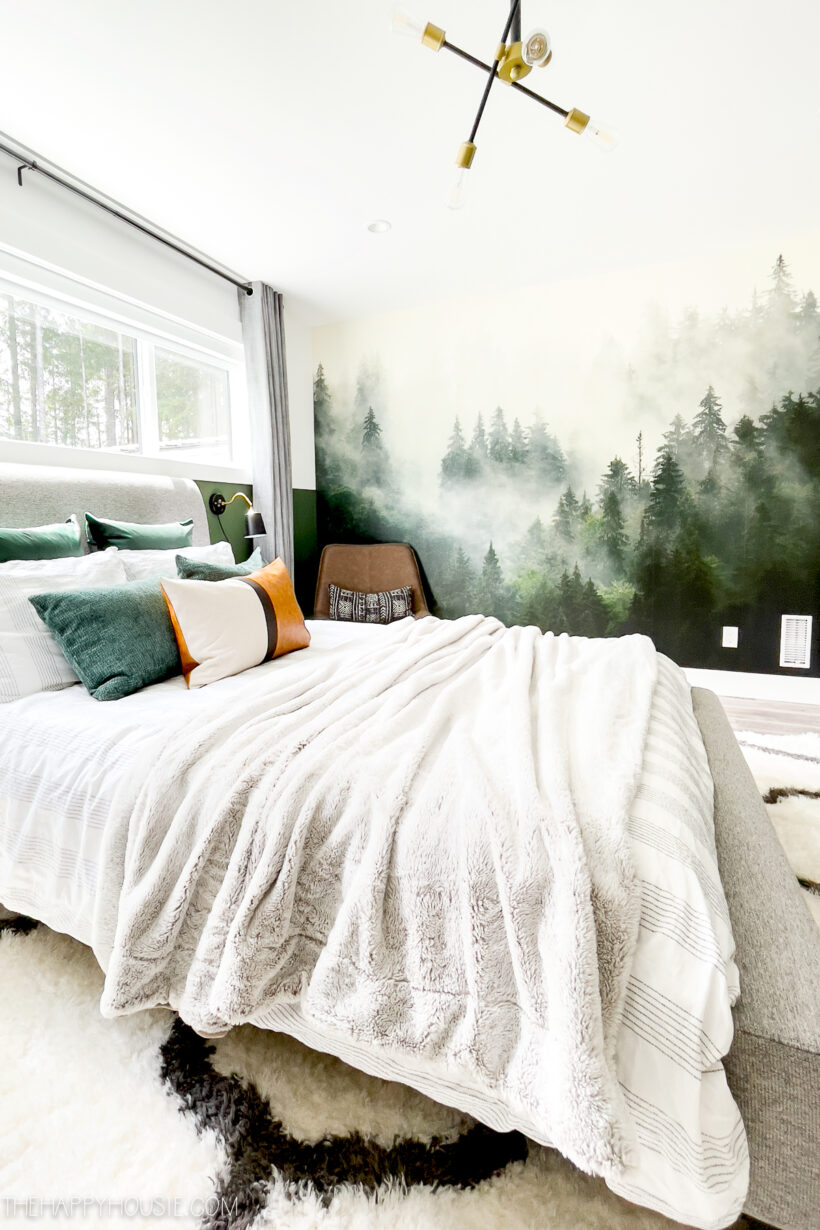 Hang His Bed
A hanging bed is one of my favorite teenage room ideas! You can hang his bed from the ceiling joists with a masculine material like rope or even metal chain. Talk about an incredibly unique feature that none of his friends will have! And it's kind of nice that he can't hide things or lose things under the bed, lol. I also love how the designer of the room below turned lego builds into accessories for the wall shelves!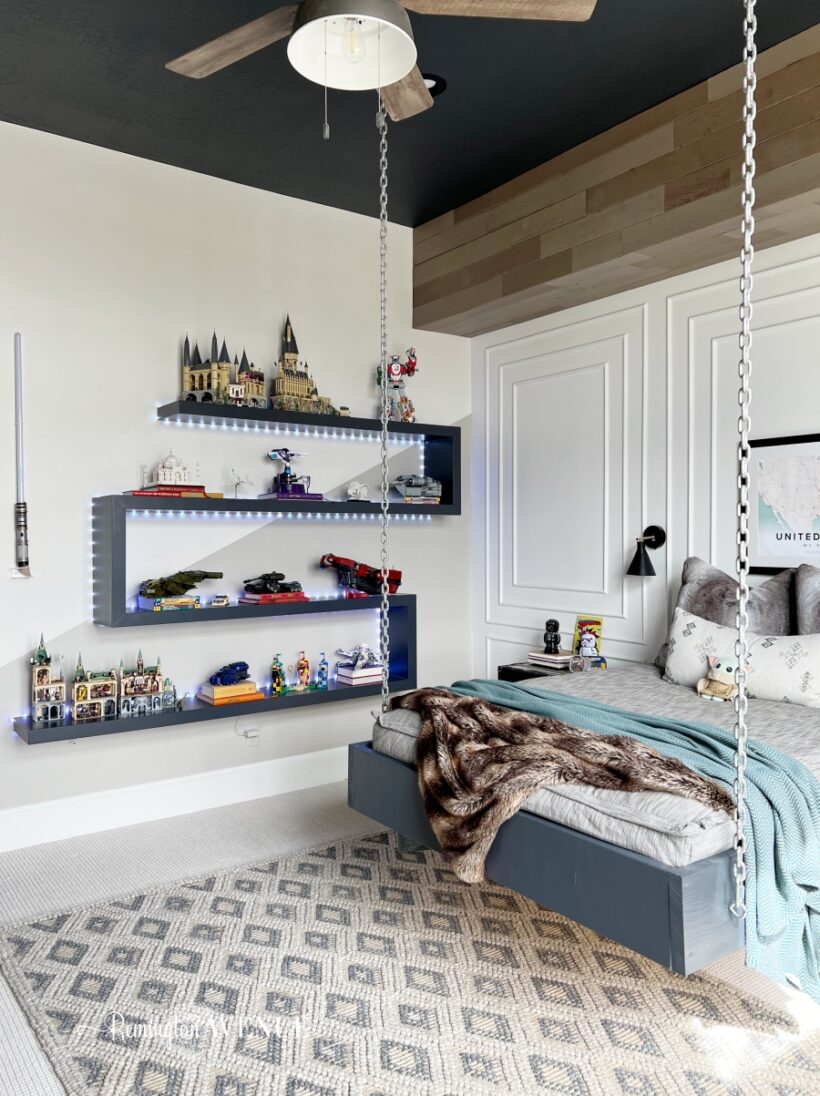 Use a Dresser as a Nightstand
Teenagers need more storage than they did with they were kids. Their clothes are bigger and they seem to have more of everything. So to ensure your teen has plenty of storage, use small dressers instead of nightstands.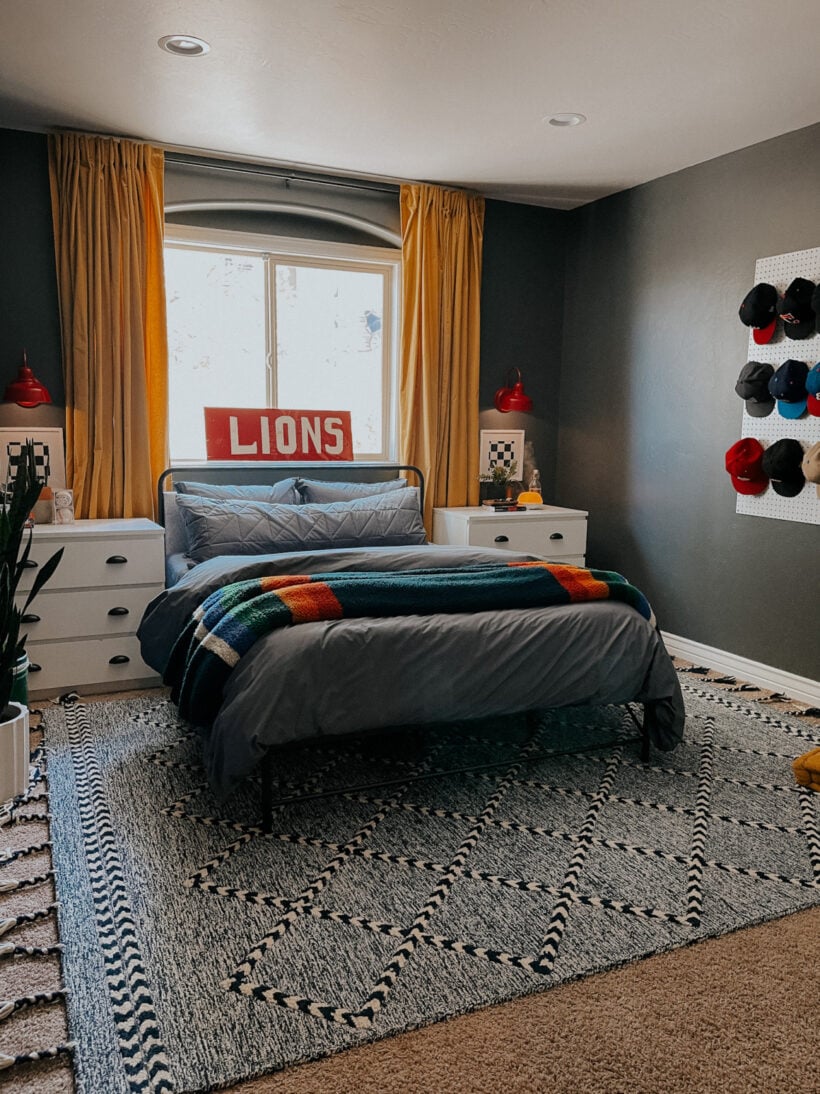 Create a Spot for Gaming
Video games are a passion for many teen boys, so why not create a stylish but functional gaming setup in their bedroom? Invest in a pretty but comfortable gaming chair that can be used for gaming and general lounging. Be sure to add functional storage and decorate around the gaming equipment so that it doesn't stick out like a sore thumb.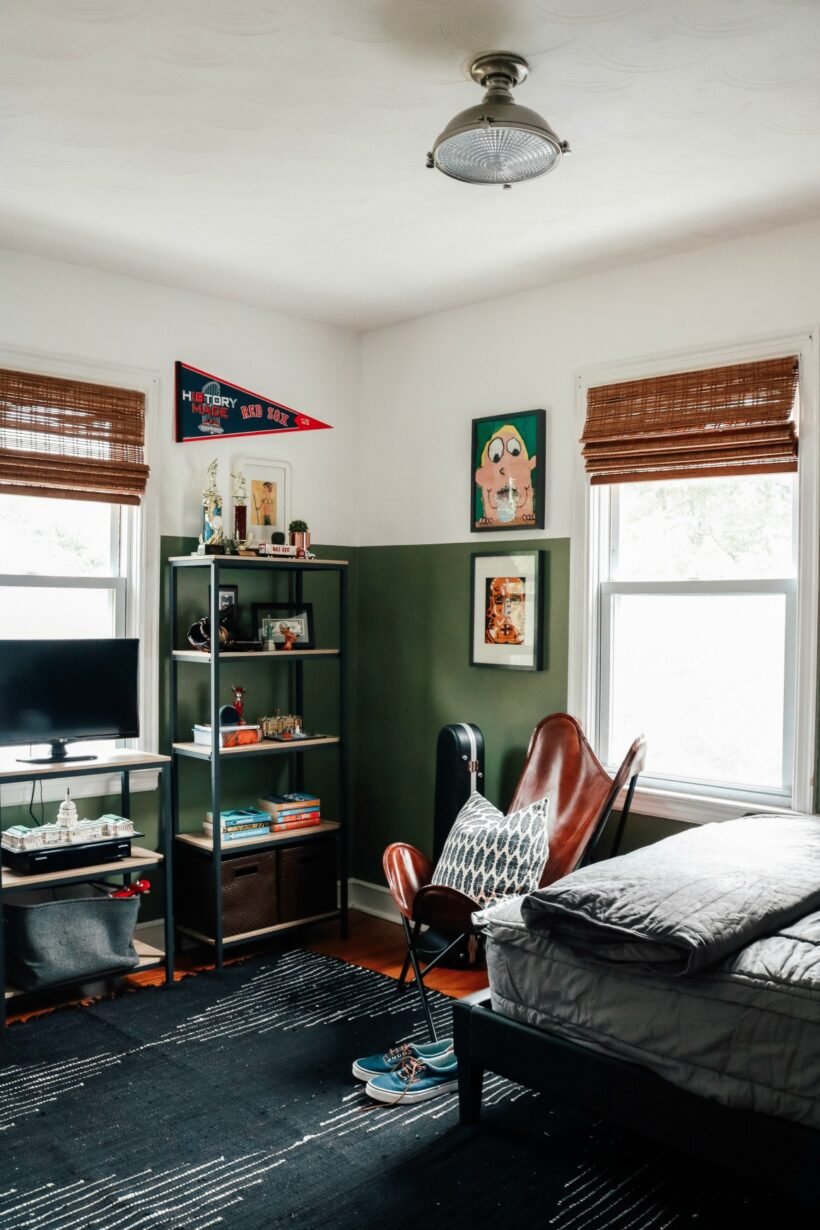 Bring in Lots of Textures
Since most teen boys will prefer and neutrals and dark, moody colors, it's important to bring in lots of different textures to add interest and variety. You can add texture through a rug, throw pillows, curtains and bedding. And don't forget that plants also bring texture into a room!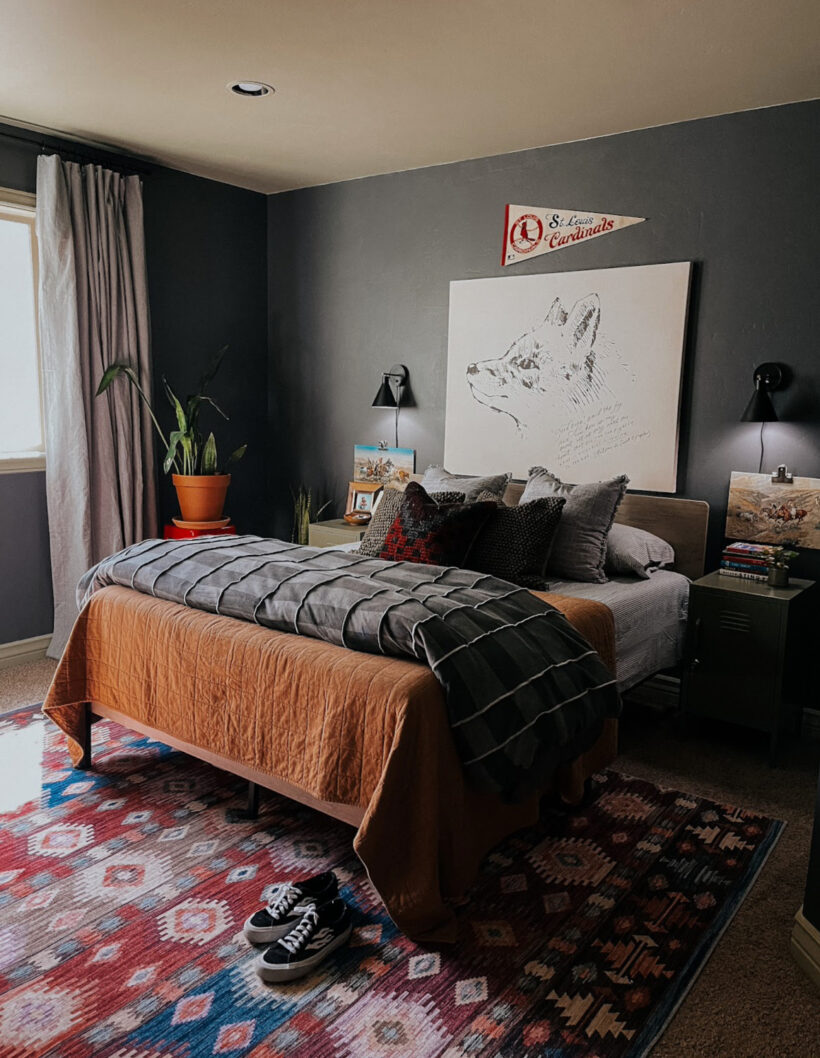 Add an Industrial Vibe

An industrial design encompasses a selection of different styles, but they all share one thing in common – a minimalist and modern feel. For an industrial boy's bedroom, think metal accents (like that M on the wall and the metal drawers on the shelf), cage lights, and antique metal trinkets. In terms of a color palette, go with neutral grays or black with pops of bold color, like red or yellow.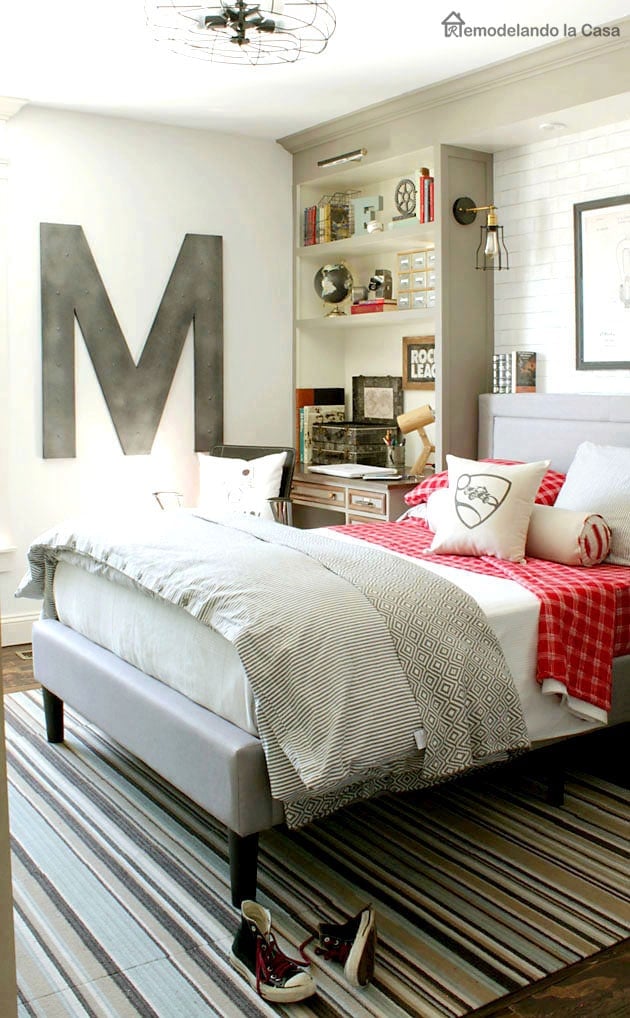 I hope you see that decorating a teenage boy's room in a way he will love and appreciate is possible! By incorporating their personality and interests into the space, you can create a space your son will love spending time in and feel proud to call their own.
Whether your son or daughter is ready for a bedroom makeover, I hope you are feeling inspired by all of these teenage room ideas. Now go grab your teen and start designing a space they will love!
Wondering how I approach transforming rooms and spaces in our home? Check out Designer in a Binder®.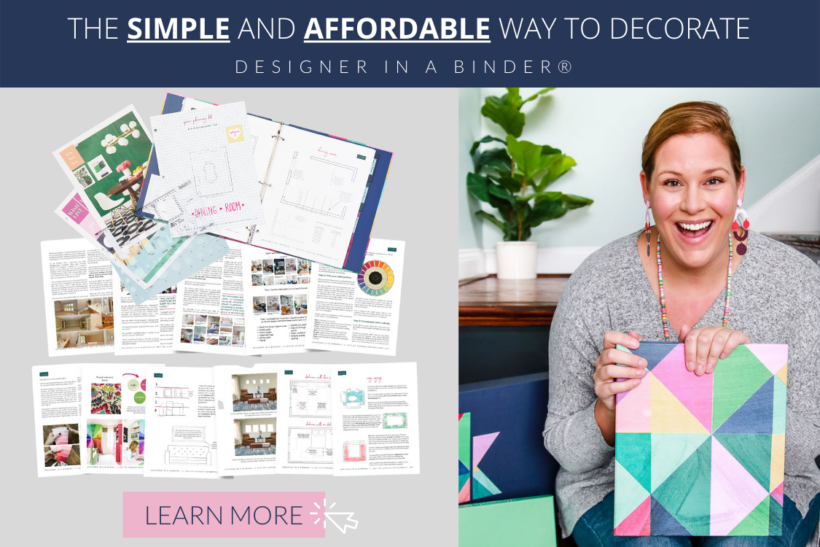 And if you want exclusive content and behind-the-scenes sneak peeks, be sure to subscribe before you head out!