Want a colorful and fun wreath that is perfect for more than just one season? This DIY pom pom wreath is for you. Learn how to make your own with this tutorial.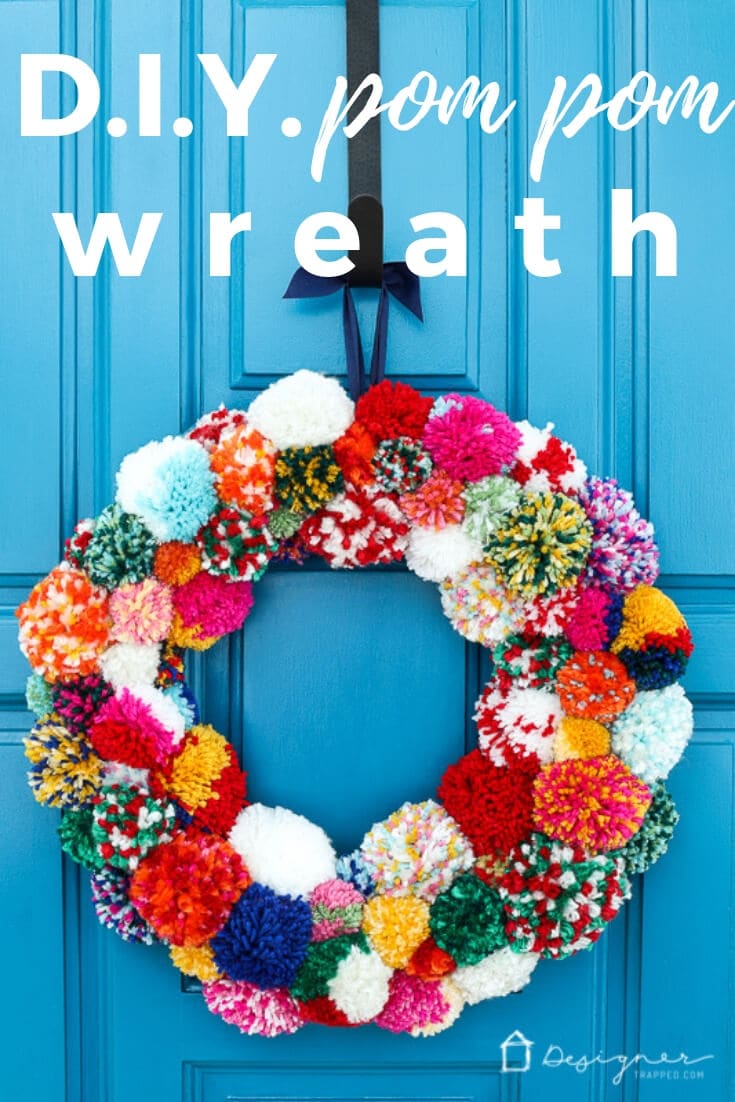 Hey friends! It's no secret that I love color and I'm guessing you do too if you are reading this post. So every year when Fall rolls around, I always wind up feeling a little underwhelmed by the "traditional" Fall wreaths that are so prolific this time of year. They are beautiful, they just aren't colorful or current enough for my liking. This year I hunted and hunted for colorful and modern Fall wreaths, and while I found some gorgeous ones that you can see here , I still wanted something more unique for our house.
This post contains some affiliate links for your convenience. Click here to read my full disclosure policy.
Well, a while back, I had fallen head over heels in love with this pom pom wreath from Anthropologie . There were 2 problems: 1) it cost $118 and 2) when I was finally ready to order it, it was out of stock. So, I set out to make my own. I bought the wreath form, pom pom makers and loads of yarn and got to work.
After making about 10 pom poms and realizing this project was going to take forever, I went back to Anthropologie's site to find that the wreath was in stock again! And I had decided it was a big splurge, but it would be worth it. So I even added it to my cart. Then I looked back at the dimensions of it. The finished diameter of it was only 14 inches. That's pretty darn small in the world of wreaths.
So, I decided to bravely forge forward with the making of my own wreath. I'm not going to sugar coat it for you. This DIY pom pom wreath is time-consuming!But, it IS easy and this is one that my entire family got involved in. All 4 of us made pom poms whenever we had spare time and it took us about 11 days to make all the pom poms we needed to cover our 16" wreath form.
I spent about $45 on yarn (and have plenty left over), plus another $25 or so on the other supplies we used. So, it cost about $70 in total. It's not an inexpensive project, but $70 is much more palatable than $118 for a smaller wreath! So, read on to learn how to make your own pom pom wreath.
DIY Pom Pom Wreath Tutorial
If you would like free printable instructions for this project, just click the image below!
Supplies Needed:
Yarn in colors of your choosing (I bought mine half off at Joann Fabrics)

Pom pom makers

We started with these pom pom makers because they were less expensive. But after our first pom pom making round, we returned them and got…
These pom pom makers . These work so, so, so much better and are definitely worth a few extra bucks. We bought the medium and large packages and used all 4 sizes to make our wreath.

Scissors
Straight pins or T-pins (you need at least some that are at least 2 inches or longer–shorter ones will not work for the larger pom poms)
2-inch ribbon
Steps:
1) Your first step is going to be to make 1 zillion pom poms, lol. I actually meant to count how many we used and totally forgot—sorry! But it's a lot. We used 15 different yarns for our pom poms.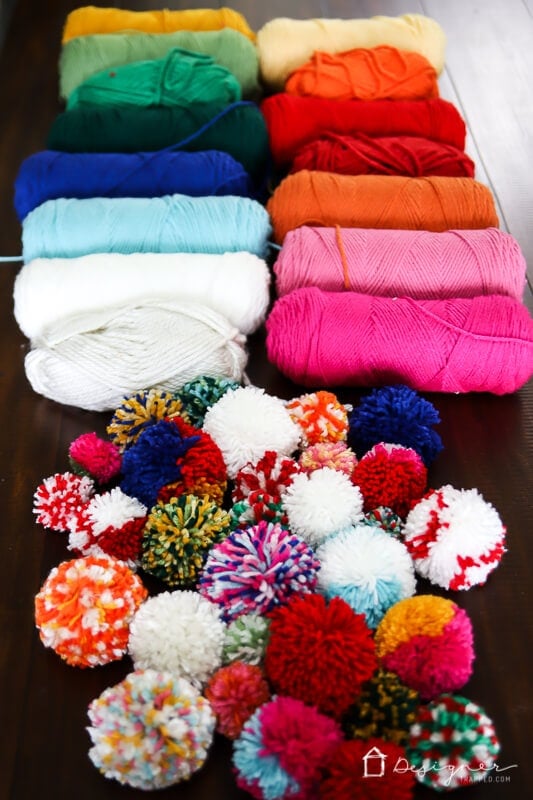 The pom poms are simple to make by following the directions on the pom pom makers . Here are a few photos of the process.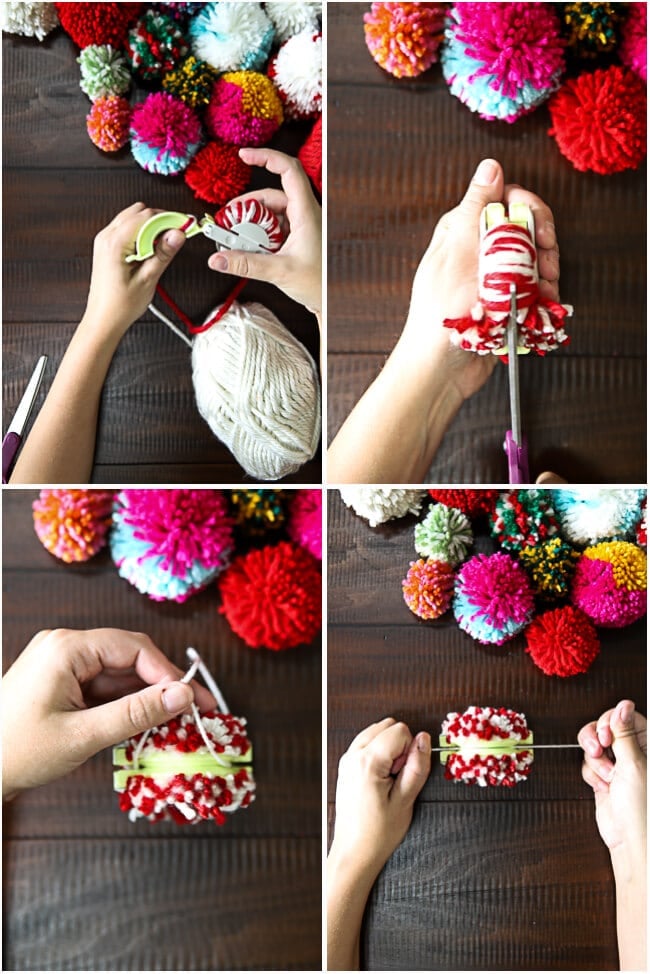 I just want to point out a couple of things about the variety of pom poms we made:
To make the multi-colored pom poms that look like confetti, you will actually wrap different strands of yarn around your pom pom maker at the same time.

To make the color-block style pom poms, you will wrap one color at a time, but use several different colors per pom pom.

You will notice some of our pom poms are really fluffy. That's because we used a thicker, looser yarn type to make them (see the yarn in the photo below).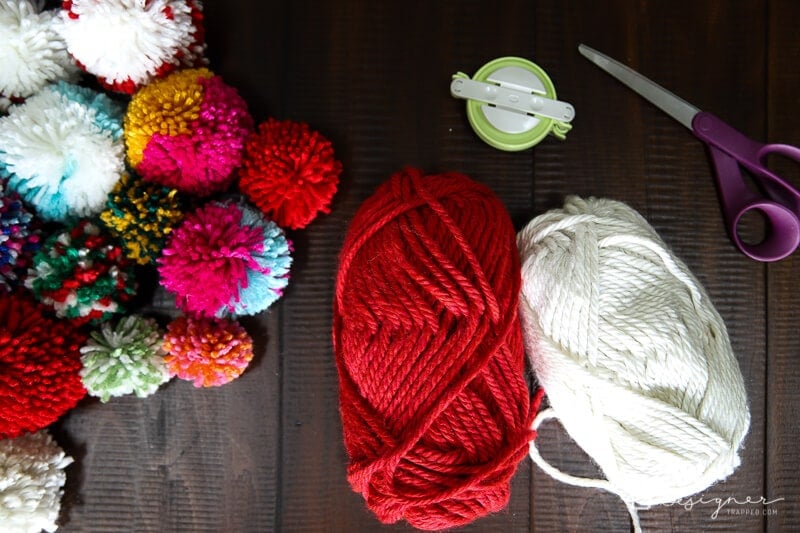 It helped that my girls were VERY into making pom poms. Even Joe got involved in the fun (though he was less excited about it than Attley and Avery).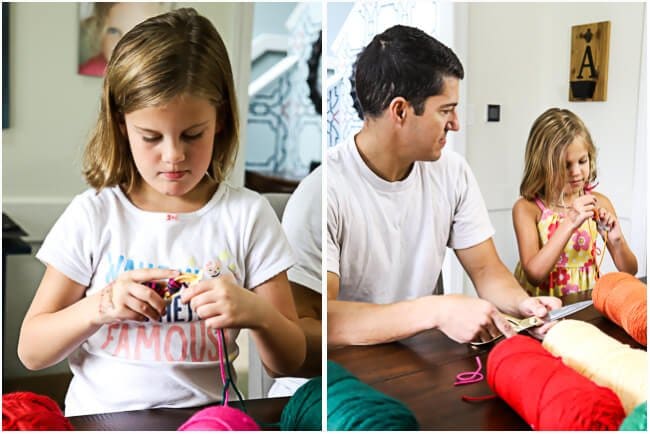 2) Once we had made a decent amount of pom poms, I started pinning them onto the wreath form so we could see how many more we needed and so that we could balance out the colors.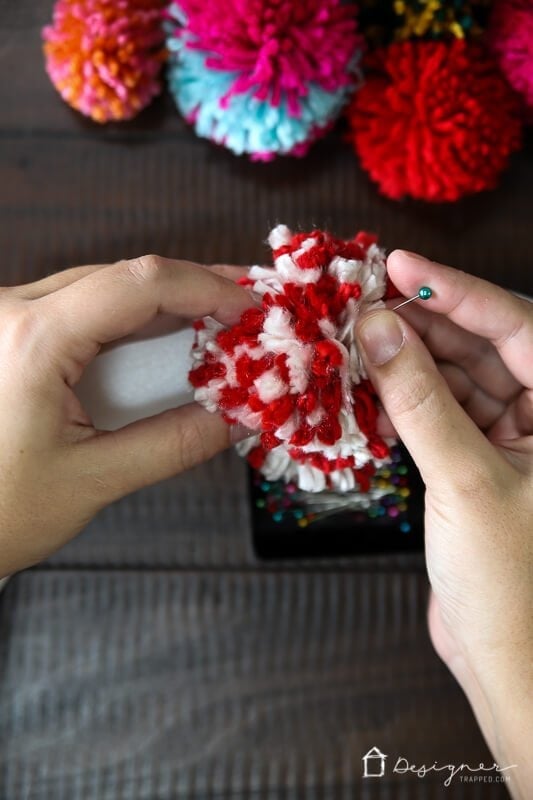 3) Continuing making and pinning on your pom poms using straight pin or T-pins to secure them to your wreath form. I recommend laying your form flat on the table you are working on because you will not attach pom poms to the back of the wreath. That's because you will want it to sit flat against the surface of the wall or door it's hanging on. You just want to fill all the space that you can see while your wreath form is laying flat on your table and you should be good. The back of your wreath will just be the plain wreath form.
4) We used 2-inch navy blue ribbon to hang our wreath. So, before filling in the last 2 inches of the wreath form, I tied the ribbon around it and then pinned the pom poms over the top of the ribbon.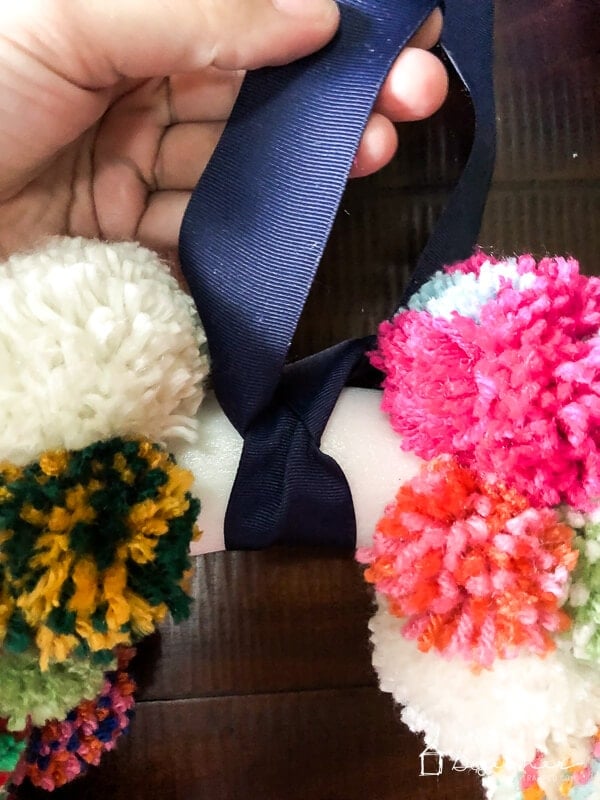 That's it! Super easy and absolutely GORGEOUS. Again, it was absolutely time-consuming, but so well worth it. I love that it's perfect for Fall and Winter. The fact that we'll get 2 seasons out of it every year makes the amount of time it took to make it easier to swallow.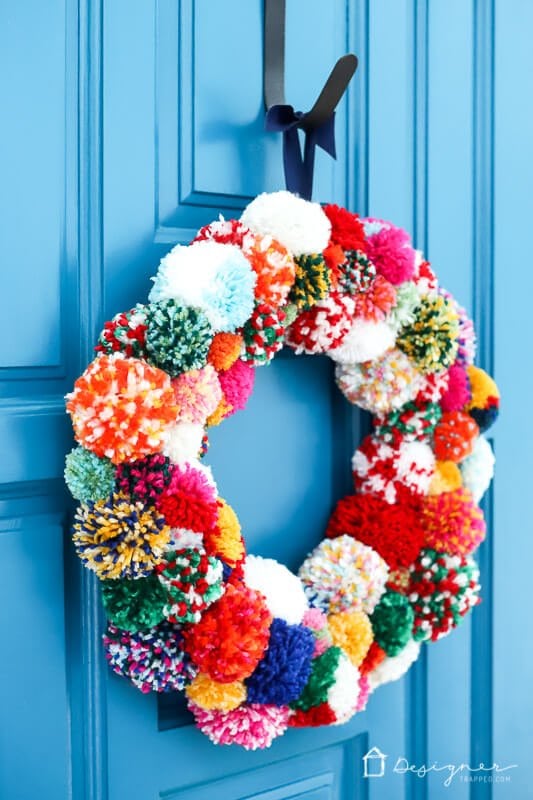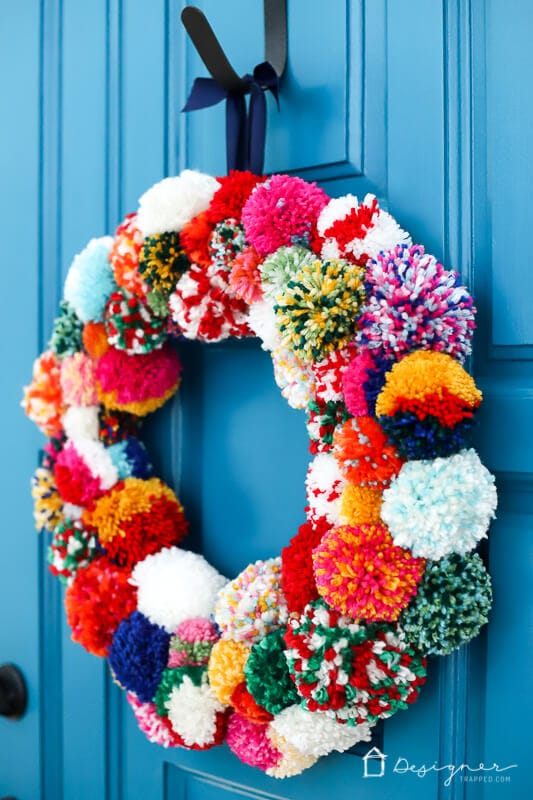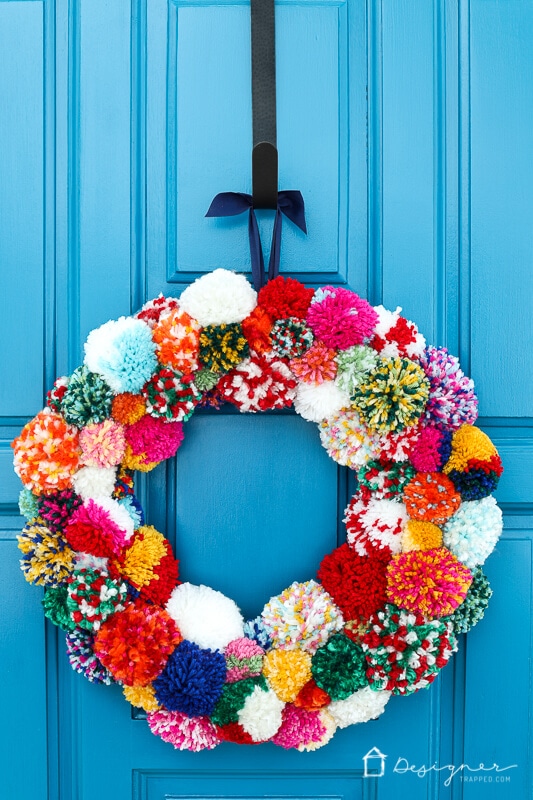 I hope you love this happy and festive DIY pom pom wreath as much as we do! You can check out my other Fall projects here and my other Christmas posts here :)
​
[mv_create key="1″ target="_blank" thumbnail="</span><a href=" title="Most Popular Projects" type="list"]​