6 Secrets to Elevate Your Christmas Aesthetic
Last Updated on December 6, 2022
Have you ever wondered what makes the difference between basic Christmas decor and the drool-worthy Christmas interiors you see on Instagram and Pinterest? The differences might surprise you because they are really easy to implement even if you aren't a professional designer. Read on to learn the 6 secrets to take your Christmas aesthetic to the next level!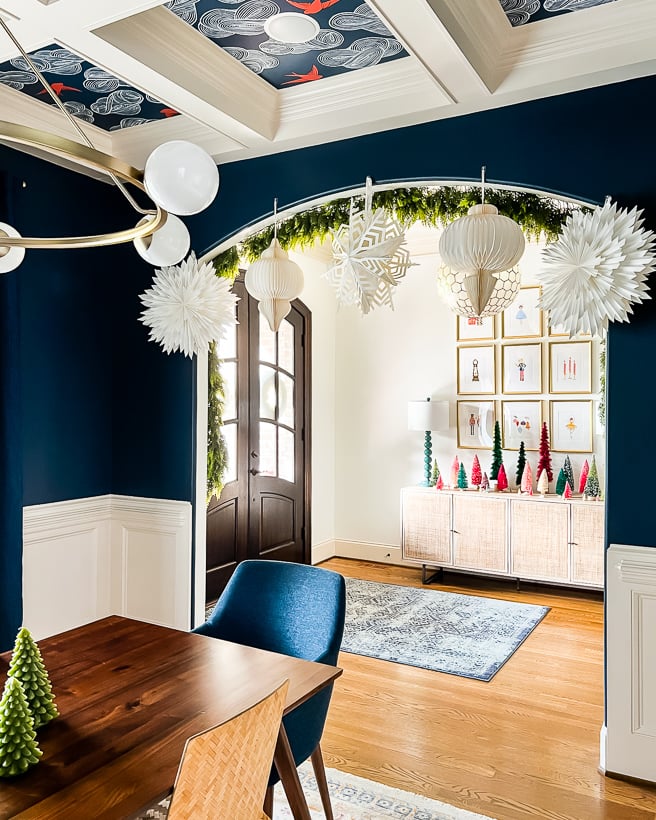 We've all been there (yes, even me). You put out all of your Christmas decor and put up your tree only to look around and think "hmmmm, I just feel like something is still missing." And while I don't think anyone should compare their own Christmas aesthetic and decor to what they see on social media, I do think there is huge value in being inspired by it and learn from it!
So if you've ever seen photos of beautifully decorated homes and feel like your own Christmas aesthetic just isn't quite there, I've got you covered. There are a few secrets the pros like myself use to really elevate our Christmas decorating and I'm sharing them all with you in this post.
6 Secrets to Elevate Your Christmas Aesthetic
Secret No. 1- Add holiday artwork to your home.
That's right, you should swap out some of your artwork with Christmas or seasonal artwork to really take your decor up a notch! And it doesn't have to be expensive or hard! It can be as simple as purchasing inexpensive digital prints, printing them at home and popping them into frames you already have on shelves, etc. (Or if you are looking for some of the cutest frames that are perfect for the holidays, be sure to check out the frames we've included in our 2022 Holiday Collection)!

But if you REALLY want to level up, you should incorporate some larger holiday art in your home! Now that I've shared this secret with you, you'll notice that photos of Christmas homes you love almost always have holiday art large enough to make an impact hanging up for the holidays!
If you are skeptical about adding Christmas-specific artwork to your home, let me show you some examples.
Last year I hung this series of nutcracker art prints in our entryway.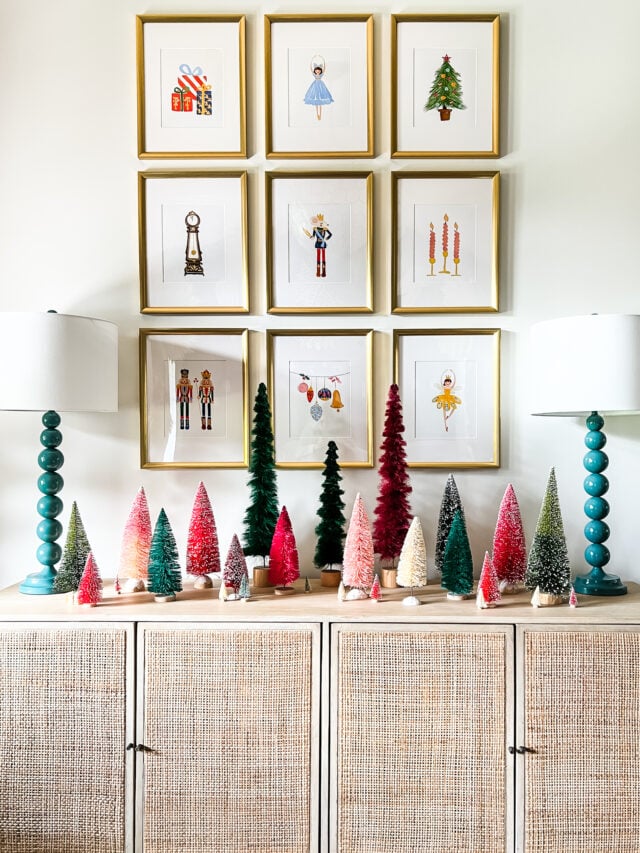 And I hung a few winter/holiday prints from this collection in our bedroom and in Avery's bedroom.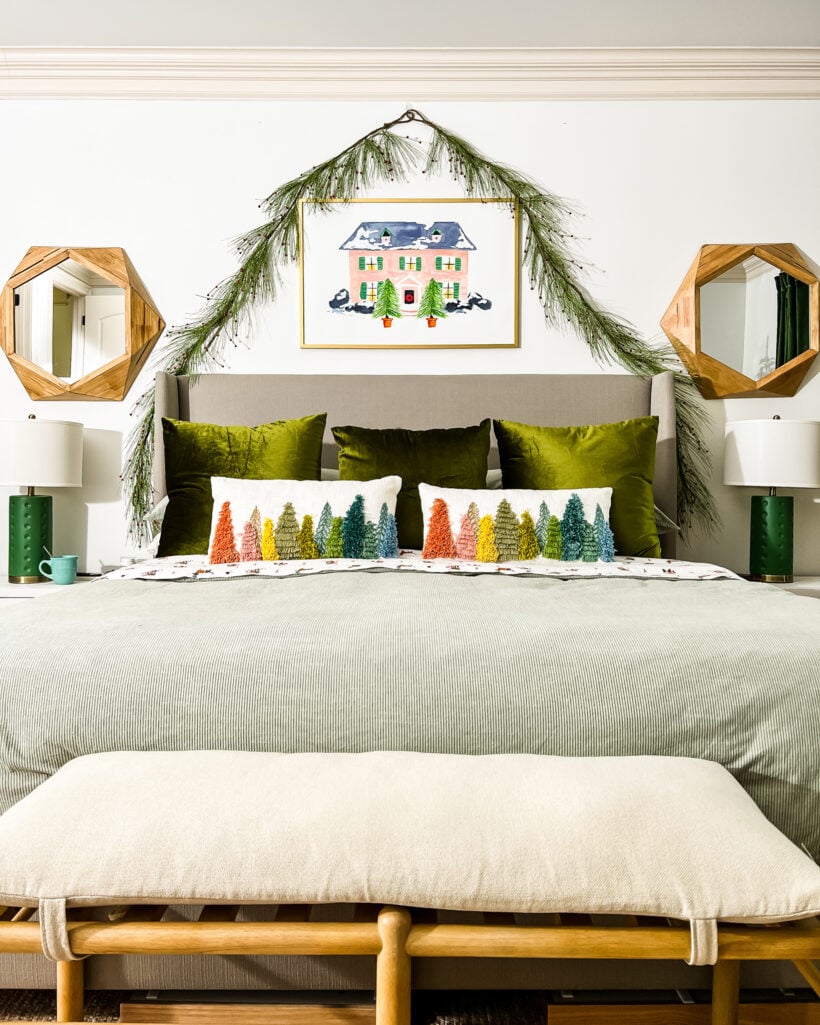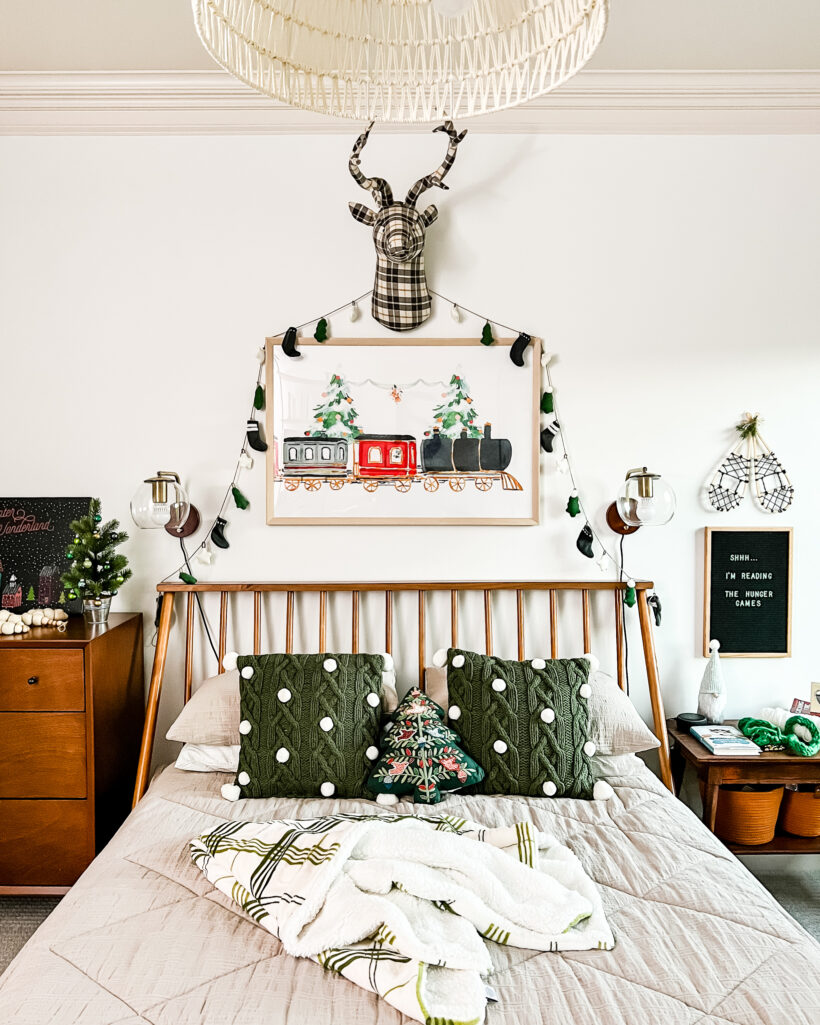 This post contains affiliate links for your convenience. Click here for my full disclosure policy.
And I swapped out the art that usually sits on this DIY art ledge in our family room for this DIY light-up rejoice artwork I made, this huge shower curtain that I stretched around a wood frame and this beautiful Virgin Mary and baby Jesus art print. I topped it off with a fresh pine garland and it made a HUGE impact in our great room.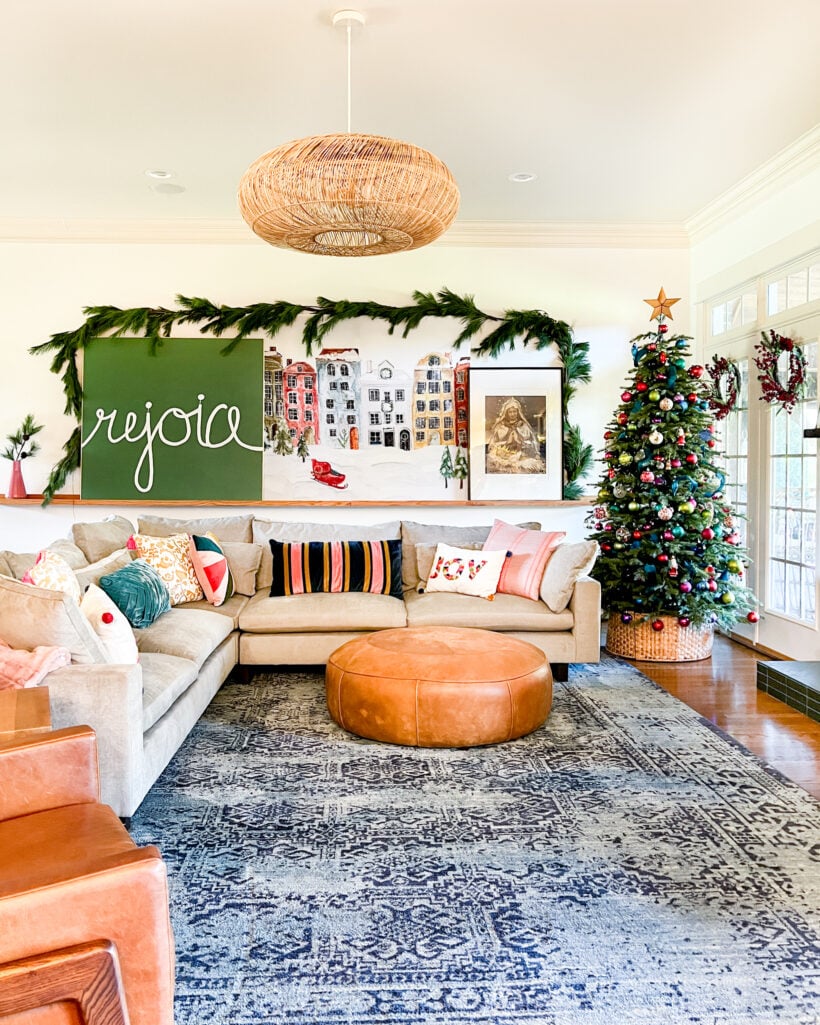 Last but not least, I have had this beautiful canvas piece for years and hung it in our sitting area above our DIY coffee bar last year. Not sure where I will put it this year, but I love it so much!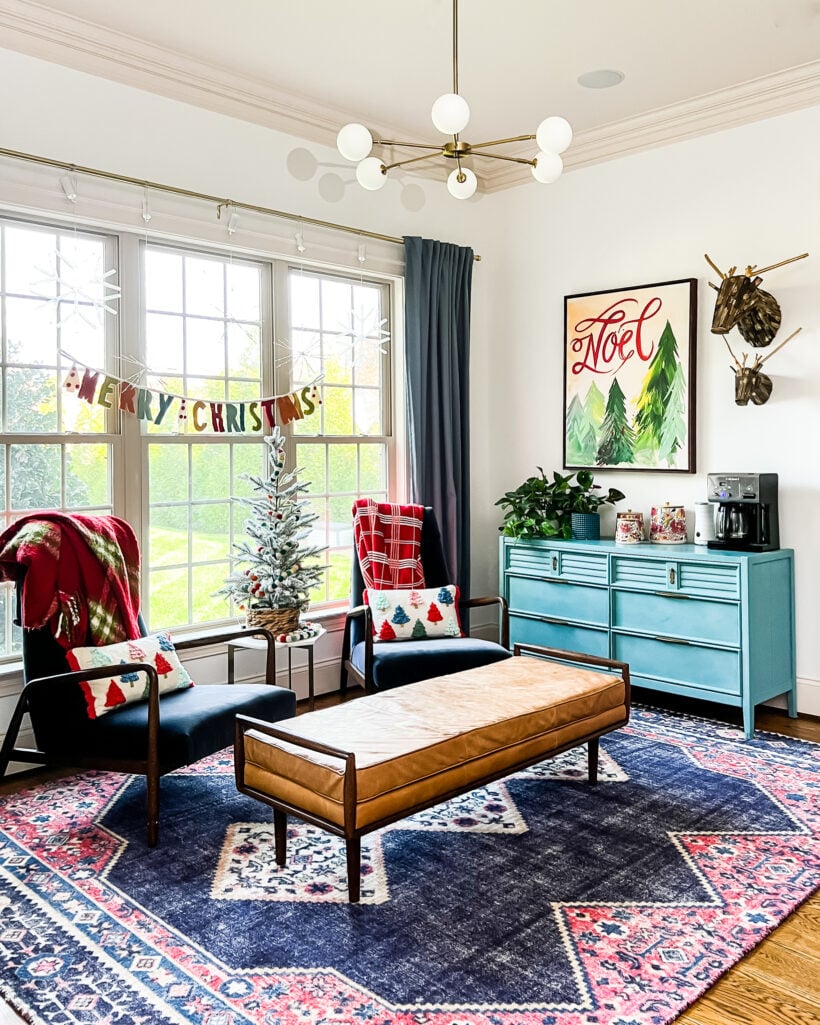 And you get total bonus points for displaying festive digital art on your TVs! Remember, you don't have to have a Samsung Frame TV (that looks like a picture frame TV) to display art on your TV screen. Check out my tutorial on how to display art on any smart TV!
You can find my favorite holiday digital TV art here.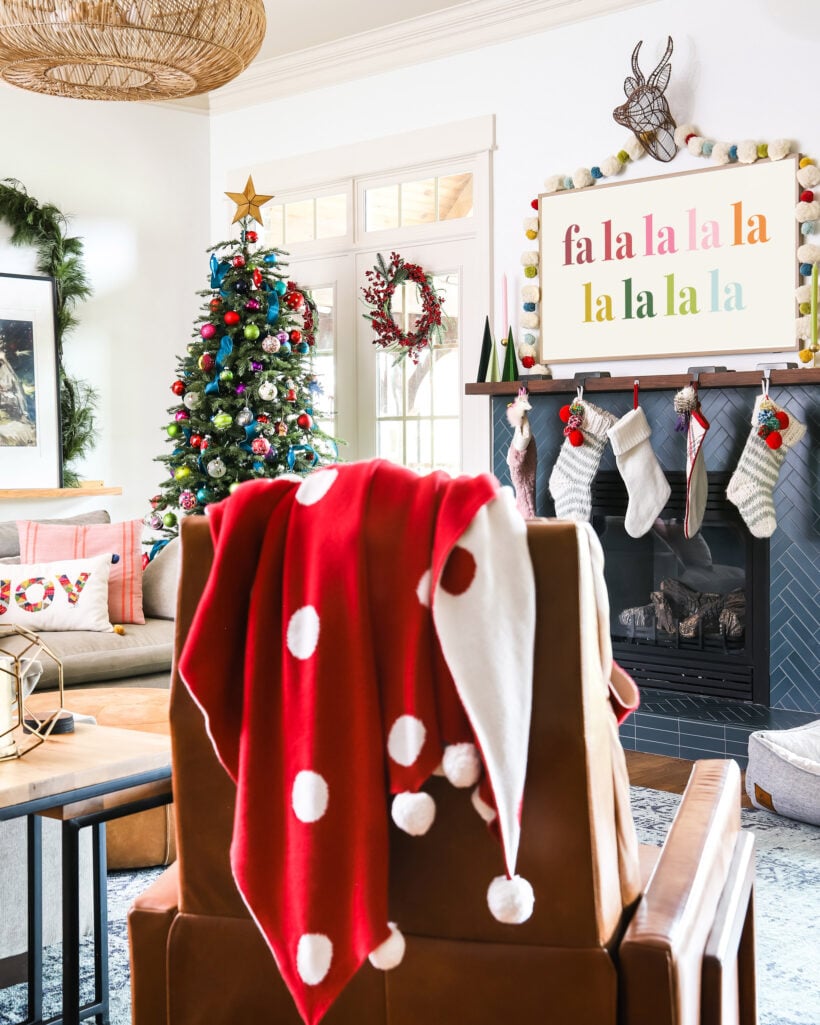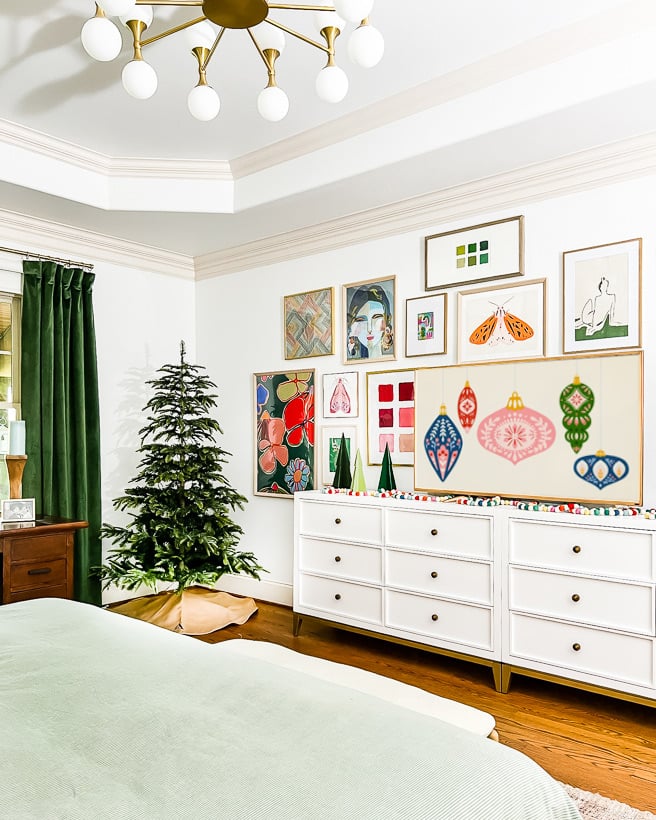 You can find all of my favorite Christmas Art for 2022 in this post (I've included prints, canvases AND digital options as well)!
Secret No. 2- Use colors that make sense for your house year-round.
Christmas decor doesn't have to be just green and red, y'all! You don't want your holiday decor to feel like it's sitting on top of your existing furniture and decor. It should feel like your Christmas decor was MEANT to be there all along!
So, to really take your Christmas decorating to the next level, make sure your color palette for the holidays includes all the colors you love and use in your home year-round. For us, that means including a lot of pinks, blues and greens. The only additional color that gets introduced to our home for Christmas is red (red is not a color I use much of otherwise). But all of the other colors we decorate for during Christmas are also in our home year-round!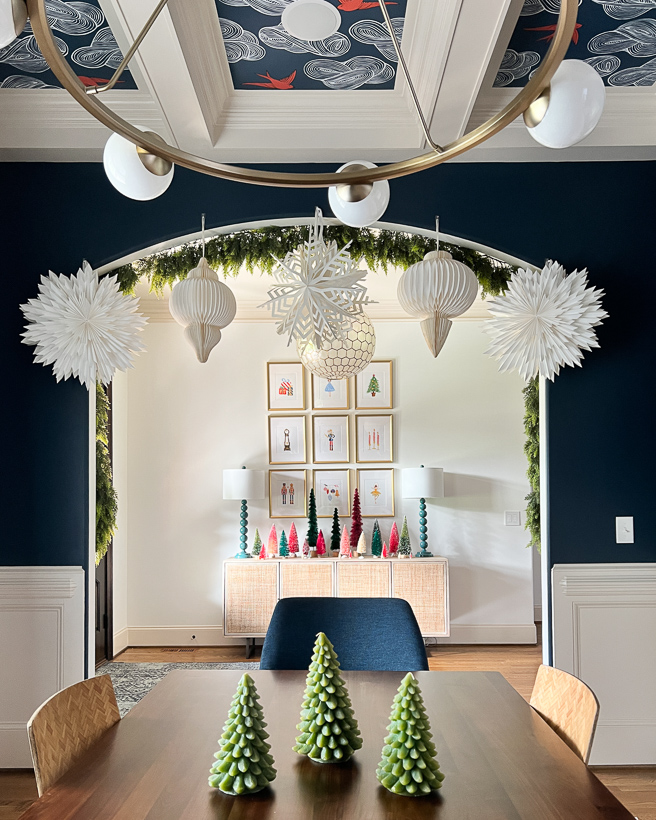 Secret No. 3- Decorate your kitchen.
Kitchens are often ignored when it comes to decorating for Christmas, but it makes such a difference! And y'all, it's NOT HARD. My favorite way is to add mini wreaths to our kitchen cabinet doors and a wreath above our stove.
I don't add much of anything to the horizontal surfaces because I can't stomach wasting a bunch of countertop space with a piece of non-functional decor. But I do love how much the mini wreaths and the wool felt wreath on our range hood cover give our kitchen a Christmasy feel with very little effort. And our cute Christmas countdown calendar fits perfectly above the stove also (bonus–we are in the kitchen all the time so we actually remember to update it every day).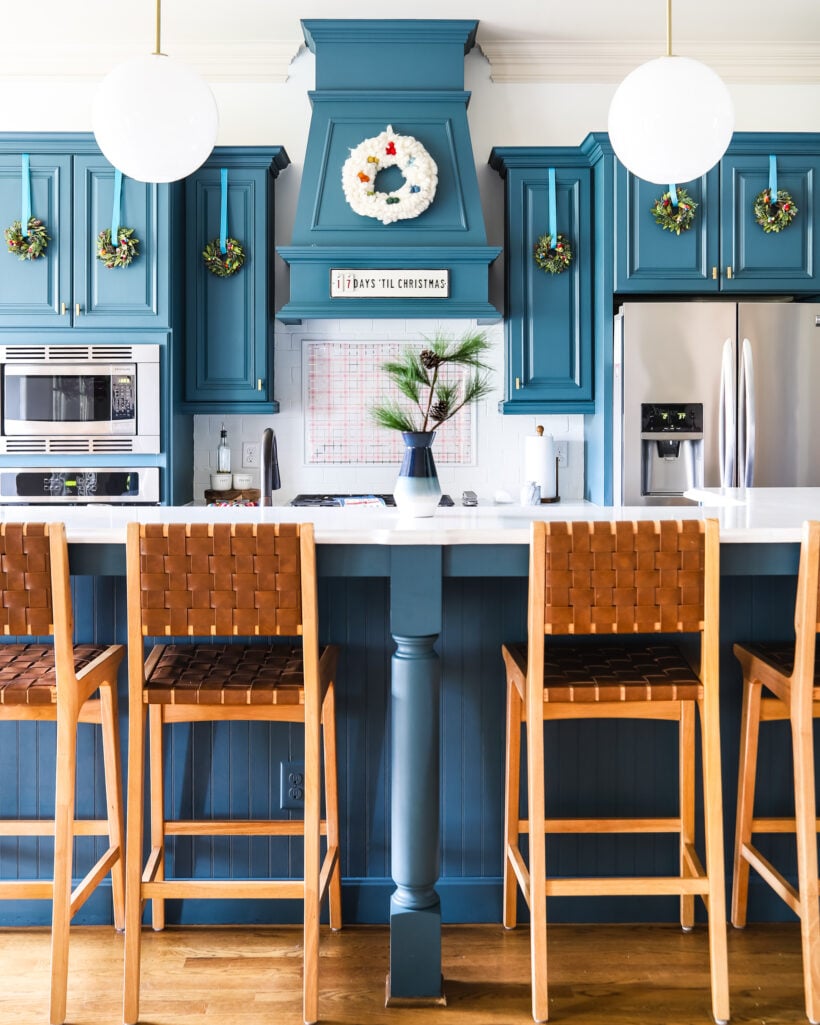 Secret No. 4- Add some holiday pillows and blankets.
You don't have to go overboard with this one unless you want to! But adding some throw pillows (they don't even need to be holiday-themed–just colors and fabrics that feel like winter/Christmas) and adding some cozy throw blankets will go a long way in elevating your Christmas aesthetic! You can see some of the pillows and blankets I use in the photos above!
But here's an example of just how much of an impact a single pillow can make. In our colorful guest room, we add a colorful Christmas tree pillow to the bed. We don't change anything else in the room and that ONE pillow makes it feel Christmasy!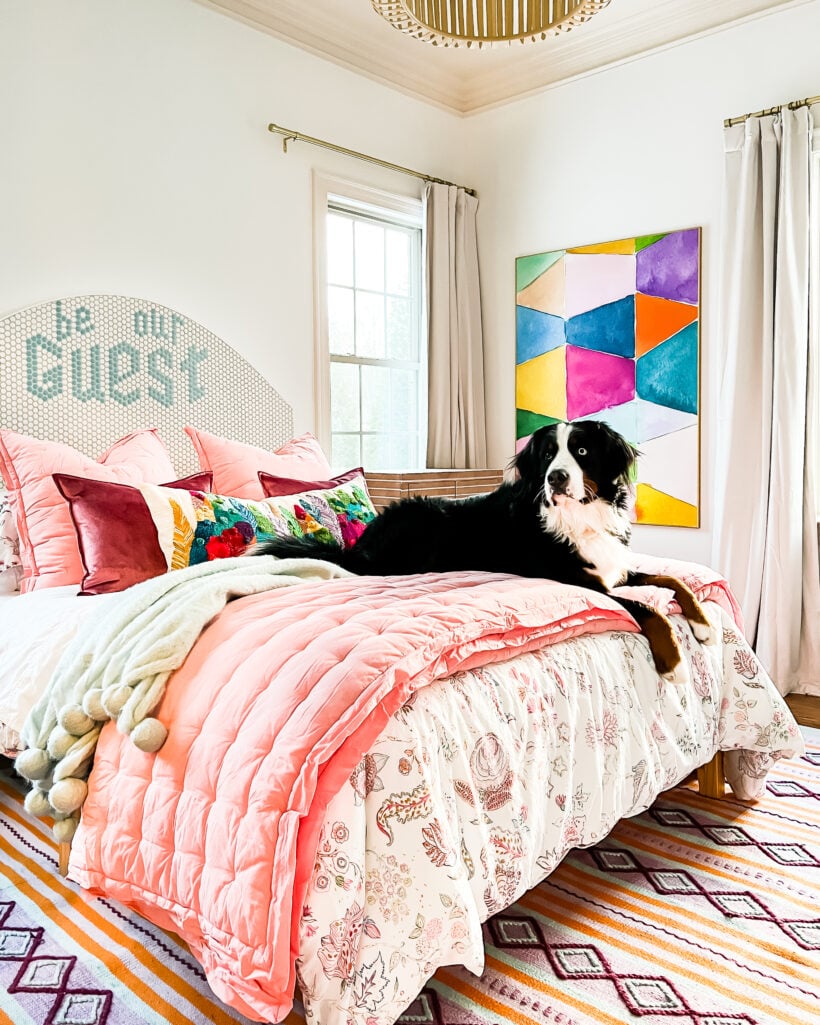 And I can't wait to use our new reversible "Merry" throw blanket in our family room this year! The other side is the cutest checkerboard pattern!
Secret No. 5- Create a few "magical" moments in your home.
Think about it… those photos you've seen that really stop you in your scroll aren't just about beautiful Christmas decor and styling. There is something magical about them! So try to create a few magical moments in your home for the holidays. Again, this doesn't have to be hard or super expensive to be really effective.
I created a really magical moment in the entryway into our dining room with these DIY Magical Christmas Lanterns.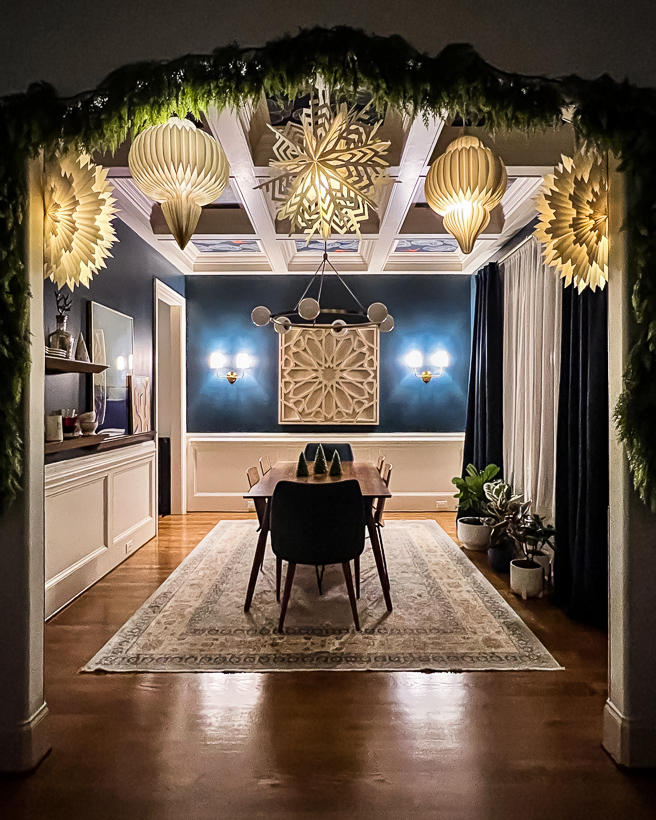 But without a doubt, the biggest "magical" moment in our house is what I did to transform my twin girls' bedroom doors. I transformed them to look like apartment doors and decorated them for Christmas (yes, they stay this way year-round–you can see how they look at other times of the year in this post).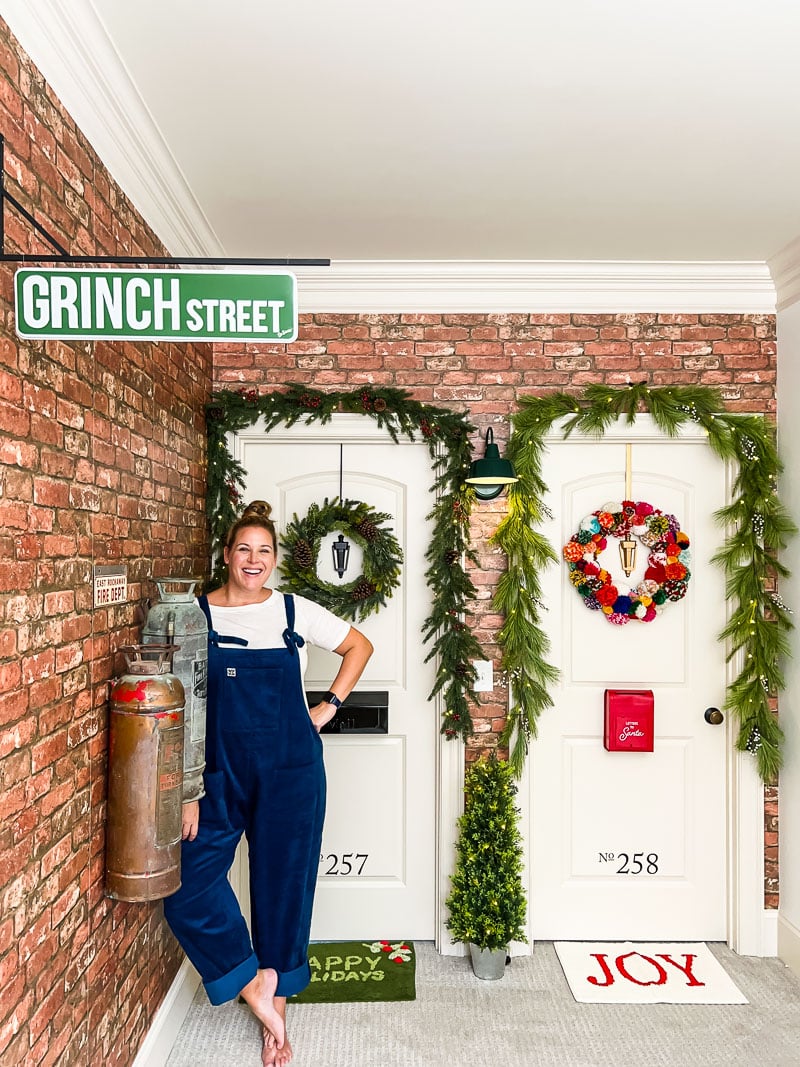 Secret No. 6- Make sure your decor is large enough to make an aesthetic impact.
Whether we are talking about Christmas decorating or decorating in general, you'll notice that I really don't display anything smaller than my fist. It's because objects that are too small don't make an impact (not a positive one anyway) and they usually end up looking like clutter.
You want your Christmas decor to be BIG enough to see and make an aesthetic impact! This is especially true when decorating open shelving. You'll notice that everything on our shelves below is big enough to see even from some distance away. That is what you want!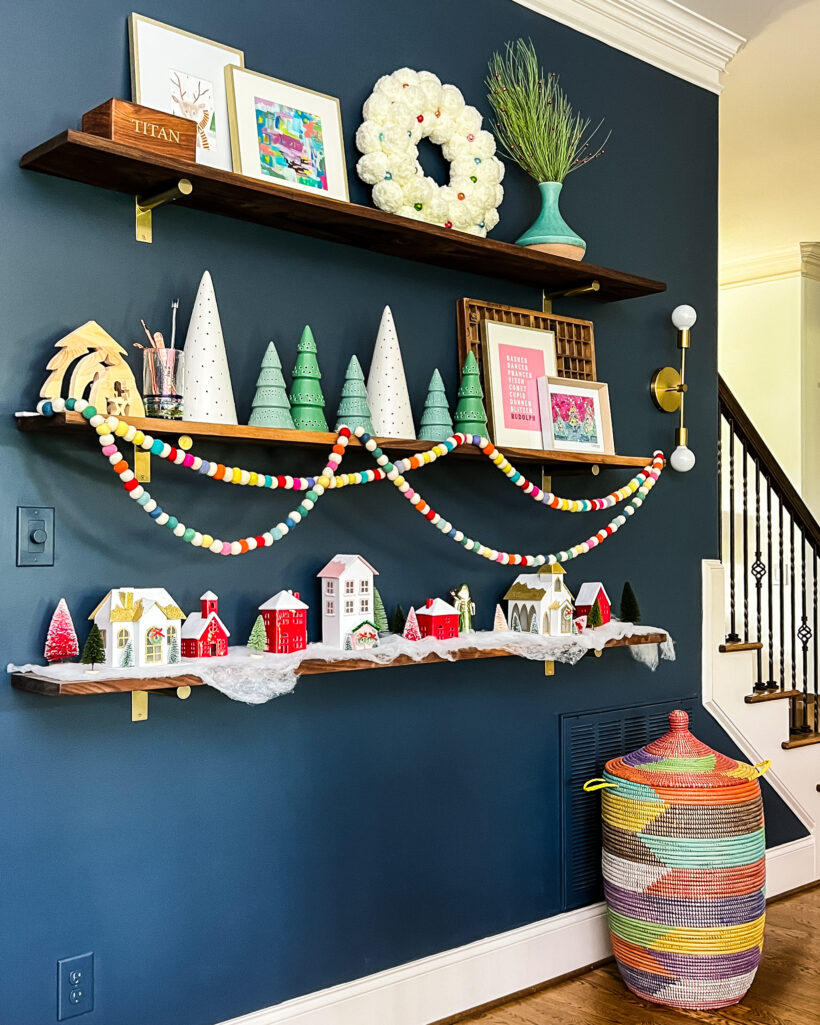 That's it! I hope you have found these tips for elevating your Christmas aesthetic helpful! If you have any questions, feel free to reach out on social media!
Other posts you may enjoy:
Wondering how I approach transforming rooms and spaces in our home? Check out Designer in a Binder®.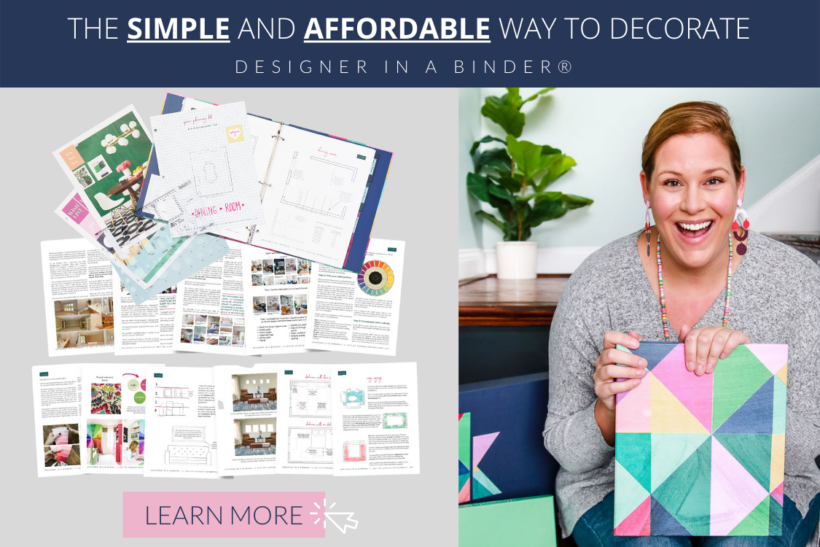 And if you want exclusive content and behind-the-scenes sneak peeks, be sure to subscribe before you head out!