3 Tips for Decorating Your Bedroom for Christmas
Y'all, I didn't start decorating our bedroom for Christmas until a few years ago and I deeply regret it. Adding a bit of Christmas bedroom decor is quick, easy and makes our bedroom feel so magical for the entire season.
If you are wondering what Christmas bedroom decor is worth adding to your bedroom, I'm sharing my best tips in this post for you. And I've included a full source list at the bottom of this post for you.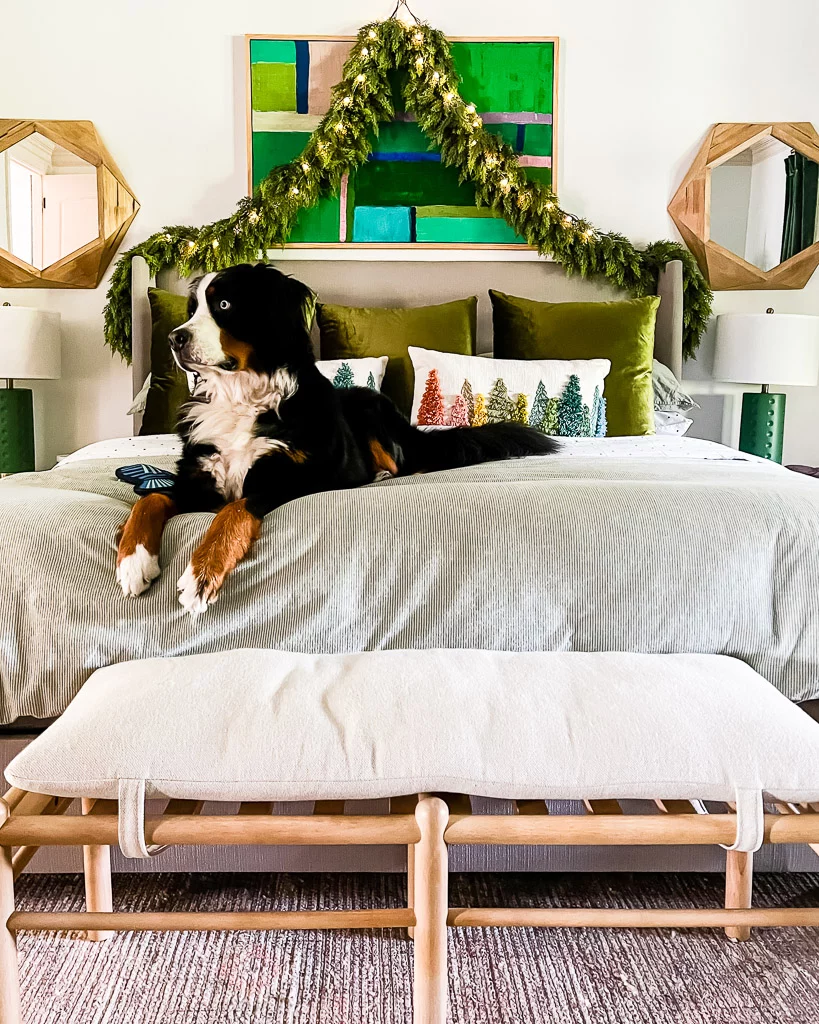 This post contains affiliate links for your convenience. Click here for my full disclosure policy.
3 Tips for Adding Christmas Decor to Your Bedroom
Start With Your Throw Pillows (Holiday Bedding is a Bonus)
It never ceases to amaze me just how much swapping out throw pillows can impact a room. And that is definitely true when it comes to seasonal and holiday decorating. In fact, it's one of my top secrets for elevating your Christmas aesthetic.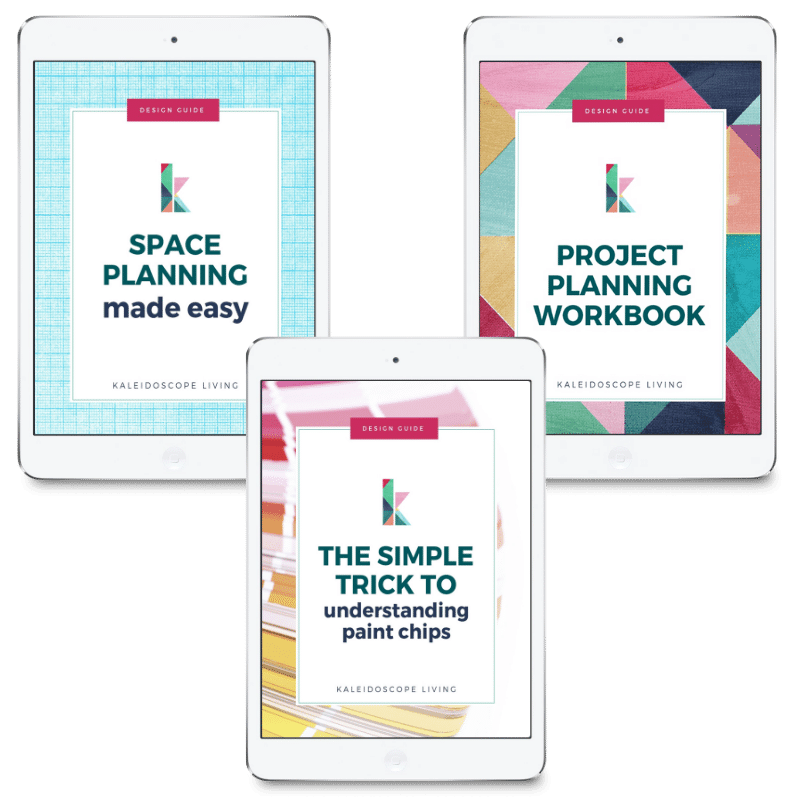 Get my FREE design guides when you subscribe!
I swap out our Euro shams for these inexpensive green velvet shams and then add these two throw pillows that I found last year (they are available again this year). You can check out some of my other favorite holiday bedding options here.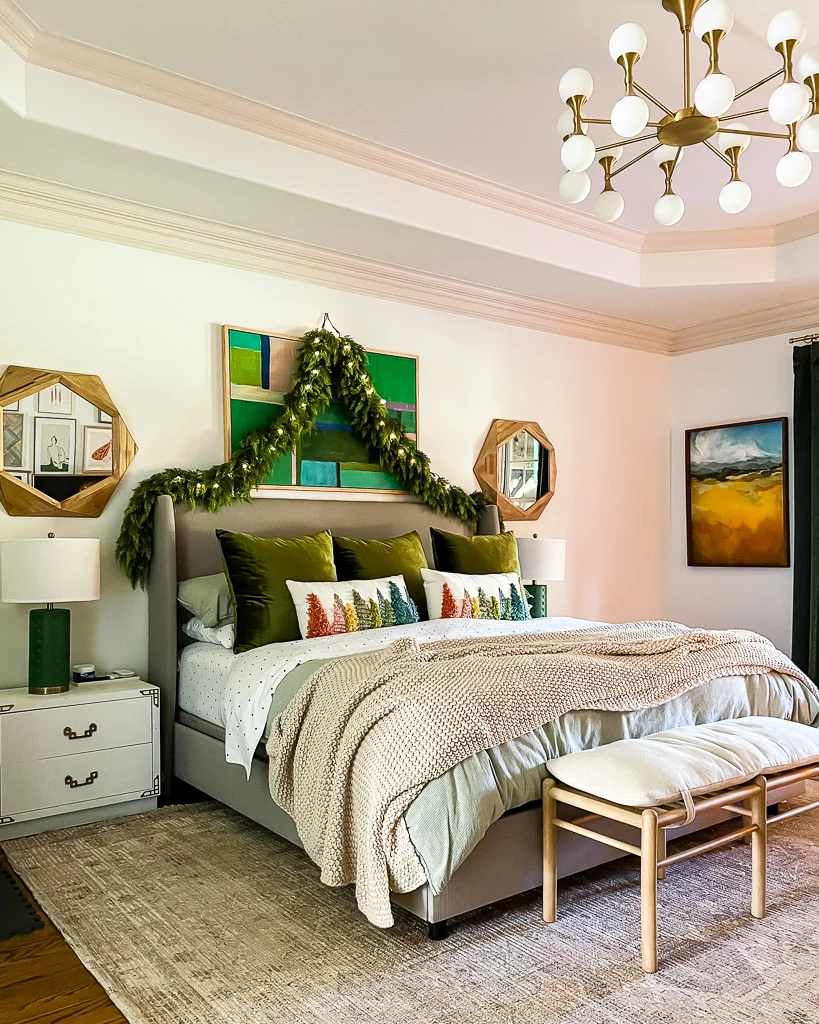 You can't see them in this photo because they were being washed, but last year I found super inexpensive holiday sheets that have dogs sledding on them and they bring me an absurd amount of joy. I had balked at holiday sheets for such a long time because I couldn't justify the cost, but our king-size set was on sale for only $30. They aren't available this year, but this set is really similar.
Include Some Greenery In Your Christmas Bedroom Decor
Y'all, greenery adds sooooo much texture and coziness to any bedroom for Christmas!
We put this Christmas tree in one corner of our room and it's hands-down my favorite Christmas item in our whole house. It's a pre-lit tree and I love the shape of the branches and silhouette of the tree so much that I've left it "naked" every year. It just doesn't need ornaments. It's so beautiful on its own. And it's really a great price for what it is.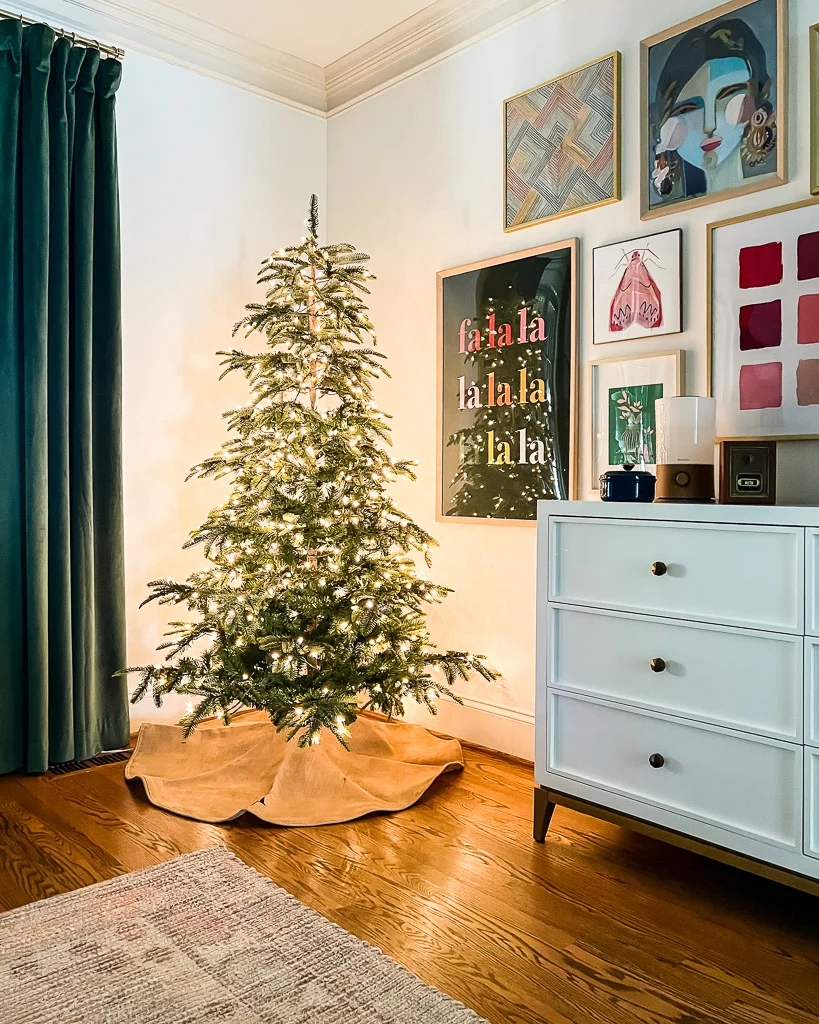 We also used our favorite realistic artificial garland to drape over the piece of DIY art I made above our bed. And I added these diamond-shaped battery-operated lights to it for some Christmas glow.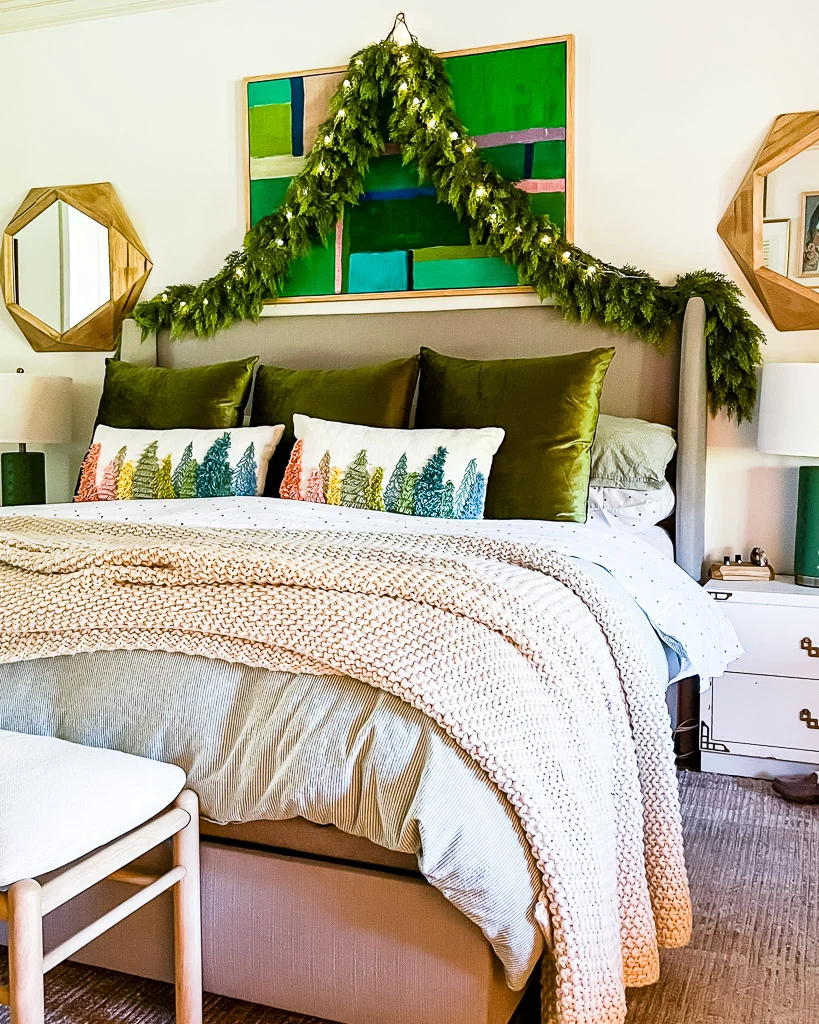 Any greenery will do! Whether it's a garland, a tabletop tree, a full-size tree or some combination of all of the above, a little greenery will go a long way.
Display Some Holiday Art
This is another one of my secrets for elevating your Christmas aesthetic. Adding some holiday or seasonal art is such an opportunity to make a big impact in your bedroom with very little effort. I swapped out some of the prints in our bedroom gallery wall with this Fa La La art print and two of these watercolor prints. And I had to include my favorite Christmas piece of Mary and baby Jesus.
You can check out all of my favorite holiday art picks here.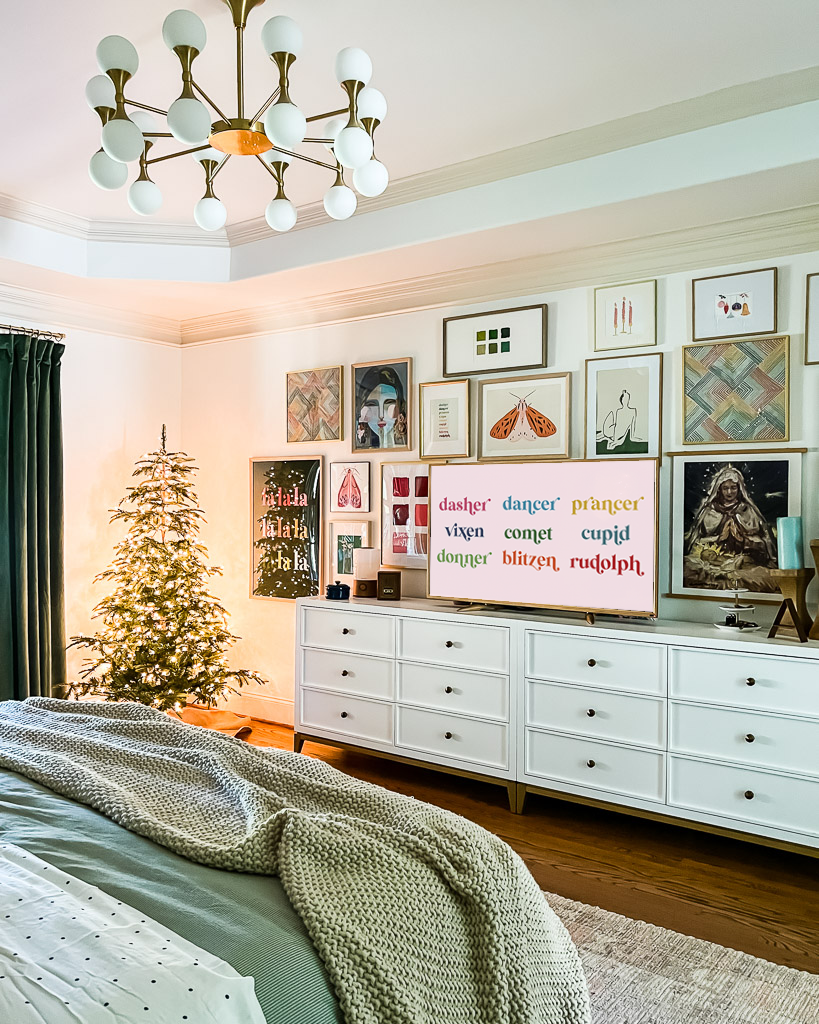 And if you have a TV in your bedroom, don't forget to add some digital holiday art to it! Remember, you don't have to have a Frame TV to display digital art. You can add digital art to any smart TV. And if you've read my Samsung Frame TV review, you already know I think they are unnecessary in a bedroom. We have a regular old smart TV in our bedroom and it blends right into the gallery wall with the cute reindeer digital art I have displayed on it!
You can find my favorite holiday TV art here or by clicking on the image below.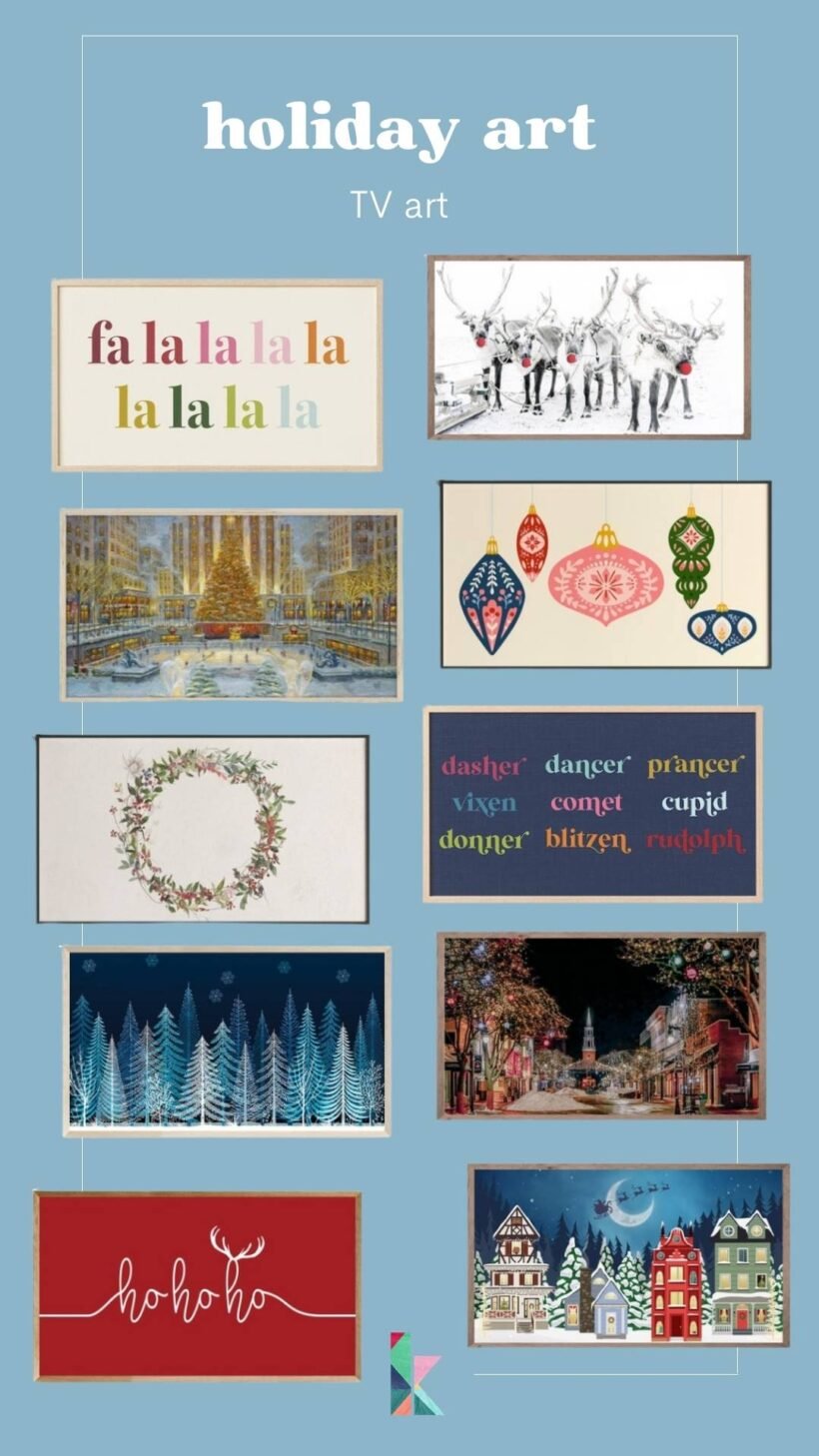 What do you think? Do you add Christmas decor to your bedroom for Christmas? If not, do you want to now that you've read these tips? As promised, you can find the source list below.
Christmas Bedroom Decor Source List
You can find all of my favorite holiday decor picks here. But if you are looking for the exact items in our Christmas bedroom, see below :)
Scroll and click on any image for full product details.

Other posts you may enjoy:
Wondering how I approach transforming rooms and spaces in our home? Check out Designer in a Binder®.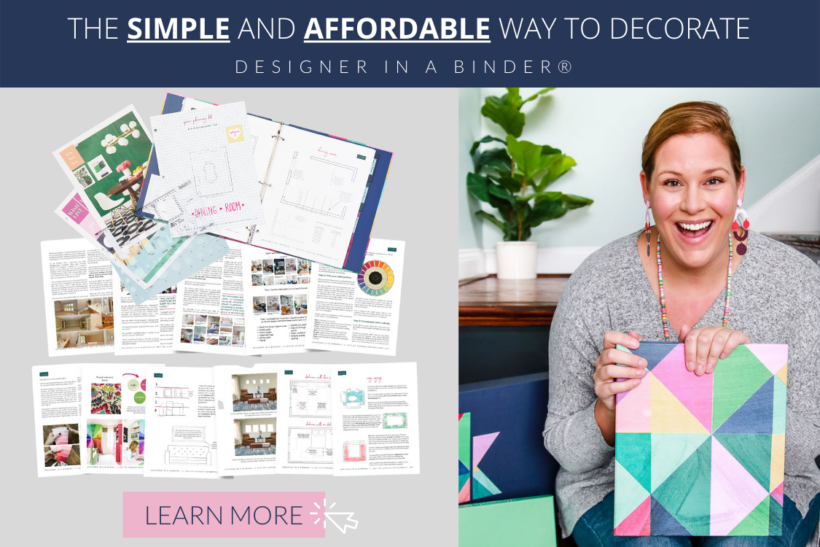 And if you want exclusive content and behind-the-scenes sneak peeks, be sure to subscribe before you head out!