DIY Christmas Stocking Ideas
Last Updated on October 25, 2022
Create your own holiday traditions with special handmade decor. These DIY Christmas stockings (and fun ways to hang them) will give you tons of ideas and you can easily customize them for your own holiday style!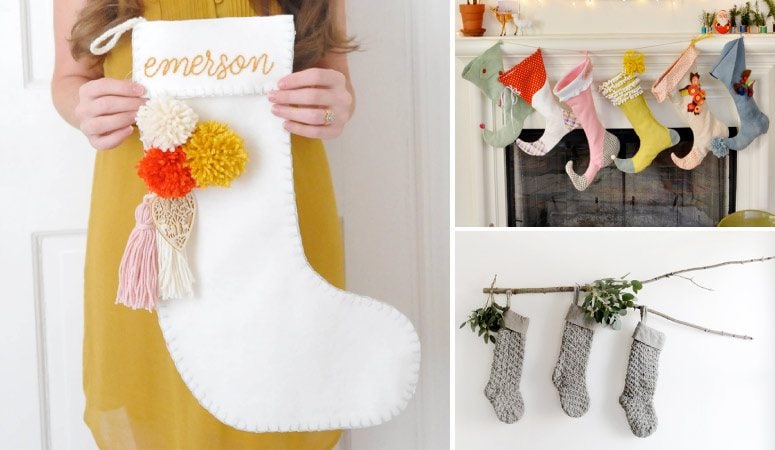 We LOVE Christmas at our house. We totally deck our house out with festive and colorful holiday decor. But there is just something really special about the moment when we hang the Christmas stockings on the decorated holiday mantel!
Do you wish your stockings were more fun or more your style? Making your own Christmas stockings can be so fun to make and handmade stockings can be kept in families for generations!
You don't have to start from scratch. I made my own DIY pom-pom stockings by using plain knitted cream stockings and adding bright yarm poms I made. I love how cute they turned out and they match our style perfectly!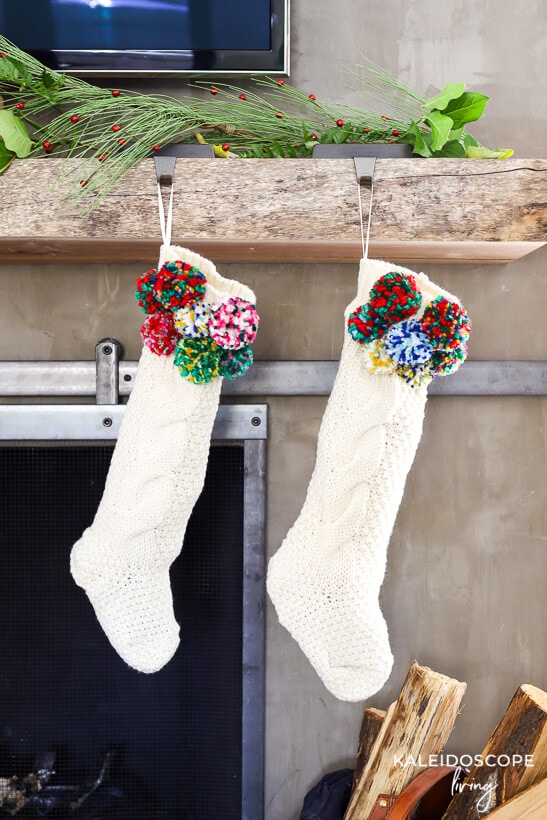 If you are looking for creative DIY Christmas stockings (or for creative ways to hang your Christmas stockings) you have come to the right place. I rounded up the most creative stocking ideas I could find and there are so many amazing ideas on this list.
DIY Christmas Stocking Ideas
Sewn Paper Stockings from Picklebums. Are you looking for Christmas stocking ideas that are non-traditional? Check out these fun paper stockings. Pack them full of goodies and give them to friends who deserve a little something extra special!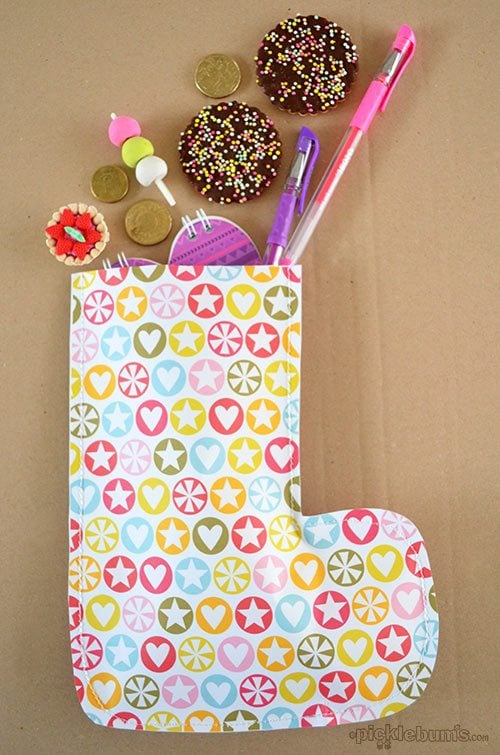 Elf Christmas Stockings from Cakies. These whimsical and funky stockings are high on my list of awesome Christmas stocking ideas. They can be customized with all kinds of embellishments and trims and look SO FUN all hanging together!
DIY Mini Christmas Stockings from Flamingo Toes. Christmas stocking ideas that double as wrapping? Yes please! I am OBSESSED with these cute little mini stockings. They are perfect for dressing up what sometimes feels like the most mundane present– the dreaded gift card! These make them extra special.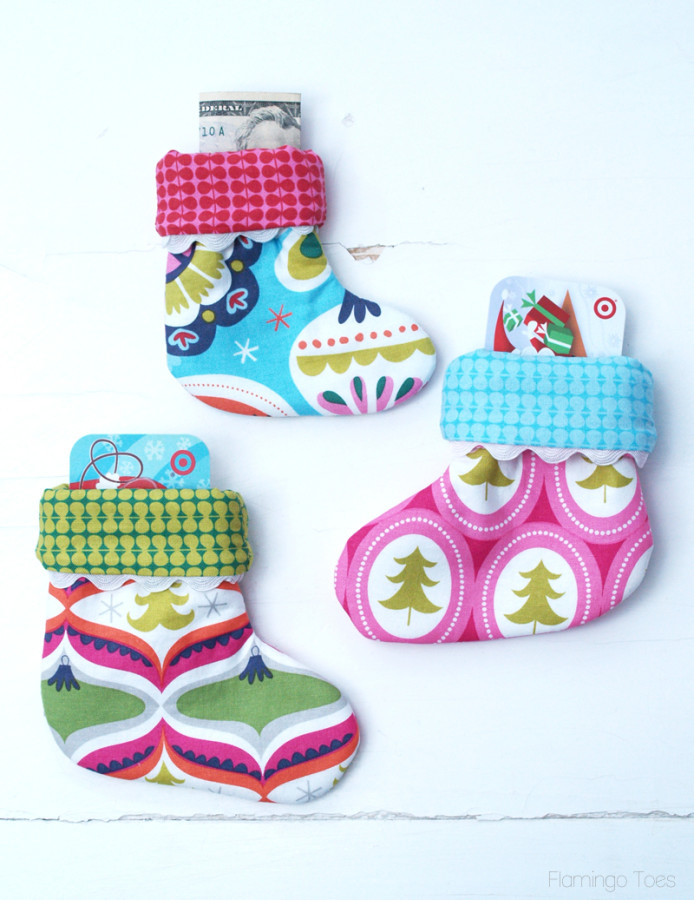 10 Minute Christmas Stocking Tutorial from Crazy Little Projects. Looking for fast Christmas stocking ideas that produce great results? Check out this easy tutorial. You can make them out of any fabric that matches your holiday decor and style, and have them ready in time for stuffing on Christmas eve!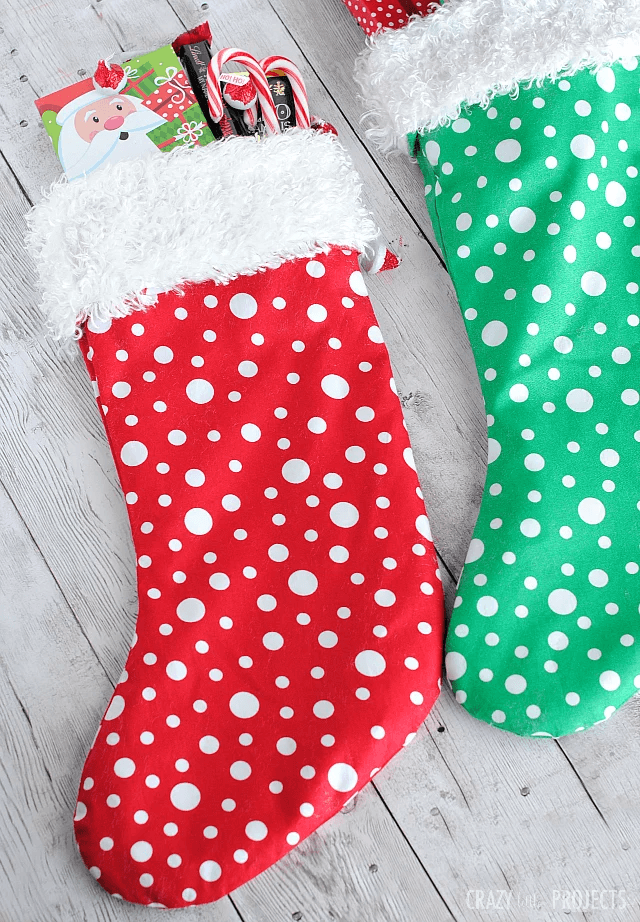 Simple Burlap Christmas Stockings from Taryn Whiteaker. Sometimes simple really is best. Lots of Christmas stocking ideas are fancy and frilly. This DIY is the opposite! If you love a rustic farmhouse look, then these are the perfect stockings for your home!
DIY Felt Stockings With Tassels and Poms from A New Bloom. Pompoms and tassels. This stocking has it all! These super cute Christmas stocking ideas are right up my alley! I LOVE that they manage to combine a simplistic look with festive pompoms AND tassels.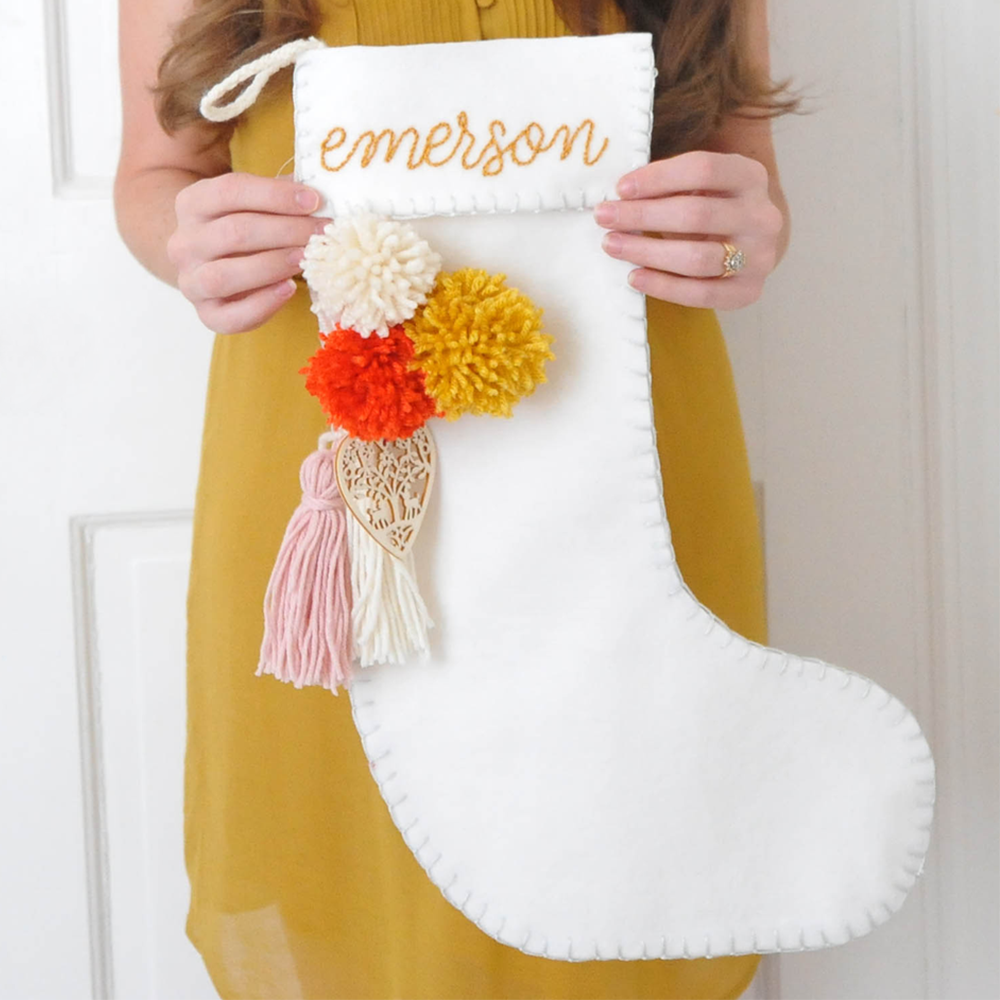 DIY Christmas Stockings from Kojo Designs. This is another Christmas stocking that balances two looks beautifully. The leather with the plain muslin is perfect together and strikes a lovely rustic and boho chord.
Easy DIY Felt Pom Pom Stockings from Hello Wonderful. MORE POMPOMS!!!! Christmas stocking ideas with fun color and pompoms are always a clear winner for me. I love these and I love how easy they are to make!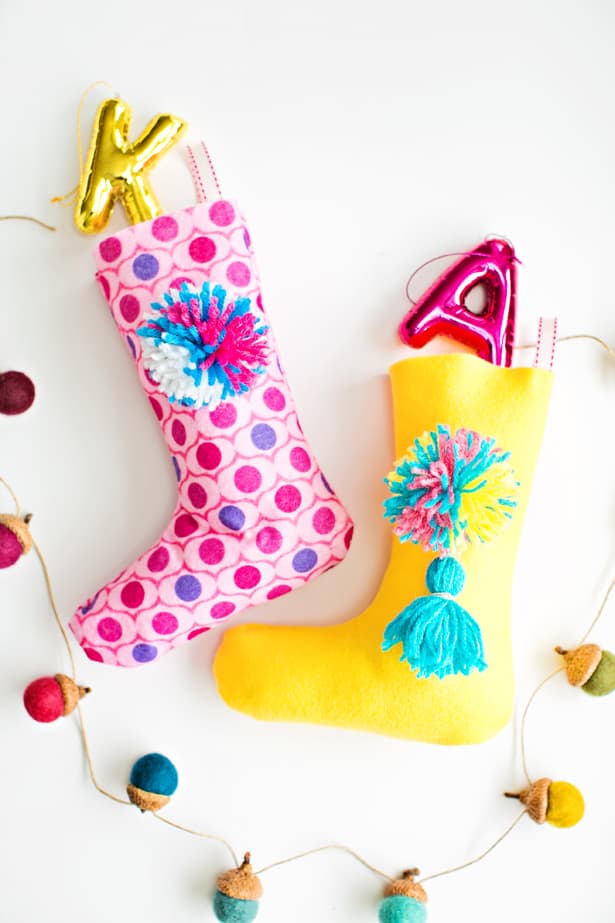 No-Sew Christmas Stocking from The Salty Canary. We can't all sew (I try but it isn't always pretty!) so Christmas stocking ideas that only take a glue gun are a great option. This stocking is a great no-sew option and they are SUPER cute!
Easy Stocking Hangers
These simple stocking hanging ideas are all easy DIY projects. Once you are finished DIY'ing your own stockings make one of these so you will have somewhere to hang it!
Wood Slice Stocking Hangers from Kaleidoscope Living. Once you have made your stockings, you are going to need a way to hang them. I love these wood slices with hooks I made last year when we didn't have a mantel. They worked great and looked super cool!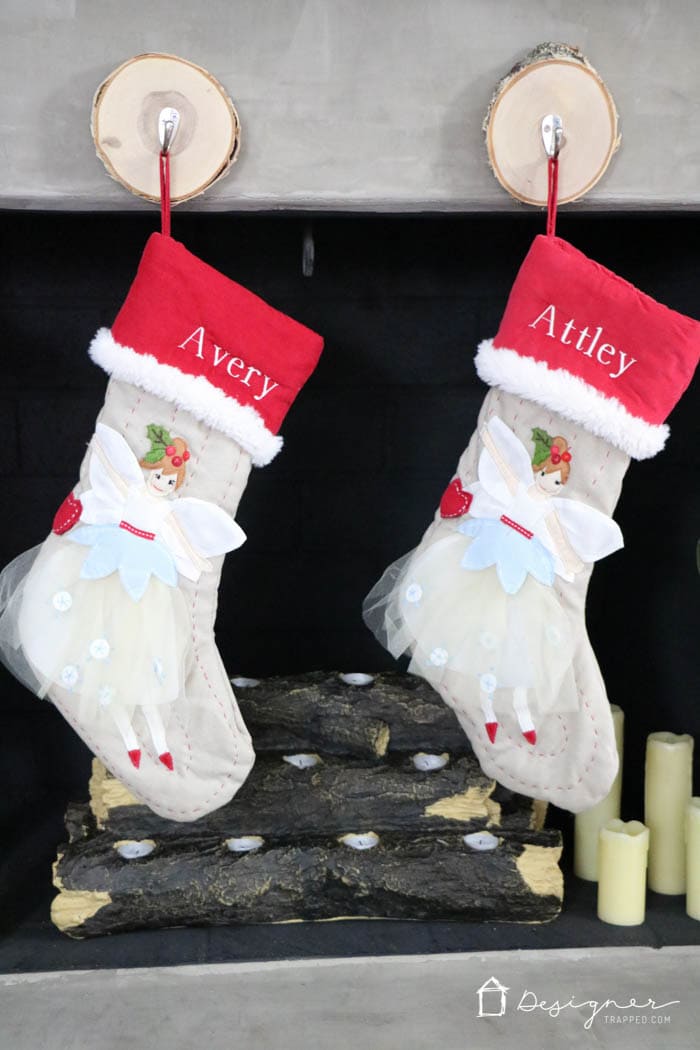 DIY Branch Stocking Display from The Merry Thought. Want something a little more rustic and simple? Try a beautiful branch with greenery like this DIY.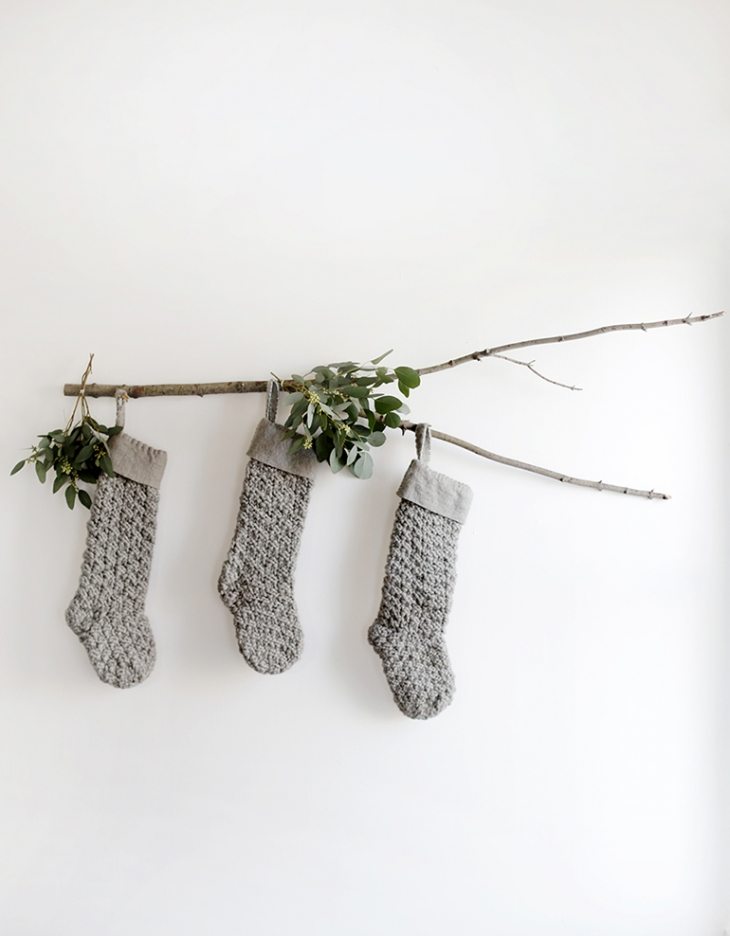 DIY Stocking Holder Stand from Kaleidoscope Living. For the home with no mantel that still wants to proudly display your Christmas stockings, this is an awesome option. I love how cute it looks and the options to customize it are endless!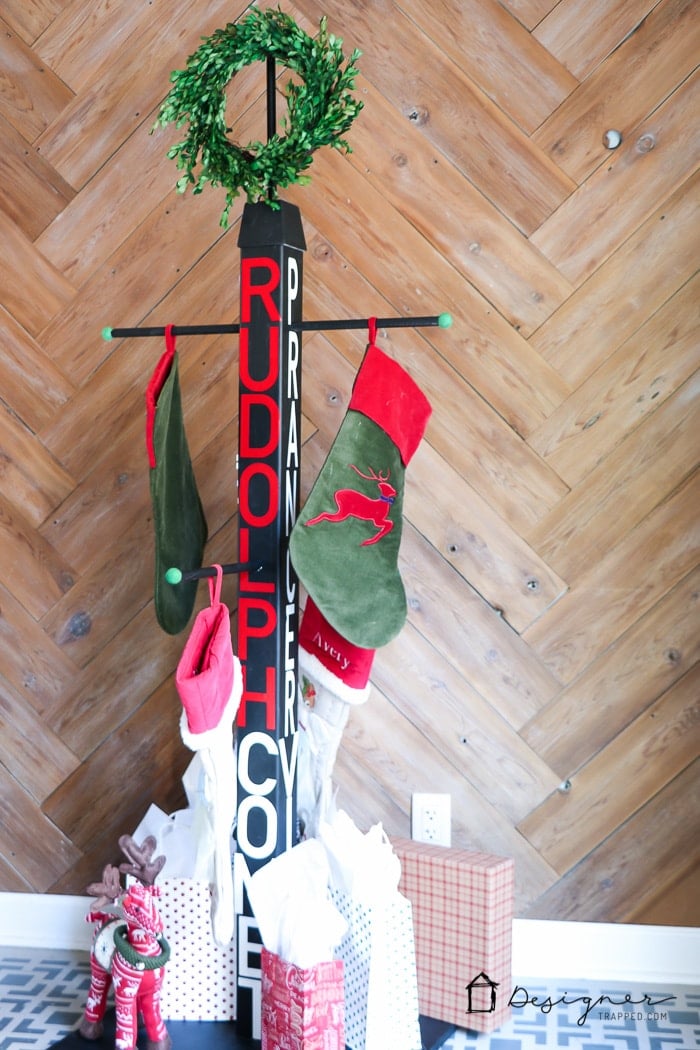 DIY Joy Stocking Holders from Two Thirty-Five Designs. For a more classic and glam stocking hanger, follow this DIY for this beautiful set. A little bling on the mantel always makes things merry and bright!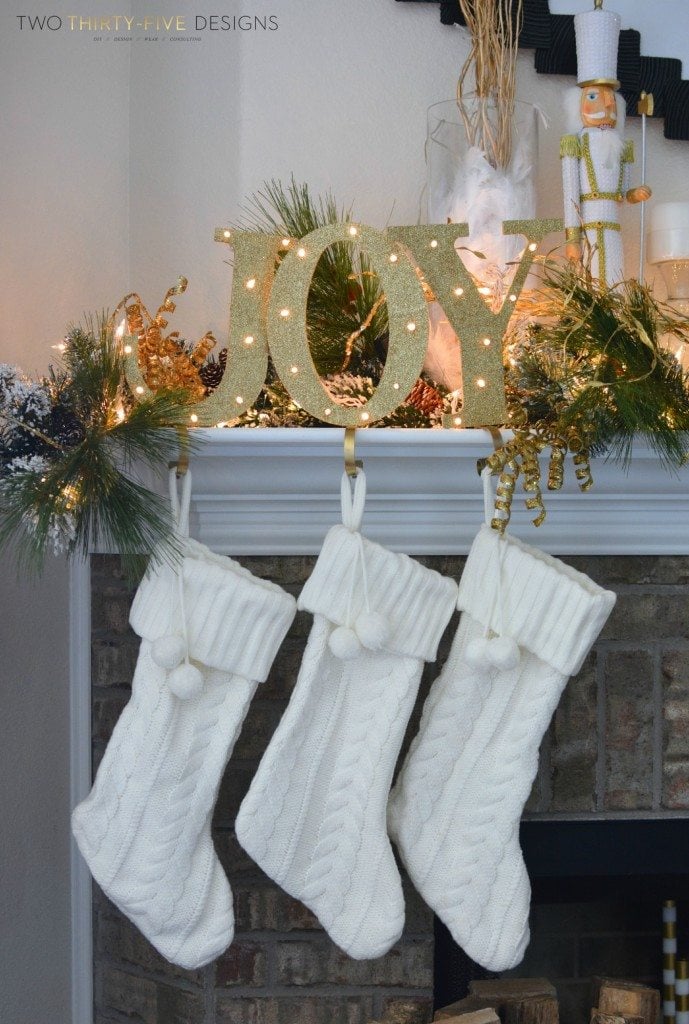 And that's it! I hope you enjoyed all of these adorable DIY stocking ideas! Make sure to check out more of my Christmas posts below.
Other posts you may enjoy:
Wondering how I approach transforming rooms and spaces in our home? Check out Designer in a Binder®.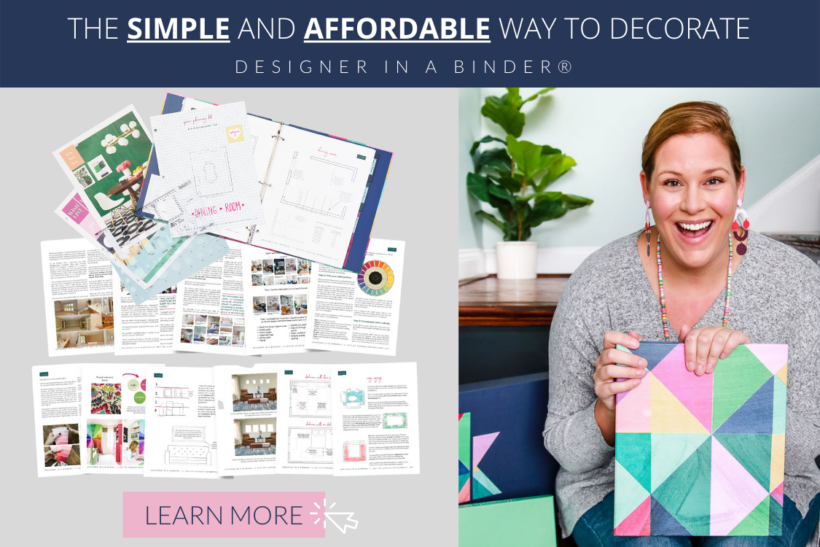 And if you want exclusive content and behind-the-scenes sneak peeks, be sure to subscribe before you head out!